Home Donate New Search Gallery Reviews How-To Books Links Workshops About Contact
Canon S100
World's Best Pocket Camera
GPS, 12MP, 3" LCD, 24-120mm, 1080 HD, $250
© 2012 KenRockwell.com. All rights reserved.
Intro Specs Performance Compared Usage Recommendations More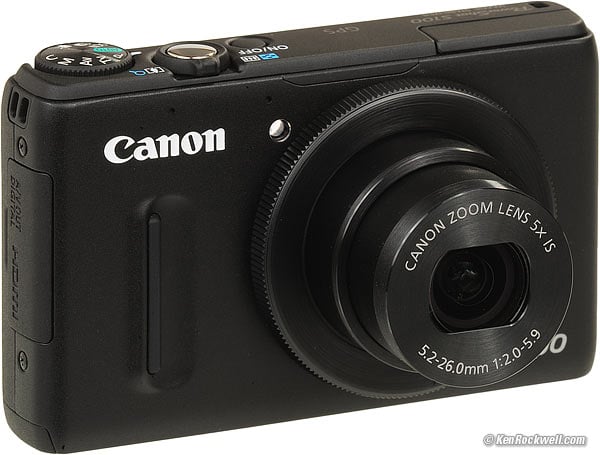 Canon S100 (6.8 oz./193g, about $250). enlarge. This free website's biggest source of support is when you use these links, especially these directly to the Canon S100 at Adorama in black and in silver, at Amazon in black and at at Amazon in silver when you get anything, regardless of the country in which you live. Thanks! Ken.
December 2012 Canon reviews All Reviews
DEAL: Down to $250 at Amazon in black and at at Amazon in silver.
Canon S100 Sample Images from Route 66. The S100 could be the only camera you ever need.
Introduction top
Intro Specs Performance Compared Usage Recommendations More
The Canon S100 is significantly better than either of the older Canon S95 or Canon S90 cameras because this Canon S100 is significantly faster in everything it does, even zooming, than the old cameras. Everything from power-on to menus to autofocus to frame rates is faster, making it faster and easier to get great shots than with other pocket cameras.
Overall picture quality is the same as the S95, which is quite good.
The S100 also adds a zoom lens that goes both wider and longer than either of its predecessors, as well as GPS tagging, GPS-based clock setting and 1080/24p video.
For the first time, the S100 finally has a rear control ring that works properly. The S90 had no detents, and the the S95 had weak detents for this dial. When the dial got knocked by accident on the older models it often ruined photos by shooting at ISO 3,200 in daylight, and there was no way to deactivate it. On the S100 it's far more difficult to move by accident, and the rear dial is ignored most of the time anyway.
The S100 also adds the first rubber grip so that it's much less likely to slip out of your hands than earlier models. The S100 is covered in rough black paint that feels a bit like sandpaper. It's not slippery as was the S90.
More at Compared.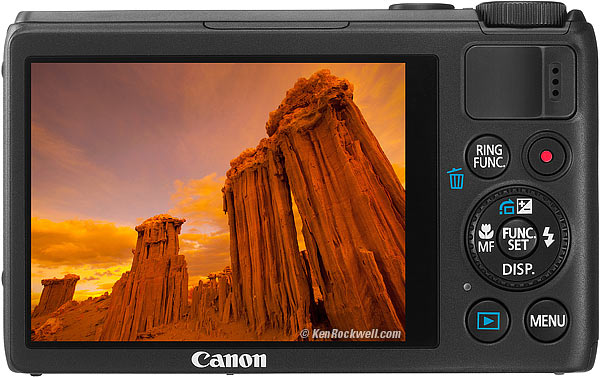 Back, Canon S100. bigger.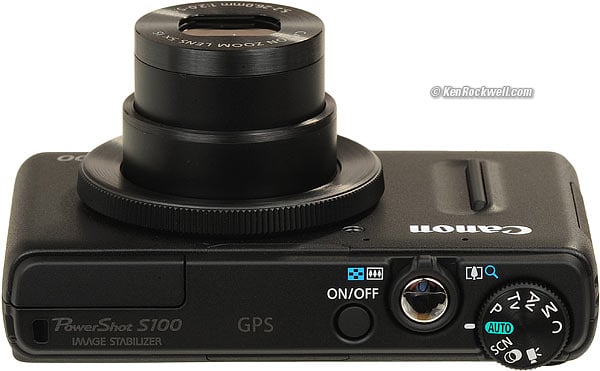 Top, Canon S100. bigger.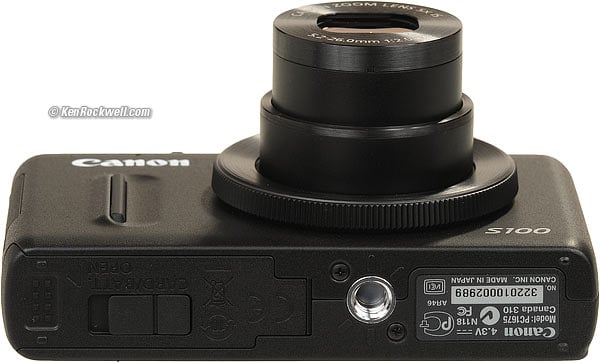 Bottom, Canon S100. bigger.
Specifications top
Intro Specs Performance Compared Usage Recommendations More
Lens
5.2 ~ 26mm f/2.0 ~ 5.9.
Equivalent to 24-120mm.
7 elements in 6 groups.
4 aspherical surfaces, one "UA" element.
Shutter
15 seconds - 1/2,000, will vary by setting.
Sensor
1/1.7."
12MP
Just CMOS, not a real CCD like the S90 and S95.
Why change?
1.) Costs less.
2.) Canon can make them in-house.
3.) DSP can be put on the same die.
ISO
AUTO, 80 ~ 6,400.
Image Sizes and Formats
4,000 x 3,000 pixels native.
Also 2,816 x 2,112 (M1), 1,600 x 1,200 (M2) and 640 x 480 (S).
Cropped modes also let you record images cropped from the full 4:3 down to 16:9. 3:2. 1:1 (square) and 4:5 vertical.
JPG and/or CR2 raw.
Movies
1080/24p
720/30p
640 x 480 / 30p
640 x 480 @ 120 FPS (slo-mo)
320 x 240 @ 240 FPS (slower-mo)
Maximum clip length: 4 GB or 30 minutes at 1080; to 1 hour at other rates, 30 seconds shooting tine in slow-mo.
Flash
Built-in, pop-up flash.
No hot shoe — why would any sane person want to put a big flash on a tiny camera?
LCD
3"
Correct full-height 3:4 aspect ratio.
461,000 pixels.
RGB Histogram?
Yes, in playback.

Outputs
USB.
HDMI (CEC compatible).
PAL or NTSC analog audio and video.
Body Covers
Metal.
Power
NB-5L Li-Ion battery.
Battery Charger CB-2LX.
Leather Case
The $30 Canon PSC-900 leather case is a dream. It pops on your belt loop, and with a flip of its magnetic catch, lets the S100 slip right out.
It's the same case as the S90 and S95.
Waterproof Case for SCUBA
Waterproof Case (40m) WP-DC43.
Waterproof Case Weight WW-DC1 for more neutral buoyancy.
Size
98.9 x 59.9 x 26.7 mm (3.9 x 2.4 x 1.1 inches), rated.
Weight
6.815 oz. (193.2 g) with battery and card, measured,
Canon rates it at 6.98 oz. (198g) with battery and card, and 6.10 oz. (173 g), stripped.
Environmental
32-104°F (0-40°C).
10-90% RH.
Included
PowerShot S100 Body
Battery Pack NB-5L
Battery Charger CB-2LX
Wrist Strap WS-DC11
USB Interface Cable IFC-400PCU
Digital Camera Solution CD-ROM
Announced
15 September 2011.
Promised
Early November 2011.
Canon Item Code
5244B001
Price, USA
$250, December 2012.
$429.95, Introduction September 2011 through February 2012.
Performance top
Intro Specs Performance Compared Usage Recommendations More
Technical Image Quality
The S100 is a little bit better than the S95. The difference can barely be seen under direct comparison at the test range, but none of us would ever be able to identify one single frame as having come from one camera or the other all by itself.
The S100 is a tiny-sensored point-and-shoot, and has the usual noisy, splotchy images with limited dynamic range compared to a DSLR like the Canon 5D Mk II, and a little bit better than most point-and-shoots. Don't kid yourself; differences between the S100 and other point and shoots will be invisible except under direct comparison under controlled conditions. Otherwise, 99% of us will get exactly the same pictures with an S100 as we will with any other Canon point-and-shoot.
Compared in the lab and test range, the S100 is as sharp pixel-to-pixel at the wide end as the S95, but has more pixels. Since the S100 also goes slightly wider, each pixel sees the same thing; if you crop the edges from the S100 at its widest 24mm-equivalnet setting to the 28mm-equivalant setting of the S95, you have two identical images. Therefore, the extra width is a freebie, technically, in the S100. This is good.
The S100 shines at the tele end. At the tele end the S100 is a tiny bit sharper pixel-to-pixel than the S95, and the S100 has a few more pixels and a longer lens. Therefore, especially if you're cropping, the S100 is sharper at the long end if you're pushing it. If you use only the center 10MP at the long end of the S100, you've got an image slightly sharper than the equivalent of the S95 if it went to 135mm-equivalent.
My S100 has a slightly green-tinted LCD, while my S95 is neutral to slightly magenta. I suspect this varies sample-to-sample more than model to model. Be sure to look at the results on your calibrated computer monitor and not the camera's LCD when you're getting familiar with the color settings you plan to use. A slightly green-tinted LCD is no big deal, since the graphics share the same tint, you always have an on-screen white reference. The biggest poo about the slight green tint (about D 0.01 or 10 points) is that the images aren't as impressive to friends while still in the S100.
The new highlight preservation function (the top "Oi" in the FUNC SET menu system) isn't very good. It increases ISO in contrasty light and then tweaks the highlights and shadows. It really does preserve highlights, but since no pocket-sized digital camera has a large enough sensor to give clean images even at ISO 160, this feature results in noisier and softer images than the older S95 did without this feature. Photos look better overall with this feature set to AUTO, however if you look at details and noise at 100% on screen, they look worse with this activated.
Distortion
The S100's JPG files have very little distortion. Distortion is slight barrel at the wide end, moderate barrel in the middle, and no visible distortion at the long end.
CR2 raw files have the same distortion as opened in Apple Aperture 2.
What little distortion is left in these JPGs can be corrected for more critical use by plugging these figures into Photoshop's lens distortion filter. These aren't facts or specifications, they are the results of my research that requires hours of photography and calculations on the resulting data.
| | | |
| --- | --- | --- |
| Focal Length | Equivalent | Factor (JPGs) |
| 5.2mm | 24mm | +1.2 |
| 9.1mm | 42mm | +2.0 |
| 15.7mm | 72mm | +1.0 |
| 21.1mm | 100mm | 0.0 |
| 26mm | 120mm | +0.25 |
© 2012 KenRockwell.com. All rights reserved.
Macro
Even though there is a "Macro" button, it doesn't seem to do anything.
The S100 focuses very close, and the closest at the widest setting.
Here's how close it gets at the 24mm-equivalant setting. Notice how this wide setting at about an inch away makes my watch look twice as big as my arm; this is not really the way to shoot macro.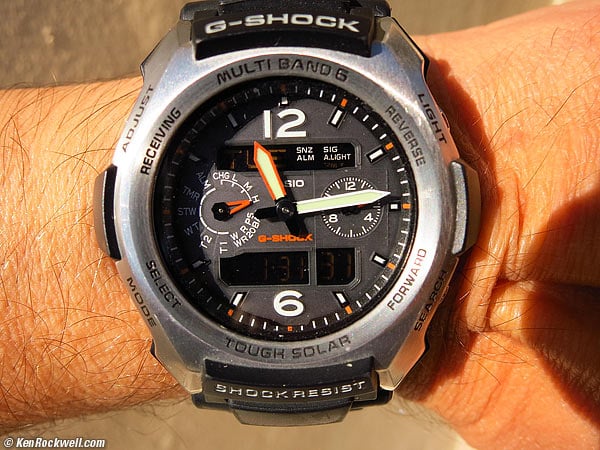 Canon S100 at closest focus.
High ISOs
At ISO 3,200, the S100 looks a little smoother than the S95 under direct comparison. Neither is that much better; any Canon Digital Rebel with its larger SLR sensor is much better. Even though the noise is low from the S95 and S100, it's because the camera's firmware has smoothed over the noise, and smoothed-over details and subject textures at the same time.
This is the world's best pocket camera, but it's still a pocket camera.
Movies
HD 1080p movies look pretty good, with stereo sound, too. I prefer the video from my S100 to the out-of-focus pictures and mono sound that comes out of any DSLR.
CR2 (raw) Files
My copy of Photoshop CS5 ACR can't read the files. I'm sure some update will.
Apple Aperture 2 opened them perfectly.
Flash Exposure Control
Flash exposure control is still poor, as these sorts of cameras usually are. Nikon DSLRs and the Fuji X100 are worlds better.
I never use the flash on the S100; it's too much work to get it to expose properly.
Ergonomics
This is where the S100 shines above all other pocket cameras: not only do the photos look great, it handles fast!
Everything works about twice as fast as other cameras. The S95 and S90 were the same as everything else, while the S100 is much faster.
The S100 wakes up faster, zooms faster, focuses faster and shoots faster, getting the shots that other cameras would miss.
The only gotchas with this new level of speed is that folks like me have to get used to it. For instance, the Continuous shutter setting responds so quickly that often the S100 will get off a few rounds before I remove my finger, and the zooming is so fast that it takes a delicate hand to be able to make fine zoom adjustments without overshooting the intended setting.
For the first time ever in this series of camera, the rear dial is properly detented. The S90 and S95 had watery controls that were easy to knock.
Likewise, this is the first version of this camera to have a rubber grip.
There are strap holes on each side of the camera, so if you find a custom strap, you can wear the S100 around your neck or shoulder.
The GPS has the option to set the clock for you.
"Mute" still mutes video playback, but if you don't use this "Mute," then even turning off all the "volume" settings still lets the "AF OK" beeper beep.
Just like the S95, no matter what you hit, you'll still have things drawn on your LCD as you try to compose your photo.
Power
I got 189 shots on my first charge, including a lot of playing around, until the S100 indicated its yellow "2/3" battery warning.
I got about 110 on the next charge at the first show of "2/3." This also was with my son playing with it a lot; I'm sure it runs much longer when just shooting.
Compared top
Intro Specs Performance Compared Usage Recommendations More
S100

Announced

2011 Sept.

2010 Aug.

2009 Aug.

Lens (equiv.)

24-120mm

28-105mm

28-105mm

Max. Aperture

f/2 ~ 5.9

f/2.0 ~ 4.9

f/2.0 ~ 4.9

Shutter button

Perfect

Small dot

Too flat

Front control ring

Yes

Yes

Yes

Rubber grip

Yes

no

no

Paint

Roughest

Rough

Smooth

Sensor

12 MP 1/1.7"

10 MP 1/1.7"

10 MP 1/1.7"

ISO

80-6,400

80 - 3,200

80 - 3,200

ISO-changing highlight-recovery mode

Yes

no

no

Exposure-Compensation range

±3 stops

±2 stops

±2 stops

FPS (repeated, no focus or exposure change)

2.3 FPS

0.9 FPS

Video

1080/24p

720/23.98p

640 x 480

Zoom during video

Yes

no

no

Slo-Mo Video

640 px @ 120FPS
320 px @ 240 FPS

no

no

Sound

stereo

stereo

mono

Stereo Mic separation

22mm

43mm

(mono)

ND filter

Yes

no

no

GPS

Yes

No

No

RING FUNC button?

Yes

Yes

Yes

Programmable
[ S ] button?

no, but RING FUNC can be re-assigned to be an [ S ] button.

Yes

Yes

Direct Movie record button?

Yes

no

no

Low-light (candle) mode on top dial?

no

Yes

Yes

Storage

SD, SDHC, SDXC

SD, SDHC, SDXC, MMC, MMCplus, HC MMCplus

SD, SDHC, MMC, MMCplus, HC MMCplus

LCD

3," 461k dots

3," 461k dots

3," 461k dots

Size, Inches

3.9 x 2.4 x 1.1

3.93 x 2.30 x 1.16

3.94 x 2.30 x 1.22

Size, mm

98.9 x 59.9 x 26.7

99.8 x 58.4 x 29.5

100.0 x 58.4 x 30.9

Battery

NB-5L

NB-6L

NB-6L

Weight, w/card and battery, actual measured

6.815 oz. (193.2g)

6.810 oz. (193.1g)

6.942 oz. (196.8g)

Price
Usage top
Intro Specs Performance Compared Usage Recommendations More
See also Canon's S100 User Guide.
Power
The charger has a folding plug.
The light is orange while charging, and green when done.
The battery goes into the camera many ways, but clicks-in in only one position. Look for the small cut-out or arrow on the battery, otherwise it will only go in 95% of the way.
Shooting Settings
Most camera settings are set with FUNC SET button.
Press it, and a pictographic menu appears on the left. Press FUNC SET again to save the settings and exit.
The top "Oi" setting allows the S100 to attempt to retain detail in highlights and shadows by running at higher ISOs than needed and messing with the image internally. I set this to AUTO, which is one click to the right. If you use this expect to see ISOs like 160 and 320 be used in broad daylight if it's contrasty. Your photos will have better highlight detail, and also be grainer and softer.
Next down, I leave ISO on AUTO.
I leave AWB set, but turn the ring to A4 to get warmer (less blue) photos.
The next OFF setting is where we set color rendition. I prefer vivid colors, so I click one right to V (Vivid), and press FUNC SET again.
I leave bracketing off.
The rectangle is where we set how the shutter fires. I use the multiple rectangle mode, which takes multiple photos if you hold down the shutter button.
Dial settings
I prefer the front ring to control brightness ("exposure compensation") and set the rear RING FUNC. button to adjust white balance. Set this way, spin the front ring any time to change brightness (exposure), and tap the RING FUNC. button to change white balance, and to trim white balance, adjust the front ring after pressing RING FUNC.
To set your S100 this way, press MENU while shooting, and scroll down to the last few menu entries.
Set "Set Control Ring Func..." to "[+/-]," which is exposure compensation.
Set "Set RING FUNC. Button" to WB (white balance). Now the RING FUNC button is really a WB button. To set what the front ring does, set it in the menu mentioned above.
Movies
Just press the red dot button on the back; no need for special movie modes.
For stills while rolling, just press the shutter button. The movie stops and the S100 makes a still snap. At the usual settings, the still image captures the entire 4:3 gate aperture, while your 16:9 movie was only capturing the cropped 16:9 section.
Beepers
The "Mute" menu option still mutes movie playback, while otherwise the "AF OK" beeper sounds even with all the other sounds off. Canon has never figured out how to let us turn off all the fluff while shooting, while still being able to hear our movies on playback.
If you have MUTE set, you can hear moivie playback sound by pressing the rear "up" button to increase the volume.
GPS
Set in menus, GPS can tag photos and can record a daily log file of where you've been.
A third option allows the GPS to set your clock for you.
These are set in the "GPS Settings" option towards the bottom of the hammer-and-sickle menu. (press MENU, click right to hammer-and-sickle option, scroll down to "GPS Settings.")
To let the GPS set the clock, set the "Time Update" menu option above "GPS Settings" in the hammer-and-sickle menu to ON. When I set this option, the stamp on my images was 2 seconds slow.
Camera-State save and recall
Once I get the S100 as I want it, I save this to the "C" position on the top dial. Once saved, every time I turn on the camera, or set it elsewhere and return to the "C" position, everything about my camera is reset exactly as I want it.
Since each shot often involves different settings, this way I can get everything back to my own personal defaults for the next subject.
To save your camera's settings, and it includes even the zoom setting, while ready to shoot, press MENU, scroll down to the very bottom "Save Settings" option, press FUNC SET, select OK, and press FUNC SET again. Done!
RGB Histogram and GPS Readback
To see these, press DISP on playback until you get to the screen with a small image and a lot of data. Now press the UP control (marked +/- on the rear dial) to toggle among all these.
Recommendations top
Intro Specs Performance Compared Usage Recommendations More
Get the $30 Canon PSC-900 leather case. I got one for my S95, and it is also the same for my S100. It's very well made out of real leather, and works great.
The S100 is the best pocket camera ever made by Canon, and Canon makes the world's best pocket cameras. If you want a camera this size, this is the best on earth as of 2012.
If you already own a Canon S95, you don't need the S100, unless a feature like GPS means you've got to have it. 99% of everything is pretty much the same, even though some of the controls move around. If you have an S90 or S95 and want a second camera, don't get just one S100. Because the buttons are all in different places, get two of the same camera, not two different models.
See also Is It Worth It?
If you don't have an S95, of course get the S100.
The S100 adds more operational speed, a broader zoom range and GPS. Otherwise, it's mostly the same as the S95 as far as photographers are concerned. Higher-resolution HD and GPS doesn't really matter, unless of course those particular features are important to you.
If you've found all my work writing this helpful, my biggest source of support for sharing all this is when you use these links, especially these directly to the Canon S100 at Adorama in black and in silver, at Amazon in black and at at Amazon in silver when you get yours. Thanks! Ken
(Note: Digital cameras are so disposable that manufacturers freely reuse model numbers. Canon also made a Canon S100 in 2000, which had 2 MP, a 2x zoom, a 1.5" LCD and was smaller than today's S100.)
More Information top
Intro Specs Performance Compared Usage Recommendations More
Canon's S100 User Guide (alternate version of above).
Help me help you top
I support my growing family through this website, as crazy as it might seem.
The biggest help is when you use any of these links to Adorama, Amazon, eBay, B&H, Ritz, Calumet, J&R and ScanCafe when you get anything. It costs you nothing, and is this site's, and thus my family's, biggest source of support. eBay is always a gamble, but all the other places always have the best prices and service, which is why I've used them since before this website existed. I recommend them all personally.
If you find this page as helpful as a book you might have had to buy or a workshop you may have had to take, feel free to help me continue helping everyone.
If you've gotten your gear through one of my links or helped otherwise, you're family. It's great people like you who allow me to keep adding to this site full-time. Thanks!
If you haven't helped yet, please do, and consider helping me with a gift of $5.00.
As this page is copyrighted and formally registered, it is unlawful to make copies, especially in the form of printouts for personal use. If you wish to make a printout for personal use, you are granted one-time permission only if you PayPal me $5.00 per printout or part thereof. Thank you!
Thanks for reading!
Mr. & Mrs. Ken Rockwell, Ryan and Katie.
Home Donate New Search Gallery Reviews How-To Books Links Workshops About Contact