Home Donate New Search Gallery Reviews How-To Books Links Workshops About Contact
Fuji X100
World's first combined optical
and electronic viewfinder camera:
Incredible images in every light! (2010-2013)
Intro Sample Images Specs & Boxes Accessories
Performance Compared Usage Recommendations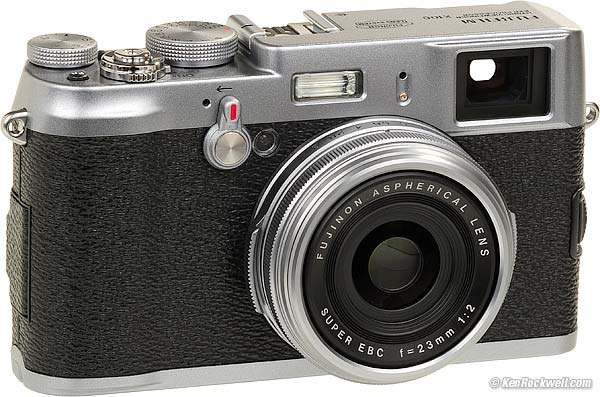 Fujifilm X100 (15.5 oz./440g with fixed lens, battery and card, $850 new or about $600 used or $1,300 new in black at Amazon.) enlarge. This free website's biggest source of support is when you use these links, especially these directly to it at Amazon, or at eBay (see How to Win at eBay) when you get anything, regardless of the country in which you live. Thanks for helping me help you! Ken.
Also available is a filter holder & hood and more accessories at Adorama.
November 2013 More Fuji Reviews LEICA Reviews All Reviews
NEWEST: Fuji X100F (2017-).
NEWER: Fuji X100T (2014-2017), a huge update with a silent electronic shutter.
NEW: Fuji X100S (2013-2014) The X100S is the Same (S) thing as this Fuji X100, but with faster DSP and more pixels for both the image sensor and the electronic viewfinder.
Latest Firmware. You can check your version by holding DISP BACK as you turn it on. As of Novemebr 2013, it's v2.01.
2012 DSLR Comparison 18 April 2012
High-ISO Comparisons of the Nikon D1, D3 (D700), D4, D800, D7000 and Canon 5D, 5D Mark II, 5D Mark III and Fuji X-Pro1 and X100 06 April 2012
Fuji X100 Sample Images from Santa Barbara 08 February 2013
More Fuji X100 Sample Images 28 June 2011
Introduction top
Intro Sample Images Specs & Boxes Accessories
Performance Compared Usage Recommendations
The images I get from my Fuji X100, a.k.a. FujiFilm FinePix X100, are nothing short of amazing. Photographing my fast-moving kids and family under every lighting condition from desert sun to dim restaurants to moonlight, my Fuji X100 makes skin tones look better than from any other camera. The X100's ability to tame difficult light under unscripted real-world conditions automatically, which is what's most often encountered everywhere except inside a studio, is amazing.
The X100 has an extraordinary built-in flash system that always seems to add just the right amount of fill under any light without needing any fine-tuning as do SLRs. The X100's auto white balance is the best I've ever used at getting the right color the first time in any light, and its exposure meter is dead-on more often than with any DSLR I've ever used.
The key to the X100 is that its photos are right the first time, not needing a look at the LCD to check on each one. When you're photographing life as it unfolds, you can't catch that smile again after you get the exposure adjusted. The X100 just nails it every time.
Couple always-fantastic images with the world's smallest real camera, and you can see why I love it so much. The X100 weighs half what a LEICA does, and is a small fraction of the size and weight of any DSLR.
The X100 handles faster than any point and shoot and focuses much faster than a LEICA, but is still slower than a DSLR. The DSLR is still king for full-time sports shooting. I prefer the LEICA for full-time outdoor and nature photography since I can get wilder colors and change lenses, while I prefer my X100's tiny size and people-optimized colors over either any SLR or LEICA for carrying all day and chasing my kids.
The X100's amazing hybrid optical finder offers instant-replay of each shot, which shows the fallacy of LEICA: there can be a huge difference in the image due to parallax at close distances for which no optical finder really compensates. The differences in point-of-view are obvious as the X100 replays the images, so if they are significant, you can shoot with the through-the-lens electronic finder, not present in any LEICA M at any price. With LEICA's optical-only finder, you never really know what's in your picture until it's too late.
The next 100 pages of review merely amplify these truths. The most astounding thing is just how great the images look without any fiddling. The X100 has an uncanny ability to make great-looking images under any light — the first time!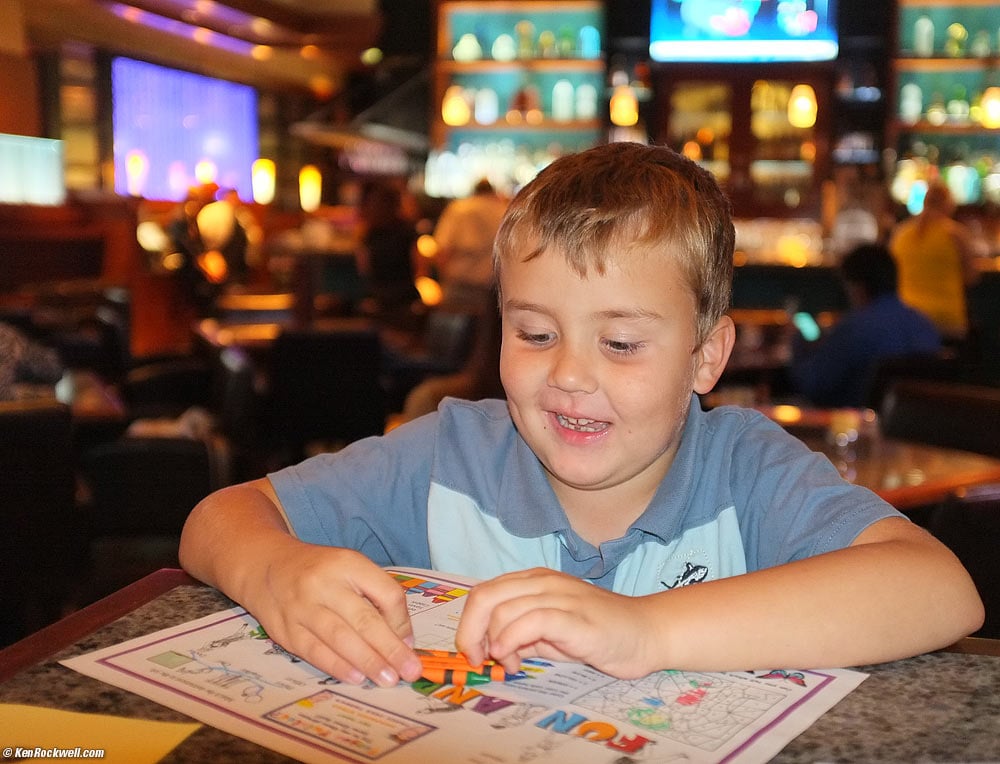 Ryan in the bar, 06 November 2012. (Fuji X100, built-in flash, ISO 3,200, f/2 at 1/30, HIGH saturation.) bigger.
Note how the built-in flash balances perfectly with the dim ambient light and TV screens, and how the colors are all just fine - not too blue or too orange either for the flash fill or the background. Sure, I could get this with a DSLR, but it would have taken a lot of fiddling and test shots each time. This shot is typical of what I get the first time on full Auto with my X100. Bravo!
What's Good
The Fujifilm X100 is the smallest and lightest real camera ever made. With lens, it's even lighter that previous winners of the tiny real-camera club, the LEICA IIIf or Minolta CLE. The tiny Contax G and LEICA M cameras are pigs by comparison. In fact, the X100 is only 40g (1.4 oz.) heavier than a far less capable point-and-shoot like the Canon G11. The LEICA M9 and lens weigh double the X100!
The X100's miniature electronic leaf shutter is essentially silent, a hundred times quieter than any SLR's quiet mode or a real LEICA. Looking like a foolish old 35mm camera and making no noise, no one will take you seriously as you snap away in sensitive areas. Tape a film-box end over the LCD to look like a 35mm camera even from the back, and you can still control everything and playback through the finder!
The X100 also records 720/24P HD movies with stereo sound.
The X100's images look fantastic. They're super-sharp, in-focus, have great bokeh, great colors, dead-on exposures in every light, highlights that just won't blow-out, perfect shadows and dynamic range, skin tones are magnificent, fill-flash exposure is beautiful over an astounding range from direct sun to moonlight, auto white balance works everywhere, and low-light performance is unstoppable. High ISO images are cleaner than the LEICA M9.
The Fujifilm X100 handles all sorts of mixed and less-than-ideal lighting with ease. Even under awful light, the X100 usually returns great results with just its usual Auto White Balance setting, and no light is too dim for hand-held shooting.
The X100 creates fantastic skin tones in any light, and make more accurate photos of tan colors than I've ever gotten from my Canon or Nikon DSLRs. When my condo was repainted, I wasn't able to get a photo that showed it accurately until I tried the X100. It's amazing how the X100 gives bright colors, as well as extremely accurate colors that used to be difficult to reproduce.
It is better than any Nikon or Canon DSLR at balancing fill-flash automatically in any light from daylight to moonlight for natural results. Especially indoors at night, the X100 seamlessly integrates action-stopping flash-fill with enough sensitivity to catch the ambient background light, all without requiring any of the fiddling with settings that my SLRs require to get this to look as good. The X100 just does it!
JPG images from the X100 are the sharpest JPGs pixel-by-pixel that I've ever seen come from a camera at its highest resolution setting.
The lens is sharp even at f/2; it's superb.
Just like any other real camera, and way better than almost all digital and autofocus cameras, the X100 is easy to set, even while blindfolded, by just turning its knobs.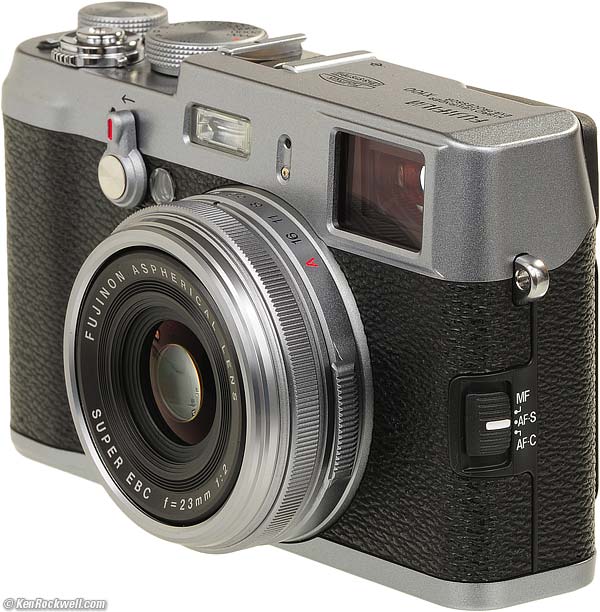 Fujifilm X100. enlarge.
The X100's dual optical and electronic viewfinder (EVF), complete with automatic eye-sensor control to switch between the rear LCD and viewfinder, is astounding. Unlike the LEICA M9's primitive optical-only finder which is merely a cost-reduced simplification of the LEICA M3's finder first sold in 1954, the Fuji X100 instantly switches between a live optical view or a sharp, high-resolution real-time electronic finder (EVF) with the tap of a lever.
Poo-poo the hybrid finder if you want, and you'll miss a finder brighter and sharper than any EVF in daylight (the optical finder), and miss a finder brighter than any optical finder (like LEICA) in the dark, the EVF.
Shooting with the optical finder, the X100 instantly swaps to the EVF and plays what you just shot through the same finder! In 4" (10 cm) macro mode, the X100 automatically switches the the EVF to eliminate parallax entirely.
The X100's electronic viewfinder offers live TTL viewing and focusing. The AF areas can be moved, even in the optical finder! Unlike almost all other AF and rangefinder cameras, the X100 easily focuses on repeating patterns like fences, screens and fabrics.
The X100's lens is fixed, never needing to extend or retract; it's always ready to shoot.
The X100 never locks-up and won't shoot as DSLRs will if you don't set them correctly. The X100 always fires if you press the shutter harder in tough situations.
A real DSLR shoots faster than the X100, but oddly I prefer photographing my wiggly kids while out and about with the X100 instead of lugging a DSLR. The X100's lighter weight more than makes up for its slower response; the X100 is fast enough if you know what you're doing. The X100 focuses much faster than a real LEICA. You can set the X100 for zone-focus, but you don't need to because it auto and manual focuses so fast.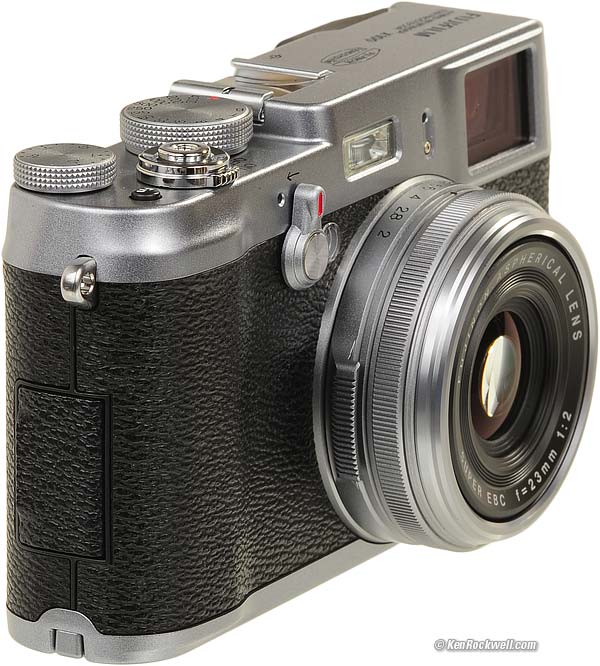 Fujifilm X100. enlarge.
The X100's optical finder uses a superimposed electronic color graticule that shows as much or as little junk information as you'd like, including a virtual horizon, parallax correction, a focus distance scale with calculated depth-of-field, a graticule, a histogram and the kitchen sink.
With one fixed lens, there is no distraction from worrying about buying or carrying other lenses. You can concentrate on your picture and not your camera. Fixed lenses take better pictures.
The X100 is an all-metal camera, not a plastic toy. If it's plastic, it's made to be thrown away. The X100 isn't.
The Fuji X100 is incredible. The more you shoot, as opposed to spend time in front of a computer, the more you'll appreciate it.
Fuji has a history of making expensive limited-production cameras like the Fujifilm Klasse series for Japanese enthusiasts. The X100 follows in this tradition.
The LEICA M9 may be unbeaten for serious travel, nature and landscape photography, but for photos of my kids running around and just about anything in any light, the Fuji X100 is even better. The X100 offers faster autofocus, great auto white balance, higher clean ISOs, full program auto exposure, and built-in fill-flash that the M9 can't touch at eight times the price.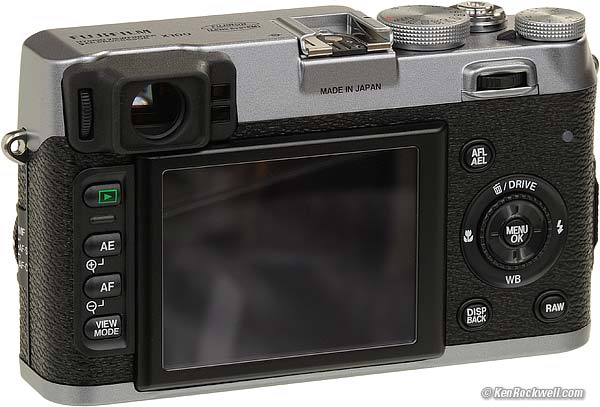 Rear, Fujifilm X100. enlarge.

What's Bad

The X100 is the best at what it does, but it's not perfect. The firmware that controls everything does a fantastic job of making great images, but from a photographer's point of view it's disorganized and takes a while for even a pro to master. If you're not shooting every day or aren't a full-timer, you could easily be flummoxed.

Once I mastered it in a few days, I've forgotten how weird it was at first.

Who Needs an X100

The X100 is the full-time professional photographers' fun camera.

The Fuji X100 is a perfect carry-everywhere camera, an ideal backup or candid camera for professional wedding shooters (skin tones are marvelous), great for rich people traveling without help, people who already have bigger cameras and men who just like toys.

It's also oddly handy for real estate agents with its uniquely accurate color rendition, huge dynamic range and easy 120º and 180º panorama modes for interior and exterior shots.

The X100 is much better than any point-and-shoot like the Canon S95 for action and family photos, but no match for a true DSLR.

For whom the X100 is not intended

The Fujifilm X100 is not intended for inexperienced photographers. It has no green AUTO setting or GPS BS, and its menu system will confuse even the best photographers at first.

Any true DSLR like a Nikon D3100 is better for photographing action and moving kids, but bigger. I'd much rather carry the X100 than a small SLR.

If money matters, other cameras are better ideas. A Nikon D5100 costs less, makes images just as good and is far better for action — but it's bigger. Compared to the X100, the Canon S95 adds a zoom lens, weighs less than half as much, costs one-third as much, and pretty much does the same thing a little slower without a viewfinder, without the great fill-flash and without quite the image quality.

Like a Porsche, no one needs a Fuji X100. The Fuji X100 is a luxury for people who want another nice camera for their collection, or to use once on their next luxury vacation. The X100 is exactly like the LEICA Minilux or Nikon 35Ti in being a nice trinket for people who own other cameras.

Performance top

Intro Sample Images Specs & Boxes Accessories

Performance Compared Usage Recommendations

Overall Finders & LCD Ergonomics Silent Mode Focus

Macro Exposure Flash Rapid Shooting Lens Image Quality

Film Simulation Panoramas Video Sounds Mechanics

Playback Data Battery and Power Firmware

Overall performance top

Just look at the pictures. The X100 is awesome.

At first I thought that the Fujifilm FinePix X100 couldn't possibly live up to Fuji's hype, but after just a few days' shooting I realized that's it's the most incredibly good, practical, fun and extraordinary camera I've ever used, so I bought one. This review will tend to read as if I get paid by Fuji, but I bought this camera for myself from Adorama.

Like a great piece of music, no analysis of the parts ever sum up the whole.

Finders and LCDs performance top

The X100's viewfinder system is the world's first combined optical and electronic hybrid finder. The unique viewfinder system sets the X100 in a class by itself. If LEICA could do this, it would bring LEICA 60 years ahead of where it is today.

The X100's eye control selects the rear LCD or viewfinder automatically.

The front lever switches between optical and electronic viewfinders.

In light too dark to read a book (below LV 0), both the optical and electronic finders get a bit dim, although AF and the photos look great.

It's difficult to get a finder or playback that's completely clear of in-image distractions. The only clean finder for shooting is the optical finder (which still retains the AF rectangle), and there is only one clear playback option. (The EVF never clears the compensation scale out of the frame.)

Optical Finder (OVF)

See Specifications for all its features.

See my Fuji X100 User's Guide for actual views through the optical finder.

The optical finder switches instantly to electronic mode for instant playback of what was just shot, if you so desire. As soon as you've shot an image, the playback pops up in 1/12 second (80 ms).

The optical finder is too cautious; you'll see immediately on playback that you get quite a bit more around the sides. This beats the LEICA M9's sloppy finder, the results of which you can't see until you take the camera from your eye and look at the M9's back.

The optical finder doesn't show the 16:9 frame if you've set the image size to 16:9; you have to go into another menu and set a 16:9 graticule the hard way!

The graticule is superimposed from an LCD, and looks dim in full sunlight. Likewise, instant in-finder playback can be dim in direct sunlight. The graticule varies its intensity with the subject's lighting, but oddly the EVF seems to remain at the same intensity in all light, so it runs out of gas in daylight.

The optical finder is brilliant in daylight, far beyond any electronic finder.

The lens blocks a little bit of the lower right of the finder at close distances, but so what; unlike a LEICA, tap the lever and swap to the electronic finder and the problem goes away!

Electronic Viewfinder (EVF)

See Specifications for all its features.

See my Fuji X100 User's Guide for actual views through the electronic finder.

The EVF has a very high-resolution LCD with sharp optics. Unlike Sony's sequential-color EVFs, the X100's EVF image is stable no matter how fast you move your eye, and never shows any residual color fringes.

One can operate the entire menu system, playback and zoom, through the electronic finder. One never needs to look foolish staring at the back of a camera in public, and the EVF lets one work in dark theaters without disturbing others.

The live image in the EVF is delayed by 1/12 second (80 ms) from reality. It's faster with your finger on the trigger, and slower without. The delay increases in very low light.

The EVF works at taking aperture, giving always-on depth-of-field preview.

The EVF works swell for close up lenses, polarizers, grads, fisheye converters and anything else you can attach. Too bad Leica can't do this; it would eliminate the need for external finders for ultrawide lenses and the VISOFLEX for long lenses.

Rear 2.8" LCD

The rear LCD is sharp, and seems well color-matched to the images as seen on a calibrated monitor.

Like every camera in 2011, I had no problem seeing it in daylight.

Ergonomics performance top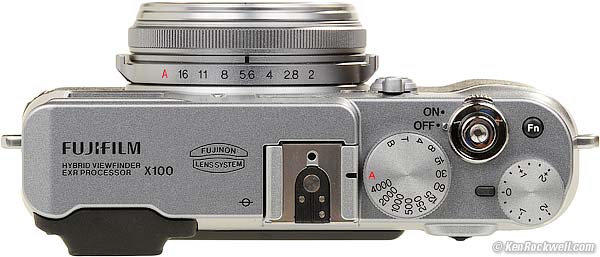 Top, Fujifilm X100. enlarge.
Just like any other great camera, the Fuji X100 is easy to set purely by feel.
The exposure modes are easy to set without looking, too. If either shutter or aperture is set to A, that value is controlled automatically based on the other. If both are set to A, both are set automatically, giving the professional, or "Program," exposure mode.
Once learned in a few days, the X100 handles faster than a DSLR because of direct aperture and shutter dials.
Unlike DSLRs, the X100 never hangs-up for some unknown reason; press harder and it always fires, even if out of focus.
It's easy to set even manually-set custom white balances without taking the camera away from your eye! The manually-set white-card setting is the first option below auto. Easy, much easier than any Canon DSLR.
The dedicated Exposure Compensation dial seems like a blessing, but it's actually a curse. The X100's exposure system is so good that compensation is almost never needed, but it's easy to knock the dial accidentally, and the in-finder indication isn't that obvious. It's easy to make a few shots every now and then with unintended exposure compensation — oops!
The fake leather is a bit slippery, nowhere near as good as the LEICA M3's rubbery Vulcanite of the 1950s.
There is a status LED on the top rear, but it's always invisible because it's covered by your thumb when shooting.
It seems easy to mar the magnesium's finish with a strap.
It takes two hands to move the AF zone: the left hand to hold down the AF button, and the right hand to hold the camera and fiddle with the big selector dial.
The rear 4-way controller only works 4-ways; one cannot scroll the playback zoom or the AF selection diagonally.
The X100 has the best fake horizon ever. It responds immediately, it's precise, and works even when pointed up or down. It turns green at zero, so it's easy to recognize level out of the corner of your eye.
Unlike real cameras, the aperture ring and shutter dials select only full stops. No big deal, use the rear lever (aperture) and rear dial (shutter) to tweak the full stops by thirds.
Program shift only works without flash and only without Auto ISO. So? It's easier to use one finger to glide the aperture ring to where you need it in one step than to jack around with program shifts as you would have to with a DSLR.
In Shutter-priority and Manual modes, it's easy to knock the rear dial by accident and bump the shutter speed by up to ± 2/3 of a stop.
The X100 has the same design flaw as Nikon, and leaves Auto ISO running when you drop into manual. If you need a certain aperture or shutter speed, just pick one, but when I go to manual, I do it to get the same exposure for a bunch of shots, so leaving Auto ISO running means I have to stop what I'm doing and go disable Auto ISO.
The EVF is of no use gauging exposure in Manual exposure mode because it continues to vary its own gain as the subject varies. You'll have to look at playback to see the exposure.
There's no good INFO panel to give us a quick report of what's going on, but I never missed it when shooting. Once you've got the menus figured out, the actual shooting settings are all on the dials.
The macro mode requires too many button pushes; this gets in the way of shooting. At least the macro and regular modes overlap from 0.8 to 2 meters, but it would be nice if the X100 changed modes automatically as one got closer, instead of just giving us a red AF indicator closer than 0.8 meters.
Response time is barely fast enough. Once I got used to the X100, it didn't get in the way of chasing my kids around.
With a filter on the front, the whole camera is tough enough to throw in a bag without a case.
The strap eyelets are great. LEICA M3 users will recognize that they are copies of the very first LEICA M3 eyelets.
See also Playback, which has its own set of quirks.
Silent Mode performance top
The Silent Mode merely is an easy way to turn off all the speakers and lights with one button.
Actual operation isn't any quieter, unless you forgot to turn off the fake shutter sounds.
Focus performance top
Overall
Autofocus is always dead-on, since it reads directly from the image sensor. There are never any of the mechanically-induced focus shifts that plague rangefinder cameras like LEICA, or spherical-aberration induced optical focus shifts that vex SLRs. The X100 is not a rangefinder camera, and its focus is always dead-on.
Since AF reads images directly from the sensor, it isn't confused by repeating patterns like car grilles, fences and fabric, which confuse rangefinder cameras and AF SLRs.
The white-LED AF illuminator works fine.
The X100 focuses by moving at least the front group of the lens in and out inside its barrel. With a filter on the X100, banging the camera won't hurt the AF system.
AF-S
The single-focus-and-lock mode (AF-S) works great for still shots.
It focuses quickly, and locks.
You can move the AF sensor all around in any of the finders.
AF-C
The continuous focus mode (AF-C) for moving subjects, is crummy. The X100 can't respond quickly enough to track anything.This mode only focuses on the very center of the image, making it useless even if it could track action.
In the AF-C mode, the X100 stops focusing with half press of shutter — oops!
Manual Focus
Manual focus works swell, so long as you don't try to use the manual focus ring. The manual focus ring doesn't work: it responds slowly and with a long delay, so forget about it.
To focus manually, press the AFL-AEL button to grab a spot focus.
More at my X100 User's guide.
Macro performance top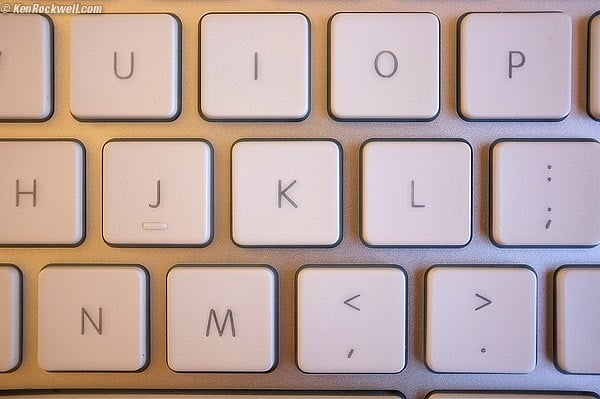 Closest Macro distance.
The Macro focus mode always uses the EVF to eliminate parallax. If you're using the optical finder, it reverts to the EVF.
In macro mode, focus takes a long time to rack in and out. Worse, the EVF doesn't show the live view until it's done focusing. Since I'm rarely chasing action at macro, this isn't much of a problem.
The X100 doesn't meet its specified macro distance of 0.1 meter (4 inches). The actual closest focus distance, as measured from the image plane, is actually only 0.135 meters (5.3 inches).
Exposure performance top
I've never gotten better exposures than I get from the X100.
I get perfect exposures under just about every lighting condition from daylight to moonlight.
The only conditions that sometimes give a little underexposure are strong backlight, but that's more a matter of opinion, and fill-flash fixes this.
I almost never have to use any exposure compensation. Bravo!
Flash performance top
The Fuji X100 does a better job faster of balancing flash and ambient light than any camera I've ever used, and that includes being better than the previous leader, Nikon SLRs. Nikon does a more consistent job in direct sunlight, but the X100 is better balancing flash under a much broader range of conditions down to dim indoor light.
The X100 measures distance, so even shots made in a mirror are exposed correctly along with the ambient light!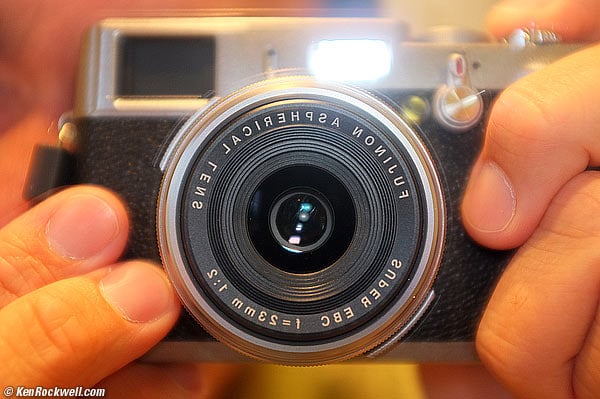 Self-Portrait in Mirror, ISO 400, f/2 at 1/56 sec.
Even a foot away at f/2 and ISO 400, the X100 is able to dial-down the flash to balance with the ambient light in my bathroom.
The X100 does an incredible job of balancing flash and ambient light under all conditions, from direct sunlight to backlight to indoors at night. The only thing it can't do is gel the flash to match artificial light; but you can do that yourself.
I'm astounded at how well the X100 fills-in every image, and how its little flash has such great range and fast recycling. Part of this comes from the X100's 1/2,000 maximum sync speed, almost ten times better than professional DSLRs, which makes the flash ten times more effective power in daylight.
The flash has plenty of power at long distances at night. It seems to reach forever with the X100's crazy-high ISOs and fast lens. I have no problem getting flash fill at 50 feet (15 meters) at night.
The X100 does a stunning job of controlling ISO and flash and aperture and shutter speed automatically so that the subject is frozen, and the ambient light, even strongly dimmed home light at night, comes through to fill-in the background.
The X100 is so efficient with its use of flash power that I've never had to wait for it to recycle. it's always there, and I leave it on all the time for most of my photos. It's that good.
Because the X100 is so effective with flash power, the flash is often dim enough not to attract attention unless it's actually pointed at a subject. In other words, I can photograph my kids in stores with fill-flash, and junior managers never throw me out.
Unlike Fuji's DSLRs, the hot shoe is different from Nikon, LEICA or Canon. The built-in flash is so perfect that I have no idea why you'd need anything bigger, which would only destroy the whole point of the X100.
I've never had to use the buried-in-a-menu flash exposure compensation. If you do, it only provides ±2/3 stops of adjustment — but I've never needed any.
It's easy to see and change the flash mode in the optical finder, but the EVF has a clumsier display; the EVF's icons change size as selected!
Rapid Shooting performance top
The X100 is much slower than a real DSLR like the Nikon D3100, but focuses much faster than a LEICA.
The X100, like the LEICA, is designed for pros who know how to shoot deliberately, not casual shooters who shoot hundreds of shots of nothing and that hope they magically "turn out" later.
With the X100, you take your shot, then take your next shot. You don't just blaze away and pray for something to happen by itself. When you pay attention, I've found the X100 plenty fast for photographing real action, like a three-year-old's birthday party.
Forget fast raw shooting; it takes about 5 seconds of dead time to process and write an RAF file to the card.
JPGs are much faster; the X100 comes right back up after each shot.
I use the flash for most of my shots, and never have had to wait for the flash to recycle.
The X100's continuous advance mode isn't: it free-runs the camera at one fixed focus and exposure setting at up to 5 FPS for a second or two, but then the X100 locks-up for about 15 seconds while the camera chews on the data and writes it out the card! This mode therefore has only limited usefulness.
When turned on, unlike an SLR or real LEICA but similar to the LEICA M9, it takes about three seconds to wake up. Likewise, when trying to wake it after it goes to sleep, expect a few seconds' delay.
A fast-wakeup mode shortens this at the expense of battery life; I haven't found the three-second turn on to be a problem: I turn on the power as I'm lifting the X100 to my eye, and it's ready by the time it gets there.
As long as it hasn't gone to sleep (a few minutes depending on the menu setting), it's ready immediately
Lens performance top
See also lens specifications with cutaway images.
See also my Fuji X100 Sample Images page.
See also How to Use Filters on the X100.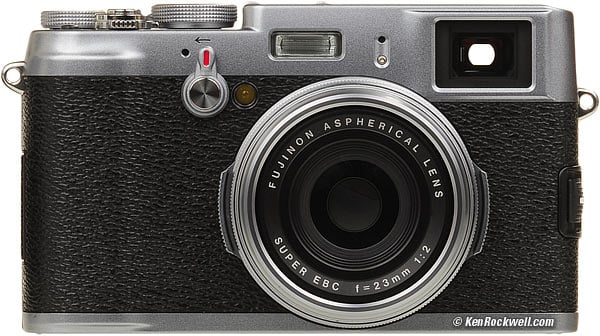 Front, Fujifilm FinePix X100. bigger.
A weird thing about the lens is that, for cosmetic reasons, the front element is much larger than optically useful. The extra glass beyond the entrance pupil as seen from even the most oblique angle is there to make the X100 look more like a real camera with a 35mm sensor and its larger lens.
The lens is magnificent. It's fast and sharp and has very little distortion. Is it just coincidence that the human eye has the same 23mm focal length?
In fact, this FUJINON 23mm f/2 ASPH has only half the distortion of the LEICA SUMMICRON-M 35mm f/2 ASPH, which is LEICA's equivalent on the LEICA M9!
For critical use, use a value of -0.7 in Photoshop's Lens Distortion Filter to correct it, however just like the SUMMICRON-M ASPH, the distortion is complex and never completely corrects with simple tools.
The 9-blade diaphragm is rounded, so sunstars are subtle at best. See example at Sample Images.
Light falloff is invisible, even at f/2. I've greatly exaggerated it here by shooting a gray field and presenting it against another gray field.
Fujinon Super EBC 23mm f/2 light falloff on X100 at infinity:
© 2011 KenRockwell.com. All rights reserved.
Technical Image Quality performance top
See my separate Fuji X100 Sample Images page.
See also the Lens section above.
These are simply details below:
JPG and RAF raw files
I'm reporting on JPG images unless mentioned otherwise.
The RAF files open just fine in Adobe Photoshop CS5's ACR and Apple Aperture 3.
When shooting RAF raw, the final images depend greatly on the software used to read the files, and will be very different depending on which software and which version is used, which is why I'm not attempting to analyze them.
The JPGs are astonishing in being just as sharp as the RAF images, so I see no need for the RAF files unless you really have no ability to shoot well in the first place. This is also because most of the dynamic range and other tweaks like noise reductions probably don't appear in the RAF files when anything other than Fuji's software is used.
If you only have RAF files, the X100 has a great feature wherein the X100 can create JPGs later from these files, with a large array of in-camera options to set later.
Contrast, Highlights and Shadows
Unlike simpler DSLRs that offer only one "contrast" adjustment, the X100 instead offers separate highlight and shadow tweaks.
Highlight Rendition
Highlights are astounding: if you have the Dynamic Range system turned on in the menus as I do, highlights simply can't blow out. If you're shooting for black-and-white, this gives a great film-look.
The X100 has an uncanny ability to control any highlight, even looking directly into the sun. Instead of a big white circle as we get from DSLRs, extreme highlights always look natural, presuming you activate this feature.
Even with positive exposure compensation, the image may be way too light, but the highlights have a scanned filmlike histogram and almost never actually clip (bunch up at the far right point of the histogram).
The highlight rendition of the X100 is better than any DSLR, gracefully and naturally rendering difficult highlights.
The Fuji X100 quietly packs every image-processing trick Fuji learned in making DSLRs into a compact body, instead of another me-too DSLR.
The X100 does everything the Fuji S5 Pro DSLR did, and more, with twice the resolution.
Auto White Balance
AWB works great in every light, from daylight to shade to indoors to moonlight. I almost never need to use any other setting.
Auto Dynamic Range
Auto DR works great. I leave it on all the time. It kicks-in automatically only as needed, and always makes photos look better.
Auto DR knows the dynamic range of the image from the sensor, and alters exposure and region-by-region sensitivity to optimize every part of the image.
It really works, works well, and is completely automatic.
Auto ISO
Auto ISO works exactly as programmed. It has all the options I need, and unlike Nikons, is always optimized for every lens I use on the X100.
When Auto DR is ON, Auto DR bumps up the indicated ISO to keep the exposure in the highlights down if the light is harsh. Therefore it's perfectly normal to see ISO 800 come up in daylight. It's not because it's dark, it's because the highlights are so harsh and the ISO 800 setting is needed to retain the highlights.
Nikon and Canon do the same things with the effective ISO when their dynamic-range optimization systems are enabled, but their software is designed not to scare anyone and conceal the fact that they've also bumped-up their ISOs.
Don't worry of you see ISO 400 and ISO 800 popping up with Auto DR and Auto ISO enabled in broad daylight; it means the system is working.
Color Accuracy
Colors are the most accurate I've ever seen.
In fact, this is the first time I've ever actually noticed accurate colors from any camera. I usually run my cameras at the maximum saturation, which is fun but destroys accuracy.
With my X100, I run it with saturation set to HIGH, giving bright colors, and keeps skin and earth tones accurate
Accurate colors are great for people and some product photos, but not for nature and landscape images, where we want vivid colors. For nature and landscape shots, the Fuji X100, like all Fuji digital cameras, just can't cut it compared to Nikon and Canon's colors. If you want vivid, delicious, vibrant colors, shoot Canon or Nikon.
Color Trims
I haven't had to use the white balance trims.
They are on the wrong axes: the X100 provides red/cyan and yellow/blue adjustments instead of the correct amber/blue and green/magenta adjustments. To make meaningful warm/cool adjustments on the X100, one much use both adjustments instead of just the amber/blue adjustments of other cameras.
Aliasing (moiré)
The X100's lens is so sharp that window screens at about 8-20 feet, or other similarly fine patterns, can excite aliases. Aliases look like colored bands of interference.
Oddly, coming from FujiFilm, the film simulation modes don't work.
It's nice that the X100's menu system uses the actual Provia, Velvia and Astia logos, but the actual images don't look at all like film does.
The default "Standard," or "Provia," looks great. It's what I use.
The "Velvia," or "Vivid," setting looks horrible. The shadows are all clipped to black. It looks like a very bad scan of Velvia, not like an actual Velvia transparent
The "Astia," or "Soft," setting is even more perplexing: it clips the shadows less than the Velvia setting, but it's still more clipped and harder than the Standard setting.
It seems like Fuji simply gave a summer intern the task of scanning some test chart slides, and then modeled their systems to duplicate the scans. The problem is that these scans were never done correctly, and for years Fuji's Film Simulation modes have been useless, except maybe for special effects because all they are doing is emulating bad scans, not the vivid beauty of the actual film.
Swung Panorama Mode performance top
The automatic panorama mode actually works, and works well. It works so well that you need no tripod, and may point the X100 up or down by a constant amount during the pan and it magically corrects! If you wiggle, no problem: the X100 automatically fixes it all.
With one hand-held sweep, the X100 composites all the images into a huge JPG image.
There are only minimal artifacts from the stitching.
The X100's huge dynamic range is a huge help taming the huge variations in lighting encountered in panoramas.
Video performance top
Video results are pretty bad. I prefer the video from my iPod Touch because it's sharper and sounds better.
The X100's autofocus doesn't work in video mode, which is too bad, because the shallow field. needs it.
If you leave the X100 in AF-S or AF-C modes, it desperately hunts for focus, sometimes getting focused just as the subject moves again. Fuji will tell you AF works, but I won't. If it's quiet, you'll hear the AF stepping-motor clicking in the audio.
The best video is had by selecting the manual-focus mode and hoping for the best.
The audio is stereo, with a very strongly-cut low end.
Fuji's PR says that the video mode "lets users create a soft out-of-focus image — a capability not available in conventional compact cameras," which I find to be true. The only thing they failed to mention is that the subject is usually soft and out of focus, too.
Dopey Sounds performance top
I turn these off. Sadly, they are on by default as they are probably popular in Japan, along with Hello Kitty ringtones. God bless the Japanese.
Fake Shutter Sound 1 sounds like a sticky leaf shutter that doesn't open, but buzzes and closes. It double clicks at slow speeds, with no intermediate buzz.
Fake Shutter Sound 2 sounds like a sticky leaf shutter with no escapement that doesn't open, but closes. It double clicks at slow speeds, with no intermediate buzz.
Fake Shutter Sound 3 sounds like a Pac-Man chomp. Slow speeds get a double-chomp.
These could have been fun, especially if Fuji added the sound of a mechanical escapement for the slow speeds, but like all the other non-image related aspects of the firmware, these are half-baked.
Mechanics performance top
Most of the X100 is metal. The X100 is decently made to my high standards, and extremely well made by today's loose standards.
The top and bottom covers are magnesium alloy — the LEICA M9 is just brass. Some marking are engraved, while others are just painted.
Dials, front rings and levers are all metal. All dials are engraved — just like the LEICA M9.
The lens barrel is metal — just like LEICA. The lens identity ring is laser-engraved aluminum.
Rear dials and buttons are plastic with painted markings — just like LEICA.
The bottom battery door and its latch are plastic.
The USB and HDMI connectors are behind a hinged door with what seem like metal pivots, much better than the crappy plastic flap of the LEICA M9's USB cover.
Fake plastic leather covering, which feels much better than the fake covering of the LEICA M9.
Playback performance top
The LCD and EVF are great, but the firmware controlling the playback is about ten years obsolete.
There is no diagonal scroll.
The zoomed image never fills the screen,and if you have the X100 set to ROTATE PB, the zoomed image never leaves the little vertical cutout!
There is no RGB histogram, but since the X100 has no problem with saturated highlights blowing out, this isn't needed. Hooray!
Playback always restarts at the last image shot, not the image at which you were last looking.
Playback zoom-out wastes our time with some stupid multi-image modes that don't let us select our desired images any faster.
There are at least three buttons (front EVF/OVF lever, rear VIEW MODE and DISP-BACK buttons), all of which swap and control displays. The poorly thought-out firmware means that even as an experienced user I usually wind up hitting buttons at random until I get the display I need.
Data performance top
Formatting
Once formatted, cards are left as "Untitled." They should be titled "FUJIX100."
For some unknown reason, my new X100 started files at DSCF2001.JPG.
In-Camera Processing
Shooting RAF or multiple files hangs-up the camera until they are all processed and written.
If all you have are RAF files, the X100 can reprocess them in to JPGs with a wide choice of shooting-style options.
White Balance isn't coded that well into EXIF. iView 3.1.3 reads the manual preset setting as "Auto."
ISO chosen by Auto ISO reads perfectly in iView 3.1.3.
Vertical JPGs are not actually rotated, just flagged.
In the CONTINUOUS shutter advance mode, files are all named S00Nnnnn.JPG, with 00N being the same for each sequence, and nnnn being in sequence with the rest of your shots. This makes the continuous mode even less useful because almost all software sorts these files alphabetically out of sequence behind everything else.
File Sizes
JPGs all have about the same file size regardless of content.
The X100 defaults to FINE LARGE JPGs, which are about 4 MB.
LARGE NORMAL JPGs are about 2.9 MB, rarely less than 2.8 MB or more than 3.0 MB.
MEDIUM NORMAL JPGs are 1.3 to 1.4 MB.
SMALL NORMAL JPGs are 650kB.
12MP RAF raw files are 19 MB each. They have 12 bits per color per pixel. No compression is available, so they are card-suckers.
Storage and Copying
Fuji only recommends SanDisk and Fuji cards. If you use any other brands, you're on your own.
If you forget a card, there is 20MB of free internal memory. You can copy back and forth to this internal memory, so you can copy files from one card into the X100 and back out onto a friend's card.
If you have no card and the X100 is about to start recording images to its internal memory, it will warn you.
Battery and Power performance top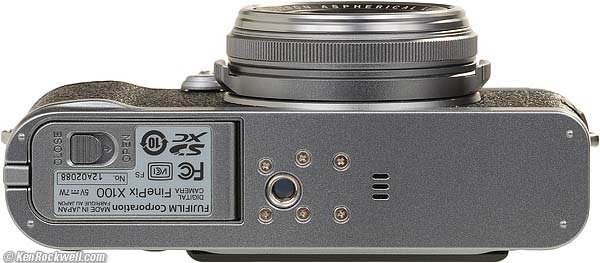 Bottom, Fujifilm FinePix X100. bigger.
See also Fuji X100 Battery and Charger Specifications.
Camera
The battery meter is primitive. It only indicates full, partly dead, almost dead, and completely dead.
The gauge seems like a simple voltmeter. It's loose, meaning that it reads higher after the battery gets to rest a bit.
The camera works fine if the battery door is left open. This suggests that it will keep shooting if the plastic battery door breaks off.
Page 106 of Fuji's User's Manual says that file numbers will reset if the battery cover is opened with power on, but I wasn't able to reproduce that defect.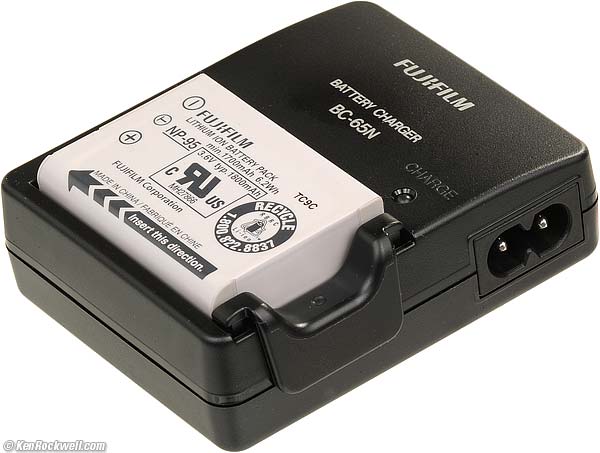 Fuji BC-65N Charger, A7002 Dongle and NP-95 Battery.
Battery
Battery life is poor by modern standards. The X100 is only rated for 300 shots per charge; I get about 3,000 shots per charge with my Nikon D7000.
The X100 is still 50% better in my actual use than the LEICA M9.
I get 450-650 shots per charge on my X100, and 350 shots per charge with the M9.
You'll need at least one spare battery.
I use off brand spares like this, and they work fine.
Charger
The charger is small and lightweight, but poor by modern standards.
It requires a separate cord. It has no folding plug.
A bizarre design defect requires the use of an extra piece of easily lost plastic, marked "A7002," to get the NP-95 battery to make contact. Loose the piece of plastic, and the battery won't charge. Rumor suggests that the easily lost piece of plastic may be ordered as a special-order part called a "Charger Adapter," Fuji part number ZP01729-100.
A full charge is rated as 3.5 hours, and I can shoot a full battery in less than that if I'm at an event.
I measure about three hours to 3h15 to recharge from a mostly dead NP-95. This is slow; most chargers today are back up from a dead battery in about 2.5 hours.
Firmware performance top
The image-producing firmware works great, but the user interface will seem weird for the first day or two. After a couple of days, it's fine.
The weirdest thing is that each time Fuji updates the firmware, features move around.
What's Missing or Broken performance top
What's missing is far less than what the X100 adds. I've mentioned a bunch of things above; there below are more. These are annoying at first, but not noticed after shooting with the X100 for a couple of days.
As newer firmware is released, many of these are getting fixed for free.
1.) The X100's Custom Settings memories are useless. Unlike Canon's brilliant C1, C2 and C3 Total Recall modes, the X100's EDIT/SAVE CUSTOM SETTINGS function only stores and recalls a few of the image parameters like sharpness and white balance, but not Auto ISO, image size, AF mode, flash or anything else. For these to be useful, they need to save everything, as Canon does. Even the LCD brightness needs to be saved and recalled, for instance, on my Canons, I use different presets for shooting outdoors or indoors.
2.) No BASIC JPG, only NORMAL and FINE. Therefore, JPG files are twice the size I want them. Raw shooters will love the RAW button, which easily lets one get a JPG or RAF file in addition to whatever you usually do.
3.) No compressed raw, only one option for 19 MB RAF files.
4.) No RGB histogram, but since the X100 doesn't overload with bright colors, this isn't needed.
5.) No diagonal scroll on playback, or when selecting AF areas.
6.) No way to swap to another image while zoomed.
7.) The LCD never fills during zoom. If AUTOROTATE PB is left at its default of ON, vertical images playback in a small vertical window with large black areas on the left and right as expected, but these black bars remain even when zoomed! Therefore, set this to MENU > SET-UP > AUTOROTATE PB > OFF.
8.) The text next to the SUN icon conjured by the menu system when tapping the WB button reads "FINE," not SUN or DAYLIGHT. The preset works properly for daylight white balance.
9.) The AEL-AFL button changes the finder AF area to green to show lock instead of showing a separate AFL icon, which is too bad because it turns green even if it was never in focus or was red!
10.) The AEL-AFL button should focus and lock when in AF-S or AF-C without needing us to tap the shutter to get focus the first time.
11.) The EVF is useless for previewing exposure in Manual exposure mode because it continues to vary its own gain as the subject changes.
12.) Auto ISO doesn't cancel when Manual exposure mode is chosen. There needs to be a menu option to cancel Auto ISO in Manual mode, since most of us use Manual mode to lock exposure for a long series of shots when our subject is the same, but backgrounds (or compositions) are changing.
13.) When focusing manually, the X100 needs to magnify automatically and not require us to tap the center of the rear control lever to zoom. No one uses the manual focus ring; manual focus is done by tapping the AEL AFL button.
14.) The PLAY button needs to be on the right-hand side of the X100 so we don't need a second hand to hit it.
15.) Autofocus needs to run to closer distances than 0.5 meters. TO get around this today, I have to revert to manual focus.
16.) As does Casio, we ought to have the ability to select what resets or not every time the power is cycled. Likewise, the X100 ought to have the compete camera-state recall memory of most Canons.
Recommendations top
Intro Sample Images Specs & Boxes Accessories
Performance Compared Usage Recommendations
Strap
Use the LEICA strap. It attaches easily, and works great.
Filter
Be sure to use a UV filter over the lens. The non-recessed lens of the X100 is highly vulnerable to damage without one. Use a multicoated filter, otherwise the X100 is susceptible to mirror-image ghosts when pointed straight into light sources.
System
Leave the cap in the box and use a UV filter instead.
An X100 costs less than a used 35mm SUMMICRON. Instead of buying a SUMMICRON for your M9, throw an X100 in your bag, keep your 90mm on your M9, and you're set for anything without changing lenses.
Die Zukunft der Fotografie M: The Future of LEICA M Photography
The fixed lens is superb, but Fuji really could have stuck it to LEICA if they threw away the 23mm lens and replaced it with a hole, a LEICA M mount, and a full-sized 24 x 36mm sensor.
Fuji could have called it the M10, and pitched it as "The Future of M Photography." (LEICA has no trademark on the letter M or "M10" as far as I know.)
In a Japanese minute Fuji could have advanced LEICA photography by over 50 years. The LEICA M9 still uses viewfinder technology that is actually a cost-reduced downgrade from the superior finder of 1954's LEICA M3. The X100's finder is 60 years ahead of LEICA, which like Harley-Davidson, is decades of tradition unhampered by progress.
You can order yours at Adorama and wait as I did to get the lowest price, or get it right now, probably at a higher price, through Amazon or at eBay (see How to Win at eBay).
Don't wait for it to come in to a retail store; by the time these get to retail stores they will already be obsolete. You've got to order it and be patient as I was, or pay a little more at Amazon or eBay.
More Information
Fuji X100 Compared to Other Cameras
Fujifilm's Fuji X100 Owner's Manual
(Fujifilm's older Fuji X100 Owner's Manual)
Fujifilm's Fuji X100 Promotional website
Fujifilm's original glossy brochure
Fujifilm's newer glossy brochure
Fujifilm's ho-hum gallery of sample images
Fujifilm USA's pages on the X100
FujiFilm's Press Announcement from 20 September 2010
© Ken Rockwell. All rights reserved. Tous droits réservés.
Help me help you top
I support my growing family through this website, as crazy as it might seem.
The biggest help is when you use any of these links to Adorama, Amazon, eBay, B&H, Ritz, Calumet, J&R and ScanCafe when you get anything, regardless of the country in which you live. It costs you nothing, and is this site's, and thus my family's, biggest source of support. These places have the best prices and service, which is why I've used them since before this website existed. I recommend them all personally.
If you find this page as helpful as a book you might have had to buy or a workshop you may have had to take, feel free to help me continue helping everyone.
If you've gotten your gear through one of my links or helped otherwise, you're family. It's great people like you who allow me to keep adding to this site full-time. Thanks!
If you haven't helped yet, please do, and consider helping me with a gift of $5.00.
As this page is copyrighted and formally registered, it is unlawful to make copies, especially in the form of printouts for personal use. If you wish to make a printout for personal use, you are granted one-time permission only if you PayPal me $5.00 per printout or part thereof. Thank you!
Thanks for reading!
Mr. & Mrs. Ken Rockwell, Ryan and Katie.
Home Donate New Search Gallery Reviews How-To Books Links Workshops About Contact