Home Donate New Search Gallery Reviews How-To Books Links Workshops About Contact
Fuji X100T
16MP APS-C, 6 FPS, ISO 51,200 (2014-2017)
Sample Images Intro Specifications Accessories
Performance Compared Usage Recommendations More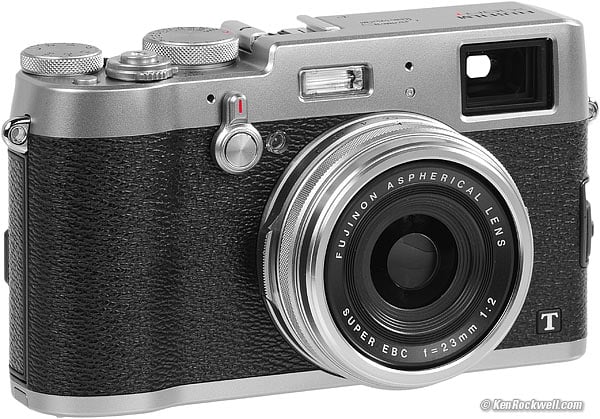 Fujifilm X100T silver version; also comes in black. (15.2 oz./432g with lens, battery and card, about $1,099). enlarge. I got mine at at this link to them at Adorama. This link to it at Amazon and at B&H are also great places to get it.
This ad-free website's biggest source of support is when you use any of these links to approved sources when you get anything, regardless of the country in which you live. Fuji does not seal its boxes, so never buy at retail or any source not on my personally approved list since you'll have no way of knowing if you're missing accessories, getting a defective or damaged customer return or a used camera. Buy only from the approved sources I use myself for the best prices, service, return policies and selection. Thanks for your support! Ken.
June 2017 More Fuji Reviews LEICA Reviews All Reviews
Why Fixed Lenses Take Better Pictures
NEW: Fuji X100F (2017-)
Fuji X100S (2013-2014)
Fuji X100 (2010-2013)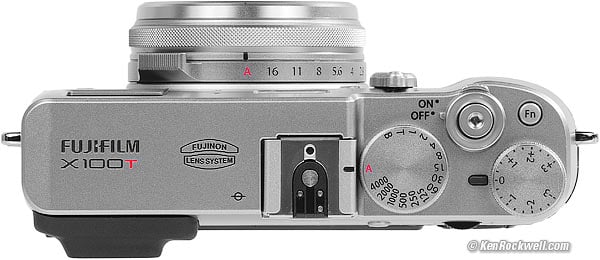 Top, Fujifilm X100T. enlarge.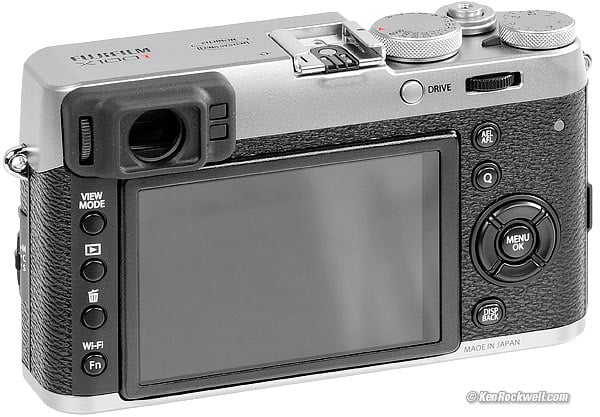 Back, Fujifilm X100T. enlarge.
Sample Image Files
Top Sample Images Intro Specifications Accessories
Performance Compared Usage Recommendations More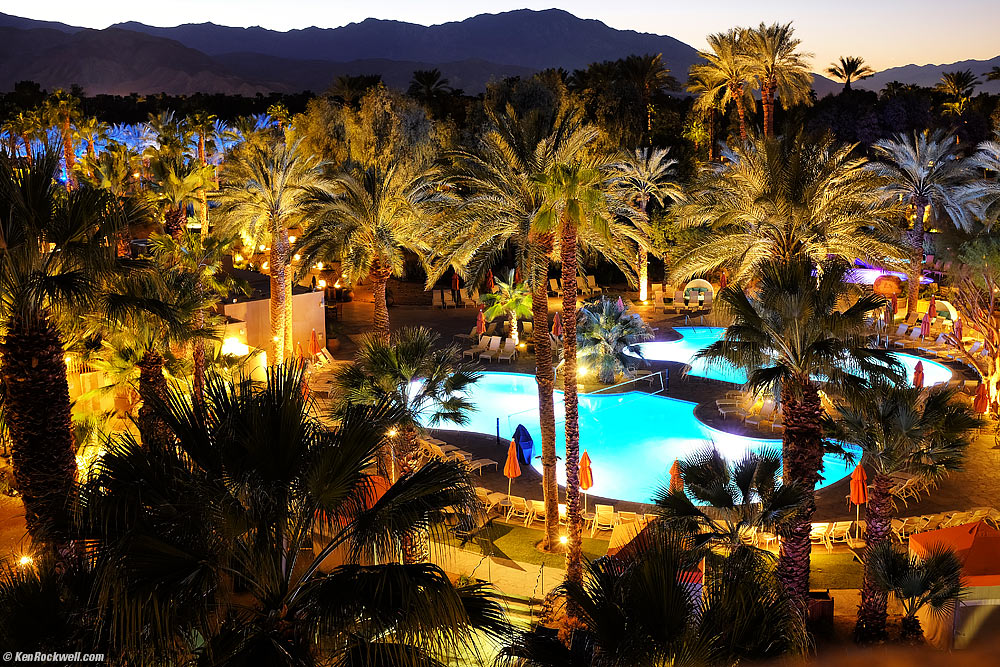 View from Palm Desert, 06 November 2015. Fujifilm X100T on pocket tripod, f/4 at 10 seconds at ISO 200, Perfectly Clear V2. bigger or full resolution to explore on your computer (mobile devices rarely can show all the pixels).
I made this snap out our balcony. It is very easy to control the X100T and its exposure modes and long-exposure times all by looking at its rear screen as it sits at arm's length on a tiny pocket tripod. My X100T is such a relief from other cameras; it just goes and makes great images with a minimum of fussing.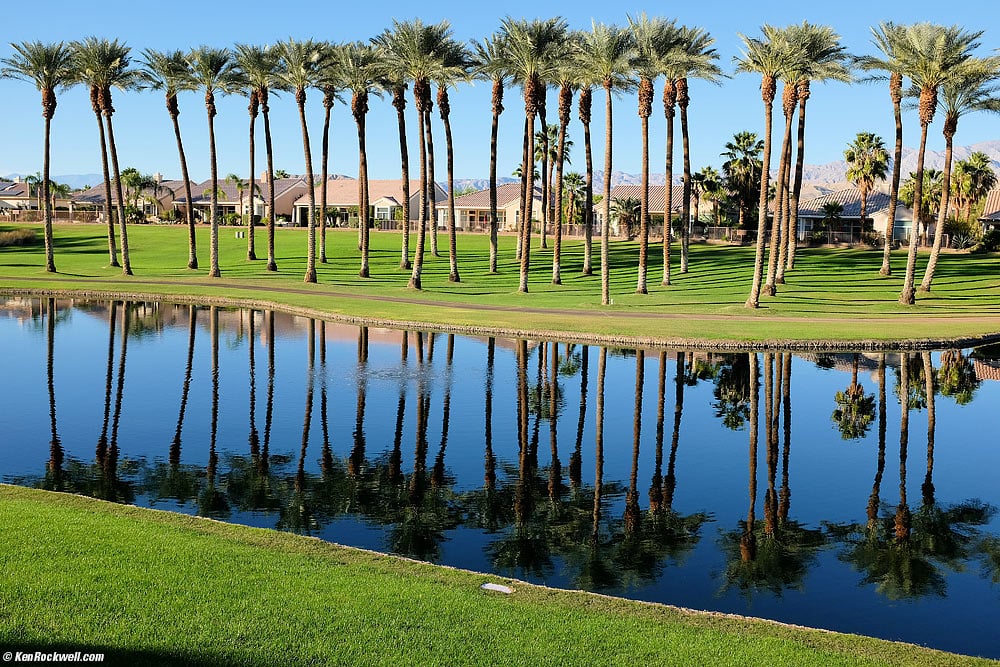 Palms, Palm Desert, 07 November 2015. Fujifilm X100T, f/6.4 at 1/800 at Auto ISO 400, Perfectly Clear V2. full resolution or camera-original © file to explore on your computer (mobile devices rarely can show all the pixels).
Yes, it's ultra sharp thanks to its magic non-Bayer filtered sensor.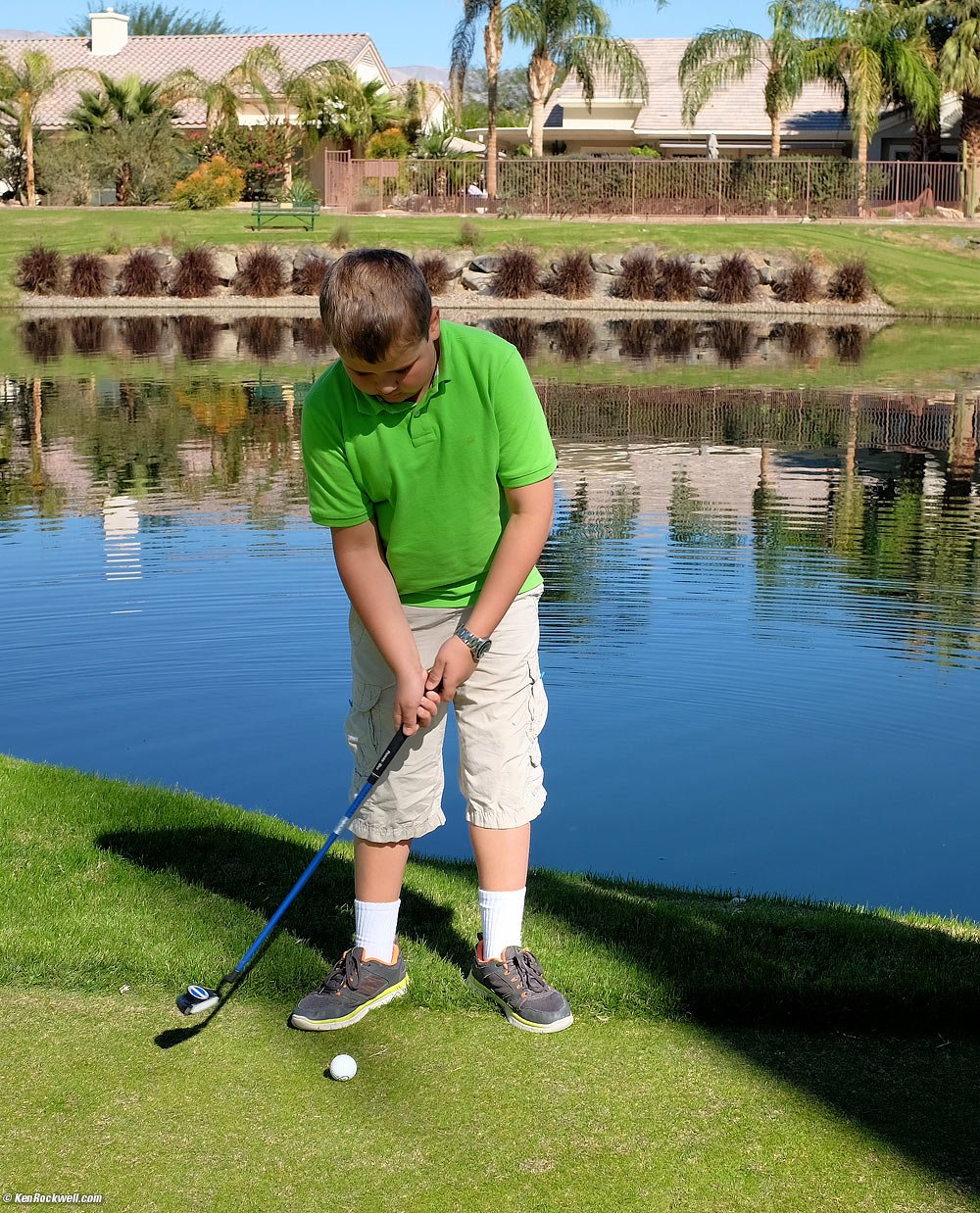 Ryan Putts, 08 November 2015. (Fujifilm X100T, f/5.6 at 1/680 at Auto ISO 200 in rapid fire mode, Perfectly Clear V2.) bigger.
Not only great colors, but easily runs at high frame rates, too.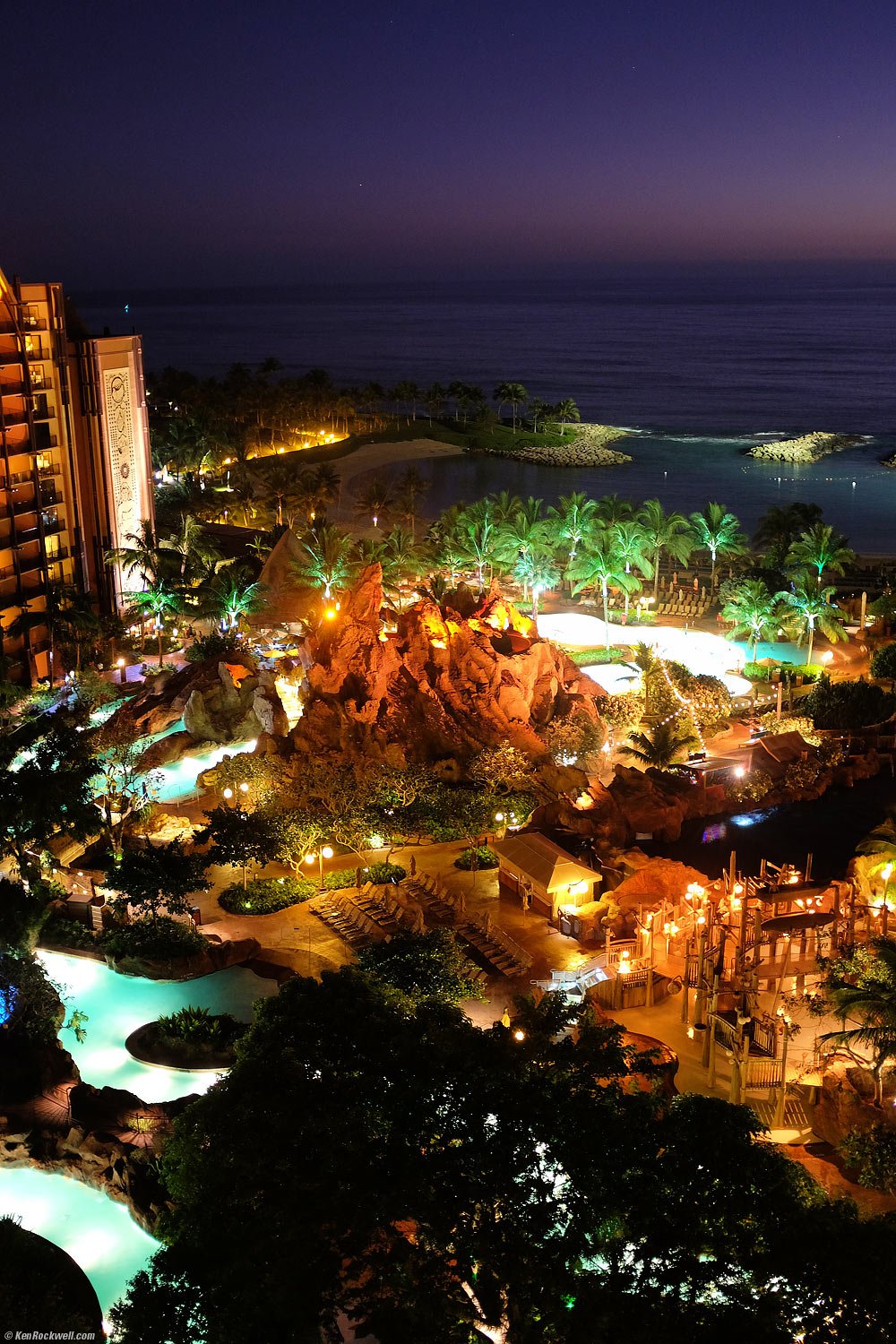 Resort at Night, 16 February 2015. Fujifilm X100T, handheld against pole, exposure manually set by feel to to 1 second at f/2, +1 exposure compensation, Auto ISO selected ISO 800, Perfectly Clear V2. Bigger.
Introduction top
Sample Images Intro Specifications Accessories
The Fuji X100T is the world's best digital camera because no other camera has its ability to capture great photos perfectly in any light, all usually on the very first shot. It's also the world's quietest camera, with a completely silent electronic shutter that can be set as fast as 1/32,000.
The X100T's flash system had the uncanny ability to give perfect flash fill in every light, not just in daylight like a DSLR. From daylight to moonlight, the X100T balances its flash perfectly on the first shot and every shot so I can capture life as it unfolds.
The X100T consistently gives me perfect exposure and auto white balance on the first shot in real-world crummy mixed-light. I never have to second-guess it as I sometimes do with my DSLRs. Especially for people and family photography where there is no way to catch that once-in-a-lifetime expression again, the X100T always gets the shot the first time, every time.
The X100T has great macro ability without needing any other accessories.
The X100T has an astonishing combined optical and electronic finder that allows perfect viewing of anything in any light. A lever push selects each one, and even shooting with the optical finder the just-shot image can pop up for review! New in the X100T is the ability to use the optical finder and have an electronic inset at the bottom right to magnify a focus area. No other brand of camera can do any of this.
The X100T is a mechanical jewel, made at least as well as a $7,000 LEICA M240, with all-metal dials, lenses and top and bottom covers.
For carrying everywhere, for photographing people under any and every available lighting condition, for silent shooting and for macro, there is no camera that compares with the Fuji X100T. It's what I carry everywhere with my family.
I got a message from a reader, Michael Cannon, who says:
"I am so pleased with the Fujifilm X100T I bought based on your suggestions I can't tell you. It has reinvigorated my love of photography. I am out shooting every day. 4 walks with the dog means about 50 images per walk for a total of 200. I am stunned by the sharpness, intuitive controls and simple manageability of this device. I wouldn't have considered it without your recommendation. I will still probably get the Nikon D750 to have a home for my primes but it will be a while. I am thrilled, literally thrilled, by the images I am getting. That little zing is back after a long hiatus." See Michael's shots with his X100T.
Speed
The X100T shoots faster under rapidly-changing real-world conditions because its auto white balance, exposure and fill-flash get the perfect color and exposure usually on the very first shot without needing a second shot to fiddle with, as we usually do with DSLRs when the lighting changes dramatically.
New in the X100T is facial recognition that finds faces and focuses on them, even if they are behind something. No longer do I have to move AF areas manually to find my subjects; my X100T does this for me so I can shoot instead of fumble.
New for any camera are three Auto ISO presets, which are recalled as separate entries in the ISO selections. Each may be set to your choice of ISO range and minimum shutter speeds. I set one for kids, one for grab-shot stills and the last for careful hand-holding in the dark.
Silence & Stealth
In addition to its nearly silent leaf shutter, the X100T also has a new and completely silent electronic shutter. We can select either one as we shoot.
The X100T has an eye sensor to select the finder or rear LCD as we hold it to our eye. The X100T has a new option to turn off the rear LCD and turn-on the finder only when we hold it to our eye. Thus the X100T can be dark at all times, with the finder lighting only as we hold it to our eye. Slick!
The X100T is the first real camera usable during symphony concerts which won't disturb anyone. We even can shoot it on stage during a recording session, no problem. It can be rendered silent and invisible. No LEICA has ever been completely silent like this so that it could be used during a paid performance.
Style
The Fuji X100 series is the only digital camera about which I get "Nice Camera!" compliments in public — and I get those compliments a lot.
People presume an X100T is a 35mm LEICA or other classic 35mm camera, and not another forgettable digital toy.
This also helps with stealth. No one is afraid of a 35mm camera.
The Class Photographer
As you may have guessed, I'm the class photographer.
I always grab my Fuji X100T, and never cease to be amazed at how it lets me snap anything that gets thrown my way.
I'm usually in the classroom, and the X100T easily handles mixed fluorescent and window light with ease, always making all the kids look great.
It's easy to shoot at my eye, or at arms length to get interesting angles from kids' desk height. Unlike a LEICA, the auto finder sensor turns on the viewfinder or the LCD instantly so however, wherever I hold my X100T, I've gotten the shot.
A huge advantage of the X100T over the older X100 and X100S (and most other cameras) is its ultrafast and ultrasmart face recognition. I can be shooting with my X100T at arms length in some crazy position, and it just nails the faces so I can worry about what's going on and not worry about focus or assigning AF zones.
The EVF and optical finder are also flawless in daylight. If I'm outdoors for a presentation, boom; the optical finder shines in daylight — as does the 1/2,000 flash sync and flawless fill-flash performance. I always get perfect shots outdoors.
Top Sample Images Intro Specifications Accessories
Performance Compared Usage Recommendations More
Type top
Fixed-lens digital camera.
Electronic leaf and/or fully electronic shutters.
Optical and electronic viewfinders, and a rear LCD, any of which may be used for shooting and for playback.
Die-cast magnesium is used for the top and bottom of the body.
EXR Processor II.
Lens and Diaphragm top
Permanently attached, fixed 23mm f/2 lens.
Sees the same angle-of-view with the X100T's sensor as a 35mm lens sees with a full-frame sensor or on 35mm film.
The lens moves in and out several millimeters inside the outer barrel to focus.
DSP compensates for diffraction at small apertures.
Optics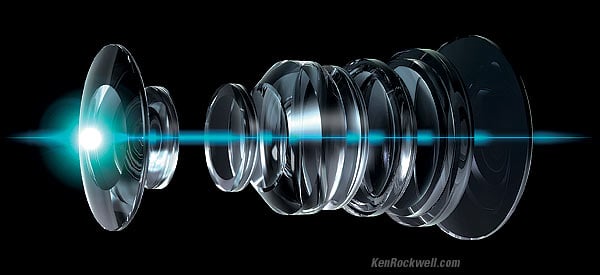 Fujinon 23mm f/2 ASPH. huge. Light comes from left, sensor on right.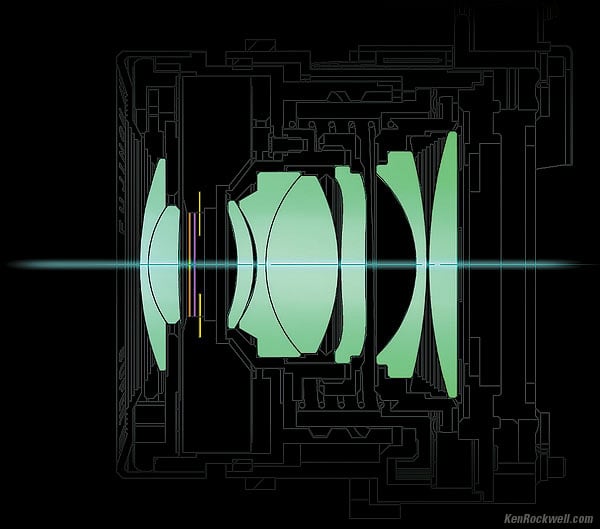 Fujinon 23mm f/2 ASPH. bigger. Light comes from left, sensor on right.
8 elements in 6 groups, the same extraordinary lens as in the X100 and X100S.
One element, the sixth element, is a glass-molded aspheric with two aspherical surfaces.
HT-EBC Super EBC (Electron-Beam Coated) multi coating.
Except for the aspherical element, this FUJINON seems like an homage to the world's first high-speed wide angle lens, the Nikon W-NIKKOR•C 35mm f/1.8 of 1957, right down to the 9-bladed diaphragm and the same extra-large rear element:
Nikon W-NIKKOR•C 35mm f/1.8 (1957-) and its internal diagram. click to enlarge.
Diaphragm
9-blade rounded.
Electronically-controlled.
Third-stop clicks via the aperture ring
Stops down to f/16.
Close Focus
10 cm (4") with EVF.
35cm (14") measured, 50 cm (20") rated, with optical finder.
Macro Mode
Fuji claims the Macro mode lets us focus closer, but I've never found it to make any difference; I can focus to the same close distance regardless of the setting.
ND Filter
Selectable 3-stop (8x or 0.9 D log10) neutral-density filter.
Autofocus top
Contrast and phase detection.
Reads focus directly from images from the sensor.
Real-time face recognition.
49 areas (7x5 array), manually or automatically selected when using EVF or rear LCD. Each AF area may be changed in size (turn rear dial when selected)!
For sanity's sake when using the optical viewfinder, limited to 25 areas (5x5 array) and the size doesn't change.
White-LED AF illuminator.
Shutters top
Selectable Leaf ("mechanical") and/or Electronic shutters.
Leaf Shutter
The leaf shutter is electronically timed. Fuji refers to it as the "mechanical shutter" to differentiate it from the electronic rolling shutter below.
1/4,000 top speed only from f/8 to f/16.
1/2,000 top speed only from f/4 to f/16.
1/1,000 top speed at all apertures.
As we expect from a leaf shutter, flash sync at all speeds (to 1/1,000 at all apertures, 1/2,000 f/4~f/16 and 1/4,000 f/8~f/16.)
1/4,000 to 4 seconds in Program mode.
1/4,000 to 1/4 second in Aperture-priority mode.
To 30 seconds in other modes, to 60 minutes (3,600 seconds) in Bulb.
"Time" (T) mode on dial is really only a way to set shutter speeds from 2 to 30 seconds.
Rated 100,000 shots.
Electronic Shutter
Flash does not work with the electronic shutter.
The Electronic shutter is completely silent. It isn't a "flash" capture like the leaf shutter, it's effectively a rolling slit just like a focal plane. Therefore pictures with motion may look bent.
1/32,768 top speed.
1 second maximum time.
Mechanical + Electronic Shutter setting
This setting uses the mechanical shutter all the time, only working in electronic mode if the shutter speed needs to go above the current limit of the mechanical shutter.
Remote Release
Standard threaded cable release (mechanical and the best way).
Remote Release RR-90 (electrical).
Third-party 2.5mm remote controls (electrical).
Self Timer
2s or 10s.
Only found as a menu option and in the Quick Menu.
To stop, tap shutter halfway or hit DISP-BACK.
Frame Rates
The high frame rate options with the DRIVE button allowing shooting at up to 6 FPS for up to 25 frames.
Intervalometer
1 second to 24 hours.
Up to 999 frames.
Sensor top
16.3 MP X-Trans CMOS II sensor.
No anti-alias filter; has randomly-scattered RGB segments to eliminate aliasing.
23.6 x 15.8mm.
3:2 aspect ratio.
Custom-designed microlenses for optimum coupling to the X100T's lens.
Image Sizes top
Still
4,896 x 3,264 pixels native (also 16:9 crop to 4,896 x 2,760 and square crop to 3,264 x 3,264.)
Also 3,456 x 2,304 (8MP Medium, also 16:9 crop to 3,456 x 1,944 and square crop to 2,304 x 2,304.)
Also 2,496 x 1,664 (4 MP Small, also 16:9 crop to 2,496 x 1,408 and square crop to 1,664 x 1,664.)
Swept Panoramas
180° sweep held vertically: 9,600 x 2,160; held horizontally: 9,600 x 1,440.
120° sweep held vertically: 6,400 x 2,160; held horizontally: 6,400 x 1,440.
Video
1,920 x 1,080 or 1,280 x 720.
60, 50, 30, 25 and 24 fps. I'm unsure if these are pulled-down, or as specified.
S - t - e - r - e - O sound from built-in microphones spaced 1.75 " (45mm), but strong low-frequency cut-off.
H.264 video with PCM audio saved as .MOV files.
Manual focus available during video recording.
Optical or electronic finder work while shooting video.
ISO top
Fixed ISO
ISO 200-6,400 in all modes.
LOW 100 and HIGH 12,800, 25,600 and 51,200 in most modes except with electronic shutter.
Auto ISO
Three easily recalled and programmable Auto ISO settings.
Each Auto ISO setting runs from your choice of ISO 200-6,400 to a selectable maximum of ISO 400, 800, 1,600, 3,200 or 6,400.
Auto ISO starts boosting ISO from a selectable minimum shutter speed from 1/4 to 1/125.
Light Meter top
256 zone meter, spot, and average.
Viewfinders
There is an eye-sensor to activate the rear LCD or viewfinder automatically.
Eye point: 15mm.
Dioptometric adjustment range: -2 ~ +1 diopter.
All multi-coated glass.
Optical Viewfinder (OVF)
0.5x magnification.
92% coverage.
Electronic superimposed white LCD graticule with parallax correction.
Electronic Viewfinder (EVF)
2,360,000 dot, 0.48" LCD, viewed through multicoated optics.
Data rotates for vertical shots, but only in the EVF.
Color trim adjustable in the menus.
New mode that adds an insert in the lower right showing an electronic snippet of a magnified focus area.
Rear LCD
3.0" diagonal.
1.04 megadots TFT.
3:2 aspect ratio.
Uncoated plastic cover.
Color trim adjustable in the menus.
Flash top
Built-in.
Syncs to maximum leaf (mechanical) shutter speed.
Hot shoe. Must be activated in a menu for use with non-Fuji flash.
TTL hot shoe only for Fuji shoe-mount flashes EF-20, EF-42 and EF-X20.
Different contacts than Nikon, Canon or LEICA.
No PC sync terminal; use a hot-shoe adapter if you need one.
Data Storage top
55 MB internal.
SD, SDHC or SDXC (UHS-I) card slot.
Data Communication top
Micro HDMI type D.
Micro USB 2.0.
Power and Batteries top
The X100T uses the same battery and charger as the X100 and X100S.
New in the X100T is that it also can charge via USB, and Fuji also includes a stand alone charger.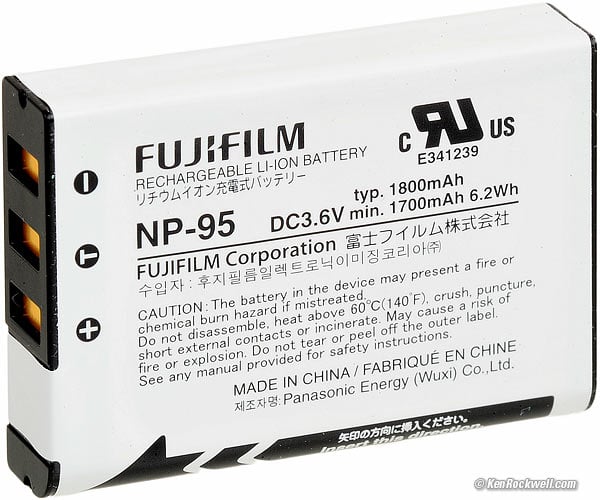 Fuji NP-95 battery, 2014.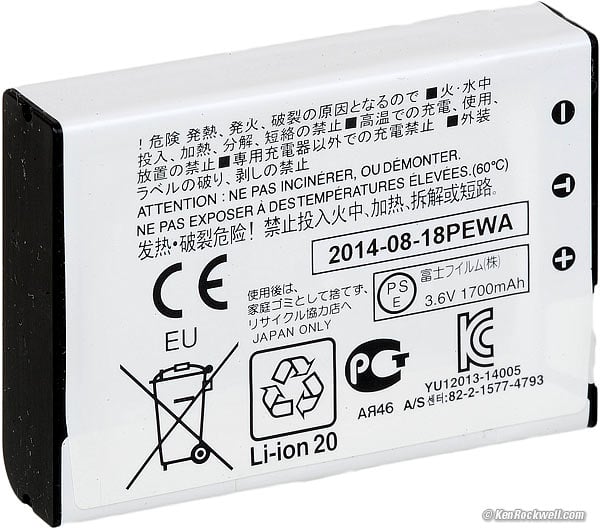 Back of Fuji NP-95 battery, 2014.
The NP-95 is the same, but now has an orange stripe on it we can line-up with the orange catch in the camera. It also has the manufacture date and factory marked on the back.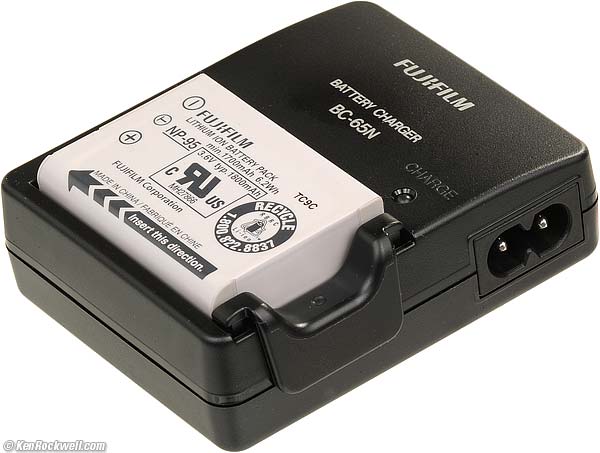 Fuji BC-65N Charger, A7002 Dongle and older-style NP-95 Battery.
NP-95 Battery, Li-Ion, 3.6V 1.8 AH.
Rated 330 shots, actually gives 450-650 for me. Rated 700 shots when OVF power save is ON.
(Cheap NP-95 copy bought over eBay has about two-thirds the capacity for one-seventh the price.)
Fuji BC-65N Charger:
Input: 100-240 VAC, 50-60 cps, 0.2 A
Output 4.2 VDC, 650 mA.
Charges: NP-40, NP-95 and NP-120 batteries.
The A7002 dongle is the screwy piece of plastic on the end that does not lock, easily falls off, and without which won't charge the battery.
Charger requires a separate power cord.
Size top
74.4 x 126.5 x 52.4 millimeters HWD.
2.9 x 5.0 x 2.1 inches HWD.
(Minimum thickness: 31.0mm / 1.2in.)
Weight top
15.245 oz. (432.2g) actual measured, with battery and card.
Rated 15.5 oz. (440g) with battery and card.
Metal lens cap weighs 0.395 oz. (11.2g).
Battery weighs 1.260 oz. (35.75g) when removed from X100T.
(Cheap NP-95 copy bought over eBay weighs 1.030 oz. (29.2g) and has about half to three-quarters the capacity.)
Charger and dongle weigh 2.140 oz. (60.7g). Cord is separate.
Environment top
0 - 40º C (32 - 104º F) operating.
10 - 80% RH, operating, non-condensing.
Quality top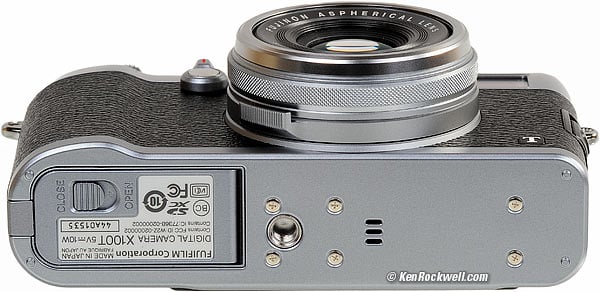 Bottom, Fujifilm X100T. enlarge.
"Each and every part is made in Japan, for high precision and finish," per Fuji's X100T press release, but the charger and battery are marked "Made in China."
Included top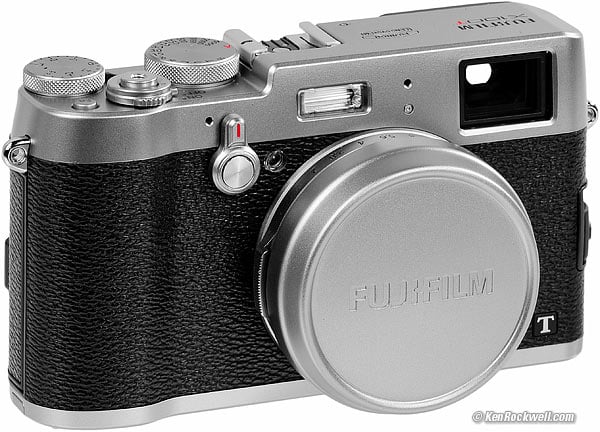 Fuji X100T and included metal cap.
X100T and metal cap.
Li-ion battery NP-95.
Battery charger BC-65N & AC cord.
Shoulder strap.
USB cable.
Metal strap clip, Protective cover and clip attaching tool.
Two printed owner's manuals: one in English and one in Spanish.
Packaging top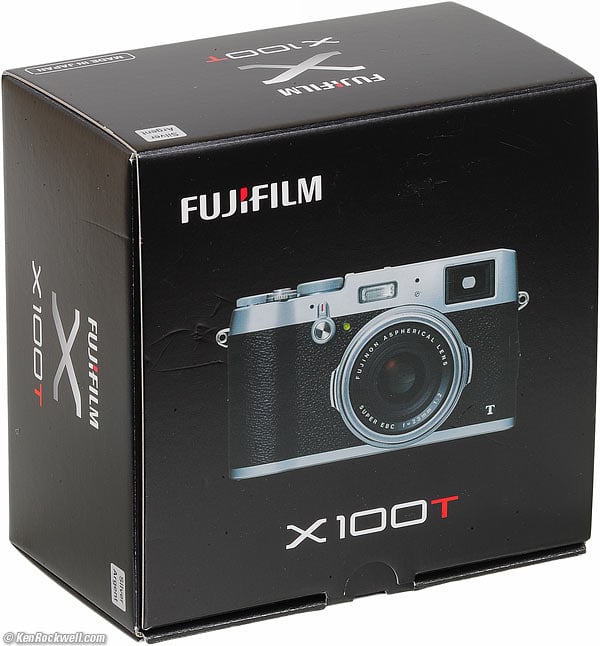 Fuji X100T box.
Microcorrugated cardboard box.
Formed paper pulp divider to hold camera in foam bag.
Black closed-cell foam top thing to separate camera from manuals.
Fujifilm Order Number top
16440616 silver.
16440680 black.
Announced top
10 September 2014 for Photokina
Available top
First samples hit the streets November 2014.
Price, USA top
$1,099, December 2015 ~ June 2017.
$1,299, July 2015.
$1,099 on sale at Adorama and at B&H after you add it to your cart, June 2015.
$1,299 in silver and in black, September 2014 ~ May 2015.
Top Sample Images Intro Specifications Accessories
Performance Compared Usage Recommendations More
Accessories I use Fuji's Accessories
Overview
The X100T takes the same front lens accessories, cases and battery as the previous X100S and X100. One difference is that this X100T has a new door on the side for connections, so the newest cases allow access, while the older cases also fit but don't allow side door access.
Even with a bigger screen, Fuji seems to supply the same case for the X100T as it does for the earlier models.
Accessories I Use top
Hoods
I don't use any hood.
The lens doesn't flare, and a hood will block the optical finder and the flash somewhat.
Caps, Filters and Opticaps
I never use the fancy original Fuji cap. I leave it in my box for resale time.
In fact, I don't use any lens cap.
I use an "Opticap," a bulletproof clear filter instead of a cap. I use the fantastic Hoya HD2 UV 49mm filter. Not only is there no problem with ghosts, it really doesn't get dirty. Even if I put my thumb on it, no fingerprints stick! It's made of extra-tough glass, so I throw my X100T around and am always ready to shoot. I never have to futz with a lenscap like an amateur. I beat on this glass filter as if it's a cap — but it's a cap through which I can shoot.
The X100T has a deliberately reversed thread so Fuji can get lazy people to pay $70 for the Fuji LH-X100 filter adapter and hood.
I'm cheap and resourceful, so I use an empty 49mm filter ring and mount the filter backwards to do the same thing: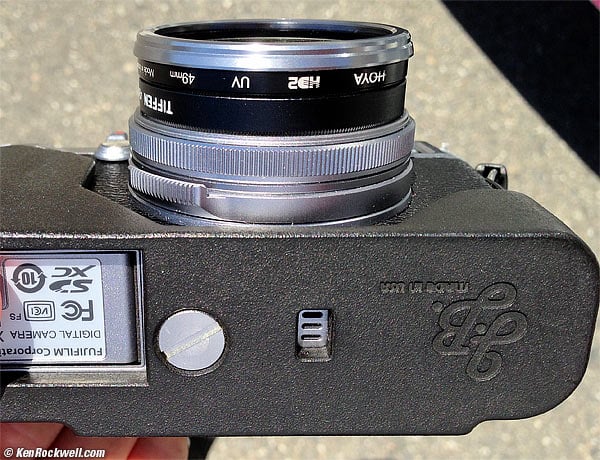 Hoya HD2 UV 49mm filter and JB Camera Designs half case.
The filter might fit backward without the empty 49mm spacer ring, but the empty ring adds space for the lens to move forward to focus at macro distances.
I took an old Tiffen 49mm UV filter and unscrewed the retaining ring. I took out the glass and saved it for later. I removed the X100T's front trim ring, screwed the empty 49mm Tiffen filter ring on backwards, screwed my 49mm Hoya HD2 UV backwards on top of the empty ring, and put the X100T's silver trim ring back on the reversed filter. Done.
Most people will prefer the $15 JJC Fuji X100T Filter Adapter and Hood instead. It's well made, dull black on the inside and silver on the outside to sort of match the X100T (these adapters also work on the X100 and the X100S). This adapter is well machined and works fine; I doubt Fuji's Fuji LH-X100 is any nicer.
The $12 EZPhoto X100S Adapter feels like junk by comparison; forget about it and splurge for the $15 JJC Adapter. The JJC comes in a nice box, the $12 EZPhoto Adapter comes in a plain white box, and is all black, not matching the camera. Worst, the EZPhoto Adapter feels rougher and grittier, especially when attaching either the filter adapter to the camera or the hood to the filter adapter.
Each works as well and is all metal and the same size and shape, but the hoods don't quite interchange between them. The filter adapters are useful for anyone lacking a spare empty 49mm filter ring, and each of the hoods bayonets the same way.
Grips and Cases
I use a tough American-made JB Camera Designs grip case. It's nearly weightless (2.765 oz./78.4g total including tripod-mount screw), lets me set my X100T down on fences, concrete or anywhere without damage, and most importantly gives me a way to hold and shoot this tiny Japanese camera with only one hand.
I can get to everything with the case still on; I never have to remove the case for anything — even to mount a tripod or charge the battery. Better, the JB Designs cases are 100% hand-poured from American materials and hand-finished right here in the USA. Here's mine on my well-used and well-worn X100T: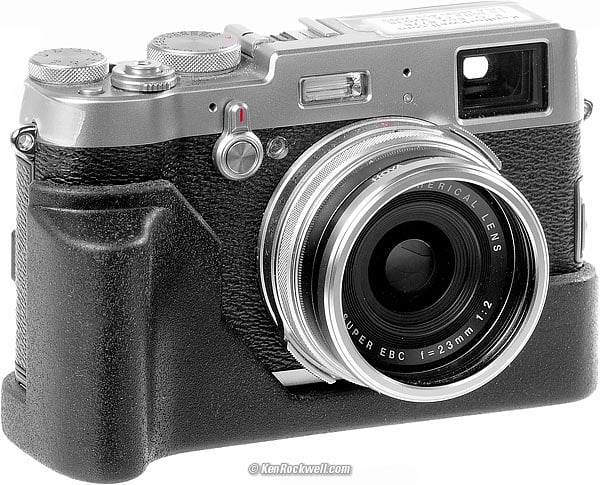 My J. B. Camera Designs grip case on my X100T. bigger.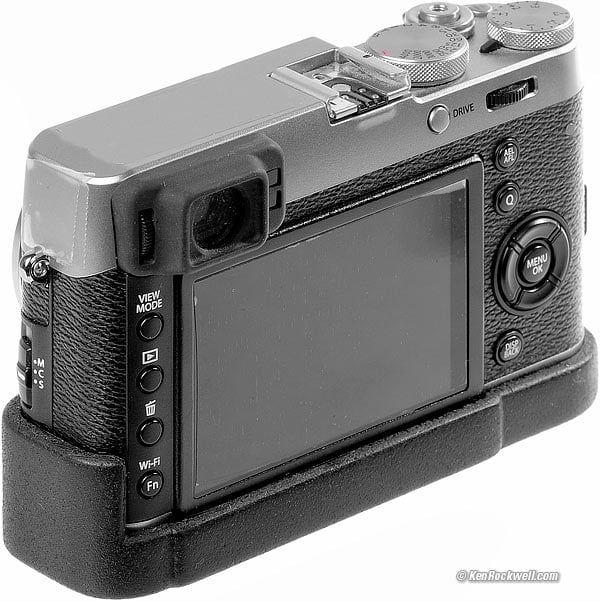 My J. B. Camera Designs grip case on my X100T. bigger.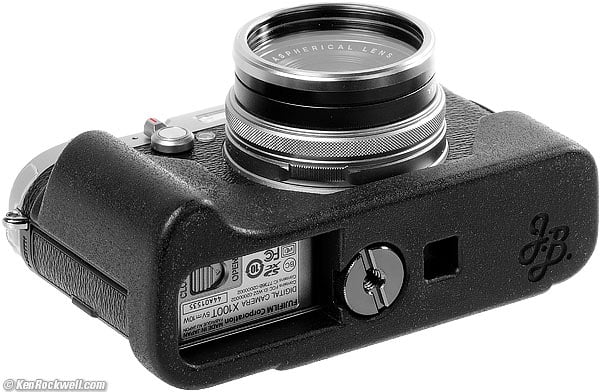 My J. B. Camera Designs grip case on my X100T. bigger.
JB Designs also makes a bamboo grip and bottom protector that looks spiffier, but my hands prefer the plastic version. Here's the bamboo grip: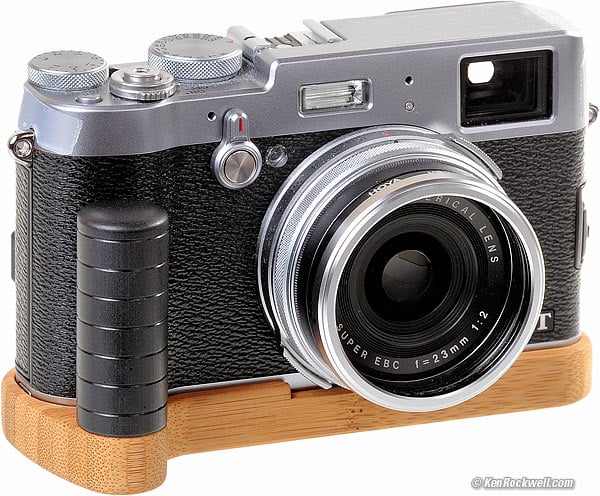 J. B. Camera Designs bamboo grip on my X100T. bigger.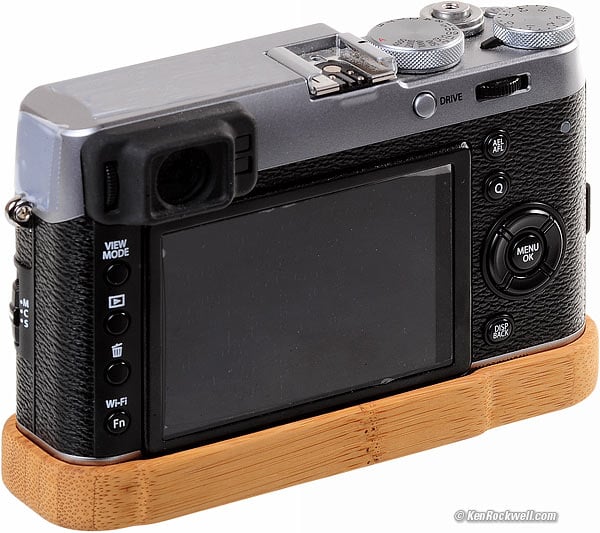 J. B. Camera Designs bamboo grip on my X100T. bigger.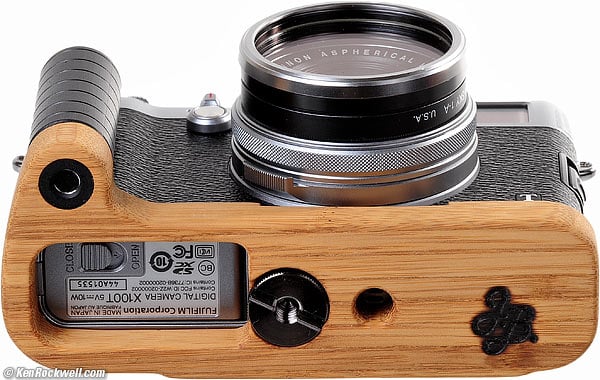 J. B. Camera Designs bamboo grip on my X100T. bigger.
This bamboo grip also comes in Peruvian walnut.
The $80 brown leather Fuji case is very, very nice if you don't actually take pictures. The Fuji case is for LEICA people: people who prefer to hold and touch their cameras without actually taking any pictures.
Straps
Leave Fuji's strap in the box for resale time.
I use the genuine MADE IN GERMANY LEICA strap. It's perfect for cameras this size. Sure, the German LEICA strap costs more than $2, but you'll be using it long after you've forgotten about this camera.
Batteries
I always carry a spare in my pocket; Fuji's battery meter is of little help and gives little warning of a dead battery.
I'm still using the cheap no-name NP-95 batteries I bought over eBay 3 years ago for my original X100 as spares. They only cost me a few dollars for a set of two with a no-name AC/DC charger. I've never used the crappy AC/DC charger, and the batteries only have about 2/3 the capacity of the real Fuji NP-95, bit so what: for $10 they have worked great for years.
Off brand spares like this should also work fine.
Flash
I use the built-in flash all the time. It's wonderful.
I use no external flash. Why would I want to crud-up my camera with more junk I don't need? The built in flash is flawless.
Accessory Lenses
I certainly use no WCL-X100 accessory lens. Why would I want to muck-up my brilliantly simple camera with more junk I don't need just to get the equivalent of a 28mm lens — which is essentially the same thing as the 35mm lens? Geeze, what are some people thinking? Worse, messing with and carrying that thing would make no sense and would block the optical finder.
Please resist the temptation to accessorize something as beautiful as the X100T or an iPhone with garbage as if it's some kid's DSLR. The beauty of these wonderful cameras are precisely their simplicity and not needing any other baloney to get in the way of a great photo.
Screen Protector
I use a generic cut-to-fit screen protector.
Use any of them and simply cut it to fit and you're done.
In my case, I'm still working off a set of ten protectors I bought on close-out for the Palm Pilot of the 1990s. They don't go bad in storage.
Tripods
I use no tripods. They went out with Kodachrome 200 back in 1986.
If I need a time exposure, I rest my X100T on a ledge.
If I do use a tripod, it's the lightest, simplest one I can find. Only someone wanting to sell you a tripod will tell you to buy an expensive one.
Fuji's Accessories top
NEW: Hand Grip MHG-X100
Just a gizmo to give a beefier grip.
Extra Li-ion NP-95 Batteries
I almost always carry one or two spares in my pocket.
I use cheap no-name NP-95 batteries I bought over eBay 3 years ago.
Off brand spares like this should also work fine.
Spare Battery Charger BC-65N
If you lose yours.
Leather Case LC-X100S, LC-X100S B
Nice looking, but a pain if you actually shoot.
The LC-X100S is dark brown and the LC-X100S B is black.
0.8x Wide Conversion Lens WCL-X100S silver and WCL-X100B black
Makes the 23mm (35mm eq.) lens work like an 18mm (28mm eq.) f/2 lens.
I wouldn't bother with this baloney; the whole point of the X100T is not to have to fiddle with more lenses — and this converter makes too small of a difference to matter.
When I need wider, I simply use the swept panorama mode.
1.4x Tele Conversion Lens TCL-X100S (silver) and TCL-X100B (black)
Makes the 23mm (35mm eq.) lens work like a 35mm (50mm eq.) f/2 lens.
I wouldn't bother with this baloney; the whole point of the X100T is not to have to fiddle with more lenses.
If I need a tighter crop, I do it later. The X100T has loads of extra resolution.
Lens Hood LH-X100S in silver and LH-X100 B in black
I don't bother with these. They block the built-in flash and optical finder.
Adapter Ring AR-X100 S, also in black as AR-X100 B
I don't bother with these, I make my own as explained below.
Shoe Mount Flash
The built-in flash works great.
The only reason to buy one of these is if you need more power for more range for daylight fill flash.
The EF-X20 is a tiny flash designed for the X100T. It takes 2 AAA cells with a guide number of 20m/65 feet.
The EF-20 is a small flash that takes 2-AA cells with a guide number of 20m/65 feet. If I got a flash for my X100T, I'd get this EF-20 since I prefer common AA cells to the puny AAAs.
The EF-42 is a huge DSLR flash that takes 4 AA cells with a guide number of 42m/137' and a zoom head. We don't need a zoom head with the X100T, I wouldn't put this thing on my X100T — but it will do a great job for heavy-duty daylight fill.
The EF-X500 is even bigger.
Protector Filter PRF-49S
This is just a good filter with the usual threads. You still need to buy the AR-X100 adapter ring to use it!
I use my own solution described below.
Stereo Microphone MIC-ST1
For better audio for video.
Remote Release RR-90
I use a standard $10 threaded cable release.
Grip Belt GB-001
A short hand-grip strap.
Top Sample Images Intro Specifications Accessories
Performance Compared Usage Recommendations More
My X100T is all that my old X100S was, and now my X100T is silent with its electronic shutter. Couple this with the new Face Recognition mode, and I'm pleased as punch with my new X100T.
Ergonomics
Just like the older versions, ergonomics are superb. The X100T is designed for photographers, not computer programmers. The X100T has all the dials and controls we need right at our fingertips, not buried behind a function button.
The aperture ring now has third-stop clicks, and hallelujah, it has slightly deeper detents at the full stops so we can set them by feel. LEICA still can't do this; their half-stops are all the same.
The X100T's little ears for the aperture ring are the best aperture adjusters available today, but they are a bit smaller and less deeply ridged than the earlier models, so the aperture is a little less easy to adjust on the X100T than on the X100 and X100S. These ears are copied from the LEICA SUMMILUX 35mm f/1.4 of 1960.
The exposure compensation dial is now a little stiffer than earlier models, and goes to ±3 stops. Sadly there is still no stiffer detent at 0, but the in-finder display has finally been made smart enough so it makes the scale bright when the dial is set away from zero, and gray otherwise.
Oddly the AEL/ AFL button is ignored, except in Manual Focus mode where is it a spot-focus button.
The shutter dial stops at A and B; it doesn't rotate through 360.º
Just like with the X100S, your thumb usually pokes your eye when trying to press the play button with your eye on the finder.
The X100T's buttons are flatter and less legible than on the X100S. In fact, the X100S marked its big raised rear buttons directly, while the X100T's small flat rear buttons disappear in the dark while you only see the printed markings above each small black-on-black button.
The power switch is now easier to use, but like most cameras is still has no lock.
I wish my X100T had a grip-sensing automatic power switch like 1998's Minolta MAXXUM 9. If it did, it would already be awake as I brought it to my eye and turn off automatically.
There is no longer a direct way to enter or cancel the Silent Mode (turns off beeps, flash and AF assist light). That button trick is now something else. If you want Silent Mode, you have to go find it in the Setup 1 menu, or add it to the QUICK MENU.
None of the X100 series has ever had a YRGB histogram. No worries, its huge dynamic range eliminates the need for one.
Sharpness & Bokeh
Oh man, is it sharp — and its bokeh is soft and smooth at the same time!
This sample is from a NORMAL JPG file, not RAW and not Fine: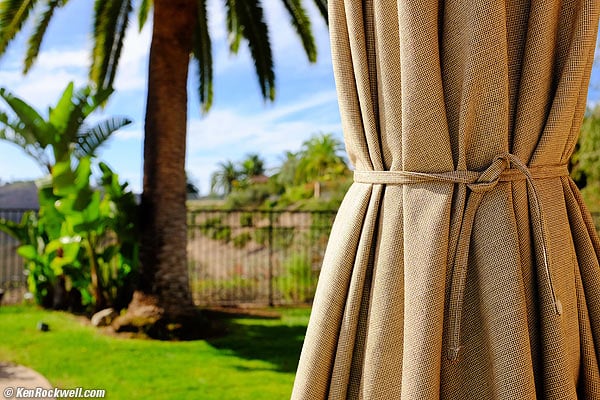 Resort, 04 December 2014. X100T, ISO 400, f/6.4 at 1/900, Perfectly Clear V2. Full-Resolution file.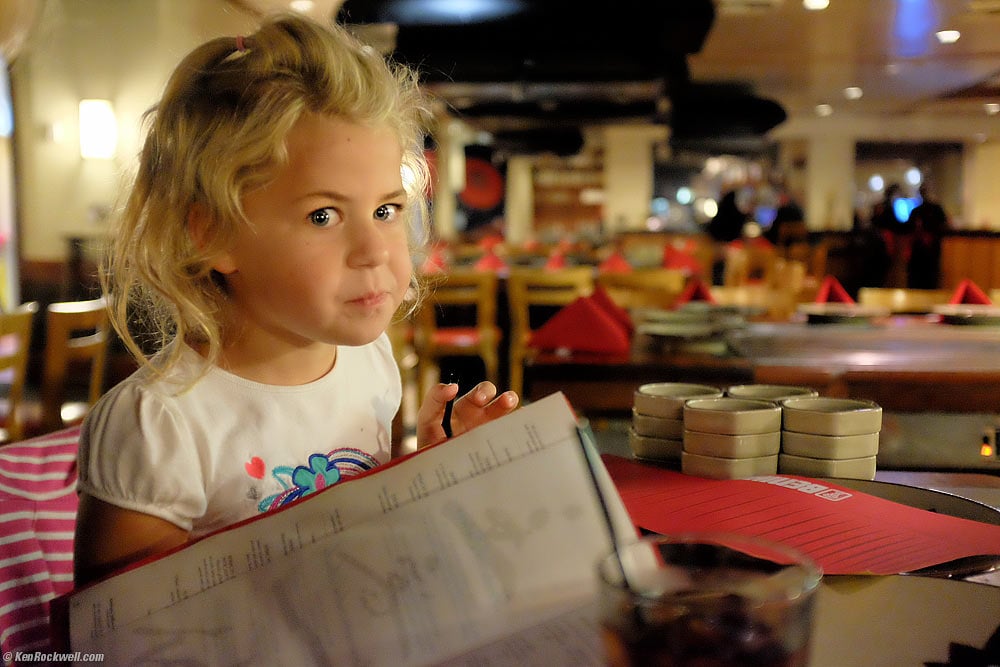 Katie sits down at Benihana, 17 December 2014. Fuji X100T, f/2 at 1/80 at Auto ISO 6,400, Perfectly Clear V2. bigger.
Backgrounds are never harsh.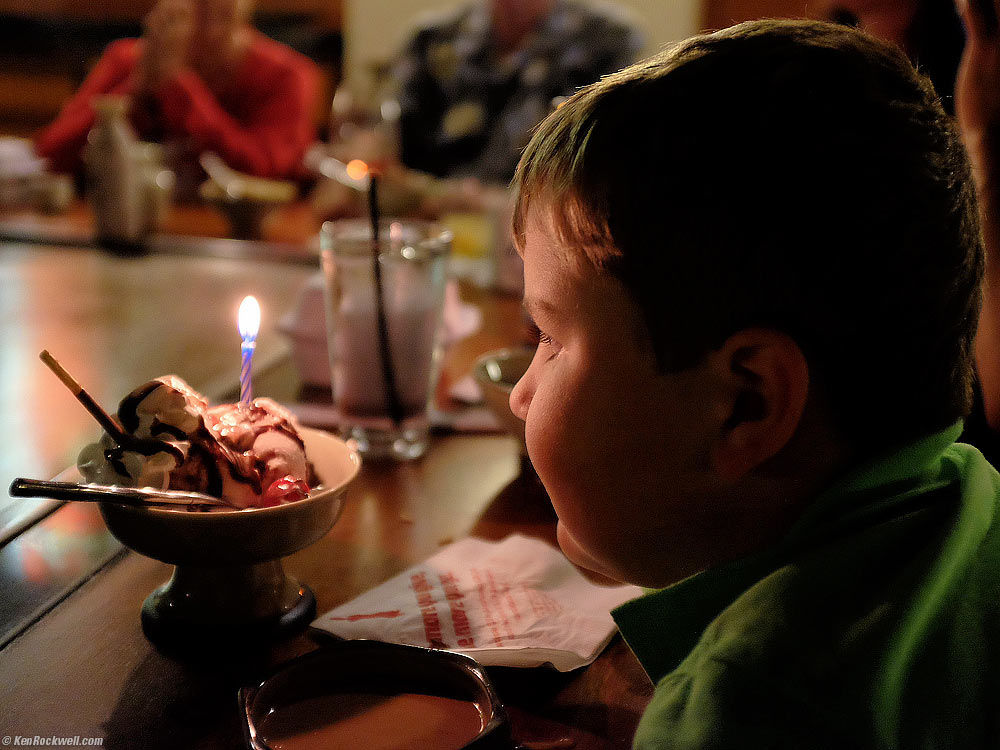 Ryan's birthday at Benihana, 17 December 2014. Fuji X100T, f/2 at 1/125 at Auto ISO 3,200, Perfectly Clear V2. bigger.
Wow! It's so sharp that Ryan pops-out in 3D from the background.
Distortion
There is no significant distortion. Even deliberately shooting a building, there isn't anything to talk about. In this case, the flashing at the top of the building wasn't all that straight itself.
Fuji X100T distortion — or lack of it.
If you can see it, it corrects like this after using a factor of +1 in Photoshop's Lens Correction filter: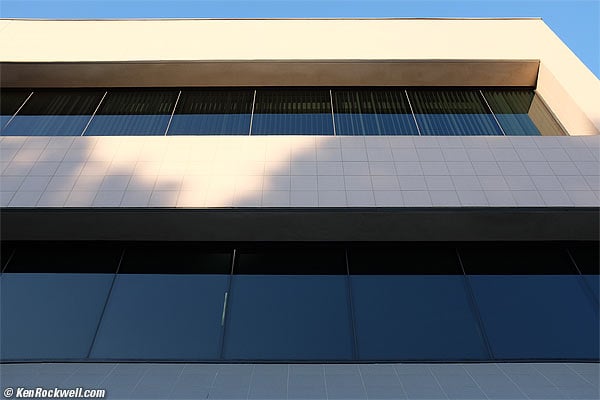 Fuji X100T distortion after correction.
The combined optical and electronic finder system is the best in the world.
The electronic finder is great, but other cameras also have great EVFs.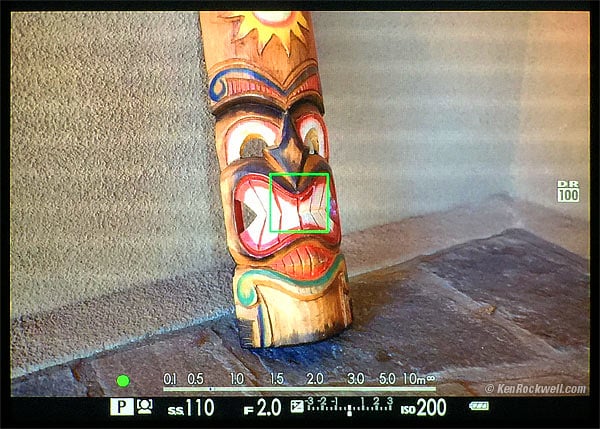 Actual view through X100T EVF. bigger.
New in the X100T and not present in any other camera is that it can drop-in a live, magnified electronic AF area image into the bottom-right of the optical finder: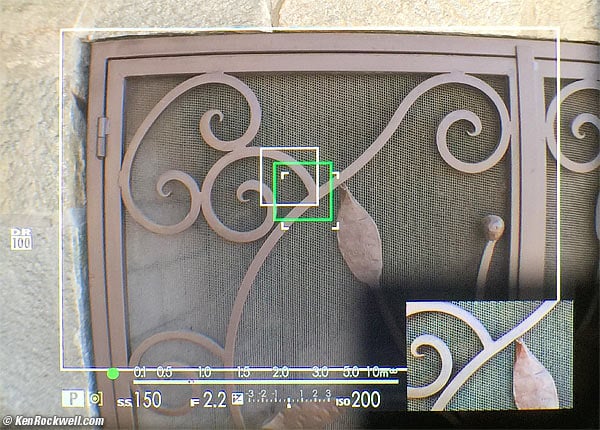 Actual view through optical finder, with lower right electronic inset showing magnified focus area.
This works for both auto and manual focus.
Not clear in this actual view is that this is a live optical finder, and the lower right corner is an electronic insert live from the image sensor.
The Auto Brightness control sets itself based on the light coming into the lens, so if you're in dark shooting into light the EVF may be too brilliant, and if in light shooting into dark, the EVF may be too dark. Indoors it seems to get too dark.
I never need the color tweaks, but they're there if you want them for the various displays.
The data in the EVF rotates when held vertically. The OVF and LCD still don't rotate the data display.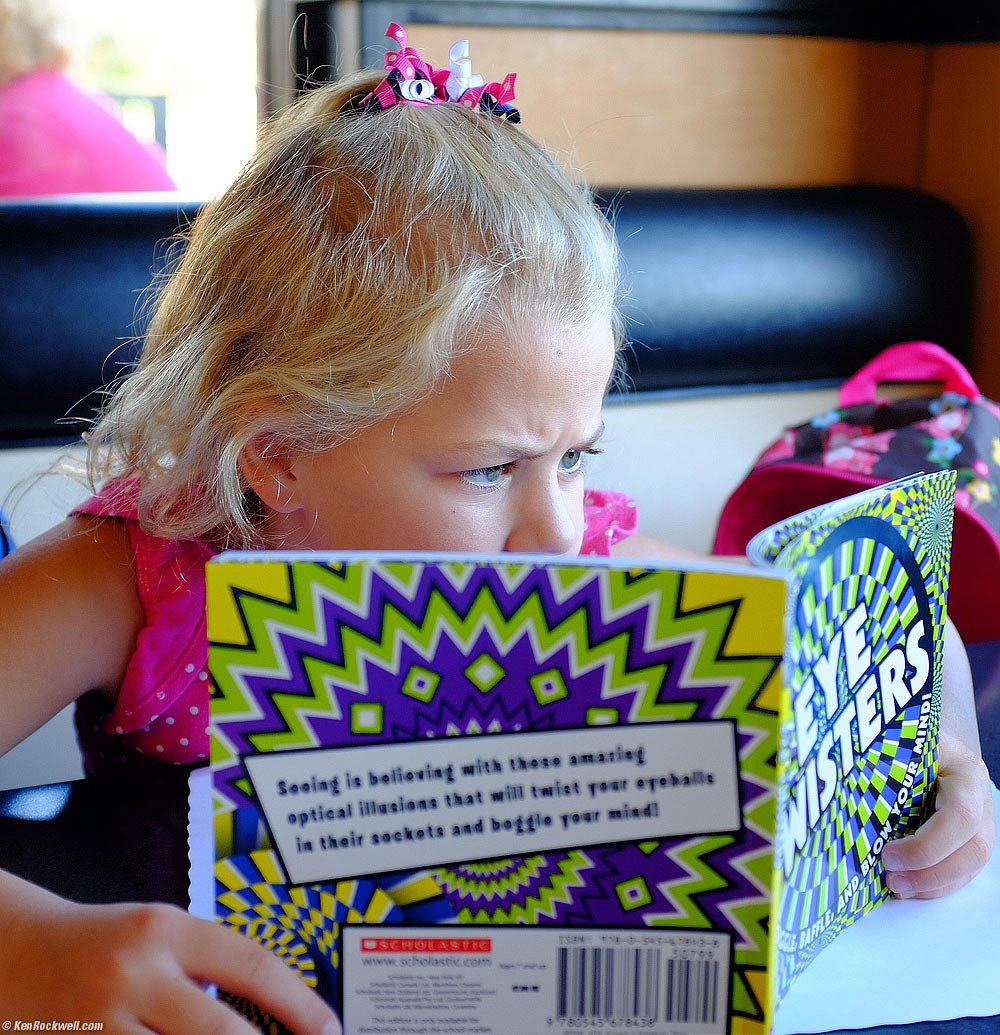 Katie reads Eye Twisters, 06 December 2014. Fuji X100T accidently left in VELVIA mode, no flash, f/2.8 at 1/125 at Auto ISO 400, Perfectly Clear V2.) bigger.
Autofocus is fast, and now very smart. I turn FACE DETECTION to ON, and now it can see past distractions and focus directly on faces behind them as shown above.
Face detection really works while shooting! Instead of having to move the AF zone around manually, the X100T finds the faces and draws boxes around them in the EVF and just focuses and exposes for them as it should. Bravo! This makes photographing people much, much easier and faster than ever.
Also superb is that it finds faces wherever they are, so as most of my photos have people off on the sides, I no longer have to move AF areas manually to go find my subjects. The X100T does it for me!
Because the AF system also finds multiple faces instantly, it's much faster than stopping to assign AF points with a DSLR! For instance, with two people on either side of a photo, it finds and focuses on just those two faces in a blink of an eye, and you're done.
AF-C (continuous tracking autofocus) works better than in any previous X100 or X100S, but is still poor compared to any DSLR. I'd' ignore this mode.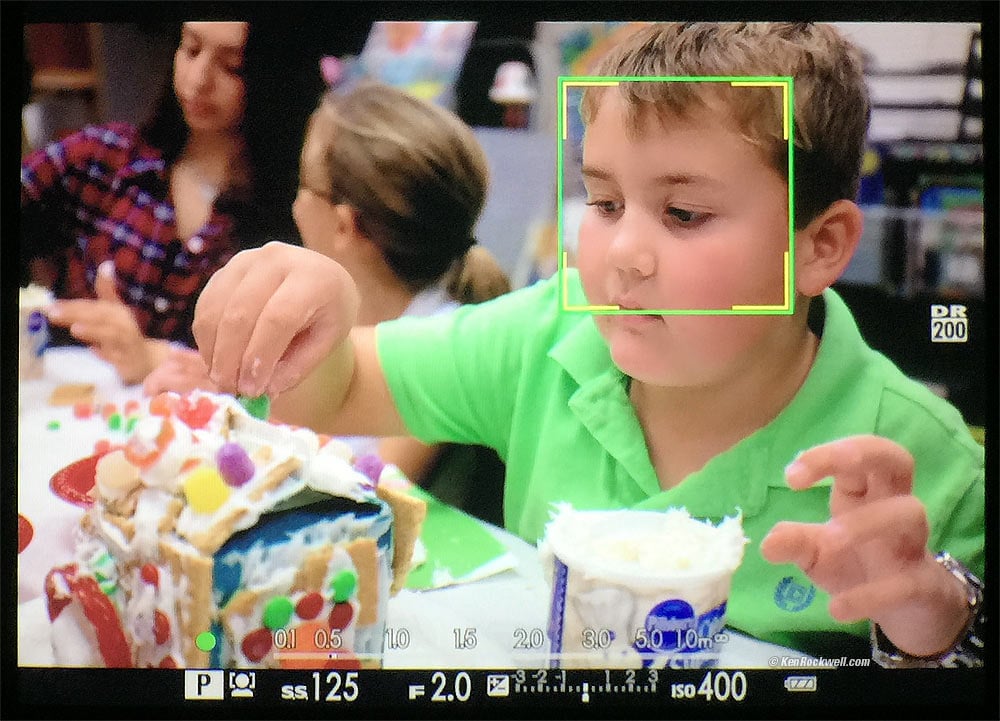 Ryan makes a gingerbread house at school. Actual view through Fujifilm X100T electronic viewfinder. bigger.
Facial Recognition always finds the face and focuses on it, regardless of interfering or closer items. It finds them anyplace in the frame without me having to move a sensor over the face.
The finder automatically rotates its data displays as you rotate the camera:
Katie on Christmas Morning 2014. Actual view through Fujifilm X100T electronic viewfinder.
The actual electronic finder is much sharper and clearer than these noisy photographs of it.
Mixed, Poor and Low Light: The Real World
Even if the subjects won't all smile, even handing my X100T to a stranger to take our picture, my X100T figures it all out and balances flash perfectly to dim and/or crazy mixed light: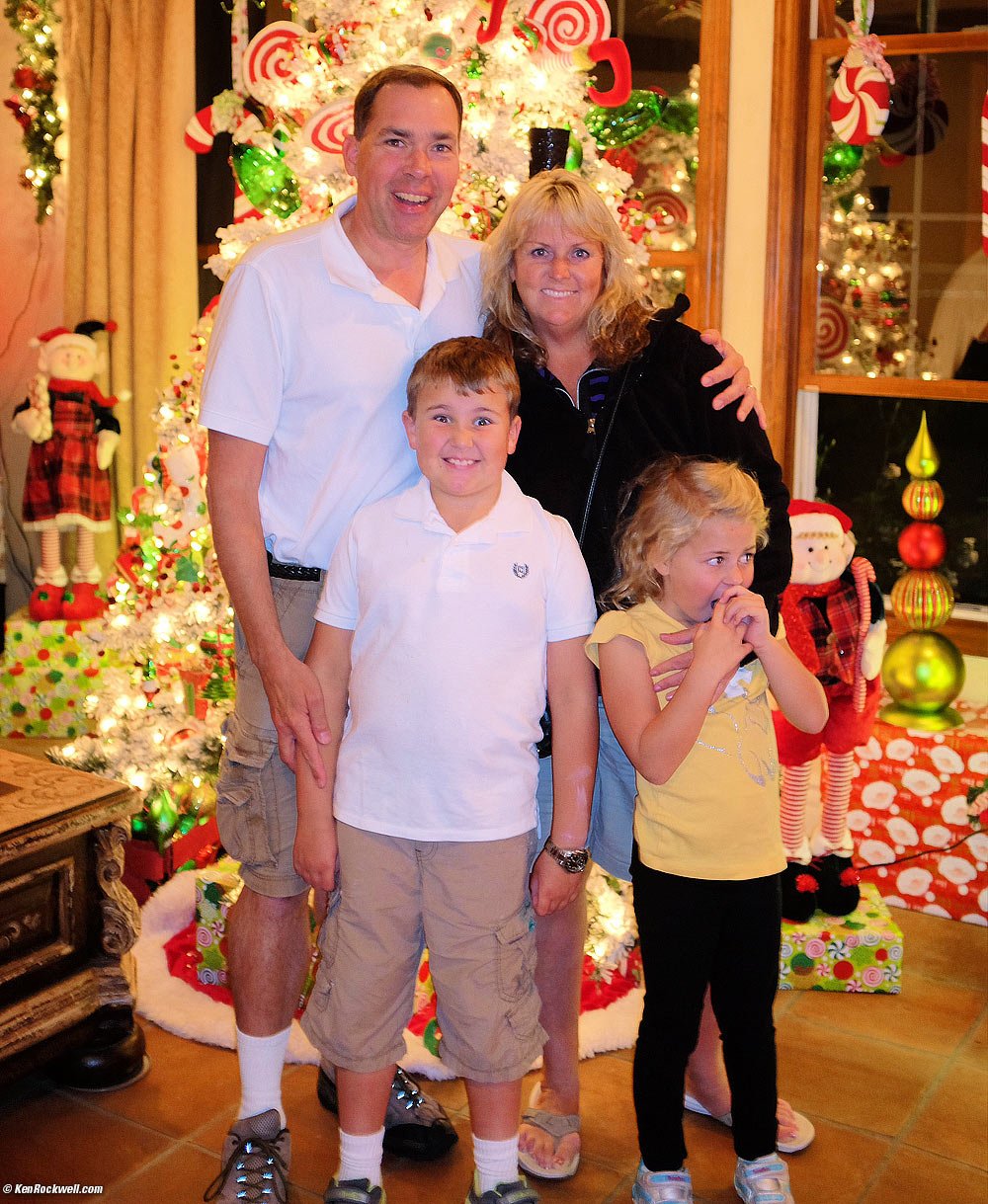 Katie digs for Christmas treasure, 05 December 2014. X100T, flash ON, f/2 at 1/15 at Auto ISO 1,000, Perfectly Clear V2. Bigger.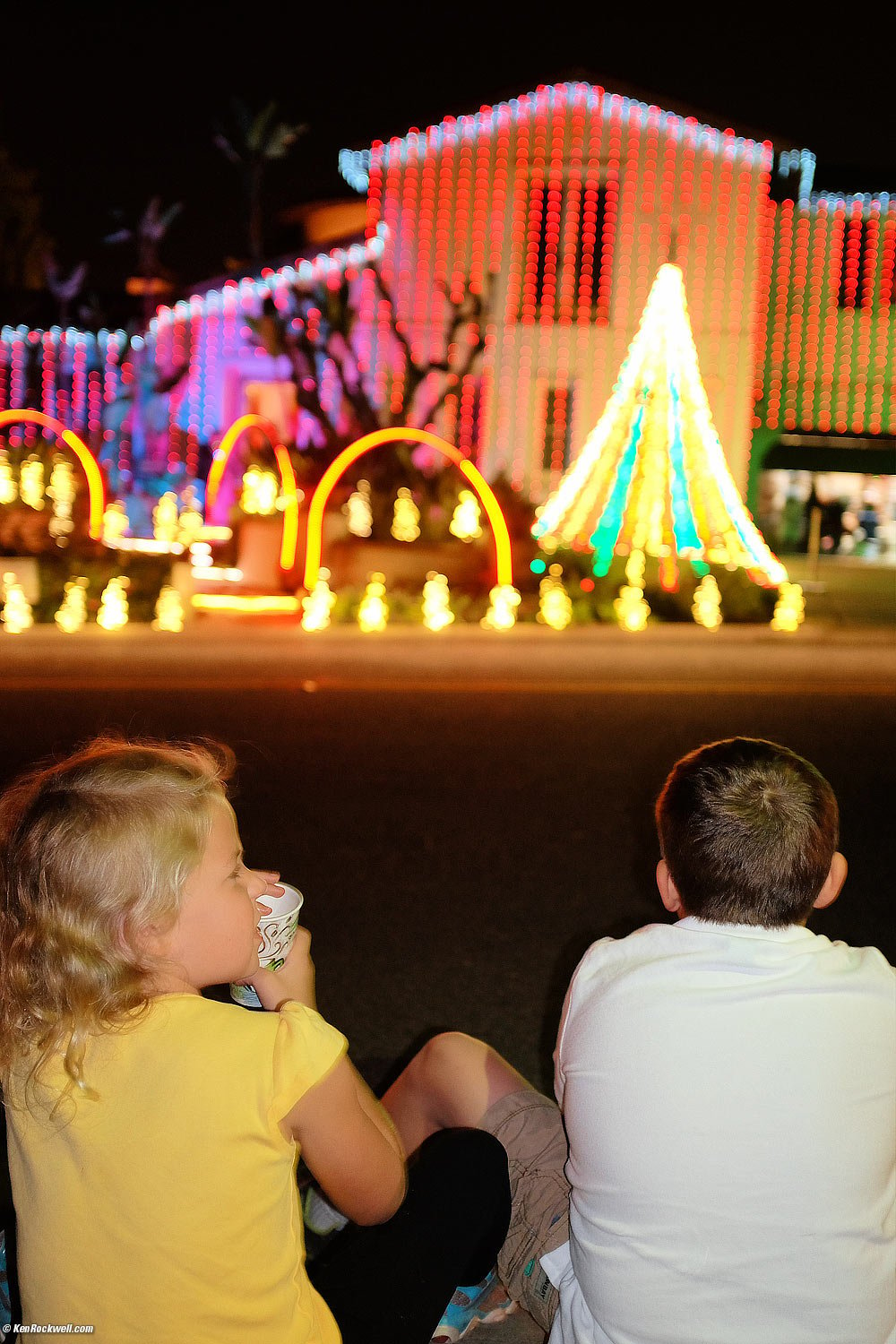 Katie and Ryan at the Christmas house, 05 December 2014. Fuji X100T, flash ON, f/2 at 1/13 hand-held at Auto ISO 1,000, Perfectly Clear V2. Bigger.
It would have taken me way too long to set up a DSLR to get either of these low-light fill-flash shots, while my X100T just takes the picture. DSLRs are optimized for the flash being the prime source of light, not fill, in very dim light.
Here's how close it gets in regular mode with the electronic viewfinder: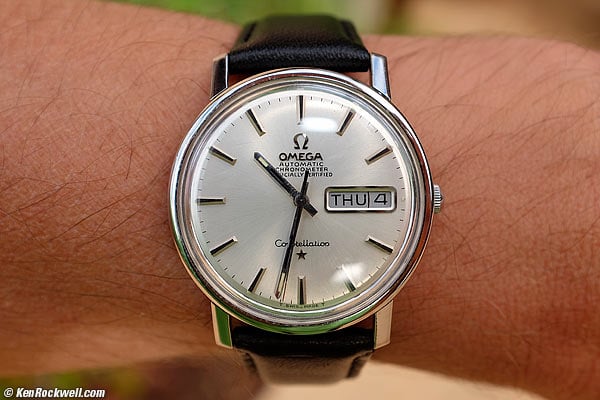 Omega Constellation, 04 December 2014. Fuji X100T, ISO 200, f/5.6 at 1/220, Perfectly Clear V2. Full-Resolution file.
Even better, see the highlights on the watch face? The built-in flash works swell at this distance to fill-in what would have been my watch in shadow. (You will get some shadow from any filters or lens shades this close; take them off for using flash with ultra macro like this.)
And here is how sharp it is: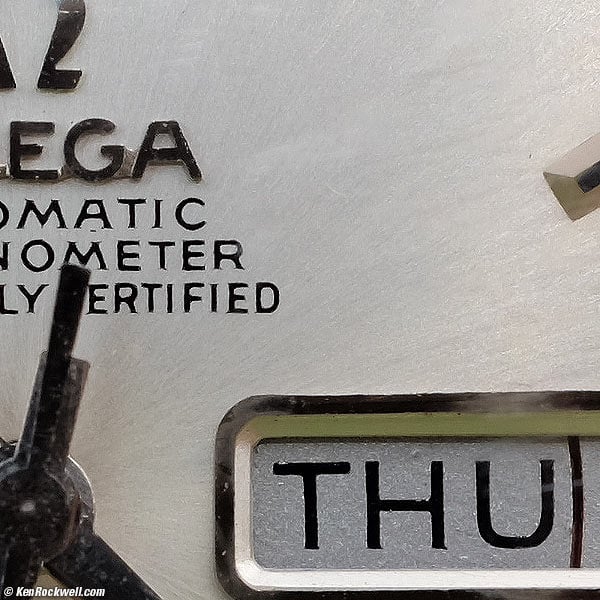 Crop from above Large Normal JPG at 100%. If this is 6" wide on your screen, the complete image would print at 32 x 48 inches (80 x 120 cm) at this magnification. Full-Resolution file.
Macro performance is excellent! It gets super-close, and it's super-sharp while doing it.
Notice how shallow is the depth-of-field; the hands are out of focus, but the watch face and day indicator is so sharp that it clearly shows the face's surface texture and fine milling!
I don't bother with the special Macro mode; it seems to work just as well with out bothering to switch into it.
At f/2 at macro distances there is some veiling (haziness) from spherical aberration. It goes away stopped down (like to f/4). If you want the best macro results, avoid shooting at f/2 if you're only inches away (it is super sharp at f/2 at other distances).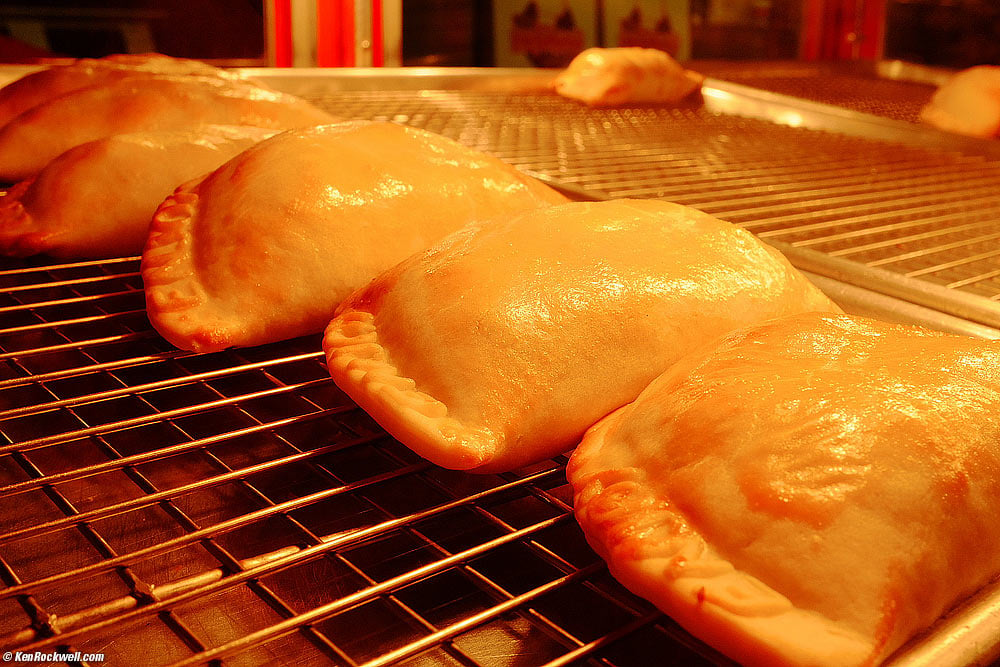 Empanadas, 05 December 2014. Fuji X100T, f/16 at 1/60 hand-held through window at Auto ISO 800, Perfectly Clear V2. bigger.
Meter and Exposure
These are excellent and are key in letting the X100T get perfect results most of the time on the first shot.
The only errors I see are that it often needs to be set to +1 stop outdoors at night, or in other darkness.
Auto ISO
These are now three Auto ISO settings, each of which may be programed as you like it. I LOVE this!
White Balance
Auto White Balance is superb.
All white balance settings now have individual color offset adjustments over a wide range.
Silent Electronic Shutter
The regular leaf shutter is almost silent, and the electronic shutter actually is completely and totally silent.
You can't use flash with the electronic shutter.
The mechanical+electronic shutter mode usually runs in mechanical mode, only switching to electronic if it needs a faster speed than the mechanical shutter can muster. The flash never works in this mode either.
The electronic shutter performs similarly to a vertically travelling focal plane. This means that if something runs horizontally across your frame, it may become slanted away from vertical.
The Panorama mode still uses the mechanical shutter, which seems silly since it has to make so many exposures, but I'm sure Fuji has its reasons.
The electronic shutter uses a bizarre temporal and spatial dispersal technique that makes it sometimes incompatible with flickering lights. It's never a problem with continuous light like daylight and incandescent light, but with poor lighting like LEDs, florescent, CFL, mercury and sodium lights — especially when dimmed — you can get banding like this: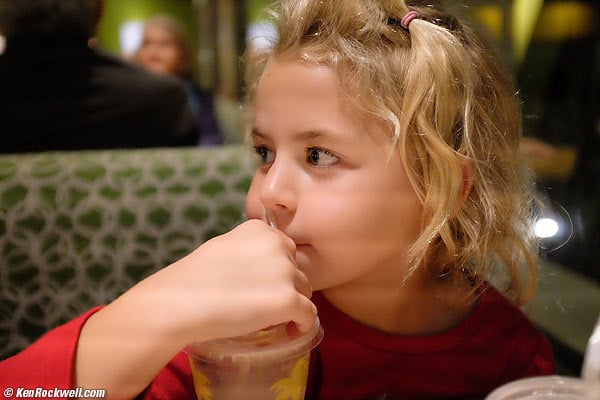 Katie under dimmed LED lighting, 09 December 2014. X100T, f/2 at 1/100 electronic shutter, Auto ISO 6,400, Perfectly Clear V2.
There's a simple solution: use the regular shutter under flickery light.
The next shot is the same thing with the mechanical shutter:
High ISOs
Katie under dimmed LED lighting, 09 December 2014. Cropped from X100T, f/2 at 1/100 leaf ("mechanical") shutter, Auto ISO 6,400, Perfectly Clear V2. bigger.
High ISOs are swell. ISO 6,400 is a little noisier than ISO 200, but still smooth and clean and still far cleaner than 35mm ISO 50 film.
This shot, as usual, shows how well Face Recognition grabbed Katie as I shot at arm's length via the rear LCD, the great bokeh at f/2 which draws us to her eyes and away from distractions, the great sharpness at f/2 (even up close) and the nice, clean results at ISO 6,400. Even at ISO 6,400 in the dark we get sharp eyes that pop out of the smooth background. Be sure to see the bigger image.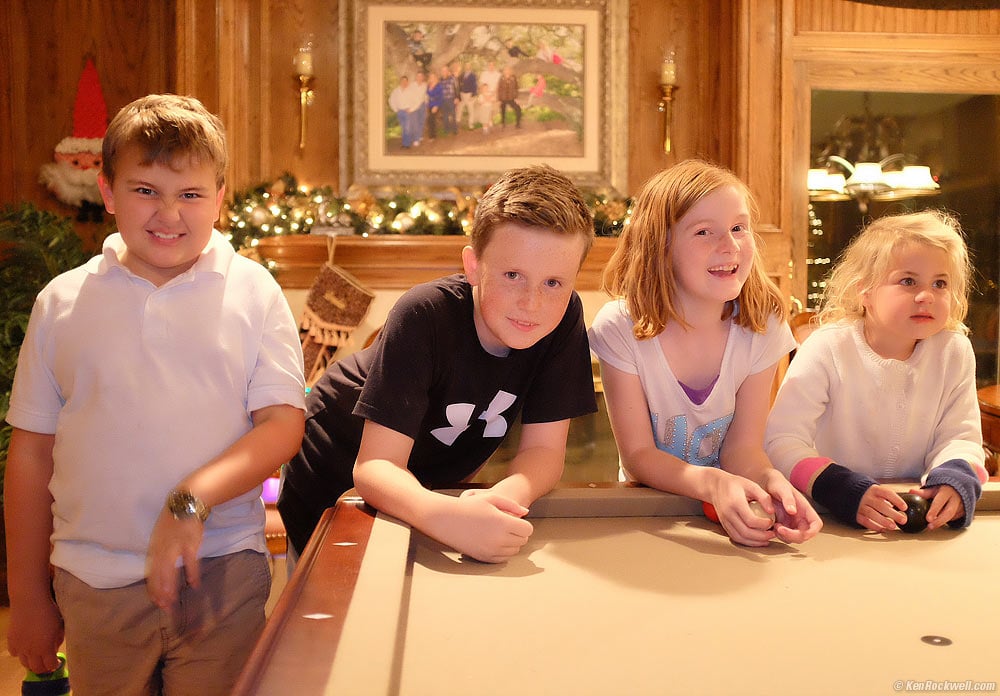 Ryan, Katie and the cousins. 29 December 2014, Fuji X100T, flash ON, f/2 at 1/125 at Auto ISO 6,400, Perfectly Clear V2. bigger or full resolution.
As always, this was a spontaneous grab shot under mixed indoor light — and skin tones and everything look great. Flash balances perfectly with ambient light to bring up the faces and add catch lights, without blowing out faces from too much flash or letting the backgrounds go dark.
I never can get this from my DSLRs or any other mirrorless camera. The X100 series has magic flash that can dim down enough to balance at ISO 6,400 and f/2, while ISO 6,400 and f/2 let the backgrounds expose fully so the room doesn't look dark.
As I keep saying, I love my X100T because it sets all this all by itself for grab shots. It even found all the faces and focussed on them magically. Bravo! Now if I could just get them all to smile.
Film Simulation Modes
I don't get excited by these since I shoot film when I want the film look.
The Velvia mode gives bolder colors, but it still crushes the blacks a bit.
I have examples of the film modes for the X100S. The X100T adds one new mode to these.
Infra-Red Sensitivity
The Fuji X100T has relatively high sensitivity to infra-red, so it's great for people using black IR-pass filters for special black-and-white effects, but it can make some black fabrics look a bit brown under tungsten or daylight. It won't be a problem under fluorescent, LED or other artificial lighting.
Image Stabilization and Vibration Reduction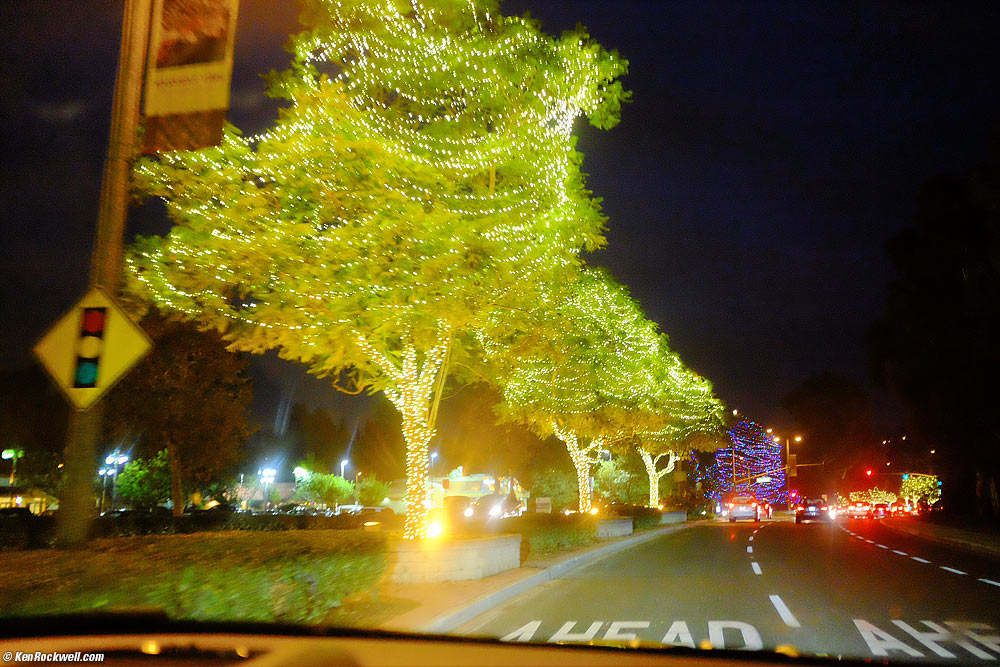 Christmas lights at 55 MPH, 05 December 2014. Fuji X100T, f/2 at 1/70 hand-held at 55 MPH through the car window at Auto ISO 6,400 at night, Perfectly Clear V2. Bigger or © Camera-original file.
The Fuji X100T handles this the professional way: with an ultra-speed f/2 fixed lens and clean ISOs that extend to ISO 6,400 and beyond. You can't shoot out car windows like this with an f/2.8 zoom at ISO 3,200.
Traditional mechanical IS and VR systems attempt to compensate for camera motion, but can't do anything to combat subject motion as the fast lens and high ISOs of the X100T can.
A traditional IS or VR system would just make the camera bigger, heavier and less reliable, and we don't need it anyway.
Traditional IS and VR are for slow consumer lenses and zooms, not fast fixed primes as in the X100T.
The X100T's fast lens and clean high ISOs let me get sharp shots in every light, and even better, helps me stop subject motion which traditional IS and VR can't.
Even better news is that the X100T is so smooth that it's easy to hand-hold at slow speeds and still get super-sharp results. Here's a typical shot at 1/10 of a second hand-held:
Mathis Brothers at Night, 07 November 2015. Fujifilm X100T, f/2 at 1/10 hand-held at ISO 400, Perfectly Clear V2. bigger.
Movies
Autofocus doesn't seem to work while shooting. Manual focus is claimed to.
Fuji brags that you may use the optical finder as well as the EVF.
The compensation dial works while rolling, but you'll hear the clicks.
There's a built-in stereo microphone, as well as a 2.5mm external mic jack. Use an adapter for standard 3.5mm mic plugs.
I couldn't find a standard AGC (auto level) setting for audio. I only saw manual level settings.
Playback
It's still not smart enough to rotate as you move the camera.
"Detected face" for instant zoom-in may not be the same one as used during Face Detection for the original shot.
You may move forward and back among your photos by turning the lens focus ring, but it feels weird because is has no clicks.
Power and Batteries top
The X100T uses the same battery and charger as the X100 and X100S.
The X100T now also can be charged via its Micro USB connector from just about any USB source, including solar chargers and portable power banks.
I got a charge light without problem from an 8x10" portable USB solar panel held up to a window indoors in December, so the X100T ought to be trivially easy to charge from any USB jack or power bank.
Even with a $6 third-party imitation NP-95 I get 250 shots per charge.
Data
ISO EXIF
The ISO values chosen buy the camera in Auto ISO mode read properly in Phase One Media Pro.
Internal Memory
There's 55MB of internal memory, so you can shoot a little without a card. You can transfer files back and forth between a card and this internal memory.
Formatting
Fuji still doesn't title cards properly when formatted. They still show as "Untitled," which is of no help to pros who often are downloading from several cards at once and have multiple drives attached at the same time.
File Sizes
Normal JPG 3:2 images are about 4.2 MB LARGE (16 MP), 2.1 MB MEDIUM (8 MP) and 1.1 MB SMALL (4 MP).
DPI tag
72 DPI is default.
Rapid Sequences
Improved from the old X100S and X100, rapid sequences are now stored normally with the rest of the images as they should be. Older cameras stored high-speed (3 FPS and 6 FPS) sequences with different file numbers.
USB Charging
While the X100T charges via USB, I never saw my memory card appear in my Mac Pro's Finder when connected.
Shutter Counter
The Shutter Counter (MENU > SETUP > SHUTTER COUNT) reads high, but nowhere near as high at the counter on the X100S. At 421 actual shots, my X100T read 500 shots, and at 3,373 shots, it reads 4,500 shots.
Multiply the indicated shutter count by 0.75 for the correct value.
Clock Accuracy
Clock accuracy seems poor. My X100T has gained 4 seconds in the past 5 days.
Wi-Fi
Wi-Fi is limited. It only talks to Fuji's app, either on your iPhone or computer.
Run the computer app and you can download straight to your computer.
Mechanical Quality
It's almost all metal, especially all the control dials. Unlike the Nikon Df, the Fuji's dials feel as if they are solid metal, not simply metal façades over plastic.
All the metal dial markings are engraved and filled with paint.
Quite advanced is that the engraving appears to be a font with variable width strokes influenced by Optima and Futura. It's not simply engraved with a circular router.
Top Sample Images Intro Specifications Accessories
Performance Compared Usage Recommendations More
X100T vs Sony A7R II vs iPhone vs Canon at 12MP and 35mm! 11 November 2015
Versus Interchangeable-Lens Cameras
The X100T already has the perfect fixed lens. It's sharp, fast and tiny.
I never need anything else; the X100T's lens is all I want.
LEICAs, DSLRs and Fuji's other X cameras wind up bigger and more complicated, and you find yourself fiddling with lenses instead of getting great photos.
As a portable camera to capture life as it unfolds, fixed lens cameras are best — and fixed lenses take the best pictures.
Versus the X100S and X100
The X100T, older X100S and oldest X100 are mostly the same camera.
The old Fuji X100S and X100 were the world's best digital cameras in their day.
The older X100S lacked facial recognition and lacked the silent electronic shutter.
The oldest X100 was a much slower camera than the X100S.
All of these give fantastic images and have the combined EVF/OVF finder, while the newer cameras do it all faster and easier.
X100T adds over the X100S
Silent electronic shutter, goes up to 1/32,000 of a second, the world's fastest settable camera.
Bigger 3" LCD.
Facial recognition.
Third-stop clicks on the aperture dial.
ISO up to ISO 51,200.
Three Auto ISO settings.
Program mode now exposes as long as 4 seconds, not just 1/4 second.
SEVEN customizable Fn buttons!
Wi-Fi built in.
The silly rear command lever is now a rotating dial, but the rear wheel around the 4-way controller has vanished.
Built in intervalometer.
A new "classic rangefinder" focus mode drops a live image from the selected focus point into the lower right corner of the optical finder.
New programming allows using the optical finder even closer to the subject than before. In other words, you are forced to switch into EVF mode later.
Real-time parallax correction moves the optical finder frame as you focus - just as cameras did in the 1950s.
You can set the EVF to show the effects of the screwy film simulation modes, or just show the straight image.
The EVF now updates at a high frame rate, even in the dark. The X100S slowed its EVF frame rate in the dark.
There are color trim settings for the EVF and rear LCD.
Exposure compensation now goes to ±3 stops instead of just ±2. No big deal; even ±2 is more than we need.
Stiffer compensation dial, now runs ±3 stops, was ±2 stops on X100S and X100.
There's a new "Classic Chrome" film simulation mode.
Videos can be shot with the optical viewfinder.
Versus the X100
The oldest X100 was pretty much the same as the X100S, but was only 12 MP and did everything much slower.
The X100 is still a great camera, you just have to wait a little longer for it to do anything.
Versus the LEICA M240
Shoot with each of them, and you'll be left scratching your head at how LEICA stays in business.
LEICA stays in business by servicing a market for those with low self esteem. This Fuji runs circles around any digital LEICA.
Even if the LEICA M240 could work as well and produce results as great as the X100T, hold an M240 and you'll feel just how fat LEICAs have become; the M240 is the biggest and heaviest M camera ever, defeating the whole point of a rangefinder camera. The M240 weighs more than many full-frame DSLRs!
This Fuji has a decades smarter and better viewfinder system; LEICA's clumsy EVF is a separate made-in-China piece of junk that mounts on top and takes over the M-240's hot shoe. LEICA has no eye control, so I was always left fiddling with the finder mode button while the Fuji's eye control sets it for me.
The X100T's metal dials are more deeply engraved and more legible than the thin engraving of the LEICA M240.
The X100T has an exposure compensation dial. The LEICA does not, and expects the armchair shooters who own it to revert to a function button instead.
Everything about the Fuji runs about ten times faster and smarter than the LEICA, and the Fuji is built at least as well. The Fuji has much better electronics and I suspect it will be more trouble-free than the LEICA. I've never had any problems with my Fujis, while my LEICA digitals are always crashing or not working — but LEICA shooters take that in stride.
The 23mm f/2 ASPH of this Fuji is as good as LEICA's lenses — and the X100T has built-in macro down to inches, while LEICA has no macro. Heck, the LEICA can't even autofocus and its EVF is way too slow and foolish to help you focus manually.
The Fuji's EVF has a much higher quality image than LEICA's plastic EVF. LEICA's EVF has poor black levels, and isn't sensitive enough for night shots.
The LEICA can't do automatic fill-flash, and even if it could, the EVF takes over the hot shoe where the flash would go. The M240 has no built-in flash. You've got to be kidding me!
And so on.
LEICA doesn't compete with Fuji. If you want great pictures, get this Fuji. If you want to show your friends that you own a fancy camera, get a LEICA.
I own both. I got rid of my M-240, and shoot my X100T every day. Of course for 35mm I shoot LEICA's best camera, the LEICA M3 — often with Fuji Velvia 50!
Versus the iPhone 6 Plus
I love my iPhone 6 Plus. It also lets me shoot just about anything in most light and get perfect results on the first shot.
Each has super-fast autofocus and nails the faces all by itself. Each also has superb macro ability built-in, and each gets fantastic color and auto white balance in real-world crummy lighting conditions. Each also has a silent electronic shutter.
The X100T is much better in low light. The X100T can shoot down into darkness, while the iPhone 6 Plus doesn't quite have the ability to shoot outdoors at night without losing color saturation.
The X100T has a much larger sensor and will give clean, sharp images at ISO 6,400 and above, while iPhone will be noisy (but good) at only ISO 100. The iPhone usually tries to shoot at around ISO 32.
The iPhone 6 Plus always has a very large depth of field, while the X100T can have a much more selective focus at larger apertures.
The X100T has a far better flash. While only the iPhone has the ability to change its flash's color to match the surrounding light, the iPhone's LED continuous-light flash doesn't have enough power for outdoor fill-flash.
Of course I can use anything shot on the iPhone instantly for anything, while with the X100T I can't do anything with the photos until I get them out of the camera, and the iPhone has a vastly better LCD.
Top Sample Images Intro Specifications Accessories
Performance Compared Usage Recommendations More
See also Accessories for the accessories I use for more.
Finders
Pull the finder lever (on the front) to your right to swap between electronic and optical finders.
Swap between the two OVF modes by pushing the finder lever to your left.
Focus Magnifier
There are a lot of crazy modes with which to experiment.
By default, simply press-in the rear control dial and you'll see a magnified view for shooting and for playback, even if you were using the optical finder!
Autofocus
Each AF area may be changed in size: turn the rear dial when one is selected!
Face Detection has to be turned on in a menu. When you do, it works as before, but if it sees anyone, stays locked on them.
Face Detection only works with the EVF and the rear LCD. I couldn't get it to go with the optical finder.
Manual Focus
There is no manual focus override; you have to slide the switch to M to focus manually.
Once in Manual Focus, don't waste your time with the focus ring. Simply tap the AFL-AEL button and the X100T focuses and locks for you!
Special Daylight LCD mode
Press and hold VIEW MODE to make the rear LCD much brighter.
Shutter
2 seconds through 30 seconds are set with the rear dial when the top dial is set to T.
If you set B with the aperture set to A, you get shutter priority at 30 seconds at ISO 200 for easy tripod night shots.
Long exposure times count down, but only on the screen used when started.
The silent electronic shutter only works as long as 1 second, and it won't work with flash.
For manual speeds above 1/4,000, set 4000 on the top dial and move the rear dial in the Electronic Shutter or Mechanical+Electronic shutter mode.
Macro
The MACRO function usually doesn't do anything. The X100T focuses extremely close regardless of this mode.
The only time the MACRO mode does anything is in the multi-zone AF mode, in which you can't focus closer than about a foot.
Flash
The flash only works in the standard mechanical shutter mode. It won't work in the electronic or mechanical+electronic shutter modes.
I never use the SLOW SYNC setting. The X100T seems to be smart enough not to need it.
Auto ISO
There are now three presets.
I set one for action and family: ISO 6,400 maximum and 1/125 second minimum.
I set one for grab shots of still subjects: ISO 6,400 maximum and 1/60 second minimum.
I set the last for me really holding still for still subjects: ISO 3,200 maximum and 1/15 second minimum.
Auto Dynamic Range
It only sets 100% or 200% automatically.
You have to set 400% manually.
I leave it in Auto and don't worry about the 400% setting.
Panorama and High Speed Modes
Press the rear DRIVE button to set these.
Programming the Function Buttons
To set Fn buttons quickly, hold DISP BACK a few seconds.
To set any individual Fn button, just hold it down a few seconds
Movies
This comes up on one of the programmable buttons.
If you program all the Fn buttons to photo functions as I do, you'll have to reprogram an Fn button back to video if you want to shoot video.
It uses a 2.5mm external mic jack. Use an adapter to use standard 3.5mm mic plugs.
I use my iPhone 6 Plus for video. It has fantastic image stabilization for super-smooth shots.
Custom Settings
I've never figured out how to use these well. It seems as if the X100T pretty much does whatever it wants to. The Custom Settings only save and recall a very limited subset of what's settable, so they don't do much for me anyway.
The QUICK MENU is what you see when you tap the Q button.
You can change what it shows by pressing MENU > SETUP 2 > EDIT/SAVE QUICK MENU.
Playback
To move forwards of backwards through the images, turn the focus ring. This is the only way to do this when zoomed-in.
If you pressed the rear dial to zoom into the selected AF area for playback, it will find and zoom into the actual AF area used by each image as you turn the focus ring.
Press the rear "up" button to swap among playback data screens. You also can press DISP to select even more kinds of playback display.
Move the rear dial slowly to zoom quickly in or out. If you move it too quickly, the X100T can't keep up and zooms more slowly.
To copy either way between the internal memory and a memory card, MENU > PLAYBACK > COPY.
Power and Battery
Bring a spare battery with you, and you can charge one in the charger and one in the camera via USB at the same time.
You can't use the camera while it's charging via USB.
See accessories I use for more about what batteries to get.
Lens Cap, Filters and Hoods
Leave the metal cap in the box for resale.
I never use a cap. Pros simply use a tough UV filter as a cap and they're always ready to shoot right through their "cap."
See accessories I use for more about what filters to get and how to attach them.
Top Sample Images Intro Specifications Accessories
Performance Compared Usage Recommendations More
See also Accessories for the accessories I use.
The Fujifilm X100T is the world's best digital camera for travel, family and candid photography, replacing the old X100S. The X100T is so much better handling and gives far better images under a far broader range of conditions than any DSLR, mirrorless, compact or even LEICA camera that there is no contest. The X100T wins.
The X100T, complete with a superb lens and flash, sells for half the price of a lensless full-frame DSLR, which most of the people reading this site buy every other month as they are introduced. This Fuji is a masterpiece, and much better made than a $3,000 DSLR, for a fraction of the price. If you're thinking about getting an X100T, just get one. You'll love it!
If you already own the X100 or X100S, there's no need to go buy the X100T unless you want much more handling speed and convenience. For instance, the new Face Recognition of the X100T is extremely helpful, as is the completely silent electronic shutter. All three cameras are essentially the same thing, with many things fine-tuned and added in the newer models.
I bought mine in silver. I prefer silver because silver is the new black. Pros in the 1950s started using black cameras so their cameras didn't stand out and they could shoot without drawing attention to themselves. Today, people fear black cameras, while everyone sees a silver X100T and presumes it's a foolish old 35mm camera and ignores me — the whole point of what was the black camera. Both are all metal; color is just a matter of personal preference.
If you appreciate the work I put in to researching and share this information ad-free at my own expense, my biggest source of support is when you use these links to them at Adorama, at Amazon or at B&H when you get yours. Using those or any of these links to approved sources when you get anything, regardless of the country in which you live, helps me keep adding to this free website — but I receive nothing for my efforts if you buy elsewhere.
Thanks for your support!
Ken.
Top Sample Images Intro Specifications Accessories
Performance Compared Usage Recommendations More
Owners Manuals
Fujifilm's X100T printed Owner's Manual (PDF).
Fujifilm's X100T online interactive HTML Owner's Manual.
Fujifilm's X100T slightly weird static PDF of the online HTML Owner's Manual.
Data
© Ken Rockwell. All rights reserved. Tous droits réservés.
Help me help you top
I support my growing family through this website, as crazy as it might seem.
The biggest help is when you use any of these links when you get anything, regardless of the country in which you live. It costs you nothing, and is this site's, and thus my family's, biggest source of support. These places have the best prices and service, which is why I've used them since before this website existed. I recommend them all personally.
If you find this page as helpful as a book you might have had to buy or a workshop you may have had to take, feel free to help me continue helping everyone.
If you've gotten your gear through one of my links or helped otherwise, you're family. It's great people like you who allow me to keep adding to this site full-time. Thanks!
If you haven't helped yet, please do, and consider helping me with a gift of $5.00.
As this page is copyrighted and formally registered, it is unlawful to make copies, especially in the form of printouts for personal use. If you wish to make a printout for personal use, you are granted one-time permission only if you PayPal me $5.00 per printout or part thereof. Thank you!
Thanks for reading!
Mr. & Mrs. Ken Rockwell, Ryan and Katie.
Home Donate New Search Gallery Reviews How-To Books Links Workshops About Contact