Home Donate New Search Gallery Reviews How-To Books Links Workshops About Contact
Nikon D3100
14MP DX, 3FPS, 1080/24p (2010-2013)
© 2010-2014 KenRockwell.com. All rights reserved.
Intro Specs Performance Compared Usage Recommendations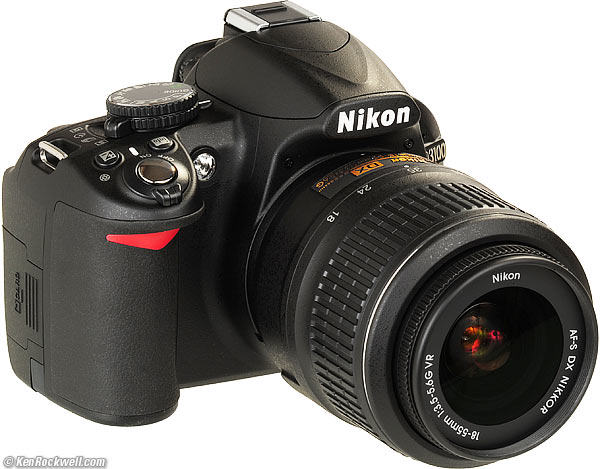 Nikon D3100 (17.7 oz./502g with battery and card, about $400 new or $350 refurbished, each including lens!) with 18-55mm VR. enlarge. I got mine at Adorama. You can also get it at Amazon with 18-55mm VR, or Amazon with 18-55mm and 55-200mm VR,
My biggest source of support for this free website is when you use those or any of these links when you get anything, regardless of the country in which you live. It helps me keep adding to this free website when you get your things through these links — but I receive nothing for my efforts if you buy elsewhere. Thanks for your support! Ken.
April 2014 More Nikon Reviews Nikon Lens Reviews
DEAL: Nikon D3100 with 18-55 VR, refurbished for $349.
Nikon D3100 User's Guide 30 September 2010
Nikon D3100, D3 and D40 High ISO Comparison 29 September 2010
D3100 with 18-55mm VR is only $349, refurbished! That's half what it sold for new in 2010.
Nikon D3100 with 18-55mm VR: Reg $646.95, Special $446.95.

Nikon D3100, 18-55mm VR, 32 GB Card, Camera Bag: Reg $646.95, Special $446.95 (same price as without the card and bag!).

Nikon D3100, 18-55mm VR, 32 GB Card, Lens Cleaning Kit, Nikon Camera Bag w/DVD: Reg $716.95, Special $446.95.
Hint: I've been telling my normal friends who want a great camera to get the D3100 now while they still can, since it's the same thing as the D3200, for a close-out price.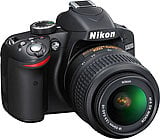 NEW: Nikon D3200 replaces the D3100 as of 19 April 2012. Same thing, more money.
Introduction top
Intro Specs Performance Compared Usage Recommendations
The Nikon D3100 is a very competent and ultra-lightweight DSLR. It is small and light, but doesn't feel dinky. It feels like the precision product it is. The D3100 is Nikon's lightest SLR, ever, and probably their smallest, too.
The next thing one notices is how uncannily quiet and refined it is. If this were a LEICA, people would be talking themselves senseless over its "subtle refinement" and ultra-low vibration. The quiet helps us photograph without disturbing others, and the low vibration ensures sharper hand-held shots. You don't even need the Quiet mode, which is as easy as flipping a big switch on top; the D3100 is supremely quiet in all its modes.
The next thing is the D3100's big LCD. It's big, but a bit grainy; you can see each pixel, unlike the high-resolution screens of the D90 and above.
The D3100 has a new playback feature copied from the LEICA M9: when you look at the histogram, as you zoom and scroll around the image, the histogram shows only what's in your zoom window. This makes it trivial to check highlights more precisely than ever before on any Nikon: just zoom in and look around!
Shoot a bit more, and you'll appreciate the D3100's clear finder. It doesn't have as much scribbling on the screen as other cameras. Instead of big etchings for each AF area, there are subtle, fine lines and tiny LED dots that light, only for a moment, to highlight the AF point selections. This makes it much easier to compose than with many other inexpensive DSLRs, like the nasty AF point display in the Canon 7D.
The D3100 is a very competent DSLR. It's images are pretty similar to the D3 and D700, if you have good light. At higher ISOs, noise reduction blurs the images to keep the D3100's noise about the same as FX cameras.
The two biggest external improvements over the D3000 and D5000 are a dedicated advance-mode switch (Single, Continuous, Self-Timer or Quiet), and dedicated movie-start and live-view controls.
The improvements over the D3000 are numerous. The D3000 took way too long to process and record images made with ADR (Adaptive Dynamic Range), had awful high-ISO performance, and the D3000 locked-out image review controls until after you hit the PLAY button! Those problems were unique to the D3000 and fixed in the D3100, so good riddance to the D3000.
The D3100 becomes my first recommendation for a low-cost, high-performance DSLR to replace the Nikon D40. The old D3000 was so crummy that I had to suggest the more expensive D5000 instead.
Nikon claims the D3100 autofocuses as you shoot movies, but it tracks poorly and spoils the audio in the process.
What's Missing top
The D3100 loses lots of weight: even the D90 weighs almost 50% more than this D3100!
The D3100 has pretty much everything anyone needs. The very few things missing are things few people use or understand:
No internal AF motor to autofocus older AF (screw-type) lenses.
No Kelvin White Balance setting.
Only one manual preset WB memory position.
No depth-of-field preview.
No two-green-button reset.
No external switch to select the AF-Area selection mode. The rear dial can select the AF point, but if you want to go between the auto-area select mode, single point mode or multipoint tracking modes, you have to stop and set it using the LCD.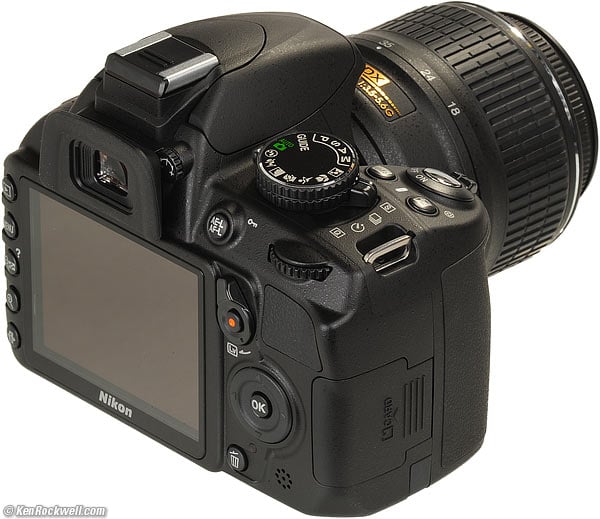 Nikon D3100. enlarge.
Top, Nikon D3100. enlarge.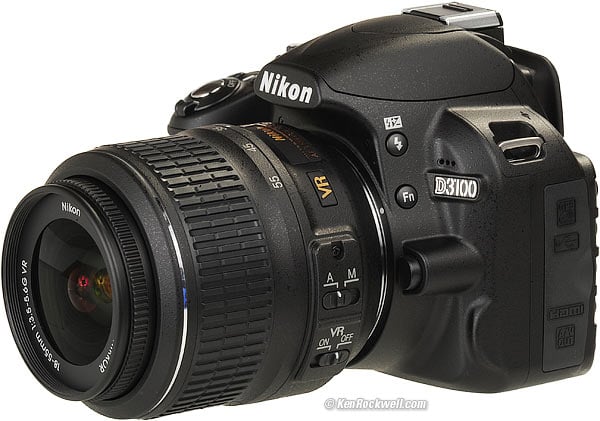 Left side view, Nikon D3100. enlarge.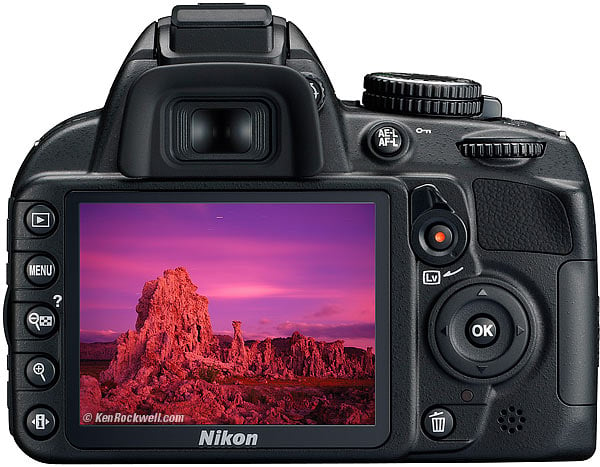 Back, Nikon D3100. enlarge.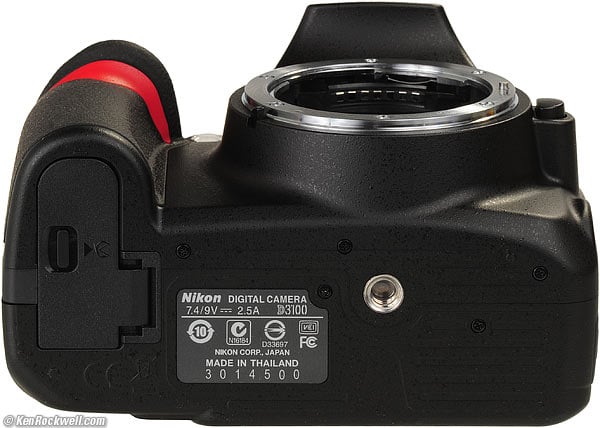 Bottom, Nikon D3100. enlarge.
Specifications top
Intro Specs Performance Compared Usage Recommendations
Lens Compatibility
The D3100 has no AF motor of its own, so just like the D5000, D3000, D60, D40 and D40x, it only autofocuses with newer AF-S (or old professional AF-I) lenses. With traditional AF lenses, you'll have to focus manually, which is a pain.
There is no metering with manual-focus lenses, except with oddball AI-P lenses.
More at Nikon Lens Compatibility, especially this section.
AF top
11 points.
Finder top
95% coverage.
Lightweight, smaller pentamirror.
0.45x magnification with standard 28mm (for DX) lens. (0.8x with 50mm lens, which is a telephoto on a DX camera.)
18mm eyepoint.
-1.7 to +0.5 diopters.
Trade name of screen: "Type B BriteView Clear Matte Mark VII screen." Wow!
Meter top
420-segment 3D, full-color Matrix meter, center-weighted or spot.
Canon's best cameras still only see in black-and-white, and Canon's newest 7D only sees in two colors, not full-color as have most Nikons since the F5.
Flash top
Built-in flash, GN 12 meters (39 feet).
Nikon says that "Advanced Wireless Lighting supported with SB-900, SB-800, or SU-800 as commander," which implies by exclusion that the built-in flash will not work as a remote commander for external flash. Nikon is weaseling out of just saying it won't work.
Hot shoe: i-TTL for use with SB-900, SB-800, SB-600, or SB-400.
Maximum shutter speed with flash (sync speed): 1/200.
Nikon also shares that Flash Color Information Communication is supported with the built-in flash and all CLS-compatible flash units.
PC (Prontor-Compur) Sync Terminal for studio strobes: No, but Nikon will sell you a Sync Terminal Adapter AS-15 to add it, but heck, I use an old Nikon SB-30 flash on my cameras as a remote trigger for my studio strobes instead of a PC cord.
Shutter top
Maximum speed with flash (sync speed): 1/200.
1/4,000 to 30 seconds in third stops and Bulb.
2s or 10s self-timer.
Single, Continuous (3FPS) and Quiet advance modes.
"Tested to 100,000 cycles."
Remote Control: Stupid multi-pin terminal, needs $27 MC-DC2 cord or cheaper copy.
Sensor and Image top
14 MP CMOS DX (23.1 x 15.4 mm)
4,608 x 3,072 pixels native, also 3,456 x 2,304 [M] and 2,304 x 1,536 [S] settings.
Sensor cleaner.
ISO: Auto, 100-3,200 in full stops, also ISO 6,400 and ISO 12,800.
White Balance: Auto, incandescent, fluorescent (7 types), direct sunlight, flash, cloudy, shade, preset manual. All except preset manual offer fine tuning, which is a bit of a bummer, since I like that my D3 offers trims on gray-card balances. I'm unsure if there are five gray-card memories as on more advanced Nikons.
Picture Controls: Gen 2: Standard, Neutral, Vivid, Monochrome, Portrait, Landscape; selected Picture Control can be modified.
Adaptive Dynamic-Range Control: Yes, ADR is as expected in Gen 2.
Video top
1,920 x 1,080/23.976p, only. (no 25, 29.97 or 59.94 ability.)
1,280 x 720/29.97p, 25p and 23.976p. (no 59.94 ability.)
640 x 424/23.976p, only, which is a useless 3:2 aspect ratio.
It's interesting to note that Nikon just can't keep up with the video resolution of Canon's DSLRs like the 7D and 5D Mark II. At 1,920, the Nikon can't run at the faster 25.00 and 29.97 fps rates, which is OK since Hollywood shoots at 23.976 anyway. At the faster 25 and 29.97 rates, this Nikon can only shoot at 1,280. Canons also shoot at 59.94p in 640 and 1,280 for fluid motion.
Maximum Recording Time: 10 minutes.
.MOV files holding H.264/MPEG-4 data.
Audio: Internal mono microphone, linear PCM recording.
In-Camera Editing: Can clip from the beginning or end of a movie.
LCD top
3."
Lower-resolution 230,000 dots (not 920,000 like the D90, D300s and D3s).
Storage top
SD, SDHC or SDXC card, up to at least 64GB today.
Outputs top
USB.
Type C mini-pin HDMI connector.
NTSC and PAL.
Power top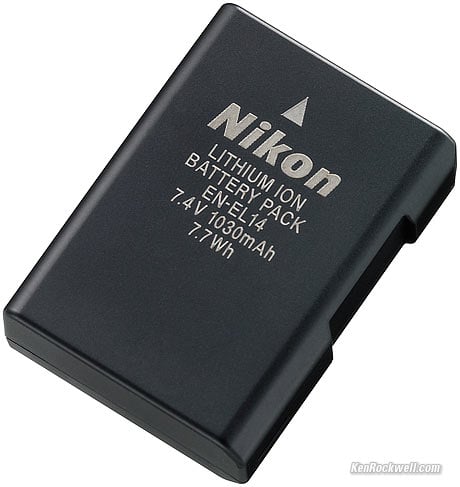 EN-EL14 Battery.
EN-EL14 Li-Ion battery, which is, at least as of October 2010, unique to the D3100 and the P7000. Cells made in Japan, assembled into a battery in Indonesia.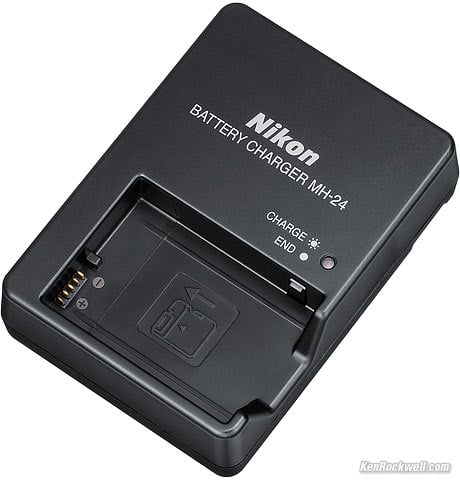 Nikon MH-24 charger. enlarge.
MH-24 battery charger, made in Communist China.
The great news about the charger is that Nikon finally got smart and gave it a folding plug, not another cord we need to carry.
It's rated for use worldwide: 100-240V, 50-60 cps. Just bring the right passive plug adapter, plug it in, and you're good to go, without any cords!
Optional AC adapter EH-5a and EP-5 power connector
Size top
4.9 x 3.8 x 2.9 inches.
124 X 96 X 74.5 millimeters.
(The D40 is 5.0 x 3.7 x 2.5" (126 x 94 × 64mm).)
Weight top
17.695 oz. (501.7g) with battery and card, measured.
27.060 oz. (767.1g) with 18-55mm VR lens, battery and card, measured.
17.8 oz. (505g) with battery and memory card, but without body cap, specified.
16.0 oz. (455g) stripped naked without battery, memory card, or body cap, specified.
Environment top
Operating: 0 ~ 40ºC (32 ~ 104ºF), less than 85% RH, non-condensing.
Comes with top
Nikon D3100 Box End. enlarge.
BF-1B Body cap (the new style).
EN-EL14 rechargeable Li-ion battery
MH-24 battery charger
DK-20 rubber eyecap (isn't that what pirates wear when missing an eye?)
DK-5 eyepiece cap
AN-DC3 camera strap
Nikon ViewNX 2 CD-ROM
Classic BS-1 Hot Shoe cover. (Why bother to cover a hot shoe? That went out in the 1960s, which is why Nikon calls it BS today.)
Ferrite Core fir putting over cords to reduce radio interference (2 types).
Quality top
Made in Thailand.
Fluff top
Nikon says the Nikon D3100 is equipped with a Consumer Electronics Control (CEC) bus that enables remote control playback of images and movies recorded with the camera when the camera is connected to a high-definition TV.
Nikon claims the Nikon D3100 is equipped with a new exposure compensation algorithm for greater flexibility and performance with NEF (RAW) processing.
Nikon says an enhanced Guide Mode teaches users how to control advanced photo techniques.
Announced top
19 August 2010.
Available top
Shipping since mid-September 2010.
Replaced top
Replaced by the Nikon D3200 as of 19 April 2012
Price top
April, 2014: New for $400 or refurbished for $349, each including lens.
The D3100 only comes sold with Nikon lenses. It isn't sold body-only, and is offered with various lens options.
In 2010, there were two options: the D3100 with a great 18-55mm VR lens for $699.95, and the same thing with an additional great 55-200mm VR lens for $949.95.
The kit with 18-55mm VR sold for about $640 in 2010-2011, and was down to $547 the day before the D3200 was anounced.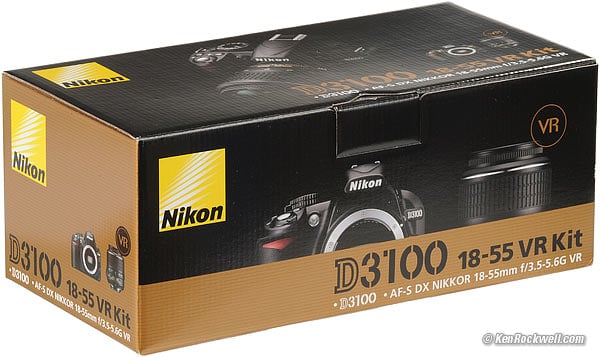 Boxed Nikon D3100. enlarge.
Performance top
Intro Specs Performance Compared Usage Recommendations
Ergonomics top
The D3100 is a little camera designed for tiny little hands. The grip is tiny, and there is no room for adult fingers to curl around it. Even my kid's Vtech Kidizoom fits my hands better. (He loves the D3100, by the way.)
It's covered in the usual hard, slippery fake-leather-grained plastic, not grippy rubber. Even my D70 from 2004 has grippier grip material.
The D3100 is quiet!
Forget the Quiet mode, which isn't that much quieter and is very slow to respond; the D3100 is super quiet in its regular modes.
The focus screen has few distractions; it's cleaner than the F6! The AF marks are little more than tiny dots, and only one red LED dot lights for a moment when first activated.
No depth-of-field preview.
Recent Settings menu doesn't recall every menu item, like "Format."
The Info screen rotates as you rotate the camera, but a firmware defect prevents the playback images from rotating as you rotate the camera.
The apertures and shutter-speeds on the "classic" info screen are in a sans-serif font, not the fake 7-segment font as previous cameras.
Even though the focus screen is clear even if there is no battery in the D3100, if the lens isn't mounted correctly the focus screen goes almost black as a warning. It doesn't do this if there is no memory card, even though by default it won't shoot either.
The charger now uses, at least for the USA version, an integral folding plug, saving us from having to carry a cord with us.
Technical Image Quality top
Resolution
At 14MP, its resolution is effectively the same as any 12MP camera, be it a DX D300s, FX D3 or D700.
Here are two enlarged crops from images made at the same angle-of view and presented at the same print size. If each image was printed in its entirety at this magnification, presuming your computer has a standard 100 DPI monitor, each print would be 46 x 31" (117 x 78cm).
These look the same to me, as expected.
Technik
This comparison was shot on a closed test range with synthetic reference vegetation and a controlled atmosphere. For these shots, I used a tripod and the atmosphere was set to no heat shimmer and no wind, with normal humidity. Distance is 200 meters.
For the D3100, I shot a Nikon 50mm f/1.4 AF-S at f/5.6 at ISO 100 in FINE JPG.
For the D3, I shot a 70-180mm Micro-NIKKOR at f/5.6 at 80mm for the same angle-of view. I shot at ISO 200 and NORMAL JPG. I resampled the image to 14MP to match the size of the D3100 image. A thousand-dollar lens on a five-thousand-dollar camera, and all this still looks the same as the D3100 and a regular lens.
The limitations here are the pixel count. Changing lenses to the kit lens wouldn't have looked any worse on the D3100, and resampling or JPG quality didn't change anything, either.
Auto ISO and High ISOs
NEW: Nikon D3100, D3 and D40 High ISO Comparison 29 September 2010
In Auto ISO, it digs as deep as it needs to get the shot, up to ISO 3,200 by default.
At ISO 3,200, image quality looks like it came from a cell phone: it's grainy and softer.
A firmware defect causes the Auto ISO to rise to the same high ISO it would pick without flash. In other words, with Auto ISO and flash, you'll usually be shooting at ISO 3,200, or whatever you've set for the maximum Auto ISO ISO!
The D3100 suffers from Nikon's chronic firmware defect of leaving Auto ISO active in the manual exposure mode, also requiring we switch off Auto ISO in the menus when shooting in manual mode.
Dynamics
ADR works great, often filling shadows that otherwise would go black, or highlights that would have washed out.
Distortion Correction
Distortion Correction really works!
Simply turn Auto Distortion Control ON in the green Camera menu, and JPGs pop out with straight lines perfectly straight!
Video
I don't get DSLR video. It isn't for family use; it is for people shooting serious movies.
The Nikon D3100's audio is only mono, and the images are jumpy. Motion isn't fluid because of the D3100's low frame rate and high shutter speeds. The D3100 usually shoots at about 24 frames per second instead of the roughly 60 interlaced fields per second of real video, and the D3100 usually shoots at faster shutter speeds than the 1/50 second used in motion pictures, so motion gets jumpy instead of blurry as it does in a motion picture.
The D3100 is advertised tracking focus while rolling, but it doesn't really. When it does focus, the noise of the lens moving interferes with the audio.
If you or the subject move horizontally, the subject bends sideways!
Here's a clip from the D3100, and here's a clip from the Canon S95 for comparison. I prefer the S95: it's audio is in glorious stereo, it doesn't bend subjects if they move horizontally, its frame rate is higher for realistic motion, and it holds focus much better.
The S95 doesn't actually track focus, but due to its smaller sensor, the laws of physics give it a huge depth-of-field, so everything stays in focus, instead of having to hunt for it as does the D3100.
Data top
My D3100 has firmware A: 1.00, B: 1.00 and L: 1.002, as I write this on 29 September 2010.
File Sizes
JPG file sizes vary with image complexity.
File Naming
Video files are numbered in sequence with the still images, suffixed with .MOV instead of .JPG.
Playback top
I like the playback functions, the D3100 scrolls around the image very fast, and it also can scroll diagonally.
The LCD is nice, but coarse enough to let us see each LCD pixel.
As a consolation, the D3100's playback zoom zooms so far that we easily can see each and every image pixel greatly enlarged on the LCD. It zooms so far that it's easy to see JPG artifacts, if there are any. Heck, I can see artifacts better on the D3100's LCD than I see them on my 30" Apple monitor, mostly because I never dare enlarge them beyond 100% as the D3100 makes so easy.
If you're looking at the RGB histogram, zoom-in and you'll see the histogram computed for only the region shown in the zoom.
Face recognition works in playback. It's simple to flick among all the faces in sequence to see who blinked.
Compared top
Intro Specs Performance Compared Usage Recommendations
NEW: Nikon D3100, D3 and D40 High ISO Comparison 29 September 2010
| | | | | | | |
| --- | --- | --- | --- | --- | --- | --- |
| | D3100 | | | | | |
| Announced | 8/2010 | 7/2009 | 11/2006 | 4/2009 | 8/2008 | 7/2009 |
| Resolution | 14MP | 10MP | 6MP | 12MP | 12MP | 12MP |
| ADR? | Yes | slow | no | Yes | Yes | Yes |
| Image | | | Gen 1 | | | |
| Frame Rate | 3 FPS | 3 FPS | 2.5 FPS | 4 FPS | 4.5 FPS | 7/8 FPS |
| AF with AF lenses? | no, needs AF-S | no, needs AF-S | no, needs AF-S | no, needs AF-S | Yes | Yes |
| AF Points | 11 | 11 | 3 | 11 | 11 | 51 |
| Finder (28mm) | 0.45x | 0.45x | 0.44x | 0.44x | 0.53x | 0.53x |
| Flash Sync | 1/200 | 1/200 | 1/500 | 1/200 | 1/200 | 1/250 |
| LCD | 3" 230k | 3" 230k | 2.5" 230k | 2.7" 230k, flips | 3" 920k | 3" 920k |
| Battery | EN-EL14 | EN-EL9a | EN-EL9 | EN-EL9a | EN-EL3e | EN-EL3e |
| Weight, wet | 505g | 535g | 524g | 611g | 710g | 932g |
Recommendations top
Intro Specs Performance Compared Usage Recommendations
The D3100 is a great camera. See my Nikon D3100 User's Guide for more tips
I'd get a D3100 instead of other bigger, heavier and more expensive cameras unless you have a very clear, stated reason that the D3100 won't work for you.
The reason I prefer to shoot FX cameras is mostly because the viewfinders are much bigger and I like to shoot old manual-focus lenses. The pictures are pretty much the same.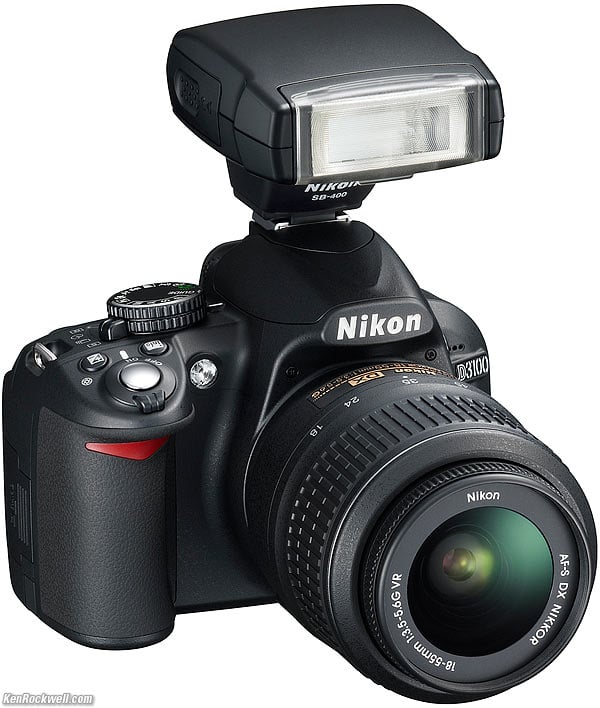 Nikon D3100 with SB-400 flash and 18-55mm VR. enlarge.
For flash, I'd get an SB-400, since it will allow much faster shooting than with the little built-in flash. If you need even more power (not likely), the SB-600 is ideal; the bigger flashes are too big and complex as far as I'm concerned.
More Information
Ken Rockwell's Nikon D3100 User's Guide
Help me help you top
I support my growing family through this website, as crazy as it might seem.
The biggest help is when you use any of these links to Adorama, Amazon, eBay, B&H, Ritz, Calumet, J&R and ScanCafe when you get anything. It costs you nothing, and is this site's, and thus my family's, biggest source of support. eBay is always a gamble, but all the other places always have the best prices and service, which is why I've used them since before this website existed. I recommend them all personally.
If you find this page as helpful as a book you might have had to buy or a workshop you may have had to take, feel free to help me continue helping everyone.
If you've gotten your gear through one of my links or helped otherwise, you're family. It's great people like you who allow me to keep adding to this site full-time. Thanks!
If you haven't helped yet, please do, and consider helping me with a gift of $5.00.
As this page is copyrighted and formally registered, it is unlawful to make copies, especially in the form of printouts for personal use. If you wish to make a printout for personal use, you are granted one-time permission only if you PayPal me $5.00 per printout or part thereof. Thank you!
Thanks for reading!
Mr. & Mrs. Ken Rockwell, Ryan and Katie.
Home Donate New Search Gallery Reviews How-To Books Links Workshops About Contact