Home Donate New Search Gallery Reviews How-To Books Links Workshops About Contact
Nikon SB-400
(2006-2013)
© 2006-2013 KenRockwell.com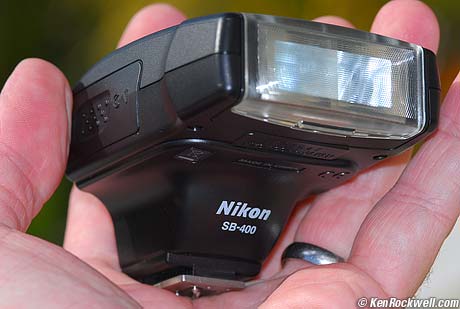 Nikon SB400 flash. (2 AA cells, 6.545 oz./186g with two eneloop cells). My biggest source of support is when you use any of these links, especially this link to it at Amazon, or to it at eBay (see How to Win at eBay) when you get anything, regardless of the country in which you live. Thank you! Ken.
January 2015 Nikon Reviews Nikon Lenses All Reviews
Compared to Canon's small flashes

Introduction top
Top Specs Performance Compared Recommendations
My SB-400 is a very simple, very high quality flash with all the features I actually use. Other flash features are gimmicks that get in the way of taking pictures.
The SB-400 is Nikon's best small flash ever, but sadly went out of production in 2013. No worries, there are more available at eBay than anyone will ever need (see How to Win at eBay). I would get another one at eBay long before I'd buy the new Nikon SB-300 instead.
The SB-400 is a tiny, featherweight flash for use with modern (2004 and newer) digital SLRs. It's small, but not cheap. It works extremely well and is built like a jewel. I paid full price for mine when they first came out, $129 back in 2006. They are so good and unequalled that they sell for about $160 used in 2015 if you know How to Win at eBay. They are this good, and if I lost mine, I'd buy another used SB-400 before I got another small new Nikon flash.
I have a ton of information below, but the answer is yes, buy one of these. I use it all the time and no longer bother with my clumsy SB-600.
Good
1.) Bounce Flash. This is the reason to buy this over a built-in flash. Most of the photos of my baby Ryan are made with my bounced SB-400. I'm not using my 1-cent diffuser; I'm just flipping up my SB-400 and bouncing it off the ceiling.
2.) Tiny!
3.) Excellent build quality and performance, better than Canon's top flashes.
4.) Runs forever on just two AA cells.
5.) Excellent battery life.
6.) Fast recycling.
5.) Easy to make an excellent soft box system for one penny.
6.) Fast and easy to use.
Bad
1.) No sideways tilt, so bounce goes horizontally for vertical shots. A little ingenuity easily fixes this. If it's a problem, tape a small mirror to the SB-400 or spend one cent and build a soft box.
Why I Love Mine
Roll your mouse over great-grandma to see the results most people get with flash. The natural-looking image is made by flipping the SB-400's (or any flash's) reflector 90 degrees up, so the light bounces off the ceiling. Use any of a built-in flash, this SB-400, an SB-600 or exotic SB-800 in its normal, forward-facing mode and you get the garbage light seen when you roll your mouse over. Most people overexpose the direct flash, resulting in washed-out faces and still having black backgrounds.
Does the moused-over image look familiar? This is all you'll ever get with normal sync and direct flash. Lighting is the most important technical issue in all of photography.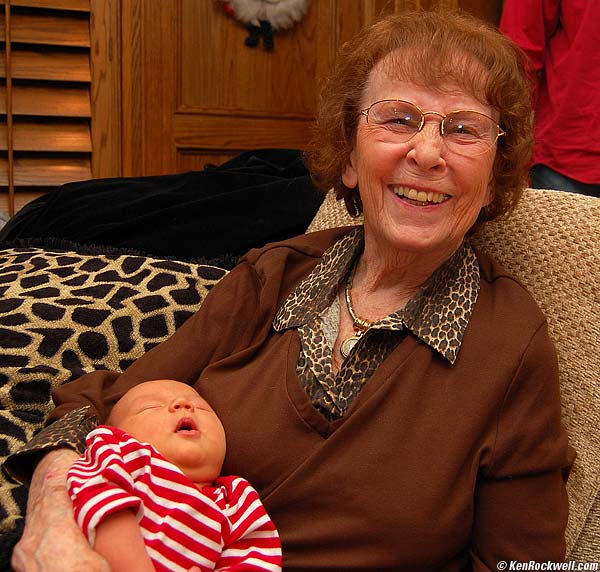 SB-400, bounced. Mouse over to see what people usually do, which is pointing the flash directly at the subject. Gag!
I love small flashes; that's a tiny SB-23 you see on my camera along with my giant 400mm lens on my home page. My SB-23 doesn't work on any digital camera. This new SB-400 finally replaces my SB-23 for use on my digital cameras.
My SB-400 does exactly what I want it to do: it gives excellent exposure, has an excellent locking metal hotshoe (decades ahead of Canon), bounce flash and top-notch professional mechanicals.
The SB-400 has no manual exposure mode, unless controlled from my D40. The SB-400 cannot be controlled manually from any other camera as of December 2006. It works only in the excellent i-TTL mode. This means that, except on my D40, the tiny SB-400 can't be used as a battery-saving trigger for studio strobes. No problem; I can use any other old flash as a trigger in manual mode, just that I'd love to use my flyweight SB-400 if I could.
The SB-400 is the second tiniest flash ever sold by Nikon. The SB-30 is smaller, but doesn't work on any of the current Nikon DSLRs.
It's so simple to use, my 2-day old baby read the manual, figured it out, and went back to sleep.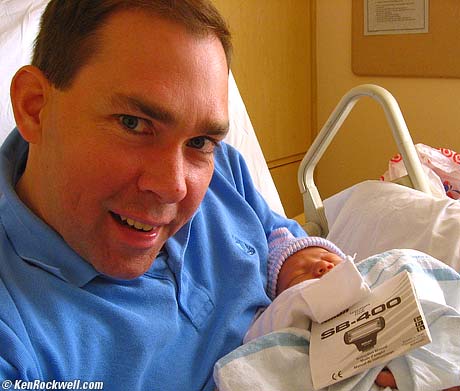 So easy even my baby can figure it out. (self-portrait with SD700.)
Stupid Warnings
Even my two-day-old kid busted up laughing at the idiotic warnings, which include a warning that the SB-400 may burst into flames for no reason if you put it away with batteries in it, and that's merely listed under the non-life-threatening cautions. The warnings section lists even more deadly defects in the design of the SB-400. Someone enlighten me: I thought companies wasted paper on this to protect themselves, but now haven't they made themselves negligent by admitting that they know of defects in the design of their products that may set your house on fire when left alone? I tabulated these stupid warnings for lenses, which also may set your house on fire or kill your baby here. My son says "Bring it on." He's not scared.
Who Needs It?
Most people will never need anything more than the built-in flash on their cameras. This isn't the 1970's. Nikon's built-in flashes are superb. The built-in flashes on all my Nikons are all I need most of the time for just about anything.
1.) The reason I bought my SB-400 is to use with my ultra-wide lenses. Built-in flashes are so close to the camera that they cast a shadow on the bottom of the image. If you don't have any lenses wider than 17mm, you don't need any other flashes.
2.) The second reason I bought my SB-400 is because I can bounce it for softer light. This is very important if you shoot indoors with flash.
3.) The third reason I bought my SB-400 is because it recharges (recycles) faster after every shot than the built-in flash. This is only important if you're shooting fast at longer distances. At normal distances the built in flashes usually illuminate the ready light more than fast enough.
My SB-400 recycles three times as fast as my D200's built-in flash, at the same distance.
4.) The fourth reason I bought it is because I used to have to haul around my big SB-600 to do the same things!
If none of these reasons apply to you, then you don't need an SB-400. I do suggest bounce flash, so if you use flash indoors to light your photos, you may want to consider one.
Tiny!
This tiny flash is an excellent companion to my D40 since neither of them weigh anything. I'm able to hold and operate my D40/SB-400/18-55mm combination in one hand for self-portraits while I hold the baby with my other arm!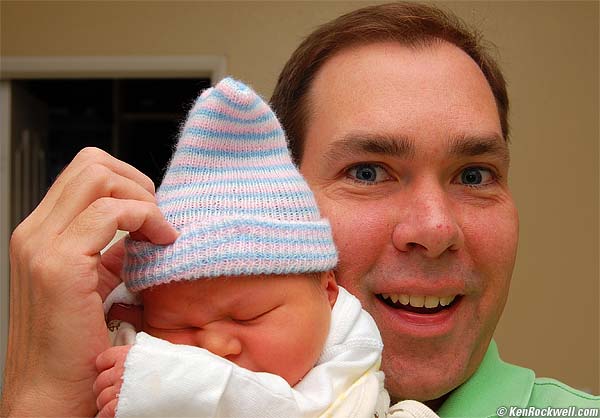 Self Portrait, one-handed, bounce flash.
I'm holding and operating my D40 and SB-400 in one hand. Bounce flash makes this look wonderful.
Compatibility
Nikon calls their newest i-TTL flash system the "creative lighting system," or CLS.
The SB-400 works perfectly on the D40, D50, D70, D80, D200, and D2X, as do the SB-600 and SB-800.
Unlike the SB-600 and SB-800, the SB-400 doesn't work on film cameras, except for the new F6.
The SB-400 doesn't work on ancient DSLRs like the D100 or D1x. Those obsolete cameras used an older flash control system that was crappy, and also incompatible with the SB-400. They used D-TTL, not the current i-TTL.
The old D-TTL system of Nikons first digital cameras was awful (like Canon's still is today), so sayonara! The D100 was OK, but the batteries of my D1H were so awful I was relieved when I finally turned it in at the local police station. If you're still using a D1X, do yourself a favor and dump it, and the pile of batteries you have to use with it, at the local Goodwill donation collection center.
Specifications top
Top Specs Performance Compared Recommendations
Flash System
iTTL, the good system that works great with all the current digital SLRs (D40, D50, D70, D80, D200, and D2X).
Guide Numbers
69/21 (ISO 100, feet/meters).
98/30 (ISO 200, feet/meters).
This is the same rating as my old compact SB-23, except my SB-23 can't bounce or work with my digital cameras. I have not measured the actual output. For decades flash makers have always lied by exactly one stop and I doubt this is any different. Who cares? No one uses guide numbers to calculate exposure with digital cameras.
Flash Duration
1/1,300s, max.
Tilt (Bounce Flash)
0, 60, 75 and 90 degrees up.
It can't twist left or right, so vertical shots wind up being bounced off a wall. Unlike my big flashes, I can tweak the bounce angle of my SB-400 without taking my eye off my viewfinder. It's easy to make an on-flash diffuser for the SB-400 four about a penny as I'll explain later.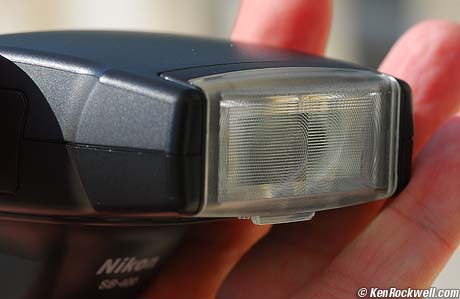 Bounce head at 0 degrees. Mouse over to flip to 90 degrees.
My SB-400 is clever, like my old SB-22. You only need to flip the reflector, not the whole flash, to bounce it.
Angle of Coverage
18mm (digital camera), 28mm (F6), rated.
There is no zoom and there is no additional wide diffuser. It doesn't need them, either.
The Japanese rate coverage for people shooting single blank walls. In the real world indoors, the side walls and ceilings are closer to you, so they need less light at the side, and thus most flashes work great even with ultra wide lenses.
My SB-400 works great with my 12-24mm lens even at 12mm, with no shadows at the bottom! This is one of the main reasons I bought my SB-400: so I don't need to haul my SB-600 just for fill with my ultrawides. Built-in flashes are too close to the lens so they cast a dark shadow in the center bottom of the image. No problems with the SB-400!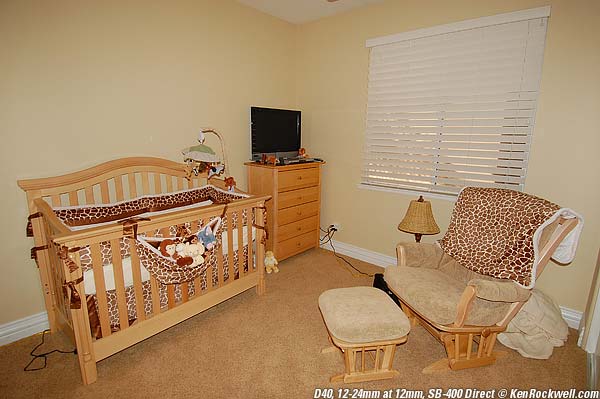 Coverage at 12mm on my D40. Roll mouse over to compare SB-400 to built-in flash.
Let's push our luck with a 10.5mm Fisheye lens.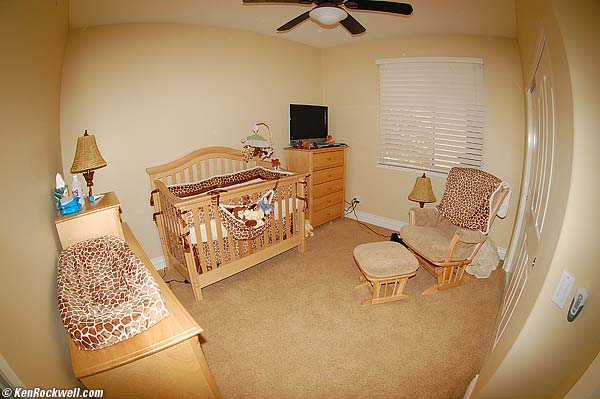 SB-400, Direct Flash, 10.5mm Fisheye lens.
Not bad for 180 degree coverage with direct flash! You get away with this because the walls at the sides get closer to the camera and need less light.
Not good enough for you? Then bounce the SB-400! Here's a direct shot. Roll your mouse over it to see the shot with the SB-400 flipped up 90 degrees.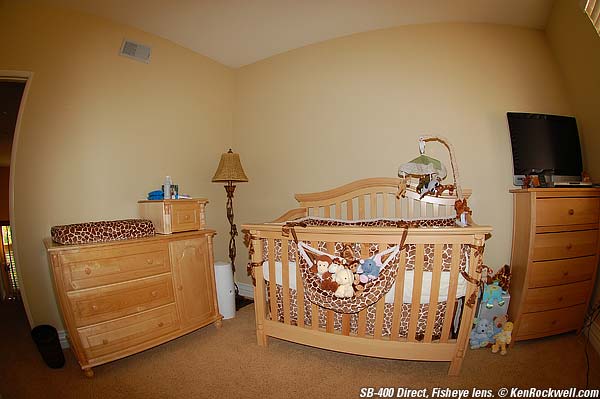 SB-400 with a fisheye lens. Mouse over to see it bounced at 90 degrees.
Nikon is conservative, as usual, rating the coverage of the SB-400 as only 18mm. I bought my SB-400 to improve on the built-in flash for use with ultrawide lenses, and it works great.
The results are the same on my other Nikon bodies. Their built-in flashes cast a shadow at the bottom, and work great with my SB-400.
Sync Modes
iTTL (camera controlled) only.
These camera-controlled modes usually are: Slow sync, Red-eye and Rear-curtain sync. Manual mode only works as controlled by a D40. Flash exposure compensation and flash exposure lock (blink elimination) work as controlled by the camera.
AF Illuminator
NONE.
You still will have to use the annoying white light on-camera instead of the dimmer red lights built into the bigger flashes.
Annoying Red-Eye Light
None.
The SB-400 uses super-annoying, Canon-inspired, bursts of flash instead. I hate redeye lights and never use them because I have no problems with redeye on SLR cameras, and the red-eye lights annoy people, get you thrown out of public places, and slow down everything. Just say no.
Wireless Control
NONE.
Useless with wireless and commander modes.
Remote Operation
Only with a dedicated SC-28 hotshoe extension cord, or the older SC-17 I own.
If you want to get complicated, you want the SB-600 or SB-800 which operate wirelessly all by themselves.
Power
2 AA batteries, perfect!!!
AA cells can be bought anyplace on earth, and I have zillions of them which power everything from my flashlights to my GPS.
Recycle Time
Rated: 4s (alkaline or lithium), 2.5s Ni-MH, 3s with Panasonic Oxyride.
I measure 3.6s with new alkaline or Ni-MH, and in 2010, I measure 2.6s with freshly charged Sanyo Eneloops.
Full-Power Shots per set/charge of batteries (rated)
140 alkaline, 200 Ni-MH (2,500 mAh), 250 lithium, 150 Oxyride.
I usually use my SB-400 bounced. If you point it directly at your subject it needs much less power per flash, and you'll get a zillion more shots. It often fires at close to full power when bounced.
Size
2.6 x 2.2 x 3.1" (66 x 56.5 x 80mm), rated.
Weight
6.230 oz. (176.6 g) with two Duracell AA Alkalines.
6.545 oz. (185.6g) with two Sanyo 2,500 mAh Ni-MH.
4.495 oz. (127.4g) empty (no batteries).
These are as I measured mine, which agree with Nikon's ratings. Two AA Ni-MH weigh half as much as this flash!
Soft Case
SS-400, included.
It's a very nice custom shaped, padded, zippered case with a sewn-on, embroidered label.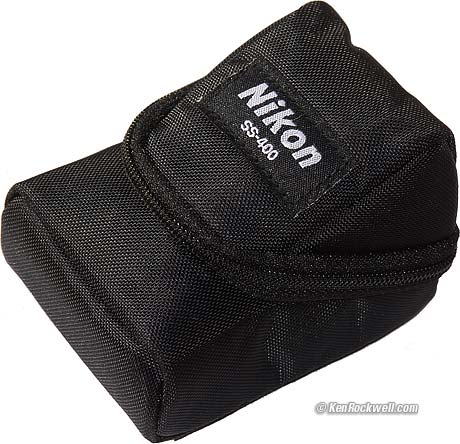 SS-400 Case, included with SB-400 Flash.
Nikon Product Number
4806.
Introduced
November 16th, 2006.
Shipping Since
December 2006.
Discontinued
2013.
Price
About $160 used in 2015.
$129 list and selling price at introduction in 2006.
Performance top
Top Specs Performance Compared Recommendations
I'm a sucker for tiny flashes, and my SB-400 works magnificently.
Exposure
Exposures are dead-on, a hallmark of the Nikon System. I've never used any other brand that handles so many situations perfectly. Since Nikon builds the intelligence of their exposure system into the camera bodies, the SB-400 is as good as my SB-600 and the SB-800.
Ease of Use
Wonderful! Bounce works fast and easy, the metal shoe and lock make the SB-400 instant to attach and remove, it never has a bad connection, recycling time is limited only by the AA cells and the ON-OFF slide switch is much faster than the bogus push-and-hold buttons of the more expensive SB-600 and SB-800.
I'm serious about the ON-OFF switch. I'm often turning the flash on or off from shot to shot. This is so important to do fast that the D2XS and D200 (maybe the D80, too) allow the option of setting their FUNC buttons to duck the flash. I can slide the SB-400 ON or OFF instantly. It drives me up a wall waiting for a fraction of a second holding the power buttons of my other flashes, especially when you realize that if the other flashes have fallen into STANDBY that you have to hit their power buttons once to wake them back up, and hold them once more to turn off.
The SB-400 simply turns off and on. Everything should be this easy, like having a twist timer on a microwave oven instead of a hundred buttons.
One-Cent Soft Box (Bounce Card)
The shape of the SB-400 makes it trivial to design a soft box from a single sheet of paper.
If you can't figure this out for yourself, download my high-tech template as either a PDF or a GIF to see where to fold your paper.
I broke the bank and used a sheet of 24 lb. paper instead of the thinner 20 lb. paper you'd steal from your office copy machine, which only costs a fifth of a cent.
It looks like this when taped to my SB-400: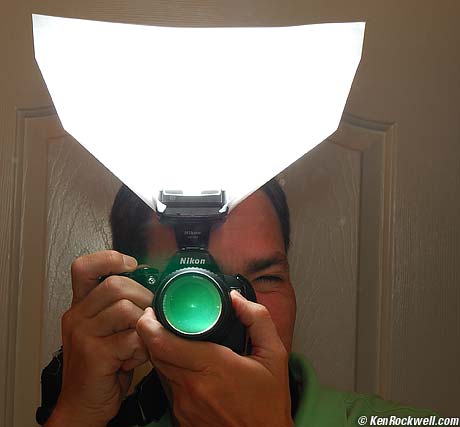 Self Portrait with Bounce Card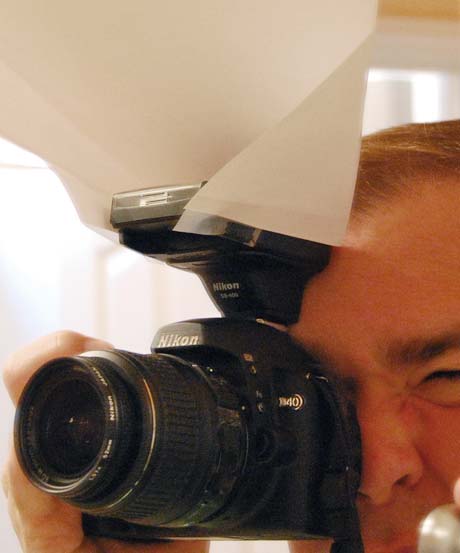 High-Tech construction details.
If you're a pro you might want to use white cardboard instead of copy machine paper and Velcro instead of tape.
Ready Light
Call me silly, but many ready lights fall short and can't be seen in full daylight, or if they can, they are too bright in the dark. The ready light of my SB-400 is visible in direct sunlight, and in the dark it's not too bright. This is the perfect ready light!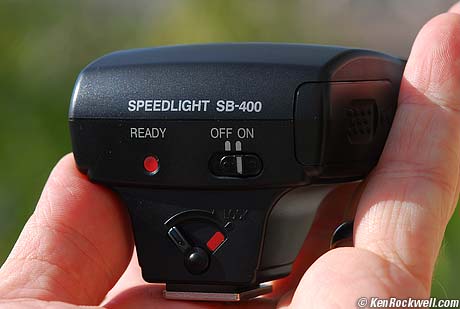 SB-400 Ready Light in Direct Sunlight
This one light says a lot of things.
ON
Ready.
Blinks after making a photo (4 blinks per second for 3 seconds)
It fired at full power; meaning it may have underexposed. You'll see this if the subject is too far away. Look at the photo on your LCD; if it looks OK, it is OK.
Continuous blinking (2 blinks per second for 40 seconds)
Batteries are low.
Continuous short bursts of rapid blinks (8 blinks per second in half-second bursts)
You've put it on an old camera with which it is incompatible.
Blinks Slowly (1Hz)
It's overheated. Let it cool off.
OFF
Either it means off, or standing by, or recycling, or that your batteries are dead.
Construction Quality
Excellent! It's as precisely and solidly made as all my other Nikon flashes.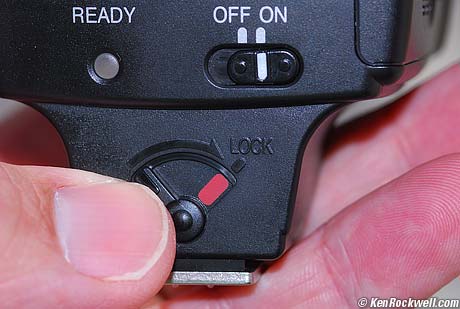 SB-400 Mounting Foot Lock, a little larger than life size.
It has an excellent metal locking bolt to prevent it from sliding out of your hot shoe, and the SB-400's hot shoe is a brilliant amalgamation of metal and plastic. The shoe itself is solid metal, so it won't ever wear out.
The metal shoe is screwed into the plastic of the SB-400's body, so if you drop the camera you'll only need to fix your flash, and not rip off the top of your camera. People used to buy expensive aftermarket billet aluminum shoes to replace their Vivitar 283's plastic shoes, until they dropped the first one and realized it was cheaper to buy a new replaceable shoe than a new camera.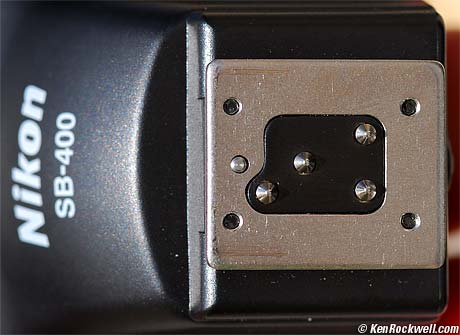 My SB-400's mounting foot.
The four black dots are the bottoms of metal machine screws which hold it to the bottom of the flash. The four pointy round things are the sync and data contacts. The non-pointy round thing on the left is the locking bolt.
The SB-400 has a lot up on even Canon's most expensive $400 EX-580 flashes. Of course the exposure is always right on with the Nikon, and the little SB-400 has a rock-solid bolt-action metal locking hotshoe with a big, bold, easy to use LOCK - UNLOCK lever, while the EX-580 has a bogus, 1970s inspired plastic shoe with a plastic screwy thing that always lets Canon flashes back out of the hotshoe and misfire.
Only use Nikon flashes on Nikon cameras and only use Canon flashes on Canon cameras. Unlike the 1970s, flashes are dedicated to cameras just like lenses.
Made in
China, and made very well.
Battery Power
It recycles quickly: 3.6s with new alkalines or freshly charged Ni-MH. My SB-400 recycles three times as quickly as my D200's built-in flash, at the same distance.
It has very efficient and silent converter circuitry. It recycles without the inverter (transformer) whine familiar to old-timers.
Don't let this silence fool you. The SB-400 is sucking a lot of current from your two little AA cells.
Use with Alkaline Throw-Aways
I used one set of Duracells in my SB-400 and killed them after two weeks and 1,600 shots total on my D40. I'm unsure how many of those shots were with the flash, many of them were.
After the sort of use I give a digital camera, which means making a lot of shots, my alkaline batteries are very warm to the touch and get tired.
I was able to heat up my alkaline cells and slow down the recycling time, making me think I'd exhausted the alkalines. Nope, just like the old days, the next day they came back to life. They acted dead on the first day of use, but lived on for two weeks of shooting.
If you use your D40 only once in a while, throw-aways are fine. Never use the garbagy "Heavy Duty" batteries, always use alkalines. See also Batteries.
Rechargeable Ni-MH
Ni-MH work better than alkalines if you use your camera a lot. Ni-MH love working with the large bursts of current drawn by the SB-400. Alkalines lose steam if you're making many fast shots.
I shoot a lot, and it seems I can go a month or two between recharges. I shoot a lot, and the Ni-MH just keep on going.
I kid you not! I got my SB-400 in December 2006. It ran two weeks on a set of alkalines. It then ran through February 2007 on one charge of Ni-MH, and I shoot thousands of pictures (not all with flash).
Lithium Throw-Aways
I have not tried expensive throw-away AA Lithium cells, which weigh nothing and probably last the longest. These lithiums also love the high drain of the SB-400. They have the longest recycle time, and may cut out temporarily under heavy use, which would of course make them useless. I'll let you know if I try them.
Heavy-Duty Use
If you use the SB-400 continuously, the batteries and the SB-400 are going to heat up.
Alkaline cells are going to poop out early and need a rest. You will be limited by your batteries probably more than by the potential to melt the SB-400. The warning lights appear to indicate that the SB-400 will shut down if it gets too hot. Skip alkalines and use rechargeables if you shoot heavily.
Nikon asks you to give the SB-400 10 minutes to cool after 15 full-power dumps. I suspect that alkaline batteries will limit you more than the heat issues.
Use rechargeables. I've had no problems shooting like a madman with them.
External Power Supplies
You'll probably melt the SB-400, but if you really want firepower, it looks trivial to connect wires to two thumb tacks poked into two wooden dowels put in the place of the two AA cells and jock-strapped to two D cells (or one fat lithium-ion rechargeable cell) in your pocket.
Nikon's manual's death-mongering warnings, simply copied from a camera manual, forget to warn against powering the flash from external sources, heh heh. If you don't mind destroying your SB-400 in the name of science, I'd wonder if it recycles any faster from the higher voltage of three or four series-connected external cells. Let me know if you try (I won't, since it probably would damage the SB-400).
Flash Power
At full manual power, I measure GN 45 in feet at ISO 100. This is GN 14 in meters, and one stop less than specified (GN 69'/21m).
The Japanese have rated their flashes one stop brighter than they actually are for decades, so this is right-on.
Standby and Communication
Standby mode works great. The flash turns on and off automatically with the camera.
Be careful. Sometimes I thought my batteries had died when all that happened was my camera went to sleep.
"?" in Finder of D40
The "?" lights up in the bottom right of the D40's finder anytime you are using bounce flash. It's presuming you're an idiot and have tilted it up out of stupidity, instead of wanting to get better light. This bugs me, but too bad. The D40 is smart enough that if you press the "?" button to learn details about the problem, it tells you the reflector is pointed up.
Recommendations top
Top Specs Performance Compared Recommendations
Your built-in flash is all you really need , but bounce flash looks so much better and the SB-400 is so tiny and easy to carry that everyone ought to have one.
Buy an SB-400 if you want:
1.) Bounce Flash.
2.) Faster recycle times.
3.) Coverage with ultrawide lenses.
4.) Get more shots per camera battery charge, since the built-in flash uses three times as much power as not using it. Using an SB-400 means you don't use the built-in flash.
5.) To replace a bigger flash.
I use all these features, so I love my SB-400.
If you don't use any of these and your built-in flash recycles fast enough for you, forget about it.
I suggest you experiment with bounce flash indoors. It will make a huge improvement in your photos.
Full-time journalists will laugh at anything that weighs less than ten pounds, but this little devil works great and lets you get places you won't get with your SB-800
Help me help you top
I support my growing family through this website, as crazy as it might seem.
The biggest help is when you use any of these links when you get anything, regardless of the country in which you live. It costs you nothing, and is this site's, and thus my family's, biggest source of support. These places have the best prices and service, which is why I've used them since before this website existed. I recommend them all personally.
If you find this page as helpful as a book you might have had to buy or a workshop you may have had to take, feel free to help me continue helping everyone.
If you've gotten your gear through one of my links or helped otherwise, you're family. It's great people like you who allow me to keep adding to this site full-time. Thanks!
If you haven't helped yet, please do, and consider helping me with a gift of $5.00.
As this page is copyrighted and formally registered, it is unlawful to make copies, especially in the form of printouts for personal use. If you wish to make a printout for personal use, you are granted one-time permission only if you PayPal me $5.00 per printout or part thereof. Thank you!
Thanks for reading!
Mr. & Mrs. Ken Rockwell, Ryan and Katie.
Home Donate New Search Gallery Reviews How-To Books Links Workshops About Contact