Home Donate New Search Gallery Reviews How-To Books Links Workshops About Contact
Canon SD700
© 2006 KenRockwell.com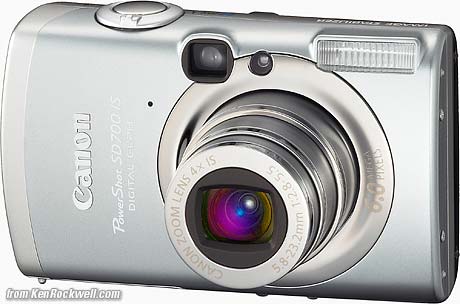 Canon SD700.This free website's biggest source of support is when you use these links, especially link to it at Amazon or this link directly to them at eBay (see How to Win at eBay), when you get anything, regardless of the country in which you live. Thanks! Ken.
Summer 2006, updated July 2007 and May 2012 Canon Reviews All Reviews
Superceded by the almost identical and newer Canon SD850.
Nikon D3X, D3, D40, and Canon 5D Mark II, 5D and SD700 Sharpness Comparison 13 January 2009
Camera LCD Monitor Tests, featuring the SD700.
Memory Card and Download Speed Tests, featuring the SD700.
SD700 vs. Nikon D80 / D200 / D70 / Canon 20D / 30D Noise and Resolution Shootout!
I bought this jewel of a pocket camera in the summer of 2006 and I LOVE it! I take it everywhere in my dusty pants pocket with no case. As of June, 2007 I've made over 12,500 shots on it and it still works like new. As of July 2007 there is an almost identical and improved newer version called the Canon SD850. I expect that this SD700 will become discontinued.
The SD700 was announced on February 21st, 2006 and became available in April 2006. Canon released the SD800 in October 2006, which has a wider lens and a few more pixels, but with a shorter zoom range. The SD800 is also a great camera, but being newer costs more.
Canon announced the SD850 on May 7th, 2007 to replace this SD700. The SD850 ought to be available in July 2007. It seems like the same camera with a few more pixels (8MP vs 6MP), although Canon's claim of "30% more vibrant colors on the LCD" worries me if it means the LCD is no longer color-accurate as it is on my SD700 and my other Canon compacts. I see no reason to wait, I'd get the SD700 for less money today. I do want to try an SD850.
Now back to my SD700 review.
The SD700 colors are fantastic, the Image Stabilizer works great, the battery lasts beyond forever and it's super fast and easy to use.
The SD700 has a stabilized 4x optical zoom lens that covers what a 35 - 140 mm lens would on a 35mm film camera. It's a bargain, too: about $300 - $400 this week. It's called the DIGITAL IXUS 800 IS in Europe.
This is Canon's first pocket camera with Image Stabilization (IS). IS is important because it helps get sharp photos in almost any light without a tripod. This technical advancement, quality and low price impress me - a lot! See Why VR and IS Matter and I'll show you how this little gem can be sharper than my expensive 10 MP Nikon D200!
I'd been wanting another Canon point-and-shoot because of the great color rendition I used to get on my old Canon A70, but I hadn't found any recently that handled fast enough for me. The Canon S80 is too slow. The SD700 is FAST!
As of September 2006 my SD700 replaces my Casio EX-Z850 in my pocket. My EX-Z850 replaced my EX-Z750 in April 2006 because it had a super bright screen, bright enough to see in daylight. The EX-Z750 replaced my Canon A70 in 2005 because of its tiny size and ultra fast operation. I always preferred the colors of my 3MP Canon A70, but was won over by the portability and fast operation of the Casios. Now I have fast operation, tiny size, almost unlimited battery life, bright screen and great color in my SD700.
Color is excellent and similar to other Canon compacts.
I always use Canon's VIVID setting.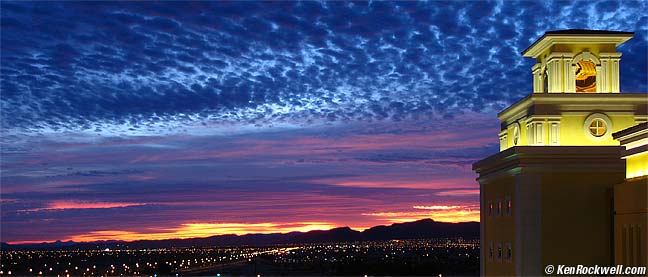 Sunrise, Las Vegas, Nevada. 04 October 2006.
This is the exposure and color exactly as it came from my SD700, in Vivid mode as I always use. Click the image for the camera original file (1.3MB).
This shot is at 7.5mm (medium wide), f/3.2 (wide open) at 1/10, hand held, balanced on a ledge.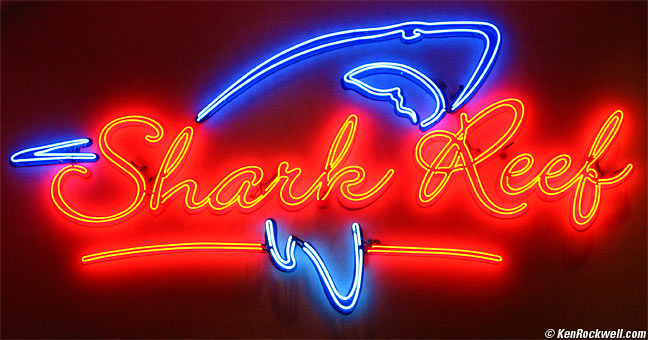 Neon, Las Vegas, Nevada. 06 September 2006.
My SD700 looks great for neon, too. Earlier digital cameras used to clip and lose the color of the liquid fire contained inside the glass tubing. This color is exactly as it came from my SD700, vivid mode.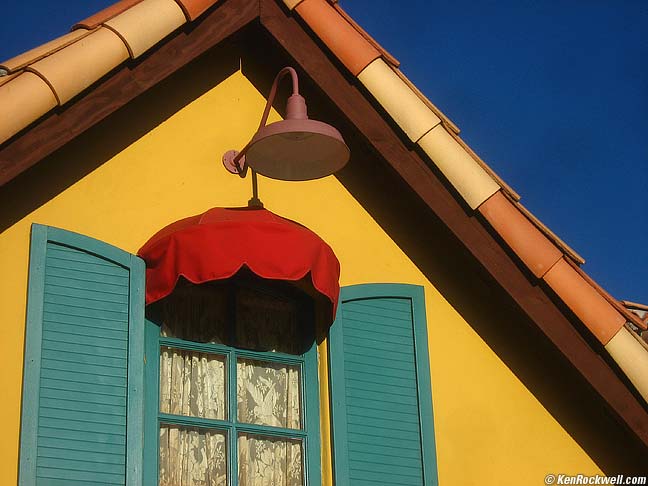 Chain Restaurant, San Diego, California. 21 August 2007.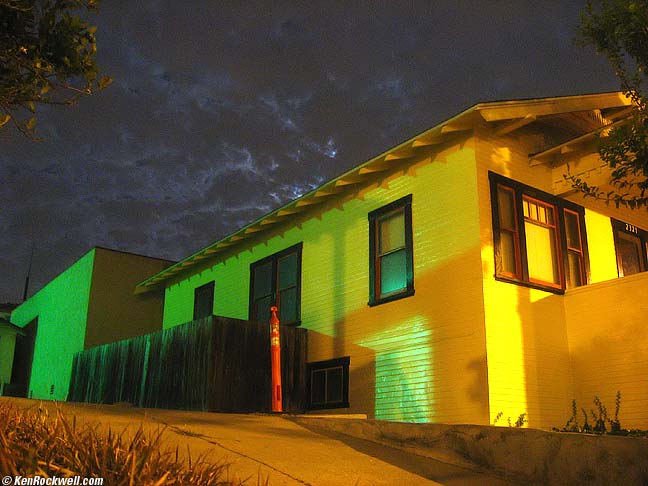 By Chrome by Moonlight, San Diego, California. 10PM 29 August 2007.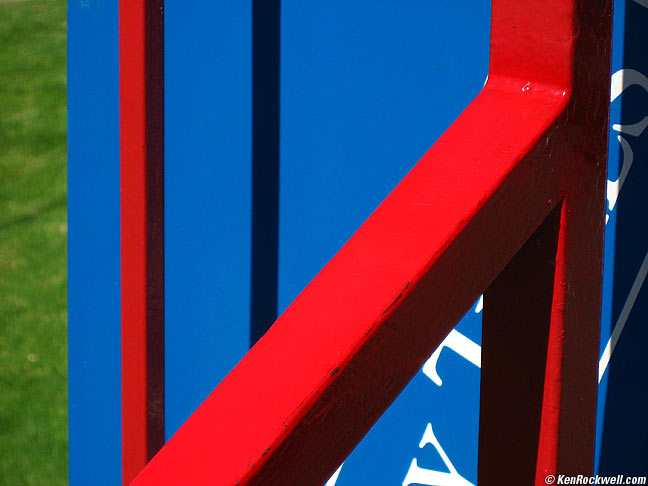 Railing at Denny's, Oceanside, California. 24 September 2006.
This is just a grab shot while the wife snuck in to pee. Photography is all about seeing cool things. Taking the picture once you've seen something cool is the easy part; it's the noticing things that takes practice. This is exactly the way the file come from my SD700, uncropped and untweaked.
SPECIFICATIONS
LENS: 5.8 - 23.2mm f/2.8 - 5.5 IS. It gives a similar field of view as a 35 - 140mm lens does on a 35mm film camera. See Lens Performance below.
AF: 9 zone TTL.
OPTICAL VIEWFINDER: about 80% coverage.
SHUTTER: 1 - 1/1,600. Goes to 15 seconds in a trick manual mode. Electronic and mechanical. Observed Flash Sync (maximum speed with flash): 1/500.
SENSOR: Smaller sized 1/2.5."
IMAGE SIZES: 2,816 x 2,112 pixels native. Also 2,816 x 1,584 (16:9 cropped), 2,272 x 1,704, 1,600 x 1,200 and 640 x 480.
FORMATS: JPG, three compression levels. File size vary wildly with image complexity. I always use the smallest size, "Normal." The middle, default size is called "Fine" and the largest is called "Superfine." File sizes are optimized to each image, so very detailed images may have file sizes triple the file size of a blank, flat sky image. This is good and normal.
AUDIO FORMAT : WAVE, only as 60 second clips or with video.
VIDEO: 640 x 480, 320 x 240, 160 x 120 at 60, 30 and 15 fps (not all combinations available, see video below). Sequential motion JPEG AVI (not the more efficient MPEG).
ISO: 80, 100, 200, 400 and 800. AUTO mode goes from 80 - 200, HI AUTO goes from 80 - 800. More under Auto ISO modes and ISO Performance.
WB: Auto, Direct Sun, Cloudy, Tungsten, Fluorescent Warm and Cool, custom manual white card. No shade position, but the custom white card setting is so easy I don't penalize the SD700 as I would other cameras.
FRAME RATE: 2 FPS continuous (no change in focus, exposure or anything between shots.)
METER: Evaluative, center and spot.
LONG EXPOSURE NR: Automatic if shutter speed is longer than a second. The SD700 only goes this long if you set these speeds manually.
LCD SCREEN: 2.5," 173,000 pixels.
STORAGE: SD card up to at least 2 GB.
DATA TRANSFER: USB 2.0 high-speed, 480 Mb/s peak.
LANGUAGES: 23! English, German, French, Dutch, Danish, Finnish, Italian, Norwegian, Swedish, Spanish, Japanese, Russian, Portuguese, Greek, Polish, Czech, Hungarian, Turkish, two kinds of Chinese, Korean, Thai and Arabic.
SIZE: 2.270 x 3.588 x 1.016" H x W x D, measured, including protrusions. (57.88 x 91.13 x 25.98 mm)
WEIGHT: 6.825 oz (193.6 g) measured fully loaded with battery, memory card, strap and ID stickers. (Canon's meaningless 5.82 oz - 165 g figure published elsewhere is buck naked, without battery or anything.)
COLOR: Weird light blue, silver and black.
ENVIRONMENT(rated): 0 - 40 C (32 - 104F), 10 - 90% RH.
UNDERWATER: Optional WP-DC5 housing, rated to to 130 feet (40m). You can get it here or here.
POWER: 3.7V, 1,120 mAh NB-5L Li-ion battery. It must be removed to charge. It lasts almost forever! I got 1,150 shots on my first charge with a lot of use of the LCD, a lot of continuous 2 FPS shooting and and not too much flash. Canon rates it at only 240 shots CIPA or 700 shots no LCD, 6 hrs playback. Charger: CB-2LX with folding plug.
PERFORMANCE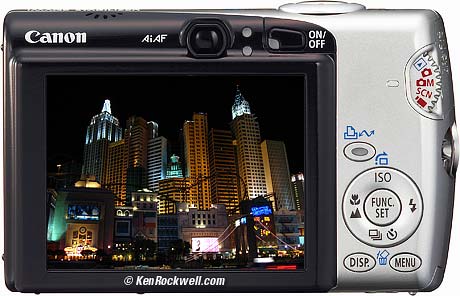 Press photo of an SD700 with a photo from my own SD700 Photoshopped onto the screen. Click to enlarge the inner photo. None of these photos has been changed - you're seeing the actual color, sharpness and exposure I got hand-held at 1/10 second!
I held down the shutter for 24 shots to be sure I got a sharp one. They were all sharp except for 4! How sharp? Here is a 100% crop of the bright magenta billboard on the bottom center right. A print at this same magnification would be 28 x 21"!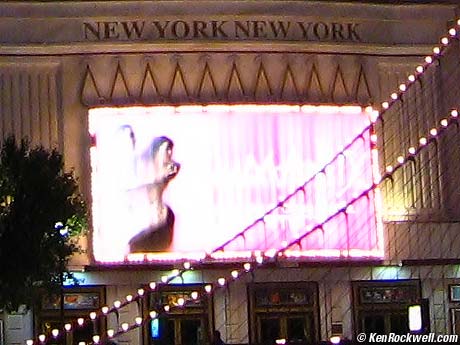 100% crop from above hand-held night shot.
Not bad for hand-held night shots while I was walking to dinner with my wife. This was in Auto ISO at about ISO 200, auto WB, my standard -2/3 exposure compensation and default LARGE FINE JPG. It was a 1.8MB file.
HANDLING
This tiny Japanese jewel fits perfectly in my big American hands. It's made mostly of metal and feels great. Everything is tight and precise.
Handling is excellent. It has the same menus as every other Canon compact. It's faster and easier to use than Canon SLRs.
Response to menu inputs is almost instant. There's no waiting for the camera to catch up to your inputs.
Settings Remembered with Power Off
My SD700, in M mode, remembers where I set most things like WB, ISO and exposure compensation when I last turned it off.
Unfortunately it doesn't remember my setting of the continuous advance mode. I have to reset that every time I turn on my SD700.
I wish instead it always woke up in Auto WB (instead of whatever screwy custom setting I used yesterday) and always woke up in continuous shutter mode. Oh well.
User's Manual
All English, 137 pages, reasonably well written (better than Nikon manuals).
Panoramics
Like most Canons, there is a Panoramic mode for making easy-to-stitch shots. It works great with the included pan stitching software. Canon has always been very good at this. My A70 did the same thing, with the same software!
EXPOSURE
General: Like all my Canon point-and-shoots, the SD700 overexposes most of the time. This isn't a problem, since I set exposure compensation to -2/3 stops and leave it there most of the time. It remembers this even after being turned off.
If you shoot Canon compacts as they come out of the box you'll get bad results, because highlights will be blown out. Set your compensation to -2/3 and watch the image improve greatly.
TRICK: Auto Exposure Lock (AEL): Press and hold the shutter halfway. Tap the ISO button and the SD700 measures and locks the exposure. AEL shows on the right of the screen. Recompose and shoot. This exposure value stays locked for more shots until you press the ISO button again.
TRICK: Flash Exposure Lock: It really works! Press and hold the shutter halfway. Tap the ISO button and you get a preflash which sets the flash exposure. FEL shows on the right of the screen. Recompose and shoot. This exposure value stays locked for more shots until you press the ISO button again.
General
Flash is well exposed and even. It works much better than most point-and-shoots at balancing fill with daylight.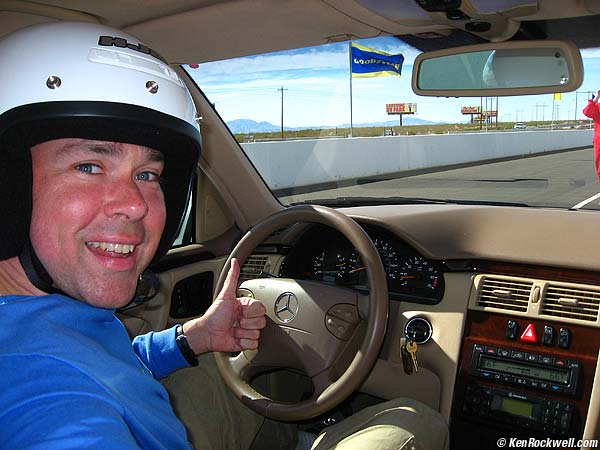 Self-Portrait. Fill flash with daylight, SD700 held in other hand.
This is exactly as the shot came from my SD700, resized to fit your screen. I think I dialed in some compensation to bring down the daylight. THe flash exposure can't be changed, which is just as well, since it's right on.
Recycle Time
Recycle time is much faster than my Casios. Only if the flash has to fire at full power will you have to wait as long as 7 seconds. Most of the time the flash recycles right away. At reasonably close distances you can fire away quite quickly, since the flash recycles quickly when it doesn't have to reach very far. In continuous mode the SD700 fires as soon as it's recycled. Just hold down the shutter.
Sync Speed
Sync (maximum shutter speed with flash): 1/500 max. (measured).
Flash Modes
Auto mode turns on the flash at light levels which would result in a shutter speed of 1/50 sec or less. The light level at which the flash comes therefore varies with ISO setting.
Shutter speed is usually 1/60 in the dark. It can go longer in the slow syncro mode.
| | | | |
| --- | --- | --- | --- |
| Mode | Exposures Chosen by SD700 | ISO AUTO | HI AUTO ISO |
| | | | |
| Auto Flash | wide open @ 1/60 w/flash* | 80 - 200 | 80 - 800 |
| Flash On | wide open, 1/60 - 1/500 | 100 | 100 |
| Slow Sync | wide open, 1s - 1/500 | 80 - 200 | 80 - 800 |
* Varies when light is brighter and flash automatically turns off.
WB and ISO stay set with flash. My Casios, by comparison, force the WB to FLASH regardless of where I set them.
Sharp and good. Not quite as sharp as the SD550, but IS makes up for it in real-world operation.
Zoom
As all point and shoots, the zoom only works in fixed steps. The SD700 has 9 steps, two more than most cameras. They are at 5.8 mm, 6.6 mm, 7.5 mm, 8.6 mm, 10.0 mm, 11.8 mm, 14.3 mm, 18.6 mm and 23.2 mm.
This is not a problem; there are plenty of steps, although the three last steps on the telephoto end are a little bit far apart.
The tiny sensor of the SD700 has a 6.03x felid-of-view factor to make 5.8mm on the SD700 give the same angle of view as a 35mm lens does on a 35mm film camera. With that factor, the available focal lengths of the SD700 become similar to: 35mm, 40mm, 45mm, 52mm, 60mm, 71mm, 86mm, 112mm and 140mm.
Sharpness
These are subjective ratings, E - VG - G - F - P, made at 100% on my monitor. These are tough, since this magnification would print at 21 x 28" at this magnification.
Don't worry about differences between adjacent grades. These are subjective and evaluated with the same criteria I use for SLR lenses.
Different samples of cameras will be different. It's normal for compact cameras like this to get soft in the farthest corners, so don't worry about it.
The SD700 is sharp enough for marvelous prints of any size. The biggest issue is the noise, like all compact cameras, from its small sensor.
5.8mm (wide): VG Center, G Sides, G far corners.
6.6mm: VG center, G sides, G far corners.
7.5mm: E Center, VG sides, G far corners.
8.6 mm: E center, VG sides, VG far corners.
10.0mm: VG center, VG sides, G far corners.
11.8mm: VG center, VG sides, VG far corners.
14.3mm: VG center, VG sides, VG far corners.
18.6mm: VG center, VG sides, VG far corners.
23.2mm (tele): VG center, VG sides, G far corners.
Distortion
Distortion is about the same as every other camera. It's easy to correct in Photoshop CS2's lens distortion filter with the numbers below. I read the actual focal lengths in iView.
5.8mm (wide): Barrel distortion, use +4.00 in CS2's lens distortion filter.
6.6mm: Barrel, use +4.0 in CS2's lens distortion filter.
7.5mm: Barrel, use +3.0 in CS2's lens distortion filter.
8.6mm: Barrel, use +2.5 in CS2's lens distortion filter.
10.0mm: Barrel, use +1.5 in CS2's lens distortion filter.
11.8mm: Barrel, use +1.5 in CS2's lens distortion filter.
14.3mm: Barrel, use +0.3 in CS2's lens distortion filter.
18.6mm: Barrel, use +0.2 in CS2's lens distortion filter.
23.2mm (tele): 0 (none, whoo hoo!).
(Use these figures all you want for your own photography, but remember this is all copyright and registered, so you'll need to get permission before using them for any other purpose.)
Focus
Excellent! AF is almost immediate. It nails focus very fast and smoothly. It does not have servo motors clicking around as other cameras do.
AF is always perfect. I've never gotten out-of-focus shots, as my Casios can do.
There are also infinity and Macro settings.
Macro
Macro is similar to most compacts.
In the normal AF mode it focuses to 1.5 feet (0.45m) at all zoom settings.
In macro mode it can focus to less than 1/2" (1cm) from the front of the lens at wide, and about a foot and a half at tele. It has barrel distortion at wide, flat at tele. See these images for the real story:
Canon SD700 Macro Performance
The lens is just as sharp and has the same distortion in the macro range as at regular distances. Set Photoshop CS2's lens distortion filter to +4 at wide to make the curvature go away.
LCA (Edge Color Fringes)
This isn't a problem with the SD700. You'll only see this if you're deliberately looking for it.
5.8mm: Minor, just a little green/magenta at the very corner.
6.6mm: Minor, just a little green/magenta at the very corner.
7.5mm: Minor, just a little green/magenta at the very corner.
8.6mm: Minor, just a little green/magenta at the very corner.
10.0mm: Minor, just a little green/magenta at the very corner.
11.8mm: Almost completely gone. You'd never see it unless you were looking for it.
14.3mm: Almost completely gone. You'd never see it unless you were looking for it.18.6mm
23.2mm: Minor, just a little red/blue at the very corner.
IS (Image Stabilization)
I have an iron grip. I also have a lot of practice releasing shutters smoothly. I can get perfect results at 1/4 second at wide and 1/13 second at tele! Most people will need practice to do this.
TIP: I make a series of shots in continuous mode and pick the sharpest one later. Using this tip I always can get sharp shots at 1/4 at wide and 1/13 at tele.
If I only get one shot, I'm completely sharp every other shot at 1/8 at wide.
See Why IS Matters for details and examples.
Slow Shutter Warning
The low-light blur warning is smart. It knows your zoom position and whether or not the IS is on! Here are the speeds at and below which you'll get a warning:
Stabilizer
ON

Stabilizer
OFF

Wide

1/15

1/40

Tele

1/40

1/125
See excruciating details and examples at my DSLR comparison, where I put this little gem against grown-up sized cameras.
It's about the same as every other compact. It's too bad amateurs waste so much time worrying about this minute aspect of performance, since most competitive cameras are almost identical under identical conditions.
Others like to believe press releases which imply that ISO 800 on the SD700 looks as good as ISO 400 did on the previous SD550. Baloney! They look about the same when compared at the same true ISOs. Canon monkeyed around with the actual ISOs and made ISO 400 and ISO 800 a bit less sensitive on the SD700 to give the appearance of less noise. They aren't aren't as fast as the same ISOs on the SD550. You can compare this yourself by making some experiments and looking at the image lightness and exposure data. I bought my SD700 to replace an SD550 because of IS, not because of ISO 800.
It looks fine at ISO 80 and 100, looks a little less clean at ISO 200 if you look closely, gets a bit grainy at ISO 400 (better than most compacts) and looks awful at ISO 800. ISO 800 looks like a sandstorm even in 4 x 6" prints. There are usually no hot pixels. Keep it down to ISO 400 and it looks much, much better.