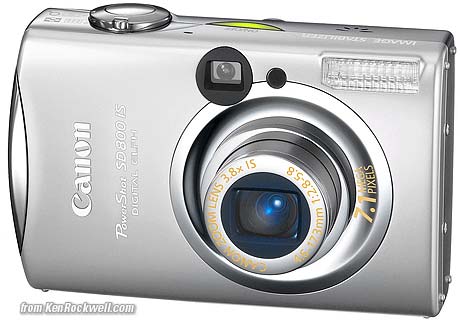 I'd get it here or here. Ritz is a great place, but doesn't seem to list it. It helps me publish this site when you get yours from those links, too.
October 2006, updated July 2007
Specifications Performance Recommendations
The Canon SD800 is the pocket camera to get if you prefer slightly wider angles. I'd have bought it the instant it was announced, except that I had bought the similar SD700 two months before the SD800 was announced.
In other parts of the world, the SD800 is called the DIGITAL IXUS 850.
The SD800 has great color, fast handling, image stabilization for use in dim light without a tripod and a wider lens than almost any pocket camera of which I know. The SD800's LCD monitor is the most accurate I have ever measured.
Canon announced the SD800 on September 14th, 2006 with an MSRP of $399. It sells for about $355 as of October, 2006. As of July 2007 is sells for about $300.
Compared to the SD700 and SD850, the SD800 has a shorter zoom which sees an angle similar to what a 28 - 105mm lens sees on a 35mm film camera. By comparison, the SD700's and SD850's lens sees the equivalent to 35 - 140mm. The SD800's zoom ratio is 3.8x and the SD700's is 4x. I love wide; for people who prefer long the SD700 and SD850 are still the best cameras.
The SD800 is 7.1MP while the SD700 is 6 MP and SD850 is 8MP, no big deal.
Canon claims a faster processor in the SD800, but I find the SD800, SD850 and SD700 the same in handling and the SD700 faster in frame rate.
Canon also announced an SD900 which doesn't go as wide and lacks IS, so who cares? It also costs more ($499 MSRP), so I'm really uninterested. It has more megapixels, which mean nothing as you can read at The Megapixel Myth.
Gimmicks vs. Features
The SD800, like most digital compact cameras, has a slew of gimmick modes, like digital macro and color swaps. I'll ignore them because I never use them.
Other modes, like the 3:2 matte, are helpful and I'll explain them.
Image Stabilization is so important to my style of non-flash shooting I have an entire article with examples at Why IS Matters. IS isn't a gimmick; its why I bought the SD800's brother, the SD700, as soon as I heard about it.
Another ultra-trick new feature debuting on the SD800 is an automatic focus-check mode. Even my $1,700 Nikon D200 doesn't do this automatically.
SPECIFICATIONS back to top
LENS: 4.6 - 17.3mm mm f/2.8 - 5.8 IS. It gives a field of view similar to a 28-105mm lens on a 35mm film camera.
AF: 9 zone TTL. Also adds a weird "face detection" mode which probably works great.
OPTICAL VIEWFINDER: about 80% coverage.
SHUTTER: 1 - 1/1,600. Goes to 15 seconds in a trick manual mode. Electronic and mechanical.
SENSOR: Smaller sized 1/2.5."
IMAGE SIZES: 3,072 x 2,304 pixels native. Also 3,072 x 1,728 (16:9 cropped), 2,592 x 1,944, 2,048 x 1,536, 1,600 x 1,200 and 640 x 480.
FORMATS: JPG, three compression levels. File size vary wildly with image complexity. I always use the smallest size, "Normal." The middle, default size is called "Fine" and the largest is called "Superfine." File sizes are optimized to each image, so very detailed images may have file sizes triple the file size of a blank, flat sky image. This is good and normal.
AUDIO FORMAT: WAVE, only as 60 second clips or with video.
VIDEO: 640 x 480, 320 x 240, 160 x 120 at 60, 30 and 15 fps (not all combinations available). Sequential motion JPEG AVI (not the more efficient MPEG).
ISO: 80, 100, 200, 400, 800 and 1,600. ISO 3,200 comes up in a trick scene mode. There's also AUTO and AUTO HI. Like most compact cameras, the highest ISOs look like crap. Today camera makers no longer use megapixels to sell cameras, they use overcranked ISO specs.
WB: Auto, Direct Sun, Cloudy, Tungsten, Fluorescent Warm and Cool, custom manual white card. No shade position, but the custom white card setting is so easy I don't penalize the SD800 as I would other cameras.
FRAME RATE: 1.7 FPS rated, 1.6 FPS measured continuous: no change in focus, exposure or anything between shots. (SD700 is rated 2.1 FPS, measures 2.05 FPS.)
METER: Evaluative, center and spot.
LONG EXPOSURE NR: Automatic if shutter speed is longer than a second. The SD800 only goes this long if you set these speeds manually in a trick mode.
LCD SCREEN: 2.5," 207,000 pixels (SD700 is 173,000 pixels).
STORAGE: SD card up to at least 2 GB.
DATA TRANSFER: USB 2.0 high-speed, 480 Mb/s peak.
MADE IN: Japan. The software CD also is made in Japan. The battery and chargers are from China.
COLOR: Silver Gray. I prefer black, but it's not available. This silver gray is much nicer than the goofy blue-silver of my SD700.
POWER: 3.7V, 1,120 mAh NB-5L Li-ion battery, same as SD700. It must be removed to charge. I hope it lasts forever as it does on my SD700, on which I average 1,000 shots per charge.
SIZE: 2.3 x 3.5 x 1.0" H x W x D, rated. (58 x 90 x 25 mm)
WEIGHT: 6.250 oz. (177.2g), measured with battery, memory card and strap. Rated 5.3 oz (150g) buck naked: no battery or anything. This is a half ounce (15g) less than the SD700.
OPTIONAL ACCESSORIES:
HF-DC1 Flash. This $100 flash mounts to the side of the SD800 with a piece of rebar. I haven't tried one. It probably allows faster recycling time and greater distances than the built-in. It has it's own manual power switch. It's an optical slave with no direct connection to the camera. It can't be used in the Continuous (1.6 FPS) mode. I'd pass - if more flash than the built-in is important, get a DSLR.
WP-DC9 Underwater housing, about $250.
PERFORMANCE back to top
ERGONOMICS
It handles like most Canons, which is excellent.
Canon claims more internal hocus-pocus (Digic III vs. Digic II) than the SD700, however I felt no difference in speed. In fact, I measure lower frame rates on the SD800 (1.6 FPS) than my SD700 (2.05 FPS). They are both very good and respond quickly to menu inputs.
This SD800 has a less convenient play/record mode switch than my SD700. The switch on the SD800 is plastic, unlike the SD550 and SD700, which are metal. This SD800 has the same type switch as the SD550, which is an external dial with a raised side. The SD700 has an enclosed dial with only a knurled edge exposed, which is easier to flick with one finger and less likely to get knocked in a pocket.
The power switch is a large, flush button on the top of the SD800. It has a large, bright green backlight, which makes you stand out a little at night. It's over a half-inch long and the whole thing glows bright green. By comparison, the SD700 has a switch on the rear with a tiny green light. You can see the SD800's glowing top green light in the photo at the top of the page.
Optical Viewfinder
I never use these. It's a little peephole which zooms with the lens. I'm sure it works great; but I prefer the live LCD.
LCD Monitor
The LCD monitor is sharp, color-accurate and bright. It has a great anti-reflection coating, so blacks stay black without interference from reflections. Of course the coating is very sensitive to fingerprints and scratches, so I cover mine with plastic screen protectors which negate the advantage of the coatings. Oh well; it's a magnificently detailed, colorful, accurate and bright screen. It works outdoors in full, direct California sunlight for composing, although I will shield it with my hand to gauge exposure and color on playback.
I can make critical color decisions right from the back of the SD800. The SD800's LCD is rated with a little more resolution than my SD700's LCD, and it looks a little sharper to my eyes, too. It's also more color accurate, when compared to my calibrated computer monitor.
Measured white point accuracy is outstanding, the best I've ever measured. It's even more accurate than the 30" professional monitor for which I paid $2,500 in January 2006 and which had been the most accurate thing I had measured until the SD800 came along. (I use my Colorvision Spyder to measure this.)
The SD800 monitor's white point is 78 fL (brightness), 6,500K (neutral white, only varying +- 20K reading-to-reading) and delta uv (inaccuracy from pure white) is a minimal 0.012.
Hold the DISPplay button down for a second or two and the display gets a little brighter. It goes to 105 fL, 6,550K, and delta uv (variance from pure white) is only 0.018.
You can see a comparison with other popular digital cameras at my Camera LCD Monitor Comparison. You'll see the SD800 measures better than any of them, at least for white point.
These white point measurements only apply to the accuracy of the whites. I didn't measure anything else. The SD800 looks great!
You have the option of overlaying grid lines and/or a gray 3:2 safe area matte. I always use the grid to help me get straight horizontal and vertical lines. The 3:2 safe area overlay darkens small strips along the top and bottom to let you preview what will be cropped off at today's standard print sizes of 4 x 6," 8 x 12" and 12 x 18."
Sorry for the potty mouth, but that's exactly what I said when I figured out what this was by reading the manual.
This little Canon does what I've found to be a key differentiating feature of my $1,700 Nikon D200, and this little camera does it better! As I explain here, this feature is a key reason why I prefer the $1,700 D200 over the $1,000 D80, and for the difference in price between those two cameras, I can buy two SD800s!
It's easy to activate: just press DISP after shooting! You may have to hit it a couple of times to page through the regular, all data and this trick new Focus Check mode.
This mode shows a split screen. It shows the complete frame with a box showing which AF area was active. In another panel it shows an enlarged view of that area!
It works great and automatically. On my D200 I have to hit a button each time to see it, bravo Canon!
It doesn't work in playback. In playback you still have to zoom and scroll around just like the old days. The D200 works in playback, too, so at least I get something for my extra $1,350.
Holy Double-Crap! Playing with it and reading the manual, you may select the magnification of the enlarged focus area with the zoom control. Once set, it uses that magnification until you change it. My D200 only offers three levels of enlargement, the SD800 offers a lot more.
Holy *****! If the SD800 used more than one AF area, press the MENU button to swap among them. My Nikon D200 can't do this, even in its dreams!
Trick (nice, but not as worthy of an expletive): Tap the SET button, and you can use the nav key (otherwise used for ISO, Macro, Advance, and Flash) to scroll around the image while zoomed.
Frame Rate
I measure 1.6 FPS (22 frames in 14.0 seconds) at full resolution.
Not important, but I measure 2.0 FPS (40 frames is 21s) at 640 x 480 at full digital zoom.
My SD700 is much faster: 2.05 FPS at full resolution.
EXPOSURE
Like all my other Canon point-and-shoots, I get the best results setting exposure compensation to -2/3. You do this with the FUNC SET button, click down to +-0, and two to the left to set -2/3.
Exposure is swell. As all cameras, you have to be the pilot and correct exposure by changing the setting as described in the previous paragraph if you don't like what you see on the accurate LCD.
The histogram is a useless single-channel one. It's useless for color subjects. See why you need a color histogram for color photos.
TRICK: AE Lock is unmarked. Tap the ISO button with the shutter half-pressed for AE Lock. You'll see AEL on the right of the LCD. It stays locked until you tap the ISO button again, without touching the shutter.
TRICK: Flash Exposure Lock is also unmarked. It works the same way as AE lock if you have the flash ON. You'll see FEL on the right of the LCD.
Color rendition, or how the camera renders the real world, is everything. We artists spend a lot of time worrying about it. After exposure, color is everything to an image. Sharpness and the rest is irrelevant unless your exposure and colors are dead-on. I love the color of the SD800.
I've always preferred the color rendition of my Canon compacts to other brands.
I love vivid colors, and always set my Canons to their Vivid modes. To do this, press FUNC SET, click down three to off," and click one to the right to "Vivid." Press FUNC SET again to set it.
The SD800 is no exception. I love the colors. The sample of SD800 I have is warmer than the SD700 I own. I prefer the SD800 on each shot I made comparing the two. It's subtle, but I prefer the SD800. This can vary a little from sample to sample.
Color accuracy is irrelevant. Cameras aren't scanners. Cameras are never supposed to duplicate color charts.
Auto WB (AWB)
Excellent! It's so good I have to learn to stop using the custom manual white balance in mixed artificial light. AWB usually woks better, automatically!
Unlike any SLR camera, the auto WB (AWB) of the SD800 (and SD700) correct perfectly under indoor household tungsten and fluorescent lighting.
Custom Manual WB (Gray Card)
This works great, just as is does on the other Canon compacts.
It's super easy to use - much easier than on the Canon SLRs!
It has a huge adjustment range. I can get neutral colors even under high-pressure sodium (HPS) street lights! Those are the ones that look orange-white!
The range is so huge that you can get weird color filter effects by taking a custom WB from a colored object.
The sensor for the custom WB is jut a small spot out of the image. It's easy to set the custom WB from a small point. I often set it from a cloud in the sky, letting in some blue sky for a resultant warming effect. Slicker still, I shoot a custom WB off my white socks!
LENS
FOCUS
AF is fine. It's always fast and accurate.
Face Recognition Mode (Face Detect)
The SD800 has a new feature where it identifies faces and optimizes focus and exposure accordingly.
I've never had any complaints with earlier cameras, so I saw no benefits using it. It is fun, because it drew big AF boxes around my wife's face!
I couldn't fool it with our dogs, but I did fool it once with this cookie.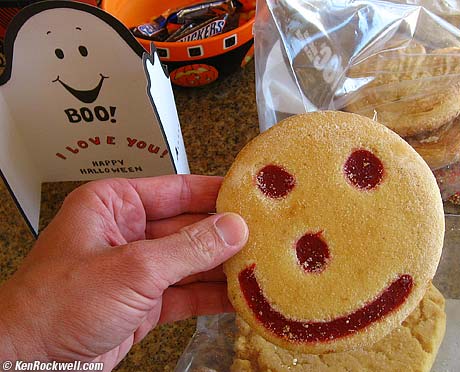 Almost fooled it with this gift from the wife.
How Wide?
This is the biggest reason I'm interested in the SD800 vs. my SD700. Here's what my SD700 sees at it's widest setting. Roll your mouse over it to see SD800's widest setting.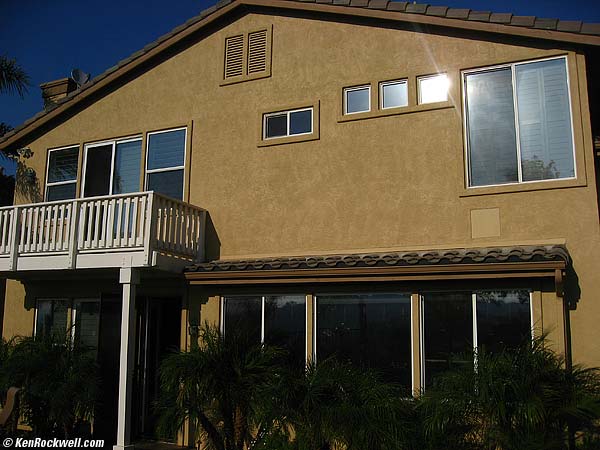 SD700 at widest setting. Roll mouse over to see SD800's widest setting.
WOW! The SD800 isn't kidding. it is much wider than the SD700. These shots are also a glare test: that's the blinding California sun shining off that window. The glare line in the SD700 shot is from me cleaning the lens with my shirt; it's not a camera defect.
Both of these cameras have excellent glare resistance.
I also noticed that the color from the SD800 is much more pleasant for this shot. I'll have to investigate that further. These shots are exactly as they came from the cameras, except for resizing.
How Long?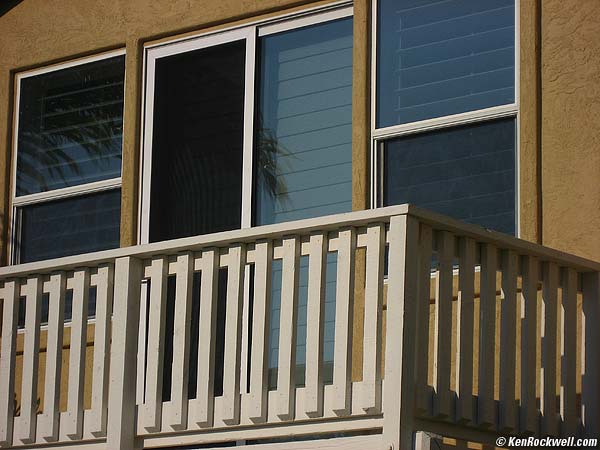 SD700 at longest setting. Roll mouse over to see SD800's longest setting.
As expected, the SD700 goes much longer than the SD800. That's the biggest tradeoff between them. I prefer wide, which is why I'm looking into an SD800. If you're a portrait or tele fan, get the SD700.
Zoom Settings
Compact zoom cameras like the SD800 only zoom in fixed steps. They can't be zoomed to every exact setting, which tends to drive me nuts when trying to frame exactly. Most compact 3x zoom cameras zoom to about 7 different focal lengths and my SD700 with a 4x zoom has 9 settings.
The SD800 can be set to 8 discreet focal lengths. They are 4.6mm, 6.1mm, 7.6mm, 9.1mm, 10.8mm, 12.7mm, 14.7mm and 17.3mm, as read from EXIF data.
The tiny sensor of the SD800 has a 6.09x field-of-view factor to make 4.6mm on the SD800 give the same angle of view as a 28mm lens does on a 35mm film camera. With that factor, the available focal lengths of the SD800 become similar to 28mm, 37mm, 46mm, 55mm, 66mm, 77mm, 89mm and 105mm.
There is a big jump from the widest setting to the next. It feels like it the first time you zoom in a little and you zoom in a lot. By comparison, my SD700's first three steps are at the equivalent of 35mm, 40mm and 45mm.
Sharpness
It's great in the center, and soft in the corners in the wider settings. This isn't a big deal - I have to go out of my way to find subjects that require sharpness in the corners. If it is a big deal to you, the SD800 is pretty soft at the sides at the widest setting, and those sides at that setting are one of the main reasons to get the SD800: the wide lens.
These are subjective ratings, E - VG - G - F - P, made at 100% on my monitor. These are tough, since this magnification would print at 23 x 31!"
Don't worry about differences between adjacent grades. These are subjective and evaluated with the same criteria I use for SLR lenses.
Different samples of cameras will be different. It's normal for compact cameras like this to get soft in the farthest corners, so don't worry about it.
The SD800 is sharp enough for marvelous prints of any size. The biggest issue is the noise, like all compact cameras, from its small sensor.
Not that you'd be likely to notice it for real photography, but my SD700 is sharper than this sample of SD800. On the other hand, I seem to prefer the colors from the SD800, which is far more important. Given two different samples this could be reversed.
4.6mm (wide): VG Center, F Sides, P far corners.
6.1mm: VG center, G sides, P far corners.
7.6mm: VG Center, VG sides, F far corners.
9.1mm: VG center, VG sides, G far corners.
10.8mm: VG center, VG sides, G far corners.
12.7mm: VG center, VG sides, G far corners.
14.7 mm: VG center, G sides, F far corners.
17.3mm: VG center, VG sides, G far corners.
Aliasing (moiré)
The lens is sharp enough to cause a little moiré in the center if you're not careful. It's not a problem.
Macro
It's the same as most compacts: it gets ultra-close (about an inch) at the widest setting, and only to a foot at the tele setting. Here's how close it gets at the widest setting in the macro mode: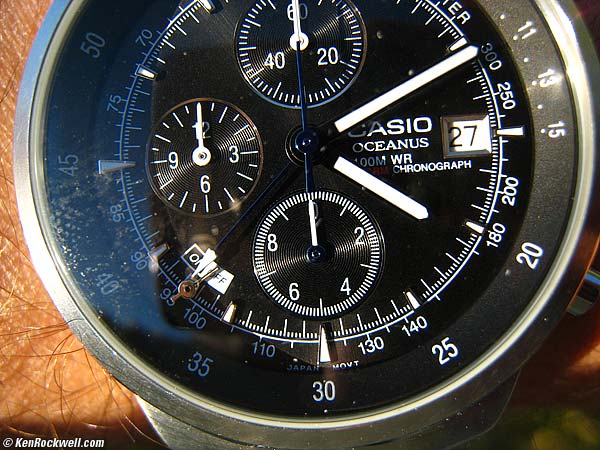 Full Frame at closest macro setting, wide angle.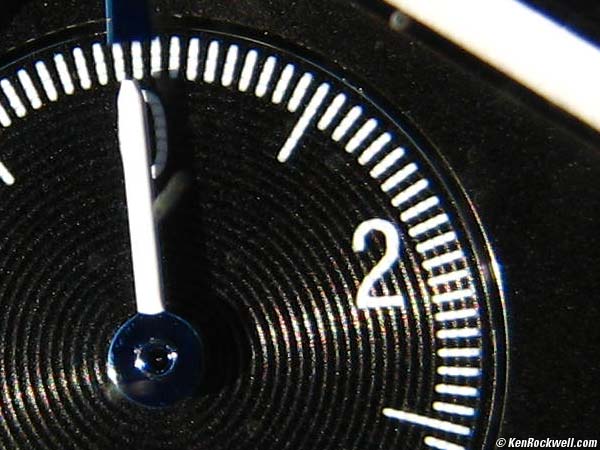 100% crop from above.
This is what you'd see if you printed the entire image 31" wide! It looks great - this has had no sharpening added. The color fringes are artifacts from the curved crystal of my watch.
Caveat
Be sure to take the SD800 out of Macro mode for normal use. If you forget, it won't focus to infinity, especially at telephoto.
Image Stabilization (IS)
IS works great! I find IS critical to the available-light, no flash shooting I do. See Why IS Matters.
I have practice holding cameras steady.
With the SD800 I get perfectly sharp shots (as seen at 100%) most of the time at 1/3 second at wide and 1/8 second at tele. By "most of the time" iI mean that those speeds are the 50% points as seen at the graphs at Why IS Matters.
Extension
The SD800 lens pokes out much less far than most compact cameras, like the SD700. The SD800 has a total of two telescoping sections. (the longer lens of the SD700 has three.)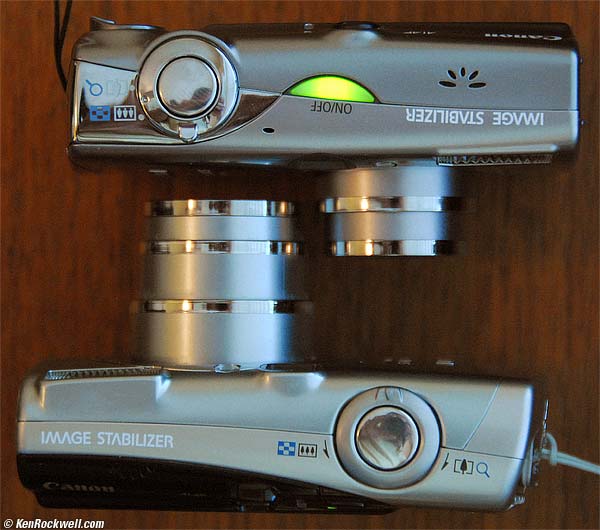 SD800 on top, SD700 on bottom
Maximum Apertures
Like all compacts, maximum aperture varies with focal length:
4.6mm: f/2.8
6.1mm: f/3.2
7.6mm: f/3.5
9.1mm: f/4
10.8mm: f/4.5
12.7mm: f/5.0
14.7mm: f/5.6
17.3mm: f/5.8
Note that at 6.1mm, equivalent to most cameras' widest settings, it's only f/3.2. It's only f/2.8 at the very widest setting.
Distortion
Distortion is about the same as every other compact camera. It's easy to correct in Photoshop CS2's lens distortion filter with the numbers below. I read the actual focal lengths in iView.
Compared to my SD700, it's the same +4.00 at wide, but the SD800 has an imperceptible bit more distortion at the tele end. I'd not worry about it - get whichever one you prefer.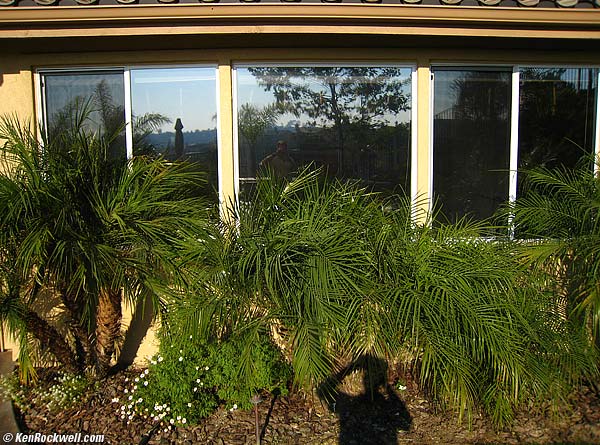 At widest setting. Roll mouse over to see after correction in Photoshop at +4.00.
4.6mm (wide): Barrel distortion, use +4.00 (at far distances, use +3.50 at 4') in CS2's lens distortion filter.
6.1mm: Barrel, use +4.0 in CS2's lens distortion filter.
7.6mm: Barrel, use +3.5 in CS2's lens distortion filter.
9.1mm: Barrel, use +3.0 in CS2's lens distortion filter.
10.8mm: Barrel, use +2.0 in CS2's lens distortion filter.
12.7mm: Barrel, use +1.2 in CS2's lens distortion filter.
14.7mm: Barrel, use +1.0 in CS2's lens distortion filter.
17.3mm: Barrel, use +0.5 in CS2's lens distortion filter.
(Use these figures all you want for your own photography, but remember this is all copyright and registered, so you'll need to get permission before using them for any other purpose.)
LCA (Edge Color Fringes)
This isn't a problem with the SD800. You'll only see this if you're deliberately looking for it.
4.6mm: A little red/blue at the very corner.
6.1mm: A little green/magenta at the very corner.
7.6mm: A little green/magenta at the very corner.
9.1mm: Almost completely gone. You'd never see it unless you were looking for it.
10.8mm: Almost completely gone. You'd never see it unless you were looking for it.
12.7mm: Almost completely gone. You'd never see it unless you were looking for it.
14.7mm: Almost completely gone. You'd never see it unless you were looking for it.
17.3mm: Almost completely gone. You'd never see it unless you were looking for it.
FLASH
Flash takes about as long to recycle as the SD700, which is immediately at close distances, and several seconds if the flash has to fire at full power for longer distances.
The control ergonomics are different from the SD700. On the SD700, and most other cameras, one can set all the sync modes with the flash button. This becomes tedious if there are a lot of sync modes. The SD800 instead only provides three selections, ON, OFF and AUTO, and has you set SLOW and RED EYE in other menus. This is great for me, but if you need to turn red eye and slow synchro on and off it's more tedious than having them on the flash button.
I never use red eye. It's the mode that shines an annoying light in your subjects' eyes before it takes the picture.
Slow Synchro is often fun, if the camera has the right calibrations. It lets the shutter stay open long enough to expose the background correctly at night, but they may get blurry from the long exposure. The normal mode gives black backgrounds at night, without the danger (or creative benefit) of blur.
Video
The SD800's video performance seems identical to my SD700.
File sizes are the same: a bloated 18.7 MB for a 10s clip at 640 x 480 @ 30 FPS.
They look the same. There are some resampling artifacts (jaggies) and moirés in both the SD700 and SD800.
I find the Casio cameras better if you want video, then again, so is any DV camcorder.
Panoramas
The SD800 has the Canon's trick panoramic mode. It's so slick, and comes with the software for free, that I have an entire page about it at Canon Panoramic Photography.
My Colors Mode
I ignore most of these. I prefer the traditional Vivid setting as described above under Color.
I do set the Custom Color mode to ++ Saturation, and -- contrast for use in harsh light, since the Vivid mode has the contrast cranked up as well as the saturation.
Color Accent, Color Swap
I ignore these.
Mechanics
The case feels like stamped aluminum. It's painted metallic silver.
The SD800 has plastic buttons. These make the SD800 not feel like the luxury product the SD700 and SD550 do.
The MENU button is well enough recessed that I don't hit it by accident as I do on the SD700.
The battery/memory card door is crappy chromed plastic. Contrast this to the superior spring-loaded, stainless-steel-hinged and reinforced door of the SD700.
The USB and video connectors are behind a chromed plastic flip-out cover. The entire side of the SD800 is this chromed plastic, in contrast to the metal side of the SD700 with just one small plastic cover for the connectors. All these connector covers feel like they'll fall off eventually.
The tripod socket seems to be metal, like the SD700.
Data
Transfer Speed
It's fast: USB 2.0. Images come flying out of the SD800 as they should.
Files and Folders
Each folder may hold up to 2,000 images.
New folders are numbered from 001 to 999.
You can set it up to create a new folder daily if you like. I set mine up this way, but since the SD800 never appears on my computer as an external hard drive (that's a flaw shared with all Canons) it doesn't matter, unless I use an old-fashioned card reader.
POWER
Battery Life
I couldn't run it down. After 1,100 shots it was still going.
I used not much flash, and I did make a lot of shots in the Continuous mode, which saves power. I also used the LCD a lot.
Since I couldn't kill the battery in the short time I had it, I don't know if I'd get more or less shots per charge.
High ISO Noise and Grain
Caveat
I put this last because most people will never see these speeds. The SD800, like most cameras, never gets to these speeds unless you put it there by hand. Don't worry about these unless you shoot without flash in the dark. Too many chat-room photographers spend all their time worrying about this minor corner of the performance picture.
Introduction
Noise reduction (NR) is used on today's compact cameras to smooth over noise. It's smart enough to leave sharp edges alone, so most people won't notice any blurring. Unfortunately NR smoothes over fine details and textures, and too much NR will leave images looking like cartoons: sharp edges, but little to no texture in between the lines.
This is the biggest reason point-and-shoots don't look as good as DSLRs when enlarged. The NR of the compact cameras, even at ISO 80, is enough to smudge minor textures that are left intact with all DSLRs.
I wish that these compacts, especially this SD800 and the SD700 with IS, would allow setting of ISO 50 and ISO 25 (and maybe ISO 12) to allow us to get much cleaner images in daylight. These cameras are as clean as any; the reason I single them out is because IS would allow slower speeds in daylight without worrying about camera shake. It's sad that ISO 50 has been replaced with ISO 80 in the Specs Race for unfounded high ISOs.
See my Noise Comparison where I show that compact cameras like this are as noisy at ISO 100 as DSLRs are at ISO 800! To be as clean as a DSLR at ISO 200 will require a compact (small sensor) camera to run at ISO 25.
ISO 80: Negligible noise, same as SD700. Noise is hidden behind NR.
ISO 100: Little, same as SD700.
ISO 200: The SD800 is using more NR than the SD700, so the SD800 is starting to slop over details and textures. I prefer the SD700 here, but the difference is so subtle I wouldn't notice it if I only had one image to see. Avoid ISO 200 and above if you can. Unlike DSLRs, ISO 200 and even 100 don't look so hot on these tiny cameras. See my ISO comparisons for details.
ISO 400: Big difference. The SD800 has smoothed over the noise, and also smoothed over fine textures and subtle details. The SD700 has sharper and more obvious noise, and also leaves in more of the details and textures. They are different, but neither is better.
ISO 800: The SD800 is a little better than the SD700. The SD800's NR removes more of the noise. I prefer the SD800 here, but it's images are probably still too grainy for public consumption. Even my wife asks what's wrong. Unlike the SD700, with the SD800 you might get away with images shot at ISO 800 in some cases.
ISO 1,600: The SD800 looks hideous. The SD800 at ISO 1,600 looks even worse than the SD700 at ISO 800, which looks so bad the wife fails the images. Don't use ISO 1,600 unless you want really grainy images as a last resort. It's nasty.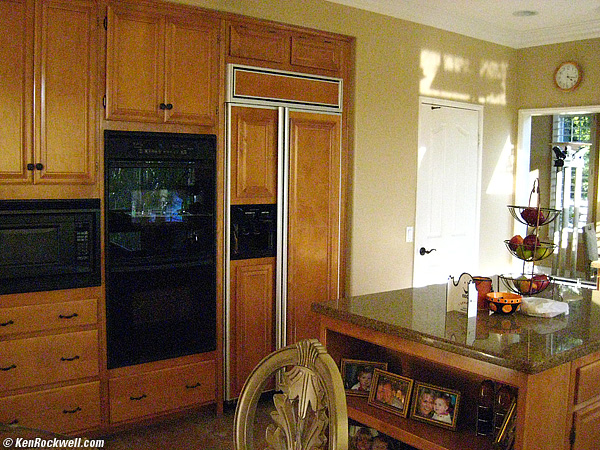 Full image, SD800 at ISO 1,600.
You can see the noise even at internet size. You'd see more in a print with its 300 DPI, not 100 DPI, resolution. The cabinets are wood and the walls are flat paint, not granite like the counters!
Infra-Red
Want one converted for IR use? Get one from LifePixel. Cool!
RECOMMENDATIONS back to top
Get one! I love my SD700, and this newer SD800 has even better color. I may junk my new SD700 for the SD800, for it's wider lens and slightly better color. Color is everything to an image.
If you do a lot of portraits or prefer the telephoto range, get the SD700. or newest SD850.
If you prefer wider angles, get the SD800.
I'd get it here, here or here. It helps me keep adding to this site when you get yours from those links, too.
PLUG
If you find this as helpful as a book you might have had to buy or a workshop you may have had to take, feel free to help me write more.
Thanks for reading!
Ken