Home
Donate
New
Search
Gallery
Reviews
How-To
Books
Links
Workshops
About
Contact
Canon Digital Rebel XTi
(EOS 400D, Kiss Digital X)
© 2006 KenRockwell.com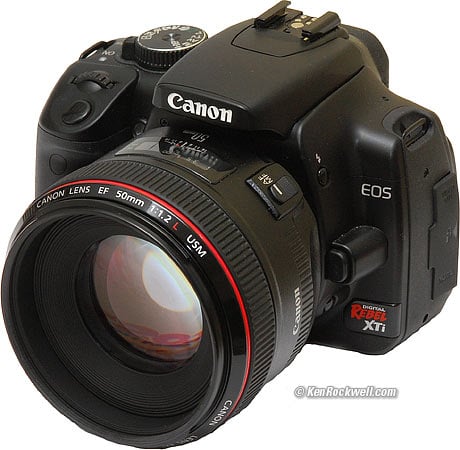 Canon Rebel XTi (APS-C, 20.032 oz./567.9g with battery and CF card, about $100 used) with 50mm f/1.2 L. I'd get it at this link directly to them at eBay (see How to Win at eBay). You also can get them at Amazon.
This free website's biggest source of support is when you use those or any of these links to approved sources when you get anything, regardless of the country in which you live — but I receive nothing for my efforts if you take the chance of buying elsewhere. I get no government hand-outs and run no pledge drives to support my research, so please always use any of these links to approved sources for the best prices, service and selection whenever you get anything. Thanks for helping me help you! Ken.
June 2014 Canon Reviews Canon Lenses All
NEW: Canon 10-18mm IS vs. 16-35mm f/2.8 L II 12 June 2014
Canon XTi vs. 5D, Nikon D200, D80, D70, D50 and D40.
Top Specs Performance Recommendations
I just bought one of these for myself over Thanksgiving 2006 to test the Canon lenses. You'll see this page grow each day as I get the time, along with all the other lenses I was loaned over the Thanksgiving holiday.
I like this little camera! It's lightweight, it's intelligently designed, it works well and can make extraordinary images. Its LCD is worlds better than the disgusting greenish LCDs on the 30D and my 5D.
It's nice, but I prefer my Nikon D40, which costs less. I prefer cameras based on their usability. The XTi probably has more real resolution if you print everything at 20x30" (50 x 75 cm), but I rarely print bigger than 12 x 18" (30 x 40 cm). If you're the kind of guy who uses a tripod in broad daylight consider the XTi, and if you're someone like me who hand-holds and uses fill-flash, the D40 is much better.
It's very similar to the previous Rebel XT. This XTi version adds a bigger, more accurate LCD, a much needed Color Histogram and more pixels. Menus and general operation are very similar.
It comes as a body only, or as a kit with the excellent and inexpensive EF-S 18-55mm f/3.5-5.6 zoom lens.
The body sells for about $799, or $899 with the lens. The older Rebel XT drops to $699 for the body or $799 with the lens.
It's called the Rebel XTi in the USA and the EOS 400D elsewhere.
Top Introduction Performance Recommendations
Price: $799 MSRP body only, $899 with lens.
Sensor: 10.1 MP, CMOS, 22.2 x 14.8mm, 1.6x, 3,888 x 2,592 pixels.
Magic Cleaning Function is 1.) an anti-static charged sensor and 2.) an ultrasonic vibrator and 3.) a piece of tape to catch dust that falls off when the sensor cover shakes. It does this for a second each time the XTi is turned off or on, and you can do it manually.
Canon provides a dust compensation feature in the XTi's free software. You shoot a blank image as a reference. The XTi does this with raw and JPG images, unlike Nikon who only does this with raw and then charges for the software. Personally I find it easier to Photoshop dust than mess with proprietary software.
AF: 9 AF zones. Its the same as the 30D.
ISO: 100 - 1,600 in full stops. Auto modes can set intermediate values.
Shutter: 1/200 - 30s w/flash (1/200 flash sync), 1/4,000 - 30s w/o flash. Bulb.
Frame Rate: 3 Frames per second
LCD: 2.5," 230,000 pixels.
Colors: Professional black and ugly silver (my tastes anyway).
Made in: Japan
Announced: 24 August 2006.
Available since: Mid-September 2006
RGB Histogram (single histograms on earlier cameras were less than useless)
Top LCD: NONE; now the rear LCD shares this information. Good news: it's 40% brighter than the other top-end Canon DSLRs like the EOS-1D Mark II N, EOS 5D and EOS 30D. It's smart enough to turn off when you pick up the camera, which is no big deal because all LCDs turn off when you tap the shutter.
Storage: CF Card. Wow, here's a blast from the past!
Folders: Modern: can store 9,999 images per. Older Canons only could store 100 shots per folder.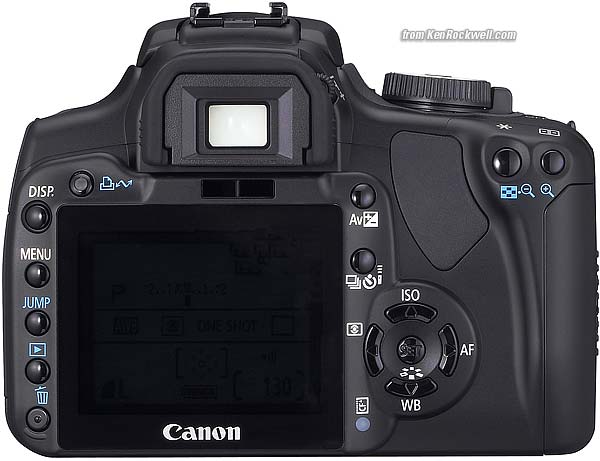 Canon Digital Rebel XTi
Top Introduction Specs Recommendations
Image quality, as expected, is excellent. I just got mine, so give me a little while to write about it.
Autofocus is excellent. It's not as fast as a 5D, but faster than I need. It works well in almost total darkness, so long as you don't mind the flash firing while it tries to focus. That annoys everyone!
Flash exposure is poor. It can very from shot-to-shot of the same subject, and doesn't know if the subject is light or dark, so black things turn out gray and white things also turn out gray.
The camera locks up with a blinking BUSY indication while the flash recharges. If you want to use a lot of flash, get an external one. The built-in is bright enough, but it takes too long to recharge for each shot.
Battery Life: Excellent. On my first charge (which means a lot of playing and less shooting) the meter dropped to 2/3 at 575 shots. It dropped to 1/3 at 980 shots, two weeks later. Three weeks later it died at 1,122 shots. On the next charge I got 824 shots before it dropped to 2/3.
Recharge: It took 1-3/4 hours to recharge.
Auto Rotate can be turned off, set on for just the image file, or also turned on for in-camera playback.
Missing: No custom function for Safety Shift in aperture and shutter priority modes. This is a nice feature on the fancier Canons. No nikon has this feature either.
It shows pixel dimensions in its menus, unlike my three-times as expensive Canon 5D.
It adds a much needed RGB Color Histogram over the 20D and earlier Rebels.
Top Introduction Specs Performance
Want an inexpensive digital body for Canon lenses? This is it!
If you want a deeper bargain, get a close-out price on last year's Rebel XT. Image quality is the same (megapixels have little to do with anything) but the smaller LCD on the Rebel XT is a bit too orange for my taste, so I prefer this newer XTi.
If you're starting out and undecided as to brand, I'd opt for the Canon Rebel XTi over the Sony A100, but personally I prefer my Nikon D40 to any of these, and it costs less! I own all of the Nikon D40, D70, D80 and D200 and Canon Rebel XTi and 5D.
The advantage of the XTi over other brands is that the XTi has a huge range of color and contrast adjustment. I can get fantastic oversaturated images from it which I can't quite get from any of my Nikons. These Canons let me crank up color more, which may or not be your taste.
I bought mine at Adorama.
Help me help you top
I support my growing family through this website, as crazy as it might seem.
The biggest help is when you use any of these links when you get anything, regardless of the country in which you live. It costs you nothing, and is this site's, and thus my family's, biggest source of support. These places have the best prices and service, which is why I've used them since before this website existed. I recommend them all personally.
If you find this page as helpful as a book you might have had to buy or a workshop you may have had to take, feel free to help me continue helping everyone.
If you've gotten your gear through one of my links or helped otherwise, you're family. It's great people like you who allow me to keep adding to this site full-time. Thanks!
If you haven't helped yet, please do, and consider helping me with a gift of $5.00.
As this page is copyrighted and formally registered, it is unlawful to make copies, especially in the form of printouts for personal use. If you wish to make a printout for personal use, you are granted one-time permission only if you PayPal me $5.00 per printout or part thereof. Thank you!
Thanks for reading!
Mr. & Mrs. Ken Rockwell, Ryan and Katie.
Home Donate New Search Gallery Reviews How-To Books Links Workshops About Contact

15.25s: 43MB, 23 files (lex 40x)
29.5s 60 files , 110MB
73s: 270MB 144 pix, lex 1GB
seems to be a spring on the diopter adj,
wakes wiyhout hitting shutter
eye control wks great
wierd having play, record and control all sharing same screen