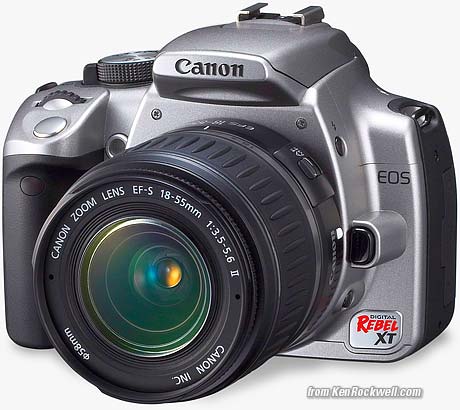 Canon Digital Rebel XT. I'd get the new XTi, or get this older one here, here or here. It comes in black or silver, and with or without the swell 18-55mm lens.
November, 2006
INTRODUCTION
Specs Performance Recommendations
I'm very impressed by the great looking photos I made with this little DSLR while it was on loan from a friend. I had borrowed some exotic lenses, and this little guy came in the bag.
This little Rebel XT, available now at close out prices, can't seem to make a bad exposure, unlike my new Nikon D80, which requires a lot more baby sitting to get the right results. Yes, the D80 has a much, much better LCD and does a lot more, but heck, for half the price, you can't go wrong with one of these if you shoot Canon.
This Rebel XT is a great, lightweight little 8MP DSLR with the usual 1.6x lens factor. It has exemplary image quality. By exemplary image quality I mean forget the resolution and noise details and just make some photos. The colors look fantastic, at least the way I tweak them (saturation +2, which I'll explain later). Like most Canons, it makes photos too light for my taste most of the time, so I set exposure compensation to -2/3 and everything looks great.
If you want a bargain, pick one of these up now that they've been superceded by the newer XTi. Forget about resolution differences: even with a 3 to 6 MP camera I can make stunning 12 x 18" prints, and I'm sure I could pull great 20 x 30" prints from this Rebel if I wanted to.
If you want the best, get the new XTi, or if you want more, easier to use controls and faster shooting for sports, get a 30D, each of which of course costs more. If you just want great photos, your skill and how fast you can get to the controls will be bigger limitations than anything technical with the XT. The images look fantastic, so long as you know what you're doing, and even if you don't, the XT does the best it can.
I just bought a new XTi for myself and it ought to be here this week. I'll let you know if I think I got ripped off, or if the newer model really justifies paying $200 more.
Seeing the fantastic shots I got from this Rebel XT, if $200 saved means you can get a better lens, get the better lens!
History
This Rebel XT was introduced on February 17th, 2005. It replaced the original Digital Rebel introduced in August of 2003, and this Digital Rebel XT was replaced in turn by the Rebel XTi in the fall of 2006.
SPECIFICATIONS back to top
Specs Performance Recommendations
Lenses: Works perfectly with every Canon EF and EF-S lens.
Depth-of-Field Preview Button? Yes; works great.
Remote Release: Optional RC-1 wireless control.
AF Sensors: 7-point.
AF Modes: Single (ONE SHOT), Continuous (AI SERVO), and Auto-switching (AI FOCUS, my favorite).
Metering: 35 sensor evaluative (which I always use), center-only (called "partial" by Canon) an center-weighted.
Exposure Modes: Program, Manual, Shutter- and Aperture-priority and the weird depth-of-field mode (A-DEP), which I ignore.
Idiot Modes: 12: Full Auto (the green box), Portrait, Landscape, Close-up, Sports, Night Portrait and Flash Off.
Shutter: 1/4,000 to 30s and Bulb.
Flash Sync: 1/200 (fastest shutter speed usable with normal flash modes).
Flash: Built-in.
Flash System: Wireless control, E-TTL II Autoflash, FP High Speed Sync. Flash Exposure Lock, Compensation and Bracketing. Designed for EX-Series flashes. Doesn't work well with older EZ, E, EG, ML or TL flashes; use them in Manual mode if at all.
Mirror Lock-Up? Yes, hidden in Custom Function 7.
Sensor: 1.6x (APS-C) CMOS, 22.2 x 14.8 mm.
ISO: 100, 200, 400, 800 and 1,600.
White Balance: AUTO, Direct Sun, Cloudy, Shade, Tungsten, Fluorescent, Flash and Custom Manual (white or gray card).
White Balance Trim: Both warm/cool and green/magenta, but hidden in a menu.
Frame Rate: 3 FPS.
Burst Buffer Depth: 36 Large Normal JPGs or 5 Raw or 4 Raw + JPG, way more than enough. This will vary with the image size and quality settings.
Image Tweaks: Saturation, Contrast, Sharpening and Hue Shift. Canon puts these under "Parameters" in the second shooting menu.
B/W Mode? Yes, and can simulate the use of a colored contrast filter (yellow, orange, red or green). You may also select toned print effects of Sepia, Blue, Purple or Green. I prefer to shoot color and convert later.
LCD Monitor: 1.8," 115,00 pixels. It has a reddish-orange cast to its midtones, a big negative. Of course the actual photo files are fantastic.
Control (top) LCD Illumination? Yes, press the blue printer button on the back. It's also molded with an invisible black-on-black icon of a bulb, but you'll never see that.
Image Sizes: 3,456 x 2,304 pixels, also 2,496 x 1,664 and 1,728 x 1,152 sizes.
Formats: JPG (2 levels of compression) and CR2 raw.
File Sizes: About 1.7MB JPG Normal, my usual setting. It varies with image complexity, so a shot with a blank background may only need 600 kB and an unusually busy landscape may take 2.8MB. The default FINE JPG averages about 3.3MB. Raw is 8.3MB. These are for the largest size image; smaller image sizes of course mean smaller file sizes. The smallest Normal JPG averages about 600kB.
Color Spaces: sRGB (use this, the default) and Adobe RGB (avoid this unless you really, really know what you're doing and do every step of printing yourself).
Custom Functions: Nine: Options for the SET button/Cross keys, control over long exposure noise reduction; flash sync speed in AV mode; AF start from the shutter button or AE lock button; AF assist beam; mirror lockup; E-TTL II metering patterns, and shutter curtain sync.
Power: Tiny NB-2L rechargeable Li-Ion. Charger: CB-2LW, with folding plug (will vary by country). Rated 600 shots, no flash. The clock is powered by a separate CR2016 back-up battery.
Size: 5" x 3.7" x 2.5" (126 x 94 x 64mm), rated.
Weight: 17.1 oz./485g, naked and without lens, rated.
Optional: RC-1 and RC-5 wireless controls, RS-60E3 Wired Remote, ACK-DC20 AC adapter, BG-E3 Battery Grip, EH18-L Semi-Hard Case,
Users Manual: Downloadable here from Canon. The XT operates very similarly to the 20D and 30D, so the real-world, simple English users guides I wrote for the 20D applies to much of the XT. Armed with my own free Canon 20D Users Guide and Canon's manual you ought to do perfectly. If not, pick up the phone and ask:
Free Live Tech Support: (800) OK-CANON in the USA.
PERFORMANCE back to top
Specs Performance Recommendations
Ease of Use
I prefer my Nikons since they have some features I use daily, like Auto ISO, direct AF sensor selection and Smart Reset, which are completely lacking on Canon SLRs.
If you're not as hung up on those as I am or are already familiar with Canon, this is a swell little camera. The menus are well thought out, even if I whine about having to use menus instead of direct access buttons as I have on my Nikons for daily-use things like formatting cards.
Image Quality
The photos look great! Forget the lab measurements. No lab can measure how images look for real subjects. Labs and test charts don't measure anything relevant. I know - I worked for one of the world's bigggest makers of digital imaging test gear for many years! We can test the technical side, but only your eye can see if it looks good.
For whatever reason, the few hundred shots I've made just look fantastic, even in crummy light. Exposure and color are dead on, and the detail and sharpness are perfect: crisp and without artifacts.
Exposure
Ambient
Ambient available light exposure is great, so long as you set -2/3 for exposure compensation. Otherwise the shots are too light for my taste. This XT is much more uniform (which means much better) then my Nikon D80.
You adjust this by pressing the rear AV +/- button and spinning the top dial two clicks to the left. This puts the pointer to the almost at the -1 position of the bar graph on the top LCD on the back of the camera. Confused? In the USA, free phone support is at (800) OK-CANON.
Flash Exposure
For normal people shots it looks great, and so does the color and skin tones. The flash shots look great for people!
If you deliberately try to fool it by filling the frame with a white or black object, my Nikons use distance information from the lens to give perfect exposure. With an EX-550 flash and 70-200 f/4 L (not IS), this XT isn't as good as my Nikons when I try to fool it. The XT will be fooled by dark or light subjects if they fill the frame and make them gray instead. No big deal, all the real photos look great.
Color
Colors look great!
This, along with exposure, are the only things that really matter for image quality. Noise and resolution are very minor issues that vary little, if at all, inside any class of digital camera.
This Digital Rebl XT has a saturation adjustment of +2 to -2, less than the +4 to -4 range of newer Canons like the Digital Rebel XTi.
Like all of my cameras (except for the Canon 30D) I set the color saturation as high as it will go. To do this,
Press MENU button
Click once to the right to get to the second shooting (red camera icon)
click down to get to Parameters.
Press SET to get to Parameters Menu
Press SET and click up or down to highlight Set 1, which we will be adjusting.
Press SET again to return to having Parameters highlighted. (If you were at Set 1, you can skip this and the previous step.)
Click down to highlight Saturation
Press SET to highlight the bar graph.
Click to the right to move the index all the way to the right (maxing out the saturation).
Important: Press SET to unhighlight the bar. If you forget this, your setting will be forgotten.
Press MENU to return.
You're done! You can also check this by pressing the INFO button. The Parameters line will read x: x, x, 2, x; the "2" signifying +2 for saturation.
High ISOs
ISO 1,600 is fine. Yes, it's a little grainy, but if the light is dim, crank it up and shoot away. It looks great, and so does the color.
LCD Monitor
Small by 2007 standards, but good enough. The XT came out back in the days when we were all so amazed at having any monitor at all that these teeny ones were accepted.
The colors are off. White point is fine, but grays are shifted toward reddish-orange. This makes the LCD kind of useless for making adjustments while shooting, and those adjustments are critical to my ability to get perfect shots on the first try. You sort of have to shoot blind because of this. Thank goodness the XT tends to do a great job on its own without needing tweaking.
It beats me why Canon's point-and-shoot have better LCDs than their more expensive DSLRs. They just do, and telling you that is why people love this website.
Data Transfer
Slow by 2006 standards: 100 Large Normal JPGs (168 MB) download in a minute. The 20D and 30D are much faster as you can read at my CF Card Speed Test.
It's fast enough, but if you shoot a lot you might want a different camera. I'll let you know if the XTi is faster. I suspect it is.
Power
I'm unsure if it's the off-brand batteries in the XT my friend loaned me, or in design, but it seems to run down if I leave the power on. This is odd, since the Canon 20D and 30D and my Nikons couldn't care less if I left their power on for a month: they go to sleep automatically.
The XT's menu defaults to power-off in 2 minutes, so I suspect this is simply old non-Canon batteries.
RECOMMENDATIONS back to top
Specs Performance Recommendations
Seeing the fantastic shots I got from this Rebel XT, if $200 saved means you can get a better lens, get the better lens instead of the new XTi!
Now that the Rebel XTi is out, this perfectly good DSLR sells at a closeout price here, here and here. I'd buy one if I was in the Canon system!
I can pick minor issues with the LCD or features, but as we say in racing, the BS stops when the green flag drops, and the images made with this little guy are spectacular. They look great, so who cares if I have personal issues with the lack of Auto ISO?
PLUG
If you find this as helpful as a book you might have had to buy or a workshop you may have had to take, feel free to help me write more with a donation.
Thanks for reading!
Ken