Canon Digital Rebel (EOS 300D 300-D)
© 2006 KenRockwell.com
about these reviews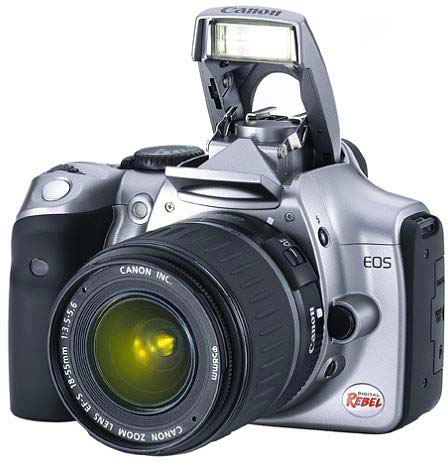 Get the newer XT here, here or here (here or here in black) This old regular Rebel was I'd avalable here and here.
INTRODUCTION
Note: This Rebel was replaced by the Rebel XT, which in turn was replaced by the Rebel XTi in 2006.
This older Rebel was announced 20 August 2003. A black version was announced on 01 November 2004. It's price was reduced in February 2005 with the introduction of the newer EOS 350D Digital Rebel XT. The newer XT is a little faster and better at everything, but probably not enough to justify the extra price. Personally I'd get the far tougher Canon 20D over any of these.
It's the cheapest digital SLR on the planet and also has a whopping 6.3 megapixels. It's made of silver-painted plastic, called "a high-grade titanium gray metallic finish" in the press release, whoo hoo. It sells for $749 with a very useful new 18-55 mm lens which I suggest, or $699 without a lens.
This is another landmark DSLR. It is probably the best camera for every amateur photographer who wants a digital camera and doesn't have more than $1,000 to spend.
Canon also announced two new lenses: an 18 - 55 mm that only works with this camera (it that won't work on film cameras and not even other Canon Digital SLRs) and a 55 - 200mm that works on all the Canon EOS cameras.
This camera works fine with all the existing Canon EF lenses.
SPECIFICATIONS
It's called the Digital Rebel in the USA and the 300D in other places.
See Canon's 300D site here from Canon Japan, and the Digital Rebel site here from Canon USA.
Also look at the press releases here and in Japanese here. Heck, here's a movie.
3,072 x 2,048 pixel image size.
Slightly smaller than standard 15 x 23mm image sensor. (1.58x smaller than the obsolete 35mm film aperture of 24 x 36mm. Standard for DSLRs is 16 x 24mm or 1.5x smaller than the old film aperture.)
The standard 18 - 55mm lens focuses as close as 11" (0.28m).
ISO speeds of 100, 200, 400, 800 and 1600, which is great. It lacks the ability to go to ISO 3,200 or ISO 6,400 as more expensive DSLRs can, tough.
Shutter 1/4000 - 30 seconds, bulb. X-sync is the typically slow 1/200. The Nikon D70 has far faster flash sync of 1/500.
Built-in pop-up flash. No apparent ability for rear-curtain sync.
Light, cheap mirror finder, compared to glass prism finder of 10D.
It has a nifty ability to record both RAW and JPEG images at the same time.
sRGB and Adobe RGB color spaces.
Li-Ion battery.
20 oz, 5.6 x 3.9 x 2.9"
Compact Flash, including microdrive.
2.5 frames per second, 4 frame buffer.
7 point AF and 35 zone meter. Unlike the 10D it does not allow you to set the particular AF mode manually. Of course you always can choose manual focus, just that the exact AF mode is chosen depending on the other settings of the camera. You can manually select the AF point.
It has the important SHADE white balance setting. I don't see or fine-tuning for each of the presets. White balance settings are more important to making great images than the megapixel rating.
If you really want to learn about it before you buy it, the smartest thing you can do is read the owners' manual here.
The manual rates the camera as being able to make a BULB exposure of 2.5 hours, far more than you'll ever need. I don't know if you can make star trail photos or if all you will see is sensor noise. I doubt it will work well, but give it a try and let me know!
PERFORMANCE
Looking at the sample images it looks fantastic, and better than my $4,000 Nikon D1H.
My only concerns will be with ease and speed of use. Canon knows what they are doing. it does take 2 seconds to turn on. I'd rather have one of these than a $5,000 Kodak 14n since I suspect the image quality and ease of use will be better!
Pop photo reviewed it in the November 2003 issue. They said the autofocusing was sometimes faster than the Canon 10D, 1DS, Nikon D1X and others, so there.
You may safely ignore the meaningless technical-sounding marketing poop like "Digic." Just go out and try one; these pseudo technical things have no bearing on how well it really works. It should work great; just about everything Canon does may as well be made of gold.
You have the ability to customize several things about the look of the images. I especially like the ability to set a more vivid color rendition.
The camera has a rotation sensor which allows automatic rotation of images. This is a very important feature lacking on other far more expensive cameras. I'm unsure if the images themselves are rotated, which saves a lot of time in post-production, or if just the previews are rotated, which is a lot less useful but still far better than the Nikon cameras I use like the D1H. I can manually rotate images inside my Canon A70, but this only applies to the preview. With the A70 I still have to rotate in post.
I still see no ability to fine-tune the white balance settings other than by using the WB bracketing feature or the custom settings. Neither of these alternatives is good: the bracketing feature requires you make several exposures for each image and pick the good one, this is useless since no one wants to fool with that if the subject is moving. Having to set custom WB is nice, but it is too cumbersome for regular shooting. It is very important to be able to trim the WB setting for each one of the presets (daylight, cloudy, shade, etc.) and the Rebel seems to lack this.
It has a great depth of field preview button.
It's easy to use, but not as easy as the Nikon D70.
RECOMMENDATIONS
If you want one, buy one. I'd get it here or here. Also I suggest the black version over the chrome one. The newer XT which I'd get here or here (here or here in black) is a little better, but probably not enough to justify the additional price. If you're willing to spend more the Canon 20D is a completely different and far better camera, althopugh the ultimate technical image quality of all these is the same.
The Rebel comes in many combinations for which you can search at those links. It comes in both silver and black. It also comes body only or as a kit with the 18 - 55mm lens. I'd suggest getting it with the 18 - 55 mm range is far more useful on a digital camera than a 17 - 35mm or a 24 - 85mm lens you might have from a film camera.