Canon 20D
© 2006 KenRockwell.com


Plain-English 20D User's Guide
Index of All Tested Canon Products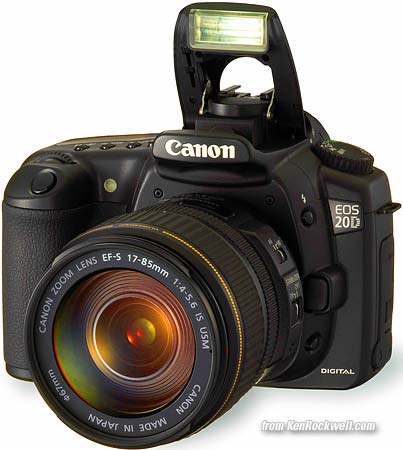 This one came from here. I'd also get it here and here. I get my own gear from these same links, and you pay the same low prices and help support my site when you use these to get yours.
Camera LCD Monitor Comparisons, including 20D.
Memory Card and Download Speed Comparisons, including 20D.
Nikon/Canon DSLR Noise and Resolution Shootout
INTRODUCTION
Specs Performance Recommendations
The Canon 20D was announced in August 2004. The 20D was superceded by the Canon 30D in February 2006, so today the 20D is a bargain. The 20D is an even bigger bargain when you realize that the 20D is the same as the 30D, except that the 30D has a bigger screen. See my Canon 30D page for details.
Sure, Canon and Nikon each make digital cameras selling for four times the price, but most pros use these when they have to pay for them out of their own pockets.
Both are fantastic 8 megapixel digital SLRs which are today's standard for weekend pro and serious amateur photographers. My friend Paul Renner has used a single 20D for the past couple of years to earn his living as a wildlife photographer.
The 20D comes three ways:
1.) Body only for about $850 here or here. (It was $1,500 in 2004!)
2.) Body with a perfectly fine 18-55mm zoom for about $1,150 here, here, or here. (It was $1,600 a few months ago.)
3.) Body and exceptional 17-85mm IS (image stabilizing) lens for about $1,500 here or here. (It was $2,000 a few months ago.) This stabilizer lens is fantastic for eliminating slow shutter speed blur and often eliminates the need for a tripod as you can read and see at Why IS Matters
SPECIFICATIONS with commentary back to top
Specs Performance Recommendations
Lenses: Works perfectly with every EF and EF-S lens.
Viewfinder: adjustable, -3 to +1 Diopters.
Depth-of-Field Preview Button? Yes; works silently.
AF: 9 points.
AF Modes: Single (ONE SHOT), Continuous (AI SERVO), and Auto-switching (AI FOCUS, my favorite).
AF Assist Light: Not really: instead of an annoying beam, the 20D fires an ultra-annoying series of flash bursts. It doesn't work very well.
Metering: 35-zone Evaluative, Center-only (called partial by Canon) and Center-weighted. No spot meter, you need the 30D for that. I've never used a spot meter on any SLR, so no problem.
Exposure Modes: Program, Manual, Shutter- and Aperture-priority and the weird depth-of-field mode (A-DEP), which I ignore.
Exposure Mode Selection: Dial on top left of camera.
Idiot Modes: Yes.
Frame Rate: 5 FPS.
Shutter: 1/8,000 to 30 seconds, Bulb.
Flash Sync: 1/250. (1/125 with big studio strobes, or so says the manual.)
PC Flash Sync Terminal? Yes, up to 250V. Manual says it's OK to use the hot shoe and PC terminal at the same time
Remote Release: Expensive dedicated cords. No easy wireless control like the Rebels.
Built-in Flash? Yes, pop-up, rated GN 13m/43' at ISO 100.
Flash System: Wireless control, E-TTL II Autoflash, FP High Speed Sync. Flash Exposure Lock, Compensation and Bracketing. Designed for EX-Series flashes. Doesn't work well with older EZ, E, EG, ML or TL flashes; use them in Manual mode if at all. E-TTL-II adds distance info over E-TTL.
Mirror Lock-Up? Yes, hidden in Custom Function 12.
Sensor: 8MP, 1.6x crop/magnification factor (APS-C), 22.5 x 15.0mm, CMOS.
Image Sizes: 3,504 x 2,336 pixel native, also 2,544 x 1,696 and 1,728 x 1,152 pixels.
File Formats: JPG (2 levels of compression) and CR2 raw.
ISO: 100 - 1,600. ISO 3,200 available as "H" is you activate it in Custom Function 08.
White Balance: AUTO, Direct Sun, Cloudy, Shade, Tungsten, Fluorescent, Flash, Degrees Kelvin and Custom Manual (white or gray card).
White Balance Trim: Both warm/cool and green/magenta, but hidden in a menu.
Color Spaces: sRGB (use this, the default) and Adobe RGB (avoid this unless you really, really know what you're doing and do every step of printing yourself).
Image Adjustments: Saturation, Contrast, Sharpening and Hue Shift. Canon hides these by calling them "Parameters" in the shooting menu.
B/W Mode? Yes, and can simulate the use of a colored contrast filter (yellow, orange, red or green). You may also select toned print effects of Sepia, Blue, Purple or Green. I prefer to shoot color and convert later.
LCD Monitor: 1.8," 118,000 pixels.
Histograms: Monochrome and RGB Color.
GPS Input: none.
Digital Out: Standard tiny USB connector. It's the same as Canon point-and-shoots, Nikon DSLRs and my GPS. One cord taken along with my laptop talks to everything.
Made in: Japan.
Battery: BP-511A Lithium-ion. CR2016 for clock back-up.
Charger: CG-580 folding plug, universal worldwide: 100 - 240 V, 50 / 60 Hz (at least in USA. Other countries may get one with a removable cord.)
Size: 5.7 x 4.2 x 2.8" (144 x 106 x 72mm), rated.
Weight: 24.2 oz. (685g) stripped (no battery, card or strap), rated.
Users Manual: Downloadable here from Canon. See also my my own free, simple English Canon 20D User's Guide. If not, pick up the phone and call:
Free Live Tech Support: (800) OK-CANON in the USA.
PERFORMANCE back to top
Specs Performance Recommendations
see also Camera LCD Monitor Comparisons, including 20D.
Memory Card and Download Speed Comparisons, including 20D.
Nikon/Canon DSLR Noise and Resolution Shootout
Image Quality
Like all Canons, the colors and images look great. They are smooth, sharp and detailed, without being harsh.
Shoot with a 20D, and if you know what you're doing, you'll get fantastic results.
Exposure
Exposure is uniform. It's much better than my Nikon D80, but not as good (consistent) as my Nikon D200.
I usually set the 20D's exposure compensation to -1/3 to -2/3 in contrasty light outdoors. Otherwise 0 works fine. See what works for you. Most Canons are too light for my taste at default. You enable setting this with the power switch, and then use the Big Dial to adjust.
Color
Color is great. It's just like the 30D's color, except with a smaller range of saturation adjustments. Of course I love the extra-vivid settings of the 30D as seen at the 30D's color, which the 20D can't do. Left at it's maximum saturation setting, the 20D is about as vivid as my Nikons set to + saturation and Color Mode III.
Ergonomics
Viewfinder
Like all the DSLRs from Nikon and Canon, it's sharp and bright and clear and adjusts easily for your eyesight.
The finder is a little smaller than the Nikon D200 and D80, and much bigger than the D70.
Exposure Mode Selection
Mode selection is by dial. There is no indication in the finder. You have to take your eye away from the finder to adjust it, unless you count clicks. When you do change the mode, the meter turns off until you tap the shutter button again.
Dial Functions
Which dials change aperture or shutter speed change with the exposure mode. This drives me crazy, since I expect to reach for the same dial to change aperture regardless of exposure mode. My Nikons do this correctly and ensure the same dial does the same thing regardless of exposure mode.
WB Adjustments
No direct fine-tuning. Fine tuning is only deep in a menu, and setting a custom manual white balance is even trickier. This is weird, since Canon pocket cameras make this easy, and the Canon XL-1 video camera has a dedicated button that does nothing but set manual WB.
The good news is that you also gave green/magenta fine tuning as well as warm/cold. Bad news is that this fine-tuning is global and applies to every setting, even Auto. You can't tune the WB presets individually. This fine-tune is more of a repair, calibration and service procedure than an option for achieving shot-to-shot perfection. Exact WB is critical to great photos, and tuning the WB is critical to getting the correct WB. The 20D's inability to provide easy fine-tuning adjustments to WB while shooting is my biggest complaint with the 20D. Canon doesn't seem to understand that WB is a creative tool we use to get great photos and not something we set once in a lab. This is great for use in a studio, but awful for outdoors and nature.
Kelvin color temp entry is in fixed 100K increments. This makes adjustment a little coarse at the coolest (2,800K) end and needlessly fine on the warm (10,000K) end. Must use a menu and remember to hit SET when done
Shots Remaining Indication
The good news is that it's clever enough to read fewer exposures if you set a higher ISO, because the noise at higher ISOs lead to larger files. It seems accurate, compared to Nikon's defectively conservatively defective readings.
The bad news is it can't read over 999. Nikons will read "2.7k" if you have 2,700 shots left.
I suspect this indicator is much more accurate than Nikon's are. Most Nikons underestimate by about 30%! The 20D seems accurate.
Help
No help information in menus. Sorry.
Canon USA has an excellent free live help line: (800) OK-CANON.
Strap Lugs
Strap lugs are slots. I prefer these over pro cameras which use tiny eyelets and split rings. I can attach a strap to the 20D directly and quickly without piddling with split rings, and there is less hardware between my strap and the camera to break.
Clock
Good news: The clock comes set from the factory. You get no "please set clock" menu the first time you turn it on.
Good news: it uses an easily replaceable CR2016 cell to keep the clock running. The clock runs whether or not you have a regular battery in the 20D.
Bad news: it comes set to to Japanese time (UTC + 8). That makes it 16 hours ahead of California. Be sure to reset it, since it won't ask you!
Autofocus
This is why all the sports pros swapped to Canon around 1990. AF is almost instantaneous with the good and cheap Canon 18-55mm lens, and instantaneous with the Canon 17-85mm lens.
It is always accurate, and so fast it would scare the innocent. It's faster than my eyes can change focus! AF speed depends more on the lens than differences between cameras (same with Nikon).
AF is Canon's strong point. If I was a sports shooter, I'm sure I'd be shooting Canon, too.
You can set the unnamed toggle switch to choose AF points directly (no need for the [+] button) with Custom Function 13.
Call me childish (I loved the documentary Borat), but I like the way the auto AF point selector works. You push the center of the selector to get all the AF points to light, then the 20D chooses which to use by magic. It works great for most things.
Mirror Lock-Up
MLU is hidden in custom menu 12.
Use the self timer, which automatically sets itself to 2 seconds. If not, you'll need a $50 RS-80N3 or $135 TC-80N3 release cord.
Flash
The built-in works great. It doesn't seem to have the flexibility of the Nikons (I couldn't find manual control and I couldn't figure out wireless flash, easy with Nikon, etc.), but for its intended purpose it works fine. This could also have been my own ignorance.
Canon hides many of the flash sync options inside other functions. For instance, the important Rear Curtain option is hidden in Custom Function 15, while even a Nikon D50 has its own flash sync button.
Slow sync isn't selectable separately. Program mode always uses a faster speed of about 1/60 as it's lower limit. Tv, Av or M modes use slow sync by default. See p.92 of Canon's 20D manual for details.
This is too bad: I always shoot my Nikons in Program, and set the slowest flash shutter speed to about 1/30 or 1/15 to let in ambient light. This is easy to change on Nikon, and almost fixed in stone on these Canons.
Tip: See How to Use the * Button to prevent people and pets from blinking with flash.
Playback and LCD
The color LCD is tiny and dim by 2006 standards. Most people crank it up to maximum brightness in the menus, at which point it's as bright as other DSLRs.
The 20D's LCD is smaller that the 30D's, however the color rendition of the 20D's LCD is much more accurate.
It's a pain to to zoom in: you have to hit the + button several times to get where you want. This is the same as the lower end Nikons, but much worse than the D200's magic smart zoom mode.
If it's been more than minute and the 20D has gone to sleep, you can't just hit the Play button. You have to tap the shutter to wake it up, and then hit Play.
The 20D doesn't zoom to 100%, it only gets to about 50%.
Playback is normal for Canons. It takes a moment to wake up the 20D if it has gone to sleep. It takes a little bit of card-reading to call up the 9-shot thumbnails. Good news is you can jump ahead and behind, but each time it has to read all the images to call up the thumbnails.
When scrolling quickly ahead and behind the images remain soft, until they are given a fraction of a second to come in sharply. Contrast this to the Casio point-and-shoots, which can scroll forward and back at 10FPS at full quality! Even using the Big Rear Dial, you can spin it faster than the 20D can jockey playback images. This bugs me.
I found a weird artifact: Shoot some star targets and zoom in. The image you see on the camera's LCD is a slightly lower resolution version of what you really have. Thus, don't make any final sharpness judgments in-camera. I have no idea why this is, it just is. My Nikons zoom in and show exactly what's in the image. Weird, but not a deal breaker.
Canon only has one page of tech data as you playback. This makes it faster to page through the various screens, but unlike Nikon, says less on its one page than Nikon does in taking four pages to show the same information (histograms, highlights, and two pages of text.) For instance, The 20D won't tell you the focal length used unless you play it back in a computer.
Top Control LCD Panel
The top LCD goes to sleep when the 20D does after a minute. You have to tap the shutter to wake it up to see your settings. The top LCD of the Rebel XT and my Nikons stay on to tell you everything, even when the camera is asleep (not off), and the Nikons can stay sleeping for a month this way.
The Illuminator is a nice orange. The illuminator button is invisible and hard to find in the dark. The illuminator button only works if the 20D is awake; tap the shutter if it's not.
Mechanics
The 20D is a reasonably lightweight camera for carrying around all day.
The 20D is a very precise high-speed machine. It's as fast as the D200 and feels better built than the D80.
It's sturdier than a Nikon D50/70/80, but not as sold as a Nikon D200.
There's just hard plastic on the bottom, not rubber, if you like to brace it on things.
I found the flush rear power switch worse than Nikon's easy-rotating shutter-collar power switches.
The 20D's CF card door feels cheap.
Data
File Sizes
Large JPG: 3.6 MB (fine) or 1.8 MB (normal).
Medium JPG: 2.2 MB (Fine) or 1.1 MB (normal).
Small JPG: 1.2 MB (Fine) or 600 kb (normal).
CR2 (Raw): 8.7 MB.
Files per Folder
The 20D can only insert 100 files per folder. After 100, it makes a new folder.
This would drive me crazy, but since I don't use a card reader and I only pull my photos out of a 20D by connecting the camera to my computer, I never see folders anyway.
If you'd rather be able to stick a thousand or more shots in the same folder, get a 30D instead.
Transfer Speed
Data transfer is only half as fast as the 30D or other modern cameras.
See all the details and comparisons at my Memory Card and Download Speed Tests.
Formatting
Formatting requires a menu. You should format every time you put a card in any digital camera, and every time you disconnect the 20D from a computer.
Power
Leave the power switch on all the time. Only turn it off to prevent accidental operation when packed away.
When the top LCD turns off the 20D is in semi-lockdown mode. All the buttons are ignored, which saves the batteries from being drained by accidental pushes as you carry the 20D. You have to tap the shutter button (or the power switch) to wake up the 20D.
Battery
My 20D came with a BP-511A battery, marked 7.4V, 1390 mAh, Li-ion, made in Japan. Canon says the BP-511, BP-512 and BP-514 batteries also work fine.
If you keep spare batteries in your bag, their safety covers have a marking which allows you mark FULL or EMPTY depending on the direction in which you attach it.
| | |
| --- | --- |
| | |
| Cover used this way says "Empty" | and used this way says "Full." |
Canon rates the battery good for 1,000 shots without flash, 700 with 50% flash. Canon says these are maximum and will be less if you use the LCD. I never ran one down, so I don't know.
Battery Meter
The battery meter has only three levels: full, almost empty and completely dead. This doesn't really count as a battery meter.
Battery Charger
Mine came with the CG-850, which has a folding integrated US power plug. It runs on 100 - 240V 50/60Hz worldwide. You only need to provide mechanical plug adapters as you travel, not voltage converters.
It's flashing light is clever enough to let you know the battery's charge level.
TRICK: The light glows solid at 90% charge. You should leave it on another hour to get to 100% charge.
The batteries seem to lose very little power while sitting idle, and the chargers are very smart. After a week idle, it recharged instantly.
High ISOs
The higher ISOs employ some noise filtering to reduce perceived noise. They also slightly soften texture.
The 20D looks fine at these high ISOs. It gets noisy, but at those high ISOs its acceptable. See my Nikon/Canon DSLR Noise and Resolution Shootout for explicit examples and comparisons.
ISO 100, 200 and 400 are excellent.
ISO 800 is great with just a little noise.
ISO 1,600 starts to lose a little texture as the NR starts working.
ISO 3,200 is also very clean for ISO 3,200 although you do lose some texture in some areas as the NR does its best to eliminate noise. Edges are sharp and the flat areas are clean, but the NR can be seen working on the textured areas if you make some deliberate test shots. Overall they've done a great job and by all means shoot at 3,200 if you need to stop action in the dark.
RECOMMENDATIONS back to top
Specs Performance Recommendations
The 20D (or 30D) is what I'd have if I shot sports all the time and this was fit my budget.
If you're in the Canon system, the 20D and 30D are the first choice of weekend pros and serious amateurs. Full-time pros use the 1D Mk II N, and people who just want the same great photos in a lighter, less expensive camera get the Digital Rebel XT. The new Digital Rebel XTi has more resolution than any of these, but not the ruggedness or speed of the other non-Rebels.
I prefer my Nikon D200, but that's just me, and it costs twice as much.
Don't forget my free, plain English 20D Users Guide to learn all the tricks of how to use a 20D.
There is no protection for the LCD cover. If you scratch it you're stuck, unless you're bold enough to try amateur surgery as explained here to replace it.
TIP: Use generic PDA screen protectors from an office supply store to protect the screen on the back of the camera.
PLUG
If you find it as helpful as a book you might have had to buy or a workshop you may have had to take, feel free to help me share more.
Thanks!
Ken