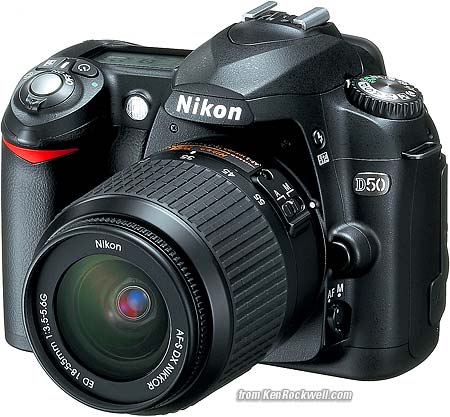 Nikon D50 with 18 - 55 mm. enlarge
I'd get it here. I'd also get it here or here (body only), here with 18 - 55 lens or herewith both 18 - 55 and 55 - 200 lenses. Nikon's soft case is $35 here or here.
September 2010: NEW: Printable PDF verison of my Nikon D50 User's Guide.
My Complete Nikon D50 Users' Guide.
Nikon D50 vs. D200, D80, D70, D40, Canon 5D and XTi
January 2007
As far as I know, the D50 has been discontinued. It is replaced by the superior D40, and to be honest, I prefer my D40 over my D70 and even D80, anyway. You may be able to snap up a deal on the closed-out D50, but I'd get the D40 as I outline in my comparison. The only thing the D50 has up on the D40 is the ability to use older AF lenses and possibly a meter better optimized for professional use; otherwise, I find the D40 superior in having a better screen, much easier to use, the ability to fine-tune preset white balances and probably a meter better optimized for non-professionals.
The rest of this review is to be considered historic.
November 8th, 2005: Battery Recall.
April 2005
INTRODUCTION
I love the Nikon D50. It's the camera I recommend for anyone who wants the best camera possible, and they sell for only $650, including lens. Time moves fast in digital cameras. This D50 is better than the D1H for which I paid $4,000 in 2002 and didn't even come with a lens.
The D50 is especially good for kids, sports and action compared to more expensive fixed-lens cameras. I prefer it over everything else from other makers because it's so easy to use, works fast, focuses fast, responds immediately to your inputs and the image quality is fantastic. The D50 is a far cry better than any fixed-lens camera, even the much more expensive Sony DSC-R1. Unless you really understand abstract concepts like White Balance fine tuning you'll never find anything missing from the D50. Don't let the low price fool you: it's a great camera and I wouldn't be able to tell the difference between prints from a D50 compared to a $5,000 D2X. I've seen 4 x 5 foot enlargements from the D50 that look superb. The only limit to the D50's picture quality is the photographer, not the D50.
The D50 is fantastic at high ISOs, giving completely smooth and clean images at ISO 800.
Personally I use the more expensive and very similar D70, but only because I'm one of the very few photographers who understands some of the few extra features offered by the D70, and the simple fact that there was no D50 when I bought my D70. Normal people won't even miss what the D50 lacks compared to the D70, unless things like direct white balance trims and wireless strobe control are important to you. If you ever need these you also do these with the D50, just with a few more button presses or external equipment. Even the D50 offers instant access to white balance presets, every possible exposure adjustment and a fantastic built-in flash.
As of December 2005 the prices have already dropped. I love digital! Today the D50 body and basic 18 - 55 lens sells for about $699 here or here, or $599 just for the body here or here. You can get it as a kit with 55 - 200 and 18 - 55 mm zooms for $899 here or here. I love digital: these prices were $100 higher in November!
The D50 was announced on April 20th, 2005, along with the new D70s and new inexpensive 18 - 55 mm and 55 - 200 mm lenses. They became available in stores in June 2005 and sold for $750 for the body, $900 for the camera and basic lens, and $1,150 for the camera and two lenses.
The D50 is also an ideal backup camera since it even takes the same battery and is smaller and lighter than any other Nikon DSLR, however it uses SD instead of CF cards.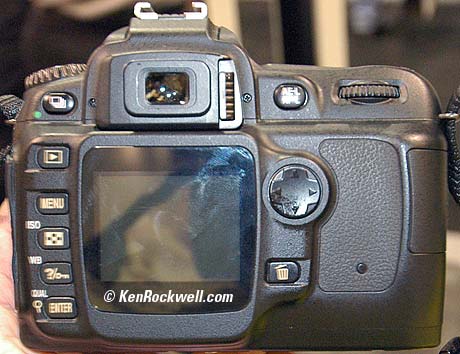 Rear of D50. The printing is nice and clear; it's my photo that's blurred. Note also that the rubber eyecup has already fallen off, just as it did on my D70. No big deal, I never missed it.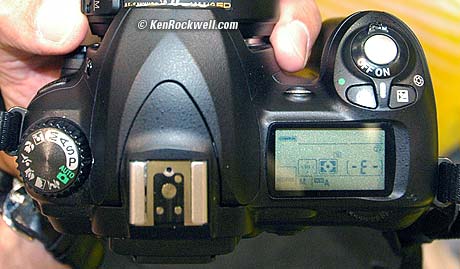 Note shiny turned finish on mode dial. My oh-so-clear photo washed out the self-timer icon on the switch to the left of the +/- button by the shutter release.
SPECIFICATIONS back to top
skip to comparison to D70 and D70s
6MP, same as D70 and D70s. 3,008 x 2,000, also 2,256 x 1,496 and 1,504 x 1,000 pixel settings. Oddly the medium setting is just a few pixels different from the medium setting of the D70 and D70s. Everything else is identical.
AF Sensors: Five, just like D70, D70s, D1X, F5 etc. Same CAM-900 module and -1 EV rating as D70 and D70s.
AF modes: Same as D70 and D70s and adds a new AF-A mode. The AF-A mode automatically selects between AF-S (normal AF) and AF-C (continuous AF). You still have to use the menus to select between AF-S, AF-A and AF-C; the front switch only selects between AF and MF.
Metering: 420 segment color 3D matrix, center-weighted and spot. Rated down to LV 0, same as D70 and D70s. So long as you have at least five segments you're fine, so I wouldn't worry about "only" 420 segments compared to the 1,005 of the more expensive cameras.
Exposure Modes: P, S, A, M and scene modes. Same as D70 and D70s with the one exception of replacing the night landscape mode with a child mode. It does have the night portrait and all the other scene modes of the D70 and D70s. I've never used any of the scene modes anyway.
Pentamirror finder. Same as D70s. D70 had either this or a glass prism depending on where you read it. It looks the same as my D70.
Shutter: Mechanical and electronic like the D70 and D70s. B, 30 - 1/4,000. The manual says 1/2 and 1/3 stops, I forget if the D70 can go in half stops or just thirds. No big deal. Time exposures to 30 minutes with ML-L3 wireless remote.
Frame Rate: 2.5 FPS. Just a little slower than the D70's 3 FPS. It has a buffer, however its depth is unspecified. With the right card it is specified to run for 137 frames continuously till it overflows. The illustration in the manual shows "12," which is the same as the D70 and D70s in the default normal, large JPG setting. I don't know if it's the same or not.
Flash Sync: 1/500, same as D70 and D70s and better than just about every other DSLR regardless of price. It's better than anything from Canon, better than the $5,000 D2X, better than the $3,500 D2H and better than the newest $1,700 D200.
Flash: Built-in, i-TTL, GN 15/49 (m/ft @ ISO 200; 11/36 @ ISO 100), same as D70s. Same numerous and excellent sync modes as D70 and D70s. (Note to Nikon: typo has "TTL" spelt as "TLL" on page 99 of manual, last paragraph.) No ability to use built-in flash as commander for remote control of other flashes.
CCD Sensor: Standard DX size (23.7 x 15.6 mm) and 1.5x mag factor.
ISO: 200 - 1,600, same as D70 and D70s. Adjusts in full stops, not thirds, which I prefer.
White Balance: same fixed settings and white card preset setting as D70 and D70s but lacks direct fine-tuning. The lack of direct WB fine-tuning won't be noticed by 99% of the people who buy these. You can have this through WB bracketing, in which case the camera records three different JPGs as processed from each actual shot. Clever!
Color modes: Three; same as D70 and D70s.
Saturation control: Three settings, same as D70 and D70s.
Histogram: Still the same useless one-channel display (not RGB), just like the D70, D100, D70s, D1x, etc. Nikon's manual even cautions that it's useless and won't agree with what you see in Photoshop (page 53).
Image Rotation: Automatic just like D70 and D70s.
Custom functions: 20 compared to the 25 of the D70s and D70.
File Formats: same as D70: JPEG FINE, NORMAL and BASIC; RAW and RAW + JPEG. Files sizes in the D50 manual are identical to the file sizes I get from my D70.
Memory: SD cards, the little ones, not CF as every other Nikon DSLR has used. Instead of jamming in from the back they slide in from the side. Nikon prints a list of recommended cards, which includes Sandisk, Toshiba and Panasonic. Lexar is prominently absent. Nikon extensively tests every function of the D50 with each of the cards they suggest and guarantees the camera's performance with them. Nikon does not recommend using any other cards and doesn't guarantee anything if you use them. This is great; most camera makers just leave you out on your own here.
LCD (color picture): 2.0;" bigger than D70's 1.8" and identical to the one on the D70s: 130,000 dots.
LCD: (numeric display on top of camera): identical to the one on the D70 and D70s, except no illumination. I work in the dark and use this illumination now and then, so I'd miss this. Most people probably wouldn't.
Battery: EN-EL3, 1,400 mAh, same as D70 and D100. (D70s gets a compatible EN-EL3a of 1,500 mAh) The D50 is rated for 2,000 shots no flash and 400 shots with full power flash every other shot, exactly the same as the D70. Cannot use the MS-D70 holder for three CR2 disposable batteries as the D70 and D70s can.
Size: 5.2 x 4.0 x 3.0" (133 x 102 x 76 mm)
Weight: 19 oz. (540 g) stripped without battery, monitor cover, lens, body cap, strap or memory card.
Remote: Optional ML-L3 wireless infrared remote, same as D70 and D70s. I got mine here for $16.95. (note to Nikon: typo on page 2 lists self timer operation being on page 28 when it really is on page 22. It's correct in the index.)
Lens: Optional AF-S 18 - 55mm f/ 3.5 - 5.6 G with the kit. I'd suggest getting this lens unless you already have the 18 - 70 mm or 12 - 24 mm lenses. See my review here and more lens suggestions here.
Announced: April 20th, 2005.
PERFORMANCE back to top
skip to comparison to D70 and D70s
Most of it to be the same as the D70 I tested in explicit detail here. This is great, since I love how my D70 operates. I find little to no real technical quality differences among similar classes of cameras so I doubt laboratory image quality will vary at all from the D70 either.
Viewfinder: A brilliant new feature is an on-screen warning if you have no memory card inserted. Yes, there is a black icon meaning "no memory card!" that appears over the image when required. This is brilliant; this is the same as a NO FILM!! warning. The viewfinder is sharp, clear and has all the info you'd ever need just like the D70. That means it's not as big as a film SLR, and is about the same as all the other digital SLRs. It seems identical to the D70. The magnification is the same. I held both up to my eyes at the same time, no difference.
AF: AF is fine. It seems identical to the D70. Some reports even say it's faster. In any case, it's great and in a completely better class than any camera whose lens is permanently attached.
Size, Weight and Handling: I love it. It's just a little smaller then the D70, which is just about perfect. It's small and light, and the buttons are still all big enough for my American fingers. Everything is fast and easy to operate, just like the D70. Any Nikon DSLR user can just pick it up and shoot.
Image: It's identical to the D70, which is excellent. I make brilliant 12 x 18" (30 x 45 cm) prints all the time direct from my D70's JPGs. My local Nikon rep tells me the D50 is tuned to be a little more vivid than the D70 at every setting. If true (I haven't tried it head-to-head) then I personally prefer vivider colors. I always keep my D70 cranked up to the maximum. Other tests may see some minute differences, but you or I simply can't see the any potential minor differences between this and any other similar DSLR.
ISO and Noise Same as my D70, which is great. Shoot it at ISo 1,600 and it's much better than any film at ISO 1,600.
No Mirror Lock-Up: The "mirror up" function is for cleaning, not mirror pre-release.
Metering: It should be identically excellent to the D70. Five sensors are all that are needed. The D50 has 420, which is way more than enough. The D70 and F5 have 1,005 segments, also more than enough. Metering performance is a function of the wisdom of those who write the camera's firmware, not the number of segments. Nikon's research back in the 1980s showed no better accuracy for more than five segments, which is why they used five segments for everything until they needed to add more for competitive sales appeal.
Battery: Excellent. It lasts so long that the biggest concern is I forget to charge it!
Unlike the primitive D1X, the D50 and all the current Nikon DSLR cameras use rechargeable lithium-ion batteries. These batteries love being charged after or before every time you use the camera. They have no memory and no need to be discharged before recharging like the crappy Ni-MH batteries in the D1X. Lithium batteries give the best service when charged frequently, which is completely opposite from the old Ni-MH. More at my Batteries page.
COMPARED TO D70 and D70s back to top
Compared to D200, D80, D70, D50, D40 and Canon 5D and XTi.
Feel free to skip ahead to the summary if you don't really care about the explicit details. You won't be missing anything unless you really sweat about details.
The D50 improves on the D70 and D70s by:
1.) Adjusting ISO directly in full stops, not cumbersome thirds.
2.) Self timer and remote control options are now set with their own button instead of through the drive mode control. (You lose the meter mode button to get this.) This is the washed-out button in my photo of the top of the D50.
3.) New AF-A mode automatically selects AF-S or AF-C modes for you. You may still select the AF-S and AF-C modes just like the D70 and D70s. There's no icon displayed for this mode since the LCD which would display this new mode is simply the LCD from the D70 and D70s which has no such icon. This is an advantage for tyros for whom the D50 is designed and transparent to serious photographers.
4.) A new default ISO control mode has the camera choose the ISO in the scene modes. You can turn this off to set your own ISO in the scene modes which is how previous cameras worked. The Auto ISO function is also available as with the D70 and D70s. See pages 91 - 92 of the manual for more. This is an advantage for my mom for whom the D50 is designed and transparent to photographers.
5.) Much faster USB 2 data connection eliminates need for card reader.
6.) Cutesy in-camera ability to copy and resize photos for email to 640 x 480, 240 x 320 and 160 x 120 pixels.
7.) Lower Price.
8.) Less Weight.
9.) Smaller size.
What's missing compared to the D70 and D70s that I'd miss a little:
1.) No White Balance fine-tuning. You can do this through bracketing, but that's cumbersome. If you care about this as I do get the D70s; 99% of people will never miss this.
2.) No front (secondary) command dial. That's OK, the D50 also lacks the WB fine tuning you adjusted with this dial. To adjust the aperture in manual exposure you hold the aperture button (same as the exposure compensation button) while turning the command dial. I prefer this in A and S modes since I never can remember which knob to turn on my D70; on the D50 it's always the one command dial that does it.
3.) No ability to use the built-in flash for remote control of external flash. To do this you'd need to buy an SU-800 or SB-800 for a few hundred dollars, which makes no sense. If you use this feature (I do) just get a D70 or D70s. I have a whole page explaining this here.
4.) No viewfinder grid. I would miss this, most people won't.
5.) SD vs. CF memory cards. Again, better for a tyro whose point-and-shoot probably took these. Bad for pros since we all have pockets full of CF cards, in fact, for a pro the price difference between the D50 and D70s is about the price of a few new SD cards.
6.) No ability to set the lowest shutter speed used with flash in P and A modes. I do set my camera to 1/15 or 1/8 instead of the usual defaults of about 1/60.
7.) No AF area selector lock button. I rarely use this and it bugs me when I do, so no big deal.
8.) Won't work with MS-D70 battery holder for disposable CR2 batteries. Even though the D50 uses the same EN-EL3 rechargeable, there is a pin on the MS-D70 that corresponds to a hole in the D70 and D70s. To jam it into the D50 you'd have to take a pair of dykes to the MS-D70, but don't do that since the MS-D70 puts out a higher voltage than the EN-EL3 for which the D70 and D70s can compensate and the D50 can't. The EN-EL3 makes 7.4V while the MS-D70 pumps out 9V. I do keep an MS-D70 in my bag if my rechargeable ever dies on me, which has never happened in over a year of use.
9.) 2.5 FPS compared to D70's and D70s' 3 FPS.
10.) No prophylactic LCD cover. I suggest using a conventional stick-on one cut to size like these here so you simply may replace the cover, and not the camera, when you scratch it up.
11.) No illumination of top numeric LCD panel. In the dark use the menus and see them on the rear color LCD.
12.) No depth-of-field preview button. No big deal, 99% of photographers don't even know what this button does even if the D50 had it.
13.) No two-finger FORMAT CARD buttons. You have to go into a menu. Pros reformat a card every time they use it. We don't just erase the images. We reformat because it eliminates any potential for data errors and other weird things that can accumulate over time without reformatting.
What's missing that I never used on my D70 anyway:
1.) Only 1/4,000 top shutter speed compared to 1/8,000. Not important; I've never even used 1/4,000 on any of my cameras.
2.) The D50 loses the hard button for bracketing. One has to use a menu instead.
3.) No custom function for setting exposure compensation without having to press the +/- button. No big deal, the default is just hold the +/- button and turn the command dial like every other Nikon DSLR.
4.) No ability to change the diameter of the center weighted meter (Note to Nikon: specs on page 130 claim this feature however there is no way to set it in the menus on page 96).
5.) No ability to set the order of bracketing.
6.) No ability to allow your selection of AF areas to wrap around when you go off one end.
7.) No ability to turn off the "use flash" symbol in the viewfinder.
8.) No meter mode button. I never use center or spot meters, but if you do you now have to go find them in a menu. The meter button of the D70 and D70s is now the self timer and remote control button on the D50, which I prefer.
SUMMARY back to top
As of 2007, get the D40.
Back in 2006, the Nikon D50 was a great camera for basic photographers, non-photographers or backup. Image quality is identical to the D70 and D70s, which means brilliant 12 x 18" prints that many people confuse with prints from a medium format film camera. Most people will never miss the few features I would, so if you don't have any idea what I'm talking about in my comparisons get a D50 and you'll love it.
For more info see also Nikon Japan's English press release here.
Warning: The ads below come from a third party and I don't see them before they appear on your screen. See more at my Buying Advice page. Personally I get my goodies at Ritz, Amazon and Adorama.