Nikon AF-S DX Zoom-Nikkor 55-200mm f/4-5.6G ED Test Review
© 2005 KenRockwell.com
About these reviews All other Nikkor lenses tested here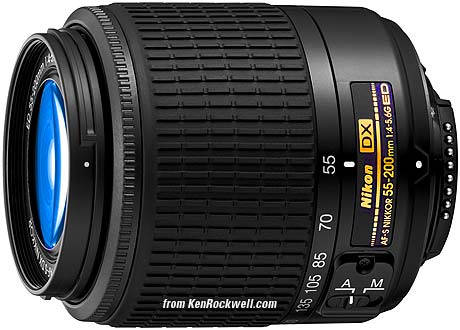 Nikon AF-S DX Zoom-Nikkor 55-200mm f/4-5.6G ED enlarge
I'd get it here or here (It helps me keep doing this site if you do)
INTRODUCTION
News: March, 2007: The new, inexpensive Nikon 55-200mm VR is a huge improvement over this lens. I'd suggest it instead.
This was announced April 20th, 2005 and is available here and here for about $250. It's a tiny, high performance and inexpensive telephoto lens for digital SLR cameras only, not film. I used just a prototype on April 21st, 2005. I haven't yet used a production version.
It's also available with digital cameras as part of a complete kit.
SPECIFICATIONS back to top
Focal Length: 55 - 200mm, similar to an 85 - 300 mm lens on a 35 mm film camera.
Elements: 13 elements in 9 groups. Two are of ED glass. This is a lot of elements for such an inexpensive lens, which suggests the optics will be far better than many people might expect.
Marked focal lengths: 55, 70, 85, 105, 135 and 200 mm.
Focus system: Silent wave motor internal to lens.
Filter Thread: 52 mm. Thank goodness; this was the standard thread size Nikon has used for their manual focus lenses made ever since 1959. Most pro photographers have a stack of 52mm filters; I know I do.
Size: 3.1" (79 mm) long by 2.7" (68 mm) around. Small!
Weight: 9 oz. (255 g), very light!
Aperture Range: f/4 - 22 at 55 mm; f/5.6 - 32 at 200 mm.
Diaphragm: Nine blades, rounded at larger apertures. This is excellent!
Close Focus: 3.1 feet (0.95 meters), which is excellent for a telephoto.
Included Accessories: 52mm snap-on front lens cap (LC-52), Rear Cap (LF-1), hood (HB-34) and semi soft case (CL-0815).
Colors: Professional black and coyote-ugly painted silver. Please don't embarrass yourself with a silver painted lens.
Nikon Product Number: 2156, in catalog as of spring 2008.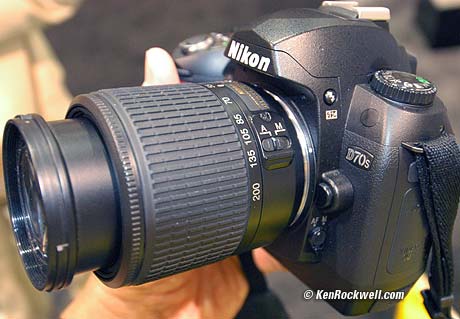 Nikkor 55 - 200 mm as seen on a D70s
PERFORMANCE back to top
Focus
It's slow.
It's only half an AF-S lens. Unlike the real $1,700 AF-S lenses like the 70-200 VR which have big AF-S motors wrapped around the optics directly driving the focus and allowing instant manual focus override, this cheepie has a dinky motor driving the lens through a shaft and gears exactly as if Nikon skipped it and just used the AF motor already built into the camera. Actually it probably would be a better lens if Nikon did that, since it would free up costs to be used better elsewhere. On the other hand, this lets Nikon pimp the lens with gold "AF-S" letters so camera stores can try to pitch it as a "pro" feature against the similar Canon lenses. To you and I as photographers all this AF-S means on this lens is that if focuses very quietly, but not that fast and with no easy manual override.
It has no A/M position; only a fixed A or a fixed M and the focus ring is just a thin band at the very front of the lens not seemingly intended for manual use. The lens moves in and out as it focuses, so if you turn off the camera when focused close you need to turn the camera back on, focus at infinity and then turn it off to have the lens completely retracted. You could also move the switch to M, refocus to collapse, and then put it back in A. In any case, not the easiest thing until you get used to it, just like my 80-400 VR.
To get manual focusing you need to use the focus mode switch on the lens. Leave the camera set to AF.
It focuses slowly. I wouldn't use it for action. For less money you can get the 70 -300 G which is probably faster. For action get a used 70 - 210 AF-D or an 80 - 200 AF-D. I used a pre-production model and don't expect any improvement in this 55 - 200 mm.
There is no focus distance scale, and therefore no IR scale or depth of field scale either. The manual focus is via a skimpy plastic ring.
The filter threads and front of the lens don't rotate either with zooming or with focusing.
Zooming
The zooming is very good. The focal lengths are perfectly spaced with no bunching up at either end.
Sharpness
Sharpness ought to be more than adequate for any digital camera. In fact with the number of elements I suspect this will be really, really good. I haven't gotten one in my hands outdoors to see this yet. I have no reason to doubt that it will be flawless.
Distortion
Distortion is moderate pincushion at all focal lengths, except at 55 mm where there is no distortion.
55 mm: none
85 mm: pincushion. CS2's lens distortion correction fixes it at a setting of -2.00.
105 mm: pincushion. CS2's lens distortion correction fixes it at a setting of -2.00.
135 mm: pincushion. CS2's lens distortion correction fixes it at a setting of -2.60.
200 mm: pincushion. CS2's lens distortion correction fixes it at a setting of -2.50.
Durability and Build Quality
It's precisely and well made, but out of plastic.
The bayonet mount is plastic. This is OK, people like me try to change lenses on digital cameras as little as possible. Then again, for $250 you deserve better than plastic.
The one I saw was marked "Made in Japan," not China or elsewhere.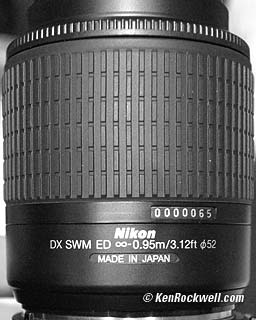 SUMMARY & FINAL SUGGESTIONS back to top
VR, Vibration Reduction, is critical. I'd suggest the new Nikon 55-200mm VR instead.
This non-VR , and the 18 - 55 mm lens, together are a much better choice optically than a do-everything lens like Tamron's 18 - 200 mm. The Nikon two-lens combo has none of the heinous distortion of the Tamron, also both Nikkors together would cost the same as a do-everything lens. Of course if distortion doesn't bother you and you'd rather never change lenses, then have a look at the Tamron.
For half the price you can get the 70 -300 G, which is more lens. I'd probably get the 70 - 300 G instead, since I want the longer zoom range although the 70 - 300 gets soft at 300 mm.
Also see Nikon Japan's press release here.