Tamron AF 18 - 200 mm F/3.5-6.3 XR Di II LD IF Review Test
© 2005 KenRockwell.com
about these reviews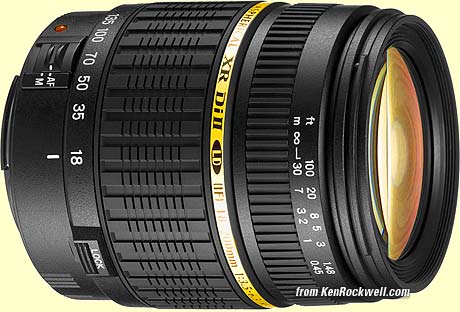 INTRODUCTION
This was introduced at PMA in February 2005.
It's the digital version of Tamron's popular do-everything lenses. It's similar to a 28 - 300 mm lens on a 35mm film camera.
It sells for about $400.
SPECIFICATIONS
Elements: 15 elements in 13 groups
Filter Size: 62 mm
Diaphragm: Seven blades, well rounded at large apertures.
Marked Focal Lengths: 18, 35, 50, 70, 100, 135 and 200 mm.
Close Focus: 18" (0.45m) at all focal lengths.
Size: 3.3" (84 mm) long by 2.9" (74 mm) diameter.
Weight: 14 oz. (400 g).
Available Mounts: Nikon, Canon, Konica Minolta and Pentax.
PERFORMANCE
It zooms well. The focal lengths are very well spread out so any constant rotation of the zoom ring gives an equal percentage change in focal length. It's easy to get the focal length you want.
It has a lock button on the zoom ring to keep the lens at 18 mm while walking around. This keeps the lens from getting a woodie and creeping to the longer focal lengths, at which settings the lens gets quite a bit longer.
It focuses the old fashioned way: with a screw driven from a motor in the camera. It's not fast.
Distortion
This is always the weakest point for these super long ratio zooms. It's normal for you to get some really bizarrely bent straight lines along the sides of the image, don't go returning a lens as defective if you see this. if distortion bugs you then don't get a super wide range lens like this. If you need straight lines use a different lens or use this lens in its sweet spot around 24 mm.
Use the figures below and plug them into the right place explained on my page on fixing lens distortion. If you do that the distortion cancels completely
18 mm: wild pincushion. Use +6.0. It's too complex to remove completely.
22 mm: pincushion center, getting neutral at the corners.
24 mm: neutral in center and pincushion at the corners.
28 mm: neutral at close distances, pincushion far.
35 mm: strong pincushion.
50 mm: strong pincushion. Use -3.9 and it corrects pretty well.
70 mm: strong pincushion.
100 mm: pincushion
135 mm: pincushion
200 mm: pincushion. Use -2.8 to correct.
I offer these figures as the results of lengthy research to help you get great results. Use them all you want for your photography, but because this research is copyrighted it is forbidden to make any other use without explicit permission.
Sharpness: It's better than I'd expected, although I haven't given it an exhaustive test. It's so sharp at most focal lengths wide open that it easily can excite aliases in my D70. These observations below are at full aperture; it of course will get better stopped down.
18 mm: great
24 mm: great; a little soft on the left
35 mm: great
50 mm: great
85 mm: great
135 mm: great, some minor secondary lateral chromatic aberration (green/magenta fringes to the sides)
200 mm: great, some minor secondary lateral chromatic aberration (green/magenta fringes to the sides)
Flare and Ghosts:
Pretty good. I didn't see any indoors pointed at bright lights.
SUMMARY & FINAL SUGGESTIONS
This is a pretty good lens if you want a do-it-all lens. For the same money you can get both the Nikon 18 - 55 and 55 -200 lenses and get much less distortion for the same price, but you have to carry two smaller lenses and change them as needed. Personally I use the two lens solution and not accept the optical compromises, especially in distortion, that you do with any lens of this type.