Nikon 18-55mm f/3.5 - 5.6G
© 2006 KenRockwell.com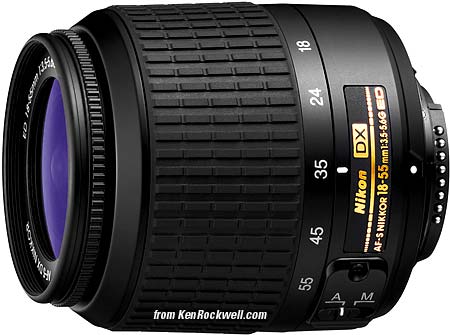 Nikon 18-55mm. (enlarge)
All other Nikkor lenses tested here.
INTRODUCTION
As of December 2006, this Nikon 18-55mm lens has been superceded by the almost identical Nikon 18-55mm II.
This original $160 lens is great. I prefer it over the twice as expensive 18 - 70 mm lens for smaller size, less distortion and better zooming. This 18 - 55 zooms easily and precisely while the 18 - 70's zoom control bunches the wide settings together at one end. I won't miss the 2/3 stop and 15mm longer range I lose compared to the more expensive 18 - 70 mm. The focusing is faster on the 18 - 70 and the 18 - 55 loses the magic ability to focus manually just by grabbing the focus ring, but for its intended purpose as a mid range zoom I prefer this cheaper 18 - 55.
This was in announced on April 20th, 2005. This lens is also included with the inexpensive Nikon D50 digital SLR camera as part of a kit.
It only works on digital, not film, cameras. You'll get black corners on a film camera if you try.
SPECIFICATIONS back to top
Name: Nikon calls this the Nikon AF-S DX Zoom-Nikkor 18 - 55mm f/3.5 - 5.6G ED.
Focal Length: 18 - 55 mm, similar to an ideal 28 - 85 mm lens on a 35 mm film camera.
Elements: 7 elements, 5 groups, one of which is an aspheric and one of ED glass.
Marked focal lengths: 18, 24, 35, 45 and 55 mm.
Focus system: Internal Silent Wave Motor, driven by the camera's electronics.
Focus Distance Scale: NONE.
Manual Focus: A nasty little front ring.
Size: 2.9" (74 mm) long by 2.7" (69 mm) diameter.
Weight: 7.4 oz (210 g), very light!
Aperture Range: f/3.5 - 22 at 18mm, f/5.6 - 38 at 55 mm.
Diaphragm: Seven blades, rounded at the larger apertures. This is excellent.
Close Focus: 11" or 0.28m, excellent. Actually this is closer than the $300 18 - 70, closer than the $700 18 - 200 and closer than the $1,500 17 - 55 lenses!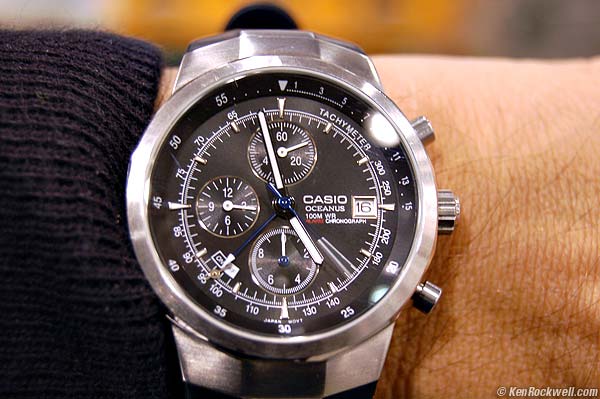 Nikon 18 - 55mm lens at 55mm and closest focusing distance, uncropped. Not bad, especially considering the blurry hand-held exposure (note second hand moving from 22 to 23 seconds!)
Filter Thread: 52 mm. Thank goodness; this is the standard size Nikon has used for all their manual focus lenses from 1959 through today. Most pro photographers have a stack of 52mm filters; I know I do.
Hood: Optional HB-33 bayonet hood not included. I'd never use it, so forget about it.
Colors: Professional black or coyote-ugly painted silver. Please don't embarrass yourself with a silver painted lens.
PERFORMANCE back to top
General
It's cheap and works great. It's sharp, doesn't have much distortion, zooms easily to any exact setting focuses silently, closely and reasonably fast. Nikon never ceases to amaze me with cheaper and cheaper lenses made with more and more plastic that outperform older designs that look tougher and cost more. Nikon's been making Nikkor lenses since 1932 so they know a trick or two.
It's half the weight of the 18 - 70 mm kitted with the D70, about the same size and half the price. Nikon consistently offers better and better optics at lower and lower prices.
The bayonet mount is plastic. This is OK since people change lenses on digital cameras as little as possible to keep out dirt. Complain if you want, just remember that the USA version is covered under a 5-year unlimited mileage warranty. Mercedes and BMW only offer a 4 year warranty which has a mileage limit. If you wear out the 18 - 55 after 5 years you can just throw it away (or dump it on eBay), buy another and you've still only paid as much as you would have for the 18 - 70. I'm picky on my $1,500 lenses and quite happy with this on a $150 lens.
Focus
It focuses reasonably fast and silently. I haven't compared it directly to the other 18-70 and 17-55 lenses but it seems about as fast.
It's only half an AF-S lens. Real $1,000 AF-S lenses like the 17 - 55 AF-S have big AF-S motors wrapped around the optics and drive the focus directly. Real AF-S lenses allow instant manual focus override. This cheepie has a dinky motor driving the lens through a shaft and gears exactly as if Nikon just used the AF motor already built into the camera. It would be a better lens if Nikon skipped the AF-S motor and used those costs better elsewhere. About the only thing AF-S does is let Nikon pimp the lens with gold "AF-S" letters so camera stores can try to pitch it as a "pro" feature against the similar Canon, Sigma or Quantaray lenses. On this 18 - 55 all AF-S means is that it focuses very quietly.
It has no A/M position; only a fixed A or a fixed M and the focus ring is just a thin band at the very front of the lens not seemingly intended for manual use.
Leave your camera set to AF and select manual focusing on the lens if you need MF.
There is no focus distance scale, and therefore no IR scale or depth of field scale either. The manual focus is via a skimpy plastic ring.
The front rotates with focus, making things a bit of a pain with grad ND and polarizing filters.
The distortion is pretty good! it has some barrel distortion at 18mm which goes away at 55mm. If you have PhotoShop CS2 it's trivial to correct completely.
It has less barrel distortion than the 18 - 70 mm lens at the 18mm setting. Even the $1,500 17 - 55 mm lens has almost the same distortion at 17mm. At 55 mm this cheap 18 - 55 has no distortion while the ten-times as expensive 17 - 55 has visible pincushion distortion!
18 mm: Barrel. CS2's lens distortion correction fixes it perfectly at a setting of +4.50. If you don't have PhotoShop CS2 and look for distortion you will see it at 18 mm. For about the price of CS2 you can get the 12 - 24 mm which has no distortion at 18 mm.
24 mm: very little barrel. CS2's lens distortion correction fixes it perfectly at a setting of +1.50.
35 mm: Negligible barrel. CS2's lens distortion correction fixes it at a setting of +1.00. This is the same distortion as the Zeiss ZF 50mm f/1.4.
45 mm: none. Maybe set CS2's lens distortion correction to 0.1, except that that tool can't be set that close to zero.
55 mm: none. Zero.
At 50mm this cheap 18-55 zoom has no distortion, compared to the Zeiss ZF 50mm f/1.4 which has at least ten times as much barrel distortion at 50mm.
Sharpness
I'm impressed: it's sharp at all apertures and focal lengths all over the frame. I can't find any real fault with this lens. Of course at small apertures you'll get diffraction which is a matter of the laws of physics. Sharpest apertures, presuming you have enough depth-of-field, are around f/5.6 - f/8.
It's as sharp as any other lens I have on a 6MP camera. It also is quite free from lateral chromatic aberration, called "purple fringing" by amateurs. Points of light or b/w lines at the corners stay crisp. If you have a really bright light to the sides there is a tiny bit of magenta spill, but less than my other lenses.
Camera magazines love to rain on the parades of cheap lenses that work great by pointing out that the cheap construction may not hold up over time. This could lead to looseness in the zoom assembly which might degrade sharpness. So what? Even if it does it's cheap enough to throw away after Nikon USA's 5 year warranty runs out. Guess what? I also used a $1,500 pro zoom once that also was worn out. I'd have no concerns owning this lens.
Zooming
It's zoom ring is nice and linear with no bunching up at either end. This is a huge improvement over the 18 - 70 mm and 24 - 85 lenses which bunch together the wide settings making it hard to adjust precisely among the wide settings, and making you have to move the zoom ring a lot for even small changed at the tele end. The zooming on this 18 - 55 by comparison is perfect: each movement of the zoom ring gives about the same percentage change of focal length. This alone would make me prefer it to the more expensive 18 - 70 for general use.
Maximum Aperture
18 mm: f/3.5
24 mm: f/4.0
28 mm: f/4.2
35 mm: f/4.8
45 mm: f/5.3
55 mm: f/5.6
RECOMMENDATIONS back to top
This lens is no longer in production. Get today's 18-55mm II if you're buying new. Today's 18-55mm II appears to be the same lens with different cosmetics. The rest of this was written several years ago for this original, discontinued lens.
- - - -
This is the first lens I'd get if I wanted a mid length zoom for under $700. I prefer it to the more expensive 18 - 70 AFS. For $700 I got the $700 18 - 200 instead, which adds more zoom range and VR but has more distortion.
This 18 - 55 mm is an excellent compact lens for any Nikon digital SLR. It's a far more handy focal length range than any film-era zoom starting at 24mm. This 18 - 55 mm offers the equivalent of a perfect 28 - 85 mm range and closer focusing without having to resort to the cumbersome macro ranges of film-era zooms.
I rarely use a midrange lens anyway. I only use it for parties and social functions where I want one lens for both group and head shots.
For my landscapes and art I prefer ultrawide, so 99% of the time I use my $1,000 12 - 24 mm, and the other 1% I use my 80 - 400 VR supertele. I rarely use a midrange zoom.
I prefer the pair of this Nikon 18 - 55 and 55 - 200 zooms to a huge range zoom like the Tamron 18 - 200 mm. The pair sells for the same price as that one Tamron, and gives much better performance at least in terms of distortion than the do-it-all lens.
If you have $700 then get the 18 - 200 mm VR instead. If not, get this 18 - 55 and the $150 70 - 300G. You'll save half and never miss the 55 - 70 segment.
I already own the $1,000 - plus 17 - 35 mm AF-S and I'd still prefer this lens for use on my digital camera due to the lighter weight and longer zoom range. There is no visible difference in angle of view between the 18mm wide end of this 18 - 55 mm lens and a lens starting at 17mm like the huge 17 - 55 mm AF-S. or 17 - 35 mm AF-S.
See more lens suggestions here and Nikon's information here.
More Information
I believe this design is covered by US Patent 7,277,232.