Nikon 18-55mm II
© 2006 KenRockwell.com. All rights reserved.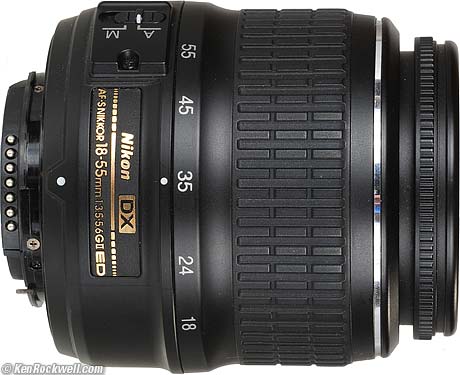 Nikon 18-55mm II (52mm filters, 7.2 oz/203g). enlarge. You can get it here, or here as a kit with the Nikon D40. It helps me publish this site when you get yours from this link, too. I buy from them all the time.
December, 2007: This lens now comes in a Vibration Reduction (VR) version.
INTRODUCTION
This lens was introduced as a kit lens along with the Nikon D40 on November 16th, 2006. It works perfectly on every Nikon digital SLR (D40, D50, D70, D80, D100, D200, D1x, D2X, etc.) It won't work on film cameras: you'll get black corners.
It replaces the previous 18-55mm AFS lens, which has been a favorite recommendation of mine for its low price and great performance.
It weighs nothing, it's super sharp, has little distortion, zooms much more precisely than more expensive lenses and has better macro performance than more expensive lenses. See my Sharpness Comparison as part of my Sigma 30mm f/1.4 review and you'll see it's among the sharpest lenses I own.
The fact that it sells for only about $100 makes it even better!
This is a great lens with better performance than many other costing a lot more. I prefer it to the $300 18-70mm, for instance.
SPECIFICATIONS with commentary
Specifications Performance Recommendations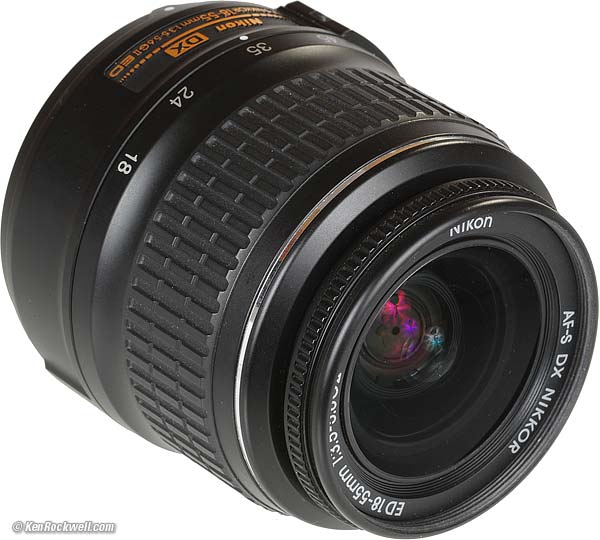 Nikon 18-55mm AF-S II.
Name: Nikon calls this the 18-55mm f/3.5-5.6G ED II AF-S DX Zoom-Nikkor
Optics: 7 elements in 5 groups (one ED element and one aspherical element).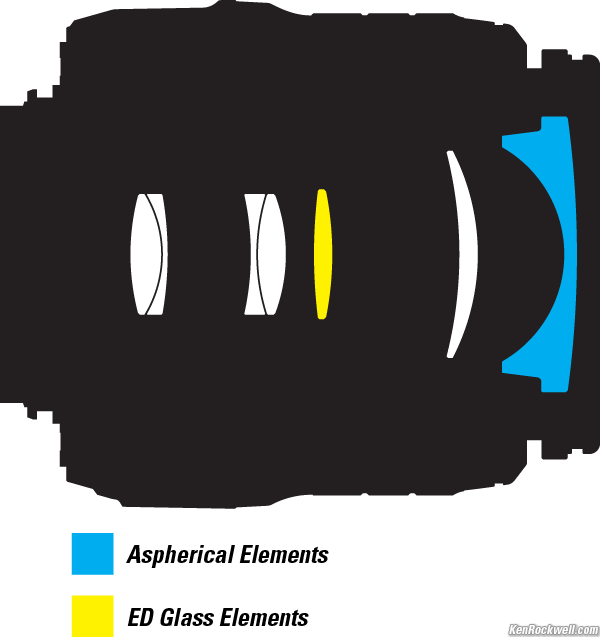 Focal Length: 18-55mm, which gives the same angle-of-view on a digital camera as a 28-85mm lens gives on a 35mm film camera.
Marked Focal Lengths: 18, 24, 35, 45 and 55 mm.
Focus System: Internal Silent Wave Motor, driven by the camera's electronics.
Focus Distance Scale: NONE.
Manual Focus: A nasty little front ring.
Maximum Aperture: f/3.5 - 5.6.
Diaphragm: 7 blade rounded, stopping down to f/22 - 38.
Close Focus: 11" (0.28m) from the back of the camera. This is 4.5" (11.5cm) from the front of the lens!
Maximum Reproduction Ratio: 1:3.2.
Filter Size: 52mm.
Size: measured: diameter: 2.772" (70.41mm). Extension from flange: 2.903" (73.74mm) at its absolute shortest (focused past infinity at 32mm), 2.986" (75.85mm) at its practical shortest (focused at infinity at 32mm) and 3.637" (92.38mm) at its longest (closest focus at 55mm). Nikon specifies it as 2.7 x 2.9" (70.5 x 74.0mm), no details.
Weight (naked): measured: 7.175 oz. (203.4 g). Specified: 7.2 oz. (205g).
Included Accessories: LC-52 52mm front lens cap, translucent push-on rear cap.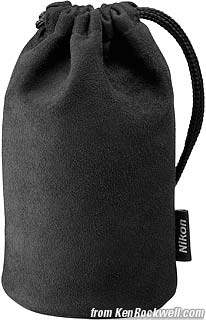 Nikon CL-0918 pouch.
Optional Accessories: LF-1 Rear lens cap, HB-33 bayonet hood (discontinued and probably replaced by the HB-45 as of spring 2008), CL-0715 Flexible lens pouch. Note that Nikon got cheap by providing it as a kit on-camera, excusing them from including a rear cap. I never use my other hoods, so no problem.
Nikon Product Number: 2170, in catalog as of spring 2008.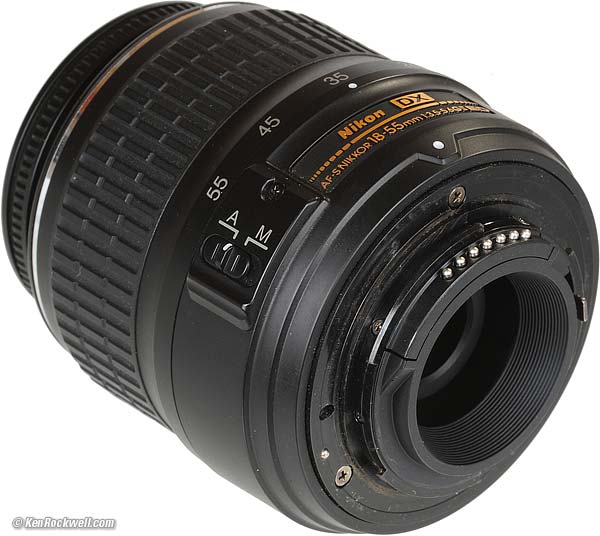 Nikon 18-55mm AF-S II. (plastic mount)
PERFORMANCE back to top
Specifications Performance Recommendations
It appears to be identical to the previous 18-55mm, which is excellent. You can read my full review of the earlier version here.
Here are details from my new 18-55-II. I also have examples posted with it on my new Nikon D40 here.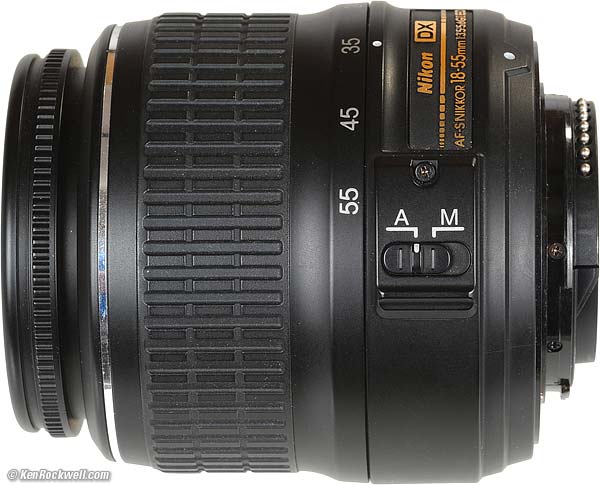 Nikon 18-55mm AF-S II.
Just like the first version, the AF is silent but not that fast. It is extremely accurate and all my shots have been in perfect focus.
Contrast this to the Canon 18-55mm, which focuses almost instantly even on a Rebel, but my Canons sometimes miss the correct focus.
You can see barrel distortion at the wide end, and less distortion as you zoom to 55mm, where there is none. Distortion is exactly like the earlier version.
Plug these figures into Photoshop CS2's lens distortion filter to correct the distortion. These aren't facts or specifications, they are the results of my research that requires hours of photography and calculations on the resulting data.
| | |
| --- | --- |
| | |
| 18mm | +4.5 |
| 24mm | +2.0 |
| 35mm | +1.0 |
| 45mm | +0.1 |
| 55mm | 0.0 |
© 2008 KenRockwell.com
This little lens gets closer than any other midrange zoom of which I know. I love the ability to get close without having to go and get the 105mm macro lens I don't carry with me.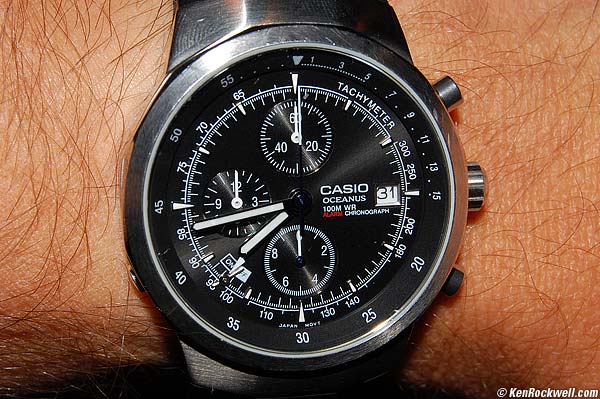 Macro shot with 18-55 II kit lens on my D40.
Note the great automatic exposure with flash. Many camera blotto the exposure when they get this close, especially when left on Program which leaves the lens wide open as I did here.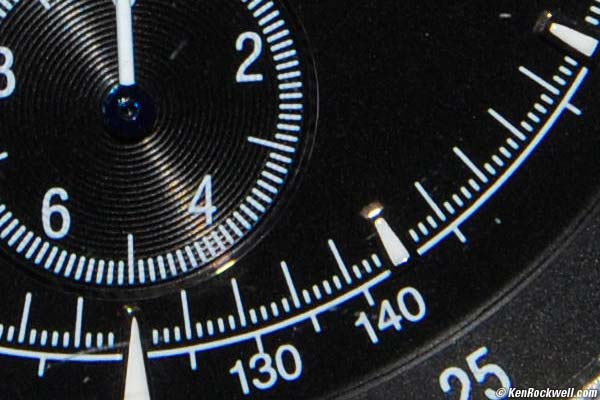 100% crop from above. (Color fringes caused by convex watch crystal.)
Original Basic JPG file (900 kb)
Here's another shot from my D40: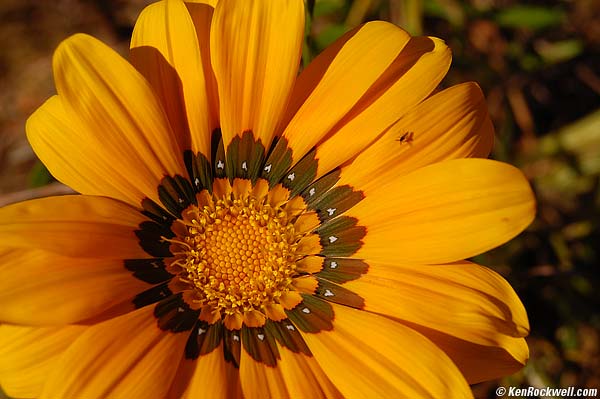 Gazania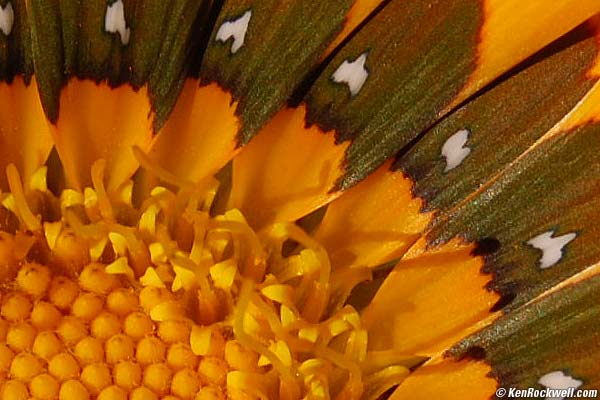 100% crop from above. (would print at 20 x 30" (50 x 75cm).)
Each of these is sharpened for your screen and otherwise unaltered and unedited.
Here's the Large Basic JPG file exactly as it came out of my D40 (800KB.) Caution: the little bug was outside the depth of field so he's supposed to be out of focus. This shot is at f/11 at 1/500 at ISO 200.
See my Sharpness Comparison and you'll see it's among the sharpest lenses I own.
EXIF Encoding Accuracy
I see exact correlation at 18mm, 24mm, 35mm, 45mm and 55mm. The EXIF data reads exactly as the lens was set.
Sharpness
Sharpness is great. Here are Nikon's MTF curves: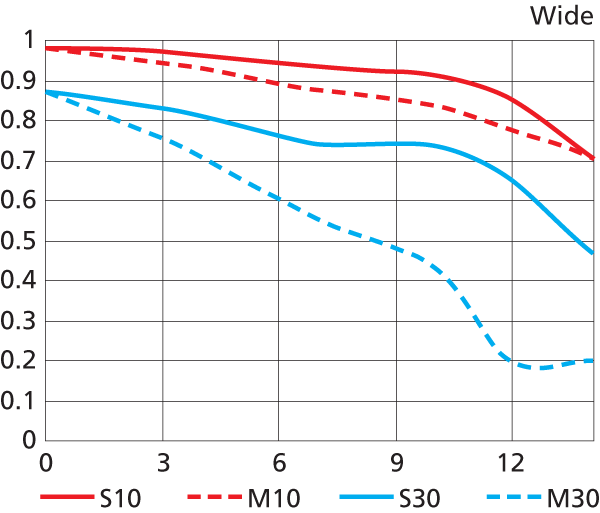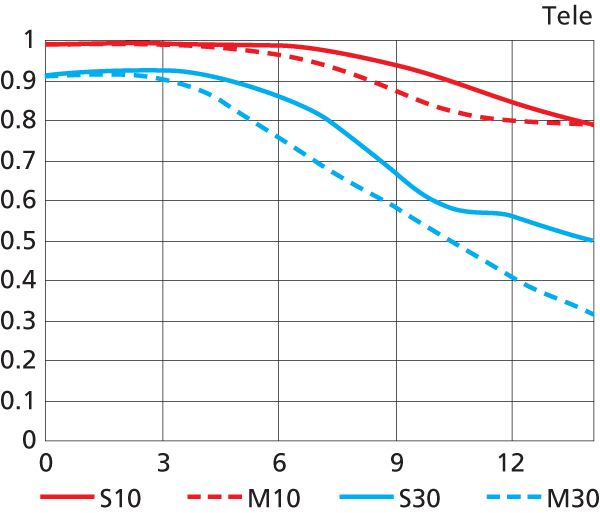 RECOMMENDATIONS back to top
Specifications Performance Recommendations
It's a no-brainer: get one with the D40, and in the USA you have no choice because that's the only way the D40 is sold. Just as well, everyone should have one of these little gems.
The only lens I prefer is the spectacular Nikon 18-200mm, which is seven times as expensive and almost impossible to get.
The 17-55mm f/2.8 is OK, but has more distortion, weighs almost four times as much and costs over ten times as much as this 18-55mm.
More Information
I believe this design is covered by US Patent 7,277,232.
PLUG
I support my growing family through this website.
If you find this as helpful as a book you might have had to buy or a workshop you may have had to take, feel free to help me continue helping everyone.
If you've gotten your gear through one of my links or helped otherwise, you're family. It's great people like you who allow me to keep adding to this site full-time. Thanks!
If you haven't helped yet, please do, and consider helping me with a gift of $5.00.
It also helps me keep adding to this site when you get your goodies through these links to Adorama, Amazon, B&H, Ritz, and J&R. I use them and recommend them all personally.
Thanks for reading!
Ken