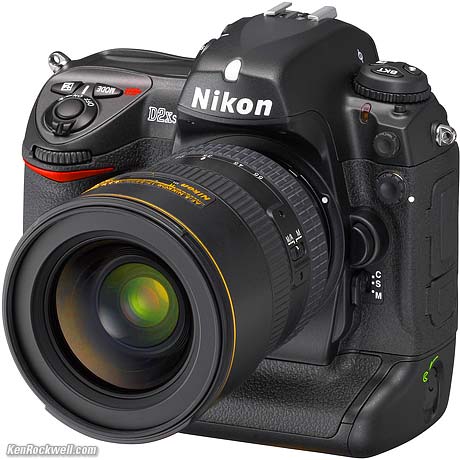 Nikon D2Xs. I'd get mine here, here or here, but get a D3 or D300 instead.
NEW: Pro DSLR Comparison 03 February 2016
September 2013: they sell for $600 today.
March 2008: The D2Xs has been superceded by the far superior D3 and D300. This review is now an historical artifact, mostly written back in 2006. 2006 is ancient history in digital camera years.
INTRODUCTION
The D2Xs is an updated D2X. See my D2X page for the bulk of the details. Here I'm only going to explain what's new with the D2Xs.
PRICE AND AVAILABILITY
Nikon predicts late June, 2006 for $4,700.
WHAT'S NEW
Resolution, speed and most of the D2Xs is the same as the D2X. Same body. Same camera.
Everything gets a little bit better every time any camera maker rolls another year of wisdom and refinement into firmware and hidden internal hardware updates. What's more important than any of the minor changes listed below are how well everything comes together as a whole. Digital cameras in 2006 are still in the same primitive stages of development that PCs were in the 1970s. Today it's important to go with the newest products, unlike with film cameras.
Nikon tells us the D2Xs adds:
1.) A new LCD with a wide viewing angle. It seems like the same specs as the D200 LCD: 2.5," 170 degree viewing angle.
Each LCD is color calibrated at the factory. I've never found any fault with any Nikon DSLR LCDs for color variation. Each sample looks like every other one I've tried of the same model.
2.) Viewfinder improved for using the cockamamie high-speed crop mode.
3.) Claimed better battery life. Nikon claims 3,800 shots, but won't tell us how they measure that. The first published battery life claims for the D200 were baloney, but since the D2X already has extraordinary battery life I wouldn't worry. Then again, it's the fantastic wide-angle LCD of the D200 which limits the D200's life, so if I were worried about this I would see how many D2Xs shots I could get with heavy LCD use. Use the new LCD of the D2Xs and it might have less life than the old D2X!
4.) Lots of firmware enhancements. I told you so! I haven't laid hands on one yet, and today the wisdom and experience coded in firmware is more important than hardware alone. New menu colors, whoopee-do.
5.) Can use 3D-Color Matrix Metering II even in the High-speed Crop mode. I think the D2X erroneously looked at the entire frame, not just the cropped area.
6.) Adobe RGB works in all three color modes.
7.) sRGB B/W color mode. So B/W is now a color mode? Now I know why I keep having to write "How To" articles to explain all this.
8.) In-camera image size reduction selectable from 2,560 to 640 pixels wide. Nikon's unclear if this is simple size reduction, or cropping as well. Even my pocket Casio can crop and reduce images at the same time.
9.) Auto ISO now allows setting the maximum ISO permitted, just like D200. I suspect it's still screwed up stays active when set even in manual exposure mode. Check it out: if this flaw is still there, the camera jerks around the ISO even in manual exposure mode, destroying the whole point of manual exposure mode.
10.) Added third-stop and half-stop increments between ISO 800 and 1,600. (ISO 1,000, ISO 1,130 and ISO 1,250, called Hi+0.3, Hi+0.5 and Hi+0.7). I'd never use these; I set my cameras to set ISO in full stops. If you shoot up here this could be helpful, since noise starts to become significant up here and changes a lot at each setting.
11.) New EN-EL4a rechargeable lithium-ion battery. Nikon claims 3,800 shots per charge, probably an unrealistic claim since they don't tell us how they arrived at it.
12.) New $570 software package called Image Authentication Software, available in July 2006, helps show that an image file from a D2Xs is unaltered. This is the same idea that Canon has sold for a few years. This is for forensic and evidence photography. The police will love this: it's important to be able to show that images are as they are. When I was lucky enough to do a police ride-along I was impressed at how all the Polaroids and burnt CDs of digital images were put in a slot in a locked bin so that they couldn't be tampered with later. Nikon's package works with JPGs, TIF, and NEF files.
13.) New $70 remote control software called Camera Control Pro available in July 2006. It lets you control the D2Xs from a computer. This also works with Nikon's WT-2a wireless transmitter, which would be fun for annoying my wife: put the D2Xs on the counter in her office, and fire away at random. It would be even more fun with a cheap, silent pocket camera that I wouldn't worry about if it got stolen. I could leave that anywhere! Oh well.
Remote control used to be bundled with Nikon's Capture 4 software, so I'm gathering that Nikon took it out of the new Capture NX to sell it separately. Canon gives this away even with the Canon A70 point-and-shoot I bought in 2003.
NIKON'S SPECIFICATIONS
Resolution: 12.4 megapixels
Sensor: CMOS, 23.7 x 15.7mm. (Standard DX size)
Image Sizes:
Normal: 4,288 x 2,848, 3,216 x 2,136 or 2,144 x 1,424.
High-speed Crop: 3,216 x 2,136, 2,400 x 1,600 or 1,600 x 1,064
ISO: 100 to 800, up to 3,200 in trick push modes: HI-0.3, HI-0.5, HI-0.7, HI-1 and HI-2.
Memory: CompactFlash (CF) Card (Type I/II) and Microdrives
File Types:
JPG, RGB TIF and NEF (12-bit uncompressed or compressed RAW),
EXIF 2.21, DCF 2.0 and DPOF compliant
Shooting Modes
1) Single frame shooting [S] mode: advances one frame for each shutter release
2) Continuous high shooting [CH] mode: Full Image; up to 5 frames per second (fps)/High-speed Crop Image; up to 8 frames per second (fps)
3) Continuous low shooting [CL] mode: Full Image; 1 to 4 frames per second (fps) (selectable in menu)/High-speed Crop Image; 1 to 7 frames per second (fps) (selectable in menu)
4) Self-timer mode: time duration can be set
5) Mirror up mode: first press: mirror up, second press: release
White Balance
1) Auto (hybrid with 1,005-pixel RGB Sensor, CMOS image sensor and external Ambient Light Sensor)
2) Manual (6 steps with fine tuning)
3) Preset (5 settings)
4) Color temperature setting in Kelvin (select from 31 steps)
5) White balance bracketing (2 to 9 frames adjustable in 10, 20, 30 MIRED steps)
LCD Monitor
2.5-in., approx. 230,000-pixel low temp. polysilicon TFT LCD with white LED backlighting; Backlight/brightness adjustment, up to 170-degree viewing angle
Playback Tricks
1) Full frame
2) Thumbnail (4/9 segments)
3) Zoom
4) Slideshow
5) RGB Histogram
6.) Shooting data
7.) Highlight display
Delete Functions
1) Card format
2) All frames delete
3) Selected frames delete
Video Output
NTSC or PAL
Interface
USB 2.0 (Hi-Speed) (Mini-B connector)
FTP file transfer and PTP/IP camera control/file transfer is available with optional WT-2/2A (IEEE 802.11b/g) Wireless transmitter; FTP file transfer compatibility with WT-1/1A (IEEE 802.11b)
CF Card Slot Type II: supports firmware updates via CF cards
Voice Recording
Automatic or manual voice recording at shooting or playback
Max. recording time: 60 seconds
Playback mode: Built-in speaker or Audio Video Cable
File format: Mono WAV file
Text Input (Secret Message Embedding)
Up to 36 characters of alphanumeric text input is available with LCD monitor and multi-selector; stored in EXIF header
Usable Lenses
1) AF Nikkor (including AF-S, DX, VR and D-/G-type): All functions possible
2) D-type Manual-Focus Nikkor: All functions except autofocus and some exposure modes available
3) AF Nikkor other than D-/G-type: All functions except 3D-Color Matrix Metering II and 3D Multi-Sensor Balanced Fill-Flash possible
4) AI-P Nikkor: All functions except 3D-Color Matrix Metering II, 3D Multi-Sensor Balanced Fill-Flash and AF possible
5) Non-CPU AI Nikkor*: Usable in [A] or [M] mode with Matrix Metering, Center-Weighted and Spot Metering available
*Indication of aperture No., after user inputs the aperture f/No. and focal length F=mm by multi-selector operation. Electronic rangefinder usable with maximum aperture of f/5.6 or faster
Picture Angle
Full Image: Approx. 1.5x focal length in 35mm [135] format equivalent
High-speed Crop Image: Approx. 2x focal length in 35mm [135] format equivalent
Viewfinder
Optical-type fixed eye-level pentaprism; Built-in diopter adjustment (-3 to +1m-1), Eyepiece shutter provided
Eyepoint
19.9mm (at -1.0m-1)
Focusing Screen
BriteView Clear Matte Screen III; supplied Type-B or optional Type-E with grid
Viewfinder Frame Coverage
Approx. 100% (High-speed Crop mode: Approx. 97%)
Viewfinder Magnification
Approx. 0.86x with 50mm f/1.4 lens set to infinity and -1.0m-1
Reflex Mirror
Automatic, instant-return type
Lens Aperture
Instant-return type, with Depth-of-field Preview Button
Autofocus
TTL phase detection, Nikon Multi-CAM 2000 autofocus module;
Detection range: EV -1 to +19 (Right edge/Left edge AF range: EV 0 to +19) (at normal temperature [20°C /68°F], ISO 100 equivalent)
Focus Servo
Single servo AF [S], 2) Continuous servo AF [C], 3) Manual focus [M] Focus Tracking automatically activated by subject's status in [S] or [C] AF
Focus Areas
Selectable from 11 focus areas (High-speed Crop: 9 focus areas)
AF Area Modes
Single Area AF 2) Dynamic-area AF 3) Group Dynamic AF 4) Dynamic-area AF with closest subject priority
Focus Lock
Focus is locked by pressing AE-L/AF-L button or lightly pressing shutter release button in [S] AF
Exposure Metering System
TTL full-aperture exposure metering system;
1) D-/G-type Nikkor lenses support 3D-Color Matrix Metering II using the 1,005-pixel RGB Sensor while other AF Nikkor lenses with built-in CPUs support Matrix Metering (Non-CPU lenses require manual input of lens data)
2) Center-Weighted Metering (75% of the meter's sensitivity concentrated on the 8mm dia. circle) given to 6, 10 or 13mm dia. circle in center of frame, or weighting based on average of entire frame
3) Spot Metering (3mm dia. circle, approx. 2% of entire frame); metering position can be linked to the focus area when using Nikkor lenses with built-in CPU
Exposure Metering Range
1) 3D-Color Matrix Metering II: EV 0 to 20
2) Center-Weighted Metering: EV 0 to 20
3) Spot Metering: EV 2 to 20
(at normal temperature [68°F /20°C], ISO 100 equivalent, f/1.4 lens)
Exposure Meter Coupling
CPU and AI (Automatic maximum aperture Indexing)
Works fine with old manual focus lenses.
Exposure Modes
1) [P] Programmed Auto with flexible program
2) [S] Shutter-priority Auto
3) [A] Aperture-priority Auto
4) [M] Manual
Exposure Compensation
±5 EV increments of 1/3, 1/2 or 1 EV
Auto Exposure Lock
Detected exposure value locked by pressing AE-L/AF-L button
Auto Exposure Bracketing
Number of shots: 2 to 9 frames
Compensation steps: 1/3, 1/2, 2/3, or 1 EV steps
Shutter
Electronically-controlled vertical-travel focal plane shutter, 30 to 1/8,000 sec. in steps of 1/3, 1/2 or 1 EV, bulb
Flash Sync: up to 1/250 sec.
Flash Control
1) Creative Lighting System: i-TTL Balanced Fill-Flash controlled by TTL Sensor with Nikon Speedlight SB-800/600: Advanced Wireless Lighting, FV (Flash Value) Lock, Flash Color Information Communication for Auto White Balance, Auto FP High-Speed Flash Sync, Modeling Flash
2) D-TTL Balanced Fill-Flash: When used with the Speedlight SB-80DX/50DX and in accordance with the mounted lens, five-segment TTL Multi Sensor control makes available 3D Multi-Sensor Balanced Fill-Flash, Multi-Sensor Balanced Fill-Flash, and Standard D-TTL Balanced Fill-Flash
3) AA (Auto Aperture-type) Flash available when used with SB-800/80DX and lens with built-in CPU
4) Non-TTL Auto Flash (A-type Flash) with a Speedlight such as SB-800/30/27/22s etc.
5) Range-priority manual available with SB-800
Flash Sync Modes
1) Front-curtain sync (normal sync), 2) Red-eye reduction, 3) Red-eye reduction with slow sync, 4) Slow sync, 5) Rear-curtain sync
Ready-light
Lights up when flash fully charged with Speedlight SB-800/600/80DX/28DX/50DX; blinks for full output warning
Accessory Shoe
Standard ISO hot-shoe contact with safely lock
Sync Terminal
ISO 519 standard terminal, lock screw provided
Self-timer
Electronically controlled timer with 2 to 20 seconds duration
Depth-of-Field Preview Button
Remote Control via 10-pin remote connector
GPS
NMEA 0183 (ver. 2.01) Interface standard supported with 9-pin D-sub cable (optional) and GPS Cable MC-35 (optional)

Languages
English, French, German, Spanish, Italian, Dutch, Swedish, Simplified Chinese, Korean, Japanese (selectable in menu). What? No Norwegian, Danish or Icelandic?
Power
Rechargeable Li-ion Battery EN-EL4a (11.1V DC), Quick Charger MH-21, AC Adapter EH-6 (optional)
Battery Monitoring System
The LCD monitor on the camera back displays the following information about the EN-EL4a battery: 1) Remaining charge (%); 2) No. of shots taken since last charge; 3) Calibration status (Recommended/Not required); 4) Battery life (5 stages)
Tripod Socket
1/4 in. (ISO1222)
Dimensions (W x H x D)
Approx. 157.5 x 149.5 x 85.5mm (6.2 x 5.9 x 3.4 in)

Weight (without battery)
Approx. 1,070g (2.4 lbs)
Supplied Accessories (will vary by country)
Rechargeable Li-ion Battery EN-EL4a, Quick Charger MH-21, Body Cap, Camera Strap AN-D2Xs, Audio Video Cable EG-D2, USB Cable UC-E4, LCD Monitor Cover BM-3, Battery Chamber Cover BL-1, Type-B Focusing Screen, PictureProject software CD-ROM
Optional Accessories
Wireless Transmitter WT-2/2A, Extended Range Antenna WA-E1, AC Adapter EH-6, Type-E Focusing Screen, Magnifier DG-2, Antifog Finder Eyepiece DK-17A, Rubber Eyepiece Cup DK-19, Eyepiece Correction Lens DK-17C series, Magnifying Eyepiece DK-17M, Right-Angle Magnifying Viewing Attachment DR-5, Speedlight SB-800/SB-600/SB-R200, Capture NX software, Camera Control Pro Software, Image Authentication Software
AVOIDING SCAMS
I saw tons of scams offering the D2X cheap. Read here about scams and how to buy. Be very, very suspicious if anyone's selling it for less then $4,699. For instance, www.MivaStyle.com sure looks like a scam, since they don't take credit cards.
With the D2X, otherwise intelligent people wrote me that they actually sent strangers in foreign countries money orders for the D2X at great prices. Unfortunately the cameras never arrived.
If it's too good to be true, it is! If a dealer doesn't take credit cards you'll probably never see anything you order.
SUMMARY
If you earn your living with your camera you'll want one of these. If you want a camera to take with you for fun, relaxation and vacation this isn't it: it's a huge, hulking beast of a pro camera. You will stand out everywhere you go, and you'll always know you have this thing around your neck.
Don't discount the D70 and D50 for their twice better weight, twice higher ISO speeds, twice better sync speed and less than one-fifth price!
If you shoot sports you'll love and need the triple frame rate of the D2Xs compared to the D70. Also look at the D2H/D2Hs, which saves you a lot of money by trading less resolution for more ISO.