Home Donate New Search Gallery Reviews How-To Books Links Workshops About Contact
Nikon D2Hs
8 FPS, 4MP DX (2005-2007)
Intro Specs Performance Compared Usage Recommendations More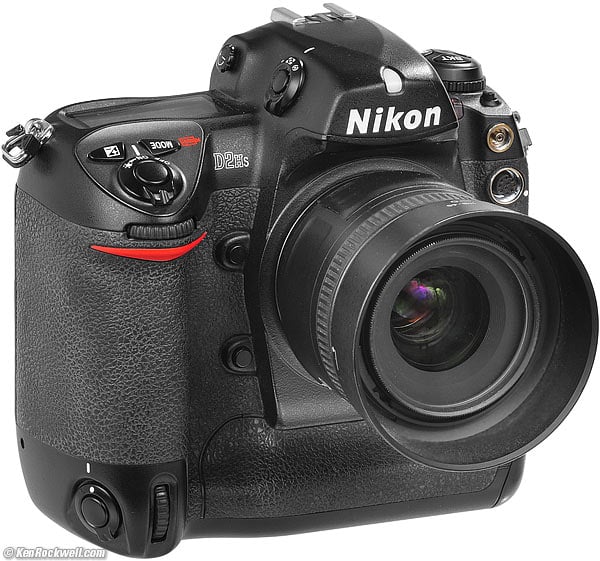 Nikon D2Hs (takes EN-EL4 battery and one CF card, 44.3 oz./1,256 g with battery and CF card, about $300 used) and 35mm f/1.8 DX. enlarge. I got mine at this link directly to them at eBay (see How to Win at eBay); Amazon may also have them.
This free website's biggest source of support is when you use those or any of these links to approved sources when you get anything, regardless of the country in which you live — but I receive nothing for my efforts if you take the chance of buying elsewhere. I get no government hand-outs and run no pledge drives to support my research, so please always use any of these links to approved sources for the best prices, service and selection whenever you get anything. Thanks for helping me help you! Ken.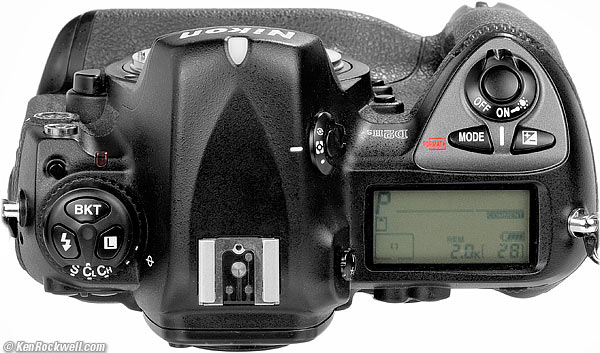 Top, Nikon D2Hs. enlarge.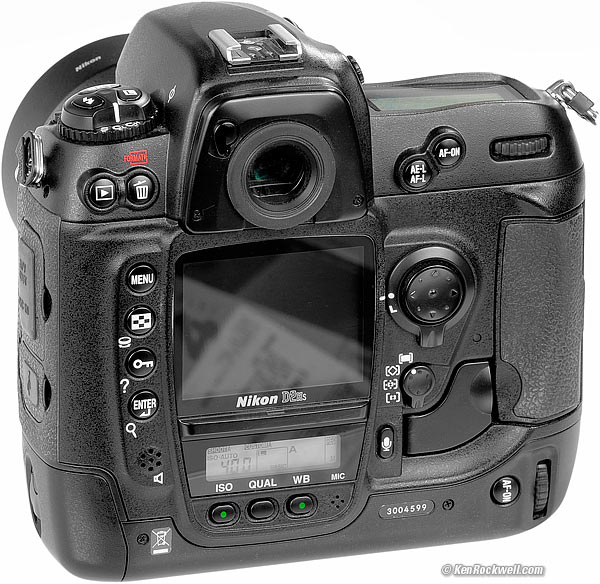 Back, Nikon D2Hs. enlarge.
October 2015 Nikon Reviews Nikon Lenses All Reviews
NEW: Pro DSLR Comparison 03 February 2016
Nikon D2H (older model, 2003-2005)
Why Frames-per-Second Matter for Sports
Five frames shot at 8 FPS, and each is completely different. Only one is the "good" shot, and at less than 8 FPS, there may be no "good" shot!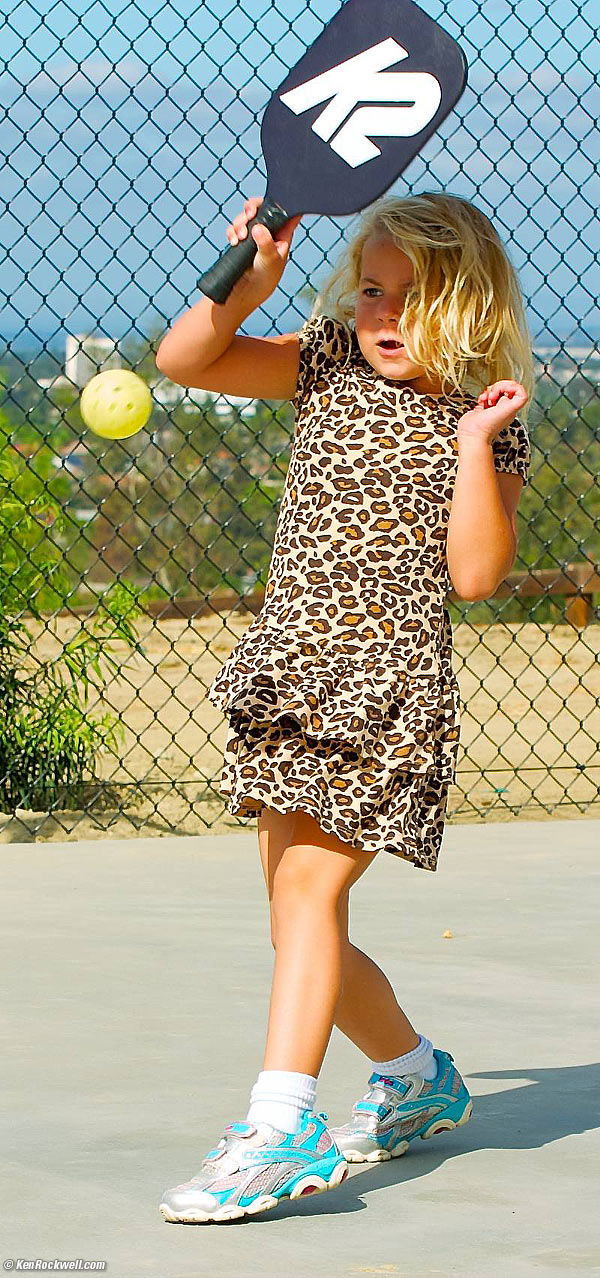 The good shot, 26 October 2014. bigger.
Introduction top
Intro Specs Performance Compared Usage Recommendations More
The Nikon D2Hs is Nikon's best budget sports camera today because it's a fully professional high-speed 8 FPS camera — that sells for only about $300 used. That's three hundred, not three thousand, dollars.
Only the D3, D3S, D4 and D4S are faster, and each sells for thousands of dollars, even used. Other than these professional cameras, no other Nikon DSLR runs as fast as the D2H and D2Hs for sports photos.
The D2Hs has been my recommendation for sports photos for many years. Today for about $300 used if you know How to Win at eBay, the D2Hs is better than any other Nikon short of the D3, D3S, D4 or D4S.
You can spend more for consumer cameras like the D810, but they just can't keep up at 8 FPS for sports photos.
For sports, more frames per second mean more great shots, since even at 12 FPS or 24 FPS each frame is completely different when shooting fast action. With only 6 FPS from a consumer camera, you are that less likely to get the peak of the action, and thus miss the photo. High ISOs and resolution are much less important than getting the action at its peak, and the frame rate of the D2Hs helps you more than all the backend fluff in newer— but slower — cameras.
For portraits and landscapes where action isn't important, of course a D3300 will give far better technical image quality than a D2Hs, but for sports and action where catching exactly the right instant is critical, you can't beat the fully professional Nikon D2Hs.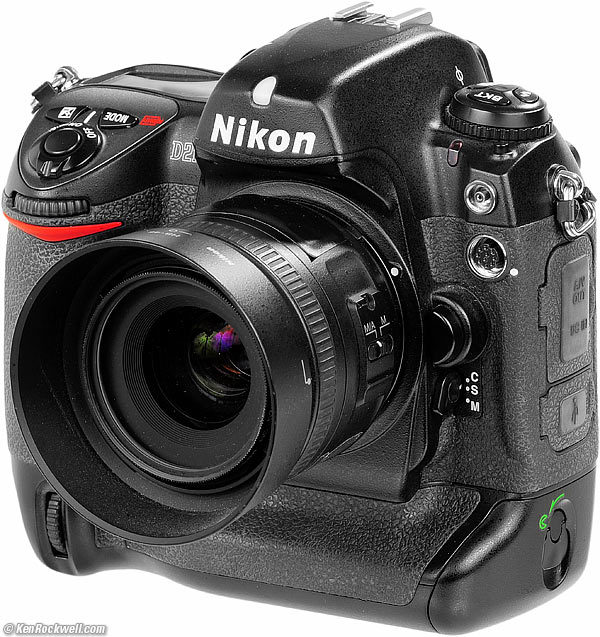 Nikon D2Hs and 35mm f/1.8 DX. enlarge.
New since D1/D1H/D1X
Far superior battery, good for thousands of shots on a charge.
Incident light sensor on the front of the prism to help auto white balance.
Built-in microphone and speaker with dedicated MIC button for easy voice note recording and playback.
Bigger MODE and COMPENSATION buttons on top.
Extremely comfortable grip. The D2 series (and its sister the F6) are Nikon's most comfortable cameras. They are a joy to hold.
New since D2H
Same sensor and body with all-new electronics adding more bit depth, deeper buffers and faster AF algorithms.
Auto ISO works well in all ambient exposure modes.
12-bit internal JPG processing.
Higher resolution LCD monitor.
Up to 15x magnification on the rear LCD.
Recent Settings menu.
sYCC Color space.
World Time and Help menus.
See also D2H versus D2Hs.
Good
Fast!
Tough!
Dedicated AF control switches.
Full frame AF: the AF sensors cover the entire DX frame, not just the center. This is much better than newer FX cameras with more sensors that are all in the center.
Long battery life, twice that of consumer cameras like the D810 and D750.
Size or quality-optimized JPGs.
Intervalometer.
Non-CPU manual-focus lenses works great for Color Matrix Metering if you enter their data in a menu.
Programmable FUNC button.
Built-in mic for notes.
Can set a center-push of the rear thumb button to zoom playback into the active AF sensor area.
Custom Settings banks can be named. There are four each for SHOOTING and for SETTINGS.
Eyepiece blind.
Easy to set custom file name prefixes. Instead of DSC_1234.JPG, it's easy to set them to anything like KEN_1234.JPG or D2H_1234.JPG in MENU > SHOOTING > File naming.
Bad
As-shot JPG image quality not as good as 2014 cameras for landscape shots; you'll want to shoot in NEF.
Crummy LCD by modern standards.
Missing
You can set it so a push to the center of the rear controller gives you the central AF zone or it zooms-in on playback to the active AF area, but the rear thumb controller is all one button. There's no separate center button in the middle.
No AF fine tuning.
No Lateral Color or Distortion correction.
No second card slot.
No power switch lock (newer cameras lack this, too).
No fluff like built-in GPS, WiFi or video recording. External GPS modules and WiFi File Transmitters WT-2/2A adapters are available.
Timeline
See the D2 Series Timeline and Nikon DSLR History.
Specifications top
Intro Specs Performance Compared Usage Recommendations More
Lens Compatibility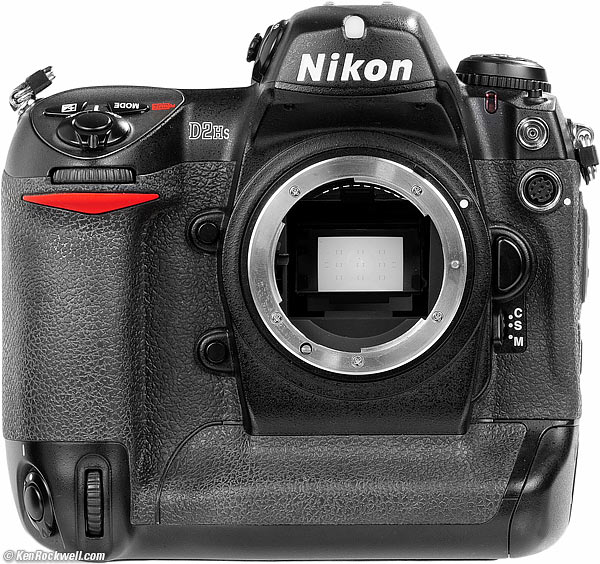 Front, Nikon D2Hs. enlarge.
Works with all Nikon lenses made since 1977; AI-updated, AI, AI-s, AF,AF-I, AF-S, VR and G; FX and DX.
Enter manual-focus lens focal length and maximum aperture in MENU > Shooting > Non-CPU Lens Data and you get full Color Matrix Metering and EXIF data.
See details at Nikon Lens Compatibility.
Body
Magnesium body design optimized for handling efficiency and, along with the highly durable shutter unit, mirror balancer and other internal mechanisms, to stand the rigors of professional assignments while protecting against drops of water.
Finder
-3 ~ +1 diopters.
100% coverage of DX frame.
0.56x magnification with standard 28mm lens. (0.86x with 50mm tele.)
Type B BriteView Clear Matte Mark II with AF Area Brackets standard.
Grid lines can be displayed.
Optional Type B BrightView Clear Matte Mark III and Type E BrightView Clear Matte Mark III screens.
Autofocus
Sensors cover the entire image area, not just the center.
11 AF zones: 9 cross-type and 2 vertical only.
Sensor
4.1 Megapixel JFET LBCAST (Junction gate Field-Effect Transistor, Lateral Buried Charge Accumulator and Sensing Transistor array) sensor.
4.26 million total pixels.
23.3 x 15.5mm DX.
Resolution
2,464 x 1,632 pixels native. Also a 1,840 x 1,224 "Medium" setting.
ISO
ISO 200-1,600 and Hi-1 (ISO 3,200) and Hi-2 (ISO 6,400).
Auto (200-1,600).
White Balance
Each setting offers ±3 steps of amber/blue trim.
The usual presets, plus 2,500 ~ 10,000 K.
There are five memories for manual gray/white card settings.
File Types
JPG, TIFF, NEF and JPG + NEF.
Frame Rate & Buffer
8 FPS continuous shooting, still unbeaten by any Nikon DSLR except the D3 and D4 series.
50 frame buffer (40 frames in RAW NEF mode).
Shutter
Negligible 37 mS shutter delay.
Vertical metal focal plane shutter.
1/8,000 ~ 30 seconds plus Bulb.
"Mup" mirror-lock-up mode.
Flash
1/250 flash sync.
i-TTL flash system, still state-of-the art in 2014.
Also works with Nikon's first DSLR flash system, D-TTL, for use with the old SB-28DX and similar flashes.
Metering
3D Color-Matrix Metering II with 1,005 RGB segments.
Center weighted (selectable diameter).
Spot.
LCD
2.5" 232,000 dot low-temperature polysilicon white LED-backilt LCD.
Up to 15x magnification.
Audio
Built-in mic and speaker for note taking.
Records WAV files for up to 60 seconds each, one file for each image.
Video
NTSC or PAL still image output.
(Doesn't record video.)
Connections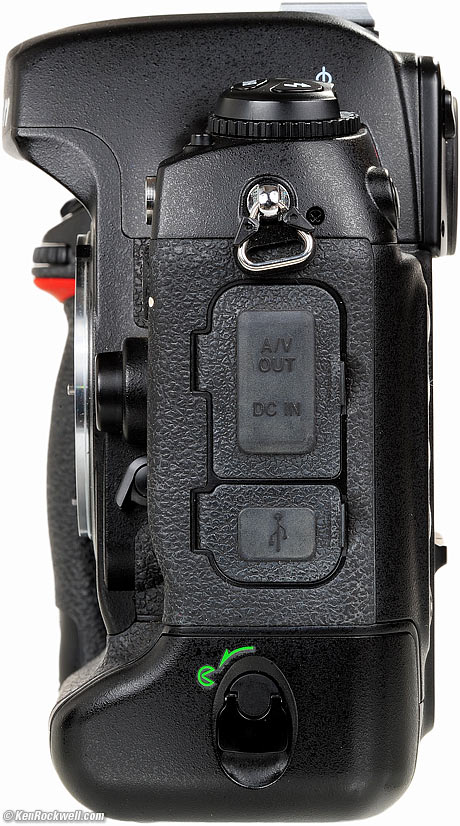 Side, Nikon D2Hs.
3.5mm A/V output.
USB 2.0 via mini-B connector.
Storage
Compact Flash type I and II, also supports Microdrives.
Size
6.2" wide, 5.9" high and 3.4" deep.
157.5 mm wide, 149.5 mm high and 85.5 mm deep.
Weight
44.285 oz. (1,255.5 g) actual measured weight with battery and CF card.
Nikon specifies 44.1 oz. (2.8 pounds or 1,250 g) with battery.
Nikon specifies 37.7 oz. (2.4 pounds or 1,070 g) stripped naked.
Quality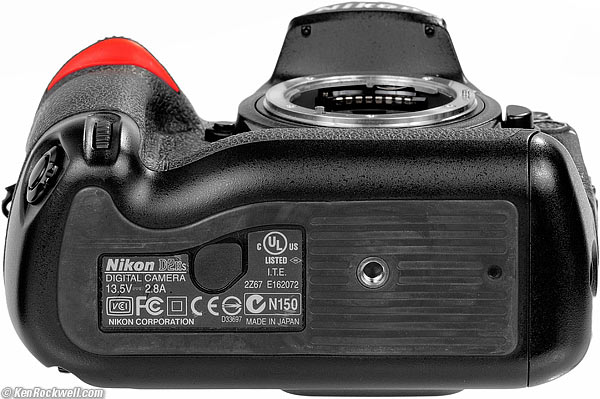 Bottom, Nikon D2Hs. enlarge.
Made in Japan.
Battery and Power
EN-EL4 Li-Ion battery included.
Rated 2,900 shots.
EN-EL4a (same as D3 and D3S) also works perfectly.
Quick Charger MH-21 included.
The dual MH-22 Charger of the D3 and D3S also works perfectly.
Optional AC Adapter EH-6.
BL-4 Battery Cover included. This is the end-cap that detaches from the battery. It becomes part of the outside of the camera body and is required to hold the battery in the camera. If you want to quick-change batteries you need one of these for each.
Industrial Design
Giorgetto GIUGIARO.
Announced
16 February 2005.
Replaced
By the D3, announced Fall, 2007.
Price, USA
$3,500 new, 2005-2007.
$1,200, refurbished, September 2009.
$300 used, 2013-2014.
Performance top
Intro Specs Performance Compared Usage Recommendations More
Speed
The D2Hs is all about speed, and it still roars today.
My old sample clocks at over 8.1 FPS, so it certainly still exceeds its original ratings.
Autofocus and ergonomics take no prisoners. Everything about the D2Hs just goes, and goes fast and hard. This is no lightweight weekend amateurs' landscape camera like a D810 or D750; the D2Hs is a thoroughly professional instrument.
Finder
Actual view through Nikon D2Hs finder. Note highlighted center AF area.
The D2Hs finder shows more than any other finder, and shows it more clearly.
The AF areas light in LED red as selected and don't hide the subject.
It shows the usual along the bottom, and shows White Balance setting, file format and size and ISO along the right side. The bar graph (not seen here) is along the bottom. The > and < focus arrows (not shown) are green.
All the green data sets its brightness automatically to the brightness of the image on the ground glass. It adjusts quickly as the ambient light changes, and has the usual PWM brightness control.
The flash bolt is red and has a constant brightness, so it's less legible in daylight.
Oddly there's an AE-Lock indicator, but no AF-Lock indicator.
Durability
Likewise, D2Hs feels like it's cut from a solid metal ingot. There is no tougher camera made today; in fact, it feels tougher than a D4S.
Autofocus
AF is much better than newer FX cameras because the D2Hs has AF zones all over the frame, not just in the middle. I can put my subject where it's supposed to be, and have an AF area right there.
AF works fast in any light. It focuses well even in the dark.
The AF system takes but one tap to select any AF area anywhere in the frame; you don't have to use multiple clicks as you do with all the sensors of newer cameras.
The AF system has dedicated lever to select among AF-S, AF-C and M modes by feel, and likewise has another dedicated lever to select among Single, Dynamic, Group Dynamic or Auto AF area selection. Today's cameras have replaced these dedicated levers with menu controllers and video controls, while on the D2Hs you can select these all by feel without having to taker your eye off your subject.
The active AF area is shown on top LCD, and it displays the various AF Area Modes as well on the top LCD.
It tracks motion swell; this was Nikon's top professional sports camera from 2005-2007, so I'd expect nothing less.
Ergonomics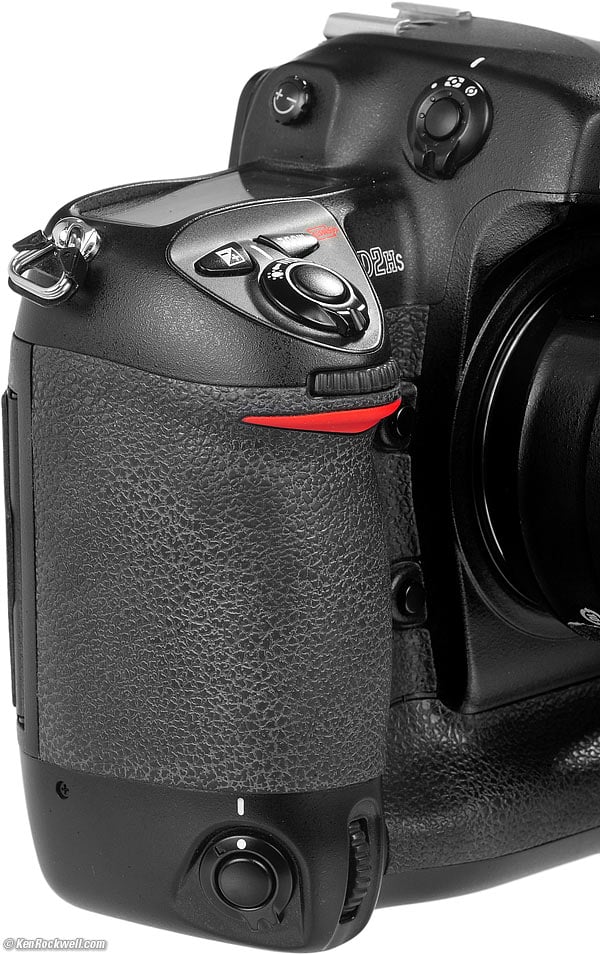 Grip and Vertical Release, Nikon D2Hs.
As a real pro camera, the D2Hs just goes and goes. Nothing gets in the way.
As covered above, everything has dedicated controls. The buttons are big and everything is legible.
It's fast, tough and reasonably quiet as pro sports cameras go. It feels good in the hand, better than any other Nikon DSLR.
It's easy to set ISO, WB and file type and size without taking your eye from the finder.
It's easy to hold and easy to shoot one-handed, even vertically.
The menus oddly have no scroll indicators, so we have no idea where we are in each menu. That's OK since they aren't that long.
The D2Hs has full vertical controls. There is a separate vertical release with lock, two command dials and a programmable AF-ON button, and all the other controls are usable when held vertically.
Shutter Noise and Vibration
As expected for an ultra-speed pro camera, the shutter isn't particularly quiet. It's about as loud as a D750.
The shutter has very little vibration. This makes it ideal for hand-holding at slow shutter speeds.
Audio
The built-in mic and speaker work great for note taking, which is required for any pro camera. We and our editors need to know who or what is in our photos.
Here's a sample WAV audio file recorded in October 2014.
It works great when your mouth is right in front of it as you shoot, as well as from several feet away when you interview subjects.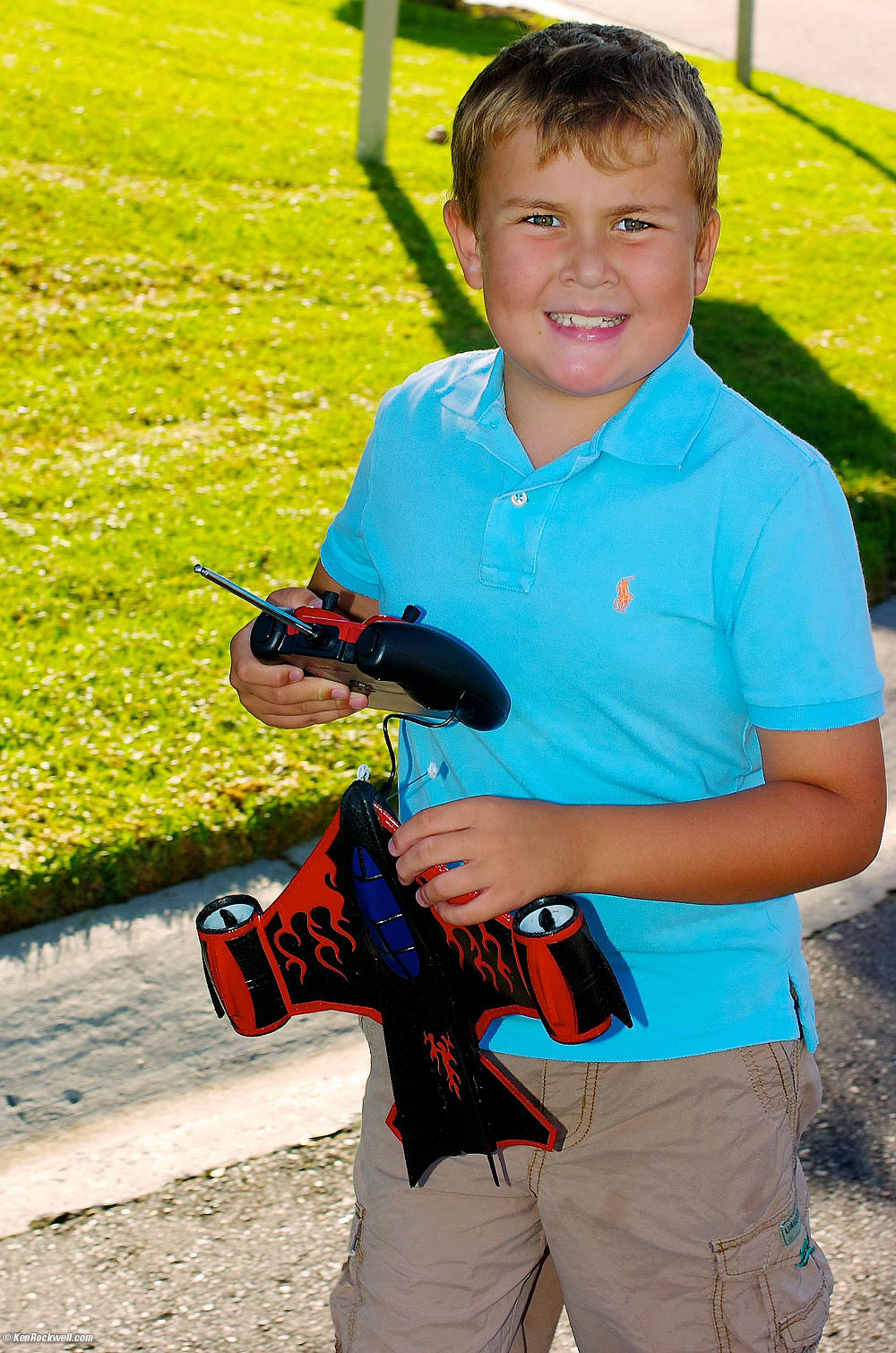 Ryan with his RadioShack Twin Turbine Airplane, 25 October 2014. (Nikon D2Hs, Nikon SB-400 flash, Nikon 50mm f/1.4G, f/8 at 1/250 at ISO 200, NEF processed in Apple Aperture 3, Perfectly Clear V2.) Hear Ryan's audio commentary, as recorded on the D2Hs.
Resolution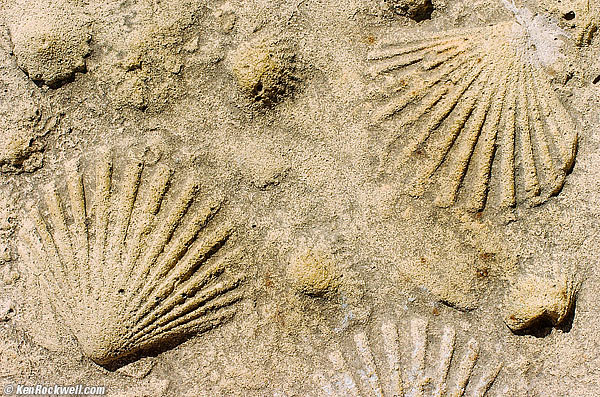 D2Hs at ISO 200, 50/1.4G, f/11 at 1/500, NEF processed in Apple Aperture 3. full-resolution.
While amateurs are scared of the lower resolution, it's perfect for sports. 4 MP is enough for anything in print or web; I make stunning 12 x 18" prints from 4 MP images and 20 x 30" look great, too.
There's no need for more than 4 MP. My 30" Apple Cinema Display only has 4 MP on-screen, and your computer probably has much less. All the rest of the pixels from higher resolution cameras are simply thrown away! In fact, to fit the D2Hs images to my 30" screen, some pixels are still thrown away since the D2Hs has more vertical resolution than my 30" screen.
Better, since files are all smaller, it's faster and easier to process all those frames, which means more money for the pro. NEF files are only 3.5 MB, for instance!
Shooting NEF, the anti-alias filter is not strong, so you can get very sharp images.
Highlights
When shooting JPG, highlights easily blow out. If this is a concern, shoot NEF, which has plenty of headroom even set to compressed.
Auto White Balance
AWB works well. It tends to the cool side of my taste, so I set it to -3 (warmer) and it looks great.
It doesn't warm up enough in rain or shade, so I'll set WB manually to shade or cloudy as needed.
It does work well in keeping warm afternoon light warm.
Color
JPG images are usually too greenish, so I set HUE to -9º and they are much better. For nature and landscape shots, newer cameras are much better.
However, shoot NEF and you can get whatever you want, so no problem. Today's raw software is more advanced than what's in this old camera.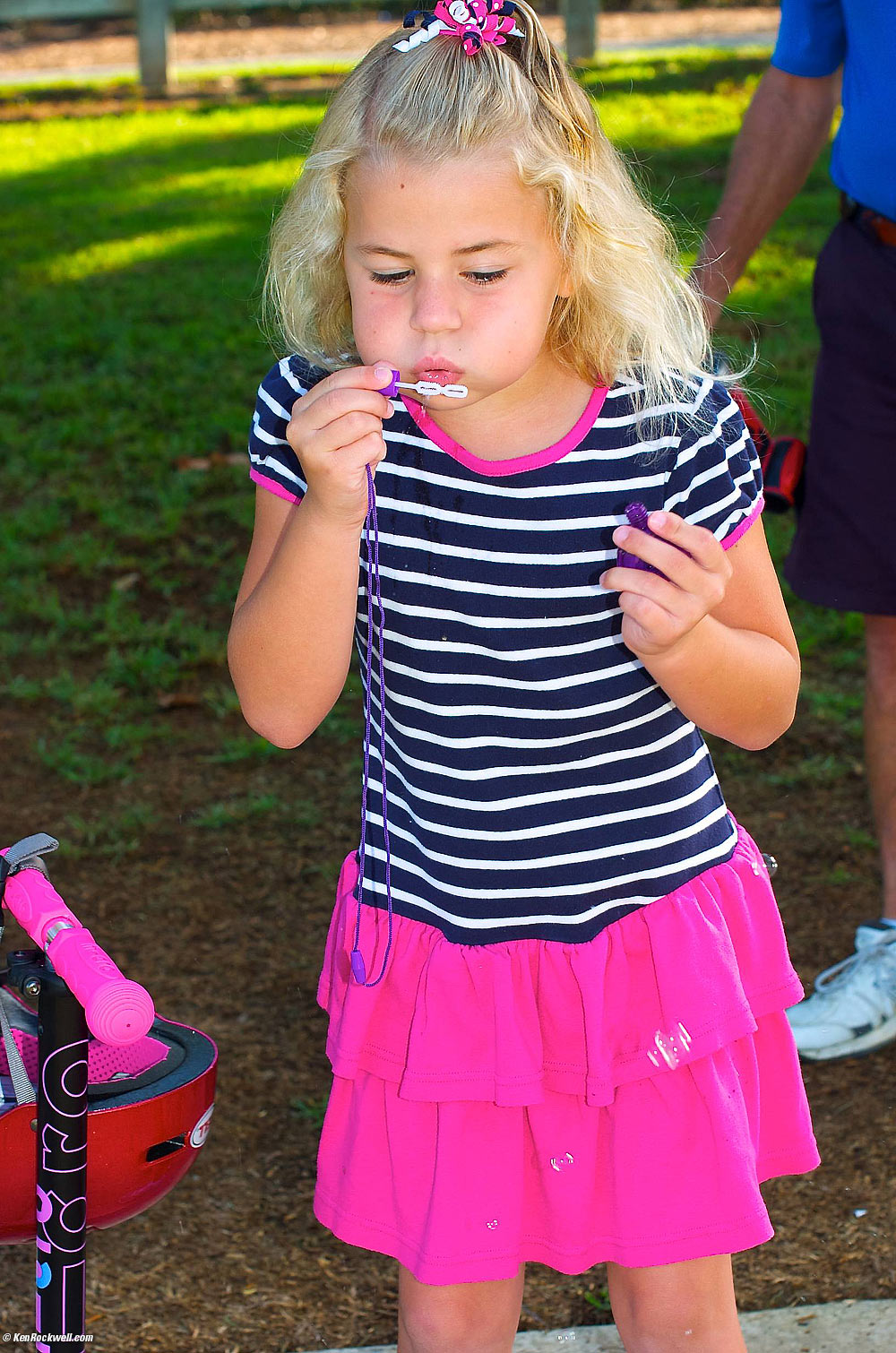 Katie blowing bubbles at Noni's park, October 2014. (Nikon D2Hs, Nikon SB-400 flash, Nikon 50mm f/1.4G, f/6.7 at 1/180 at ISO 200, NEF processed in Apple Aperture 3, Perfectly Clear V2.) bigger.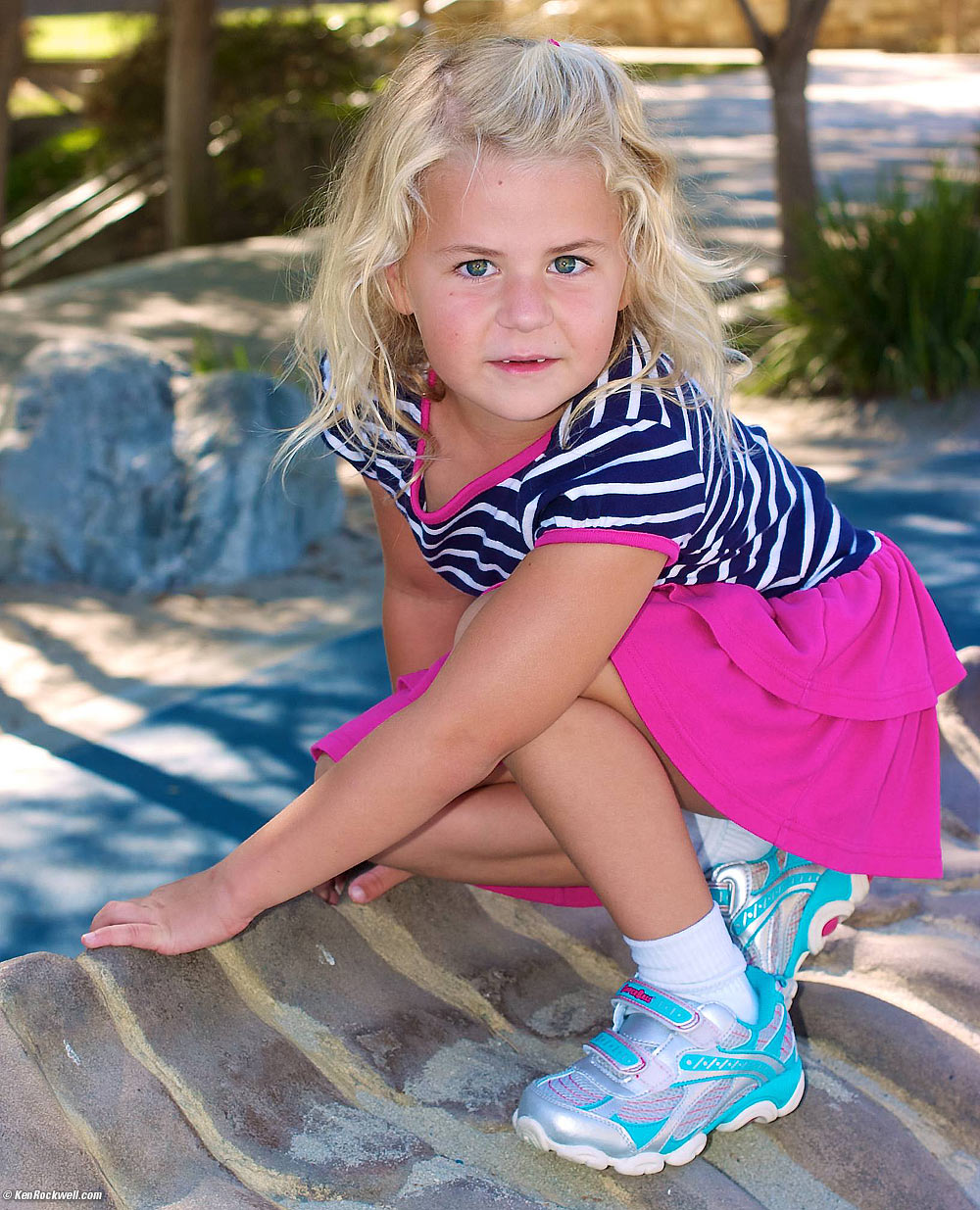 Katie on the big whale skeleton at the dinosaur park, October 2014. (Nikon D2Hs, Nikon SB-400 flash, Nikon 50mm f/1.4G, f/6.3 at 1/160 at ISO 200, NEF processed in Apple Aperture 3, Perfectly Clear V2.) bigger.
Exposure
Exposure is flawless, both for ambient light and for i-TTL flash with my SB-400. Just look at the shot above; outdoor fill-flash balanced perfectly, and this is all done automatically by my D2Hs.
The YRGB histogram works great.
The meter reads down to 1/6 second at ISO 1,600 wide open, or LV -0.5 with an f/1.4 lens. It reads "LO" and continues to expose properly many stops below that.
Flash
Nikon dedicated flashes shut off when the D2Hs shuts off or goes to sleep, and both wake when either wakes.
As always, there is a very slight shutter delay if a preflash is needed.
There are easy menu settings to assign the fastest and slowest sync speeds.
In program, it forces an aperture based solely on ISO. For instance it sets f/4 at ISO 200.
Auto ISO
Auto ISO works great, but you have to be sure to download Firmware 2.00. When I bought my D2Hs from a random stranger over eBay, she had never loaded the new firmware and had been shooting all these years at v1.0, which has no real Auto ISO.
You can set the top and bottom ISOs from 200 to 1,600, and the minimum speed below which Auto ISO starts increasing the ISO. There is no automatic setting of slowest speed based on focal length; you have to pick a shutter speed manually.
With flash, Auto ISO stays at the lowest ISO regardless of ambient light.
High ISOs
The D2Hs works great at high ISOs.
While newer cameras can be set higher, they also look much worse at these higher settings The D2Hs only goes to ISO 6,400, but it doesn't look as soft and smudged as newer cameras with even more noise (detail) reduction do at their highest ISOs.
Click any for the full-resolution file saved as a quality 5 JPG from Apple Aperture 3; these were shot as NEF.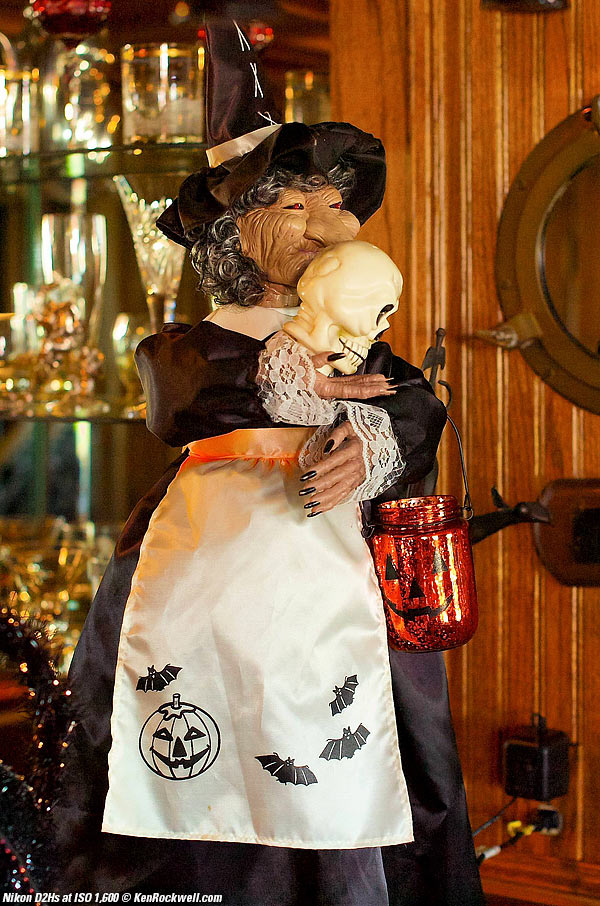 D2Hs at ISO 1,600, 50/1.4G, f/3 at 1/60, Perfectly Clear V2. full-resolution.
ISO 1,600 looks fine. There isn't as much noise reduction as in newer cameras, so the D2Hs gives you the option of adding more later in your computer.
Click for full-resolution files: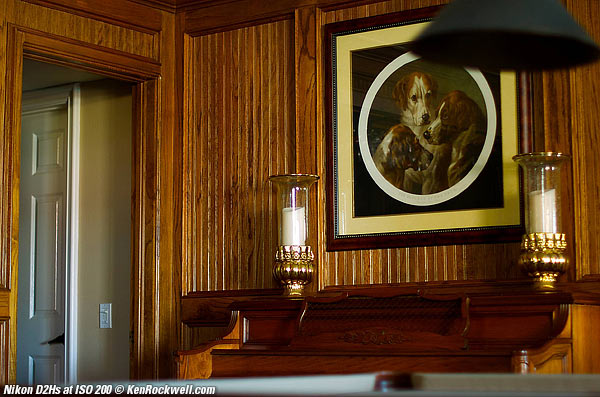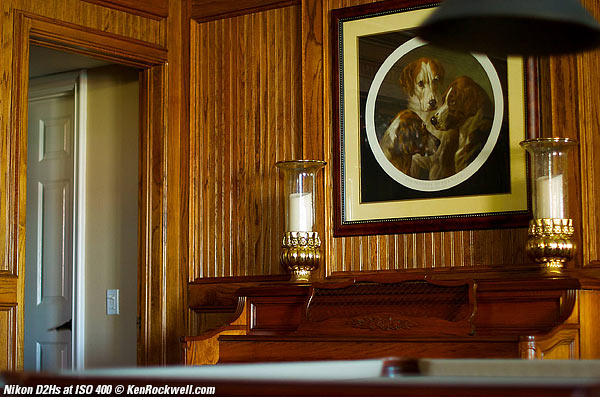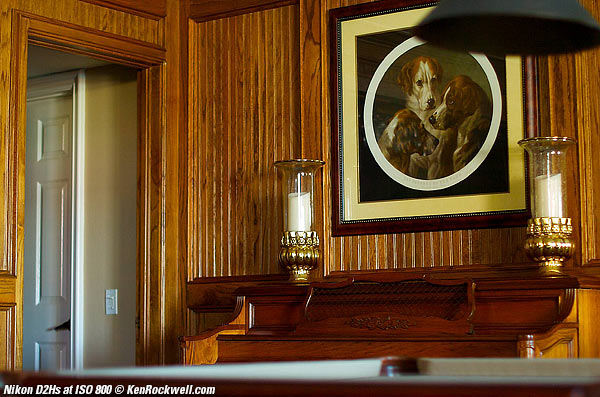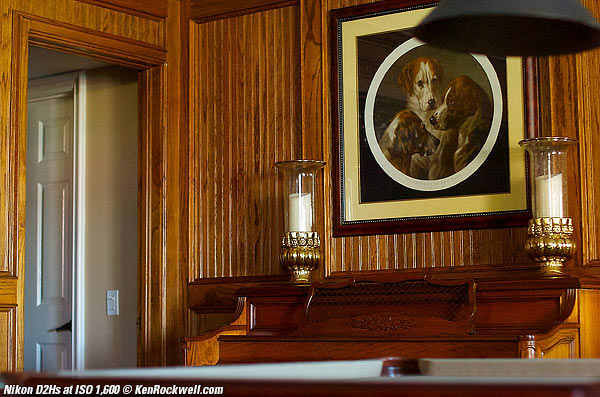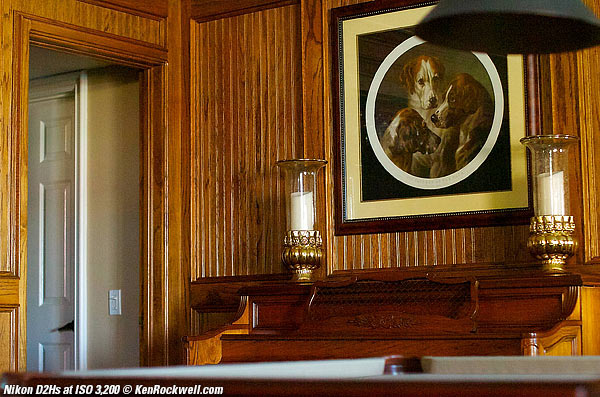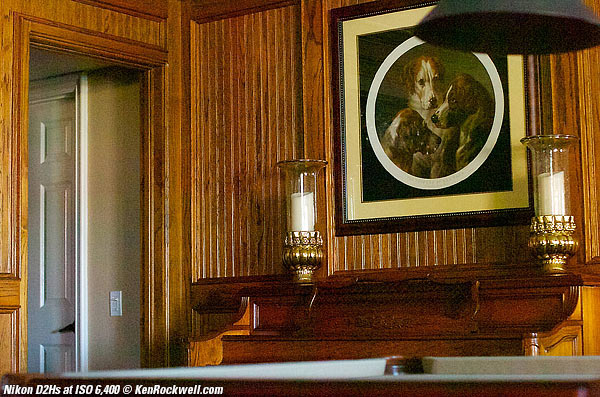 Playback
Playback works well, no surprises here. See Usage for tips on how to set it to work even better.
It has fast 2x2 or 3x3 scrolling to find what you shot a while ago
Rear LCD Monitor
The rear LCD is crummy. By modern 2014 standards, it's dim, grainy, washed-out and not very accurate. Worse, it gets lighter and blue when seen from above, and darker and warmer as seen from below. Sometimes you can see it interlace.
Tough; for the over $4,000 I'm saving you, you'll live. If you need a good LCD, any iPhone has a far better screen than any pro DSLR.
Set to +2 brightness, it is legible in the shade of your body outdoors in sunlight.
Menus are somewhat ugly and small, and still quite legible.
Rear Settings LCD
The rear settings LCD is big enough.
It lights with a green LED.
Top LCD
The top LCD is big and legible, bravo.
It lights up in cyan from an EL panel.
Power and Battery
Battery life is phenomenal.
My 7-year old discarded battery from my 2007 D3 easily gets 1,800 shots per charge.
Even the dead 2005 battery that came with the camera gave 400 shots, more than a mirrorless camera does today.
A new battery should give 3,000 shots, but I haven't tried. You'll get more if you're shooting sports sequences, and less if you shooting single shots and stopping to play each back.
Data
Cards are correctly titled "NIKON D2HS."
It has the same USB connector as the VTech 1227.
Rotated images are flagged but not actually rotated, like all other current DSLRs.
File Sizes
NEF compressed: 3.1 ~ 5.2 MB; median size 3.9 MB.
JPG LARGE BASIC optimum quality: 775 kB typical.
Clock Accuracy
My D2Hs is the most accurate camera I own, and possibly the most accurate independent timepiece I own.
All samples are different, while my D2Hs loses just 25 milliseconds per day, or only 750 mS (3/4 second) per month.
In other words, my D2Hs has lost only 6 seconds after running for 8 months from February to October 2014.
A year later in October 2015, it was only a second slower, or lost 7 seconds after a year and 8 months (20 months).
Over the past year it's only lost 2.7 mS per day, or 83 mS per month. This is as good or better than a quartz ship's chronometer for navigation.
The clock keeps running even when the main battery dies, so it's easy to keep this clock running for long periods of time.
Compared top
Intro Specs Performance Compared Usage Recommendations More
See also D2H versus D2Hs.
As covered above, this pro camera is all about frame rate for sports.
It has higher frame rates, tougher build, better finder, better ergonomics and twice the battery life of consumer cameras like the D810 and D750.
Newer cameras add an automatic slowest shutter speed setting based on focal length, the D2Hs can't do that.
The D2Hs won't have as much technical image quality for nature, landscape and portrait shots for which newer cameras are better, but unless you have several grand for a D3, D3S, D4 or D4S, this is the best Nikon there is.
Usage top
Intro Specs Performance Compared Usage Recommendations More
In addition to the tips above:
Firmware
By all means update to version 2.00 if it hasn't already.
Firmware v2 adds useful auto ISO (set peak ISO and minimum speeds), save/load settings and the recent settings menu. It really only takes a minute, not two, to update, so unlike most updates, this one is worthwhile. Don't laugh; the D2Hs I bought from a pro in 2014 hadn't been updated.
My Personal Setup File
If you just want to set up your D2Hs exactly as I set mine, simply download and copy this NCSETUP0.BIN file to your computer. This file is new as of 11 AM 28 October 2014.
It won't do anything in your browser here, you have to download it to your computer, copy it to a memory card, pop the card in your D2Hs, then MENU > SETUP > Save/load settings > Load Settings > YES to replace your settings with mine.
Feel free to load them into your D2Hs, but know that my D2Hs is programmed to add my name and phone number to the EXIF data of every photo I snap. This should be an incentive to update your copyright and contact information in MENU > SETUP > Image Comment.
Autofocus
Autofocus on the sample I purchased didn't work until I used a newer charger-calibrated battery. I don't know if AF will stop working with very old batteries, or if this was just a fluke, but if yours dies, buy a new battery before you pay twice as much to send it in for service.
The rear thumb selector feels the same even if it's set to LOCK, so if your AF areas aren't responding to your selections, be sure it's set to the dot and not L.
Auto ISO
Presuming you have firmware v 2.00 (check at MENU > SETUP > Firmware Version), set Auto ISO at MENU > CUSTOM > b1. It's hidden in a weird place because is was added long after the D2H and D2Hs was designed and shipped.
Auto ISO won't work in Program or A exposure modes unless you update the firmware to 2.00.
You can't set Hi-1 (ISO 3,200) and Hi+2 (ISO 6,400) with Auto ISO set, and can't set Auto ISO if the ISO is set to Hi-1 or Hi-2.
Sequential file numbers
Set MENU > CUSTOM > d4 File No. Seq. to ON.
If you don't, your file numbers will reset to 0001 each time you format a card!
Image
I get the best JPG results setting these in MENU > SHOOTING:
White Balance: Auto, click right and set -3 trim (warmer).
Image Sharpening: +2 (HIGH).
Tone Compensation: A (default).
Color Mode: Mode III (sRGB) for brighter colors.
Hue adjustment: -9º (less green).
For the best results, try shooting NEF. The D2Hs' in-camera JPG processing is nowhere near as good as in newer cameras.
In Adobe Camera RAW for scenic shots, I try:
Saturation 40 for vivid colors.
100 sharpening, 0.6 radius for sharper results.
I use Apple Aperture for my RAW files.
White Balance
The trim settings are marked + and -, not blue and amber.
- WB trim is warmer, and + is cooler.
I find Auto White Balance is too cool shooting outdoors after sunset; try 6,300 - 8,300K.
Vertical Controls
MENU > CUSTOM > a8 (Vertical AF On) lets you add the option to use the dials instead of the rear thumb control to select different AF areas.
Select any of the "focus area" options and hold the vertical AF button and spin front dial to select different AF areas in sequence.
Lenses
There is no AF Fine Tune. Just like the first days of autofocus, you may have to hand-pick which lenses work best with your D2Hs.
For instance, my 35/1.8 DX focuses slightly behind the subject, while my 24/1.4G and 50/1.4G are perfect.
There is no in-camera lens correction. If you're using consumer lenses like the 35/1.8 DX, you can correct things like lateral color fringes and distortion in Adobe Camera Raw or Photoshop's Lens Correction filter.
Playback
Playback works swell. It's easy to set a center push of the rear controller to zoom-in to the AF area used when shot (MENU > CUSTOM > f1 Center Button > Playback > Zoom > On).
Likewise, I set my dials to control playback (MENU > CUSTOM > f5 Dials > Menus and Playback > ON).
Rubber Grips
The rubber tends to fall off after a while.
No big deal, try rubber cement (temporary) or Pliobond (permanent) to reattach it.
Recommendations top
Intro Specs Performance Compared Usage Recommendations More
For budget professional sports shooting today, nothing beats the D2Hs if you can't stretch to the D3 or D4 series.
While FX is great for portraits and landscapes, the D2Hs' DX format rocks for sports. It gives you slightly deeper depth of field, and makes all your lenses 50% longer.
There are many more rich consumers than full-time sports pros. Therefore Nikon sold many more D2X and D2Xs to rich guys than it sold D2H and D2Hs to pros.
Because of this, the D2Hs is hard to find on eBay. I had to wait a few months to find one I liked. Most of them are well worn, but that's precisely because they are so well-loved by pros. If you're in a rush, the D2H is almost as good, minus a few features. If you're shooting RAW, the image quality will be the same.
Physical appearance is the same or better than a D4S. Bouncers and security people know the difference between an amateur with a D750 and MB-D16 grip and a full-time pro packing a genuinely professional camera like the D2Hs. With the D2Hs you may be able to sweet-talk yourself into press areas much better than with a consumer camera and grip. Even kids know it's a pro camera; Ryan's first-grade friend Mattias flipped with excitement when I went to class one day wearing my D2Hs.
I use a Think Tank Retrospective 7 bag to hold this and a couple of lenses.
If you've found all the time, effort and expense I put into researching and sharing all this, this free website's biggest source of support is when you use these links, especially this link directly to them at eBay (see How to Win at eBay), when you get anything, regardless of the country in which you live. Thanks! Ken.
More Information top
Intro Specs Performance Compared Usage Recommendations More
See also Nikon USA's 2005 printed catalog (volume 12) which showcases the D2Hs as its hottest new camera.
© Ken Rockwell. All rights reserved. Tous droits réservés. Alle Rechte vorbehalten.
Help me help you top
I support my growing family through this website, as crazy as it might seem.
The biggest help is when you use any of these links to approved sources when you get anything, regardless of the country in which you live. It costs you nothing, and is this site's, and thus my family's, biggest source of support. These places have the best prices and service, which is why I've used them since before this website existed. I recommend them all personally.
If you find this page as helpful as a book you might have had to buy or a workshop you may have had to take, feel free to help me continue helping everyone.
If you've gotten your gear through one of my links or helped otherwise, you're family. It's great people like you who allow me to keep adding to this site full-time. Thanks!
If you haven't helped yet, please do, and consider helping me with a gift of $5.00.
As this page is copyrighted and formally registered, it is unlawful to make copies, especially in the form of printouts for personal use. If you wish to make a printout for personal use, you are granted one-time permission only if you PayPal me $5.00 per printout or part thereof. Thank you!
Thanks for reading!
Mr. & Mrs. Ken Rockwell, Ryan and Katie.
Home Donate New Search Gallery Reviews How-To Books Links Workshops About Contact