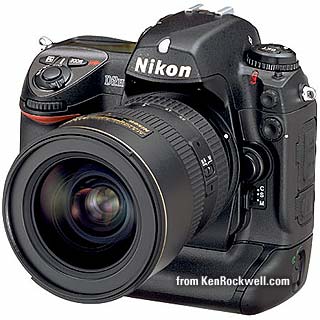 Nikon D2H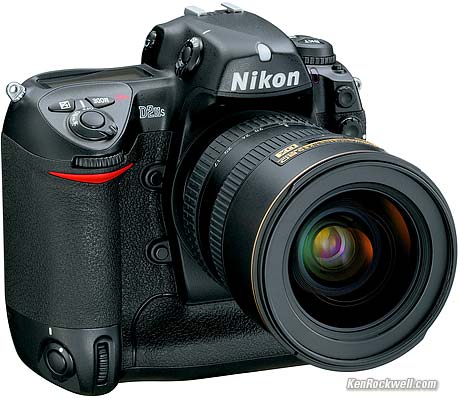 Nikon D2Hs
I'd get the D2HS here or here. Get the obsolete D2H here or here.
INTRODUCTION (see also "Film vs. Digital" for important background basics)
February 2008: The D2H has been superceded by the far superior D3. This review is now an historical artifact, mostly written back in 2005. 2005 is ancient history in digital camera years.
January 2006: See one smashed here. Unfortunately that link expired in May, 2006. It was a story about a politician who smashed a reporter's camera.
September 2005: Nikon discovers a flaw where some weird exposure or focus issues may pop up on some cameras. They'll fix this for free. See here.
The D2H was announced in July 2003. It was replaced by the updated and very similar D2Hs in February 2005. If you can get a bargain on the older D2H go for it. Don't worry about the less resolution compared to the D2X; I've seen lovely 13 x 19" prints from the D2H that look great for sports. The newest D2HS sells for $3,500 in May 2005.
In some ways the D2h is a huge improvement over the professional standard D1H camera. Advantages are much, much better battery performance and a much bigger LCD screen. A big disadvantage of the D2H is the lack of an electronic shutter which drops the flash sync speed. Unlike the D1/X/H and even the much less expensive D70 the D2H omits the electronic shutter so critical flash sync speed is only half what it should be. This is so important to me I prefer and bought a D70 instead. Here is a whole page explaining why flash sync is so critically important. The D2H flash sync is only 1/250, not 1/500.
I have a real problem with the slow amateur-class 1/250 sync speed. The old Canon 1D has a 1/500 sync as I recall, and has the same frame rate and resolution of the D2H and you can buy the Canon 1D today (even used) for cheap! The trick FP flash modes do not improve this. I go into raving detail here.
SPECIFICATIONS
See Nikon's factory data HERE and HERE
See a 24 page PDF from Canada here, eh.
4.1 Megapixels: 2,464 x 1,632 pixels
Highest frame rate yet: 8 FPS
40 frame buffer (only 25 frames in RAW NEF mode), same as D1H
Simultaneous JPG and RAW file recording, a nice feature
Li-Ion battery, a huge improvement over D1, D1X and D1H
11 AF zones: 9 cross-type and 2 vertical only. Probably not important
6.2" (158mm) wide, 5.9" (150mm) high and 3.4" (86mm) deep
About 2.8 pounds (1,250 g) including battery
HUGE FLAW: ONLY 1/250 flash sync!!
WHAT IT ADDS THAT IS USEFUL OVER D1H and D1X
Much improved battery system.
Bigger 2.5" LCD.
An optional more vivid color mode. First seen on the D100, this color mode III brightens the colors for sRGB use. I would use this all the time.
Optional noise reduction for long shutter speeds. This is handy to remove the white pixels during long night exposures.
Auto ISO mode. I'm unsure how well it works; and I've always wanted my D1H to be able to figure this out on its own when I point the camera from light to dark.
You can set the default shutter speed with flash. Previously the D1 series set itself to 1/60 in some modes, now you can set it to 1/15, for instance, if that's what you'd prefer. This is useful to set a lower limit in some modes other than 1/60. For instance, in A mode with slow sync you might have a dark shot that locks up the camera for a 3 second exposure, with this new setting you can limit the camera and still have the advantages of slow sync.
Intervelometer. This could be fun for time-lapse photography.
I see an ASF Digital DEE feature in the expensive optional Nikon Capture 4 software. This is a 16 bit version of their SHO. ASF's SHO is wonderful. More here under plug ins.
Optional 802.11b WiFi link. This may allow one to skip using big CF cards and just have the files magically make their way to a Mac instead of having to use big cards and download from them card by card. I'm unsure if this can be set up to run automatically for each shot or if you have to stop every so often and manually transfer groups of files.
Exposure is rated from LV 0 - 20 at f/1.4. I forget where the other cameras are rated, and in any case this rating is excellent. It means it's rated to meter as dark as one second at f/1.4 at ISO 200, and in my experience Nikons always meter to much darker levels.
Supposedly the option to autorotate, although I haven't looked for it yet.
FLASH IMPROVEMENTS:
The flash performance of the D1, D1H and D1X need improvement. Nikon throws a lot of alphabet soup at us about flash system improvements, hopefully they really have improved flash exposure accuracy. It was always pretty sloppy in the D1 series cameras as I explain here.
The SB-800 flash includes colored filters to match tungsten and fluorescent light. This is very important for use indoors. Currently I Velcro gels to my SB-28DX to match the ambient light. Most people are not familiar with this trick, so the reason this is an important feature is that it may encourage more photographers to match the flash to the ambient light for fill. If you already know how to gel your flash it's no big deal, but for most people it will be a big help. For my current flash I go to a theatrical lighting supply store to buy filter material made by people like Roscoe in huge sheets for $5 each and Velcro it to my flash. You then set the camera's white balance to match the ambient light and everything looks much better, instead of most people who would balance to the flash and have the backgrounds look odd, or balance to ambient and have a color tinge on the uncorrected fill light.
The SB-800 adds a reverse flash guide number mode for flash where you set the aperture and the flash sets the level automatically based on distance.
For the first time it seems the D2H has the ability to use more than one flash in TTL mode, mostly of use for macro shooters. I don't know of anyone who really uses multiple Nikon flashes for lighting people, you're better off with full size studio strobes.
WHAT NIKON TOOK AWAY THAT WE ALREADY HAVE IN D1X, D1H and D1:
Slow 1/250 flash sync. Details below; this is a real flaw.
WHAT YOU CAN IGNORE
Ignore all the alphabet soup about the flash, metering, internal image processing, the image sensor and everything. All this stuff is pretend. Either this works well or it does not and the explanations have nothing to do with anything. I've been around enough to see all the same alphabet soup thrown around for everything; this stuff like calling this week's image sensor something like LBCAST or CMOS or CCD or whatever is nothing new.
For example, even with all the ink Nikon spews out about all the advancements in exposure metering and automatic white balance (noble as they may be), funny that they list all the technical details for all the shots in the brochure which just happen to be set on manual exposure and manual selection of white balances, showing you that even they don't think much of these advances. Oh well; I do like the advances and probably use more of the automation than the brochure does.
THE FATAL FLASH SYNC FIASCO more here
Flash sync speed is vital simply because it's the fastest speed you may use with flash. For we who use fill flash in daylight this limits our range of apertures and ability to stop motion, as well as burns out our flash batteries quicker, limits flash range and lengthens flash recycle time.
Amateur digital cameras only have about 1/125 - 1/250 for flash sync. Pro digital SLRs run 1/500. Pro film cameras usually run 1/250 (SLRs) to 1/500 (leaf shutters) and amateur film SLRs run about 1/60 - 1/125 for flash sync.
That means if you are using flash for fill for action in daylight it's the fastest speed you can use, period. 1/250 is simply too slow for shooting action.
It gets worse. A slow maximum sync speed also reduces the maximum flash distance, increases flash recycle times and reduces flash battery life. This is because at a slower 1/250 sync speed you have to shoot an f/stop smaller than at a 1/500 sync speed like on pro DSLR cameras when balancing flash to ambient light for fill. Not only does the smaller aperture require more flash power or shorten your maximum flash range, but also because you have to use more flash power on each pop your flash batteries will run out twice as fast and also take longer to recycle after each shot, all bad.
I have not tried the D2H, but the specified 1/250 sync sure scares me. Some have pointed out that the "AUTO FP High-Speed Sync" mode ought to allow you to get to 1/8,000 with flash, but there is a huge catch. It adds TTL exposure control and otherwise is the same mode the better film cameras like the F5 and F100 have had for years with the better flashes like the SB-28. In these trick FP modes the flash, instead of making the usual instantaneous pop, stays lit continuously for a fraction of a second while the focal-plane (FP) shutter moves across the film. This way you can get flash sync at up to the fastest speed of the FP shutter, which seems to be 1/8,000 on the D2H. There are one or two huge problems with the FP flash modes on all cameras:
a.) This mode wastes most of the flash's power, and thus is even worse in terms of maximum range, recycle time and battery life. With the film cameras this mode loses more and more as you go to faster and faster shutter speeds. You typically lose half the power at 1/500, three-quarters the power at 1/1,000 and so on. I'm told that the flash has to pop at full power each time for this, although I have not tried it.
b.) Wasting flash power cuts your battery life the same amount.
c.) Wasting flash power increases your recycle times, slowing the maximum frame rate!
On the film Nikon cameras the FP mode is completely manual which for me is completely useless. On the D2H it is TTL automatic, a huge improvement.
I think the reason for the pokey flash sync in the D2H is that Nikon was not able to use the electronic shutter used in the D1, D1H and D1x. The combination shutter in the D1, D1H and D1x used the conventional mechanical shutter for speeds up to about 1/250, and above that used an electronic shutter which effectively made the D1, D1H and D1x similar to a leaf shutter and allowed flash sync at any speed. The D1, D1H and D1x are rated to 1/500 sync for fully automatic TTL flash operation, however an unpublicized feature of the electronic shutter is that for manual flash they sync all the way to their 1/16,000 maximum speed! Of course you lose some of the flash power since the flash burst usually is about 1/1,000 of a second long, however you get perfectly even exposure. In the old days (1970s) people learned that when you set the shutter too fast with flash that only a portion of your photo was exposed with flash! On the D1, D1H and D1x you get this using the external PC sync cord; if you use a Nikon shoe-mounted flash the D1, D1H and D1x don't allow themselves to go faster than 1/500 with the flash turned on.
Unfortunately Nikon does not seem to have used the electronic shutter on the D2H, and this is why I prefer my D1H over what I suspect the D2H will do.
Funny, if you look at the specs for the D2H it looks like a slightly poorer version of the two-year-old Canon 1D, since they have the same resolution and frame rate, except the D2H has a pokey amateur sync speed. Hee hee!
Remember the bigger LCD screen and lithium battery are nice improvements. The additional alphabet letters about the CCD sensor don't mean anything. The additional autofocus sensors, automatic white balance modes and wireless stuff are things I won't use.
I'm very concerned about the slower flash sync since I usually shoot at above 1/250 with fill flash, so this lost feature I will really miss and I doubt that all the minor features added will make up for what's lost in flash sync.Often new gear lacks things and I get bent out of shape till I discover all the new things that I didn't even realize at first.