Home Donate New Search Gallery Reviews How-To Books Links Workshops About Contact
Nikon D2H
8 FPS, 4MP DX (2003-2005)
© 2014 KenRockwell.com. All rights reserved.
Intro D2H vs. D2Hs Specs Performance Recommendations More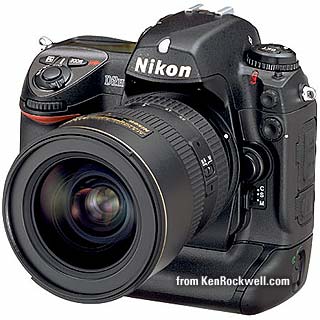 Nikon D2H (44.1 oz/1,250 g with EN-EL4a Li-Ion battery, about $200 used). enlarge. I'd get it at this link directly to them at eBay (see How to Win at eBay), or possibly at Amazon.
This free website's biggest source of support is when you use those or any of these links when you get anything, regardless of the country in which you live — but I receive nothing for my efforts if you buy elsewhere. I'm not NPR; I get no government hand-outs and run no pledge drives to support my research, so please always use any of these links for the best prices and service whenever you get anything. Thanks for helping me help you! Ken.
October 2014 Nikon Reviews Nikon Lenses All Reviews
NEW: Pro DSLR Comparison 03 February 2016
NEWER and far more complete review: Nikon D2Hs (2005-2007)
Even NEWER: Nikon D3 and D3S (2007-2012)
NEWEST: Nikon D4 (2012-2014) and Nikon D4S (2014-)
Nikon DSLR History and Timeline
Introduction top
Intro Specs Performance Recommendations More
The Nikon D2H (and slightly newer D2HS) was Nikon's top professional DSLR from 2003 to the introduction of the far superior Nikon D3 in 2007.
Today in 2014, the D2H and D2Hs are still superb professional DSLRs much better suited to sports and action photography than any of Nikon's much slower current consumer cameras like today's D600, D800, D7100 and etc.
I just bought a D2Hs in 2014 to test for use today. The good news is that for about $250 you get a thoroughly professional camera, built as well as the F5, D1 and D3 and even better than the D4. The D2Hs has nearly full-frame autofocus (its AF sensors cover just about the entire DX frame), while the newer cameras only focus roughly in the center of the frame.
For only about $250 used, one of these D2H or D2HS are a much better idea than any of the newer and more expensive consumer DSLRs for sports and action shooting.
The bad news is that the D2Hs' color rendition isn't much better than the D1; things just don't Pop! as they do in newer cameras. If you shoot RAW, that probably doesn't matter, but shooting JPGs, they usually look much yuckier than from newer cameras. The image, like in the D1, tends towards a green tint, and lacks al of the second-generation in-camera image magic we take for granted today. Even photos from the iPhone 5 have much better JPG colors and auto white balance than the D2Hs.
Auto White balance is primitive, and nowhere as good as today's cameras. If you shoot RAW or in the fixed (Daylight, Cloudy, etc.) settings it doesn't matter as much.
The D2H is a huge improvement over the previous professional standard D1H. The D2H has much, much better battery performance, a much bigger LCD and a far superior flash exposure system.
Like all DSLRs today, but a big negative in its day was that the D2H was the first pro Nikon to lack an electronic shutter, which dropped its flash sync speed down to 1/250. Even the much less expensive D70 had an electronic shutter and faster 1/500 sync, but today in 2013, no new DSLR has sync any faster than the D1H.
New i-TTL Flash System
The D-TTL mode flash performance of the D1, D1H and D1X was awful.
The D2H works with old D-TTL flashes like the SB-28DX and SB-80 DX, and adds the newest i-TTL mode that works with all current Nikon flashes.
With the new i-TTL flash mode, the D2H has the ability to use more than one flash in TTL mode, mostly of use for macro shooters.
New in the D2H from the D1 Series
Much improved battery system.
Bigger 2.5" LCD.
An optional more vivid color mode. First seen on the D100, this "color mode III" brightens the colors for sRGB use. I would use this all the time.
Optional noise reduction for long shutter speeds. This is handy to remove the white pixels during long night exposures.
Auto ISO mode.
You now can set the default shutter speed with flash. Previously the D1 series set itself to 1/60 in some modes, now you can set it wherever you like, like to 1/15, for flash. This is useful to set a slower limit than 1/60 in some modes. For instance, in A mode with slow sync you might have a dark shot that locks up the camera for a 3 second exposure, with this new setting you can limit the camera and still have the advantages of slow sync.
Intervalometer. This could be fun for time-lapse photography.
I see an ASF Digital DEE feature in the expensive optional Nikon Capture 4 software. This is a 16 bit version of their SHO. ASF's SHO is wonderful. More here under plug ins.
Optional 802.11b WiFi link.
Exposure is rated from LV 0 - 20 at f/1.4. I forget where the other cameras are rated, and in any case this rating is excellent. It means it's rated to meter as dark as one second at f/1.4 at ISO 200, and in my experience Nikons always meter to much darker levels.
Autorotation for vertical shots.
Missing as compared to D1 Series
Slower 1/250 flash sync. Older D1 series was 1/500.
Other New Fluff
Ignore all the alphabet soup about the flash, metering, internal image processing, the image sensor and everything. All this stuff is pretend. Either this works well or it does not and the explanations have nothing to do with anything. I've been around enough to see all the same alphabet soup thrown around for everything; this stuff like calling this week's image sensor something like LBCAST or CMOS or CCD or whatever is nothing new.
For example, even with all the ink Nikon spews out about all the advancements in exposure metering and automatic white balance (noble as they may be), funny that they list all the technical details for all the shots in the brochure which just happen to be set on manual exposure and manual selection of white balances, showing you that even they don't think much of these advances. Oh well; I do like the advances and probably use more of the automation than the brochure does.
When the D2Hs was announced, it cost about $1,000 more than the D2H, and people still made the stretch to get the D2Hs. Today in 2013 it's only about a $100 difference.
Same body and sensor.
Newer electronics (12-bit versus 8-bit image engine) and firmware allow:
Better in-camera processing for JPEG images (same for RAW).
Claimed better high ISOs, now goes to ISO 6,400 instead of ISO 1,600.
Claimed faster autofocus.
Claimed better light metering.
Claimed better Auto White Balance.
Larger buffer (50 vs. 40 JPG).
RGB histogram display (D2H has only a black-and-white histogram).
15x (instead of 8x) maximum playback zoom.
"Recent Settings" menu option.
Wireless remote control.
Better rear LCD.
External GPS support.
1999-2003: D1 Series
Nikon D1, D1H and D1X series. it uses a poor Ni-MH battery that is always running down. Pros usually have to carry three or four big, bulky batteries to get them through a day.
22 July 2003: D2H
The completely new and far superior Nikon D2H is announced at $5,000. It completely replaces the D1 series. It has a better AF system, and most importantly, has a far, far superior new Li-Ion battery system.
The two-year-older Canon 1D has the same resolution and frame rate, except that the D2H has 1/250 sync and the 1D has 1/500.
16 September 2004: D2X
The Nikon D2X is announced at the same $5,000 as the D2H. It has more resolution (12 MP) but with much slower speed (only 5 FPS). The D2X also has a bizarre cropped 7 MP, 8 FPS mode. Most of what the D2X did was replaced by the D200 in 2005.
Nikon also announced the F6 at the same time, which is the 35mm full-frame version of the D2X. While digital rot has made D2X nearly worthless today in 2013, the F6 is still made and still quite valuable, even used.
16 February 2005: D2Hs
The Nikon D2Hs is announced at a bargain price of $3,500. It replaces the D2H with only minor revisions. This made a used D2H or new D2HS a great buy for sports even back in their own day. They are the same as the more expensive D2Xs, but much faster with a few less pixels.
June 2006: D2Xs
The Nikon D2Xs is announced as a slight improvement to the D2X. It has the same 12 MP, 5FPS and weird crop mode, for a reduced price of $4,700.
Specifications top
Intro Specs Performance Recommendations More
4.1 Megapixels: 2,464 x 1,632 pixels native.
Highest frame rate yet of any Nikon DSLR: 8 FPS.
ISO 200-1,600 (D2Hs adds pushes to ISO 3,200 and ISO 6,400).
40 frame buffer (only 25 frames in RAW NEF mode), same as D1H. (50 frames JPG in D2HS).
Simultaneous JPG and RAW file recording.
11 AF zones: 9 cross-type and 2 vertical only.
i-TTL Flash system.
1/250 flash sync.
6.2" (158mm) wide, 5.9" (150mm) high and 3.4" (86mm) deep.
About 44.1 oz. (2.8 pounds or 1,250 g), including battery.
EN-EL4 or EN-EL4a Li-Ion battery (same as D3).
Price, USA
$5,000, 2003-2005 (D2H).
$3,500, 2005-2007 (D2Hs).
$200 used, 2013 (D2H).
$300 used, 2013 (D2Hs).
Performance top
Intro Specs Performance Recommendations More
As the top professional DSLR of the mid-2000s, even in 2013 the D2H and D2Hs outperform any of Nikon's consumer cameras (D800, D600, D7100, etc.) for speed in shooting action and sports.
Recommendations top
Intro Specs Performance Recommendations More
For subjects that hold still, get newer camera for its better technical image quality, but for where the subject is running, flying or driving all over and you need speed, get one of these professional D2H cameras and get better results for less money.
The D2H and D2Hs at 8 FPS are way ahead of 2013's consumer Nikons where speed maters.
The slower but higher resolution D2X and D2XS may be forgotten, since today's consumer cameras exceed their abilities.
On 25 September 2005 Nikon announced a flaw where some weird exposure or focus issues may pop up on some D2 series cameras. They fixed this for free. See here.
If you've found all the time, effort and expense I put into researching and sharing all this, this free website's biggest source of support is when you use these links, especially this link directly to them at eBay (see How to Win at eBay), when you get anything, regardless of the country in which you live. Thanks! Ken.
More Information top
Intro Specs Performance Recommendations More
Nikon D2H
Nikon D2Hs
Nikon D2Hs User's Manual (for older firmware, doesn't mention the new v2.00 features)
D2Hs v2.00 firmware update information
Nikon D2Hs v2.00 firmware update
Help me help you top
I support my growing family through this website, as crazy as it might seem.
The biggest help is when you use any of these links when you get anything, regardless of the country in which you live. It costs you nothing, and is this site's, and thus my family's, biggest source of support. These places have the best prices and service, which is why I've used them since before this website existed. I recommend them all personally.
If you find this page as helpful as a book you might have had to buy or a workshop you may have had to take, feel free to help me continue helping everyone.
If you've gotten your gear through one of my links or helped otherwise, you're family. It's great people like you who allow me to keep adding to this site full-time. Thanks!
If you haven't helped yet, please do, and consider helping me with a gift of $5.00.
As this page is copyrighted and formally registered, it is unlawful to make copies, especially in the form of printouts for personal use. If you wish to make a printout for personal use, you are granted one-time permission only if you PayPal me $5.00 per printout or part thereof. Thank you!
Thanks for reading!
Mr. & Mrs. Ken Rockwell, Ryan and Katie.
Home Donate New Search Gallery Reviews How-To Books Links Workshops About Contact