Home Donate New Search Gallery Reviews How-To Books Links Workshops About Contact
Nikon D3300
24MP DX, 3" LCD, 5 FPS, 1080p
© 2014 KenRockwell.com. All Rights Reserved.
Intro Specs Performance Recommendations More

Nikon D3300 (16.2 oz./460g with battery and SD card) with included new 18-55mm VR II lens (about $650 with lens; also comes in gray and comes in red for the same price). enlarge. I'd get mine from Adorama.
My biggest source of support for this free website is when you use those or any of these links to approved sources when you get anything, regardless of the country in which you live. It helps me keep adding to this free website when you get your things through these links — but I receive nothing for my efforts if you buy elsewhere. Thanks for your support! Ken.
Top, Nikon D3300 with included 18-55mm VR II.
Back, Nikon D3300. enlarge.
Nikon D3300. enlarge.
Nikon D3300. enlarge.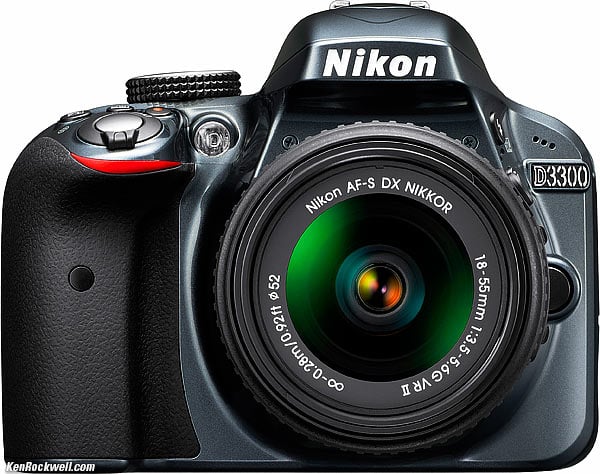 Gray version version of the Nikon D3300.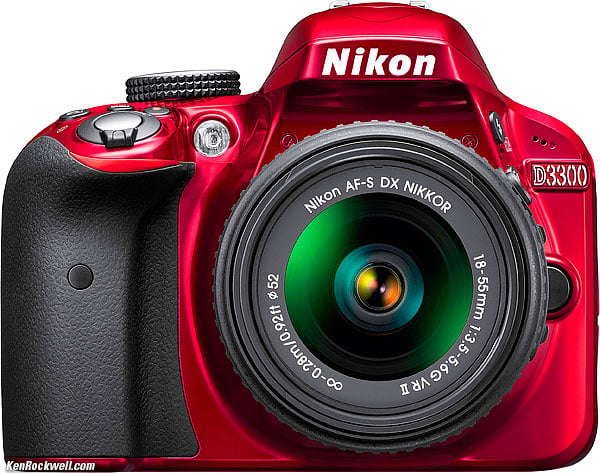 Red version of the Nikon D3300. Ahhhhh!
January 2014 More Nikon Reviews Nikon Lenses All Reviews
DEAL: You can get the D3100 for only $349, with lens, refurbished, which is 99% the same camera as the D3300 — for half the price. See more versions of the D3100 at its review.
Introduction top
Intro Specs Performance Recommendations More
The Nikon D3300 is this year's version of Nikon's previous D3200 of 2012, which was that year's version of Nikon's D3100 of 2010. All three are essentially the same camera and just as good as each other; the D3300 simply costs more for the same thing. Each includes an excellent 18-55mm lens in its price. This D3300 comes with a slightly newer version of the 18-55mm VR lens; all are equally superb plastic-mount lenses.
This new D3300 is marvelous because of its super light weight, just 16.2 oz. (460g) with battery and SD card, making it the lightest Nikon SLR or DSLR in all of history. In fact, it weighs about as little as a real LEICA screw-mount camera, and makes LEICA M cameras, especially the newest LEICA M typ 240 at 25 oz./710g with finder, feel like pigs by comparison. LEICAs used to be popular because they weighed less than SLRs.
The biggest new feature of the D3300 is that it now comes in gray, as well as the red or black in which the D3200 came. The D3100 only comes in black. The D3300's resolution, AF sensors and mono video mic are the same as the D3200; only the frame rate has climbed from 4 FPS to 5 FPS and the ISO now overcranks to a stop higher than the D3200. I'd still buy the D3200 or D3100 on discount; none of these new minor improvements are important for real photography. There's also a corny new panorama mode and slightly higher finder magnification — but the finder is still tiny. The best reason to pick the D3300 over the D3200 is that the D3300 is 1.6 oz. (45 grams) lighter.
The Nikon D3300 is a wonderful camera for anything — but no more so than a D3200 or D3100 for less money.
The D3300 is small, light, and very quiet and refined. The D3300 is smaller and quieter than Nikon's more professional cameras, which is a huge help when shooting candidly.
While not as fast or as distracting as Nikon's professional cameras, the D3300 has as much or more resolution than any Nikon professional DSLR!
The D3300 has more than enough speed for chasing kids, school sports and theatre, and far more pixels than anyone will ever need.
You need a real DSLR like this to capture still photos of motion, sports, kids and action. Smaller non-DSLR cameras like micro 4/3, cell phones and point-and-shoots just can't focus as fast as a DSLR to follow all the action.
The D3300 is for people who want great pictures. More expensive cameras are for men who just want fancier cameras.
While I cover all the more expensive Nikons which are of interest to hard-core photographers, when my normal friends ask what camera to get, it's always this inexpensive D3300 (or a D3200 or D3100 which are essentially the same thing for less money).
The D3300 has more resolution than the lens with which it ships. 24 Megapixels are more than anyone needs for anything. Personally, I set my D3300 down to its lowest resolution, 6 megapixels, for all my photos. 6 MP is more than enough for great 12 x 18" and 20 x 30" (50 x 75cm) prints, if you know what you're doing. If you don't know what you're doing, you'll get soft images regardless of what camera you use!
The D3300 processes its high-ISO images and pulls out the noise very well. My shots at ISO 6,400 look great. In fact, this great hyper-ISO ability lets one use the kit lens for just about anything in any light. I love my 35mm f/1.8 DX lens, but even with the slower kit lens there's no problem photographing in low light without flash.
Lens Compatibility top
With no built-in AF motor or aperture feeler for manual-focus lenses, it only autofocuses with AF-S and older professional AF-I lenses, same as Nikon's other cheap DSLRs.
Older screw-type AF and AF-D (non AF-S) lenses expose and work perfectly otherwise, but you'll have to focus them by hand.
More at Nikon Lens Compatibility.
Specifications top
Intro Specs Performance Recommendations More
Sensor
24 MP DX (23.2 x 15.4 mm) CMOS.
6,016 × 4,000 pixels native (LARGE, 24MP).
4,496 x 3,000 (MEDIUM, 13.5MP).
2,992 x 2,000 (SMALL, 6MP).
Panorama mode: Normal (horizontal pan) 4,800 x 1,080; normal (vertical pan) 1,632 x 4,800; wide (horizontal pan) 9,600 x 1,080; wide (vertical pan) 1,632 x 9,600.
White Balance modes: Auto, incandescent, fluorescent (7 types), direct sunlight, flash, cloudy, shade, preset manual, all except preset manual with fine-tuning.
Live View.
Sensor cleaner.
No crop modes.
ISO
100 ~ 12,800, expandable to ISO 25,600 (HI+1).
AUTO ISO.
AF top
11 points: Single-point AF, dynamic-area AF, auto-area AF, 3D-tracking (11 points).
AF-S (focus and lock), AF-C (continuous AF) and AF-A (automatic selection depending on if subject moves or not.)
Finder top
Lightweight pentamirror.
95% coverage.
0.85x magnification with 50mm lens (smaller than FX cameras because it's 80% of a smaller area).
18 mm eyepoint.
-1.7 to + 0.5 diopters.
Type B BriteView Clear Matte Mark VII screen.
Meter top
3D Color Matrix Meter II, 420 RGB pixels.
Center-weighted.
Spot on any of the 11 AF points.
i-TTL flash metering for use with SB-910, SB-900, SB-800, SB-700, SB-600, SB-400 and SB-300.
Built-in Flash top
GN 39/12 (Feet/meters at ISO 100).
Does not control wireless flash, you'll have to buy the SU-800 to work as commander.
Shutter top
1/4,000 ~ 30 seconds in third-stop steps.
Bulb.
Time exposures with optional ML-L3 remote control.
Front and rear receivers for use with the optional ML-L3 remote control.
Flash Sync: 1/200.
Frame Rates top
4 FPS, in manual focus and at 1/250 second or faster.
Slower shutter speeds or expecting autofocus to focus for each frame will slow it down.
Picture Controls top
Standard Gen 2 Picture Controls (Standard, Neutral,Vivid, Monochrome, Portrait, Landscape).
You can modify them.
Video top
1080p video with claimed full time AF, but DSLR video AF systems never work well. DSLR video focus can't track motion, which is the whole point of video. For video, I use my iPhone instead because it always tracks perfect focus.
ISO 100 - 12,800.
Fine or Normal compression schemes.
Manual exposure control and mono microphone. (Stereo microphone input jack.)
1080 at 59.94p, 50p, 29.97p, 25p and 23.976p.
720 at 59.94p and 50p (no 29.97p or 25p).
640 × 424 @ 29.97p or 25p.
H.264/MPEG-4 Advanced Video Coding.
Linear PCM audio.
.MOV file format.
HDMI (type C) and analog outputs.
Audio top
Built-in mono mic.
3.5mm stereo mic jack.
Manual or auto recording gain control.
Linear PCM only as part of video recording.
File Formats top
JPG, NEF, or NEF+JPG.
NEF (raw) in 12-bit compressed.
JPG in BASIC, NORMAL or FINE.
File Sizes top
20.4 MB NEF.
11.9 MB LARGE JPG FINE.
6.2 MB LARGE JPG NORMAL.
3.0 MB LARGE JPG BASIC.
1.9 MB MEDIUM JPG BASIC.
1.0 MB MEDIUM JPG BASIC.
Data Storage top
One SD, SDHC or SDXC card, 2 GB to at least 64 GB.
LCD top
Exquisite 3," 921,000 dots.
Data Communication top
USB.
HDMI, type-C connector.
Power top
EN-EL14a Li-ion battery: 7.4V 1,030 mAh, 7.7Wh.
Rated 540 shots, CIPA, which is 50% with flash.
MH-24 Battery Charger.
Size top
3.9 x 4.9 × 3.0 inches, HWD.
98 × 124 x 75.5 millimeters, HWD.
Weight top
Nikon rates it at 16.2 oz. (460g) with battery and SD card.
Nikon rates it at 14.5 oz. (410g) stripped.
Quality top
Made in Thailand (camera and lens).
Battery cells made in China, and then assembled into batteries in Indonesia.
Charger made in China.
Environmental top
0 - 40ºC (32-104ºF) operating.
< 85% RH, no condensation.
Price (USA) top
Introduction, January 2014: $650 with 18-55mm VR II lens.
Included top
D3300 body.
EN-EL14a Rechargeable Li-ion Battery
MH-24 Battery Charger
DK-5 Eyepiece Cap
DK-20 Rubber Eyecup
UC-E17 USB Cable
EG-CP14 Audio Video Cable
AN-DC3 Camera Strap
BF-1B Body Cap
BS-1 Accessory Shoe Cover
Nikon ViewNX 2 software CD-ROM
Announced top
07 January 2014.
Accessories top
GP-1A GPS ($280).
ML-L3 remote control.
Optional WU-1a Wireless Mobile Adapter ($52):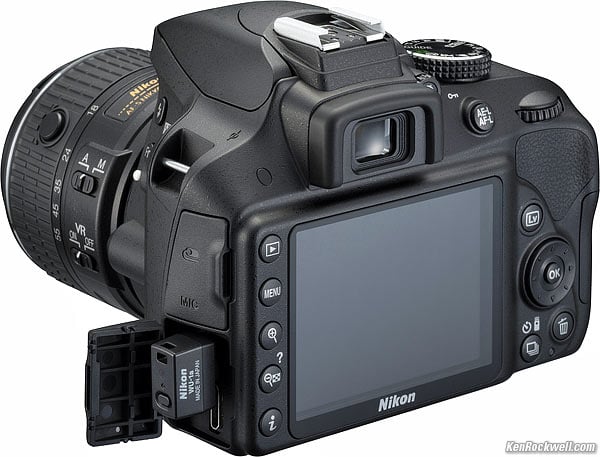 Nikon D3300 with WU-1a sticking out the side.

If you get it to go, the WU-1a claims to send images wirelessly to wi-fi doo-dads, and remotely monitor and shoot images for surveillance and unattended hidden operation.

The system is so poorly designed that we have to leave the door open when it's connected; if I want to connect to my iPhone, I don't bother with this balcony and just use my iPhone's camera instead.

Performance top

Intro Specs Performance Recommendations More

The D3300 works great. The D3300 can make fantastic images in the hands of someone who knows what they're doing, and has loads of internal processing power to accomplish everything it does very quickly. It's ergonomically very well thought out and handles and operates marvelously.

Technically it's unbeaten, and ergonomically it's as good as a camera with as few real buttons in this price range gets.

Used properly, the images look great at any ISO, and auto white balance is wonderful under almost any light.

Finder

The D3300's finder is bright and sharp, specially with the slow kit lenses for which it is optimized. It has a very precisely etched screen showing the location of the AF areas, a nice touch.

Better than the D800 and D800E, the AF zones are indicated with light-up LED spots that don't interfere much with the subject you're trying to see. (The D800 and D800E use ugly, obstructive black LCD squares that turn on and off instead.)

Its matte field won't properly show the restricted field with lenses faster than f/4, but that's OK because this is how Nikon got the finder so bright.

The finder certainly isn't as huge as an FX camera or as big as the D7000 because the D3300 uses a hollow, lightweight pentamirror instead of a solid glass pentaprism, which is exactly how I'd want a lightweight camera to work.

Better than the D800 and D800E, the D3300 shows exposure compensation to thirds of a stop on its in-finder bar graph. The D800 and D800E only show half-stops, so they don't show when you've only got ±0.3 stops compensation set, which the D3300 does!

Autofocus

Autofocus is fast, silent and accurate.

Set to its default AF-A and Auto-Area select modes, the D3300 figures out where and how to focus, and just does it.

The selected points are shown with little LED dots. They aren't that bright, but bright enough.

The auto-area select function is smart, but not as smart as in the D800 or D4. The professional cameras can find a subject's eye and focus on it directly and instantly almost 100% of the time, while the D3300 usually, but not always, finds the subject in your frame.

If the D3300 isn't finding your subject behind distractions, which can be the case, you'll have to stop and go into menus to reset it to use just one AF area. Once you've selected to select which AF area is used manually, it's easy to use the rear selector to select them.

The rear selector moves incrementally between areas with each click; a click does not slam the selected AF point al the way to one spot or the next.

The D3300 has AF-S (single and lock), AF-C (continuous), and AF-A (automatic selection between the previous two modes) autofocus. This is better than the D800 and D4, which now no longer have the AF-A mode.

Exposure

I find that once I set an exposure compensation for any condition, that I get consistent exposures until the lighting changes.

I get the best results outdoors in sunlight with -0.3 or -0.7 exposure compensation.

Indoors or in flat light, I get the best results with no exposure compensation.

Flash Exposure

Daytime fill-flash exposures, indoors or out, are always lovely.

Likewise, flash exposure indoors is always right-on.

Fill-flash exposures indoors at night give the usual black backgrounds with little ambient light and overpowering flash, as expected.

Image Quality

Technically, image quality is fantastic.

Color rendition is superb; the D3300 uses all the same picture controls, with matching results, to all the other current Nikon cameras. Honestly, the D800 and D800E have a slight green-yellow cast to their images, so I prefer the colors I get from the D3300! (just don't tell the D800 users that!)

Auto White Balance continues to get better with every generation of Nikon camera. With the D3300, AWB usually gets exactly the results I want under any light.

I prefer setting A5 color shift for a warmer look; select this with MENU > SHOOTING (camera icon) > White Balance > Auto > (click right) > Click right to A5 > OK.

You can set different color shift values for each white balance setting, except on the PRESET (manual gray-card) setting.

Auto ISO

Auto ISO works great. When you use this feature (I always do), the D3300 will shoot at your selected ISO, and when the light starts to get dark, will automatically increase the ISO to maintain the slowest shutter speed you've previously programmed.

New for this class of cheap DSLR is that it can select the slowest shutter speed based on zoom setting or lens focal length. One cannot select an offset from the auto-selected slowest shutter speed as one can in the D4 and D800, but just like all other Nikons with this feature, you always can set the slowest Auto ISO speed manually wherever you like.

The auto-selected slowest shutter speed isn't smart enough to set itself differently based on whether or not you have VR on or off.

Auto Distortion Correction

Better than my Canon 5D Mark III, my Nikon D3300 can correct lens distortion automatically as we shoot, and even better, we never have to load any lens profiles. So long as you're using an AF-D or G lens, you 're good to go right out of the box.

To get this automatic as-you-shoot correction, just set MENU > SHOOTING MENU (camera icon) > Auto distortion control > On. (default is off.)

Ergonomics

Nikon does a great job with its inexpensive DSLRs — better than it does with its professional cameras today!

Press the exposure compensation button and the rear LCD lights magically so you can see to set it before you bring the camera to your eye. The D3300 even highlights the value to make it obvious.

The PLAY button is still on the wrong side, demanding a second hand to hit PLAY.

On rare occasion, I've somehow hit the [Lv] (Live View) button by mistake, which can waste battery power and presents me with a perplexing black viewfinder until I realize what happened.

If I choose to set my Fn button to set white balance, I can't navigate down to the other info screen settings.

Setting Fn button to select image size and Quality is pointless because you've got only one dial. Therefore with this option, you have to spin past all the options, and usually will get something wrong. On bigger cameras, this option allows you to use two dials, one for size and one for quality, but with only one dial, forget it.

To set the Fn and other controls, these settings are all hiding in the menus under "buttons."

Mechanics

The D3300 is mostly plastic, with a metal lens mount and tripod socket.

This is perfect: it's light weight, and the durable parts are still metal.

Data

When formatted, cards are correctly titled "Nikon D3300."

SMALL BASIC JPG files (3,008 x 2,000 pixels), the way I shoot my D3300, have a median file size of 700 kB, and can be printed at any size. Depending on the subject, they'll range from 450kB to 1.1 MB.

LARGE BASIC JPG files (6,016 x 4,000 pixels) have a median size of 2.6 MB, ranging from 2.0 to 3.2 MB.

Playback

Playback is fast and clear, as we expect from Nikon.

You can activate and deactivate many different playback screen options in the menus.

By default, there is a stupid 1940s slide-projector playback effect as yo swap to other images. I turned this off as soon as I got my D3300!

If you zoom-in with the YRGB histogram screen active, the histogram shows the values only for the area to which you've zoomed.

LCD

The D3300 has a superb LCD, more color-accurate than the LCDs of my D800, D800E and D4!

The D3300's LCD is big, bright, sharp and color-accurate. You couldn't really put a bigger screen on a camera this small.

The LCD is covered with uncoated clear plastic, not anti-reflection coated glass as is the better LCD of my Canon 5D Mark III.

I love the LCD of my D3300. IN fact, because it's more accurate and better looking than the LCD of my D800, D800E and D4, I prefer to shoot with my D3300! (I'm not very happy with the performance of the D800, D800E and D4; I greatly prefer my Canon 5D Mark III.)

Power and Battery

The USA MH-24 charger has a folding plug for travel.

The light blinks amber while charging, and solid when done.

Unlike fancier cameras, the battery gauge is only a 3-segment indicator that gives not that much warning when the battery gets low.

On my first charge, I got 550 shots when the meter first read 2/3, and at 597 shots it read 1/3.

I would expect getting more shots than this; I suspect I got as few as I did on my first charge because of al the menu playing I do with a new camera — and the two times the D3300 set itself to Live View accidentally.

Recommendations top

Intro Specs Performance Recommendations More

The Nikon D3300 is the camera I recommend to everyone who asks what camera to buy for great photos of family, friends, sports, concerts, theater and action.

Got kids and want great action, low-light and long-distance photos? The D3300 is the camera to get. Paying more won't get you much more other than a lot more weight to have to carry around.

The only reason to pay more for a D5300 is to get a flipping rear LCD, and the only reason to pay more for a D7100 is if you know what all the buttons do and prefer the extra buttons of the D7100 over having to fool around in menus with the less expensive cameras.

As of January 2014, this D3300 is brand new and not discounted. Avoid the awful old D3000 at any price, while the D3200 or D3100 are both superb as well for less money. Personally, I'd get a D3200 or D3100 before paying for a D3300, they are as similar as their model numbers imply.

Flash

The built-in flash is excellent. You probably don't need a separate flash.

Only if you need faster recycling time between photos or more range for daylight fill-flash do you need an external flash. If you do want an external flash, Nikon's best is the discontinued SB-400; get a used one at the links in its review. Nikon's newest SB-300 isn't as good as the older SB-400.

Lenses top

The included 18-55mm VR II is probably all you need for everything. If you're new to photography, the strongest advice I can give you from 45 years of experience is that it's far more important to learn how to use what you've got, instead of confusing the issue by buying more lenses, as you're starting out.

If you need a telephoto lens for sports and theater, I use the 55-200mm VR. The 55-300mm VR zooms-in a little closer, but is bigger and more expensive. Either is excellent.

Personally, I usually use the 35mm f/1.8 DX for everything and leave the 18-55mm VR at home. I rarely use a zoom.

The 10-24mm DX is only if you need super wide-angles. (How to use Ultrawide Lenses.)

If you're counting every one of your 24 megapixels, you're most likely a computer hobbyist as opposed to a photographer, but if you are counting, the included 18-55mm lens isn't as sharp as the D3300 can be at 24 MP; you'll want the sharper 35mm f/1.8 DX instead.

See also the DX Dream Team.

Memory

I use only SanDisk or Lexar SD cards. Anything else is asking for trouble.

Where to get it

Only buy from approved online sources; don't take a chance with retail.

If you find all the time and expense I incur sharing all this information for free, this free website's biggest source of support is when you use these links, especially these to it at Adorama in black with lens or in gray or in red, when you get anything, regardless of the country in which you live.

Thank you!

Ken.

More Information top

Intro Specs Performance Recommendations More

Help me help you top

I support my growing family through this website, as crazy as it might seem.

The biggest help is when you use any of these links when you get anything, regardless of the country in which you live. It costs you nothing, and is this site's, and thus my family's, biggest source of support. These places have the best prices and service, which is why I've used them since before this website existed. I recommend them all personally.

If you find this page as helpful as a book you might have had to buy or a workshop you may have had to take, feel free to help me continue helping everyone.

If you've gotten your gear through one of my links or helped otherwise, you're family. It's great people like you who allow me to keep adding to this site full-time. Thanks!

If you haven't helped yet, please do, and consider helping me with a gift of $5.00.

As this page is copyrighted and formally registered, it is unlawful to make copies, especially in the form of printouts for personal use. If you wish to make a printout for personal use, you are granted one-time permission only if you PayPal me $5.00 per printout or part thereof. Thank you!

Thanks for reading!

Mr. & Mrs. Ken Rockwell, Ryan and Katie.

Home Donate New Search Gallery Reviews How-To Books Links Workshops About Contact