Home Donate New Search Gallery Reviews How-To Books Links Workshops About Contact
Nikon 18-55mm VR II
DX AF-S G Zoom Nikkor (2013-)
© 2014 KenRockwell.com. All rights reserved.
Intro Specs Performance Recommendations More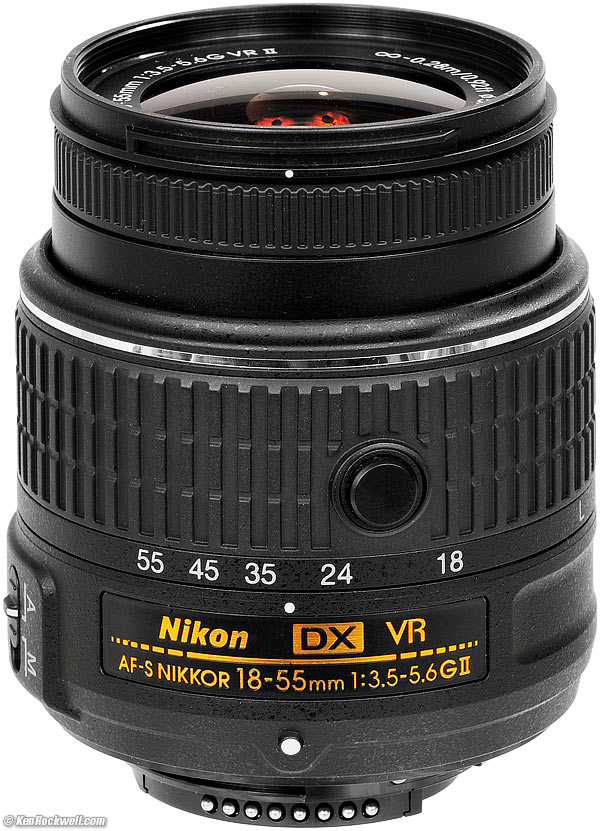 Nikon 18-55mm VR II (DX coverage only, 52mm filters, 6.9 oz./195g, 0.8'/0.25m close focus, about $250 or comes free with cameras like the D3300). bigger. I got this one at this link directly to it at Adorama; also great is to get it at this link to it at Amazon. My biggest source of support is when you use those or any of these links to approved sources when you get anything, regardless of the country in which you live. It helps me keep adding to this free website when you get anything through these links — but I receive nothing for my efforts if you take the chance of buying elsewhere. Thanks for your support! Ken.
May 2014 Nikon Reviews Nikon Lenses All Reviews
18-55mm DX (2005-2006)
18-55mm DX II (2006-2007)
18-55mm VR DX (2007-2012)
18-55mm VR DX II (this lens, 2013-)
Sample Images (more throughout the review)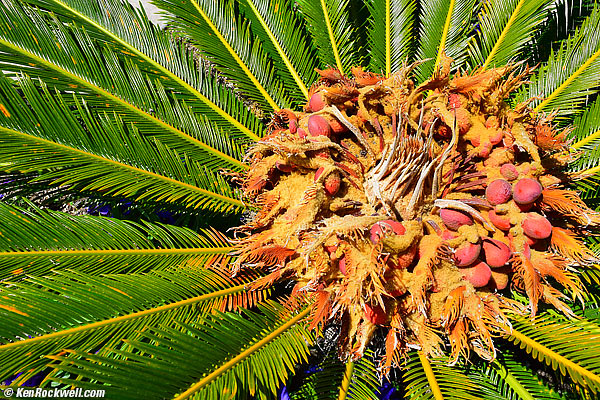 Sago Palm, 11 AM, 14 April 2014. Nikon D3300, Nikon 18-55mm VR II, f/11 at 1/125 at ISO 100. Camera-Original © LARGE BASIC JPG file. Remember that the bottom of the image is closer to the camera and therefore not in focus.
Flowers, 5 PM, 14 April 2014. Nikon D3300, Nikon 18-55mm VR II, f/9 at 1/125 at ISO 100. Camera-Original © LARGE BASIC JPG file. The flower on the right isn't in focus.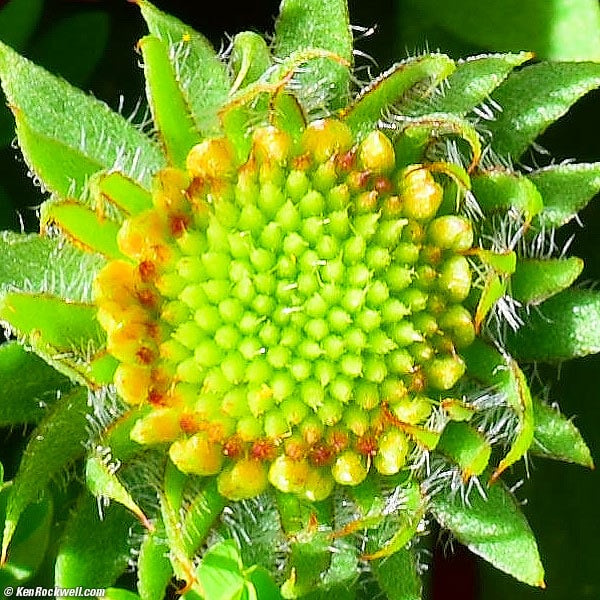 Crop from above 24MP image at 100%. If this is 6" (15cm) wide on your monitor, the entire image printed this size would be 40 x 60" (100 x 150 cm). Is this sharp enough for you for huge prints? Camera-Original © LARGE BASIC JPG file.
Introduction top
Intro Specs Performance Recommendations More
This Nikon 18-55mm VR II DX is fantastic little lens. It's super-sharp and has Vibration Reduction (VR) so you don't need a tripod.
It focuses so close that it replaces most people's need for a macro lens.
It's among the lightest lenses ever made by Nikon.
It now retracts for even easier carrying, just as LEICA's better lenses have done since the 1930s. Personally I wouldn't retract this lens because it has to be extracted again to shoot, putting one more step between me and my picture, but for wrapping the camera in a jacket and packing it away in luggage, this is swell. My photos show it extended and ready to shoot, while Nikon's publicity photos always show it retracted.
This 18-55mm f/3.5-5.6 VR II lens is a complete winner. It works perfectly, and it focuses closer and is lighter than any of its predecessors.
This 18-55mm VR II has superb optics in a plastic mount for light weight and low cost.
Guess what? If you destroy this 18-55 VR II after its five-year USA warranty expires, buy a another new one and you're out less than the price of just one larger lens like the 16-85 or 18-200 or 18-300mm.
The 18-55mm VR II feels perfectly matched to the weightless D3300 or D5300. It's light but solid. The zoom ring is damped perfectly.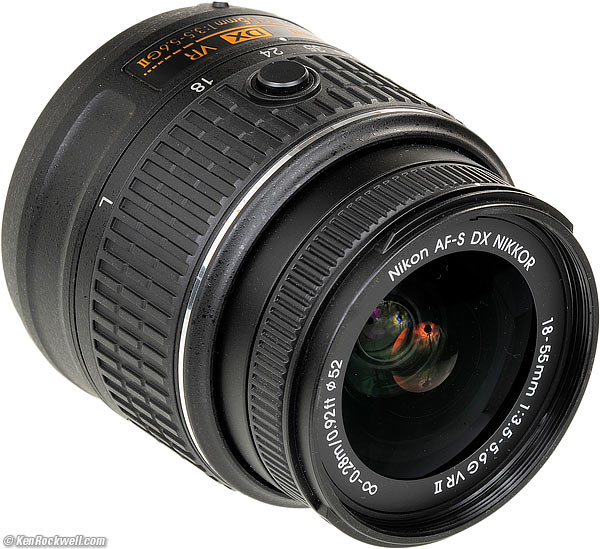 Nikon 18-55mm VR II.
Compatibility
This is a DX lens, which means it works perfectly on every DX digital camera.
It will work great on FX cameras, but it's a foolish idea since it wastes most of an FX sensor and you'll be having to squint at only a small section of your viewfinder. FX cameras usually set themselves to use just the center DX section of their larger sensors and finders.
On full-frame FX or 35mm, it works great from 24-55mm. It gives black corners at focal lengths shorter than 24mm. If you're a hacker like me and want to use this on older film cameras, see more at Nikon Lens Compatibility. This is an AF-S, a G and a VR lens.
Specifications top
Intro Specs Performance Recommendations More
Name
Nikon calls this the Nikon AF-S DX NIKKOR 18-55mm f/3.5-5.6G VR II.
AF-S: Quiet focusing with a silent wave motor (SWM).
DX: Only works on digital cameras, usually gives black corners on film.
G: No aperture ring. Only works on cameras newer than about 1992.
VR: Vibration reduction, rated for three stops improvement.
II: newer retractable model.
All this and more explained in greater depth on my Nikon Lens Technology page.
Focal Length
18-55mm.
Used on a DX camera it gives the same angle-of-view as a 28-85mm lens gives on a 35mm film or FX digital camera.
See also Crop Factor.
Maximum Aperture
f/3.5 - 5.6.
Optics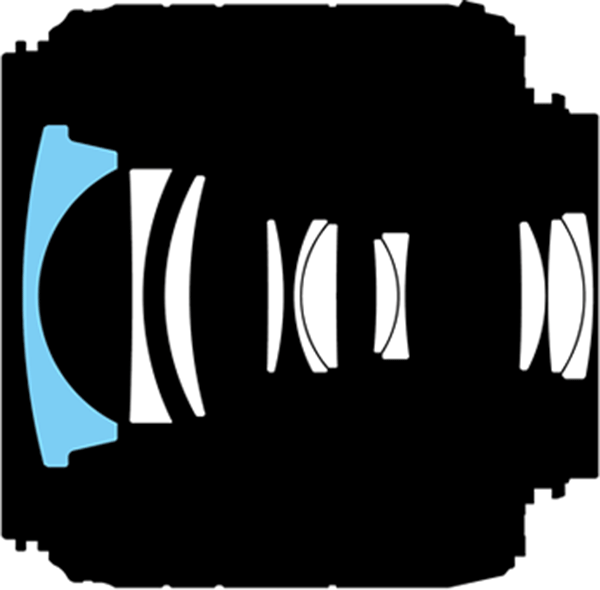 Nikon 18-55mm VR II internal diagram, collapsed. Aspherical.
11 elements in 8 groups, including one hybrid aspherical element.
A hybrid aspherical element is a glass element to which a thin aspheric plastic film is glued. This lets this inexpensive lens perform like a $2,000 lens. Nikon has been doing this for over 20 years, and their other lenses that use this technology are wonderful.
Diaphragm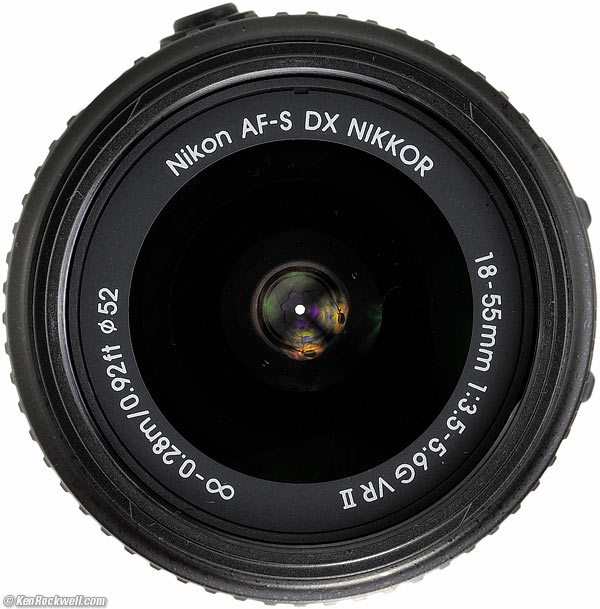 Nikon 18-55mm VR II at 18mm and f/22.
7 blade rounded.
Stops down to f/22-36.
Close Focus
It focuses to within inches of the lens.
Autofocus
0.9 feet (0.28m) from the image plane (the back of the camera).
Manual Focus
0.8 feet (0.25m) from the image plane (the back of the camera).
Maximum Reproduction Ratio
1:2.8 (0.36x) in manual focus.
1:3.3 (0.3x) in autofocus.
Filter Threads
52mm, plastic.
Does not rotate.
Moves in and out with zooming.
Focus Scale
NONE.
Depth of Field Scale
NONE.
Infrared Focus Index
NONE.
Aperture Ring
NONE.
Size
2.6" diameter x 2.3" extension from flange (66 x 59.5mm), collapsed.
When actually shooting with the lens extended, it extends from 3.00-3.46" (75-88mm) depending of focal length and focus distance. It's shortest set to 32mm and focussed at infinity, and longest set to either end of the zoom range and focussed closely.
(The non-VR 18-55mm is rated at 2.7 x 2.9" (70.5 x 74.0mm).)
Weight
6.870 oz. (194.75g) actual measured weight.
Nikon specifies 6.9 oz. (195g).
Hood
Earlier 18-55 models used the HB-45.
Case
CL-0815 pouch.
Teleconverters
NONE.
f/5.6 is too slow. see Teleconverters.
Introduced
07 January 2014 in USA.
Performance top
Intro Specs Performance Recommendations More
AF Distortion Ergonomics Falloff Flare Color Fringes Macro
Mechanics Maximum Aperture Sharpness VR Zooming
Autofocus performance top
AF Speed
AF speed is fast enough. It's not ultra fast like Nikon's pro lenses; this tiny 18-55 has only a tiny AF motor built in.
The focus ring turns during autofocus.
AF Accuracy
AF always seems to be dead-on. No problems here.
Manual Focus
Manual focus is fine. You have to move a switch, then turn the ring at the front of the lens.
Only the focus ring turns, and the front group (not the focus ring) moves in and out.
Distortion performance top
Distortion is the same as the previous 18-55mm lenses: strong barrel distortion at 18mm, moderate barrel distortion at 24mm, and no distortion from 35mm to 55mm.
Better, on modern cameras like the D3300 with which this lens is included for free in the USA, simply setting MENU > SHOOTING (camera icon) > Auto distortion control > ON, leads to no measurable distortion!
If your camera can't correct this and you care, these are easy to correct with Photoshop's lens distortion filter. Use these measured values; these aren't facts or specifications, they are the results of my research that requires hours of photography and calculations on the resulting data:
| | | |
| --- | --- | --- |
| | uncorrected | |
| 18mm | +5.0 | 0.0 |
| 24mm | +2.0 | 0.0 |
| 35mm | 0.0 | 0.0 |
| 45mm | -0.5 | 0.0 |
| 55mm | -0.5 | 0.0 |
© 2014 KenRockwell.com
Ergonomics performance top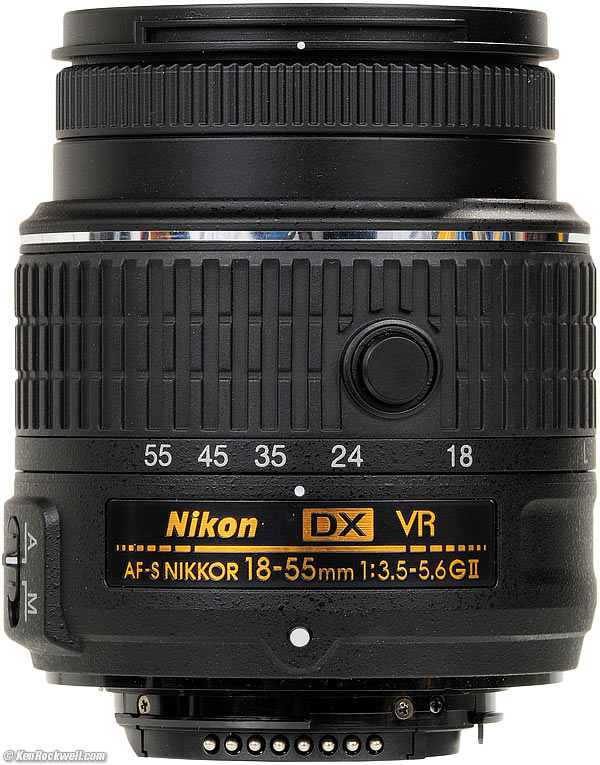 Nikon 18-55mm VR II, ready to shoot.
The button between 24mm and 18mm has to be pressed to rotate the zoom ring past 18mm to "L," which collapses and locks the lens. This is fine, but I don't like having to press it again to turn the lens away from the "L" position. Once collapsed, I'd rather not have to press a button to allow me to erect the lens.
Having a big, perfectly placed pushbutton is a zillion times better than having a slide switch somewhere for locking and unlocking.
Zoom feels good; it's solidly damped for a plastic lens. There's a slight dead zone around the 18mm position of the zoom ring where the ring rotates, but the zoom doesn't change. This is normal.
Manual focus moves with the flick of a finger — but you have to slide a switch for manual focus. The same ring rotates by itself during autofocus.
Falloff (darkened corners) performance top
I've never seen any falloff.
I've made it far more obvious by shooting a gray field and then placing these on the same gray background. This is on a DX camera without any set correction.
| | | | |
| --- | --- | --- | --- |
| | | f/5.6 | f/8 |
| | | | |
| 24mm | | | |
| | | | |
| | | | |
Flare and Ghosts performance top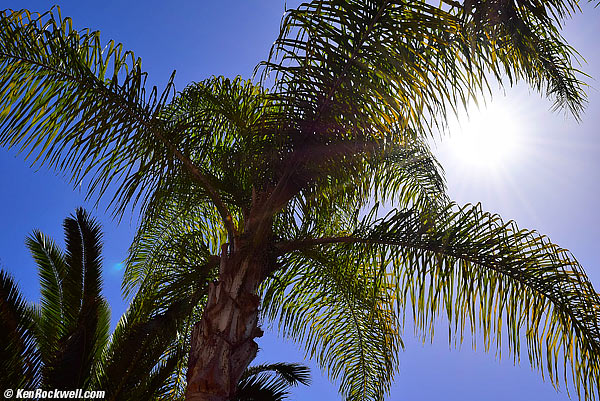 Nikon 18-55mm VR II flare at f/13 and 31mm, 16 April 2014. bigger.
There are no significant ghosts. Modern lenses have pretty much eliminated flare and ghosts. I really have to go out of my way and risk blindness trying to excite this.
This will vary with focal length setting and position of the sun or other light sources.
In this case, this is the blinding noontime sun shining directly into the lens.
Lateral Color (corner fringes) performance top
It has none on the 24MP D3300 on which I tested it, which corrects for this automatically.
This is excellent!
Macro performance top
It gets super close, with no fooling around.
It is much better than most more expensive lenses: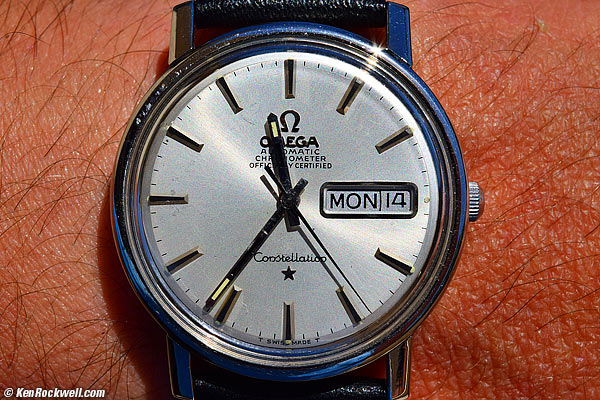 1968 Omega Constellation at closest focus distance on DX at 55mm.
Not only does it get close, it's also super-sharp: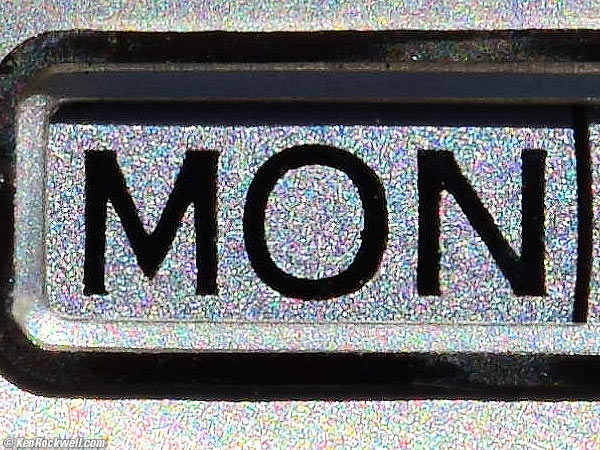 Crop from above 24MP image at 100%. If this is 6" wide on your monitor, the complete image would print at 40 x 60" (100 x 150 cm) at this same magnification.
What looks like grain is actually the subtle texture of this watch's face and its day indicator when hit by specular light like the direct sun, expertly picked up by this lens.
HINT: Nikon specifies that this lens focuses more closely if you set the switch on the side to Manual focus.
I've also noticed that autofocus is slightly less accurate this close, so focus manually by looking at the focus screen and avoid AF or the electronic focus indicator. I always shoot macro in manual focus regardless of lens, and when this close I usually focus by moving the subject or the camera back and forth with the lens set to its closest focus distance.
Maximum Aperture performance top
| | |
| --- | --- |
| Zoom Setting | Maximum Aperture |
| 18mm | f/3.5 |
| 24mm | f/4 |
| 35mm | f/4.5 |
| 45mm | f/5 |
| 55mm | f/5.6 |
Mechanics performance top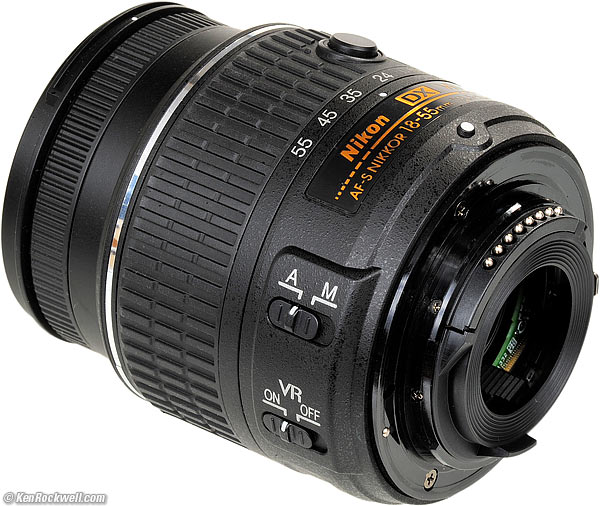 Rear, Nikon 18-55mm VR II. bigger.
This is a lightweight plastic lens. It's very well made, but don't mount it on a big professional camera, drop it, and expect it to survive.
Filter Threads
Plastic.
Hood Mount
Plastic.
Barrel Exterior
Plastic.
Focus Ring
Plastic; rubbery covered.
Zoom Ring
Plastic; rubber covered.
Depth of Field Scale
No.
Internals
Feel like plastic.
Aperture Ring
None.
Mount
Plastic.
Markings
Paint.
Mounting Index Dot
Raised plastic bump, painted white.
Identity Plate
Gold-look plastic.
Serial Number
Sticker glued into a recess on the bottom of the lens.
US Model Signified by
Unknown; there is no "US" prefix to the serial number of my USA lens.
Dust seal at mount
No.
Noises When Shaken
Mild clunking.
Made in
Thailand.
Weaknesses
Don't try to hold a heavy camera by this lens; the mount might break if you put too much strain on it.
Sharpness performance top
Warning 1: Image sharpness depends more on you than your lens.
Warning 2: Lens sharpness doesn't mean much to good photographers.
This little plastic lens is a miracle. It's sharp, sharp, sharp when shot on a 24 MP DX camera.
Lens sharpness used to matter with zooms in the 1960s, but today, Nikon's best lenses like this are sharper than most photographers ability to elicit sharpness from them. Making a sharp picture is a lot harder than just having a sharp lens.
If I get out the microscope as shot at the test range at infinity at 24MP on DX, it's sharp at every setting. While the corners might have just the slightest hit of flare wide-open, they clear up to perfection a stop or two down. I'd never see that unless I was shooting tests with the sides in perfect focus.
Here are Nikon's claimed MTF charts, which are saying that this lens is essentially perfect: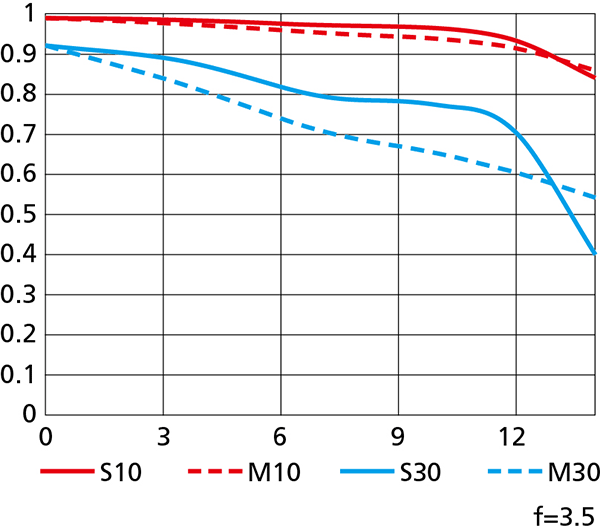 Nikon 18-55mm VR II MTF at 18mm.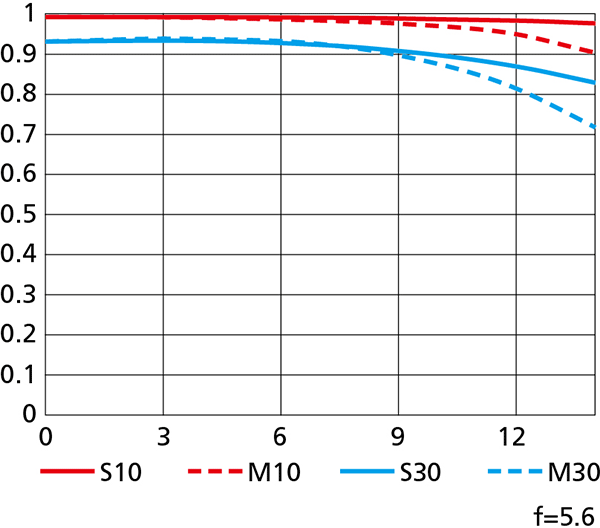 Nikon 18-55mm VR II MTF at 55mm.
If you're paying attention, you'll notice that at 18mm it's as good or better than the rated MTF (sharpness) of the 16-85mm VR, 18-200 VR II and new 18-300mm VR lenses.
It gets even more interesting at 55mm. If you know How to Read MTF Curves, you'll recognize that the 55mm curve is nearly perfect. How fantastic is it? It's even better then LEICA's $7,400 APO-SUMMICRON-M 50mm f/2 ASPH. If you look at its MTF curves on page 3, you'll see that this little plastic wonder is far better. Of course MTF curves are measured differently by each manufacturer so it's hard to compare, but you get the idea: this 18-55mm has superior optical performance, and I confirmed it in actual shooting.
Vibration Reduction performance top
Nikon claims 4 stops improvement.
Zooming performance top
Zooming feels great.
It's perfectly damped with no creep. It feels much better than a lens this cheap has any right to feel.
It's perfectly spaced. It's easier to set a precise composition with the 18-55 than with many of Nikon's fancier zooms.
The filter ring does not rotate as you zoom. It does move in and out, being the shortest at 30mm setting.
Recommendations top
Intro Specs Performance Recommendations More
This inexpensive plastic 18-55mm VR II is among Nikon's best lenses. It's ultra sharp, has VR so you can leave the tripod at home, and it's among the lightest lenses ever made by Nikon.
Get one!
The previous 18-55mm lenses (18-55mm DX (2005-2006), 18-55mm DX II (2006-2007) and 18-55mm VR DX (2007-2012)) are as good optically, while this newest 18-55mm VR DX II is even lighter and focuses more closely.
The even better news is that this lens comes included free with the D3300 in the USA. You probably won't have to go buy one by itself if you can get it as a kit with your camera.
It's super-sharp, and can give images as good or better than the more expensive 16-85mm and 18-200mm lenses. You lose mechanical durability and size and weight, but not image quality, when compared to the more expensive lenses.
Personally I prefer the fixed 35mm f/1.8 DX lens for its greater speed (f/1.8) for capturing action in dim light instead of the zoom and macro ranges and VR of this zoom, while most people and myself prefer the zoom for general use indoors and out where you're not trying to stop action in the dark.
I would buy a 52mm Hoya UV filter (a whopping $10 for an excellent filter) to keep on at all times for protection. It's easier to replace a filter than to replace a lens.
Filters, caps and hoods
I wouldn't bother with the hood.
I only use caps when I put the lens away in a bag. Otherwise, a UV filter protects my lens.
I'd leave either a $30 52mm Nikon Clear (NC - UV) filter, or a $15 52mm Hoya Alpha MC UV on the lens at all times. Each is as good.
If I was working in nasty, dirty areas, I'd use a $5 uncoated 52mm Tiffen UV filter instead. Uncoated filters are much easier to clean, but more prone to ghosting.
More Information top
Intro Specs Performance Recommendations More
Nikon's 18-55mm VR II DX page.
Help me help you top
I support my growing family through this website, as crazy as it might seem.
The biggest help is when you use any of these links when you get anything, regardless of the country in which you live. It costs you nothing, and is this site's, and thus my family's, biggest source of support. These places have the best prices and service, which is why I've used them since before this website existed. I recommend them all personally.
If you find this page as helpful as a book you might have had to buy or a workshop you may have had to take, feel free to help me continue helping everyone.
If you've gotten your gear through one of my links or helped otherwise, you're family. It's great people like you who allow me to keep adding to this site full-time. Thanks!
If you haven't helped yet, please do, and consider helping me with a gift of $5.00.
As this page is copyrighted and formally registered, it is unlawful to make copies, especially in the form of printouts for personal use. If you wish to make a printout for personal use, you are granted one-time permission only if you PayPal me $5.00 per printout or part thereof. Thank you!
Thanks for reading!
Mr. & Mrs. Ken Rockwell, Ryan and Katie.
Home Donate New Search Gallery Reviews How-To Books Links Workshops About Contact