Home Donate New Search Gallery Reviews How-To Books Links Workshops About Contact
Nikon 24-70mm f/2.8
FX AF-S G ED NIKKOR (2007-2015)
Intro Specs Performance Compared Recommendations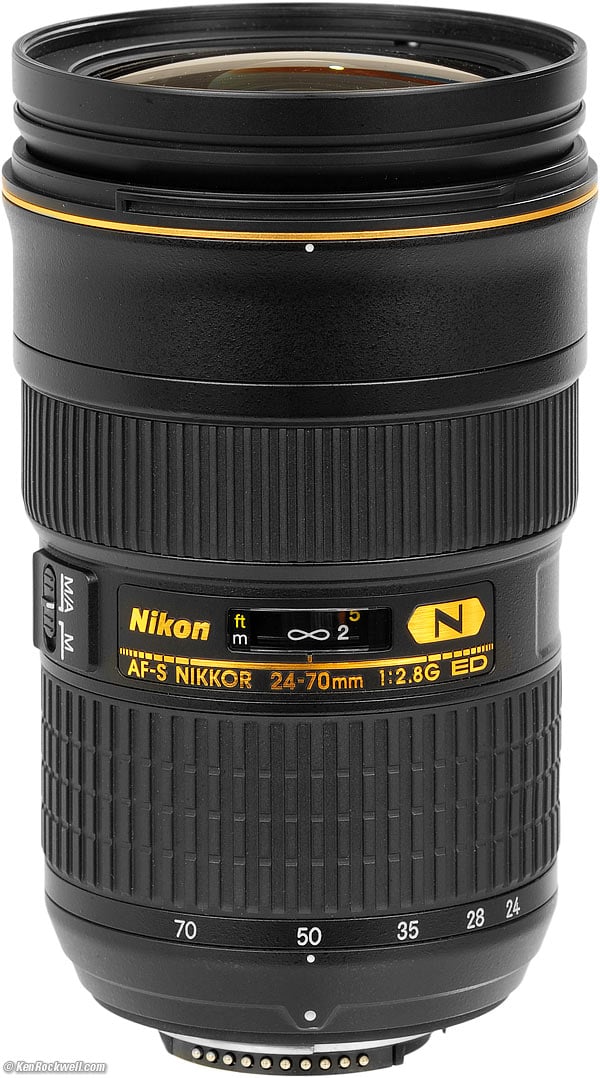 Nikon AF-S 24-70mm f/2.8 G ED (77mm filters, 31.8 oz/902g, 1.2'/0.38m close focus, about $1,885). I'd get it at Adorama or Amazon or used at eBay (see How to Win at eBay). My biggest source of support to keep adding to this free website is when you use those or any of these links when you get anything, regardless of the country in which you live. Thank you! Ken.
August 2015 Nikon Reviews Nikon Lenses All Reviews
| | |
| --- | --- |
| Optics: | |
| Mechanics: | |
| Ergonomics: | Too big and too heavy |
| Usefulness: | |
| Availability: | Expensive pro lens; hard to find. |
| Overall: | |
Ideal Uses: Perfect for use as your only lens.
Not for: Don't use this on DX; get the DX 17-55mm f/2.8 instead. Don't bother with this if you also carry wide or tele zooms; you don't need it. See Nikon FX Lenses for more.
Introduction top
Intro Specs Performance Compared Recommendations
This 24-70/2.8 is Nikon's best midrange zoom ever, but that's expected since it's also Nikon's newest and most expensive ever.
See my Nikon Professional Normal Zoom Comparison for exhaustive side-by-side image examples. My tests show this 24-70mm f/2.8 is the sharpest normal zoom ever made by Nikon, but we expect that since it's the newest and most expensive.
I'm surprised that the new 24-70mm Nikkor is obviously so much better than other lenses. When I ran comparisons against cheaper and older lenses, I fully intended to see the old stuff be about the same. Nope, the 24-70mm outdoes them all.
People rightfully ask how I can go off about how much sharper the new lens is, then in the same breath say they all look the same. The answer is simple: to see sharpness differences, you have to know how to make a lens look its worst. Shoot it in daylight at f/2.8, then look at the image at 100% on a big screen, and the differences between lenses become obvious.
That's not how we make or display pictures.
Most photos are shot properly at reasonable apertures, like f/8, at which most lenses DO look alike. Even if there are small differences visible at 100% (there aren't), these small differences become completely invisible at small amateur print sizes like 13 x 19" (30 x 50cm).
Much as someone knowledgeable in an art form can appreciate a virtuoso doing something almost impossible that seems ordinary to most people, I know how impossible and remarkable it is to make a zoom lens sharp at f/2.8 and do it without darkening in the corners on full-frame. The 24-70mm does just that. My Velvia 50 slides seem three-dimensional even at f/2.8, presuming I'm shooting tests at infinity from the mountain with good seeing conditions so everything can be in focus.
The 24-70mm also stands out from its optically excellent predecessors its lack of klunk factor. The 24-70 doesn't get in your way. The 24-70 is an exquisite hunk of solid metal that just makes pictures with no fiddling. It feels as if it was hewn from a single solid ingot.
The 35-70mm f/2.8 AF (1987-2006) works great, but you have to jack it around by moving mechanical switches to get into macro or manual focus modes, and it's a clumsy push-pull zoom. If you shoot all day with it and need to get closer than two feet, screw that.
The previous 28-70mm f/2.8 AF-s (1999-2007) eliminates the switches and has a zoom ring, but was such a big fat lens that I was always, and still am, scared of it. The first generation AFS motors were very big, so the rear end and zoom ring of the 28-70 had to be huge.
By comparison, this newest 24-70 is a solid block of smooth, easy precision. It just works, and doesn't grate on you all day shooting with it. The 24-70mm is mostly metal with an engraved zoom ring. Manual focus flicks with a light touch from one finger, a Nikon hallmark since the 1950s. AF lenses rarely feel this good for manual focus. I can shoot and zoom the 24-70 with one strong hand.
This 24-70mm focuses closer (1.2' versus 1.5' or 0.38m vs 0.5m), zooms wider (24mm vs 28mm), is 0.4" (11mm) longer and is 0.560 oz. (15.85g) heavier than the 28-70mm f/2.8 AF-S it replaces. More importantly, it's 0.2" (6mm) narrower and the zoom and focus rings turn much more freely. I measured the actual weight differences with a sample of each lens on a differential balance; Nikon's specifications vary more depending on where you read them.
The 35-70mm f/2.8 AF is much smaller and lighter than either AFS lens. If you don't mind some klunkiness and the narrower zoom range, you can get about the same optical performance in a smaller package in the 35-70mm f/2.8 AF for about $400 used, if you know How to Win at eBay.
Nikon announced this 24-70mm f/2.8 zoom on August 23rd, 2007, along with its sister 14-24mm f/2.8 lens and the full-frame Nikon D3 body. It is the latest in a long line of pro normal zooms: the 35-70mm f/3.5 AI (1977-1981), 35-70mm f/3.5 AI-s (1981-1987), 35-70mm f/2.8 (1987-2006) and the 28-70mm AF-S (1999-2007).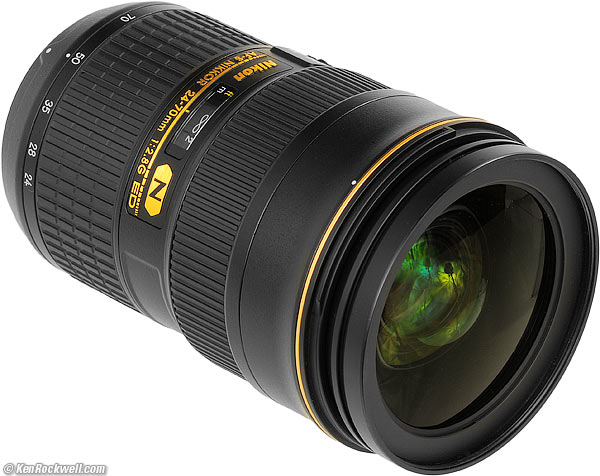 Nikon 24-70mm f/2.8G AF-S. bigger.
Compatibility
This 24-70mm works perfectly on every DX and FX digital SLR, including the cheapest D40 and the D600, D800, D800E and D4. If all you shoot is digital, feel free to skip ahead.
As a big, heavy, expensive full-frame lens, it's silly to use this 24-70mm f/2.8 on the smaller DX cameras, and sort of defeats the purpose of the lightweight and inexpensive D40, although it works flawlessly on any of these cameras. For DX cameras, I'd get something else, since 24-70mm is a silly zoom range on DX. You are paying a big premium for FX coverage if you don't intend to use it on an FX camera.
The ideal use of this big 24-70mm is on a big camera, which means FX or 35mm.
It works great on the F4, F5 and F6. Even on the 1988 F4 you get super fast autofocus, Matrix metering and P and S automatic exposure modes. (forget Manual and aperture-preferred on the F4.)
This 24-70mm AF-s is the first f/2.8 mid-range zoom to be useless with manual focus cameras.
This lens is a G (gelded) version, meaning Nikon crippled it for use on manual focus cameras by removing its aperture ring to save cost. For the pro film cameras, this means forget it with the F, F2, FM, FE, FA, F3HP and FM3a, unless you want to use stop-down metering at f/22 only.
The 28-70mm AF-s has an aperture ring for use on manual focus and very old AF cameras.
This 24-70mm AF-s won't autofocus on some of the very earliest or cheapest AF film cameras like the N55.
See Nikon Lens Compatibility for more. This is an AF-S and a G lens; you get the fewest of the features listed for both since G removes compatibility.
Specifications top
Intro Specs Performance Compared Recommendations
Nikon 24-70mm f/2.8 AF-S nameplate.
Name
Nikon calls this the AF-S Nikkor 24-70mm f/2.8G ED.
AFS: Quiet focusing SWM (silent wave motor) with instant manual focus override.
G: No aperture ring. Useless on manual focus cameras. Only works on AF cameras newer than about 1992, depending on camera. Works great on the 1988 Nikon F4 in P and S modes.
ED: Magic glass for sharper images.
It also has IF: Internal Focusing. The big gold N stands for Nano Crystal Coat, a new anti-reflection coating used on only one internal surface.
Nikon 24-70mm f/2.8 AF-S bottom markings.
The 10 inside recycling circles means that Nikon expects that this lens will be thrown into the dump in 10 years. I hope not, but that's what the "10" means.
All this and more explained in greater depth on my Nikon Lens Technology page.
Focal Length
24-70mm.
This lens is intended for use on film and full frame cameras, on which it is obviously a 24-70mm equivalent.
Used on a DX digital SLR, it gives angles of view similar to what a 37-107mm lens would give on a 35mm film or FX camera. Calculated in reverse, you would need a 16-46mm lens on a DX camera to replicate the angles of view that this 24-70mm lens gives on FX and film cameras. See also Crop Factor.
Diagonal Angle of View
84° - 34.3° on 35mm and FX.
61° - 22.8° on DX cameras.
Optics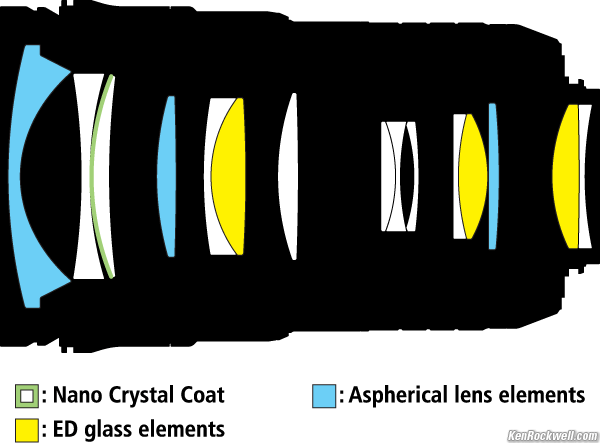 15 elements in 11 groups.
Three of these are ED glass, which helps reduce color fringing.
Three are glass-molded aspherical.
One surface of one element (only) has Nikon's special Nano Crystal anti-reflection coating. That's the big N logo on the lens.
Diaphragm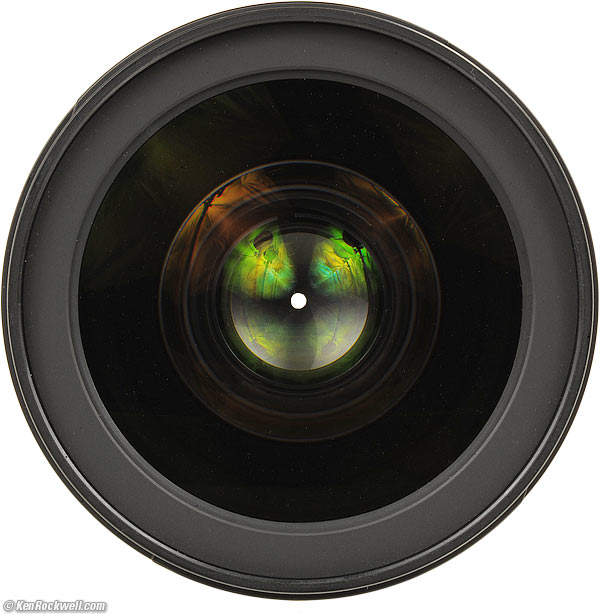 Nikon 24-70mm f/2.8 G at 50mm and f/22. bigger.
9 blade rounded.
Stops down to f/22.
Filter Size
77mm.
Plastic threads.
No rotation during focus or zoom, although the filter threads extend at the ends of the zoom range.
Close focus
1.2 feet (0.38m) from the image plane (the back of the camera), marked.
Maximum Reproduction Ratio
1:3.7, which is pretty close!
The 28-70mm f/2.8 AF-s only gets to 1:5.6.
Infrared Focus Index?
NO.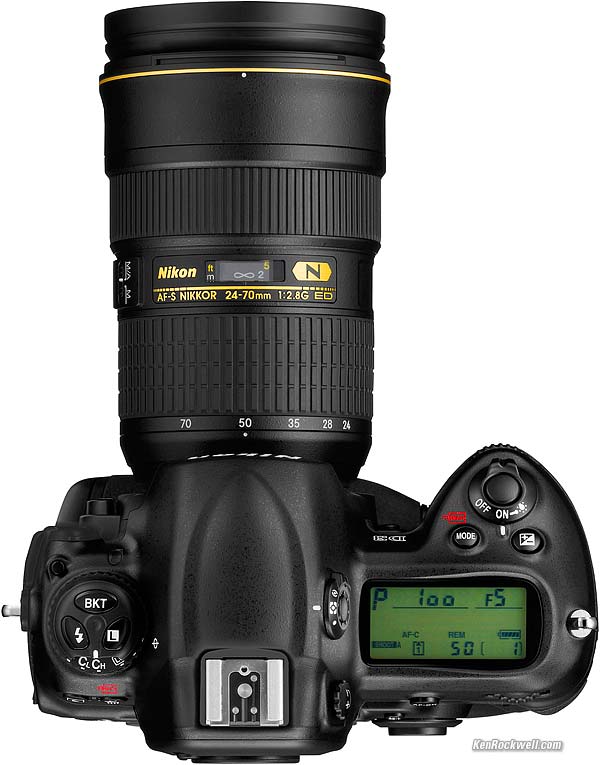 The huge Nikon D3 dwarfed by the even bigger 24-70mm.
Size
5.227" extension from flange and 3.267" diameter (132.87 x 82.99mm), as measured by me when set to 51mm.
Nikon specifies 3.3" diameter x 5.2" extension from flange (83 x 133mm). The 28-70mm f/2.8 AF-s is shorter and fatter: 3.5" x 4.8" (88.5 x 121.5mm).
The front extends at the ends of the zoom range. The Nikon 24-70mm is shortest when set to 50mm as pictured. The front group extends an additional 4mm at the 70mm focal length or an additional 20mm at the 24mm focal length. Focus is internal.
Weight
31.820 oz. (1.9888 pounds or 902.05g), as measured by me.
On a differential balance, the 28-70mm AF-S weighs 0.560 oz (15.85g) less than this 24-70mm. Nikon specifies 31.7 oz. (900g). (Nikon USA mistakenly calculated the weight from grams as 2.45 pounds, which you'll see repeated many places in the USA, whoops!)
Hood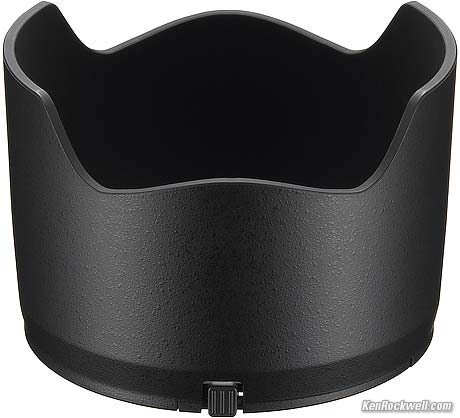 Nikon HB-40 hood.
HB-40 plastic bayonet, included.
Case top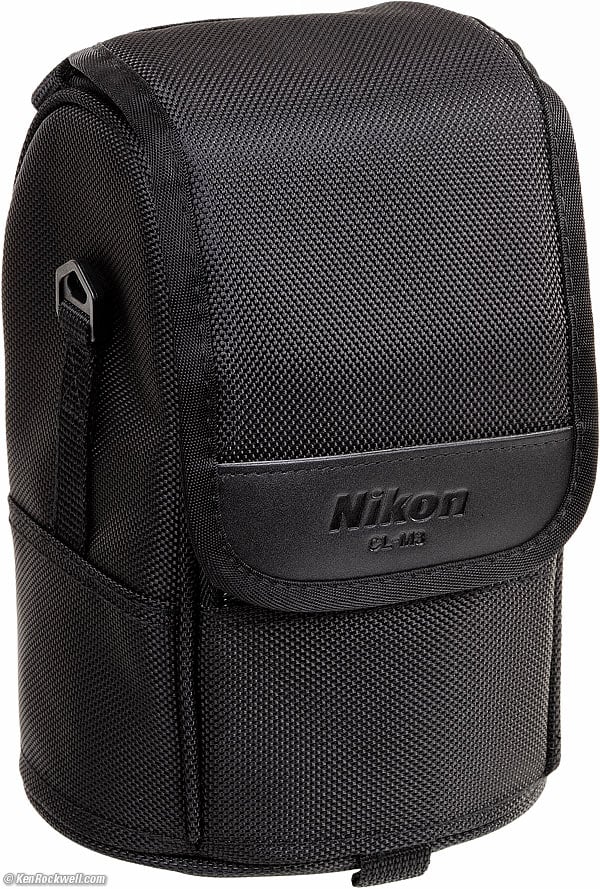 Nikon CL-M3 padded nylon case.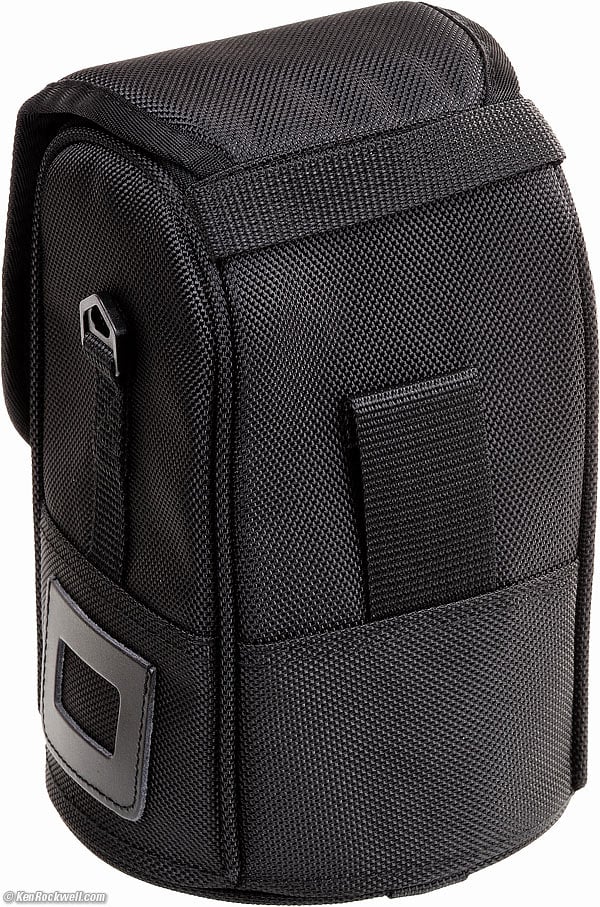 Rear, Nikon CL-M3 padded nylon case.
CL-M3 padded nylon case, included.
It's the same case included with the 300mm f/4 E VR PF and the 14-24mm.
Belt loop, velcro and dual-zipper closure.
The lens ships inside the case with hokey white foam on the top and bottom, I'm presuming that's just to snug it up for shipping.
Nikon Product Number
2164.
Announced
23 August 2007.
Available
Photographers started getting theirs 12 November 2007.
Price, USA
$1,747, August 2015.
$1,885, October 2012.
$1,885, August 2012.
$1,720, December 2010.
$1,750, July 2010.
$1,800, December 2009.
$1,750, July 2009.
$1,700, December 2007.
$1,699.95 MSRP at introduction, August 2007.
Nikon 24-70mm box. That's gold foil - wow!
Performance top
Intro Specs Performance Compared Recommendations
Overall Autofocus Bokeh Color Distortion Ergonomics
Eyeblow Falloff Filters Focus Breathing Flare & Ghosts
Lateral Color Fringes Macro Mechanics Sharpness
Overall performance top
See my Nikon Professional Normal Zoom Comparison for exhaustive side-by-side examples.
The Nikon 24-70mm is very easy to use and has exemplary optics, except for the strong, but easy to correct, distortion at 24mm.
It's the easiest-to-use professional midrange zoom ever offered by Nikon.
The only odd thing is that sometimes I can knock the manual focus ring by accident if I'm holding the entire lens for stability, which can change the focus. There is no way to disable the always-active MF ring. This is important if you're shooting all day. Little annoyances turn into big pains fast.
The older 28-70mm AF-S had its manual focus ring farther forward and farther away from the zoom ring.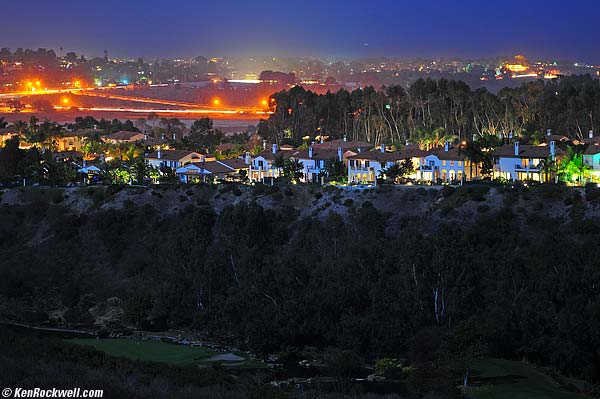 Full Moonlight, 23 November, 2007. camera-original file.
To those of you who know lenses, this wide-open tele shot should say it all. It is made with the 24-70mm set to 70mm, f/2.8 at 15 seconds and ISO 200 on a D300. Focus is on the nearer row of houses, not infinity, and remember that the banana plant on the right is blowing in the wind. Most other zooms need to be stopped down to look this sharp.
D300 NR was at default, no long exposure NR, either. VIVID mode, Saturation set to +3, the maximum, and WB set to tungsten to make moonlight blue. Most other zooms look like mush at this setting and need to be stopped down to become this sharp. PS: The D300 easily autofocused all by itself.
You may have to click again after the 2MB Large Basic JPG (optimize quality) downloads to let your browser show the full image at 100%
Autofocus performance top
Autofocus Accuracy
Autofocus is OK on my D300, D3 and D40.
On my D200, autofocus focuses too closely at 24mm. At 24mm wide open, I get far better results using what we do in television studio production, which is to zoom into 70mm, lock focus, and zoom back out. On a D200 at defaults in AF-S mode, zoom to 70mm, press the shutter halfway, and hold it to hold focus while you zoom back out to 24mm.
AF is fine from 35-70mm, even on my D200.
For those of you comparing, I had huge AF errors on my D3 with the older 28-70mm AF-S, and perfect focus with this 24-70mm AF-S. I was able to compensate the older lens with my D3's AF Fine Tune menu option, but my D40 had no such option. AF accuracy will vary with each sample of camera and each sample of lens, so pick and choose accordingly. This is why I only buy from places that give cash refunds if I find a lens which isn't compatible with the certain camera body with which I plan to use it.
Again, this 24-70mm is perfect with my D300, D40 and D3.
Manual Focus
Just spin the manual focus ring, no need for a clumsy switch.
It feels exquisite. It just turns, with no play, no backlash, no creep, very little effort and no drag. You must feel it to believe it.
It's geared just about right at the wide end, which means it turns a little too fast for precise manual focus at the long end.

Nikon 24-70mm M/A - M Switch.
The M/A - M switch isn't needed for manual focus. It more properly should be marked "Deactivate AF"
The M/A position is the normal position. This means AF works, and all you need to do for manual focus is to move the ring.
The M position deactivates AF. In M the 24-70mm holds your manual focus position. even if you take your hand off the ring and tap the shutter button.
I'd prefer AF-Lock buttons on the lens. Some cameras can be programmed for this function.
Bokeh performance top
Bokeh, the character of out of focus backgrounds, not simply how far out of focus they are, is fair to poor.
Blur circles for point light sources often have exaggerated and sharp outlines.
Color Rendition performance top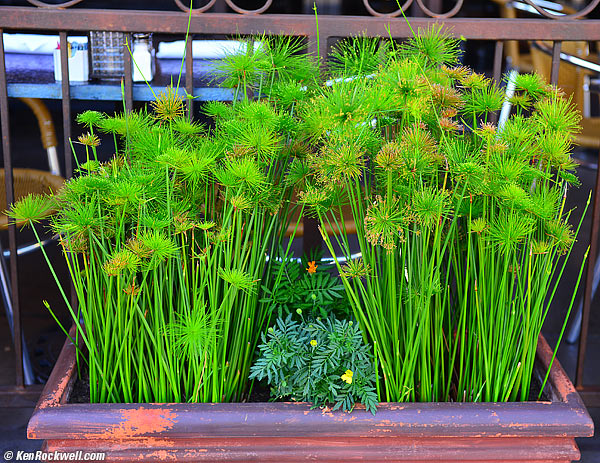 Green. D600, 24-70/2.8 G at 55mm, f/3.2 at 1/60, ISO 100, VIVID Picture Control, +3 Saturation, 6 Sharpening, AUTO WB with A4 and M1 trim. original file.
I see no differences in color rendition from my other multicoated NIKKOR lenses.
Distortion performance top
The 24-70mm AF-S has strong barrel distortion at 24mm, and reasonable distortion at other focal lengths.
It has the worst distortion of any Nikon professional normal zoom ever made, but maybe that's not fair, since the worst of the distortion is at 24mm, which none of the other pro normal zooms (35-70mm f/3.5 AI, 35-70mm f/3.5 AI-s, 35-70mm f/2.8 D, 28-70mm AF-S) reaches.
Shoot it at about 30mm and the distortion goes away.
Luckily, for the one shot in a thousand where you might care, it's easy to correct completely in Photoshop CS2's lens distortion filter. There is no weird waviness as is common with other complex aspherical lenses. Distortion, if any is visible, is one simple constant-radius curve.
Use these numbers in Photoshop CS2's lens distortion filter to rectify it. These aren't facts or specifications, they are the results of my research that requires me to climb a bluff on a very clear day and shoot the ocean's horizon.
For scanned film, use the FX full-frame figures.
| | | | | |
| --- | --- | --- | --- | --- |
| | FX, infinity | FX, 50' (15m) | | |
| 24mm | +5.0 | +4.0 | +2.0 | +2.0 |
| 28mm | +2.0 | +2.0 | +1.0 | +0.2 |
| 35mm | -0.4 | -1.0 | -0.3 | -0.5 |
| 50mm | -2.0 | -2.0 | -0.4 | -0.5 |
| 70mm | -0.5 | -1.0 | -0.1 | -0.5 |
© 2007 KenRockwell.com
Ergonomics (handling and ease-of-use) performance top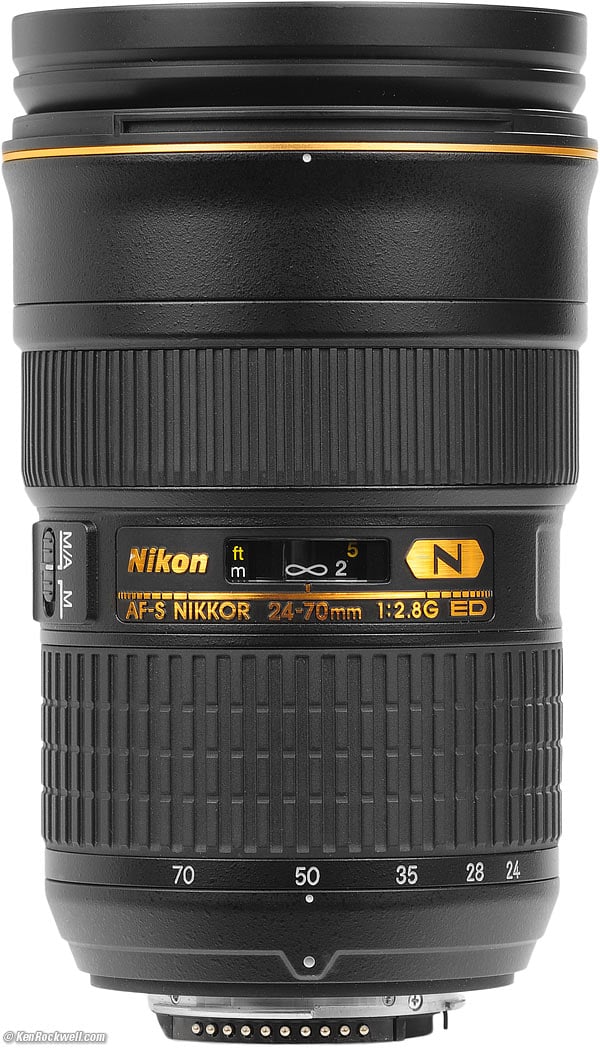 Nikon 24-70mm f/2.8.
Ergonomics are great: just turn the zoom ring and go. For manual focus override, just grab the focus ring at any time.
The only gotcha is to be careful not to knock the focus ring unintentionally, or you will shift the focus. This is easy to do, since your hand naturally lands over the focus ring.
The front section of the 24-70mm moves in and out as zoomed. It never rotates: focus is internal.
The lens barrel is shortest at the 50mm setting. The front section extends an additional 4mm at the 70mm and 35mm focal lengths. It extends an additional 20mm at the 24mm focal length.
The hood attaches to the body and does not move at all; the front section moves in and out inside the hood as zoomed.
The zoom ring is very well spread out, which makes precise composition a breeze.
See all the space between 35mm and 24mm? That's the way it's supposed to be.
Too many other lenses cram the wide angles too close together. It is bad when other lenses cram 35mm and 24mm almost on top of each other.
The Nikon 24-70mm's zoom ring is spaced at a constant 3 cm/octave. The same rotation always gives the same percentage change in image size, everywhere in the zoom range.
Bravo!

Tolerances are very tight between the zoom ring and body. This is precision machining. I can barely poke a sheet of copy machine paper in either groove between zoom ring and lens body.
This is so tight that if one tiny speck of grit made it in, it would be very bad.
It reminds me of the Baldwin door locks. Baldwin is rather proud that their locks are made with such tight tolerances that sand simply can't fit!
The spacing on this 24-70 is the same: too small for a grain of sand, but not too small for smaller grit.
My zoom has always been smooth, with the caveat that there is what could be interpreted as a subtle grind that feels like the residual tool marks from the lathe that cut the zoom cam grooves. When I turn the zoom ring, it's a little like feeling each little nick bitten out of the cam as the tool spun and cut the cam.
This reminds me that I have a lens with metal zoom cams that were most likely CNC cut individually, maybe even optimized for the production variations by batch of glass (I'm dreaming), instead of a lesser lens with smooth plastic cams.
Regardless of the feel, mine zooms smoothly with the tip of one moderately strong finger push.
Eyeblow performance top
As the 24-70 2.8 is zoomed in and out, some air pumps in and out, and you may have some air blow out of the eyepiece into your eye.
I couldn't feel anything at a camera's viewfinder, even though some air does pump in and out of the back of the lens.
Falloff (darkened corners) performance top
Falloff on film or an FX camera is slight at f/2.8. It's gone by f/4 or 5.6.
This is one of the subtle things Nikon improves each generation. The 24-70mm zoom has much less falloff than any of Nikon's fixed 24mm lenses.
I doubt it will ever be a problem in actual shooting.
There is no falloff on DX digital cameras (see Crop Factor).
I have greatly exaggerated it by shooting a flat field and presenting it against a flat field below. In real photography it is invisible.
Nikon 24-70mm f/2.8 AF-S falloff on FX at infinity, no correction.
| | | | |
| --- | --- | --- | --- |
| | f/2.8 | f/4 | f/5.6 |
| 24mm | | | |
| 28mm | | | |
| 35mm | | | |
| 50mm | | | |
| 70mm | | | |
© 2010 KenRockwell.com. All rights reserved.
Filters, use with performance top
The front never rotates, although it does move in and out with zooming.
Nikon has taken a step backwards, since this is the first new lens in a long time which cares about what sort of filter you use. I can get slight vignetting at 24mm on my FX D3 with a 7.2mm (0.28") thick traditional Hoya circular polarizer. It is worse at the very closest focus distance.
I don't need special thin filters, but it's close at 24mm on film or an FX camera.
I do get vignetting if I stack my 77mm circular grad over the polarizer at 24mm. The problem goes away at 28mm, all on FX.
Any vignetting is more obvious at small apertures (f/16) than at large ones (f/4).
There is never a problem with DX cameras. (See Crop Factor.)
Focus Breathing performance top
Of interest mostly to cinematographers focusing back and forth between two subjects, the image from the Nikon 24-70 gets smaller as focused more closely at the 24mm end, and varies very little at the 70mm end.
Flare and Ghosts performance top
You really have to be doing something stupid to see any ghosts. For all reasonable photo situations, including those with the sun in the image, the ghosts fall outside film or digital's dynamic range.
There can be a couple of spots if you deliberately try to create them. I wouldn't worry about this. It's better than the 35-70mm f/2.8 AF.
Nano Crystal Coating is a new kind of coating to reduce flare and ghosts. There is only one internal surface with this coating.
Lateral Color Fringes performance top
None on a D3 or D300. These cameras correct them as needed.
On the old D200, which can't correct this automatically, there are some red/cyan fringes at 24mm and 28mm. There are no fringes at 35mm, 50mm or 70mm ion a D200.
Macro performance top
Macro gets close, and it's sharp: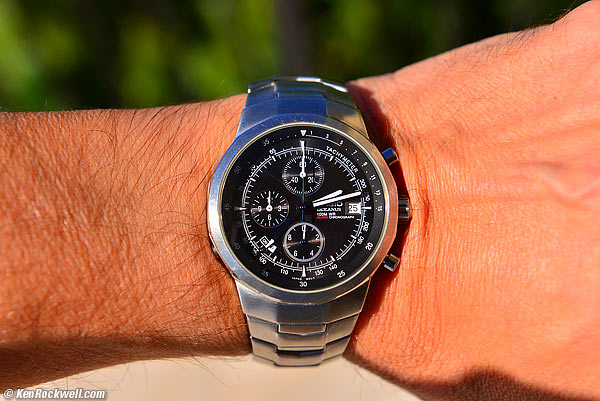 At 70mm at f/9 at close focus distance on full-frame D600.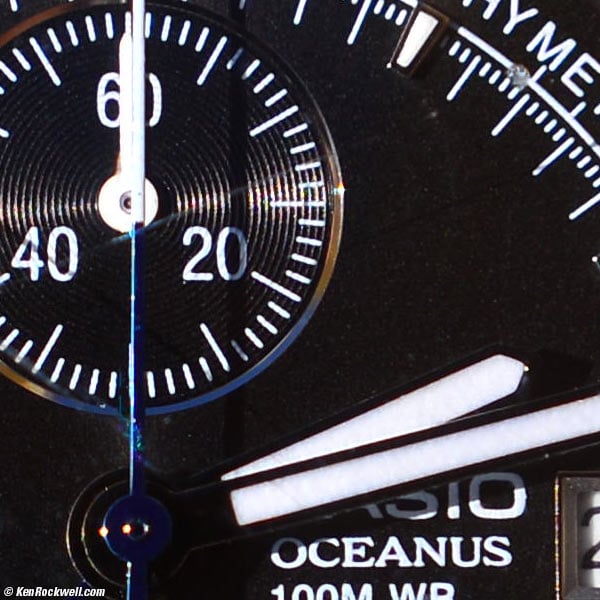 Crop from small section of above 24MP image at 100%. If this is 6" wide on your screen, the complete image would print 40 x 60" (1 x 1.5 meters) at this same magnification.
Mechanics and Construction performance top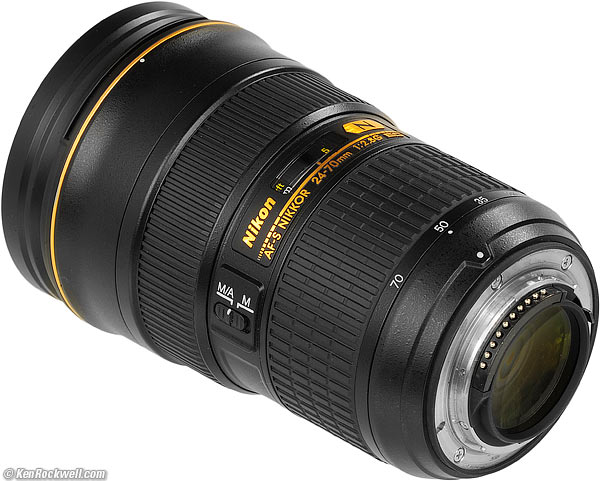 Rear, Nikon 24-70mm f/2.8. bigger.
The metal barrel and everything appears finished in the same delicately mottled black paint as the 17-35mm AFS. I'm told it's epoxy paint which is a mix of epoxy resin and an accelerator. These are spat on the lens and cure to become hard and tough.
Filter Threads
Plastic.
Hood Bayonet
Anodized aluminum.
Focus Ring
Rubber-covered metal.
Front Moving Barrel
Metal.
Front Barrel
Plastic.
Focus Ring
Rubber-covered metal.
Middle Barrel
Plastic.
Zoom Ring
Rubber-covered metal.
Engraved and filled markings.
Rear Barrel
Metal.
Aperture Ring
None.
Identity Plaque
Debossed metal, black and gold-colored.
Switches
One plastic focus mode switch.
Mount
Dull chromed brass.
Rain Seal at Mount
Yes.
Internals
I see metal.
Noises when shaken
Lots of mild klunking, which is normal.
Serial Number

Nikon 24-70mm Serial Number, typical from first production run.
Laser engraved in bottom rear of metal barrel. This makes for highly legible silver on black. Legitimate USA products are prefixed by "US."
Made in
Japan.
Sharpness performance top
Warning 1: Image sharpness depends more on you than your lens.
Warning 2: Lens sharpness doesn't mean much to good photographers.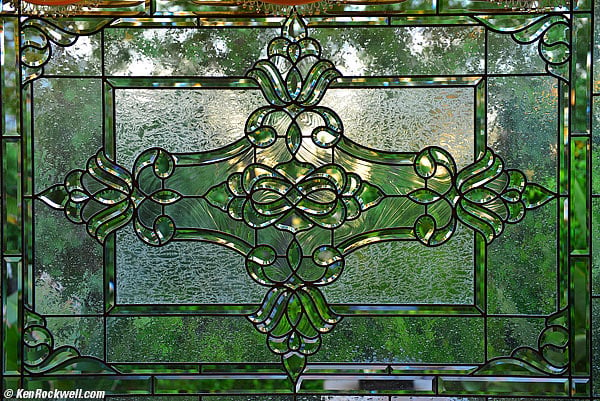 Leaded Glass. FX D600 at ISO 100, VIVID picture control, +3 saturation, 6 sharpening, Nikon 24-70mm at 50mm, 1/50 at f/3.2, hand-held. 24MP © original file.
The 24-70mm f/2.8 AF-S is the sharpest normal zoom ever made by Nikon.
See my complete comparison against every other pro Nikkor in my Nikon Pro Zoom Comparison. There is also an older informal comparison on a DX camera at my Nikon 24-70mm DX Sharpness Comparison.
Read these details if you want, but know that the only way I'm able to see anything other than perfection is by looking very closely at images at the equivalent of 43" (1m) wide, and then looking at images made very carefully from atop a mountain so that there are sharp details to be seen in focus at infinity at all points in the image.
The only lack of perfection is in the very farthest corners of the DX frame, and the only way to see this is with devious subject material which actually is in focus in the corners. Few subjects are like this. For instance, the fern above simply goes out of focus in the corners because it is three-dimensional and gets farther away from the camera away from the center.
Sharpness comes from a photographer's vision. It doesn't come from a lens. All lenses are about as sharp at f/8, where we usually use them. The differences I'll reveal below are applicable only when lenses are misused, which is shooting test targets at f/2.8. Lenses get sharper as stopped down, until about f/8, beyond which diffraction sets in.
The Nikon 24-70mm AFS is scary good on Fuji Velvia 50. I've never used a sharper SLR lens on 35mm, period. The autofocus is dead-on on my F6, unlike on my D200, so it's deadly sharp even at f/2.8 in broad daylight at every focal length. Wow!
Center Sharpness
The 24-70/2.8 is perfectly sharp and contrasty at every aperture and every focal length in the center.
Of course it gets softer at small apertures (f/11 through f/22) due to diffraction, but otherwise as expected, the center and most of the image is always perfect.
Corner Sharpness
At 24mm
Sharp all over, except the last few millimeters of the farthest corners, where it gets blurry at f/2.8 if you're looking too hard. If you are, stop down to f/4 or f/5.6 and it becomes perfect.
At 28mm
Sharp all over, except the last millimeter of the farthest corners, where it gets blurry at f/2.8. If you are, stop down to f/8 if you need perfection.
At 35mm
Sharp all over, except the last millimeter of the farthest corners, where it gets softer at f/2.8. it's much better at f/4, and perfect at f/8.
At 50mm
Sharp all over, except the last few millimeters of the farthest corners, where it gets a little softer at f/2.8. It gets better at f/4 and best by f/8.
70mm
Sharp all over.
Rated MTF top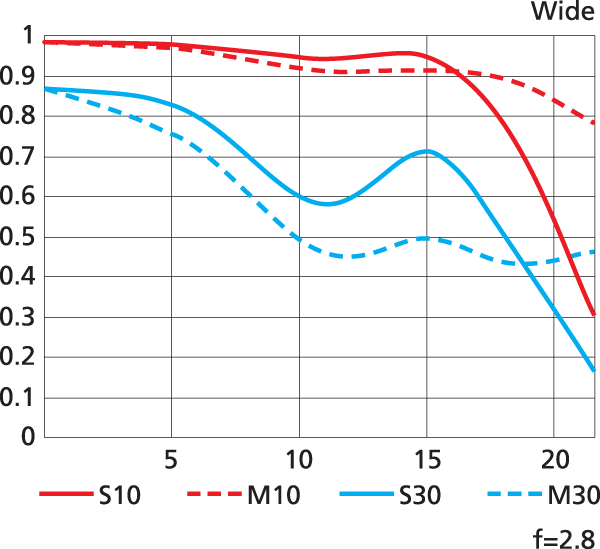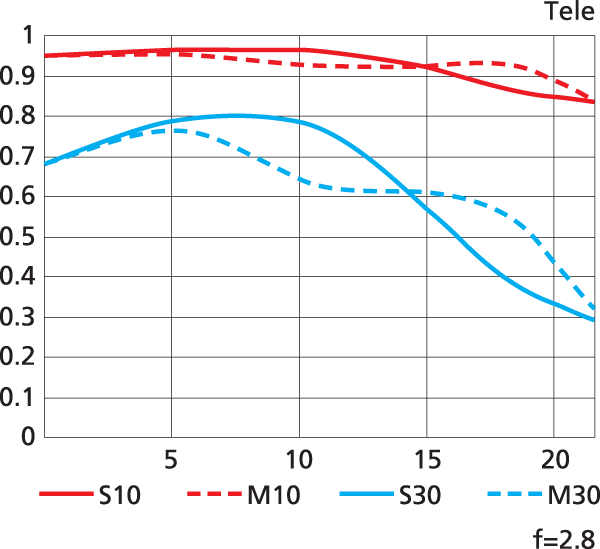 Nikon's published MTF graphs rate the 24-70mm as about the same to a little better as the 28-70mm f/2.8 AF-s, better than my favorite 24-85mm AFS and the 24-120mm VR and much better than the 24-85mm f/2.8-4 that I've never liked.
Of course these MTFs are dreams, which mean they are calculated, not measured from real lenses. Nothing is said if the published graphs are monochromatic, polychromatic, or integrated over white light, so they mean very little for comparison to real samples of lenses. Don't lose sleep over any of this.
Sunstars performance top
With its rounded 9-bladed diaphragm, the 24-70 2.8 G rarely makes any sunstars on brilliant points of light.
Survivability performance top
The Nikon 24-70mm seems pretty tough, except for its plastic filter ring. Bang it without a filter, and you'll break it.
My biggest concern is the↓10↑: Lead-free RoHS symbol, meaning lead-free solder used so that tin "whiskers" will grow after about ten years, ensuring that its circuitry is unrepairable, thus a 10-year expected life before being thrown away as unrepairable. More on tin whiskers from NASA and more here (page 41).
AF-S focus motors break, and if Nikon decides not to supply parts, you'll have a lens that can't autofocus in a few decades.
Compared top
Intro Specs Performance Compared Recommendations
NEW: All 24-70mm Lenses Compared.
Nikon Pro Normal Zooms Compared.
Sharpness Comparison to all other 24mm lenses August 2010
Compared to the Tokina 20-35mm f/3.5-4.5 AF November 2010
The newer 2015 24-70/2.8E VR is even sharper in the corners at large apertures and adds VR.
The newer 2012 Canon 24-70mm f/2.8 L II is even sharper in the corners at large apertures, and has far better sunstars; but it won't work on Nikon cameras.
Recommendations top
Intro Specs Performance Compared Recommendations
You people know who you are. This is Nikon's best mid-range zoom ever for Nikon 35mm and FX format digital cameras, which makes sense since its also the newest and most expensive. It just works, and it works great, if you don't mind carrying its weight.
For use on DX cameras, I prefer the 18-200mm VR for its greater versatility. Not that this 24-70mm isn't great, but you're paying a huge size, weight and price premium for FX coverage, which is thrown away on DX digital cameras (see Crop Factor).
If you've found the time, effort and expense I incur researching and sharing all this for free, my biggest source of support to keep adding to this free website is when you use this link to get yours from Adorama or this link to get yours from Amazon, or any of these links when you get anything.
Thank you!
Ken.
More Information
Help me help you top
I support my growing family through this website, as crazy as it might seem.
The biggest help is when you use any of these links when you get anything, regardless of the country in which you live. It costs you nothing, and is this site's, and thus my family's, biggest source of support. These places have the best prices and service, which is why I've used them since before this website existed. I recommend them all personally.
If you find this page as helpful as a book you might have had to buy or a workshop you may have had to take, feel free to help me continue helping everyone.
If you've gotten your gear through one of my links or helped otherwise, you're family. It's great people like you who allow me to keep adding to this site full-time. Thanks!
If you haven't helped yet, please do, and consider helping me with a gift of $5.00.
As this page is copyrighted and formally registered, it is unlawful to make copies, especially in the form of printouts for personal use. If you wish to make a printout for personal use, you are granted one-time permission only if you PayPal me $5.00 per printout or part thereof. Thank you!
Thanks for reading!
Mr. & Mrs. Ken Rockwell, Ryan and Katie.
Home Donate New Search Gallery Reviews How-To Books Links Workshops About Contact