Home Donate New Search Gallery Reviews How-To Books Links Workshops About Contact
Nikon F (1959-1973)
© 2007 KenRockwell.com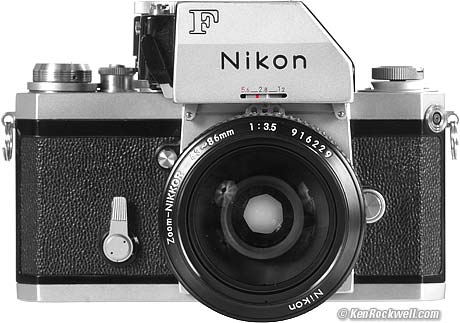 Nikon F with FTN Photomic finder and Nikkor 43-86mm AI. enlarge.
September 2007

I just bought a Nikon F in August 2007. This page is barely here yet.
-----------------------------------------------------------------------
----------------------------------------------------------------
Top Specs Performance Recommendations
The Nikon F was Nikon's first SLR, and theo world first universally adopted 35mm SLR.
It is the same as the 1956 Nikon SP rangefinder camera with a prism grafted on top. Interchangeable prisms are actually because the Nikon was first designed as a rangefinder, not because the world ever needed interchangeable prisms.
While there were German SLRs decades earlier, the Nikon F was the worlds first SLR system that was practical enough to become popular everywhere. This Nikon F is what's been putting LEICA out of business ever since its introduction.
Ultimately, it is the Nikon F which landed Nikon it's place in today's camera world.
The Nikon F works perfectly with any auto- or manual-focus Nikon lens, except G lenses. Its meter, if you have a version with a meter, works perfectly with any lens with an aperture coupling prong
More at Nikon Lens Compatibility.
Top Introduction Performance Recommendations
Weight:
30.770 oz. (872.3 g), measured with FTN finder, 625A alkaline batteries and strap lugs, but without strap, without eyepiece cover, without lens and without body cap.
21.200 oz (601.0g) without finder, but with focus screen and lugs.
Introduction: June, 1959.
Top Introduction Specs Recommendations
removable back
mirror can flip up, but shutter not release at 1/500 up, even if turn off. Set to M90 to resolve,
2.8V meter works, shoots, but mirror stays up and no BC light
Top Introduction Specs Performance
More Information: Mentioned in the July 1959 issue of Pop Photo.
Help me help you top
I support my growing family through this website, as crazy as it might seem.
The biggest help is when you use any of these links to Adorama, Amazon, eBay, Ritz, Calumet, J&R and ScanCafe when you get anything, regardless of the country in which you live. It costs you nothing, and is this site's, and thus my family's, biggest source of support. These places have the best prices and service, which is why I've used them since before this website existed. I recommend them all personally.
If you find this page as helpful as a book you might have had to buy or a workshop you may have had to take, feel free to help me continue helping everyone.
If you've gotten your gear through one of my links or helped otherwise, you're family. It's great people like you who allow me to keep adding to this site full-time. Thanks!
If you haven't helped yet, please do, and consider helping me with a gift of $5.00.
As this page is copyrighted and formally registered, it is unlawful to make copies, especially in the form of printouts for personal use. If you wish to make a printout for personal use, you are granted one-time permission only if you PayPal me $5.00 per printout or part thereof. Thank you!
Thanks for reading!
Mr. & Mrs. Ken Rockwell, Ryan and Katie.
Home Donate New Search Gallery Reviews How-To Books Links Workshops About Contact