Home Donate New Search Gallery How-To Books Links Workshops About Contact
Nikon F5
(1996-2004)
Intro Specs Performance Compared Recommendations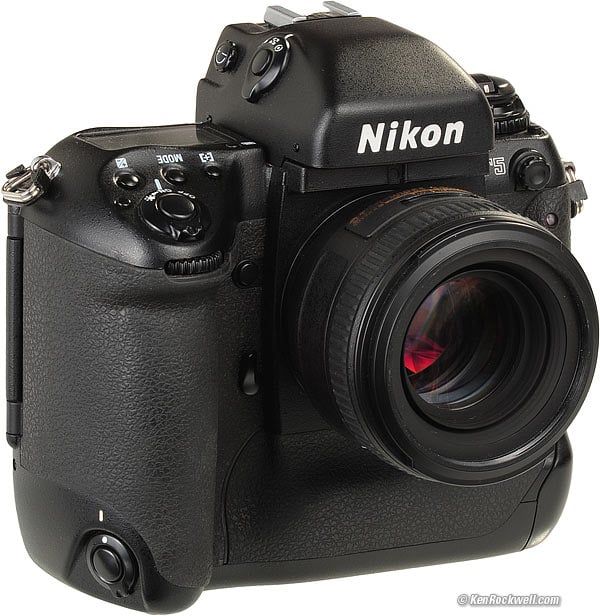 Nikon F5 and 50mm f/1.4 AF-S (50.985 oz./1,445.4g with film, strap lugs and 8 Eneloop AA, but no strap or lens). bigger. I got this one, still in the box but without lens, at this link to it at eBay (see how to win at eBay) for $345, delivered. You also can get them at these links to them at Adorama and Amazon. It helps me keep reviewing these oldies when you get yours through these links, thanks! Ken.
July 2010 More Nikon Reviews Shooting the F5 digitally
Ken Rockwell's Nikon F5 User's Guide
Rob Finkelman's entire website was shot on the F5.
Strengths
Nikon's fastest and toughest 35mm SLR ever, with an infallible 1,005-segment color 3D matrix meter, and fully compatible with all the newest AF, AF-D, AF-I, AF-S, VR and G lenses. Also works with all AI (1977) and newer manual-focus lenses, and every lens back to 1959 with some mechanical modification. Set CFn 19, and manually-set shutter speeds go to 30 minutes.
Weaknesses
Big and heavy. Uses lots of batteries. No matrix metering with manual-focus lenses, just spot and center-weighted.
Ideal for
Shooting news, sports and action on 35mm film. If you don't mind the weight over the F6, ideal for nature and landscape 35mm photography because of its superb color matrix meter.
Not for
Now that the price is almost free, the only reason not to shoot the F5 is if it weighs too much, or if you need matrix metering for manual-focus lenses as offered only in the FA, F4 and F6. (The F5 offers color matrix metering with all AF lenses made since 1986.) If you don't need the unmatched speed and durability of the F5, the Nikon F6 is smaller and lighter, but costs five to ten times as much as the Nikon F5.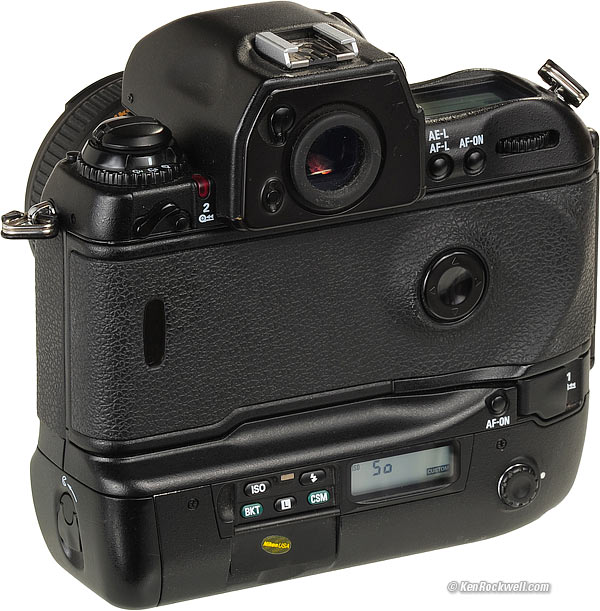 Nikon F5. USA version indicated by the yellow sticker. bigger.
Introduction top
Intro Specs Performance Compared Recommendations
The Nikon F5 is the biggest, heaviest, toughest and fastest 35mm SLR ever made by Nikon. Originally selling for thousands of dollars to full-time journalists in the late 1990s, today (2010) it sells for just a few hundred dollars, making it far more appealing for use in any sort of general photography.
The rain and dust resistant Nikon F5 is an 8-frames-per-second beast with an autofocus system that acquires and tracks targets fast enough to support that frame rate. That's why it takes eight AA cells, and sucks through them quickly. The F5 has a very powerful AF motor, and powerful AF-S motor drivers, so lenses focus faster on it than on lesser cameras.
The F5 is powerful and smooth. It fires with very little recoil, owing to its internally isolated transport and active mirror-balancer counterweighted design.
Canon Explorer of Light Arthur Morris told us, in person in January 2001, that the Nikon F5 was the world's best camera, and he was a Canon contract photographer back then, too. No one has ever questioned the supremacy of the Nikon F5.
The newer Nikon F6 (2004-today) is a slower, weaker, smaller and lighter camera intended for enthusiastic amateurs, as opposed to the full-time working pros for whom the F5 is designed.
The Nikon F5 is the best 35mm Nikon available for news, sports and action shooting. It's built to shoot hard and fast.
The F5 is a solid block of precision. It is so well sculpted to my hand that it becomes an extension of my arm, not really needing any sort of strap. Even the well-worn sample I bought used has no jiggles, no soft spots, no play, no rattles, and no nothing except smooth, solid, swift and instantaneous operation.
The F5 feels great in-hand. The rubber is perfect, even a little more grippy than the rubber on the Nikon D3, and worlds better than the slippery stuff that covers consumer electronics products like the Canon 5D Mark II.
The F5 was complex when introduced, but now that we're all used to digital cameras like the D3, the F5 is simple, fast and fun to shoot.
The Nikon F5 is the progenitor from which all current Nikons descend. The F5 invented Nikon's hold-the-button and spin the dial system, having replaced the real knobs of the F4. The D1/x/h, D2xs and D3 feel almost the same, but with slightly harder rubber.
If you shoot the F5 alongside the D3, they look, feel and work almost identically, with the controls all in the same places.
Lens Compatibility top
Any Nikon lens from at least the past thirty years works fine, and everything today works perfectly.
The F5 offers 3D Color Matrix metering with all AF-D, AF-I and AF-S lenses. Older (pre-1993) AF lenses lose the 3D ability, and still offer color matrix metering.
The F5 is completely compatible with VR, AI-P and G lenses.
The F5 loses matrix metering with manual-focus lenses, still working in A and M modes with center-weighted and spot meters.
Older non-AI (F) lenses from 1959-1976 won't mount or meter, unless you have the lenses upgraded to AI, or have Nikon retrofit your F5 with a special aperture coupling ring with a folding pin that will allow mounting of very early lenses. If you modify the F5, it can mount ancient lenses, however metering will be stop-down only with them.
The odd TC-16A autofocusing teleconverter works, with lenses f/3.5 and faster. This 1.6x autofocusing converter lets you use manual-focus lenses, and the converter itself autofocuses the lens over a sometimes limited range. Weird, but true, and this converter focuses internally, and focuses very fast. With the TC-16A, metering is spot or center-weighted, and exposure works in M and A.
See more details at Nikon Lens Compatibility, and I explain the lens terms above at Nikon Lens Technology.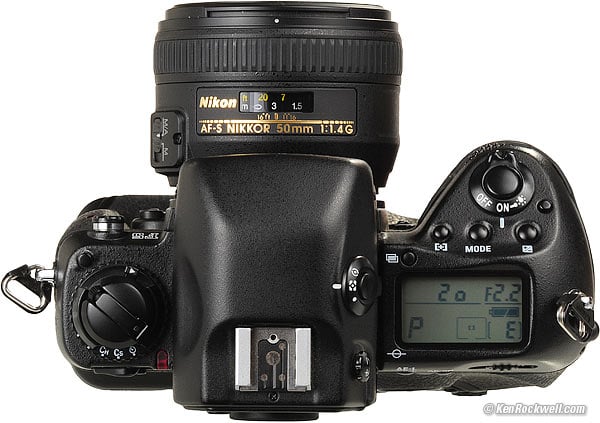 Top, Nikon F5 and 50mm f/1.4 AF-S. bigger.
Specifications top
Intro Specs Performance Compared Recommendations
Finder
Interchangeable screens and prisms.
The depth-of-field preview button stops the lens down to the automatically or manually selected aperture.
The standard F5 screen is optimized for f/1.8 lenses, compared to the D3, whose screens are optimized for f/2.5 lenses. The F5 does a better job of showing depth-of-field and focus with faster lenses, but is darker with slower lenses.
The standard titanium-shelled DP-30 finder offers 0.75x magnification (with a 50mm lens), 100% coverage and a 20.5mm eyepoint. It also has a hot shoe, a meter-mode selector, an adjustable diopter and an eyepiece shutter, all as part of the removable finder.
There are " + o - " lights for manual exposure on the top left of the image on the F5 body that are not visible in the standard DP-30 finder. They are visible with the prism removed and are used with other finders.
The optional DA-30 action finder has a bigger eyepiece so it can be seen from farther away, but it has less magnification.
The optional DW-31 6x magnifying finder is a joke. The image is reversed, and it offers not much more magnification than the standard finder. You have to look down into it, not forwards.
The optional DW-30 waist level finder isn't even a finder. It's just a hood through which to view the naked finder screen, also looking down.
Autofocus top
5 zones, indicated with pointer LEDs on the edges of the finder, and by slightly darker AF areas in-frame. It's quite lame compared to the D3 or F6, but then again, also less intrusive than on the F6.
Continuous tracking, if you like.
Automatically shifts among AF zones as the subject moves across the frame, if you like.
Three color-coded lights for manual focus ( > o < ).
Multi-CAM 1300 module.
Meter and Exposure top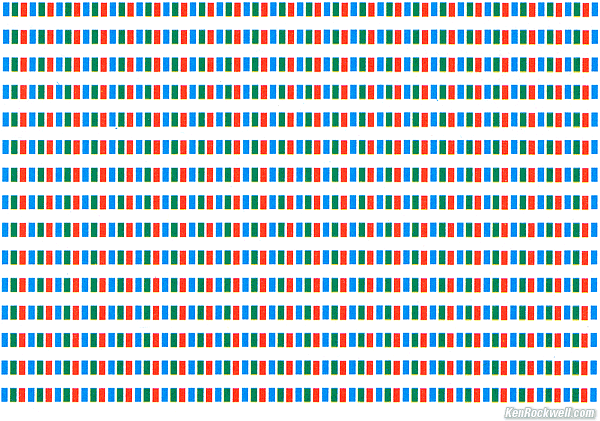 Nikon 1,005 element RGB Matrix.
1,005 segment RGB color matrix with any AF lens made since 1986.
There are 1,005 elements, but each is only one color. There are 15 rows. Horizontally, there are 67 elements, but only 23 RGB triads.
Also distance-sensitive with all AF-D, AF-I and AF-S lenses made since 1993.
Also center-weighted (selectable diameter) and AF-zone-coupled spot.
P (shiftable), S, A and M modes.
± 5 stop exposure compensation.
AEL button; only holds as button is held, no finder confirmation.
Mirror Lock-up top
Yes, with a lever under your right middle finger.
Oddly, it doesn't close the diaphragm, so you'll still have that moving around as you shoot.
Shutter top
Two shutter release buttons: one for vertical shots.
1/8,000 - 30 seconds. Lithium-niobate oscillator.
Self-testing operation: measures shutter speed each time it's fired, and corrects as needed.
"Tested to 150,000 cycles," and actual Nikon F5 shutters have gone for more than a million shots and still worked perfectly. For instance, reader Rob Finkelman
shares that he shoots four F5s, one of which has over 400,000 frames shot. He reads his data with an old computer running Photo Secretary.
If you set CFn 19, manual shutter speeds can be set as long as 30 minutes.
Self timer, 10 seconds. Duration settable in CFn 16 from 2 - 60 seconds.
Dedicated multiple-exposure button.
Reasonably easy-to-set bracketing with dedicated rear button.
Remote Control top
No cable release socket as on the FM3a and F4; the F5 is only controllable via a screwy dedicated 10-pin electronic terminal.
Flash top
Full TTL balanced matrix control. The 5-segment flash meter reads off the film as it exposes! The pre-flashes are metered off the first shutter curtain after the mirror flips up, so you won't see anything through the finder.
Flash Sync speeds: 1/250. Marketing mentions a 1/300 speed, but it doesn't really work. Foolish FP modes to1/4,000 with SB-28 and newer.
Back in the 1990s you could buy software to access even more CFns that let you set a slower than 1/60 low-limit sync speed in P and A modes in Normal sync, but that software doesn't run on today's computers.
Sync modes: Normal, Slow and Rear. Sets with BOLT button on back, behind flippy door.
Red ready bolt in finder; blinks fast to let you know that your flash fired at full output.
Preflashes with newer (SB-27, SB-28 and newer) flashes, not with older TTL flashes.
PC (Prontor-Compur) sync terminal.
Film Transport top
8 FPS, power-dependant.
Fully mechanical transport with no infra-red sensors, so it works perfectly for infra-red film.
With alkaline or lithium AAs, expect 7.4 FPS. 8 FPS is with the MN-30 Ni-MH pack; I'm unsure how it rates with AA Ni-MH cells.
Rewind (36-exposure) is rated at 4 seconds with the MN-30; I measure 5 or 6 seconds with Ni-MH AAs.
Data top
MV-1 Data Reader
Always records EXIF exposure data internally, which can be read-out to CF cards with the MV-1 reader. (read more about the MV-1 reader at my F6 review.)
MF-27 Data Back
The optional MF-27 data back imprints basic exposure data on your film.
MF-28 Multi-Control Back
The optional MF-28 Multi-Control back does all the crazy stuff like programming stupid-long exposures out to 1,000 hours, 9-frame bracketing, imprinting copyright information and trap focus (tripping the F5 the instant something comes into focus).
Photo Secretary Computer Software
See my section on the Photo Secretary computer software.
Batteries top
8-AA.
Lithium, alkaline, Ni-Cd or Ni-MH.
Rated about 25 rolls of 36 per set of alkalines.
Also takes a dedicated Nikon Ni-MH pack and charger.
Size top
Rated 5.9 x 6.2 x 3.1" (150 x 157 x 79mm) WHD.
Weight top
50.985 oz. (1,445.4g) measured with film, strap lugs and 8 Eneloop AA cells, but no strap or lens.
Nikon specifies 42.7 oz. (1,210g) without batteries and without film.
Introduced top
June 1996.
Marketing top
Pitch Line: "Imported from the future."
Glossy brochures:
Sales Brochure, gold, "Imported from the future," 40 pages color, code 8CE42102 (9809/C). Image complement: no Japanese technicians, 8 American sportsmen, 13 American girls in various states of undress. Featured artists: Pete Turner, Frans Lanting, Eddie Adams and more.
Technical Guide, black, 28 pages color, code 8C1E4126 (9805/B). Image complement: 10 Japanese technicians, 6 American sportsmen, 9 American girls in various states of undress. Featured artists: none.
Warranty top
Nikon warranted this professional product for three full years, with no limitation to mileage, number of rolls shot or how much abuse any pro could throw at it.
Price top
2010
About $400 used. Well-worn samples sell for $300 or less, and you can find them in the box and almost unused for $450. These are person-to-person prices over this link to them at eBay (see how to win at eBay); you'll pay $100 more from a dealer. I bought the one you see here for $345, including shipping, the box and all the manuals and papers, in May of 2010.
Most F5s were used by pros, and most have taken a beating and still work great. Don't expect to find a pretty one.
1999
About $1,600 after rebate when the newer F100 came out.
Adjusted for inflation, that's about $2,000 in 2010.
1996
About $2,300 at introduction.
Adjusted for inflation, that's about $3,200 in 2010.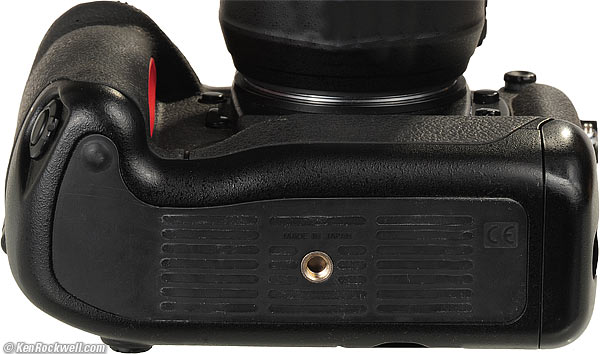 Bottom, Nikon F5. bigger.
Performance top
Intro Specs Performance Compared Recommendations
Big, heavy, precise, sturdy fast, smooth, accurate, comfortable and solid. That's the F5 in a nutshell.
Sound, Noise, Vibration and Advance
The F5 is much smoother than lesser cameras. The F5's internals are isolated from the case itself. There is a dynamic mirror balancer that counteracts the motion of the mirror.
It's not all that quiet, since it's always in a hurry to grab the next shot, however the vibration is very low.
At 8 FPS, the mirror does an excellent job of settling between shots, so there is much less vertical finder blur and mirror black-out than with other cameras running at near cine rates.
The F5 is so fast that it has been used to shoot movies.
The Cs ("continuous silent" 1 FPS quiet advance mode) is just as noisy as the regular mode as the shutter fires, however the film advance is much slower (1 FPS) and therefore quieter than the other modes. Sort of like the F4, the Cs mode on the F5 sounds like a soft raspberry, or a slowly chattering or grabby advance. It's not a smooth 1 second of advance; it sounds like the film is being pulled rather jitterely to the next frame.
I like shooting in the Cs mode. It is relatively refined and more quiet, sort of like shooting and then hiding the camera in your coat to wind it slowly, away from the subject.
Autofocus top
AF is ultra-fast. If all you've used so far are amateur cameras like the D300s, you're in for a treat, since the F5 is so much faster.
The F5 has no ability to fine-tune any inconsistencies seen with some samples of lenses. If your camera and lens don't focus perfectly, swap for a different lens. My particular sample of 70-300 VR gave me slightly inaccurate results at 300mm in June 2010, for instance. Next time, I'll use a different sample.
Ergonomics top
General
The F5 feels great. Everyone should get one just for the pleasure of holding it. It's solid and precise; even the back is metal.
The F5 fits full-sized American hands perfectly. The grippy rubber and solid metal feel perfect. The F5 feels perfect for vertical shots, too, except that there are no control dials next to the vertical shutter release.
Compared to its digital offspring like the D3, the Nikon F5 is easy and simple to operate.
Finder
The F5 has a tiny peephole which looks down at the lens and shows the setting of its diaphragm ring through a small window above the image in the finder. It sees the second set of small numbers, called the ADR, Aperture-Direct Readout scale, on the lens's aperture ring. This is very handy when shooting manual-focus lenses. With Gelded (G) lenses, it shows only black.
The indications of which AF zone is selected is quite different than other cameras. The spots never glow red as we take for granted today. Instead, they weakly get a little darker, and triangular yellow LEDs at the top and right side of the finder illuminate to tell you what's going on.
At first try, most people would think this is awful, but in actual use, it helps keep the finder less cluttered from AF-zone graffiti, as in the F6.
The rear AF-zone selector only has four, not five positions. There is no center position, so to get the center sensor, you must drive there.
To lock or unlock your choice of sensors, hold the rear "L" button and tap the AF zone selector. You probably won't do this unless you want it locked into the center. If locked, the top LCD will show LOCK above the AF zones.
The three color-coded lights for manual focus ( > o < ) work great. They can be seen out of the corner of your eye if you focus manually.
The finder screen is optimized for fast f/1.8 lenses. Used with slower lenses, the screen is darker than with the D3, which is optimized for slower f/2.5 lenses, but the D3 can't show actual depth-of-field or defocus for any lens faster than f/2.5.
The data in the finder is shown as black numbers on a rectangular green background, backwards from newer cameras. It is always easy to read in any light. The backlight dims as needed, although with a relatively low-frequency modulator such that if you move your eye quickly, it may strobe slightly.
The finder's bar graph runs along the bottom, backwards as in other Nikons (+ goes to the left). The bar graph only appears in Manual exposure mode, not in P, S or A modes, even if you run out of range.
The manual meter's bar graph updates much more quickly than the F6 and D3's slow bar graphs.
The bar graph does not appear as you're setting exposure compensation; all you see in the finder is that the frame counter is now reading in stops.
If you have compensation set, there is a big +/- icon in the finder, which is big enough that it has caught me when I've forgotten to reset it after a shot. The actual compensation value only shows as the +/- button is pressed, otherwise you see only the frame counter and a +/- icon in the finder.
Top LCD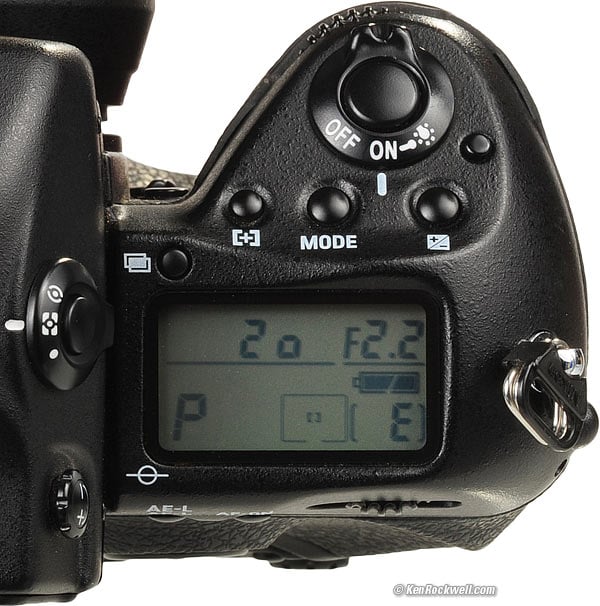 Top LCD.
The top LCD illuminates with a cyan EL backlight when you flick the power ring.
The frame number stays on the top LCD even when the F5 is turned off.
The top LCD always shows the numeric value of exposure compensation. The top LCD has no bar graph, and therefore one cannot meter manually unless looking through the finder.
Rear LCD and Custom Functions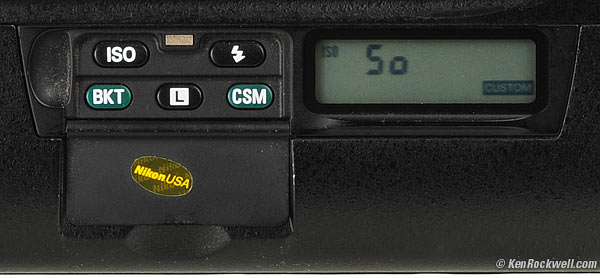 Rear control panel and LCD.
The rear LCD is easy to read, and it's illuminated at night along with the top LCD.
Custom functions are displayed and set on the small rear LCD.
Custom functions are only displayed numerically, so you can't set them unless you carry a decoder card.
There are two banks of CFns, and they are easy to swap.
AEL
You have to hold the AEL button to hold the locked exposure, thus you can't shift the program exposure unless you have a second thumb to move the rear dial as you hold the AEL button.
You can't hit the AEL button, or either control dial, when holding the F5 vertically.
Caps and Terminals
The caps for the PC sync terminal and the rear remote terminal aren't tethered, meaning you'll lose them easily.
Flash top
Flash exposure is perfect, as expected.
Sync is 1/250.
1/300 sync is flim-flam. It loses much of the flash power. Regardless of which compatible flash you use, the exposure has to be calculated using manual guide numbers, which don't exceed 14 meters. A bizarre table lists the maximum GN based on zoom head setting, regardless of flash model. Weird, but true. You can safely ignore the advertised 1/300 sync speed; it really only works to 1/250.
The faster (to 1/4,000) FP modes are also just fluff.
Film Economy and Film Handling top
The F5 wastes the first few shots of each roll.
I usually get only 37 frames on a roll of 36.
You have to engage rewind manually, and use either the conventional crank, or the motorized rewind.
Motorized rewind is done in under 5 seconds; spins for another 3/4 second at the end of the roll, and stops in less than 6 seconds, using 8-AA Ni-MH cells.
It's this fast in all of the Ch, CL and Cs modes, and reasonably quiet as well.
Battery Life top
I don't shoot enough to give a meaningful reading. Other report about 25 rolls of 36 per set of AA alkalines.
The F5 isn't very efficient at using all the power in alkaline cells. This means that the F5 turns off before the cells are completely dead. The F5 dies with alkaline cells that still test 20 - 40% on the ZTS MBT-1 battery tester.
This is similar to the F100, and I suspect just as I found with the F100, that better results come from using Ni-MH cells instead of alkalines.
Lithiums are the best idea: they most likely last longer than any other kind of cell, and weigh a lot less. With eight cells, this will make a big difference in the deployed weight of any F5 system, especially if you carry a spare set.
When the battery meter reaches the "almost dead" level, the finder display goes away.
When it reads low with AA Ni-MH, the motor still seems to run happily at full speed.
The MV-1 EXIF Data Reader top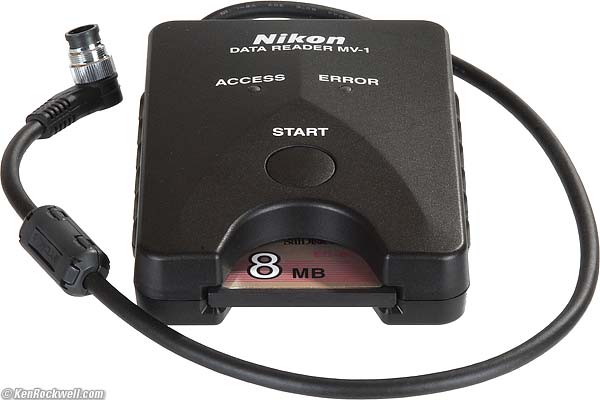 The F5 always records EXIF exposure data internally, unless you set it otherwise with the MV-1 reader. (read more about the MV-1 reader at my F6 review.)
To change the kinds of data recorded from the F5's default, connect the CF card to your computer and move files into various folders as explained in the MV-1 manual.
The MV-1 reader is used to move the data from inside the F5 and into .TXT files on a CF card.
When you get your used F5, it will already have the data recorded from the previous user, unless they cleared it with their own MV-1. Mine came with 103 rolls worth of data recorded, about which the previous owner probably never knew.
Here are the files for the film I've shot:
Roll 00147, shot 20 May 2010 with option D set, using the MV-1 card reader and an F5 with the standard (not date) back.
Likewise, here are Roll 00148 shot 17 June 2010, and Roll 00149 shot 18 June 2010.
Roll 00150, Twin-Check 0391, Roll 00151, Twin-Check 0392, Roll 00152. Twin-Check 0393 and Roll 00153, Twin Check 0394, shot August 2010.
Roll 00154, Kodachrome 64, shot 12 November 2010.
Roll 00155, Kodachrome 64, shot 03-05 December 2010.
With the MV-1 and if you have a partially-shot roll still in the camera, no problem: the MV-1 downloads and clears the data from the rolls that were finished, and doesn't touch the data for the roll in-camera.
Compared to the D3 top
Intro Specs Performance Compared Recommendations
The Nikon F5 feels just like the Nikon D3. In fact, the original D1 was simply an F5 with digital stuff jammed where the film ought to go. This makes it very easy to shoot both at the same time.
The weigh about the same. With batteries and media, the F5 weighs 50.985 oz. (1,445.4g), while the D3 measures 49.985 oz. (1,417.0g). They feel the same, except that the F5 is clad in softer, sticker, better-feeling rubber, but the F5 has harder plastic dials compared to the more rubbery D3 command dials.
The standard F5 screen is optimized for f/1.8 lenses, compared to the D3, whose screens are optimized for f/2.5 lenses. This means the F5 offers a better view of the out-of-focus effects of lenses faster than f/2.5, but is also dimmer with lenses slower than f/2.5, compared to the D3.
The F5 has a power-switch safety interlock so you don't turn it on or off accidentally, while the D3's power switch can be moved at any time with no fuss.
One needs to hold the AEL button on the F5 for it to stay locked, while the D3's AEL button is programmable to work however you want.
The F5 has a smaller lens release button than the D3.
The F5's AF mode switch rotates on a different axis, but it is in the same place and the same settings are are in the same positions.
The F5 has a dedicated multi exposure button.
The F5 has smaller mode and exposure compensation buttons, in the same place as the D3.
The F5 has no exposure compensation bar graph on the right side of the finder; the F5 has a digital display only in the place of the frame counter and showed only a +/- icon in the finder when compensation is set. The F5 only shows its only bar graph (in the finder) in manual exposure mode.
The F5 has a bracketing (BKT) set button on the rear.
The F5 has no programmable Fn button.
The F5's finder shows black digits on an illuminated green rectangle, while the D3 has green digits on black, as do most newer cameras.
The F5 is quieter than the D3.
There is no center position on the F5's AF selector thumb control.
The F5 has no thumb control (AF selector) lock.
The F5 has no command dials near its vertical shutter release (the D3 has two duplicate command dials near its vertical release).
The F5 has its remote control terminal on the back where you want it, and not on the front as does the D3.
The F5 has easily-lost and difficult to unscrew and reattach screw-on plastic caps covering its PC (Prontor-Compur) and remote terminals, while the D3 has easy to open tethered caps.
The F5 has an AF Zone Mode Selector (static [ o ] or dynamic [ : x : ]) button on the top, while the D3 selects this, as well as a third "select automatically" mode, with a handy lever on the back.
The F5 easily can make timed manual exposures out to 30 minutes, simply by setting CFn 19 once. The D3 stops at 30 seconds, and requires a cable release for any longer exposures. Neither camera can meter below 30 seconds.
Recommendations top
Intro Specs Performance Compared Recommendations
The Nikon F5 sold for thousands of dollars as the world's top professional camera in the late 1990s.
Today, in 2010, it is just as good as it was when it was new, but sells for only a few hundred dollars. You can't go wrong; get one!
I was always afraid of the F5's gargantuan size, weight and astronomical price, but now that the F5 sells for less than my last CF card, and that I'm acclimated to this size camera after shooting the D3 since 2007, the F5 is a total winner for any sort of photography that doesn't need light weight.
For lighter weight, get the superb Nikon F6. If on a tighter cash or weight budget, try a Nikon N75, which weighs and costs just a tiny fraction, and does most of what the F5 and F6 do with all modern lenses, without the color meter, speed or durability.
General
The Nikon F5 works with all current and almost all past lenses, including weird ones like the 1960's fisheyes that need mirror lockup.
The F5 is fully compatible with every feature of today's lenses like VG and Gelding (G), so use the same lenses you'd use with a D3X or D700. Use whatever lenses you want; the F5 is not picky.
See also:
The Nikon FX Dream Team (Nikon's very best)
Nikon D3 Lens Suggestions (includes older lenses)
Nikon Cheapskate Lenses (great performance, cheap)
Personal Lens Favorites
Personally, I love the 16-35mm VR for wide, any AF 50mm for normal, and the 70-300mm VR for tele. My personal sample of 70-300VR has a slight focus shift at 300mm, but I doubt other samples would do this.
If this bothers you, get any other 70-200/2.8 or 80-200/2.8 instead.
Contemporary Lenses
If you want to use lenses representative of the lenses that were professional favorites back when the F5 was introduced in 1996, you'd want the 20-35mm f/2.8 AF-D, the 50mm f/1.4 AF-D and the 80-200mm AF-D.
As of 1999, two new lenses became the must-haves for the full-time pro working with the F5: the 17-35mm f/2.8 AF-S and the 80-200mm f/2.8 AF-S. The 50mm f/1.4 AF-D was unchanged.
In 2004 when the F5 was discontinued, the hot tele lens had just become the newly-announced 70-200mm f/2.8 VR G.
More Information
Ken Rockwell's Nikon F5 User's Guide
How to shoot the F5 digitally.
My older F5 preview from 2004.
See here for lots of internal details.
Nikon's own history of the F5.
© Ken Rockwell. All rights reserved. Tous droits réservés. Alle Rechte vorbehalten.
Help me help you top
I support my growing family through this website, as crazy as it might seem.
If you find this as helpful as a book you might have had to buy or a workshop you may have had to take, feel free to help me continue helping everyone.
If you've gotten your gear through one of my links or helped otherwise, you're family. It's great people like you who allow me to keep adding to this site full-time. Thanks!
If you haven't helped yet, please do, and consider helping me with a gift of $5.00.
The biggest help is to use these links to Adorama, Amazon, B&H, Calumet, Ritz, J&R and when you get your goodies. It costs you nothing and is a huge help to me. eBay is always a gamble, but all the other places have the best prices and service, which is why I've used them since before this website existed. I recommend them all personally.
Thanks for reading!
Ken
Home Donate New Search Gallery How-To Books Links Workshops About Contact