Home Donate New Search Gallery How-To Books Links Workshops About Contact
Nikon 80-200mm f/2.8
AF-D NIKKOR ED ("New," 1997-)
© 2010 KenRockwell.com. All rights reserved.
Intro Specs Performance Recommendations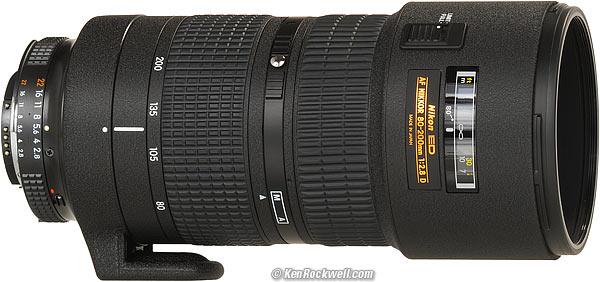 Nikon 80-200mm f/2.8 AF-D ED Macro (new) (77mm filters, 45.0 oz./1,275g, 4.9'/1.5m close focus, about $1,100). enlarge. I got this one at Adorama; Amazon, B&H Photo Video, J&R and Ritz are also great places. The biggest source of support for this free website is when you use those and these links when you get anything, regardless of the country in which you live. Thanks! Ken.
October 2010 More Nikon Reviews Nikon Lens Reviews
All Nikon f/2.8 tele zooms compared
| | |
| --- | --- |
| Optics: | |
| Mechanics: | |
| Ergonomics: | |
| Usefulness: | |
| Availability: | |
| Overall: | |
Ideal Uses: This 80-200mm f/2.8 is better for portraits than slower VR zooms because this lens can defocus backgrounds better with its fast f/2.8 aperture. It is especially well suited to automotive photography because its conventional diaphragm creates fantastic sunstars on brilliant points of light (newer f/2.8 tele zooms have rounded diaphragms that don't make sunstars). It's perfect for use on FX digital and 35mm film for sports, action and low-light photography (VR is generally useless for moving subjects); it could be the only tele zoom you'll ever need.
Not for: I wouldn't bother with this heavy professional lens on a DX camera. I'd use any DX lens, like the 55-200mm VR, instead. This lens will not autofocus with the cheapest D40, D40x, D60, D3000 or D5000; get any AF-S lens like the 55-200mm VR or 70-200mm f/2.8 VR II instead for those cameras. This lens requires moving a switch to get between auto and manual focus; you'll need a newer AF-S model if this is important to you.
Introduction top
Intro Specs Performance Recommendations
History Compatibility Production Pricing
This Nikon 80-200mm f/2.8 AF-D (new) is the world's best buy in professional telephoto zooms. It is inexpensive because it's been in Nikon's catalog for so long. This fully professional lens is a treat at any price. Its superior optical and mechanical quality makes one wonder why amateurs rush to throw even more money at Nikon's latest plastic wonder zooms.
Unlike most of Nikon's lenses today, this jewel is made almost entirely of metal, and is precision made in Japan, not offshored to the lowest bidder. This solid professional lens is built to take a beating, and keep on cranking out brilliant images at ten frames per second for years and years to come. There are no delicate VR or AF-S mechanisms to break 10 or 20 years from now.
This 80-200/2.8D offers fantastic professional performance brand-new for about the same price that some people pay for used lenses, or far junkier products like Sigma.
This 80-200/2.8 was Nikon's absolute top-of-the-line professional tele zoom at its introduction in 1997. It still says "New" on the box because it's an update from the previous 80-200mm f/2.8D (1993-1997).
The even bigger and more expensive 80-200/2.8 AF-S came out in 1999. The 80-200/2.8 AF-S got canned in 2003, replaced by the 70-200/2.8 VR. The 70-200/2.8 VR was then canned and replaced by the 70-200/2.8 VR II in 2009.
As Nikon introduced and then cancelled each of these successively larger, heavier, more expensive and more feature-laden short-timer models, this extraordinary professional 80-200mm f/2.8 lens has never faltered.
This 80-200 is about as sharp as, and focuses 80% as fast as the 70-200/2.8 VR II, which takes the same pictures but costs twice as much.
This 80-200/2.8D is still a very popular lens today, and for good reason. It's the least-expensive fully professional f/2.8 zoom you can buy from anyone today. It's optically magnificent, and mechanically far tougher than Nikon's latest and more expensive semi-pro build-quality lenses like the plastic-bodied 24mm f/1.4 ($2,200) and 85mm f/1.4G AF-S ($1,800).
See Nikon 80-200mm f/2.8 History for explanations and photos of all the various models of these lenses made from 1978 through today.
This is an FX lens, and works especially well with on FX, film and DX Nikons like the D700, D3X, D300s and F6. It works fantastically on manual-focus cameras like the F2AS, F3, FE and FA, since it has real manual-focus and aperture rings that work exactly as they should.
The 80-200mm f/2.8 AF-D (new) works great with almost every film and digital Nikon camera made since 1977. If you have a coupling prong added to the diaphragm ring (there are even pilot holes for the screws), it's perfect with every Nikon back to the original Nikon F of 1959.
The only incompatibility is that it will not autofocus with the cheapest D40, D40x, D60, D3000, D3100 or D5000, but if you focus manually, everything else works great. These cameras have in-finder focus confirmation dots to help you.
See Nikon Lens Compatibility for details on your camera. Read down the "AF, AF-D (screw)" column for this lens.
Nikon has made about 280,000 of these as of 2010, and counting.
As you will see, just like a LEICA lens, investing in this professional lens has always been a good buy over time.
Corrected for
inflation, 2010*

Price at the time**

1998

$1,175/1,050

$875/780

1999

$1,115/1,025

$850/780

2000

$1,150/1,075

$900/850

2005

$1,025/950 ($920***)

$920/850 ($820***)

2008

$930

$915

2010

$1,100/1,000

$1,100/1,000
* At full NYC discount. Very few people bought their lenses this inexpensively before 2005.
** USA/Gray.
*** After 2005 rebate.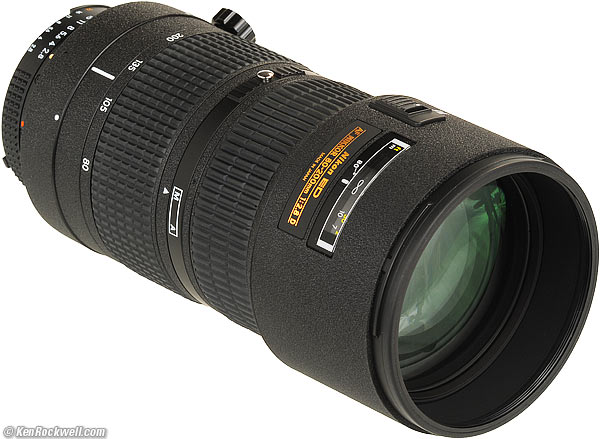 Nikon 80-200mm f/2.8 AF-D (new). enlarge.
Specifications top
Intro Specs Performance Recommendations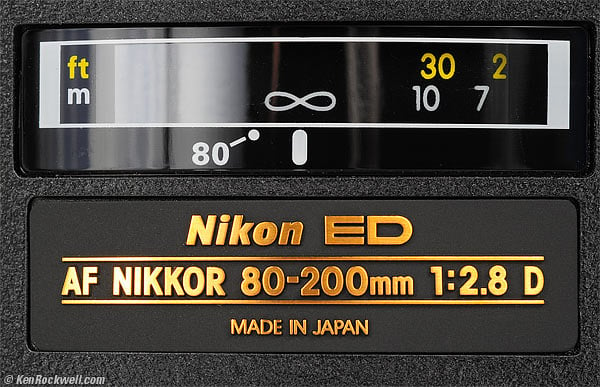 Identity plate.
Nikon calls this the Nikon AF NIKKOR 80-200mm f/2.8 D ED Macro (new).
AF: Auto Focus.
D: The lens tells the camera the distance to the subject, which helps the exposure meter, especially with on-camera flash.
ED: Extra-low Dispersion glass, for reduced secondary lateral color fringes.
Macro: Nikon plays a joke here, as there is no special macro range, just an orange band on the focus scale between 6 feet and 5 feet. I'll explain more later under Macro.
(New): Replaces the earlier 80-200/2.8D (1993-1997).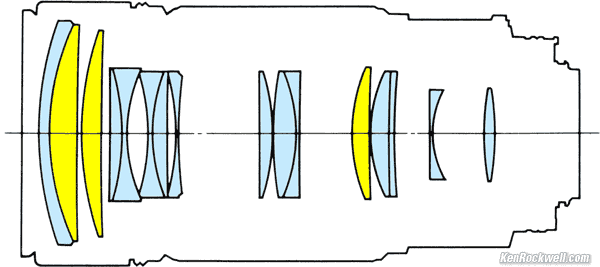 Diagram, Nikon 80-200mm f/2.8 AF. enlarge.
16 elements in 11 groups.
Three of these are ED glass, shown in yellow.
It's multicoated, which Nikon calls Nikon Integrated Coating.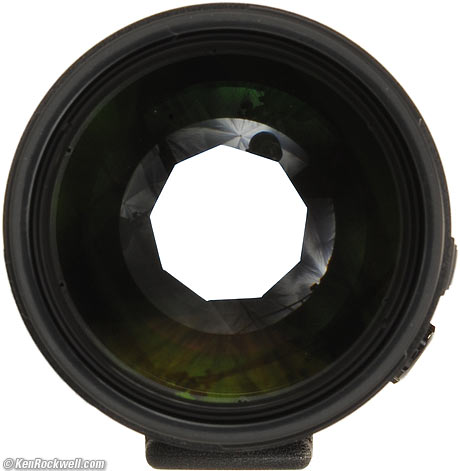 Nikon 80-200mm f/2.8 AF-D (new) at f/5.6 and 200mm. enlarge.
9 straight blades.
Stops down to f/22.
Coverage top
Focal Length top
80-200mm.
When used on a DX camera, it sees angles of view similar to what a 120-300mm lens sees when used on an FX or 35mm camera.
Angle of View top
30.2° - 12.3º on FX and 35mm film.
20° - 8° on small-format DX.
4.9 feet (1.5 m).
Maximum Reproduction Ratio specs top
1:5.9 at 200mm, 1:14 at 80mm.
Hard Infinity Focus Stop? specs top
No.
You have to let the AF system focus at infinity.
Yes.
Depth-of-Field Scale specs top
No.
Infra-Red Focus Index specs top
Only at 80mm.
For other focal lengths, Nikon offers this information in the instruction manual. The manual is written in garbled English; I have clarified it here:
| | | |
| --- | --- | --- |
| | Focus Ring Rotation | Distance to left of focus index |
| 80mm | 4º 28' | 3.39mm |
| 105mm | 2º 21' | 1.78mm |
| 135mm | 1º 15' | 0.95mm |
| 200mm | 0º 31' | 0.39mm |
Yes, plastic.
Full-stop clicks.
77mm, plastic.
Does not move, ever.
Yes, all metal with threaded steel insert.
Does not come off.
Nikon specifies 7.4" (187mm) extension from flange (7.7" or 195mm overall) and 3.4" (87mm) diameter.
44.957 oz. (1,274.5g), measured.
46 oz. (1,300g), specified.
HB-7 bayonet, not included.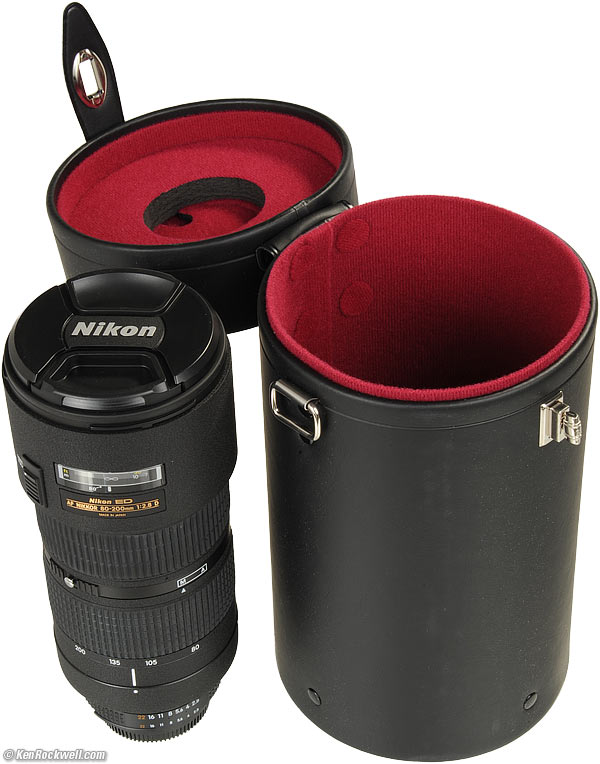 CL-43A case and Nikon 80-200/2.8D (new). enlarge.
The CL-43A hard tubular case is included. The lens ships inside of it.
Lens: Japan.
Front cap: Thailand.
LF-1 rear cap: Japan.
Instruction sheet: printed in Japan.
Case: China.
Box printed in: Japan.
5 years, USA.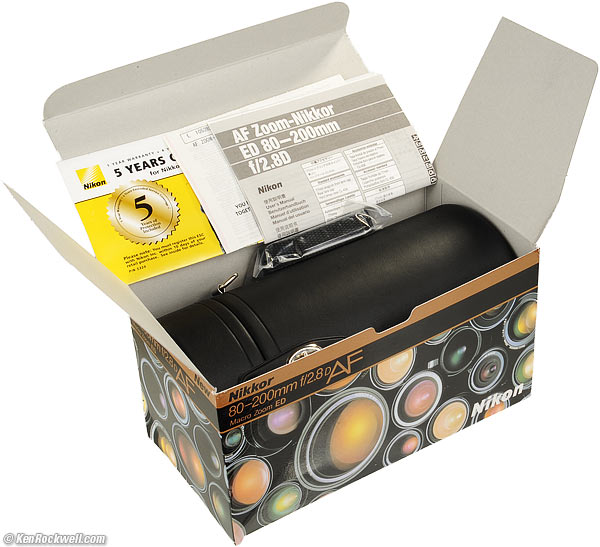 What's in the box, Nikon 80-200mm f/2.8 AF-D (new). enlarge.
Lens.
CL-43A tubular case and strap.
77mm front cap and professional LF-1 rear cap.
Paperwork:
Large folded one-sheet manual in seven languages.
3-sheet NCR USA warranty form.
5-year warranty form in its own envelope.
Yellow "product registration" folder sheet claiming some sort of lottery, but which is really just a way to harvest your personal information for marketing purposes.
No hood.
Nikon makes no autofocus teleconverters which will work with this lens.
The manual-focus TC-200/201 and TC-14A work, with the potential for vignetting.
The TC-14B ought to work fine, also a manual-focus converter.
See Teleconverters for more about these and other teleconverters that work.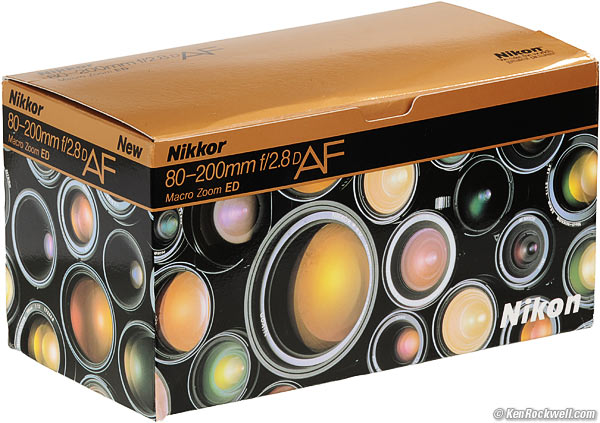 Box, Nikon 80-200mm f/2.8 AF-D (new). enlarge.
"History of Nikon" single-wall cardboard box.
The lens sits in a clear plastic bag inside the CL-43A case, and the paperwork and strap sit on top.
Nikon Product Number specs top
1986.
Performance top
Intro Specs Performance Recommendations
Overall Focus Bokeh Color Distortion Ergonomics
Eyeblow Falloff Filters Focal Lengths, effective Ghosts
Color Fringes Macro Mechanics Sharpness Spherochromatism
Sunstars Survivability Tripod Collar Zooming
Overall performance top
This Nikon 80-200mm f/2.8 AF-D (new) is a stunning professional lens.
If you haven't shot or held a real professional lens in a while, it's a pleasure just to hold.
Not only are the 80-200's optics stellar, it's mechanics and materials are much better than most of Nikon's even more expensive lenses today, most of which are merely plastic.
Focus performance top
AF Speed
Unlike earlier model 80-200/2.8 lenses, the autofocus is fast! It is significantly faster than all earlier models of 80-200/2.8.
AF speed varies according to the model of your camera. Pro cameras are very fast, and plastic cameras like the N75 are not quite as fast.
One full turn (two half-turns) of the AF screw pulls focus from infinity down to 28 feet (8.5m).
The newest AF-S and VR lenses aren't significantly faster, maybe 20% faster. As far as AF is concerned, the only reasons to get the newer lenses is because they focus more quietly, and because you do not need to slide a switch to go between auto and manual focus.
AF Kick-back
This 80-200 focuses by rotating its huge front elements very quickly. As they rotate, they move in and out.
Because AF is so fast, these front elements spin very quickly and start and stop abruptly. This generates torque reactions, exactly as a real car flips around as you blip the throttle.
This isn't a big deal, but you will feel this as you shoot on the faster pro cameras like the F5 and D3.
AF Accuracy
My sample is very good on my D3, erring only very slightly at 200mm and f/2.8.
My sample, on my sample of D3, was a little better once I set the AF FINE TUNE to -5. Don't do this; every sample of lens and camera is different.
Be sure to check your lens on your camera. I think this is the one lens called out in some Nikon camera instruction manuals as being subject to less accurate focus at f/2.8 at 200mm.
AF Noise
The lens is quiet, but the motor in your camera may or may not be.
The D3 and F6 are quiet enough.
The motor in the F4 is much noisier.
Focus Limiter
The focus limiter is simply a mechanical block at about 9 feet (2.7m). If you push it forward, the 80-200 2.8 will focus either between infinity and 10 feet (3 meters), or to between 8 feet (2.5 meters) and 5 feet (1.5 meters).
Manual Focus
Manual focus is fine, but you do have to move a ring from AUTO to MANUAL focus. This is this lens' biggest drawback, which isn't much of a drawback.
Manual focus is geared just right, and moves easily enough to be worked with one finger.
Bokeh performance top
Bokeh is the character of out of focus areas, not simply how far out of focus they are.
This lens' bokeh ranges from mediocre to wonderful, depending on your focal length setting. Luckily, it's best at the long end where it counts.
Color Rendition performance top
The color rendition matches the rest of my NIKKORs.
Distortion performance top
The Nikon 80-200mm f/2.8 AF-D (new) is pretty good at the wider settings, and has some pincushion distortion at the 200mm end. (Both earlier 80-200mm f/2.8 AF lenses share the same optics as this AF-D "New" version.) It is never annoying.
It's better than the 28-300mm VR, 70-300mm VR and 70-200mm VR.
It's about the same as the 80-200mm AF-S.
The 70-200mm VR II is a little better, for double the price.
This can be corrected for critical use by plugging these figures into Photoshop's lens distortion filter. These aren't facts or specifications, they are the results of my research that requires hours of photography and calculations on the resulting data.
| | | |
| --- | --- | --- |
| | On FX and film at 10' (3m) | On FX and film at infinity |
| 80mm | +0.5 | +2.0 |
| 92mm | -0.2 | +0.5 |
| 105mm | -1.1 | 0.0 |
| 120mm | -1.5 | -1.0 |
| 135mm | -2.0 | -1.5 |
| 155mm | -2.5 | -2.2 |
| 200mm | -3.5 | -3.0 |
© 2010 KenRockwell.com. All rights reserved.
Ergonomics performance top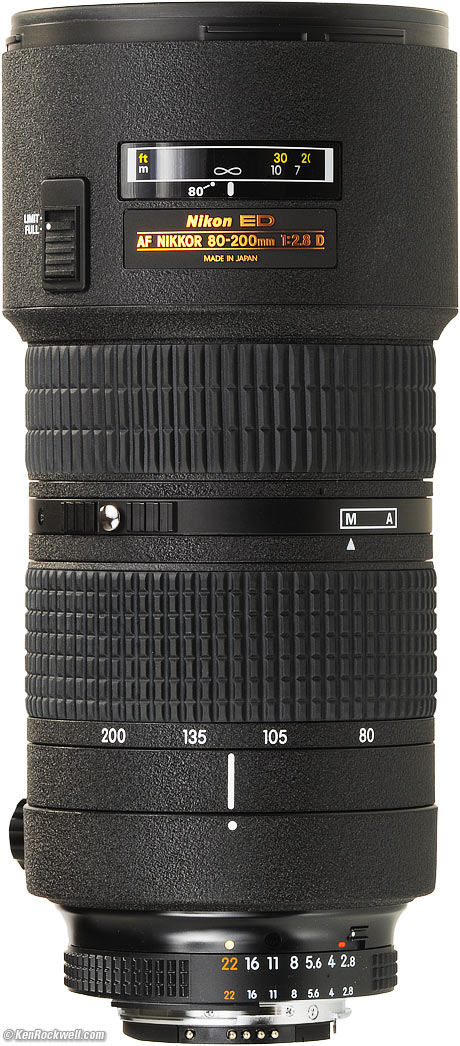 Nikon 80-200mm f/2.8 AF-D (new). enlarge.
The 80-200/2.8 D feels nice. Everything is metal, not crummy plastic like most of everything else from Nikon today.
Its weight and balance are perfect. Materials, fit, finish, shape and form are all a pleasure. It balances perfectly in a man's hands with any camera from a D3 to a plastic N75. The big front acts as a stopper to keep your hands from moving too far forward.
The focus limiter is a simple slide switch easily moved by feel as you shoot.
Your hands naturally wrap around the manual focus ring. Your thumb can move easily between the A/M ring and the focus limiter switches, while your expression (middle) finger works the focus ring.
This is swell, but I more often move the stiffer zoom ring, which requires moving my hand towards the back of the lens and using two firmer fingers.
The biggest reason to consider paying twice as much for the newest 70-200/2.8 VR II is if you need fast access to manual focusing. With this 80-200mm lens, you must press a release button and rotate the M - A ring between auto and manual focus; you cannot simply grab the manual focus ring as you can with all the newer AF-S f/2.8 zooms.
The tripod collar is great: it easily rotates to be out of your way for hand-holding.
Zooming feels good: tight, precise and professional, not mushy plastic.
Eyeblow performance top
None.
As an internally-zooming lens, no air pumps in or out as you zoom.
Falloff (darkened corners) performance top
Falloff on FX is always smooth, so not a problem.
It's strongest at 200mm, and weakest at 105mm.
It will be even less on DX (see crop factor).
I've exaggerated this by shooting a gray field and placing these on a gray background.
Nikon 80-200mm f/2.8 falloff on FX and film at infinity, no correction.
| | | | |
| --- | --- | --- | --- |
| | f/2.8 | f/4 | f/5.6 |
| 80mm | | | |
| 105mm | | | |
| 135mm | | | |
| 200mm | | | |
© 2010 KenRockwell.com. All rights reserved.
Filters, Use with performance top
As expected for long lenses, there is no problem with vignetting, even with combinations of thick filters.
I dislike the plastic filter threads, which make cross-threading a constant worry. The advantage of plastic threads is that filters don't get stuck, and that the threads usually bend back into place after taking a hit.
Focal Lengths, effective performance top
Unlike the newest 70-200/2.8 VR II, this 80-200 2.8's focal lengths don't wither at close distances.
At its 200mm setting, this 80-200 really is 200mm at every focus distance.
At 1.5 meters (5 feet), the 200mm setting of the 70-200/2.8 VR II is really only 135mm!
Even though the 70-200/2.8 VR II focuses a little more closely, its shrinking actual focal length means that it can't make images as tight as this 80-200mm f/2.8.
The maximum reproduction ratio of the 70-200 II is only 1:8.3, while this 80-200/2.8 has a maximum reproduction ratio of 1:5.9!
Ghosts performance top
There can be some green ghosts, even with the sun outside your image. Use your hand to shield the lens, and watch your finder if the sun is in the image.
This lens' optics are identical to the other AF 80-200/2.8 versions made since 1988.
I haven't looked for this that much, but from what I have seen, its ghosts are about the same as the 70-200/2.8 VR (2003-2009), this lens is probably a little bit better than the 80-200/2.8 AF-S (1999-2003), while the newest 70-200/2.8 VR II (2009-) seems best.
Lateral Color Fringes performance top
There are no lateral color fringes on the D3, which corrects them automatically.
Macro performance top
Nikon mentions "macro" on the box and in the instructions because this lens has much closer focusing than Nikon's 1982-1988 manual-focus 80-200/2.8. "Macro" ranges were the marketing rage back in the 1980s, and it stuck even to this 1997 lens.
Nikon paints an orange band on the focus scale closer than 6 feet (1.8m) and calls it the "macro mode," but it's just an orange band. Everything works normally, and this lens simply focuses to 5 feet (1.5 meters) without any tricks.
With a maximum repro ratio of 1:5.9; this lens gets effectively much closer than the 70-200/2.8 VR II, whose shrinking effective focal lengths at close distances give it only a 1:8.3 maximum reproduction ratio.
Mechanics performance top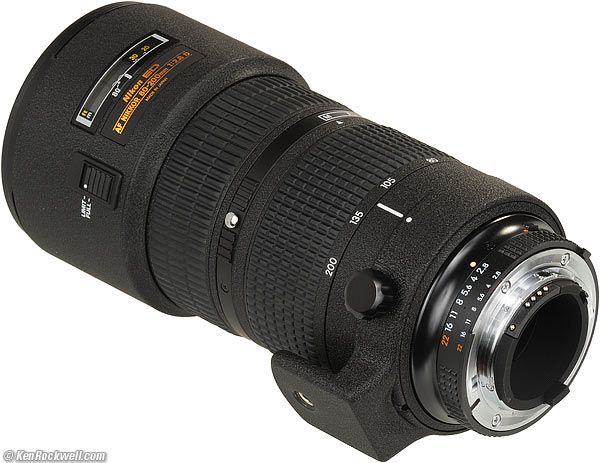 Nikon 80-200mm f/2.8 AF-D (new). enlarge.
Unlike most of Nikon's lenses today, almost everything you see is solid metal. Not only is it all metal, it also is so smoothly and precisely machined that it it a pleasure just to hold it and work the controls.
Front Bumper
Rubber.
Hood Bayonet Mount
Plastic.
Filter Threads
Plastic.
Forebarrel
Metal.
Focus Ring
Metal, rubber covered.
A - M Selector
Metal release pin, plastic ring.
Midbarrel
Metal.
Zoom Ring
Metal, rubber covered.
Internal Zoom Cylinders
Feel like metal.
Aftbarrel
Metal.
Tripod Collar
Metal, with machined billet-metal thumbscrew.
Internals
Metal.
Aperture Ring
Plastic.
Mount
Dull-chromed brass.
Markings
Paint.
Identity Plate
Debossed metal, 18k gold filled.
Serial Number
Laser engraved onto bottom rear of aperture ring.
Ass-Gasket (rain seal at mount)
No.
Noises When Shaken
Assorted clicking and klunking.
Made in
Japan.
Sharpness performance top
Warning 1: Image sharpness depends more on you than your lens.
Warning 2: Lens sharpness doesn't mean much to good photographers.
With those caveats, the Nikon 80-200mm f/2.8 AF-D (new) is sharp. Of course it's sharp: it was Nikon's most important professional lens at its introduction, and remains in Nikon's catalog as one of Nikon's most popular professional zooms to this day.
In normal shooting stopped down a couple of stops, it's always super sharp edge-to-edge at every focal length.
If shooting test charts at infinity, it's a little less sharp at f/2.8 on the far sides at 80mm, and a little less contrasty at f/2.8 at 200mm, but so what; it's still super-sharp and contrasty at 80mm at f/2.8 where you need it, and if the slight (10%) loss of contrast at 200mm at f/2.8 bothers you, either pay twice as much for the newest 70-200/2.8 VR II, or stop down to f/4.
An 80-200mm lens is usually a pro's most important lens. Nikon most certainly makes sure that this lens is excellent, since most of Nikon's (and Canon's) reputation rests on the performance of their f/2.8 tele zooms.
Spherochromatism performance top
Fast, long lenses often show spherochromatism, which is when out-of-focus highlights take on slight color fringes. Laypeople sometimes mistakenly refer to spherochromatism as "color bokeh."
This 80-200mm has some spherochromatism. If you really go looking for it, highlights behind your subject may have slight green fringes, and those in front of your subject may have slight magenta fringes.
Sunstars performance top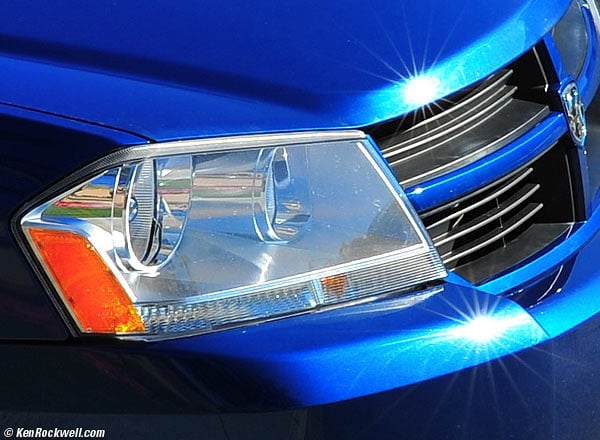 Dodge Avenger. Tight crop from very center of image, 200mm at f/11, 10 meters.
With its straight 9-bladed diaphragm, the 80-200/2.8 makes magnificent 18-pointed sunstars on bright points of light.
Newer models of Nikon f/2.8 tele zooms can't do this: Nikon curved their diaphragm blades, so they would have made this image without the stars, which would be much plainer images.
Real sunstars can't be added later in Photoshop with any easy method; they require the real reflection from the extraordinarily bright disk of the sun, present in nature but absent in even 16-bit raw digital files, to excite them.
Survivability performance top
The Nikon 80-200mm f/2.8 AF-D (new) is designed to take beatings daily.
The zoom mechanism is entirely internal: nothing moves or pumps in and out as you zoom. Therefore, no air, dust or gasses get pumped in and out of the lens (or your camera) as you zoom.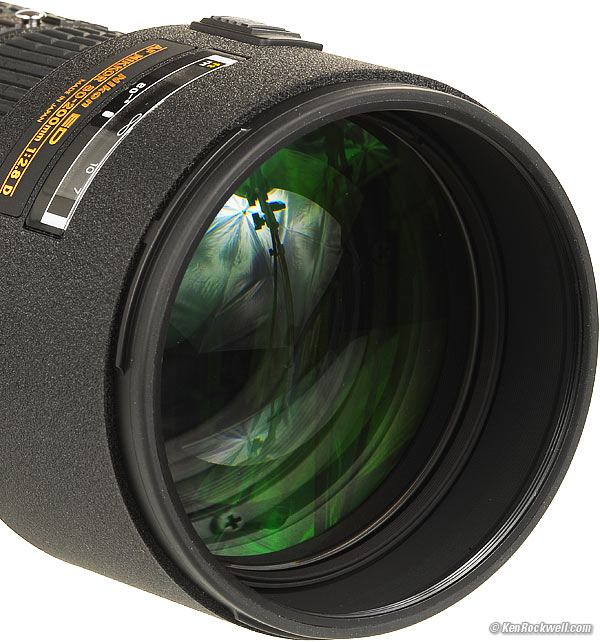 Recessed glass. enlarge.
The front section moves forward and back inside the metal-reinforced front barrel. If you bang the front of the lens on something, you aren't likely to damage anything. Unlike more common "pumper" zooms, the front of the barrel has nothing to do with the focus or zoom mechanisms; the glass spins freely inside this barrel as focused.
Pop on a filter to keep air and dust out of the front of the lens, and you're good to go.
This lens is completely mechanical. There is no delicate AF-S motor to die (a common problem over the years in Nikon lenses), and there is also no VR mechanism to break after a couple of decades of use.
Unlike amateur plastic lenses, and even professional AF-S and VR lenses, I suspect that most of these lenses will still be cranking out great images 30 years from now, while the newer lenses with more features are far more likely to have been cast aside as unrepairable when critical AF-S and VR system parts become unavailable.
Tripod Collar performance top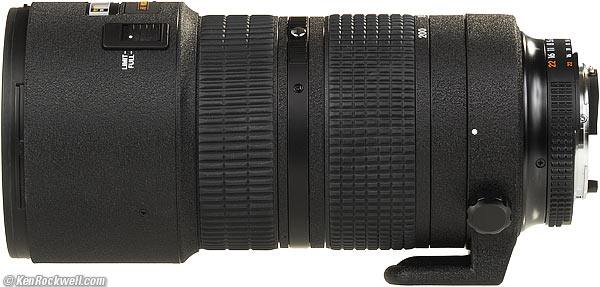 Profile. enlarge.
I've saved some of the best for last: the tripod collar is excellent.
It is so precisely made that it spins smoothly with no play when loosened, and locks down with only the slightest turn of the all-metal lock knob. It is worlds better than the scratchy crud found on lenses like the Sigma 150-500mm.
The Nikon 80-200's collar never comes off, which is good, because it's so well designed that you'll never want to remove it. Flip it out of the way for hand-held shooting, and it's still there when you need it.
It does not rotate through 360;º it has one carefully-placed stop. It's easy to position your camera to any of the four cardinal settings.
There are no clicks or detents.
It is short enough not to get in the way of hand-held shooting, but with a pro body like the D3, you'll usually want to use a tripod-mounting spacer like the Nikon AH-5 (Nikon part number 4584) to be sure that the camera's battery pack doesn't bang on your tripod head. The bottoms of pro cameras descend below the level of the tripod collar's foot.
Zooming performance top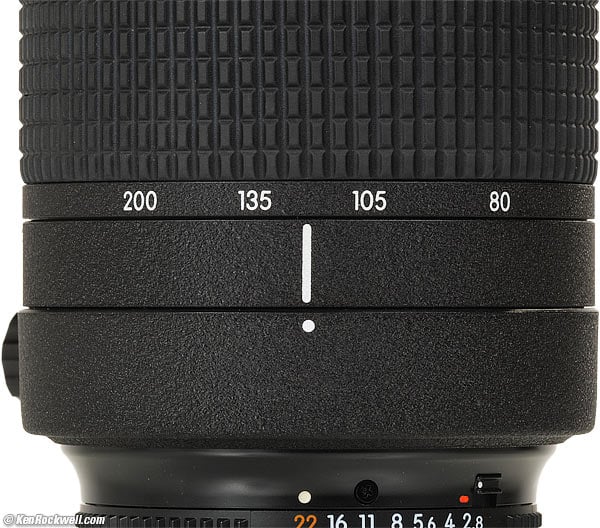 Zoom Ring, Nikon 80-200 2.8.
Zooming is firm and precise. You'll need two firm fingers; It doesn't flick back and forth as it does on the 70-210mm f/4. In the 80-200/2.8, you're moving a lot of glass and metal around on very precise tracks as you zoom.
The focal lengths are very well spaced; it is always easy to set precise framing, but it is firm.
EXIF Encoding Accuracy
I got perfect results; my EXIF data always agreed with the setting on the zoom ring.
Recommendations top
Intro Specs Performance Recommendations
There is no point of buying this lens used because it sells new for about the same price.
The Nikon 80-200mm f/2.8 AF-D (new) is still one of Nikon's most popular professional lenses in 2010, 13 years after its introduction. It remains popular because it offers fast autofocus and great performance, both mechanically and optically, for half the price of Nikon's other professional f/2.8 tele zoom, the 70-200/2.8 VR II.
The 70-200/2.8 VR II is very slightly sharper at f/2.8 in the lab (not any sharper in actual shooting), has less distortion, has VR and allows one to focus manually simply by grabbing the ring. I love VR, but the 70-200mm VR II won't work on manual focus cameras as will this 80-200.
Otherwise, this 80-200 2.8 takes the same pictures, has superior close-up ability, is smaller, lighter and is half the price of the 70-200/2.8 VR II, and renders superior sunstars, which is why this 80-200mm 2.8 AF is still so popular today. This 80-200/2.8 is a wonderful lens, and it should last you a lifetime.
More Information
Help me help you top
I support my growing family through this website, as crazy as it might seem.
The biggest help is when you use any of these links to Adorama, Amazon, eBay, Ritz, Calumet and J&R and when you get anything. It costs you nothing, and is this site's, and thus my family's, biggest source of support. eBay is always a gamble, but all the other places always have the best prices and service, which is why I've used them since before this website existed. I recommend them all personally.
If you find this page as helpful as a book you might have had to buy or a workshop you may have had to take, feel free to help me continue helping everyone.
If you've gotten your gear through one of my links or helped otherwise, you're family. It's great people like you who allow me to keep adding to this site full-time. Thanks!
If you haven't helped yet, please do, and consider helping me with a gift of $5.00.
As this page is copyrighted and formally registered, it is unlawful to make copies, especially in the form of printouts for personal use. If you wish to make a printout for personal use, you are granted one-time permission only if you PayPal me $5.00 per printout or part thereof. Thank you!
Thanks for reading!
Mr. & Mrs. Ken Rockwell, Ryan and Katie.
Home Donate New Search Gallery How-To Books Links Workshops About Contact