Home Donate New Search Gallery How-To Books Links Workshops About Contact
Sigma 150-500mm f/5-6.3
© 2010 KenRockwell.com. All rights reserved.
Intro Specifications Performance Recommendations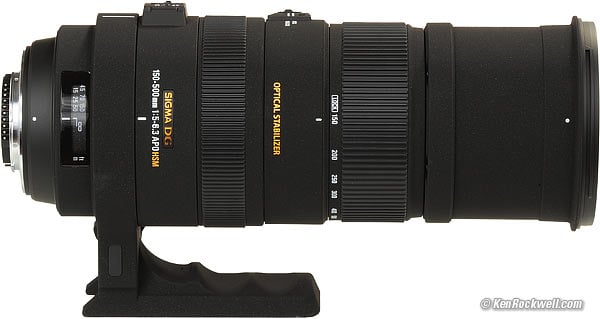 Sigma 150-500mm f/5-6.3 (86mm filters, 63.2 oz./1,792g as shown, 7.2'/2.2m close focus, about $1,000). enlarge. The biggest source of support for this free website is when you use these links, especially this link directly to this lens at Adorama and at Amazon when you get anything, regardless of the county in which you live. It comes in mounts for Nikon, Canon, Pentax, Minolta Maxxum, Sony and Sigma cameras. Thank you! Ken.
October 2010 Nikon Reviews Nikon Lenses Canon LEICA Pentax
Tokina 150-500mm f/5.6 (1986-2000, manual focus)
| | |
| --- | --- |
| Optics: | |
| Mechanics: | |
| Ergonomics: | |
| Usefulness: | |
| Availability: | |
| Overall: | |
Ideal for: Perfect for use on FX digital, DX digital and film.
Not for: If 200mm or 300mm isn't long enough for wildlife for you, nothing is. Getting closer will get you better results than a longer lens.
Introduction top
Intro Specifications Performance Recommendations
Versions and Formats Compatibility
This Sigma 150-500mm's optics are superb, and its excellent stabilization system lets one shoot at 1/30 - 1/60 hand-held at 500mm!
Autofocus is leisurely, so it's not ideal for action, but for nature, landscapes and portraits where you really need 500mm, go for it! Neither Nikon nor Canon offers any zoom beyond 300 or 400mm, and this lens' price, at $1,000, is very reasonable.
It is at least as sharp as Nikon's lenses, and has almost no visible distortion. I'm impressed: it's sharp edge-to-edge, full-frame, at every aperture and focal length. Bravo!
The 150-500mm has instant manual-focus override: just grab the ring at any time for manual focus; no switches needed. The biggest drawback is that manual focus is backwards on Nikon.
I hope to test the larger and more expensive Sigma 50-500mm lens later.
Versions and Formats intro top
The Sigma 150-500 comes in mounts for Nikon, Canon, Pentax, Minolta Maxxum, Sony and Sigma cameras.
I am only addressing the Nikon version here. You may make the usual extrapolations for other brands of camera body.
This is a full-frame lens optimized for 35mm film and FX cameras, and I will be testing it on a Nikon D3. You again may make the usual extrapolations for use on DX and other format Canon cameras.
This is not a Nikon lens. Nikon does not warrant anything about anything. I found this Sigma lens worked fine on every camera with which I tried it, but as a discount-brand lens completely unassociated with Nikon, it is always possible that some camera you own today, or buy in a few years, won't work with this lens.
This aside, this is Sigma's best attempt at an AF-S and G lens.
Therefore, everything should work perfectly on every digital Nikon, both FX and DX, and even on Nikon's cheapest digitals like the D40, D40x, D60, D3000, D3100 and D5000.
It also should be perfect on decent or recent AF film cameras like the F6, F100, F5, N80 and N75.
The incompatibilities for older or cheaper film cameras are that:
1.) It won't autofocus with the cheapest new AF 35mm cameras like the N55, but if you focus manually, everything else works great. Even if you lose autofocus, these cameras have in-finder focus confirmation dots to help you.
2.) Late 1980s ~ early 1990s AF cameras like the N90s, N70 and F4 will focus just fine, but you'll lose VR. You'll have Program and Shutter-priority modes, but lose Manual and Aperture-priority since you have no way to set the aperture on the camera or on the lens.
3.) You're really pushing it with the oldest AF cameras like the N2020, N6006 and N8008. You'll have no AF, confused exposure modes, and no VR. Manual focus is fine, along with electronic focus indications.
4.) Since it has no aperture ring, it's just about useless with manual focus film cameras.
See Nikon Lens Compatibility for details with your camera. Read down the "AF-S, AF-I," "G" and "VR" columns for this lens. You'll get the least of all the features displayed in all columns, since "G" (gelding) is a deliberate handicap which removes features.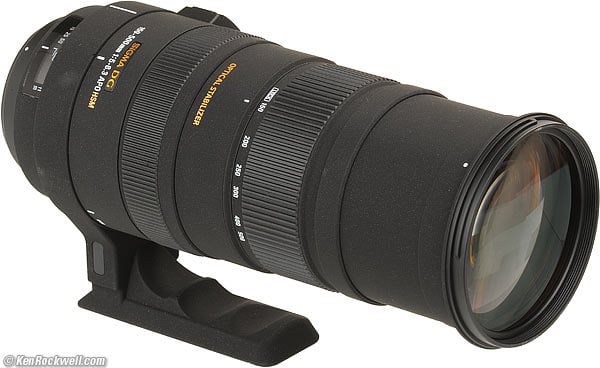 Sigma 150-500mm f/5-6.3. enlarge.
Specifications top
Intro Specifications Performance Recommendations
Name top
Sigma calls this the Sigma 150-500mm F5-6.3 APO DG OS HSM.
APO: Better optics. Doesn't really mean apochromatic.
DG: Last-decade marketing fluff implying these work on digital cameras – duh.
OS: Optical (Image) Stabilization. Same as Nikon's VR and Canon's IS.
HSM: Hyper-Sonic Motor: quiet internal AF motor. Same as Nikon's SWM and Canon's USM.
Optics top
21 elements in 15 groups.
Sigma claims 3 SLD elements, which are the same thing as Nikon's ED glass.
It's multicoated, which Sigma calls Super Multi Layer Coating.
Rear focusing.
Diaphragm top
9 straight blades.
Stops down to f/22-29.
Coverage top
Film, FX and DX.
Focal Length top
150-500mm.
When used on a DX camera, it gives angles of view similar to what a 220-750mm lens gives when used on an FX or 35mm camera.
Angle of View top
16.4° - 5.0° on FX and 35mm.
Close Focus top
7.2 feet (2.2 m).
Maximum Reproduction Ratio top
1:5.2.
Hard Infinity Focus Stop? top
No.
You have to let the AF system focus at infinity.
Focus Scale top
Yes.
Depth-of-Field Scale top
No.
Infra-Red Focus Index top
No.
Aperture Ring top
No.
Tripod Collar top
Part Number TS-31, included.
Removable.
Filter Thread top
86mm, plastic.
Does not rotate.
Pumps in and our as you zoom.
Stabilization (OS, a.k.a. VR or IS) top
Claims 4 stops improvement.
Size top
Sigma specifies 9.9" x 3.7" (252 x 94.7 millimeters).
Weight top
Lens alone: 58.350 oz. (1,654.2g), measured.
With tripod collar: 63.225 oz. (1,792.4g), measured.
Sigma specifies 67.4 oz. (1,910g).
Hood top
Plastic bayonet hood, included.
Case top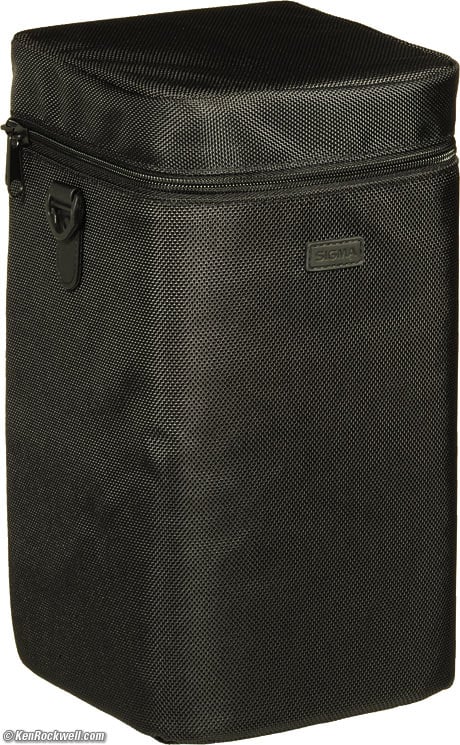 Case, Sigma 150-500mm f/5-6.3.
A nice padded case is included.
Made in top
Japan.
Teleconverters top
Packaging top
Micro-corrugated cardboard box.
Lens in case inside.
Paperwork and two straps lie on top of case inside box.
Box, Sigma 150-500mm f/5-6.3.
Performance top
Intro Specifications Performance Recommendations
Overall Focus Bokeh Color Coma Distortion Ergonomics
Eyeblow Falloff Filters Focal Lengths, effective Ghosts
Lateral Color Fringes Maximum Apertures Mechanics Sharpness
Sunstars Survivability Tripod Collar VR, IS & OS Zooming
Overall performance top
The Sigma 150-500mm f/5-6.3 is optically superb, but feels gritty mechanically as do most Sigma lenses. Sigma is a discount brand; it lacks the finesse of better products like those from Nikon and Canon.
Focus performance top
AF at f/6.3
I had no problems on a Nikon D3.
AF Speed
AF speed is leisurely. This lets it focus precisely at 500mm and not hang-up, but it's not what you want for sports.
If you are shooting action, get the lens in the general vicinity of your subject with the manual focus ring first, and it ought to do pretty well tracking small variations in distance.
AF Accuracy
AF always was right-on up through about 300mm.
At 500mm, my sample focused a little behind the subject.
This will vary with your on sample of lens and camera, and if it's a problem, most cameras now have manual fine-tuning adjustments.
Manual Focus
Manual focus is swell. Just grab the ring at any time.
It feels better than most Sigma lenses; it's pretty smooth.
Bokeh performance top
Bokeh, the character of out of focus backgrounds, not simply how far out of focus they are, is usually pretty good.
Look out at 500mm: thermal currents in the air will affect bokeh.
Color Rendition performance top
I didn't notice any difference from my NIKKOR lenses.
Coma performance top
None.
Distortion performance top
The Sigma 150-500mm f/5-6.3 has no visible distortion, which is extremely good for any zoom.
Its tiny amount of pincushion distortion can be corrected even further for more critical use by plugging these figures into Photoshop's lens distortion filter. These aren't facts or specifications, they are the results of my research that requires hours of photography and calculations on the resulting data.
| | |
| --- | --- |
| | On FX and Film at 10' (3m) |
| 150mm | -1.0 |
| 200mm | -1.5 |
| 300mm | -1.0 |
| 500mm | -1.0 |
© 2010 KenRockwell.com. All rights reserved.
In my copy of Photoshop CS5, this is the first lens for which correction magically applied itself from some mysterious database.
Ergonomics (handling and ease-of-use) performance top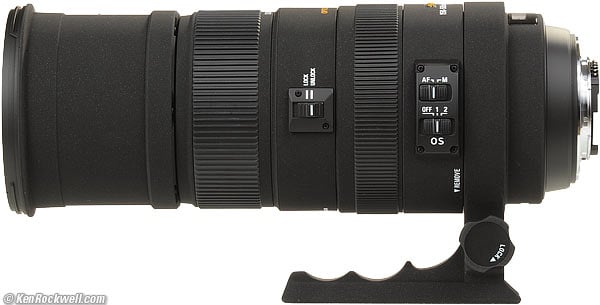 Controls, Sigma 150-500mm f/5-6.3. enlarge.
This is a big lens (1,792g, 86mm filters), but not much bigger than Nikon's 70-200mm VR II (1,540g, 77mm filters) or Canon's 70-200mm f/2.8 IS II (1,490g, 77mm filters).
Half the lens moves in and out as you zoom, so the zoom ring is stiff.
Manual focus is easy, but it turns backwards on Nikon.
The tripod collar comes off. It looks like a grip with which to carry the lens and/or camera, but it isn't particularly comfortable.
Eyeblow performance top
This is a big lens moving a lot of glass as it's zoomed, and surprisingly very little air blows out of the eyepiece.
Falloff (darkened corners) performance top
Falloff on FX isn't bad. It's only slightly visible wide-open.
It won't be an issue at all on DX (see crop factor).
I've exaggerated this by shooting a gray field and placing these on a gray background.
Sigma 150-500mm f/5-6.3 falloff on FX and film at infinity, no correction.
| | | | |
| --- | --- | --- | --- |
| | | f/8 | f/11 |
| 150mm | | | |
| 300mm | | | |
| 500mm | | | |
© 2010 KenRockwell.com. All rights reserved.
Filters, use with performance top
86mm is a big filter.
Don't buy cheap filters: at 500mm, any lack of flatness in your filters will rob sharpness. It's easy to test filters: look through them with a small telescope (or pair of binoculars) at a distant object, and if the image remains perfectly clear, you're fine. Even the smallest filter imperfections look horrible thought a small telescope.
The plastic filter ring doesn't rotate while focused or zoomed. It doesn't move while focused, but it does pump in and out as zoomed.
Focal Lengths, effective performance top
The effective maximum focal length shortens at closer distances.
At infinity where you need it, you get 150-500mm. The 500mm end gives the same angle of view as a real 500mm lens.
At 4 meters (12 feet), this 150-500mm lens needs to be set to 400mm to give the same angle-of-view as a real 300mm lens. It never really gets to 500mm at closer distances.
Ghosts and Flare performance top
I almost went blind pointing this big lens into the sun, and there still aren't any ghosts.
Here are shots at three different zoom settings.
Bravo!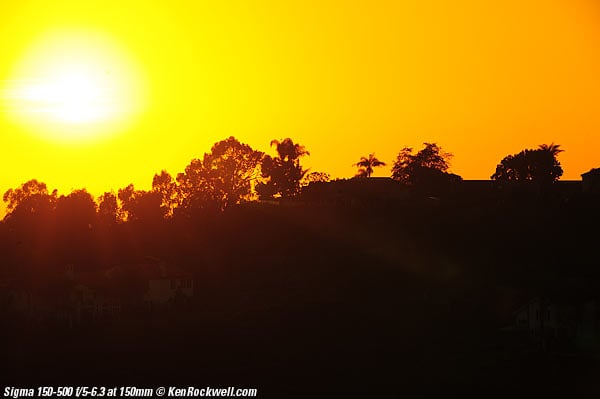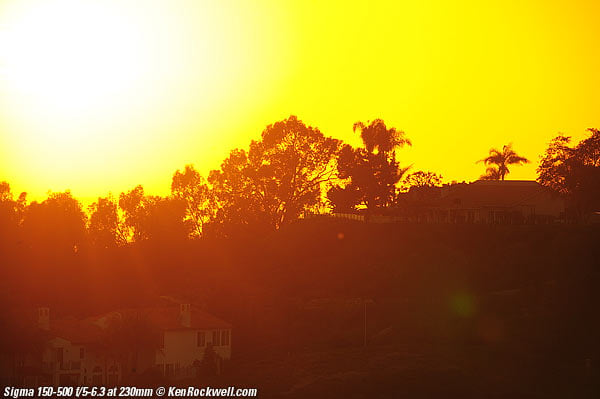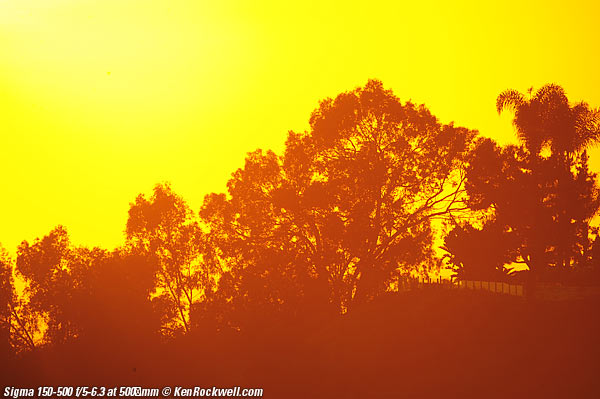 Lateral Color Fringes performance top
There are no lateral color fringes on the D3, which would correct them automatically.
Maximum and Minimum Apertures Performance top
| | | |
| --- | --- | --- |
| | Maximum | Minimum |
| 150mm | f/5 | f/22 |
| 200mm | f/5.3 | f/25 |
| 250mm | f/5.6 | f/25 |
| 300mm | f/6 | f/29 |
| 400mm | f/6.3 | f/29 |
| 500mm | f/6.3 | f/29 |
Mechanics and Construction performance top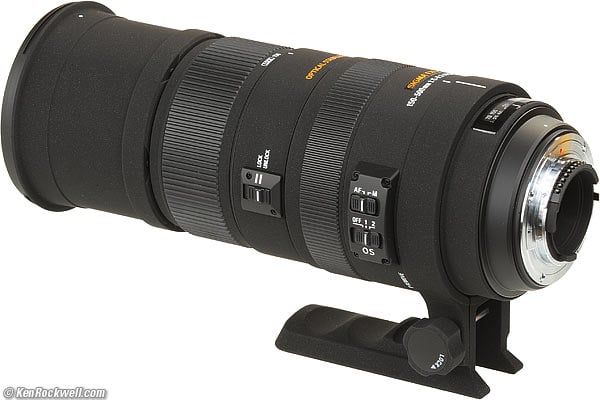 Rear, Sigma 150-500mm f/5-6.3. enlarge.
The Sigma 150-500mm f/5-6.3 is a mix of metal and plastic.
The biggest reason I've never bought a Sigma lens is because I've never felt confident that they would last. This lens feels OK.
Filter Threads
Plastic.
Hood
Plastic bayonet.
Hood Mount
Plastic.
Forebarrel
Plastic.
Focus Ring
Plastic; rubber covered.
Zoom Ring
Plastic; rubber covered.
Aftbarrel
Mostly metal.
Internals
Seem like mostly plastic.
Mount
Metal.
It grabs when mounted and unmounted from my Nikons. It doesn't attach and remove smoothly as do Nikon lenses on Nikons or Canon lenses on Canon cameras.
Markings
Paint.
Identity
Painted on barrel.
Serial Number
Sticker bottom rear of barrel, near mount.
Ass-Gasket (dust seal at mount)
No.
Noises When Shaken
Mild clicking from the diaphragm blades and actuation system.
Made in
Japan.
Weaknesses
As a pumper zoom, don't bang the front of the lens or you'll possibly destroy the zoom system.
As a motor-incorporated lens, you loose AF if the motor dies.
Sharpness performance top
Warning 1: Image sharpness depends more on you than your lens.
Warning 2: Lens sharpness doesn't mean much to good photographers.
With those caveats, the Sigma 150-500mm f/5-6.3 is really sharp!
It's easy to review, because I can't say anything bad about it.
It's sharp at every setting all over the frame. For instance, it's sharper in the corners at 200mm than the old Nikon 70-200mm VR.
If yours isn't sharp at 500mm wide-open, be sure your AF system is getting perfect focus.
If you're not getting sharp results at 500mm, remember that on most days, atmospheric shimmer from air temperature differences will be a significant degradation to sharpness at longer distances.
Sunstars performance top
With its straight 9-bladed diaphragm, it ought to make magnificent 18-pointed sunstars on bright points of light.
Survivability performance top
The Sigma 150-500mm f/5-6.3 seems tougher than most Sigma lenses, even if it is mostly plastic.
So long as you don't bang the front of the lens on anything and the AF motor doesn't die; it ought to serve you well.
Tripod Collar performance top
The tripod collar removes if you rotate it appropriately and pull it off the back of the 150-500.
It has no click stops or detents. The lens rotates somewhat grittily after you loosen the grab screw. It is not smooth as are most Nikon and Canon tripod collars.
It has a long foot, but only one threaded hole.
It is far enough away from the bottom of the lens (tall enough) that it clears the bottom of professional bodies like the Nikon D3s without any interference between the tripod head and the camera's battery pack.
VR, IS and OS performance top
This Sigma 150-500mm's image stabilization works great! Sharp hand-held shots at 500mm are easy!
Nikon says VR, Canon says IS and Sigma says OS. It's all the same thing.
By "sharp shots" I mean perfect tripod-equivalent sharpness when viewed at 100%, as shot on a D3 by me. For most uses, one can use much slower speeds. See Why VR Matters for more.
Here are the percentage of perfectly-sharp shots I got hand-held with OS in position 1:
| | | | | | |
| --- | --- | --- | --- | --- | --- |
| % 100% Sharp, OS ON | 1/15 | 1/30 | 1/60 | 1/125 | 1/250 |
| 150mm | 60 | 100 | 100 | 100 | 100 |
| 300mm | 33 | 50 | 67 | 100 | 100 |
| 500mm | 33 | 20 | 80 | 100 | 100 |
Hint: VR improves your hit ratio. It doesn't guarantee that every shot will be sharp. I always shoot at least three-shot bursts at slow speeds so I can pick the sharp shot out of several when shooting handheld at really slow speeds.
Zooming performance top
Zooming is stiff because you're moving most of this heavy lens in and out.
The front pokes out as you get to 500mm: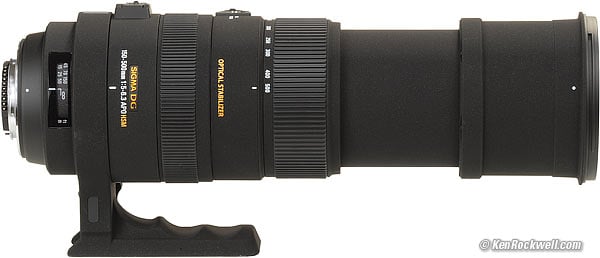 Sigma 150-500 F5-6.3 at 500mm. enlarge.
The front of the 150-500 in this shot looks like a hood, but this is the lens without its hood.
Recommendations top
Intro Specifications Performance Recommendations
The Sigma 150-500mm f/5-6.3 is an optically great lens. If you think you want one, get it.
My caution is that most people trying to shoot things at long distances underestimate the importance of getting closer.
A 500mm lens sounds like a cure-all for any distant subject, but it you're trying to photograph birds and wildlife, too much is never enough. My professional bird photographer friends own 800mm lenses and wear wetsuits to slide around in the mud sneaking up close on critters, and still have to use teleconverters and crop the resulting images!
If 200mm or 300mm isn't getting you what you want, 500mm probably won't either. Getting closer is much more important than how many millimeters you're packing.
Deployment
I'd leave either an 86mm Hoya Super HMC UV on the lens at all times. I would leave the hood at home.
If I was working in nasty, dirty areas, I'd forget the cap, and use an uncoated 86mm Tiffen UV filter instead. Uncoated filters are much easier to clean, but more prone to ghosting.
For color slides like Velvia 50, I use a 86mm Hoya HMC 81A filter outdoors.
For B&W film outdoors, I'd use a 86mm Hoya HMC Yellow K2 or 86mm Hoya HMC Orange.
if you're buying a new set of 86mm filters, you may instead want to plan ahead in case you later get the Sigma 50-500mm, and use 95mm filters with an 86 -> 95mm step-up ring.
Help me help you top
I support my growing family through this website, as crazy as it might seem.
The biggest help is when you use any of these links to Adorama, Amazon, eBay, Ritz, Calumet and J&R and when you get anything. It costs you nothing, and is this site's, and thus my family's, biggest source of support. eBay is always a gamble, but all the other places always have the best prices and service, which is why I've used them since before this website existed. I recommend them all personally.
If you find this page as helpful as a book you might have had to buy or a workshop you may have had to take, feel free to help me continue helping everyone.
If you've gotten your gear through one of my links or helped otherwise, you're family. It's great people like you who allow me to keep adding to this site full-time. Thanks!
If you haven't helped yet, please do, and consider helping me with a gift of $5.00.
As this page is copyrighted and formally registered, it is unlawful to make copies, especially in the form of printouts for personal use. If you wish to make a printout for personal use, you are granted one-time permission only if you PayPal me $5.00 per printout or part thereof. Thank you!
Thanks for reading!
Mr. & Mrs. Ken Rockwell, Ryan and Katie.
Home Donate New Search Gallery How-To Books Links Workshops About Contact