Tokina 150-500mm
(1986-2000)
© 2008 KenRockwell.com. All rights reserved.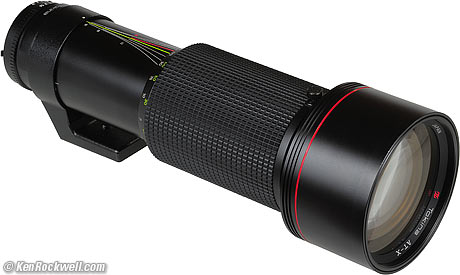 Tokina 150-500mm f/5.6 AT-X. enlarge. I get my goodies at Ritz, Amazon and Adorama. , but good luck finding a used one. It helps me keep adding to this site when you get yours from those links, too.
More Nikon Reviews More Canon Reviews
May 2008
Intro Specs Performance Recommendations
This is an exotic manual-focus third-party lens that was made to fit Nikon, Canon FD, and some other cameras.
The Nikon mount version works great with better digital cameras, especially the D2, D200, D300 and D3, whose meters can be programmed in the menus for complete compatibly. Focus is of course always manual.
Tokina only sold about 1,000 of these in USA over 10 years. At its peak, they only sold about 10 per month in the USA.
When new, it sold for just over $1,000 at deep NYC discount at places like B&H Photo Video. In 2008, they go for about $400 used.
It's a big lens, over a foot (30cm) long and takes a 95mm filter.
It has exceptionally low distortion, making it better than Nikon's zooms if architectural vignettes are your thing.
Specifications back to top
Intro Specifications Performance Recommendations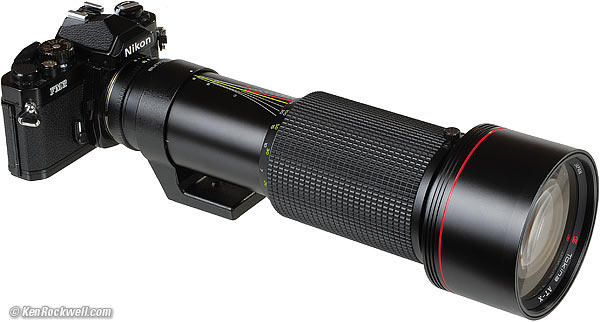 Tokina 150-500mm f/5.6 AT-X and Nikon FM2. enlarge.
Name: Tokina calls this the Tokina AT-X 150-500mm f/5.6 SD. SD stands for super-low dispersion glass, similar to Nikon's ED glass and Canon's UD glass.
Focal Length: 150-500mm
Maximum Aperture: f/5.6 at all focal lengths.
Optics: 15 elements in 13 groups. Single-coated.
Diaphragm: 7 blades stopping down to f/32. Annoying half-stop clicks between f/8 and f/22.
Close Focus Distance: 10.2 feet (3.1m), marked.
Filters: 95mm front thread and 35.5mm rear drop-in.
Size: 12.362" extension from flange by 4.099" diameter (314 x 104.11mm), Nikon mount, focused at infinity. Extends about an additional 0.67" (17mm) when focused at 10' (3m).
Weight: 4 pounds, 15 oz. (2,240g), measured.
Tokina's Model Number: AT-X 150.
Price: $870 at full NYC discount in 1994, over $1,000 in 2000. In 2008, the Nikon and Canon version sell used for about $400.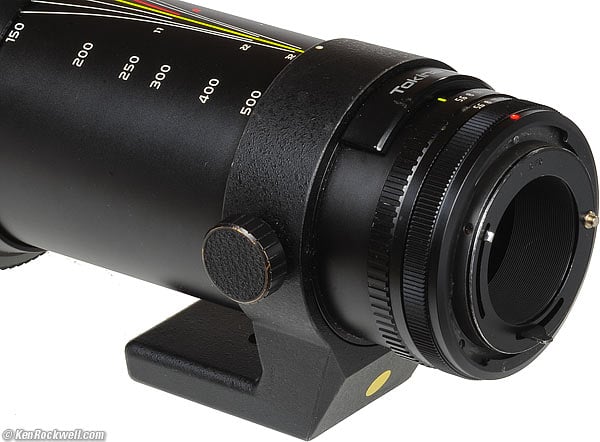 Tokina 150-500mm f/5.6 AT-X in Canon FD Mount.
Performance back to top
Intro Specifications Performance Recommendations
Overall Bokeh Coatings Color Distortion Ergonomics
Falloff Filters Hood, Caps and Case Mechanics Sharpness
Overall back to performance back to top
Optically excellent at 150mm, it gets a little softer at 500mm.
Distortion is among the least I've seen in a zoom lens, less than anything from Nikon.
A man can hand-hold it easily. As a one-touch zoom, it's easy to use freehand or on a tripod.
Bokeh back to performance back to top
Bokeh on backgrounds seems neutral.
Coatings back to performance back to top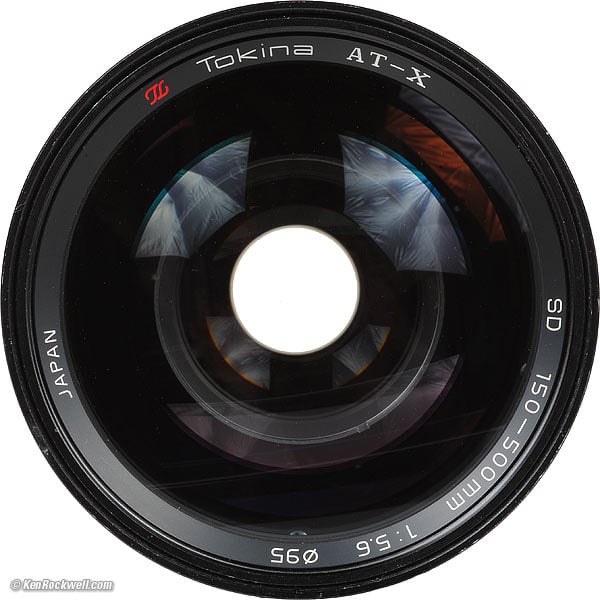 Tokina 150-500mm f/5.6 AT-X.
The coatings seem like only single-coating, and not particularly effective ones at that.
When you look at the front of the lens, you see a lot more reflections from the glass than from a Nikkor or Canon lens.
Color Rendition back to Performance back to top
Color is neutral and seems to match my modern Nikkors.
Distortion back to performance back to top
The Tokina 150-500mm has the least distortion I've ever measured in a telephoto zoom. It's almost invisible at every setting. It's always a tiny bit of pincushion distortion.
If you need to, it's trivial to correct the distortion completely by plugging these figures into Photoshop CS2's lens distortion filter. These aren't facts or specifications, they are the results of my research that requires hours of photography and calculations on the resulting data.
| | |
| --- | --- |
| | Full Frame at 30' (10m) |
| 150mm | -1.0 |
| 200mm | -0.5 |
| 250mm | -0.5 |
| 300mm | -0.5 |
| 400mm | -0.5 |
| 500mm | -1.2 |
© 2008 KenRockwell.com. All rights reserved.
Ergonomics back to performance back to top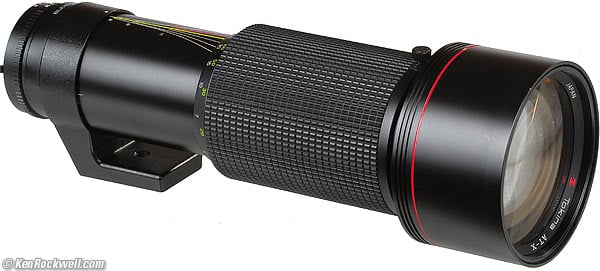 Move mouse over to see it zoom. Don't do this too much if you're at work.
It's easy to use. Grab the big ring, push-pull to zoom and twist to focus.
There is a friction lock to lock both focus and zoom position.
The focus feels good, a tiny bit more damped than I might like.
Zooming also feels as good as I've felt in any third-party lens.
Zoom and focus are OK, but never perfectly sooth as it can be on a Nikon or Canon lens. It feels like entirely aluminum cams and helicoids, with no brass internally.
The half-stop clicks between f/8 and f/22 bug me. I'm used to setting exposure by counting clicks. With this lens, it takes a lot more concentration because clicks mean different things in different places.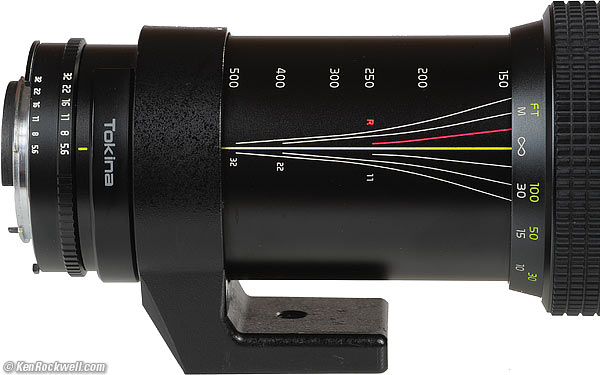 Tokina 150-500mm drop-in filter holder and zoom controls. enlarge.
Falloff (darkened corners) back to performance back to top
Falloff is minor, which is a good thing since most of us will always be shooting the Tokina 150-500mm wide-open at f/5.6.
I can only see it with real pictures if I shoot a sequence at different apertures and then switch among them on-screen, which lets me see the change in corner brightness from image to image. I'd never see any falloff at any focal length by looking at a normal image alone.
If you're shooting walls, stop down to f/8 or f/11 and it goes away entirely. For normal subjects, the falloff is minor even at f/5.6.
Filters back to performance back to top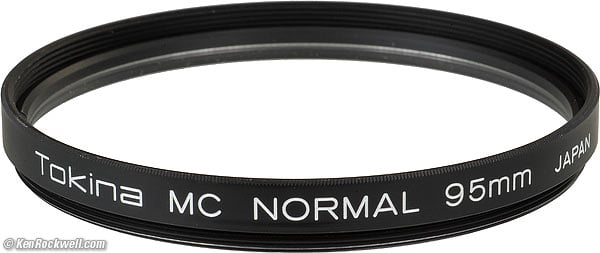 Tokina 95mm filter.
Most people will use a front 95mm filter for protection. The 95mm Tokina filter wasn't standard, but many people bought them along with the lens. Any 95mm filter fits, like the Nikon L37c.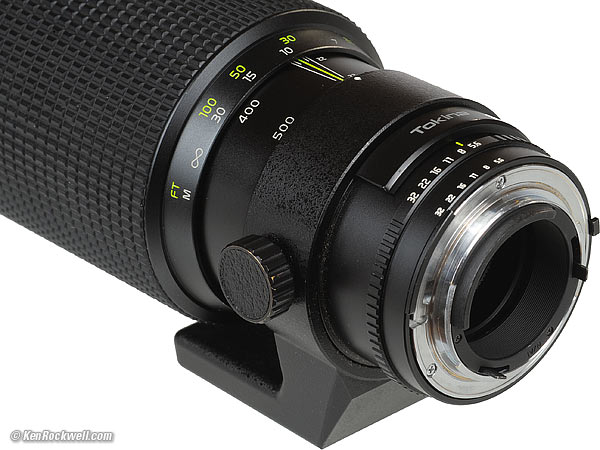 Tokina 150-500mm f/5.6 AT-X rear view, closer. enlarge.
There also is a drop-in holder for 35.5mm screw-in filters. Just pull out the thing marked "Tokina" in gray, between the tripod collar and the aperture ring . The 150-500mm comes with a clear filter in the slot, which is needed for proper focusing.
These lenses may or may not have included a set of colored 35.5mm filters. Most people use the less expensive 35.5mm filters for color manipulation instead of the more expensive 95mm front filters.
You can still buy these 35.5mm filters, as well as the original set #1 for color and set #2 for black-and-white film.
Hood, Caps and Case back to performance back to top
Hood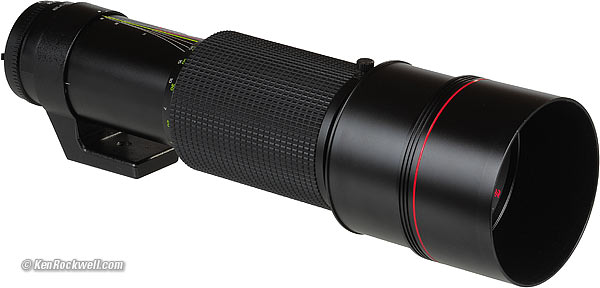 Tokina 150-500mm f/5.6 AT-X with hood extended. enlarge.
The hood is built-in. Just slide it forward.
It's relatively loose. Mine slides forward or back if I tilt the lens up or down. If I cared, a rubber band would hold it in position.
It's flocked on the inside.
Front Cap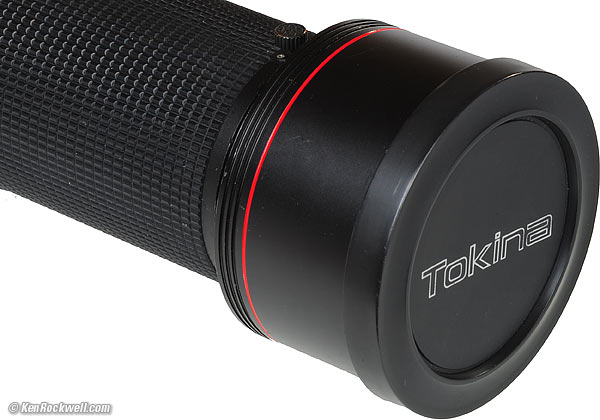 Tokina 150-500mm f/5.6 AT-X front cap.
The front cap is push-on plastic, with Tokina embossed in silver.
System Case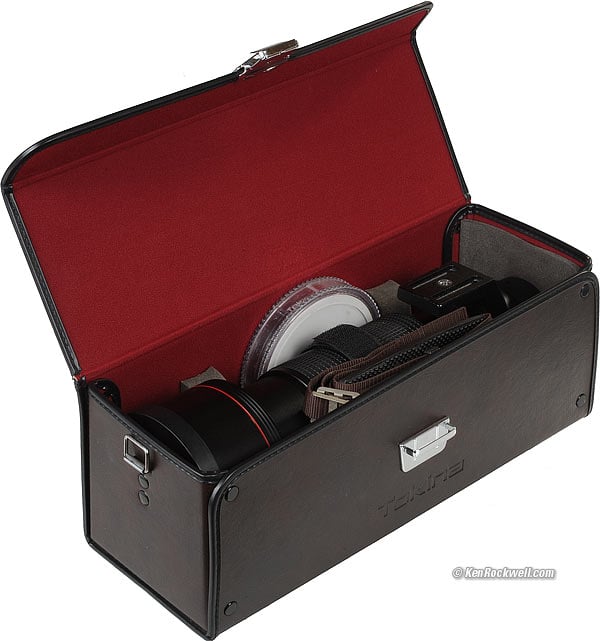 Tokina 150-500mm f/5.6 AT-X system case.
The case feels like vinyl over cardboard, with reddish fuzz on the inside.
There are two hard foam bulkheads which cradle the lens. You must rotate the tripod mount as shown for it all to fit.
There is a velcro strap which holds the lens to the bulkheads.
The strap is brown nylon mesh with a black rubber pad to match the brown vinyl and black piping.
There's enough space to pop in a 95mm filter in its case.
Mechanics back to performance back to top
Hood: Flocked anodized aluminum.
Filter Threads: Anodized aluminum.
Barrel: Anodized aluminum.
Focus and Zoom Ring: Anodized aluminum.
Aperture Ring: Anodized aluminum.
Markings: Engraved and filled.
Serial Number: Engraved and filled on rear bottom of barrel, often hidden under the tripod mount.
Internals: Feels like all aluminum, no brass.
Sharpness back to performance back to top
On the Nikon D3 full-frame camera, it's wonderful even wide-open at 150mm and then softer at 500mm.
150~250mm: Sharp edge-edge, even wide-open.
400~500mm: It looks like it has some spherical aberration wide open (f/5.6) Stop down a stop or two and it's better. My sample is a bit softer on the right side at the longer focal lengths.
Check your focus, mine tends to fool my D3's electronic rangefinder at 500mm to focus a little bit behind the subject.
Recommendations back to top
Intro Specifications Performance Recommendations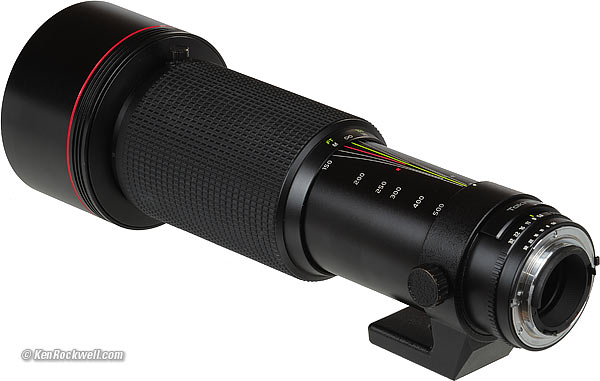 Tokina 150-500mm f/5.6 AT-X, rear view. enlarge.
This is an unusual manual focus lens.
It works on almost all Nikons (see Nikon Lens Compatibility and read down the AI, AI-s column), but the Canon FD version only works on old Canon manual focus cameras. The Canon version will not work on any Canon EOS or digital camera, but works great on cameras like the T90, T70, F-1n and AE-1.
For autofocus cameras, I prefer my Nikon 80-400mm VR or the Canon 100-400mm IS, since they both autofocus and add image stabilization. 500mm versus 400mm isn't worth the loss of AF and VR, if you're shooting a modern camera.
For manual focus cameras, this is a unique lens not offered by Canon or Nikon. Its extremely low distortion may make it a winner for those who need it.
More Information: Dust off Modern Photography, March 1988 and have a look on pages 61 and 62.
PLUG
If you find this as helpful as a book you might have had to buy or a workshop you may have had to take, feel free to help me continue helping everyone.
Thanks for reading!
Ken