Nikon N75 (aka F75 or U2)
(2003-2006)
© 2008 KenRockwell.com. All rights reserved.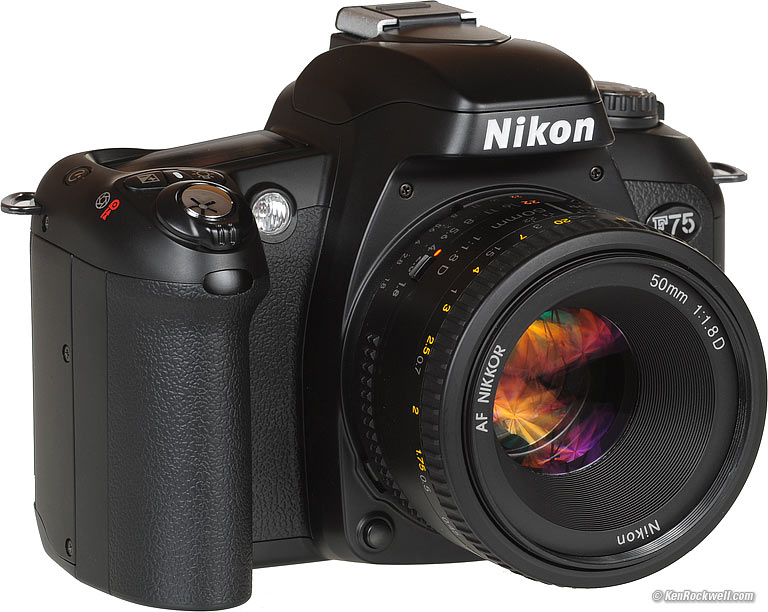 Nikon N75 with Nikon 50mm f/1.8D. enlarge. I'd look here for one.
June 2008 How to Use the N75 as a Digital Camera More Nikon Reviews
Introduction
The Nikon N75 was introduced in February 2003 and discontinued in January 2006.
The N75 is Nikon's newest mostly-plastic 35mm SLR. The lens mount is metal. If you can get over the plastic, and especially if you love light weight, it is among the best 35mm cameras ever made. It's a plastic F5 or F6. The N75 has a metal lens mount.
No one knows about the N75 because it came out just as digital had replaced film for most people. That's too bad, because the N75 has every trick Nikon has ever learned to put in cameras, at a very low price.
It's designed for people's moms, and it also works great for serious photographers on a dollar or weight budget. It's a better camera than older, more expensive Nikons like the N90. The N75 is a very competent film camera, sadly no one paid much attention because it was introduced in February 2003: a year after the D100 and a year before the D70.
The N75 has every feature I actually use, like depth-of-field preview, illuminated LCDs, full VR, flash, AF and AFS compatibility, every exposure mode, program shift, and just about every feature one might want in a film camera.
The only things missing, compared to today's newer professional F6, are durability (the N75 does have a metal lens mount), speed and fast frame rates, slower 1/90 sync, metering with manual lenses, and the high price. The N75's finder is bigger and brighter than any DX camera like the $1,800 D300, but it's not as good as better film cameras.
It's called the N75 in the USA, the F75 in the rest of the world and U2 in Japan. It's the same camera.
It comes in ugly silver, or professional black. It comes with or without a date imprint. It also comes with or without a lens. I can do without date imprinting, but I prefer black. When new, the silver body-only sold for $190, and the date version with lens sold for $300. There were often rebates available. I paid $69.99 for my black N75 body on close-out in 2007.
The N75 is built as cheaply as the N55 and offers most of the features of the more durable N80 or even F6. The other cameras cost more for added durability.
Lens Compatibility
The N75 is completely compatible with everything Nikon has made for over 20 years: AF, AF-S, VR and all the flash systems. This, and the light plastic construction, make it the very best pro backup camera there is. Galen Rowell would have loved this: full features and no weight.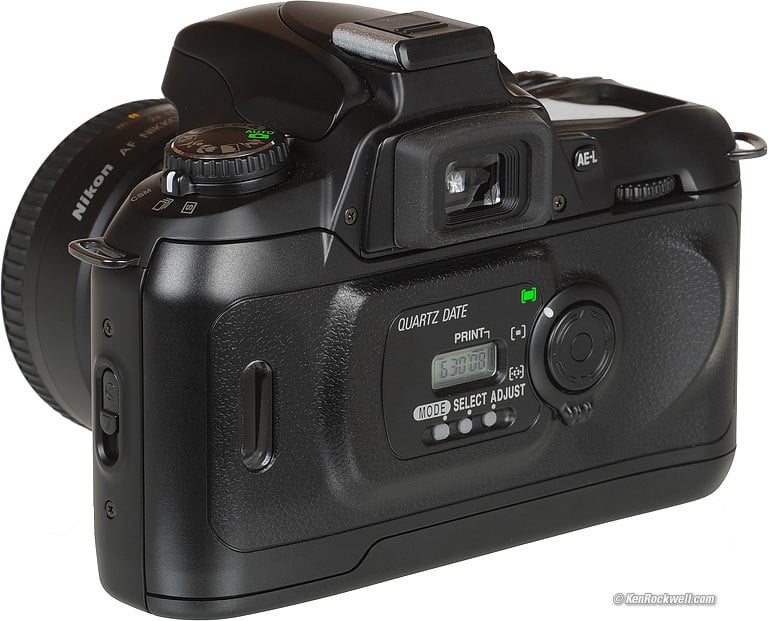 Nikon N75, rear.
New Features
25 segment meter. This is more than any Nikon other than the F5, F6, D70, D1 and D2, but so what, all the meters with 5 or more segments do the same thing. I suspect this is just the usual Japanese specsmanship to keep up with Canon that looks better on paper (Canon usually has more meter segments) but works worse (Canon meters do not work as well as the Nikon meters because they require more frequent manual compensation.)
Battery level indicator in finder. No big deal, the other cameras do the same thing by crippling some of the display when the battery gets low. This simply will be more obvious to rank amateurs than the turning off arbitrary parts of the display on low battery which amateurs can confuse as a camera defect.
Specifications
Finder
Penta-mirror. Adjustable -1.5 ~ 0.8 diopters. Illuminated at night. 17mm eyepoint. 89% coverage.
Top LCD
Illuminated with a button.
AF system
Works with every AF, VR, AF-I and AF-S lens ever made by Nikon. Also shows an in-focus confirmation dot with manual lenses.
AF Areas
5.
Meter
25 zone 3-D Matrix.
Multi segment flash metering.
Exposure Modes
P, S, A and M.
Also AUTO and a few scene modes, all selected on the top left dial.
ISO
25-5,000, set via DX-coding only.
Defaults to ISO 100 if it can't read the DX code (no manual setting).
Shutter
1/2,000 ~ 30 sec. and Time.
Manual settings in half stops.
Time mode is far more useful than the Bulb modes of most cameras. In Time, tap the shutter, and it stays open forever until you tap it again. The AF assist light blinks dimly once every two seconds.
1/90.
Frame Rate
Only 1.5 FPS, obviously not a pro sports camera.
Depth-of-Field Preview
Yes!
Remote Control
IR Remote control only, you need to buy the optional $17 ML-L3 remote to use this.
Flash
Built-in.
Power
Two teeny CR2 batteries, which were included with my gray-market F75.
Rated for 40 36-exposure rolls without flash, 12 rolls with flash half the time.
Size
5.2 x 3.6 x 2.6" (131 x 92.5 x 65mm).
Date version as seen here is 2.7" (67.5mm) deep.
Weight
Rated 13.4 oz (380g) without lens, batteries or strap.
Date version seen here rated 0.2 oz (5g) more.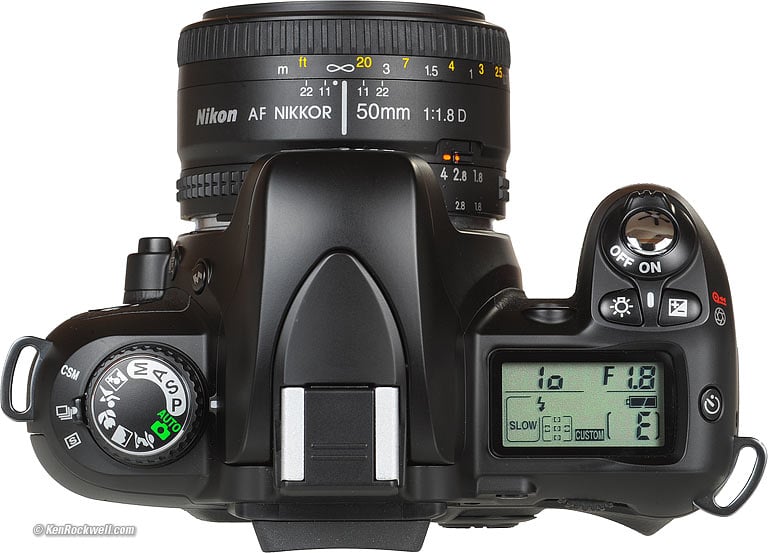 Nikon N75 with Nikon 50mm f/1.8D.
Performance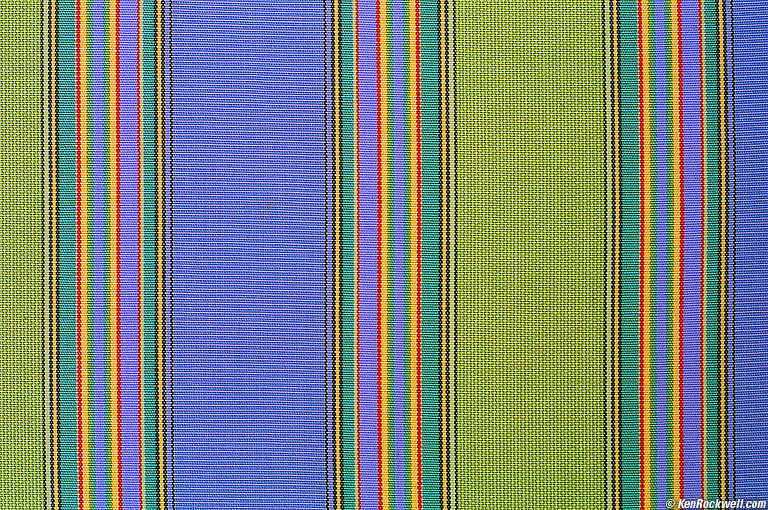 Sharp enough for you? Shot with 50mm f/1.8D on ISO 400 Fuji film, processed and scanned at Costco.
Ergonomics
The N75 is a joy to use. It is so well designed that I can hold and shoot it with one hand. Everything just works great without any fiddling. If you know how to shoot any digital Nikon, this is easy!
The N75 has a great rear thumb rest and front grip, so one-handed shooting is solid.
The N75 has a nice thumb control for AF sensor selection and mode.
There are great, big blinking black LOW BATTERY and NO FILM warning icons overlaid on the viewfinder image as needed. I also think it blinked on me when I only had two frames left. When your film is done, you can't pop up the flash. (You can pop it up if you have no film in the camera.)
The only gotcha is that you need to have a reference guide to figure out all the custom functions. Many are obvious, but not all of them.
AF Speed
AF is slower by internal motor, but fast with AF-S lenses.
Use the N75 with fast-focusing lenses like the 50mm f/1.8D shown here, and it's quite fast.
Exposure and Metering
The meter is very smart: if the contrast (dynamic range) is too harsh, the N75 will blink the flash bolt in the finder to ask you to pop up the flash.
Program shifts with focal length.
Actual exposure is right-on. Indicated and manual settings only read in half-stops.
Film Handing
It winds film in reverse: It winds all the film out when you load the film and then winds it back into the canister frame by frame as you shoot.
This is great for use in countries where you film might be pulled out in daylight by Religious Police or mukhabarat, but I prefer the conventional scheme.
With this scheme you will usually get your slides or prints back numbered in reverse!
The frame counter counts down, meaning that its showing you how many shots are left.
Clock Accuracy
After six months, the date imprinting clock was 2 minutes slow in my N75. No big deal; you have to reset it manually for daylight savings time anyway.
Suggestion
It would be clever if it had a mode that only imprinted the date on the first photo of each day.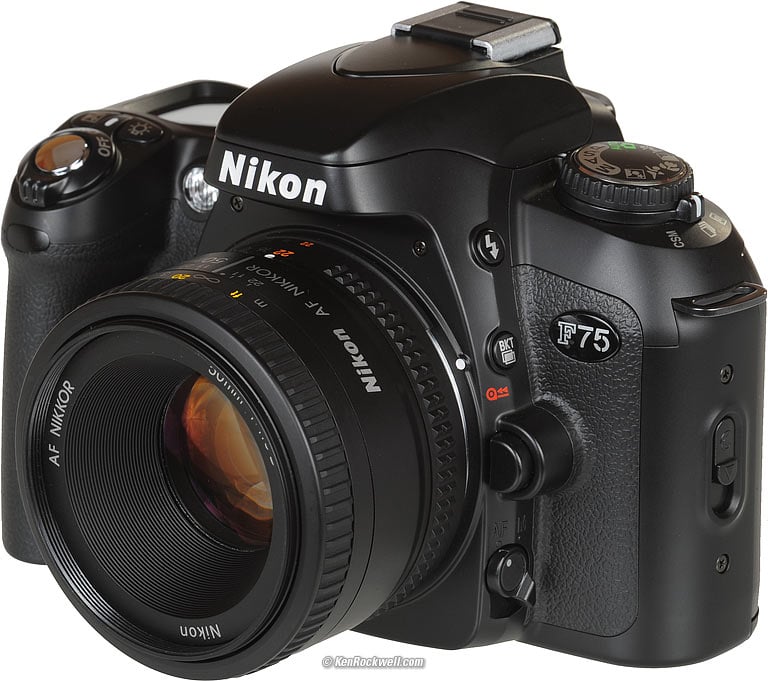 Nikon N75 with Nikon 50mm f/1.8D.
Usage
If you know Nikon, the N75 is like an extension of your imagination. It just works.
AF Sensor Modes (rotary switch on back of N75)
1.) The top green square is the normal setting. The N75 magically picks the correct sensor, and lights it up in the finder to let you know which it picked.
2.) The middle dot setting uses only the center AF sensor. It lights up in the finder.
3.) The bottom "crosshair" setting lets you select which sensor to use with the thumb-control inside the rotary switch. The selected sensor lights up in the finder.
These are easy to get to, but meaningless without the manual. All you do is flick the top left lever to the CSM position, and move through the options with the dials. Here's what they do:
CFN
Setting
Options
1
Beeper
0: Active (default).
1: off. (Beepers are stupid. Use this setting.)

2

Warnings in Finder
0: ON (default). If you're about to run out of film, have no film or have a low battery, it will show on the finder screen.
1: off.
3
Bracketing Order
0: N, -, + (default).
1: -, N, +
4
Finder AF-Area Lighting

0: Auto (default).
1: Always off.
2.: Always on.


5
AEL with half-shutter press

0: No (default).
1: AEL with shutter.

6
AE-L Button
0: Auto Exposure Lock (default).
1: AE and AF lock.
2.: AF only when pressing this button.
7
Meter system in AE-L
0: Center-weighted (default).
1. Matrix.
2. Spot.
8
Meter stay-on time
Set in seconds. 5 is default.
9
Self Timer
Set in seconds. 10 is default.
10
Remote-control stay-on time
Set in minutes. 1 is default. (how long will the N75 remain turned-on waiting when you set it to remote control mode.)
11
LCD Illumination

0: Lights only when you press the LIGHT button (default).
1: Lights up anytime you press any button.

12
AF-Assist Light

0: Auto (default).
1: Off. Use this not to annoy people in the dark.
Manual Focus Lenses, use with
There is no metering. Here is a hard way to use the matrix meter of the N75 with manual lenses.
1.) Pop on an AF lens, like the kit lens.
2.) Set the N75 to the S on the left dial (shutter priority).
3.) Choose a shutter speed, and read and remember the aperture indicated in the finder.
4.) Switch to your manual lens.
5.) Set the N75's left dial to M (manual). (If you don't, it won't work with your manual lens.) The shutter speeds will be at the same shutter speed from before, so long as you didn't change it.
6.) Set the aperture of your manual lens to the same as the meter read. (half of the time, the number is between to of the numbers on the lens.
7.) Turn the focus ring until the picture is sharp. When the area under the selected AF sensor is in focus, a dot lights up on the lower left of the finder.
The depth-of-field preview doesn't work with manual lenses.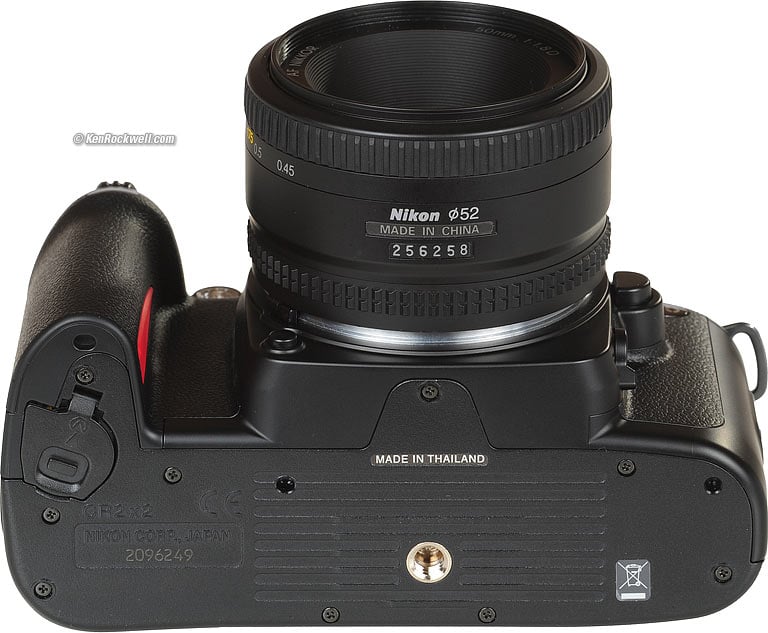 Nikon N75 and Nikon 50mm f/1.8D, bottom.
Recommendations
This is a swell plastic camera originally designed for people who had never used a camera before. If you're more serious by all means go for the slightly more expensive N80 which is more durable. The N75 offers most of the N80's features in a package with the same durability of the cheapest N55.
As of 2008, the N75 makes the best film backup camera I can imagine because it weighs nothing and has every feature I might want.
The N75 has full flash, VR, AF and AFS compatibility. If you're carrying it as a backup, you don't want any extra weight and you don't expect to need to use it, but you need full system comparability if your main body dies.
More Information: See the original press release.
PLUG
If you find this as helpful as a book you might have had to buy or a workshop you may have had to take, feel free to help me continue helping everyone.
If you've gotten your gear through one of my links or helped otherwise, you're family, thank you!
If you haven't helped yet, please do, and consider helping me with a gift of $5.00. I support my family through this website.
Thanks for reading!
Ken