Home Donate New Search Gallery Reviews How-To Books Links Workshops About Contact
Nikon 50mm f/1.8 D
© 2014 KenRockwell.com
Intro Specifications Performance Compared Recommendations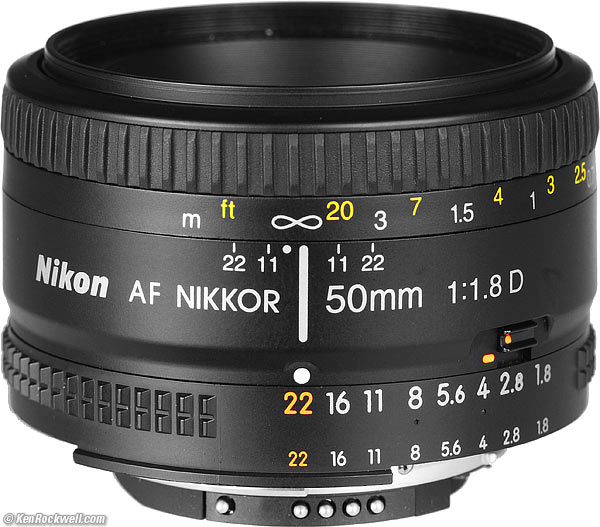 Nikon 50mm f/1.8 AF-D. (52mm filters, 5.5 oz./157g, 1.5'/0.45m close focus, about $125.) enlarge. My biggest source of support is when you use these links, especially this one directly to it at Adorama or at Amazon, when you get anything, regardless of the country in which you live. Thank you! Ken.
September 2014 More Nikon Reviews Nikon Lenses All Reviews
NEW: Premium 50mm Lenses Compared 04 September 2014
Nikon 50mm f/1.8 G. Weighs more, costs more, and does the same thing, but with instant manual-focus override, much more distortion and the ability to autofocus on Nikon's cheapest DSLRs.
How This Lens is Great for Low Light
Sample Images from California's Central Coast June 2010
Introduction top
Intro Specifications Performance Compared Recommendations
This is Nikon's latest 50mm lens which replaces the 50mm f/1.8 AF (non D). It sells for only about $125 and is super sharp. See it compared to lenses costing 15 times as much at my Nikon Pro Normal Zoom Comparison. It is as sharp or sharper!
This unassuming lens is the best budget choice for a D3 or D700, much better than any zoom, to get you the fast autofocus, great low-light performance and the sharpness for which you bought a D3 or D700 in the first place. If you do buy one of those expensive cameras, consider as well the 50mm f/1.4 version.
Compatibility
As a traditional AF lens (not gelded as a G), it works with every Nikon ever made, digital and film, auto and manual focus.
It's a full-coverage FX lens, so it works great on FX digital, DX digital and film. It works especially well on the Nikon D3 and D300.
It won't autofocus on the cheapest digital like the D40 or D40x, but it won't autofocus on an F3 either! For autofocus on the cheapest digitals, get the 50mm f/1.8 G.
See Nikon Lens Compatibility for details for older cameras. See the "AF, AF-D" column.
Production History
This AF 50mm f/1.8 D was introduced in 2002 to replace the non-D version. It is still in production as of 2007.
Nikon has made over 400,000 of these through 2007.
Specifications top
Intro Specifications Performance Compared Recommendations
Name
Nikon calls this the Nikon AF Nikkor 50mm f/1.8 D.
Optics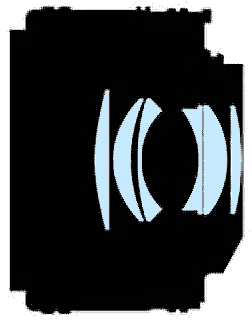 6 elements in 5 groups, a classic design.
Multicoated; the non-D version wasn't.
Diaphragm
7 straight blades. Stops down to f/22.
Close Focus
1.5 feet (0.45 meters).
Maximum Repro Ratio
1:6.6 (0.17x).
Focus Scale
Yes.
Depth-of-Field Scale
Yes.
Infra-Red Focus Index
Yes.
Filter Thread
52mm.
Plastic.
Does not rotate.
Size
1.541" extension from flange by 2.505" diameter (39.14 x 63.62mm), measured.
Nikon specifies 1.5" (38mm) long by 2.5" (64mm) around.
Weight
5.543 oz. (157.1g), measured, naked.
Nikon specifies 5.5 oz. (155g).
Hood
HR-2 rubber hood, sold separately for about $15.
Nikon Product Number
2137.
Price
2014 September: $122.
2012 September: $125.
2011: $140.
2010: $125.
2008: $115
Performance top
Intro Specifications Performance Compared Recommendations
Sharpness
It is among Nikon's sharpest lenses ever. See my Nikon Pro Normal Zoom Comparison in which I show examples. It's sharper than any $1,800 zoom.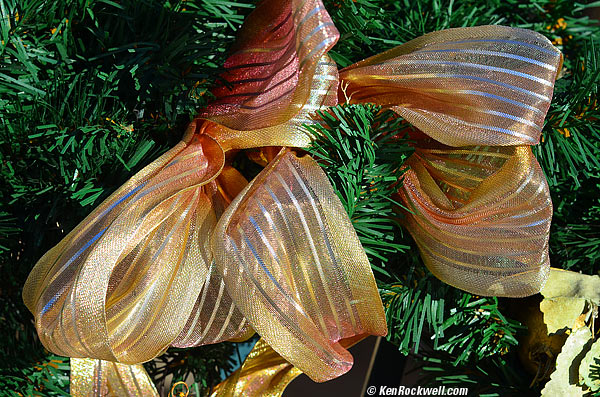 Christmas, California Desert. D7000, f/8 at 1/250, ISO 100. original © BASIC JPG.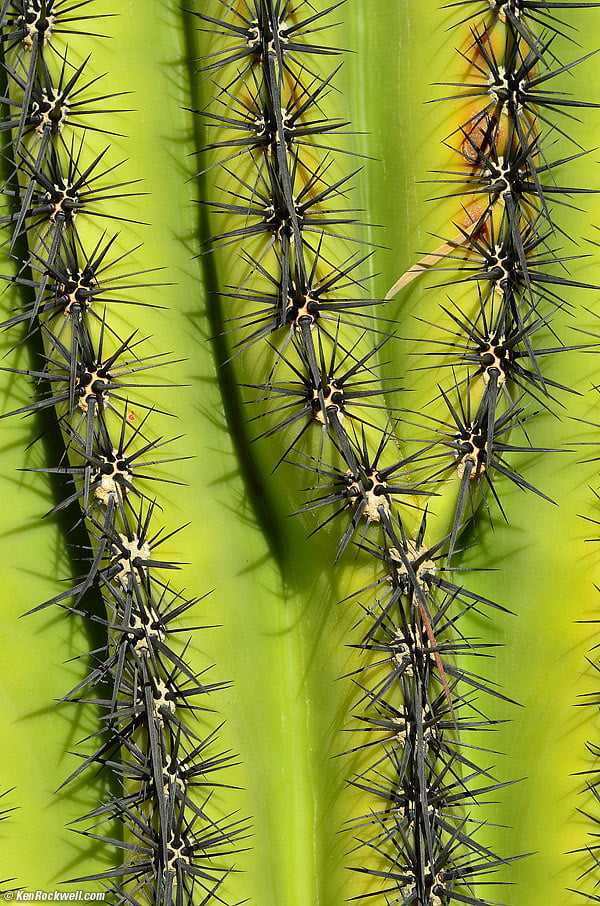 Cactus, California Desert. D7000, f/8 at 1/250, ISO 100. original © BASIC JPG.
On a D3 it is sharp and contrasty in the center at every aperture.
In the corners on a D3, spherical aberration makes it a bit less contrasty (but still well defined) at f/1.8, and it's just about perfect by f/4.
The only difference between this and the 50mm f/1.4 D and 50mm f/1.2 AI-s is that the faster lenses become sharper at f/2, but all are the same by f/4. The faster lenses also cost two to four times as much and have more distortion.
MTF Curve, specified, f/1.8.
Focus
AF is very fast on every camera. One full turn of the AF screw focuses the lens from infinity to 6 feet (1.8m).
It will not autofocus on the D40 or D40x; turn the focus ring and look for the electronic focus confirmation dot in the lower left of the finder.
Distortion
Like all of Nikon's 50mm f/1.8 lenses, this has almost no distortion. Its distortion is so low that it was never visible in film days, and I only can see it today in digital by blowing up images to the equivalent of 6 feet (2m) wide on a computer screen and dropping an electronic straight edge on them, and then only if I deliberately shot a test.
Plug these figures into Photoshop CS2's lens distortion filter to correct the distortion. These aren't facts or specifications, they are the results of my research that requires me to climb a bluff on a very clear day and shoot the ocean's horizon.
| | | |
| --- | --- | --- |
| | | |
| at infinity | +0.2 | +0.1 |
© 2007 KenRockwell.com
Mechanics and Construction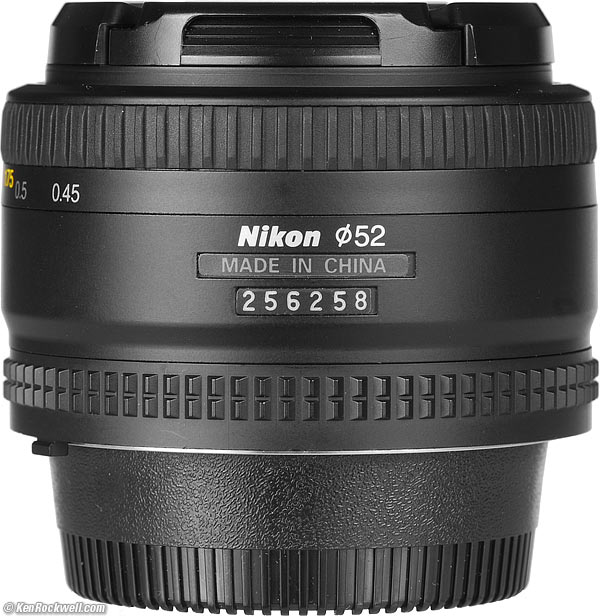 Made in China!
Filter Threads
Plastic.
External Barrel
Plastic.
Focus Ring
Rubber-covered plastic.
Aperture Ring
Plastic.
Markings
Paint.
Lens Mount
Metal.
Internals
Seem like metal.
Noises when Shaken
Minor clicking (diaphragm blades).
Serial Number
Printed on a label which is glued into a recess on the bottom of the barrel.
Made in
China. The 50mm f/1.8 D has always been made in China. Its optical performance is as good or better than Japanese-made zooms costing fifteen times as much, so there.
Compared top
Intro Specifications Performance Compared Recommendations
NEW: Premium 50mm Lenses Compared 04 September 2014
The manual-focus Voigtländer 40mm f/2 is better-made and sharper than any of the Nikon 35mm f/2 AF-D, 45mm f/2.8 AI-P or 50mm f/1.8 AF-D.
To show this, here are crops from the top right corner of 100% FX 12MP (D3 or D700) images:
Printed full-image at this size, these would be about 42 x 28" (105 x 70cm) prints, at least as seen on most 100 DPI computer monitors.
You'll never see this much difference in actual photos among these all-excellent lenses; in this case, I shot them in a way that would exaggerate the differences as much as possible.
Recommendations top
Intro Specifications Performance Compared Recommendations
Just buy one if you think you want it. Everyone who does is amazed at the quality.
I keep a 52mm Nikon NC filter and Nikon HR-2 rubber hood on it for protection.
This lens makes no compromises in image quality. It is inexpensive because it is a very simple lens to make. It uses a classic, proven optical design. A $110 zoom lens has to cut many corners in image quality that this 50mm doesn't.
None of the pros I know use exotic normal zooms. They all own these lenses which they throw in a pocket for the few times they need a lens for low light or to cover the range between their pro wide zoom and pro tele zoom.
If you intend to use this often in low light, then by all means spring another $160 for the 50mm f/1.4 D. I shoot my 50mm f/1.4 with my D3 in available light and I really like being able to shoot at f/1.4. For use in daylight, this f/1.8 lens has less distortion and is just as sharp.
In case you are new to photography, let me emphasize that this inexpensive lens is as sharp and over twice as sensitive to dim light as the $1,700 24-70mm f/2.8AF-S lens. The reason to spend sixteen times as much is simply to get a lens that can zoom. With this fixed 50mm you have to move forward and back to compose your photo. No big deal.
If you need super sharpness and a fast aperture than choose this over a zoom at the same price.
Help me help you top
I support my growing family through this website, as crazy as it might seem.
The biggest help is when you use any of these links when you get anything, regardless of the country in which you live. It costs you nothing, and is this site's, and thus my family's, biggest source of support. These places have the best prices and service, which is why I've used them since before this website existed. I recommend them all personally.
If you find this page as helpful as a book you might have had to buy or a workshop you may have had to take, feel free to help me continue helping everyone.
If you've gotten your gear through one of my links or helped otherwise, you're family. It's great people like you who allow me to keep adding to this site full-time. Thanks!
If you haven't helped yet, please do, and consider helping me with a gift of $5.00.
As this page is copyrighted and formally registered, it is unlawful to make copies, especially in the form of printouts for personal use. If you wish to make a printout for personal use, you are granted one-time permission only if you PayPal me $5.00 per printout or part thereof. Thank you!
Thanks for reading!
Mr. & Mrs. Ken Rockwell, Ryan and Katie.
Home Donate New Search Gallery Reviews How-To Books Links Workshops About Contact