Home Donate New Search Gallery Reviews How-To Books Links Workshops About Contact
Nikon 55-200mm VR
AF-S f/4-5.6G ED (2007-2015)
Replaced by the Nikon 55-200mm DX VR II.
Intro Specs Performance Usage Recommendations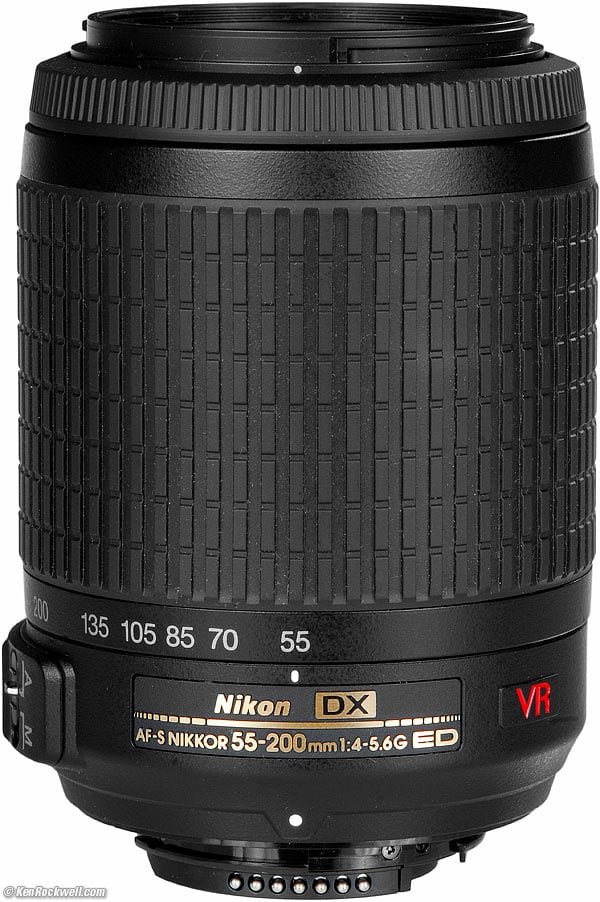 Nikon 55-200mm f/4-5.6 VR DX (DX coverage only, 52mm filters, 11.805 oz/334.6g, , x'/x m close focus, about $75 used if you know How to Win at eBay). enlarge.
This ad-free website's biggest source of support is when you use those or any of these links to approved sources when you get anything, regardless of the country in which you live. Buy only from the approved sources I use myself for the best prices, service, return policies and selection. Thanks for helping me help you! Ken.
March 2017 Nikon Reviews Nikon Lenses All Reviews
NEWER: Nikon 55-200mm DX VR II. January 2015
| | |
| --- | --- |
| Optics: | |
| Mechanics: | |
| Ergonomics: | |
| Usefulness: | |
| Availability: | |
| Overall: | |
Ideal Uses: Perfect for use on every DX digital Nikon. Great sports, nature and portrait lens; there's no need to pay more.
Not for: FX or film cameras.
Introduction top
Intro Specs Performance Usage Recommendations
The Nikon 55-200mm VR is a superb lightweight, plastic-mount lens with outstanding performance.
So long as you're careful not to break the plastic lens mount, this is an extraordinary lens in every way. Even if you break it, it's cheap enough that you can buy another and still be out less money than if you had bought the larger 70-300mm VR.
I own the more expensive alternatives, and I usually use this 55-200mm VR instead because it's easier to carry and more fun to use. I have this 55-200mm VR, the 70-300mm VR, the 80-400mm VR and the huge 80-200mm f/2.8 AF-s. This tiny 55-200mm VR is the first tele I grab for my D40. I grab the 70-300mm VR for larger FX or film cameras, but not for DX. I never use the 80-400mm VR or 80-200mm f/2.8 AF-s because they are too big.
The Nikon 55-200mm VR is very inexpensive. It's the telephoto lens bargain of the decade at only about $230.
Sharpness and performance are extraordinary. A lens this inexpensive never used to have the right to be this embarrassingly good. VR (Vibration Reduction or image stabilization) works great; I can shoot at 1/30 at 200mm and get sharp shots without a tripod! The results are amazing on my 12 megapixel D300, and the 55-200mm VR is so tiny it feels perfect for travel on my D40.
I'm addicted to Vibration Reduction (VR) because it's critical to getting sharp shots with telephoto lenses. VR eliminates camera shake, the biggest reason people get blurry shots with telephoto lenses.
The Nikon 55-200mm VR is significantly better for hand-held shooting than non-VR tele lenses, including the non-VR 55-200mm, because the VR helps ensure sharp shots that otherwise are often blurred. VR is less important with normal lenses, and very important with telephoto lenses. See Image Stabilization for more.
Unlike most of the alphanumeric gibberish on lenses, VR is really, really important. VR can't stop your kids from moving, but it does a spectacular job of letting me shoot in the dim light I love without a tripod.
The 55-200mm VR zooms easily and precisely. The zoom range is well spaced, and VR works great. It focuses reasonably quickly, but not as fast as more expensive lenses. I have no problem tracking my 2-year-old in action with my D40. The 55-200mm VR doesn't offer instant manual focus override: you have to move a switch, but for the price, I'm not complaining.
Forget the old non-VR 55-200mm. This 55-200mm VR lens costs little more, and VR makes a huge difference with teles.
Compatibility back to intro back to top
Everything works perfectly on every DX digital Nikon, and especially on Nikon's cheapest digital D40, D40x, D60 and D5000.
It does not work well on FX or film cameras. It usually cuts off the far corners of the image. It appears to work at most focal lengths on film and FX, although at 80mm all the corners are dark. At most other focal lengths the darkening isn't that bad, so long as you know you're not really supposed to use the 55-200mm VR on anything other than a DX digital camera.
See Nikon Lens Compatibility for details with your camera. Read down the "AF-S, AF-I," "G" and "VR" columns for this lens. You'll get the least of all the features displayed in all columns, since "G" (gelding) is a handicap which removes features.
Nikon 55 200 VR. enlarge.
Specifications top
Intro Specs Performance Usage Recommendations
Name top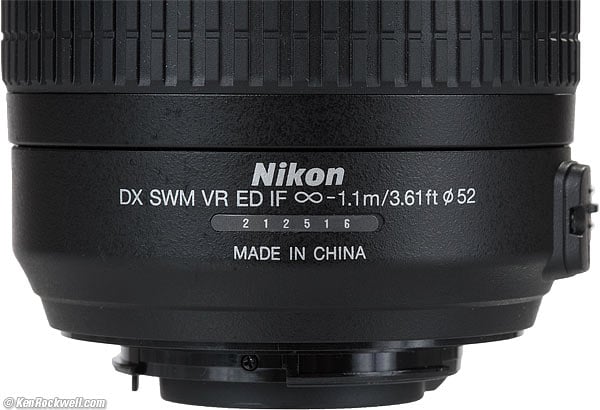 Bottom, Nikon 55-200 VR. enlarge.
Nikon calls this the Nikon 55-200mm f/4-5.6G IF-ED AF-S DX VR Zoom-Nikkor.
Focal Length top
55-200mm.
Used on a digital Nikon it gives angles of view similar to what an 85-300mm lens would give on a 35mm film camera. See also Crop Factor.
Optics top
15 elements in 11 groups.
One of them is made of magic ED glass.
Diaphragm top
7 rounded blades.
Stops down to f/22 - 32.
Close Focus top
3.6 feet (1.1m).
Maximum Reproduction Ratio top
1:4.3.
Filter Size top
52mm, which has been Nikon's standard filter size since 1959.
It's also the same size as the excellent 35mm f/1.8 and 18-55mm lenses that are deservingly popular for use on DX cameras.
Construction top
All plastic mount and barrel; glass optics.
Size top
2.9" diameter x 3.9" long (73 x 99.5mm)
Weight top
11.805 oz. (334.6g) measured, naked.
Nikon specifies 11.8 oz (335g).
Made In top
China.
It's very well made; see Quality Made in China. Actual shipping versions may be made someplace else, for instance, my 18-200mm is made in Japan and later ones have come from Thailand.
Price, USA top
2017 March: About $75 used if you know How to Win at eBay.
2013 December: $250.
2012 December: $250.
2009, USA: $230.
MSRP, USA, 2007: $249.95
Nikon Product Number top
2166, in catalog as of spring 2008.
Included Accessories top
Nikon CL-0918 pouch and HB-37 hood.
Caps.
CL-0918 sack.
HB-37 plastic bayonet hood.
Announced top
March 5th, 2007.
Available Since top
April, 2007.
Performance top
Intro Specs Performance Usage Recommendations
I've already covered most of it: this is a sharp, great performing lens worth far more than its bargain price.
Auto and Manual Focus top
Focus is internal.
Except for the front focus ring, which moves during manual and autofocus, nothing moves externally while focusing.
The filter thread doesn't rotate — ever.
AF is reasonably fast, but not as fast as more expensive lenses. Even so, my D40 has no problem tracking the motion of my kid with the 55-200 VR.
Oddly, if I'm way out of focus at 200mm, my D300 may not be able to figure out which way to focus and simply may not focus! If this happens, all I have to do is zoom out to 55mm, let the D300 focus back to reality, zoom back in and refocus. That's a problem with the D300, not with this lens.
Bokeh top
Bokeh is neutral to very good.
Backgrounds go away smoothly, never with any bother or busyness.
Distortion top
I never saw any distortion until I went out to measure it. For people and action photos, it's irrelevant.
For critical use, it can be corrected by plugging these figures into Photoshop's lens distortion filter. These aren't facts or specifications, they are the results of my research that requires hours of photography and calculations on the resulting data.
These factors correct the distortion completely with no residual waviness.
| | | | | |
| --- | --- | --- | --- | --- |
| | Visible Effects, DX at 10' (3m) | | Visible Effects, DX at 50' (15m) | |
| 55mm | very slight barrel | +1.0 | none | -0.2 |
| 70mm | very slight pincushion | -1.0 | | |
| 85mm | slight pincushion | -1.4 | pincushion | -2.5 |
| 105mm | minor pincushion | -2.1 | | |
| 135mm | minor pincushion | -2.0 | pincushion | -3.25 |
| 200mm | minor pincushion | -2.0 | pincushion | -3.0 |
© 2009 KenRockwell.com. All rights reserved.
Lateral Color Fringes top
None on Gen 2 cameras like the D300.
Falloff (darker corners) top
I've never seen any falloff in actual shooting, however if brick walls or blank skies are your thing, the full-frame 70-300mm VR will be much better when used on DX.
I've greatly exaggerated this below by shooting a gray field and placing these on a gray background.