Nikon 80-200mm f/2.8 AF-S
Intro Specs Performance Recommendations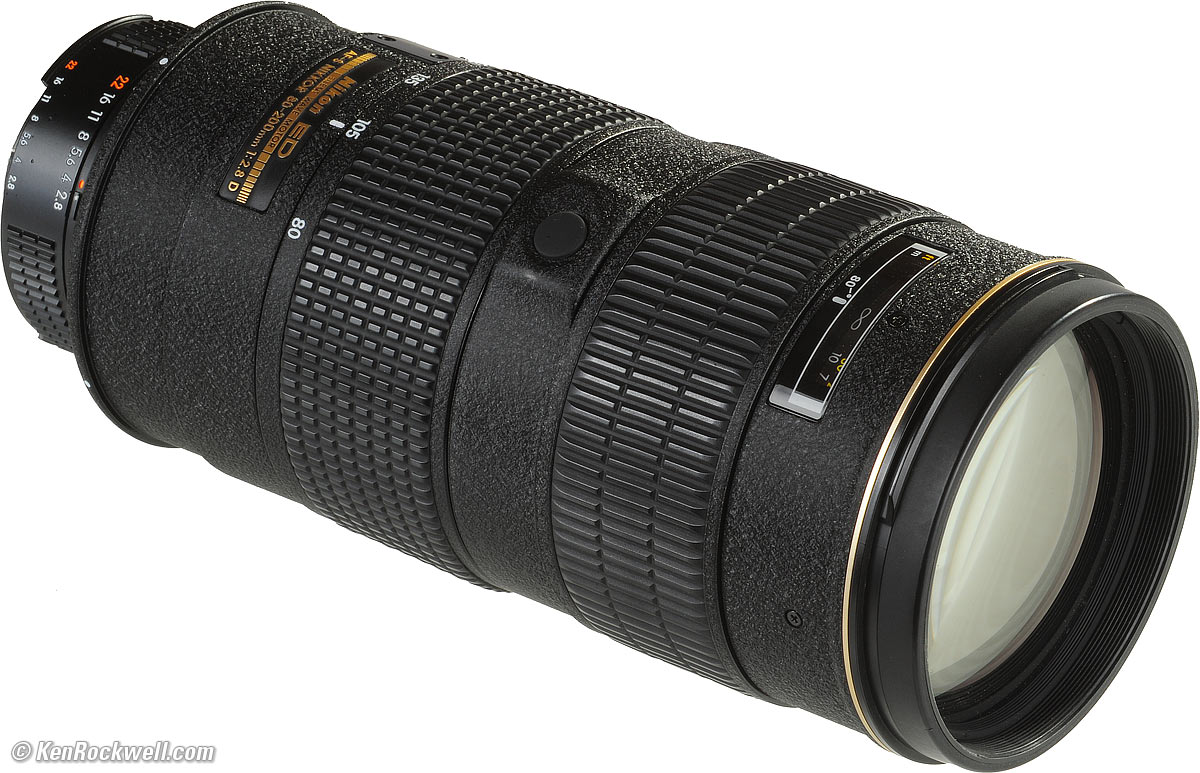 Nikon 80-200mm f/2.8 AF-S (77mm filters, 51.9 oz/1,471g without collar, about $600 used). enlarge. This free website's biggest source of support is when you use any of these links, especially this link directly to them at eBay (see How to Win at eBay), when you get anything, regardless of the country in which you live. Thanks! Ken.
August 2016 More Nikon Reviews Nikon Lenses All Reviews
See also Nikon 80-200mm f/2.8 History.
Sample Image Files top
Sample Images   Intro Specs Performance Recommendations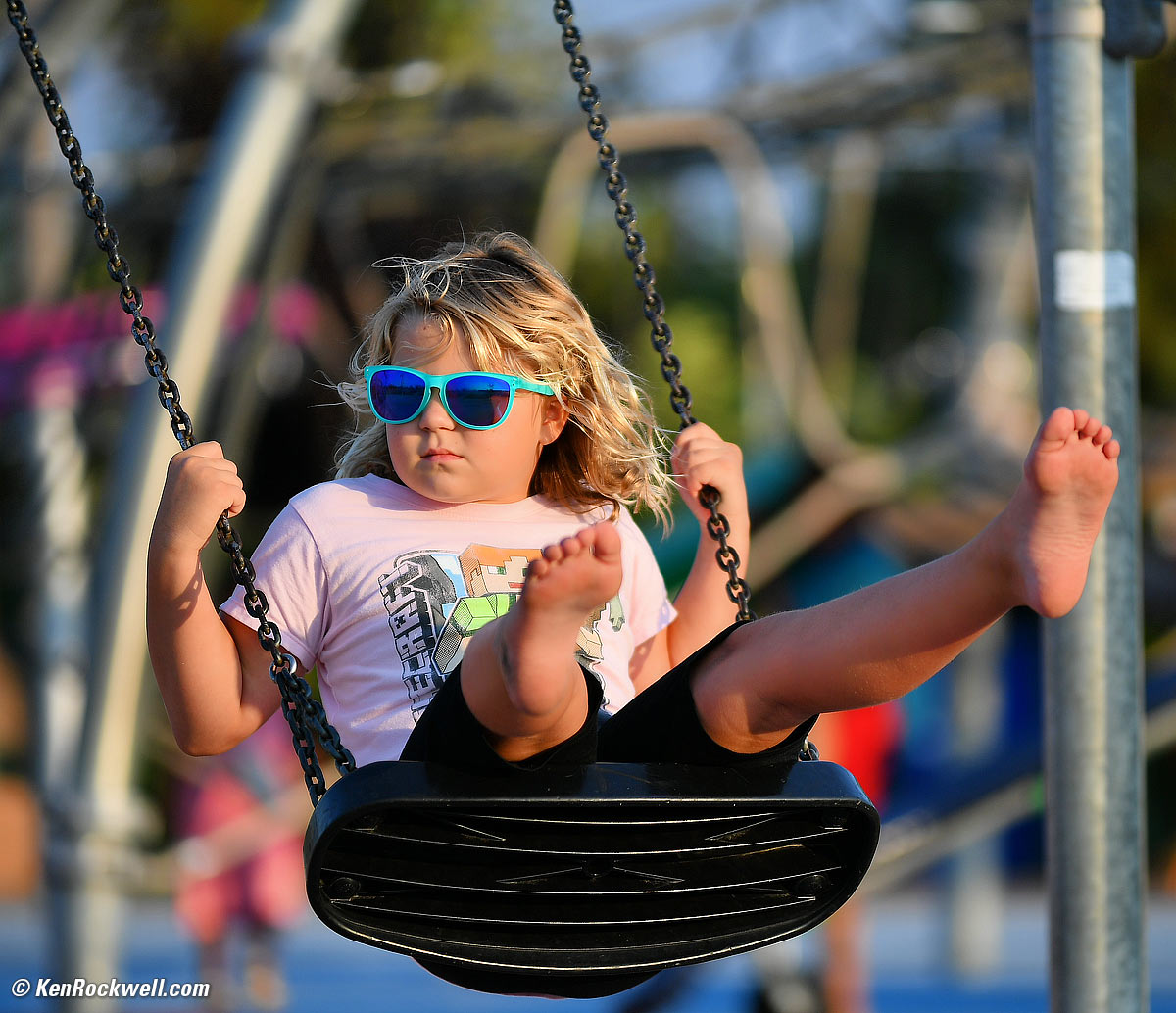 Katie swinging, 28 July 2016. 2016 Nikon D5 at 1/1,250 at 12 FPS at Auto ISO 100, 1999 Nikon 80-200mm AF-S at 200mm at f/2.8. bigger or full-resolution file to explore on your computer (mobile devices rarely display high resolution files properly).
Katie Scootering, 28 July 2016. Nikon D5 at 1/2,000 at 12 FPS at ISO 100, Nikon 80-200mm AF-S at f/2.8. Click any for the camera-original full-resolution file to explore on your computer.
Katie Scootering. Nikon D5 at 1/1,000, 1/1,250 and 1/1,600 at 12 FPS at Auto ISO 100, Nikon 80-200mm AF-S at f/2.8 at 105mm, 86mm and 80mm. Click any for the camera-original full-resolution files to explore on your computer.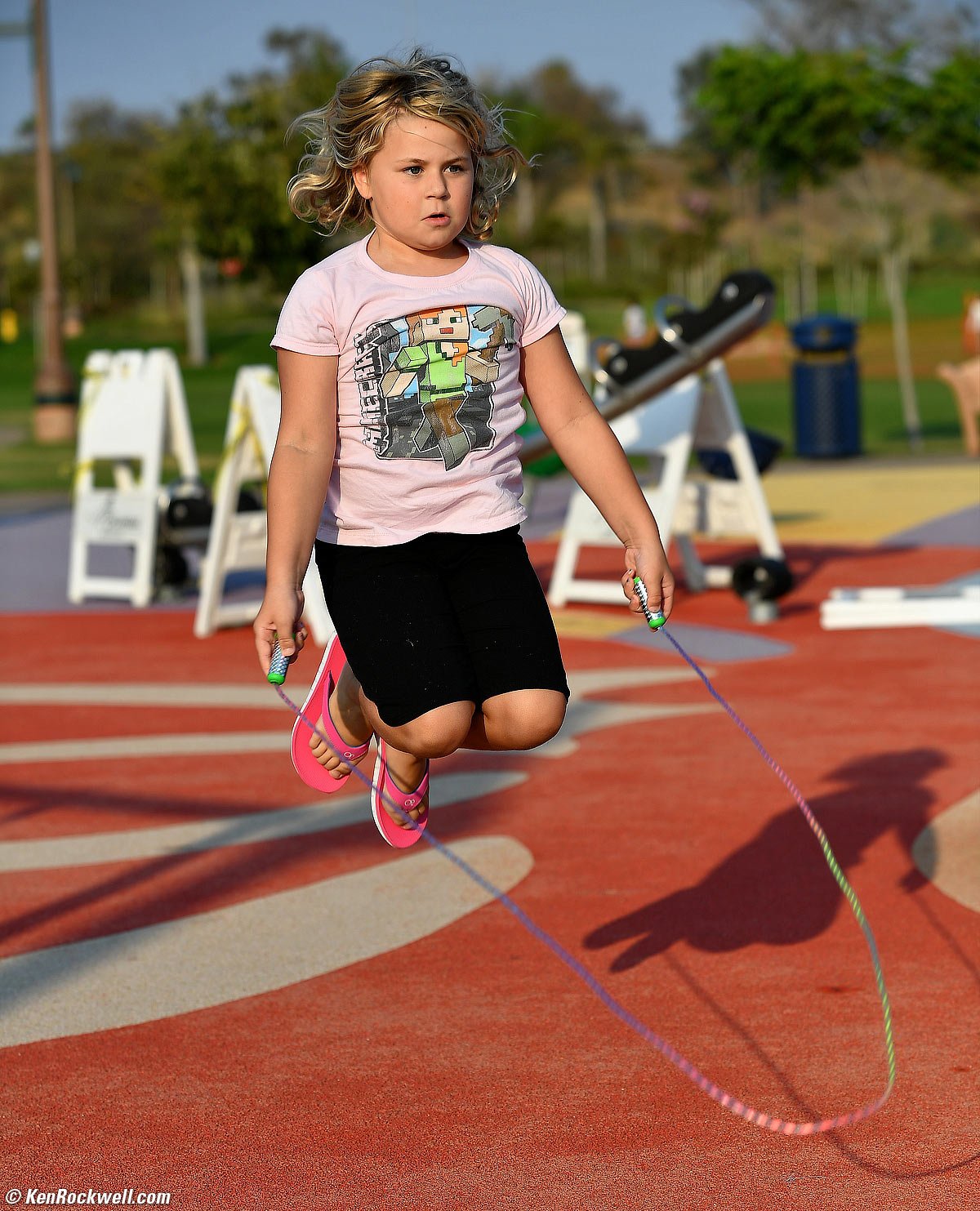 Katie jumps rope. Nikon D5 at 1/1,250 at 12 FPS at Auto ISO 100, Nikon 80-200mm AF-S at 80mm at f/4. bigger or full-resolution file to explore on your computer.
Introduction top
Sample Images   Intro Specs Performance Recommendations
This was Nikon's best telephoto zoom made from 1999-2004.This and the 17-35 2.8D AF-S were really the only two lenses you'll ever need for 35mm film or FX digital.
As of February 2004 it's been superceded by the 70-200 VR. For less money you can get the same superb optical quality in the 80-200 AF-D.
I'm going to poke a lot of fun at my 80-200 AF-S here, but remember that this is probably the sharpest zoom Nikon has ever made and it works like a dream. Don't let my whining distract you. It is one of the sharpest lenses I've ever used, zoom or not, period. It consistently delivers fantastic results that continue to impress me even after using this lens for five years.
History
See Nikon 80-200mm f/2.8 History for explanations and photos of all the various models made from 1978 through today.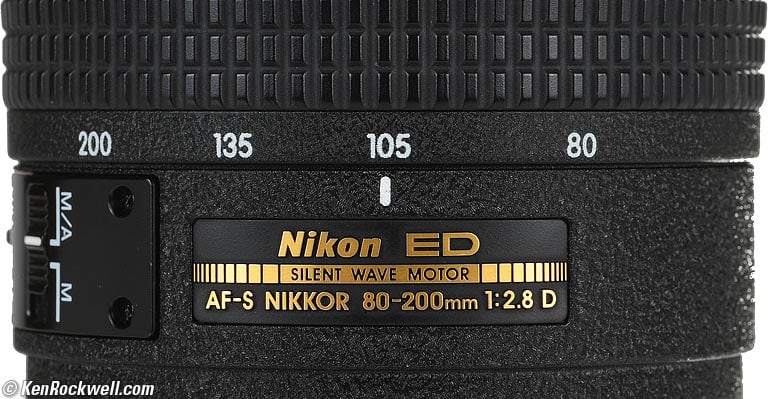 Nikon 80-200 mm f/2.8 AF-S ID Plate
The only reasons to get this AF-S lens, which sells used for more than a brand-new 80-200mm AF-D, are:
A.) you can just grab the manual focus ring at any time and immediately override the AF system
B.) the AF lock buttons on the lens body are far more useful than you think. They look like this: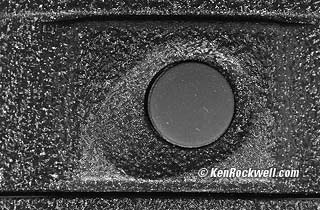 AF lock button
C.) you can get so-so results with the TC-20E teleconverter, and
D.) the AF system is quieter when it focuses if you don't want to distract your subject.
E.) There is no torque reaction as with the 80-200mm AF-D version as it focuses.
Otherwise, I would suggest that the $915 80-200mm AF-D is as good in all other respects, and in addition to being half the price, is also smaller and lighter.
If I made the choice again I just might go for the previous version and a non-Nikon AF Teleconverter. I've never shot with the previous and still available version.
This AF-S lens has too way much plastic in it.
Its front filter threads are made of plastic. Watch out threading your filters or you'll cross-thread it. I hate this, although the plastic makes it less likely that a filter will vibrate loose when you least expect it.
There is a rubber bumper around the front filter thread to keep you from breaking things against which you might bump the lens. This is a nice touch, but does nothing if you keep a filter on it.
In addition to some of the outer casing and aperture ring, even the focus and zoom rings are plastic. The focal length markings are merely stenciled on with paint; not engraved or even molded in.
I view plastic as a mark of The Beast. Others will point out that plastic does not show abuse marks when scratched, since it's black all the way through. If you drop this AF-S lens against the zoom ring you can't ding it in such a way that it locks the zooming, as a metal ring could. Unlike the amateur Canon lenses that use brittle plastic that I have seen crack off exposing the insides of a lens, this plastic seems reasonably tough. Also it's less likely you'll get your tongue stuck to it in the freezing cold.
Three of four brand-new samples I inspected in December of 1999 had horrible manufacturing defects inside. I bought the only good sample I found.
These defects were seen by performing a standard test used for inspecting used lenses: shine a bright light through the lens and look into the other end. This highlights any internal dirt, haze, scratches or bubbles in the lens that otherwise are usually invisible.
I found internal haze on several elements and incompletely polished grinding marks left on the elements on all three defective samples I didn't buy. This is nasty; I have never seen this poor surface finish on any lens of any poor quality, including plastic elements on disposable cameras or garbage made in Russia or China.
These defective lenses did produce great images, however I wanted nothing to do with this sloppiness and the problems I'd have explaining this if I ever go to sell the lens in ten years. Jeeze, there was more haze on the elements of the brand-new 80-200 AF-S than any of the 40 year old lenses I use with my large format cameras. The Tokina AF 80-200 f/2.8 I looked at to check my sanity was far better, too.
I examined three USA versions and one gray market version at three different dealers in two different states, both mail-order and retail. They were all about as bad. I wonder if Nikon was reserving the good ones for the Japanese domestic market?
Thank goodness I found a good one and that's the one I bought.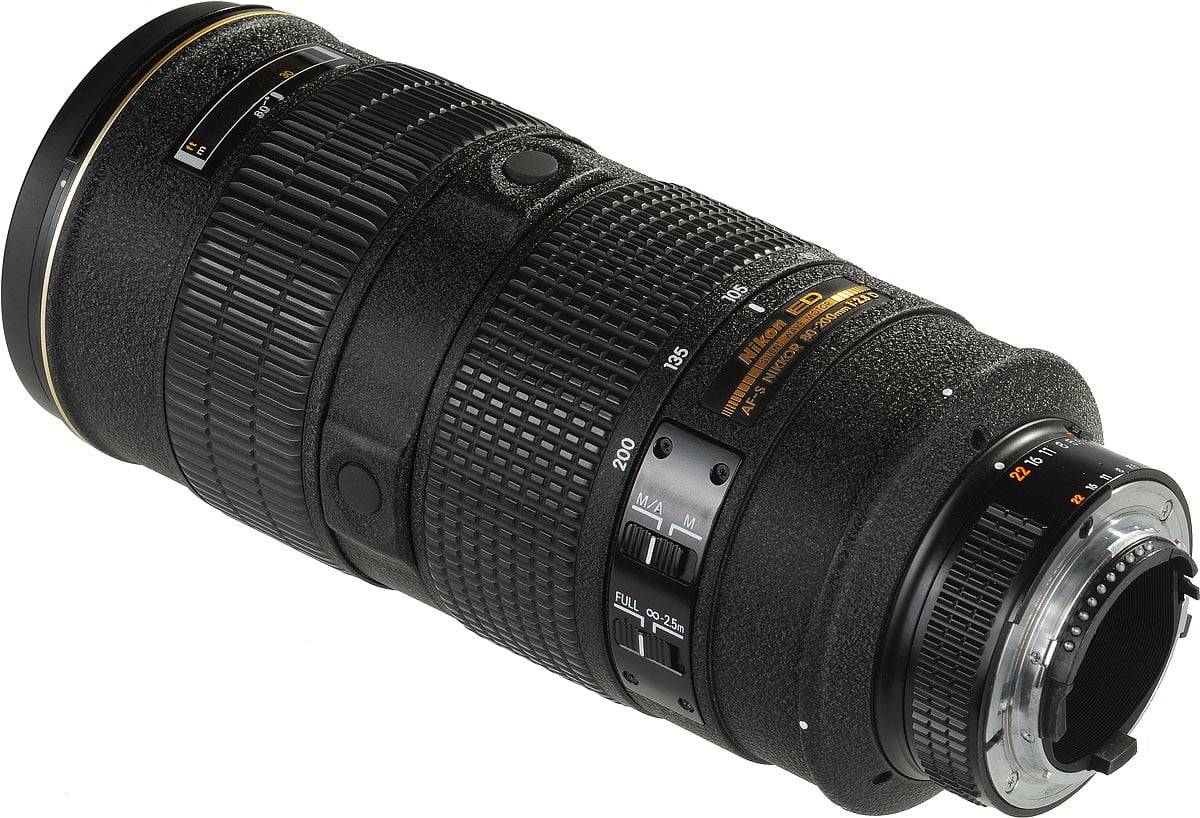 Nikon 80-200mm f/2.8 AF-S. enlarge.
Specifications top
Sample Images   Intro Specs Performance Recommendations
Takes 77mm filters.
It has 18 elements in 14 groups. Five of them are of ED glass. This is an awful lot of glass, which helps explain the great resolution and the poor ghost performance. The rear elements appear single coated in amber; maybe some deeper coatings could improve the ghosting.
It focuses down to about 4.9 feet, pretty good. That's a tad closer than the 180/2.8 AF and a foot closer than the 80-200/2.8D with tripod mount.
It has three rubber-covered AF lock buttons. There are very, very handy for re-composition after focusing with one AF sensor.
It has a diaphragm with nine very nice circular blades. At f/5.6 and larger the aperture remains quite circular, instead of polygonal.
In spite of all the plastic, this is the biggest and heaviest AF 80-200 f/2.8 AF ever from Nikon. It's 3.4" (88mm) around by 8.15" (207mm) long.
The huge included bayonet hood is 4-5/8" diameter. The whole thing is 12-1/4" long with hood attached. I have never used the hood; you don't need it and it doesn't fit in my bag anyway.
Weight
Without tripod collar: 51.875 oz. (1470.6g), as measured by me.
Hood alone: 3.675 oz. (104.2g), as measured by me.
3 pounds, 7 ounces (55 oz or 1,550g), specified by Nikon
Price
About $999 new at deep discount in late 1999 when I bought mine.
Abotu $1,800 new in 2002.
About $1,000 used in 2012.
About $600 used in 2016.
Performance top
Sample Images   Intro Specs Performance Recommendations
Sharpness
This is an extremely sharp lens. It is one of the sharpest lenses I have ever used.
Hand held on my F100 at 105mm it is almost indistinguishable from my 105mm f/2.8D AF Micro. If pushed to pronounce which is sharper at far distances at f/2.8, it is this zoom! I suspect this may also have something to do with the fact that the extra weight of the 80-200 helps stabilize the camera against the F100's vibration.
In the lab it has a bit of astigmatism but still very sharp and contrasty. It's better than most other single focal length Nikkor lenses to which I've compared it directly! This is a very, very sharp lens.
It's sharp at all apertures, focal lengths and positions about the frame.
Some times one corner may not be quite as sharp as another, however this is a shot-to-shot variation that is due to the finite tolerances internal to the lens with all the different sets of elements moving all over the place for focus and zooming.
Just like musical chairs, sometimes you get unlucky when the AF music stops and the elements just haven't fallen into the exact alignment you'd like and one corner may be a tad softer. This is a rare occurrence and not worth worrying about.
It has no chromatic aberration, again very, very good.
Distortion
Distortion performance is also very good for a zoom:
80mm: barrel
105mm: barrel
135mm: no distortion
200mm: almost no pincushion distortion
Plug these figures into Photoshop CS2's lens distortion filter to correct the distortion. These aren't facts or specifications, they are the results of my research that requires hours of photography and calculations on the resulting data.
| | | |
| --- | --- | --- |
| | | |
| 80mm | +3.5 | +1.2 |
| 105mm | +1.1 | +0.3 |
| 135mm | -0.1 | 0.0 |
| 200mm | -1.2 | -0.2 |
© 2007 KenRockwell.com
Falloff (darker corners)
It has a lot of falloff, even at f/5.6.
Falloff is similar at all focal lengths.
At f/2.8 it falls off strongly from the center throughout the entire image.
At f/4 the center is even, but there is still a lot of falloff outside the immediate center.
At f/5.6 most of the image is OK except that the far corners are still a little dark. The fact that the falloff starts abruptly at the far corners makes this falloff visible as a defect, instead of looking natural as a gradual falloff would.
Unlike a lot of minor defects I find which are invisible except when looking for them, this falloff is occasionally visible in my final images.
It has much more falloff than the 180mm f/2.8 AF, which is almost free from any falloff.
Here's a page made by someone else at 200mm with a completely different non-AF-S lens. I find the AF-S lens a little worse than I see there.
Exposure
It tended to overexpose a little at f/22 on my F100, otherwise it was fine.
Autofocus Accuracy
Autofocus error is not a problem in practical photography, although if you look too hard you sometimes can see it. It will vary with temperature and your mood. In real photographs the focus is always dead on at f/2.8. This is important to me, some other lenses' focus errors exclude me from being able to get good results wide open. I like this lens because of this.
Focus tends to stay set with zooming. When focusing manually it's generally OK to focus at 200mm and zoom back. You shouldn't do this, but you can AF at 80mm and zoom out to 200mm and stay in focus. This is very good.
Flare and Ghosts
The 80-200mm AF-S has a ghost problem that makes it poor for photographing with the sun or other bright light sources in your image. It looks like this on a DX digital camera at 135mm: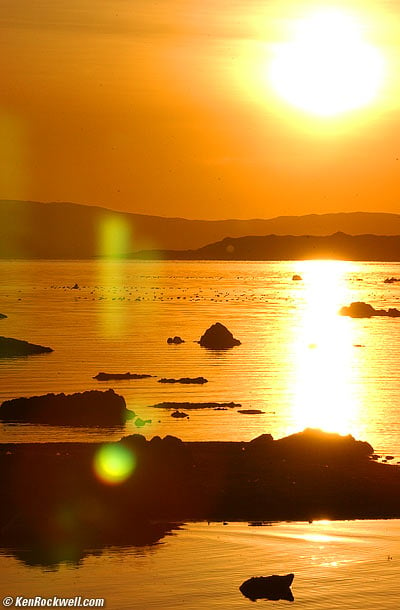 Mono Lake at Dawn, 28 July 2002.
Drat.
In this image you see a ghost not only from the sun, but also the the glimmer in the water. This is an extreme example; the sun was so bright I had trouble looking through the viewfinder. Usually this is no problem at all for normal images, however other lenses are better, like the 70-210 f/4-5.6D AF for this sort of shot.
Adding a Hoya HMC multicoated filter does not effect the ghosting.
Adding a single-coated filter like the Nikon A2 filter will make this even worse. An uncoated filter like the Tiffens is worse still.
This ghost can destroy most sunset and sunrise images if you dislike ghosts. I dislike ghosts; I have to paint them out on Photoshop if I want to use any of these images.
The hood makes no difference in this case where the light source is actually part of the image.
Diaphragm
Some samples produce uneven diaphragm openings at smaller apertures, but heck, that's the case with many lenses. Mine is fine.
The rounded blades really do make for a reasonably round aperture at the larger openings.
Bokeh is fairly good, with distant highlights having a soft edge to their blur circles even though the blur circles tend to be brighter at the edges.
See my Bokeh Comparisons page for examples.
Performance with the TC-14E
Nikon D3
The TC-14E doesn't give much additional magnification, and doesn't lose any performance, either.
EXIF and exposure data read correctly with the TC-14E, meaning the camera and EXIF read in the effective f/stop, which now starts at f/4, and the effective focal length, which goes from 112~280mm.
Performance seems the same, on a D3, as the lens alone, except now it's a 112~280mm f/4. If you're on a tripod and looking at images at 100%, it's just a teensy bit softer wide open (f/4) and is wonderful by f/5.6, one-stop down.
Film
AF is faster than any conventional AF lens. This is tough to call, but the Bokeh seems a little better with the TC-14E than without. At the 200mm setting mine close-focuses a bit, making it a little less sharp than my 300 f/4 AF. Falloff is eliminated, better than without the teleconverter. Distortion with the TC-14E is as follows:
80mm (lens setting): Barrel
105mm: Barrel
135mm: Slight Barrel
200mm: Neutral
It's a tossup in performance between the 300/4 ED-IF AF (not AF-S) and this combo. The difference is in the screwy ways that autofocus may or may not give accurate results. Except for focus-error induced lack of sharpness, the TC combo way outperforms the old 300AF; and remember the TC combo focuses to 5 feet, just like the new 300/4 AF-S.
I couldn't get repeatedly excellent performance, so I returned this converter.
Performance with the TC-17E
Nikon D3
The TC-17E also gives excellent results.
EXIF and exposure data read correctly with the TC-17E, meaning the camera and EXIF read in the effective f/stop, which now starts at f/4.8, and the effective focal length, which goes from 135~340mm.
It's a little bit softer wide open at f/4.8, so if you're counting every pixel, better at f/5.6 and great by f/8.
Performance with the TC-20E
Nikon D3
Avoid the TC-20E if you're counting every pixel; it loses some sharpness at the largest apertures. It now is only f/5.6 wide open.
EXIF and exposure data read correctly with the TC-20E, meaning the camera and EXIF read in the effective f/stop, which now starts at f/5.6, and the effective focal length, which goes from 160-400mm.
Film
The results with the TC-20E are variable. Sometimes I'm happy, other times the results are so-so. AF speed is slower but still reasonable. Since I usually use this set up handheld I can't really get fast enough shutter speeds at f/5.6 in daylight with Velvia to get consistently sharp results with a 1/250 shutter speed at f/5.6 in full daylight at 400mm.
This varies. The AF action is slower but fine. I have had to abandon this; since you are now at f/5.6 at best I can't shoot any faster than 1/400 in daylight on Velvia, and zoomed out to 400mm I just don't get decent results. I carry the TC-20E everywhere, but only use it in a pinch when I don't have any bigger prime lenses with me.
There is no falloff, even wide open, however. Here's the distortion performance with the TC-20E:
80mm (lens setting): Slight Barrel
105mm: OK
135mm: OK
200mm: OK
The combo with TC-20E does not give sharp results for me wide open, which is where I need to shoot it. It gets sharper stopped down a stop, but that leaves you at f/8 which is pretty useless.
It can give OK results, however if you are really worried about sharpness then a 400/2.8 AF-I is a zillion times sharper.
I find the results with the TC-20E vary, also depending on variations among different samples of 80-200 AF-S.
If you don't need AF then try the manual focus TC-200 or 201 which can be had used for about $150.
I'd suggest you borrow a TC-20E from a friend and try it for yourself.
Everyone has totally different standards for sharpness. Folks looking at 5x7" prints will be very happy with this combo, folks projecting transparencies ought to be happy, but if you are really picky about sharpness and pore over your transparencies with a loupe then go for a real 400mm lens.
Shooting 50 speed film means I cannot get a decent shutter speed for hand-holding, and my amateur F100 has no mirror lock up so it's useless on a tripod. I'm unsure if my lack of consistently sharp results is due to vibration or optics.
Remember that the sharpness of a system with a TC is dependent more on the prime lens and chance than the TC itself. The TC is magnifying the image from the lens by 2x. A lens needs to have over twice as much sharpness as you need to begin with to look good with a 2x converter. The 400/2.8 doubles great. Remember that zooms have come a long way today, but when you double them you just may not have the excess performance you need to get what you want.
Here's how the angles of view with the TC-20E compare to each other:
2 rubber nubbins past 135mm + TC-20E = angle of view of 300/4 AF
2 rubber nubbins before 105mm + TC-20E = same lens set at 200mm with no converter
set at 80mm + TC-20E = three rubber nubbins before the 200mm setting on the same lens
A subject that fills the frame with the 300/4 AF fills from one side of the frame to the inside far side AF bracket with the 80-200 AF-S set at 200mm.
In other words, it seems you can believe the focal length markings and the teleconverter's power.
I have not compared this setup to the 80-400VR. The VR lens is a very slow focusing lens but can be hand held at very slow speeds.
Recommendations top
Sample Images   Intro Specs Performance Recommendations
This is an outstanding, advanced, complex, heavy and expensive lens, flawed by spotty manufacturing and a fuzzy ghost image shooting into the sun. Even with these flaws it's a very, very sharp lens with relatively low distortion. Heck, it's one of the sharpest lenses I've ever used, bar none.
Even after I've given it light use this past year and a half, it consistently delivers images so sharp that they impress me every time.
You may prefer the previous, half as expensive non-AFS version (#4 above) if great manual focus override and AF locking isn't important to you, or if you don't want the so-so results the teleconverters can give.
In fact, if I had realized how pointless the TC-20E is with this lens I probably would have opted for the previous 2-ring version (#4 above) due to its lighter weight, lower cost and smaller size. Image quality ought to be identical.
Don't underestimate the usefulness of easy manual focus override; Canon users have had it for years. It's the very best way to set focus between two objects if you don't have an object on which to set focus at just the distance you want.
You don't need the huge lens hood Nikon includes. Leave it at home in the nice case Nikon includes. I jam my 80-200 AF-S into my great made-in-USA Tenba "Bear" P243 waist pack. It's deep enough to swallow this beast and still attach to my waist. Otherwise, a Lowe-Pro street and field #4 lens case is a much better way to tote this around than the 1950's inspired Nikon hard case.
I don't use the tripod collar. This lens is poor on a tripod with an F100. OK, the F100 is bad with any long lens on a tripod due to it's hellacious vibration at slow speeds and lack of mirror lockup. I get sharp results down to 1/60 and sometimes at 1/30. It's always bad at 1/15; choose an aperture to avoid the 1/30-1/2 second range since the F100 lacks mirror lockup.
On a tripod I get better results doing the nasty (skipping the tripod collar and bolting my F100 body directly to the tripod head), but I have this fear that the threaded insert is going to pull out of the F100 and drop the whole thing on the ground and serve me right. Otherwise this method gives much better results than using the tripod collar.
Watch for falloff at f/2.8. If you have smoothly lit areas or the sky you may not like how it looks, so try it out first. The 180mm f/2.8 AF is much better at this.
If you plan to use the teleconverters make sure to try the combos first. I'm not that impressed; so you may want to try the Nikkor 80-400VR or just go straight to the Canon 100-400 IS instead. If I had tried the combos carefully I may have skipped this lens in favor of the previous version 80-200.
I need f/2.8. If you shoot print film you probably can do much better with the 70-210mm f/4-5.6D AF lens instead, saving both your back and wallet.
So, despite my whining, this is an excellent and expensive lens. Too bad Nikon still hasn't gotten this as correct as Canon did in their first 70-200 f/2.8 AF made years ago.
More Information: Reviewed in Popular Photography, June 1999, page 92.
Help Me Help You
I support my growing family through this website, as crazy as it might seem.
The biggest help is when you use any of these links when you get anything. It costs you nothing, and is this site's, and thus my family's, biggest source of support. eBay is always a gamble (see How to Win at eBay), but all the other places always have the best prices and service, which is why I've used them since before this website existed. I recommend them all personally.
If you find this page as helpful as a book you might have had to buy or a workshop you may have had to take, feel free to help me continue helping everyone.
If you've gotten your gear through one of my links or helped otherwise, you're family. It's great people like you who allow me to keep adding to this site full-time. Thanks!
If you haven't helped yet, please do, and consider helping me with a gift of $5.00.
As this page is copyrighted and formally registered, it is unlawful to make copies, especially in the form of printouts for personal use. If you wish to make a printout for personal use, you are granted one-time permission only if you PayPal me $5.00 per printout or part thereof. Thank you!
Thanks for reading!
Mr. & Mrs. Ken Rockwell, Ryan and Katie.