Timeline
1978
Nikon showed a prototype of the first 80-200mm f/2.8 ED. It was never sold or seen again. It took an 86mm filter, as did the 18mm f/4 of its day.
1982 - 1988
Nikon 80-200mm f/2.8 ED AI-s. enlarge.
Nikon offered its first production manual focus 80-200mm f/2.8 ED AI-s, the world's fastest zoom for a 35mm camera. It takes a huge 95mm filter, and weighs over 4 pounds (1.9kg)! It takes the HN-25 screw-in spun anodized aluminum hood.
The tripod collar rotates but doesn't come off. There is also a clutch lock on the focus/zoom ring to lock the lens at any combination of focus and zoom. It's Nikon's only production f/2.8 zoom that stops down to f/32.
Nikon sold very few of these because it cost four times as much, and weighed over twice as much, as the 80-200mm f/4 AI-s. Another very significant reason you probably will never see one of these is that the 80-200mm f/4 was just as sharp, and focused twice as close.
The 80-200mm f/2.8 ED AI-s is an extraordinary lens, but the 80-200mm f/4 was far more practical.
In January of 1987, B&H Photo Video advertised it for $2,350, which is over $4,500 in 2008 corrected for inflation. For you collectors, the 58mm f/1.2 Noct, which sells today among collectors for over $3,000 used, sold for only $830 new. Nikon sold over 10,000 of the relatively common (among collectors) Noct-NIKKOR, but made less than 1,600 of these.
Don't worry, you don't want one of these beasts. They only focus to 8.2 feet (2.5m)!
1988 - 1992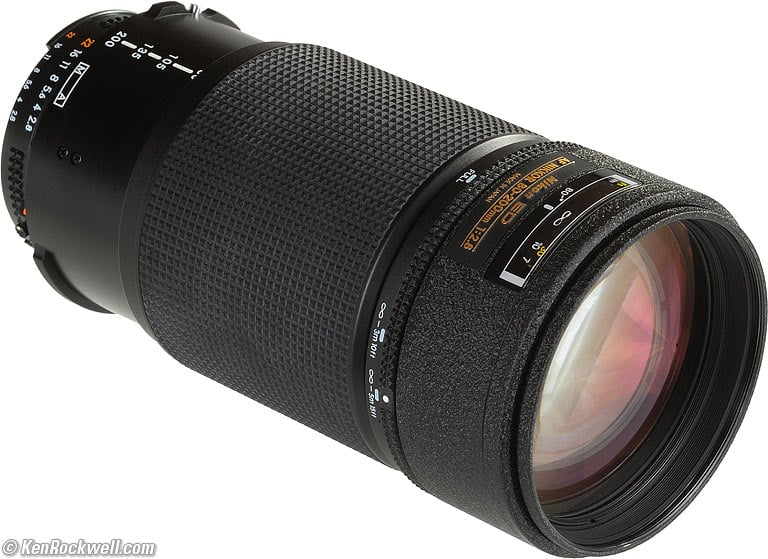 Nikon 80-200mm f/2.8 ED AF. enlarge.
Nikon introduced its first autofocus pro zoom, the 80-200mm f/2.8 ED AF. You can identify this version by its big multi-position focus-limiter ring. It takes the HN-28 screw-in metal crinkle-coat hood.
It is optically excellent, but autofocus is slow. This lens and the F4 of its time just couldn't focus anywhere near as fast as the Canon EOS system, so sports pros went to Canon and have only started coming back in 2007 with the new D3.
The last few of these to leave the production line were updated to "D," as seen on their identity plates.
1993 - 1997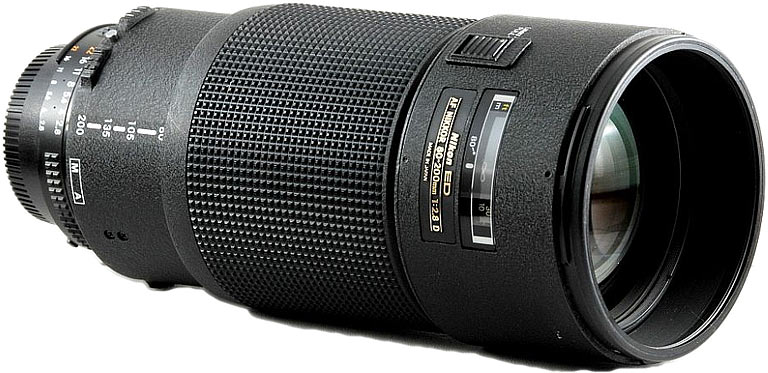 Nikon 80-200mm f/2.8 D. enlarge.
Nikon updated the mechanics and added the "D" feature, which like all modern Nikon lenses couples the focus distance to the camera for even better 3-D Matrix metering. It is especially effective for use with flash. The N90 was the first camera to use this distance information, and all Nikons use it today. It takes the HB-7 bayonet hood.
It looks the same as the original AF version above, differing only that:
1.) The aft barrel (the rear part with the focal length markings) is crinkle-coat instead of smooth.
2.) The multi-position focus limiter ring is replaced with a simpler and easier to use Limit/Full slide switch. Many of these switches fell off, leaving a hole in the lens which otherwise works swell throughout the entire focus range.
3.) The forebarrel is extended so the overall length is longer, and filters now screw into the fixed, extended front barrel. With the original AF lens, the front group and filter ring rotated and extended as focused. With this first AF-D lens, the filter stays put while the front group wiggles around inside the lens barrel.
4.) Says 1:2.8D on the identity plate instead of just 1:2.8.
This lens was Nikon product number 1985 NAS.
1997 - present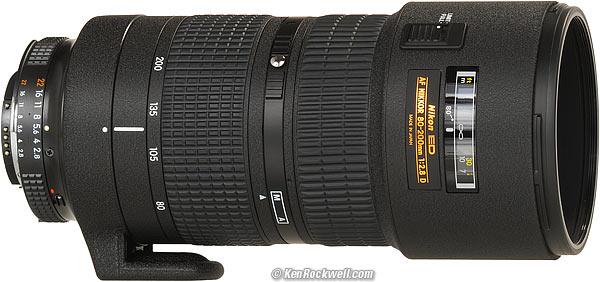 Nikon 80-200mm f/2.8 ED AF-D (New).
In this new AF-D version, Nikon added:
1.) Much faster autofocusing.
2.) A built-in, non-removable tripod collar.
3.) Zoom is now a separate ring instead of push-pull combined with focus as every previous production lens has been.
The optics are still the same as the excellent original AF version of 1988, and used the same HB-7 bayonet hood as the previous D version.
Unless you want VR or shoot a D40, D40x, D60 or D5000, everyone ought to have one of these, since you can buy them brand-new for only about $1,100.
1999 - 2004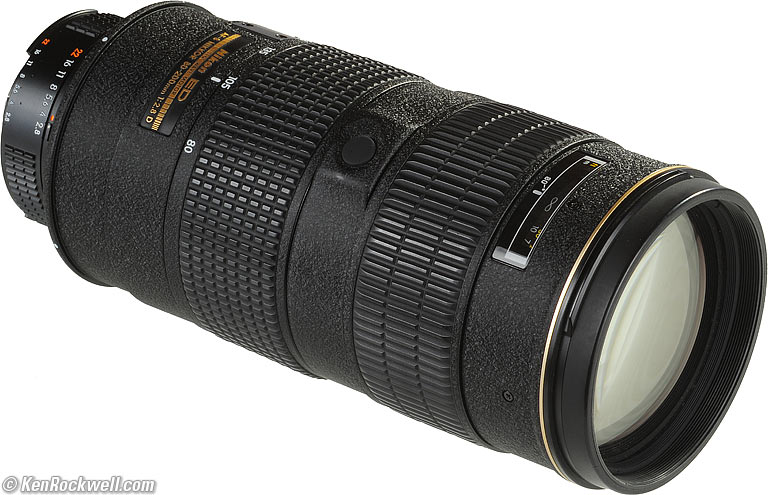 Nikon 80-200mm ED-IF AF-S (tripod collar removed). enlarge.
Nikon completely redid the optics and added an internal AF motor in this AF-S version. It sold for $1,500 when new. As an AF-S lens, it works great on even the D40, D40x, D60 and D5000, since it has an aperture ring, all manual focus Nikons made since 1977, and all of them back to 1959 if you have a coupling prong added. It takes the HB-17 plastic bayonet hood.
Nikon also added focus lock buttons, which are a huge convenience.
It has a removable tripod collar, which most people remove for hand-holding as shown above.
2003 - 2009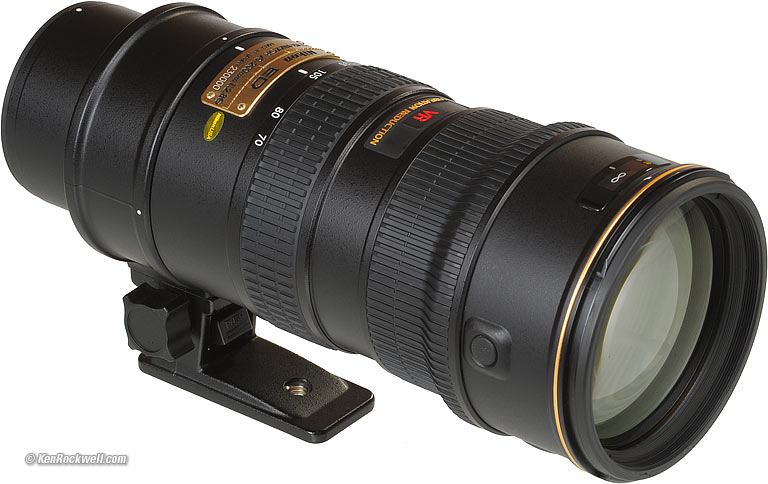 Nikon 70-200mm f/2.8 ED IF VR G AF-S. enlarge.
Another completely new design, this 70-200mm lens adds:
1.) Slightly expanded zoom range to 70mm.
2.) Image Stabilization (VR) for sharp hand-held shots in dimmer light.
Nikon gelded (removed) the aperture ring to save money, which renders this lens useless with manual-focus cameras. That's the "G" in the model name, and it's a handicap, not a feature.
Its only vice is that the corners are never super-duper sharp for landscape photographers at the 200mm end, but these lenses have always been for sports, low light and portraits, not tripods.
It takes the HB-29 plastic bayonet hood.
2009 - 2016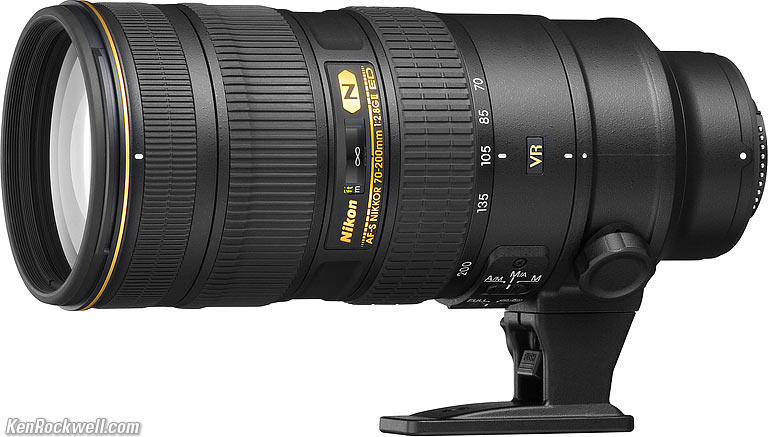 Nikon 70-200mm f/2.8 ED IF VR II AF-S. enlarge.
Another completely new design, this 70-200mm lens adds slightly closer focus and Nano-Crystal coating as it's gee-whiz features.
What's really important is that the corners are now as super-sharp as all the other lenses, not slightly duller as was the previous VR lens at 200mm.
I can't see any AF Lock buttons at the front, but I do see a ribbed plastic ring. I don't know if Nikon took that critical feature out, or got clever and made that entire ring a touch-strip for AF lock.
Image Stabilization (VR) is spiffed up, now claiming 4 stops, instead of 3 stops, improvement.
2012 - today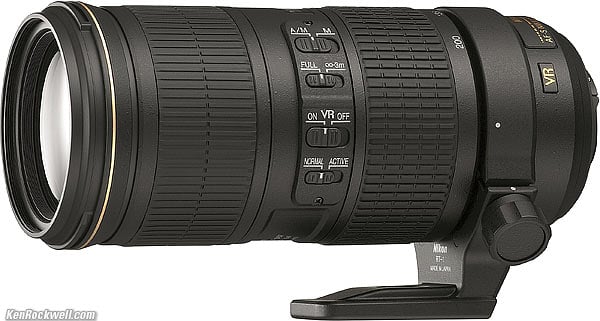 Nikon 70-200mm f/4 VR with optional $200 RT-1 tripod collar.
Nikon's first pro-level f/4 tele zoom was announced in late 2012. It has the highest rated MTF of any Nikon tele zoom, and performs spectacularly — at a fraction of the size, weight and price of the 70-200mm f/2.8 ED IF VR II.
2016 - today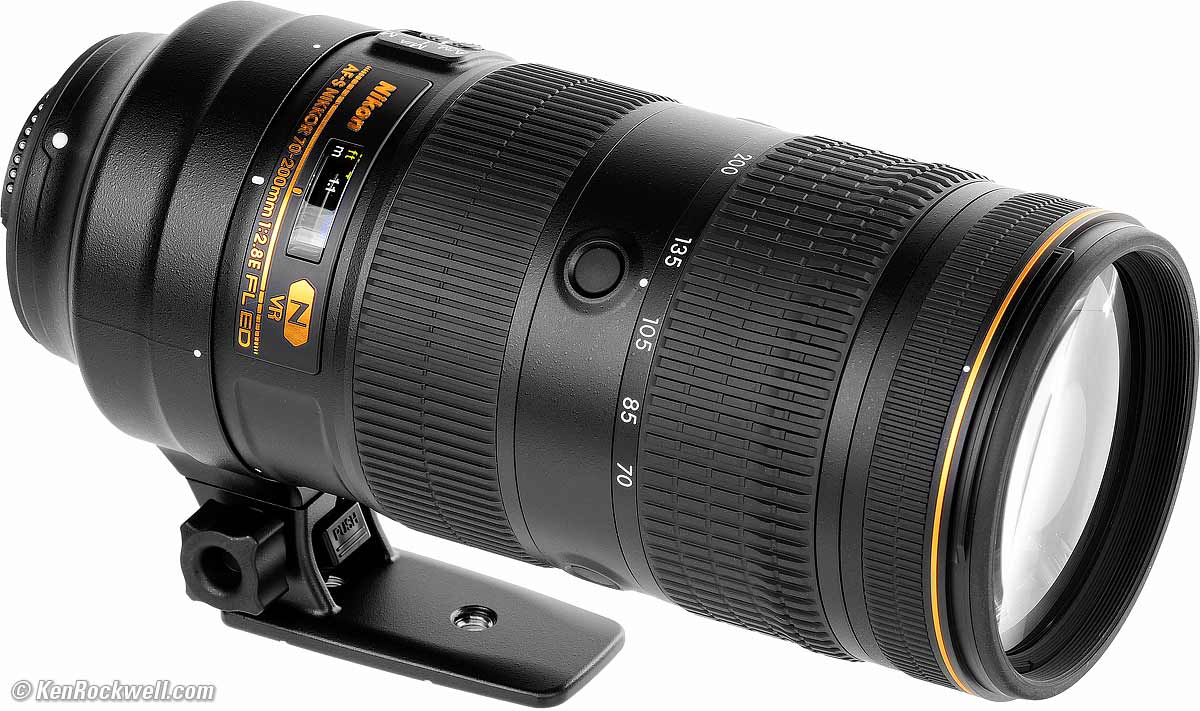 The 70-200/2.8 FL is a huge improvement over the old 70-200/2.8 VR II from 2009.
The 70-200/2.8 FL is the lightest, closest focussing and least distorting 70-200/2.8 ever.
Even more important is that while the rated close-focus distance isn't that much closer, the older 70-200s cheated and weren't really 200mm at their close-focus distances.
This new 70-200 FL doesn't cheat at 200mm, so it gets what seems like twice as close.
Of course autofocus is almost instantaneous, but we expect that from a $2,800 pro lens.
There's also a record four AF-lock buttons around the front of the new 70-200 FL, first seen in 1999 on the 80-200/2.8 AF-S, but sadly removed for cost savings on the old 70-200/2.8 VR II and the new 70-200/4 VR. AF lock buttons let you lock focus on the lens as you track targets running or flying behind obstacles.
Another cool thing is how awesome the zoom feels: it's easy to flick the zoom ring with just a fingertip, even if pointed straight up or down, and it never drifts. Zooming is internal; nothing but the zoom ring moves as you zoom.
More Information
105mm Center Sharpness Comparison
105mm Corner Sharpness Comparison
200mm Center Sharpness Comparison
200mm Corner Sharpness Comparison
Help me help you top
I support my growing family through this website, as crazy as it might seem.
The biggest help is when you use any of these links when you get anything, regardless of the country in which you live. It costs you nothing, and is this site's, and thus my family's, biggest source of support. These places have the best prices and service, which is why I've used them since before this website existed. I recommend them all personally.
If you find this page as helpful as a book you might have had to buy or a workshop you may have had to take, feel free to help me continue helping everyone.
If you've gotten your gear through one of my links or helped otherwise, you're family. It's great people like you who allow me to keep adding to this site full-time. Thanks!
If you haven't helped yet, please do, and consider helping me with a gift of $5.00.
As this page is copyrighted and formally registered, it is unlawful to make copies, especially in the form of printouts for personal use. If you wish to make a printout for personal use, you are granted one-time permission only if you PayPal me $5.00 per printout or part thereof. Thank you!
Thanks for reading!
Mr. & Mrs. Ken Rockwell, Ryan and Katie.
Home Donate New Search Gallery Reviews How-To Books Links Workshops About Contact