Home Donate New Search Gallery Reviews How-To Books Links Workshops About Contact
Nikon 70-200mm f/4 G
FX VR ED AF-S NIKKOR (2012-)
© 2012 KenRockwell.com. All rights reserved.
Intro Specs Performance Usage Compared Recommendations More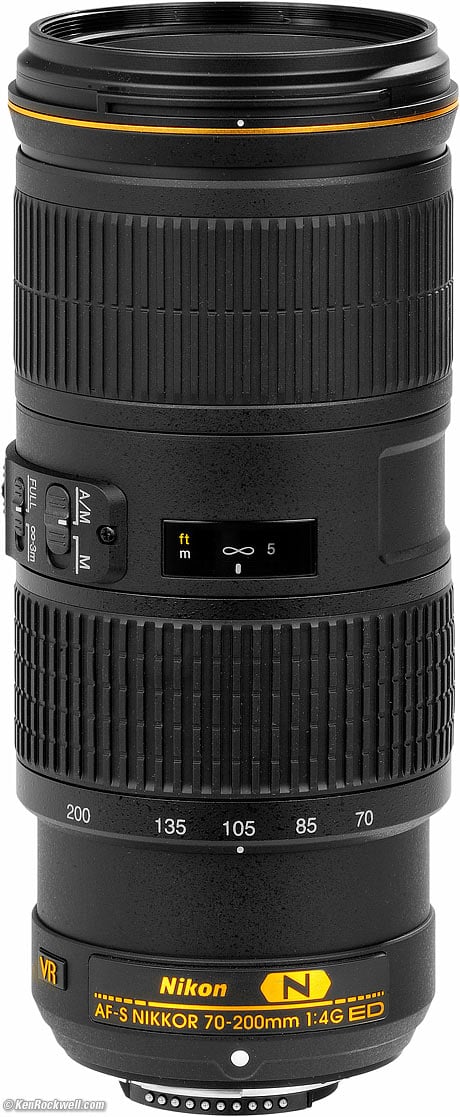 Nikon 70-200mm f/4 G ED VR AF-S (covers FX, DX and 35mm, 67mm filters, 29.8 oz. /846g, 3.3'/1m close focus, about $1,400). enlarge. This free website's biggest source of support is when you use these links, especially this link directly to it at Adorama or directly to it at Amazon, when you get anything, regardless of the country in which you live.
January 2013 Nikon Reviews Nikon Lens Reviews All Reviews
70-200mm f/2.8 VR II (2009-).
70-210mm f/4 AF (1986-1988).
70-210mm f/4-5.6 (1987-2000).
70-300mm VR (2006-)
All Professional f/2.8 80-200mm and 70-200mm Lenses compared.
Sample Image File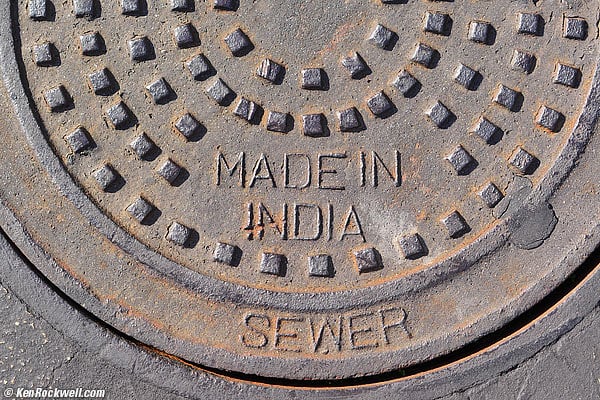 Sewer, Mumbai. (D800E at ISO 100, 70-200/4 VR at 70mm at f/5.6.) Original © 36 MP image file.
Introduction top
Intro Specs Performance Usage Compared Recommendations More
Thank goodness, after 12 years Nikon has finally re-introduced a reasonably-sized telephoto zoom for FX digital, DX digital and 35mm cameras.
This new lens has the same extraordinary optical quality of the 70-200mm f/2.8 VR II, at only half the price, size and weight. If you compare Nikons MTF curves, this new lens is even a bit better than the 70-200/2.8 VR II.
This new 70-200/4 VR adds much closer focusing and improved Image Stabilization over the 70-200mm f/2.8 VR II.
The only advantage to the older 70-200mm VR II over this new f/4 lens is one-stop of speed for catching action in low light, and the ability to blur backgrounds just a little bit more at f/2.8 as opposed to f/4. Honestly, we really only need f/2.8 for shooting 35mm; with digital's clean ultra-high ISOs, f/4 is more than enough to shoot hand-held in any light. There isn't much difference in defocus from f/4 to f/2.8. It's only a 40% difference, which is barely visible.
This 70-200/4 has instant manual-focus override; just move the ring at any time.
Everything works perfectly on every digital Nikon ever made, both FX and DX, from the best D4, D800, D800E and D600 to Nikon's cheapest digitals like the D40, D40x, D60, D3000, D3100, D3200, D5000, D5100 and D5200.
It's also perfect on decent or recent AF film cameras like the F6, F100, F5, N80 and N75.
The incompatibilities for older or cheaper 35mm cameras are that:
1.) It won't autofocus with the cheapest new AF 35mm cameras like the N55, but if you focus manually, everything else works great. Even if you lose autofocus, these cameras have in-finder focus confirmation dots to help you.
2.) Late 1980s ~ early 1990s AF cameras like the N90s, N70 and F4 will focus just fine, but you'll lose VR. You'll have Program and Shutter-priority modes, but lose Manual and Aperture-priority since you have no way to set the aperture on the camera or on the lens.
3.) You're really pushing it with the oldest AF cameras like the N2020, N6006 and N8008. You'll have no AF, confused exposure modes, and no VR. Manual focus is fine, along with electronic focus indications.
4.) Since it has no aperture ring, it's just about useless with manual focus film cameras. It will shoot every shot at its minimum aperture.
See Nikon Lens Compatibility for details with your camera. Read down the "AF-S, AF-I," "G" and "VR" columns for this lens. You'll get the least of all the features displayed in all columns, since "G" (gelding) is a deliberate handicap which removes features.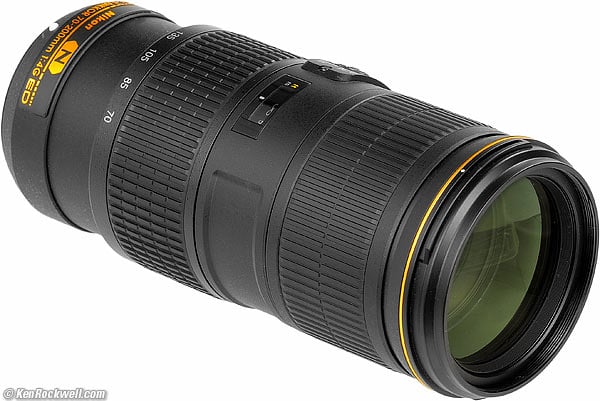 Nikon 70-200 f/4 VR. enlarge.
Specifications top
Intro Specs Performance Usage Compared Recommendations More
Name top

Bottom, Nikon 70-200 f/4 VR.
Nikon calls this the Nikon AF-S NIKKOR 70-200mm f/4G ED VR N
NIKKOR: Nikon's brand name for all their lenses.
AF-S and SWM: Silent Wave Autofocus Motor.
G: Gelded for cost-reduction and removing compatibility with older cameras.
ED: Magic Extra-low Dispersion Glass.
VR: Vibration Reduction.
N: Magic Nano-crystal coating, meaning a coating which varies its index of refraction continuously to achieve even greater reflection reduction. It's probably only on one surface, and is used mostly for marketing purposes.
Optics top
20 elements in 14 groups.
3 of these are ED (Extra-low Dispersion Glass), and one is HRI, with a very high index of refraction.
One surface has Nikon's Nano-crystal coating.
Internal zoom and internal focus: nothing moves externally.
Diaphragm top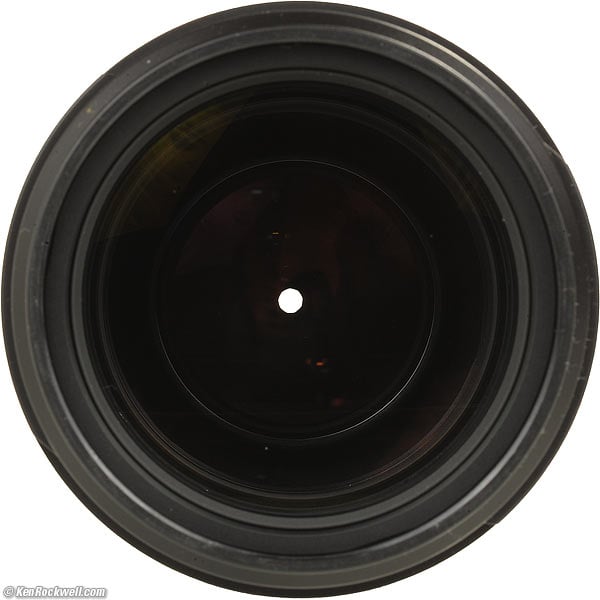 Front, Nikon 70-200 f/4 VR at f/32.
9 rounded blades.
Stops down to f/32.
Round to f/11, nonagonal f/16~f/32.
Coverage top
Focal Length top
70-200mm.
When used on a DX camera, it gives angles of view similar to what a 105-300mm lens gives when used on an FX or 35mm camera.
Angle of View top
34.3° ~ 12.3° on FX digital and 35mm.
22.8° ~ 8° on small-format DX.
27.7° ~ 9.8° on real APS (Pronea).
Close Focus top
3.3 feet (1.0 meters) from the image plane.
This is all it does; I measure 37" (0.94 meters) actual close-focus, not 3 feet.
Maximum Reproduction Ratio top
1:3.65. (0.274x).
Hard Infinity Focus Stop? top
No.
You have to let the AF system focus at infinity.
Focus Scale top
Yes.
Depth-of-Field Scale top
No.
Infra-Red Focus Index top
No.
Aperture Ring top
No.
Tripod Collar top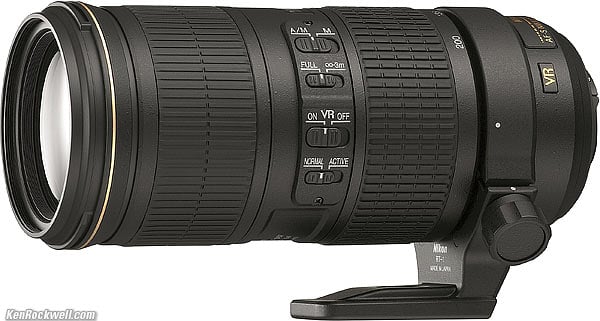 Nikon 70-200mm f/4 VR with optional $200 RT-1 tripod collar. enlarge.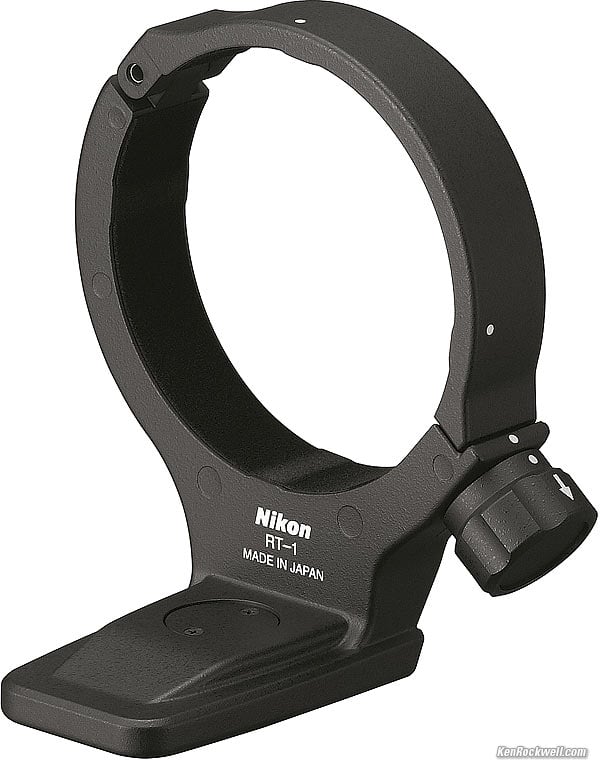 $200 RT-1 removable tripod collar. enlarge.
The $200 RT-1 tripod collar is obviously removable; it's now sold separately and no longer included with the lens.
Filter Thread top
67 mm.
Plastic.
Does not move.
Vibration Reduction (VR) top
"VR III," claims 5 stops improvement.
Voice-coil motors.
Size top
Nikon specifies 3.1" (78 mm) diameter by 7.0" (178.5 mm) extension from flange.
Weight top
29.830 oz. (845.7g), measured.
Nikon specifies 30.0 oz. (850 g).
Hood top
Plastic bayonet HB-60 hood, included.
Case top
CL-1225 sack included.
Included top
LC-67 snap-on front lens cap.
LF-4 rear cap.
HB-60 hood.
CL-1225 sack.
Perfect-bound 218-page printed manual in 18 languages.
Teleconverters top
TC-17E and TC-20E series teleconverters if you've got one of the newest cameras that can autofocus well at f/8, otherwise don't use them.
Announced top
Wednesday, 24 October 2012, at 12:01 AM New York City time.
Promised for top
November 2012.
Started shipping in top
December 2012.
Nikon Product Number top
2202.
Packaging top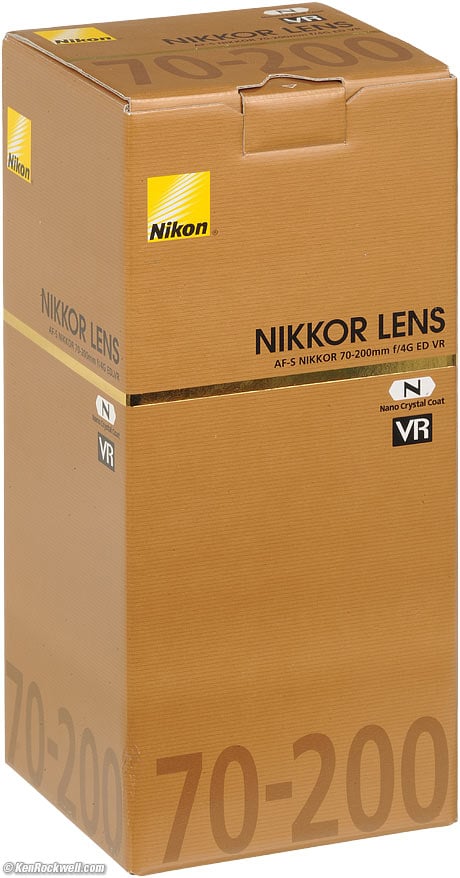 Box, Nikon 70-200mm f/4 VR.
Micro-corrugated box. Light-brown (goldish) spot-color overall with hot-stamped gold band.
Micro-corrugated Origami innards to hold lens, pouch and hood.
Lens wrapped in translucent PE-HD bag.
Price, USA top
2013 January: $1,400 (optional RT-1 tripod collar: $200)
2012 October: $1,400 (optional RT-1 tripod collar: $180)
Performance top
Intro Specs Performance Usage Compared Recommendations More
Overall f/4 vs. f/2.8 Autofocus Bokeh Breathing Color Coma
Distortion Ergonomics Eyeblow Falloff Filters
Focal Lengths, actual Ghosts Hood Lateral Color Fringes
Macro Mechanics Sharpness Sunstars
Overall performance top
This new Nikon 70-200 lens feels great and is insanely sharp, even wide-open on a D800E at 36 MP in the farthest corners. If your results aren't sharp, it's your own lack of ability. Excepting maybe a 105mm or 200mm MICRO-NIKKOR by a tiny margin, Nikon makes no sharper lenses.
Distortion is strong, but corrects automatically with the latest DSLRs.
Zooming is the best from Nikon this side of the original 70-210/4 AF: the zoom ring flicks with a fingertip. Bravo!
f/4 versus f/2.8
performance
top
There is scant little visible difference in depth of field or background blur from one stop to the next; it's only a 41% difference, not double.
You'll see some difference at two stops difference, but from one stop to the next, it's negligible — and not worth hauling an f/2.8 lens that weighs and costs twice as much!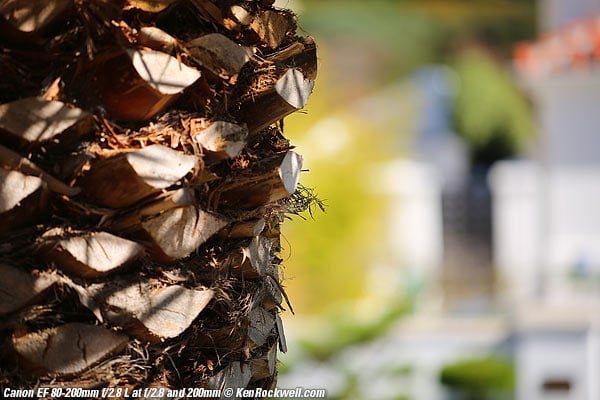 Full-frame image, 80-200mm f/2.8 lens at 200mm and f/2.8. The lens is focused on the tree fuzz in the center of the image at 6 meters (20 feet). bigger.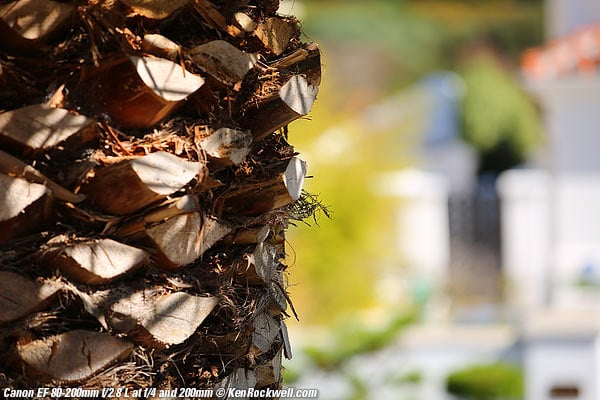 The same 80-200mm f/2.8 lens at 200mm and f/4. bigger. These samples just happen to be with the Canon EF 80-200mm f/2.8 L on my 5D Mark III just because I had it handy; the differences from one stop to the next are the same with any brand.
Autofocus is unchanged between f/4 and f/2.8. AF systems look through lenses at the equivalent of about f/5.6 to f/8, so there is no benefit at f/2.8 versus f/4.
Autofocus performance top
Overall
No surprises, focus is fast, silent and reasonably accurate.
AF Speed
AF speed is moderate. It's not instantaneous on a D800E, but not slow either.
AF Accuracy
AF is dead-on at f/4 and at 36 megapixels, except wide-open at 200mm at f/4 at close distances.
So long as you're at a reasonable distance, or not at 200mm, everything is perfect. At close distances (1 meter/3 feet) at 200mm, autofocus is off on my sample. I didn't bother to play with my D800E's AF FINE TUNE adjustment, which should fix this if I cared.
Manual Focus
Manual focus is easy. Just slide the ring at any time; no need to move any switches.
The focus ring moves with a single fingertip.
Bokeh performance top
Bokeh, the character of out of focus backgrounds, not simply how far out of focus they are, is always quite neutral regardless of focal length or aperture.
This means that the closer you get and the longer you zoom, the softer your backgrounds will be. The bokeh itself stays neutral: blur circles remain as simple discs.
Here are some fast full-frame samples at shot at 2 meters (7 feet):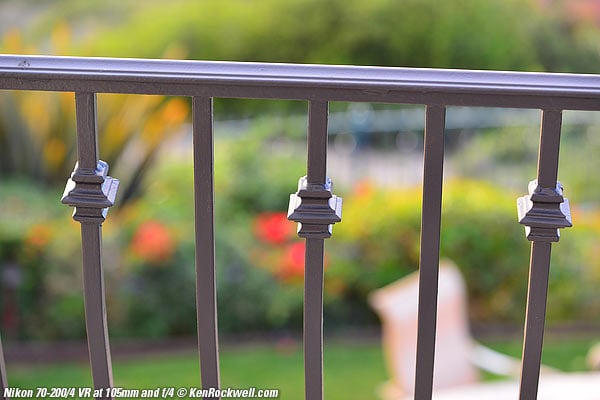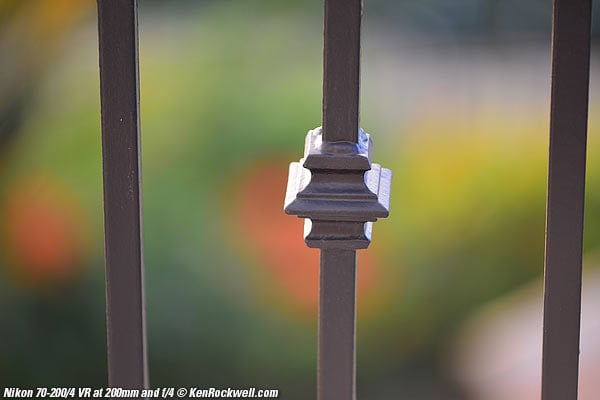 Focus Breathing performance top
Focus breathing (the image changing size as focused) is mostly of interest to cinematographers who don't want the image changing size ("breathing") as the lens is focused among different subjects.
The image from the Nikon 70-200/4 VR gets larger as focused more closely, at all focal length settings.
Color Rendition performance top
The color rendition is the same as my other Nikkor AF lenses.
Coma performance top
I see no coma (saggital coma flare), and didn't expect to.
Distortion performance top
The Nikon 70-200/4 VR has a lot of distortion; twice as much as the 70-200/2.8 VR II. The good news is that recent digital cameras like the D4, D800, D800E, D600, D90, D3100, D3200, D5000, D5100 and D7000 can be set to correct the distortion automatically in-camera.
Use these factors in Photoshop's lens distortion filter to correct uncorrected images. These aren't facts or specifications, they are the results of my research that requires hours of photography and calculations on the resulting data.
| | | |
| --- | --- | --- |
| Correction factor on 35mm and FX | 3m (10') | infinity |
| 70mm | +2.0 | +3.0 |
| 85mm | +0.5 | +1.0 |
| 105mm | -1.0 | -0.5 |
| 135mm | -2.5 | -2.3 |
| 200mm | -4.0 | -3.0 |
© 2013 KenRockwell.com. All rights reserved.
Ergonomics (handling and ease-of-use) performance top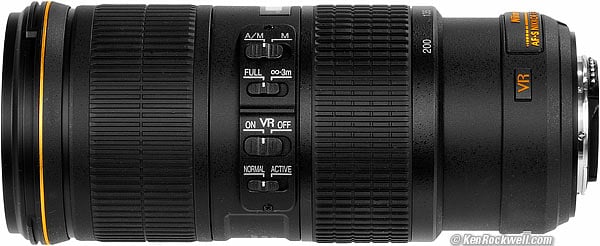 Nikon 70-200 4 VR. enlarge.
Ergonomics are awesome; this 70-200 is a joy to shoot.
It's much smaller and lighter than any of the f/2.8 pigs.
The zoom ring is the best Nikon has made in almost 30 years since the 70-210/4 AF: it turns with one fingertip, and is well enough balanced that you can do this pointed up or down, too.
Eyeblow performance top
No air pumps in and out with this 70-200, so there is no air blowing out of your eyepiece or blowing dirt into your camera..
Few people realize that many, in fact, most, zooms have to pump the air somewhere as they pump in and out. This 70-200/4 zooms internally; nothing moves externally as zoomed or focused.
Falloff (darkened corners) performance top
Falloff on FX and 35mm is nearly nonexistent, especially at 200mm and wide open, where many telephoto zooms have nasty hotspots in the middle of their images.
It will be even less of an issue DX (see crop factor), and goes away with recent DSLRs if you set Vignetting Correction.
I've exaggerated this by shooting a gray field and placing these on a gray background:
Nikon 70-200/4 VR falloff on FX and 35mm at infinity, no correction:
| | | | |
| --- | --- | --- | --- |
| | f/4 | f/5.6 | f/8 |
| 70mm | | | |
| 105mm | | | |
| 135mm | | | |
| 200mm | | | |
© 2013 KenRockwell.com. All rights reserved.
Nikon 70-200/4 VR falloff on FX and 35mm at infinity, Vignette control at Normal:
| | | | |
| --- | --- | --- | --- |
| | f/4 | f/5.6 | f/8 |
| 70mm | | | |
| 105mm | | | |
| 135mm | | | |
| 200mm | | | |
© 2013 KenRockwell.com. All rights reserved.
Yes, the results with and without Vignette control (Nikon's capitalization) are nearly identical. I checked them again to confirm, and there is only a tiny bit of correction applied, because this lens needs so little.
Filters, use with performance top
There is no problem with vignetting, even with combinations of thick filters.
The filter ring never moves.
Focal Lengths, actual performance top
The effective maximum focal length stays the same as focused more closely.
Unlike wide-range or other zooms that often play an optical trick of reducing the effective focal length in exchange for extra-close focusing, the 200mm end of this 70-200 stays at 200mm regardless of focused distance.
Like most zooms, when compared to a fixed 200mm lens, the 200mm end of the zoom isn't really 200mm. It's more like 193mm, which is typical cheating for a zoom (zooms often cheat by a few percent at each end).
Flare and Ghosts performance top
In spite of the Nano Crystal Coat element, claimed mostly for marketing purposes, with 20 elements in 14 groups, if you point this in the sun and look in the darkest parts of the image, you'll see some ghosts.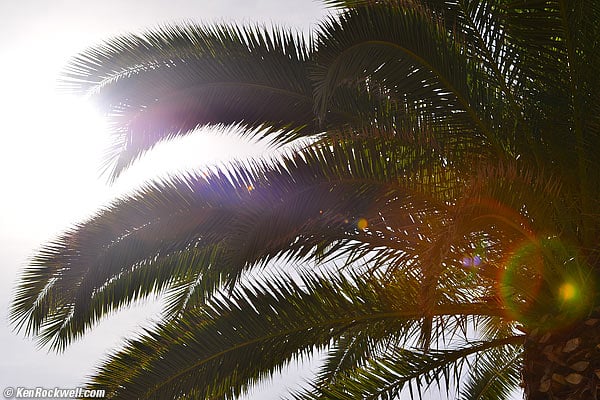 Worst-case ghosts. bigger.
This is an extreme example; I'm pointed directly into the unsheilded solar disc, and giving enough exposure to show details in the dark palm which I've deviously placed right where the ghosts would be.
Different focal lengths and putting the sun in different places will give very different results; this sample just happens to be shot at 80mm at f/11.
Hood performance top
The plastic bayonet hood is included.
I never use hoods.
Lateral Color Fringes performance top
There are no lateral color fringes when shot on the 36 MP D800E, which corrects them automatically.
Macro performance top
Close-focus is unbeaten. This is Nikon's closest focusing traditional telephoto zoom. Other lenses cheat and shorten their effective focal lengths when focusing closely; this lens gets down to 1 meter (3.3 ft) while retaining its full 200mm setting.
Of course there is plenty of distortion. Use your camera's automatic distortion correction if you need it.
Here's how close it gets at 200mm on full-frame: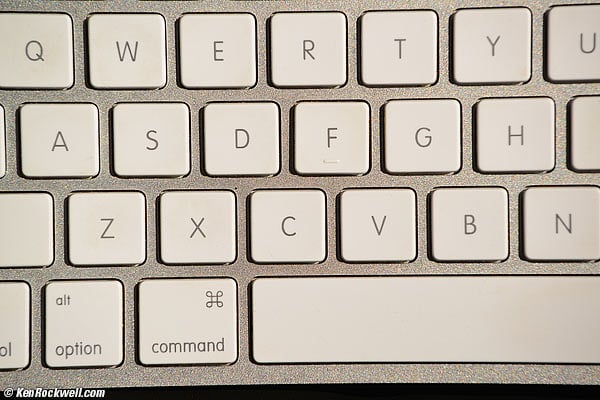 Nikon 70-200/4 VR at 200mm at f/8 at close-focus distance. 36MP © original file.
It gets close, but the sides are soft at this distance, probably from field curvature. If you want great macro performance, get the Nikon 200mm f/4 AF-D Micro-NIKKOR, which is worlds better. If you need a zoom, use the Nikon 70-180mm Micro-NIKKOR. See the 36MP © original file if you care; and since top, bottom and both sides are all equally soft, I don't think this is an alignment issue.
At 70mm, it looks great at this same distance, as I'll show under sharpness.
Mechanics and Construction performance top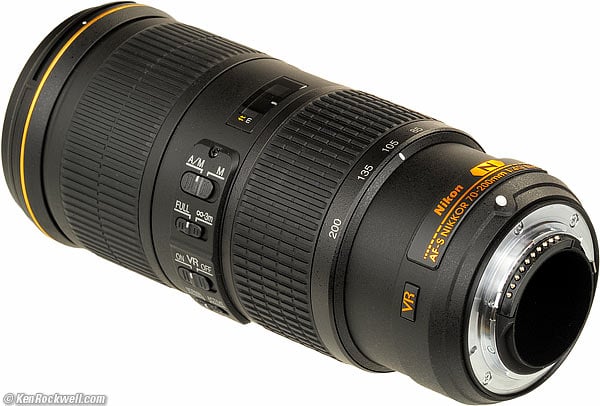 Nikon 70-200 4 VR. enlarge.
The Nikon 70-200mm f/4 VR is made well for a consumer lens. It's got some metal on it, and it's made as well or better than some of Nikon's other recent attempts at making what are supposed to be pro lenses out of all plastic, like the 35mm f/1.4G.
Filter Threads
Plastic.
Hood
Plastic bayonet.
Hood Mount
Plastic.
Gold "ED" Band of Honour
Solid 14k gold.
Barrel Exterior
Plastic.
Focus Ring
Plastic; rubber covered.
Focus Cam (internal)
Metal.
Zoom Ring
Metal; rubber covered.
Zoom Cam (internal)
Metal.
Depth-of-Field Scale
None.
Internals
Metal.
Aperture Ring
None.
Mount
Dull-chromed brass.
Markings
Paint.
Mounting Index Dot
White plastic ball.
Identity Plate
Gold-look plastic.
Serial Number
Sticker glued into a recess on the bottom of the lens.
US Model Signified by
"US" prefix to serial number.
Moisture seal at mount
Yes.
Noises When Shaken
Moderate clattering.
Made in
Thailand.
Weaknesses
Except that you're dead if your AF-S motor or VR system die and Nikon has no parts, this is a well-sealed, well-made lens that ought to last a lifetime — or until the electronics fail due to lead-free solder.
Sharpness performance top
Warning 1: Image sharpness depends more on you than your lens.
Warning 2: Lens sharpness doesn't mean much to good photographers.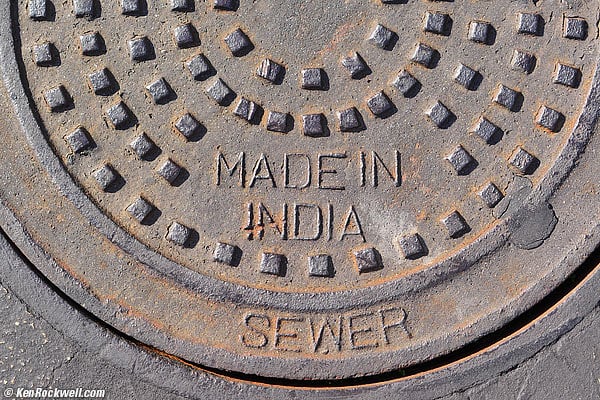 Sewer, Mumbai. (D800E at ISO 100, 70-200/4 VR at 70mm at f/5.6.) Original © 36 MP image file.
Yes, it's super-sharp, sharper than Nikon's 24-70/2.8 and about the same as Nikon's extraordinary 70-200/2.8 VR II. When a lens is this good, there's not much to say: at the long distances for which you use a long lens, this lens is ultrasharp even wide open, all the way out to the corners on a 36 MP D800E.
The only barriers to sharpness are your own abilities, and curvature of field and autofocus offsets at very close distances at 200mm.
Here are Nikon's claimed MTF Curves:
| | |
| --- | --- |
| | |
| MTF at 70mm | MTF at 200mm |
These confirm that the Nikon claims that the 70-200 4 is just about perfectly sharp from edge to edge, even wide-open.
In fact, if you believe Nikon's MTF claims, this f/4 lens is sharper than the f/2.8 VR II version (compare MTF curves).
Bravo!
Sunstars performance top
With its curved 9-bladed diaphragm, the 70-200 4 VR makes no sunstars on brilliant points of light.
Poo!
Usage top
Intro Specs Performance Usage Compared Recommendations More
Tripod Collar
I never use these.
Don't bother buying it.
For the rare ocasions I use a tripod, I just do the nasty and just attach my camera directly to my tripod, no collar needed — and I do this even with my f/2.8 zooms!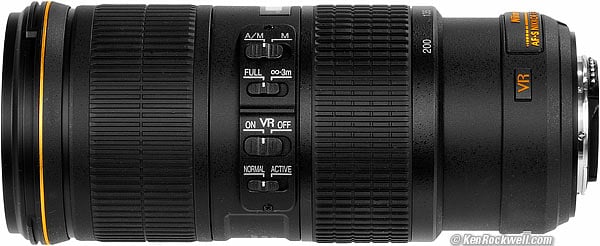 Nikon 70-200 4 VR. enlarge.
A/M - M Switch
Nikon goofed. This switch should have been labeled "A - M."
The "A/M" position means autofocus. It's called "A/M" because you also can focus manually simply by grabbing the focus ring in this position.
The "A/M" position means autofocus. It's called "A/M" because back in the old days, when Nikon had almost caught up to Canon who had been doing this for ten years before, Nikon was trying to show off that you could focus manually while in the AF position.
Paint over the extra M if you're easily confused.
Full or 3m Switch
This is the focus limiter.
FULL lets it focus from 1m (3.3 feet) to infinity. Use this.
∞ - 3m prevents it from focusing closer than 3 meters (10 feet). You might want to use this position if you have nothing this close, and for some reason the lens keeps racking in and out looking for closer subjects. I never use this setting.
VR ON/OFF
This is Vibration Reduction.
Leave it ON, except maybe on a stready tripod for time exposures.
Leave it ON on a monopod or wiggly tripod.
Turn it off with older cameras that don't support VR, like the awesome Pronea series.
NORMAL/ACTIVE
This optimizes Vibration Reduction.
I use NORMAL. Use NORMAL for panning shots, too.
Use ACTIVE if you're trying to shoot from a helicopter, jet boat, off the back of a motorcycle or out the door of a van. Good luck!
Compared top
Intro Specs Performance Usage Compared Recommendations More
For comparisons to all f/2.8 pro Nikon zooms, see Nikon Pro Tele Zoom Comparison.
See also the Tokina 70-200/4 VR.
Anni

2012-

1997-

2009-

2006-

1987-2000

1986-1988

Build quality

very good consumer

pro

pro

consumer

very good consumer

good consumer

Maximum Aperture

f/4

f/2.8

f/2.8

f/4.5-5.6

f/4-5.6

f/4

AF System

AFS

AF (screw)

AFS

AFS

AF (screw)

AF (screw)

Instant manual focus override?

Yes

no

Yes

Yes

no

no

Close Focus

3.3 feet
1.0m

4.9 feet
1.5m

4.6 feet
1.4m

4.9 feet
1.5m

4 feet
1.2m

3.7 feet
1.1m

VR System

VR III: 5 stops

none

VR II: 4 stops

VR II: 4 stops

none

none

Filter Size

67mm

77mm

77mm

67mm

62mm

62mm

Filter Threads

plastic

plastic

Metal

plastic

Metal

Metal

Optics

20/14, 3 ED, 1 HRI

16/11, 3 ED

21/16, 7 ED

17/12, 2 ED

12/9

13/9

Diaphragm

9 rounded

9 straight

9 rounded

9 rounded

7 straight

7 straight

Weight

846 g

1,275 g

1,532 g

745 g

590 g

760 g

Length (flange)

178.5mm

187mm

205.5mm

143.5mm

109mm

156mm

Diameter

78mm

87mm

87mm

80mm

74mm

76mm

Hood

HB-60, incl.

HB-7

HB-48, incl.

HB-36, incl.

HN-24

HN-24

Case

CL-1225, incl.

CL-43A, incl.

CL-M2, incl.

pouch, incl.

Price, 10/2012
Compared to Nikon's manual focus lenses, there isn't much comparison. The 80-200mm f/4 AI-s works on all cameras, while this G lens won't work on better Nikons like the F2AS. The manual focus lenses are much better made, and sell for a lot less money - but they don't autofocus.
OK, you twisted my arm, so I just shot a 80-200mm f/4 AI-s versus this new 70-200/4 VR at the range. At 200mm wide-open, this VR lens is a bit sharper under the microscope, while though the rest of the range they are the same, and sometimes the 80-200/4 AI-s is sharper.
As always, newer lenses don't make better pictures; all they do is funnel more money to offshore businesses like Nikon from our American and European economies, and give a little more convenience, like AF and VR — but not better pictures. Not only this, this was my old crappy sample of 80-200 AIS I compared. It's got sand in its zoom mechanism so it doesn't move very well and therefore was given to me as junk by a friend. For all I know, my clean sample of 80-200 AI-s that I couldn't find would have been even better!
Recommendations top
Intro Specs Performance Usage Compared Recommendations More
I don't bother with f/2.8 tele zooms when shooting digital. I use them only when shooting 35mm, otherwise, they're too heavy. f/2.8 lenses went out with 35mm film, which only went to about ISO 100 before it started looking ratty. With digital, f/4 and f/5.6 are more than fast enough. It's high time Nikon finally got with the program to make a practical tele zoom like this again so we don't have to hump the f/2.8 beasts.
If you want a Nikon tele zoom for FX, this is a great lens. If you worry about defocus blur, there is very little difference between f/4 and f/2.8; try it on your f/2.8 tele and you'll see. If you really want great background blur, skip zooms and go straight to the 135mm f/2 DC or 200mm f/2 or 300mm f/2.8, as pro portraitists use (or the perfectly good 135mm f/2 AI-s for you bargain hunters). 70-200mm zooms are for news, sports and landscapes, not static portraiture.
I wouldn't bother with this new tele-only lens if you already own the 28-300mm VR, 18-200mm VR or 18-300mm VR. If you do own one of those other lenses and get this 70-200mm VR, do not carry both at the same time. See Assembling a System.
Personally, I'm not buying one of these simply because I prefer my 28-300mm VR for when I need a zoom. Nikon makes a zillion equivalent lenses because we all have different needs.
I value portability and utility over ultimate laboratory performance. If all I wanted to do was shoot test charts, this 70-200/4 is the way to go for you tripod and NEF guys — it's undefeated for sharpness.
If you find this information helpful, my biggest source of support is when you use these links, especially this link directly to it at Adorama or directly to it at Amazon, when you get anything, regardless of the country in which you live.
Thanks!
Ken.
Deployment
I'd leave either a 67mm Nikon Clear (NC - UV) filter, or a 67mm Hoya Super HMC UV on the lens at all times. I would leave the hood at home.
If I was working in nasty, dirty areas, I'd forget the cap, and use an uncoated 67mm Tiffen UV filter instead. Uncoated filters are much easier to clean, but more prone to ghosting.
For color slides like Velvia 50, I use a 67mm Hoya HMC 81A outdoors.
For B&W film outdoors, I'd use a 67mm Hoya HMC K2 Yellow or 67mm Hoya HMC Orange.
If using this with other pro lenses with 77mm filters, get a 67mm -> 77mm step-up ring and treat this lens as a 77mm-threaded lens from now to eternity. This will save you a lot of aggravation, unless you really do build a system around 67mm filters.
More Information top
Intro Specs Performance Usage Compared Recommendations More
Help me help you top
I support my growing family through this website, as crazy as it might seem.
The biggest help is when you use any of these links when you get anything, regardless of the country in which you live. It costs you nothing, and is this site's, and thus my family's, biggest source of support. These places have the best prices and service, which is why I've used them since before this website existed. I recommend them all personally.
If you find this page as helpful as a book you might have had to buy or a workshop you may have had to take, feel free to help me continue helping everyone.
If you've gotten your gear through one of my links or helped otherwise, you're family. It's great people like you who allow me to keep adding to this site full-time. Thanks!
If you haven't helped yet, please do, and consider helping me with a gift of $5.00.
As this page is copyrighted and formally registered, it is unlawful to make copies, especially in the form of printouts for personal use. If you wish to make a printout for personal use, you are granted one-time permission only if you PayPal me $5.00 per printout or part thereof. Thank you!
Thanks for reading!
Mr. & Mrs. Ken Rockwell, Ryan and Katie.
Home Donate New Search Gallery Reviews How-To Books Links Workshops About Contact