Home Donate New Search Gallery Reviews How-To Books Links Workshops About Contact
Nikon 105mm f/2.8 VR G
Micro-NIKKOR (2006-today)
© 2013 KenRockwell.com. All rights reserved.
How to Shoot Macro Best Macro Lenses Compared
Intro Specifications Performance Compared Recommendations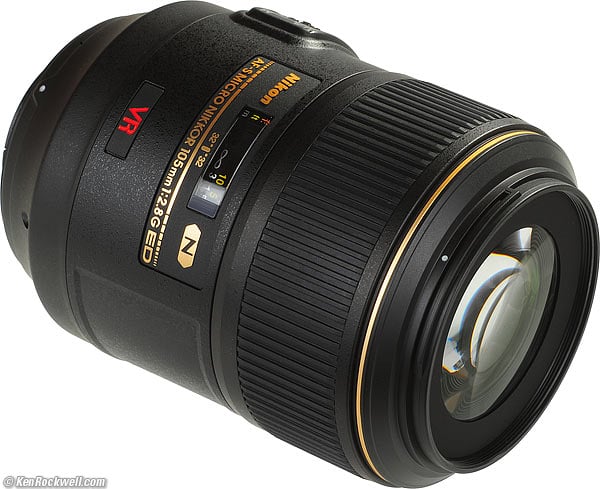 Nikon AF-S 105mm f/2.8 VR Micro-NIKKOR (FX, DX and 35mm coverage, 1:1 macro, 62mm filters, 26.6 oz./752g, about $900). enlarge. I got this one from Adorama. Amazon and J&R are also great places to get it.
My biggest source of support for this free website is when you use those or any of these links when you get anything, regardless of the country in which you live — but I receive nothing for my efforts if you buy elsewhere. I'm not NPR; I get no government hand-outs and run no pledge drives to support my research, so please always use any of these links for the best prices and service whenever you get anything. Thanks for helping me help you! Ken.
| | |
| --- | --- |
| Optics: | |
| Ergonomics: | |
| Usefulness: | |
| Availability: | not always in stock online |
| Overall: | |
Ideal Uses: Perfect for use as a general-purpose medium tele on FX digital, DX digital and film cameras. It's also the best macro lens today short of the 200mm f/4 Micro.
Not for: This AF-S lens won't AF on the oldest and crummiest AF film cameras. The 105mm VR is not particularly convenient for dedicated macro because focus breathing causes the image size to change as one focuses. For portraits, the 105 DC is a much better idea for the same price. (See Portrait Lenses.)
June 2013 Nikon Reviews Nikon Lenses All Reviews
Compared to older 105mm AF-D Compared to more 105mm lenses
Why fixed lenses take better pictures.
Introduction top
Intro Specifications Performance Compared Recommendations
Compatibility History Production Pricing
This 105mm VR is a bargain. Yes, it's almost $800, but it's a solid hunk of professional precision made mostly of metal. It's much nicer than the 105 macro it replaces. For $800 today, all you usually get are plastic or obsolete-in-their-own-time DX lenses.
This 105mm VR Micro is built as well as the $1,700 70-200mm VR, and except that this 105mm can't zoom, it does exactly what the 70-200mm VR does, but better.
For all-around use as a general-purpose tele, this 105mm is Nikon's best yet.
My biggest concern is that it's very hard to get precise macro framing because the image size changes greatly (breathes) while focusing. You need to use AF-C and move yourself in and out to frame. You can't move yourself and then focus, because the image size changes so much that you can't frame unless you're in focus. This may seem silly, but it's a critical issue for macro use, and a big pain when you focus manually as most macro shooters do. The 70-180mm macro lens is much better for shooting macro all day. Breathing isn't an issue for normal use.
Nikon uses the word "micro" instead of "macro." They mean the same thing. I'll use these words interchangeably.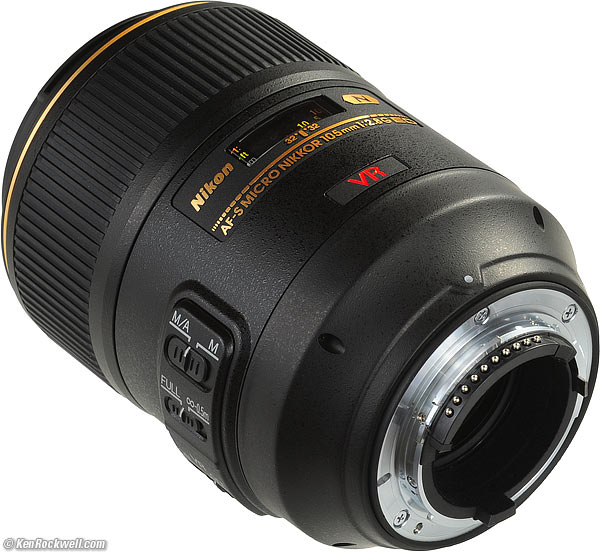 Nikon 105mm VR Micro. enlarge.
Compatibility back to intro back to top
Everything works perfectly on every digital Nikon, both FX and DX.
It's also perfect on decent or recent AF film cameras like the F6, F100, F5, N80 and N75.
The incompatibilities for older or cheaper film cameras are that:
1.) It won't autofocus with the cheapest new AF film cameras like the N55, but if you focus manually, everything else works great. Even if you lose autofocus, these cameras have in-finder focus confirmation dots to help you.
2.) Late 1980s ~ early 1990s AF cameras like the N90s, N70 and F4 will focus just fine, but you'll lose VR. You'll have Program and Shutter-priority modes, but lose Manual and Aperture-priority since you have no way to set the aperture on the camera or on the lens.
3.) You're really pushing it with the oldest AF cameras like the N2020, N6006 and N8008. You'll have no AF, confused exposure modes, and no VR. Manual focus is fine, along with electronic focus indications.
4.) Since it has no aperture ring, it's just about useless with manual focus film cameras.
See Nikon Lens Compatibility for details with your camera. Read down the "AF-S, AF-I" and "G" and "VR" columns for this lens. You'll get the least of all the features displayed in all columns, since "G" (gelding) is a handicap which removes features.
105mm Micro History back to intro back to top
1970-1974
Nikon's first 105mm f/4 micro was a 5 element, 4 group, fixed-element design. It was a short-mount lens for use on bellows.
1974-1983
The same 105mm f/4 became a traditional helical focus mount lens which focused from infinity down to 1:2.
1983-today
The 10 element, 9-group 105mm f/2.8 AI-s replaced the 105mm f/4. The f/2.8 speed made it much easier to focus using the split-image rangefinders of manual-focus cameras. This lens used floating elements (the Close Range Correction (CRC) system) to optimize performance at all distances. Nikon still makes this manual focus lens.
1990-2006
Nikon introduced the first AF 105mm lens, the 9 element, 8 group 105mm f/2.8 AF. It was updated to AF-D in 1993. This lens is the first 105mm to focus to 1:1 all by itself.
2006-today
This 105mm f/2.8 AF-S VR replaced the earlier mechanically autofocused lens.
Production back to intro back to top
Nikon made about 90,000 of the 105mm f/4.
Nikon has made about 90,000 of the 105mm f/2.8 AI-s macro, and still makes them.
Nikon made about 325,000 of the 105mm f/2.8 AF macro.
This AF-S VR 105mm macro is popular: Nikon's made about 120,000 of them so far as of 2008.
Pricing back to intro back to top
June 2013: $900.
July 2010: $890.
2008: $775.
2006: $830 at introduction.
All these prices are at full NYC discount; local retail is an OK place to look, but never a good place to buy.
Specifications top
Intro Specifications Performance Compared Recommendations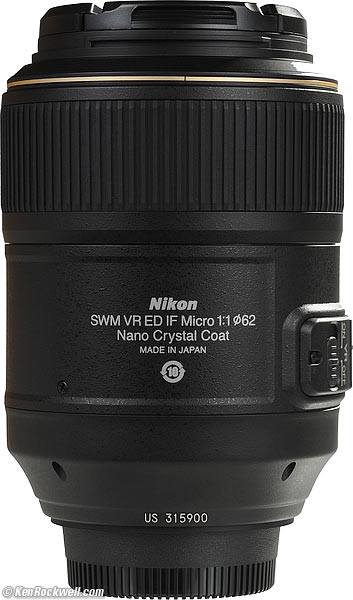 Nikon 105mm VR, 2008 sample. enlarge.
Name
Nikon calls this the AF-S VR Micro-NIKKOR 105mm f/2.8G IF-ED Nano-Crystal Coat.
AF-S and SWM: Silent Wave (focus) Motor.
VR: VR II Vibration Reduction.
Micro-NIKKOR: Nikon macro lens.
G: Gelded for cost-reduction and removing compatibility with older cameras.
IF: Internal Focusing.
ED: ED Glass.
Nano Crystal Coat (N): Nikon's latest anti-reflection coating
Optics
14 elements in 12 groups.
One ED element. and one with Nano-Crystal Coat.
Internal focusing: nothing moves outside.
It's got Nikon's SIC Super Integrated multiCoating.
Close Focus
1 foot (0.314m).
Working Distance
6" (154mm) at 1:1.
Maximum Reproduction Ratio
1:1
Hard Infinity Focus Stop?
No.
Focus Scale
Yes.
Depth-of-Field Scale
Sort of; only two little tits for f/32.
Infra-Red Focus Index
No.
Diaphragm
9 rounded blades.
Stops down to f/32 at infinity, f/57 at 1:1.
The previous 105mm AF Micro has only 7 straight blades.
Aperture Ring
No.
Tripod Collar
No.
Filter Thread
62 mm, plastic.
Does not rotate.
The older 105mm AF Micro is 52mm and metal.
Size
Nikon specifies 4.5" (116mm) extension from flange by 3.3" (83mm) diameter.
Weight
26.515 oz. (751.7g), measured, Japan version, 2008.
Nikon specifies 27.9 oz. (790g), so I suspect it has more plastic in 2008 than when it was originally introduced.
Hood
Plastic bayonet hood (HB-38), included.
Case
CL-1020 pouch, included.
Made in
2006-2008: Japan.
2010-today: made in China.
Teleconverters
Nikon warns you won't get AF, but that you may use the TC-14E, TC-17E and TC-20E teleconverters.
I tried it, and the TC-20E works fine.
It autofocuses just with the TC-20E, so long as you aren't at the wrong end of the focus range and expecting it to bring all the way back.
Introduced
22 February, 2006.
Nikon Product Number
2160.
Price
2010 June: $890, USA.
2008 August: $775, USA.
2006 Frebruary: $830, USA.
Packaging
Bronze box (USA).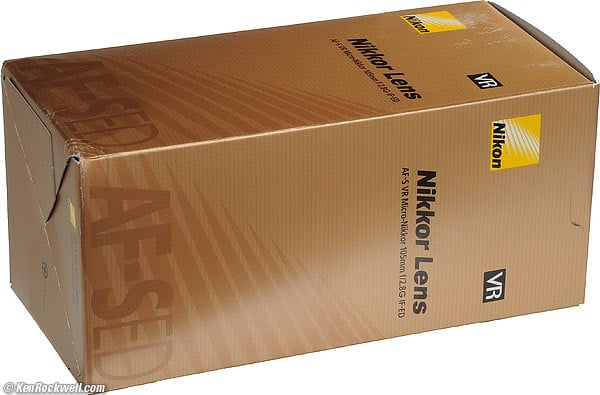 Box, Nikon USA 105mm AF-S VR.
Performance top
Intro Specifications Performance Compared Recommendations
Overall Focus Bokeh Color Distortion Ergonomics Falloff Filters
Color Fringes Maximum Aperture Mechanics Sharpness TC-20E VR
Overall back to Performance back to top
The 105mm VR is a bargain. Performance and construction are stellar, all for under $800.
Focus back to Performance back to top
The only gotcha is that the image size changes significantly as you focus in the macro range, which makes it tough to get precise framing. It's enough to drive me crazy trying to get tight macro composition.
The 70-180mm Micro is far better for this. Not only does the 70-180 zoom, but the image size doesn't change as you focus.
This seems silly, but this is why I'd pass on this 105 VR lens for all-day macro use. It's no problem for normal use, but try one and see if you can frame the way you want as subjects move.
AF Action
AF is much better than the first samples I tried back in 2006. Those often would hang and not autofocus.
Today (2008) I tried it on the D3, D700, D300, D40, N75, F4, and even a Pronea S APS SLR, it just goes, and it goes fast. It's unlike anything else from Nikon and reminds me of the instant AF I get with the Canon 100mm Macro. On all these cameras, it bangs back and forth and just focuses on objects near and far without a problem.
It's also fast and sure on the N90s and D200, but it will sometimes hang up at the 1:1 end while pointed at distant subjects. Spin the focus ring back to the distant end, or use the Focus Limiter, and these problems go away.
AF with the D70 isn't always as sure. The D70 works great with this 105 VR, but compared to the others, can hang and need coaxing to focus more often than the other cameras.
AF Speed
AF is unusually fast. It's the fastest Nikon macro lens I've used.
AF Accuracy
AF always seems to be perfect on my D3.
Manual Focus
Manual focus is easy. Just grab the ring at any time, a pleasure for use with a macro lens.
The ring turns about 220º from infinity to 1:1.
M/A - M Switch
Nikon goofed. This switch is supposed to be labeled "A - M."
The "M/A" position means autofocus. It's called "M/A" because back in the old days, when Nikon had almost caught up to Canon who had been doing this for ten years before, Nikon was trying to show off that you could focus manually while in the AF position.
Paint over the extra M if you're easily confused.
2006
Thankfully I see none of the problems in 2008 that I saw with AF often hanging up on a D200 back with the first samples in 2006.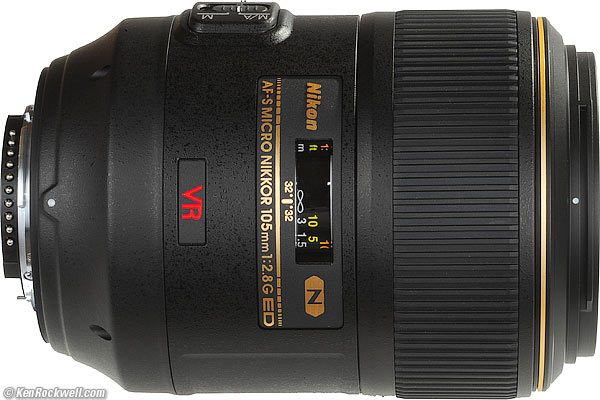 Nikon 105 2.8 Macro. enlarge.
Bokeh back to Performance back to top
Bokeh is much nicer than other Nikon macros. It's nice!
Not directly related to bokeh, but the 9-blade rounded diaphragm is uncanny because it's always round (not nonagonal) at every aperture.
It's weird to see a perfect circle opening and closing as you play with the diaphragm pin.
Color Rendition back to Performance back to top
The color rendition seems the same as my other modern lenses.
Distortion back to performance back to top
The 105mm f/2.8 AF-S VR has no visible distortion.
At some distances there is slight distortion visible only with instruments. For critical use, this can be corrected by plugging these figures into Photoshop CS2's lens distortion filter. These aren't facts or specifications, they are the results of my research that requires hours of photography and calculations on the resulting data.
| | |
| --- | --- |
| | |
| ∞ | 0.0 |
| 30' (10m) | 0.0 |
| 10' (3m) | 0.0 |
| 1:10 | +0.5 |
| 1:4 | +0.5 |
| 1:2 | 0.0 |
| 1:1.4 | 0.0 |
| 1:1 | 0.0 |
© 2008 KenRockwell.com. All rights reserved.
Ergonomics (handling and ease-of-use) back to performance top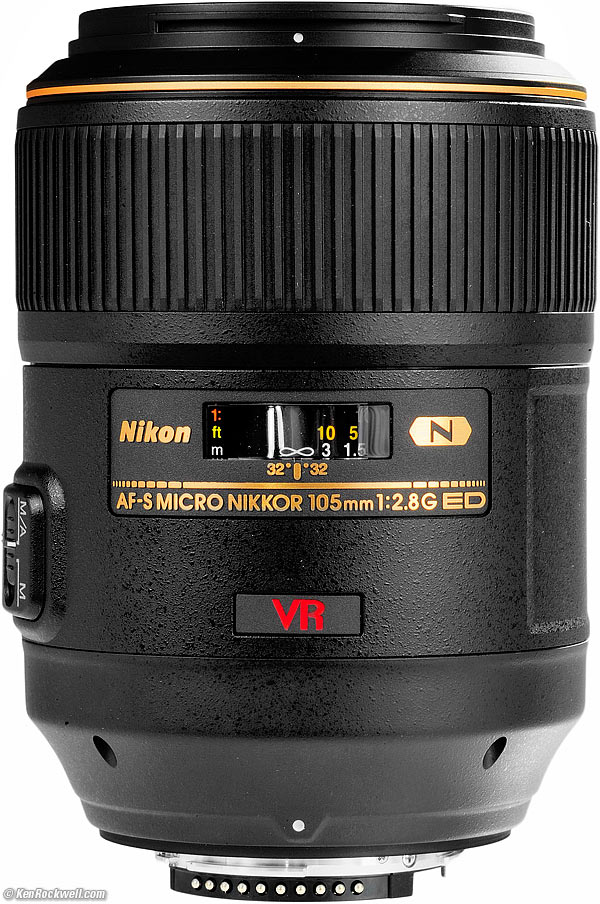 Nikon 105mm VR.
The 105mm VR just works great. It's easy to hold, focus and use. Nothing moves externally except the manual focus ring, and it only moves if you turn it.
The only problem is focus breathing, which makes macro framing a pain compared to the 70-180mm Makro.
Falloff (darkened corners) back to performance back to top
Falloff on FX with real pictures is moderate at f/2.8, and invisible by f/4. This is as I'd expect.
It won't be an issue at all on DX (see crop factor).
I've exaggerated this by shooting a gray field and placing these on a gray background. By f/8, all traces of falloff were gone.
Nikon 105mm f/2.8 AF-S VR falloff on FX and film, no correction.
f/4

f/5.6

∞

1:10

1:4

1:2

1:1.4

can't open wider
than f/4 ->

1:1

can't open wider
than f/4.8 ->
© 2010 KenRockwell.com. All rights reserved.
Filters, Use with back to Performance back to top
Nothing rotates.
There is no problem with vignetting, even with combinations of thick filters. The 62mm filter is much larger than the front element.
Lateral Color Fringes back to Performance back to top
There are no lateral color fringes on the D3, which would correct them if the lens had any.
back to Performance back to top
Repro Ratio

Maximum
Aperture

Minimum
Aperture

Infinity - 10' (3m)

f/2.8

f/32

f/64

10' (3m) - 1:5

f/3

f/36

f/72

1:5 - 1:3

f/3.2

f/36

f/72

1:3 - 1:2.5

f/3.3

f/40

f/81

1:2.5 - 1:1.8

f/3.5

f/40

f/81

1:1.8 - 1:1.6

f/3.8

f/45

f/90

1:1.4

f/4

f/45

f/90

1:1.3 - 1:1.2

f/4.2

f/51

f/90

1:1.1

f/4.5

f/51

f/90

1:1

f/4.8

f/57

f/90
* Maximum and minimum apertures are two stops smaller with the TC-20E. The Nikon's computer system is limited to f/90, so that's the smallest aperture you can get, regardless of repro ratio with the TC-20E.
Mechanics back to Performance back to top
Nikon lenses look the same whether they are plastic or metal, so online you probably think this is a plastic lens like most under-$1,500 lenses. Nope, this is mostly solid alloy. Compared to the earlier 105mm AF Micro, it's built like a tank.
These observations are from a 2008 sample from Japan.
Filter Threads
Plastic.
Hood and Bayonet Mount
Plastic.
Focus Ring
Metal; rubber covered.
Mid Barrel
Plastic.
Aft Barrel
Epoxy-sputtered metal alloy.
Depth-of-Field Scale
Yes, just two tits for f/32.
Internals
Look like metal.
Aperture Ring
None.
Mount
Dull-chromed brass.
Markings
Paint.
Identity Plate
Embossed and planed metal.
Serial Number
Laser engraved onto bottom rear of metal barrel, near mount.
Rear Gasket (moisture seal at mount)
Yes.
Noises When Shaken
Mild klunking from all the internal hardware.
Made in
2006-2008: Japan.
2010-today: made in China.
Sharpness back to Performance back to top
Warning 1: Image sharpness depends more on you than your lens.
Warning 2: Lens sharpness doesn't mean much to good photographers.
With those caveats, I've never used a sharper 105mm lens than this 105mm f/2.8 AF-S VR.
Like the other 105mm macro lenses, it's sharp everywhere at every distance.
Unlike the superior 200mm f/4 AF, I almost can imagine just the tiniest bit of softening at f/2.8, but to see it I need special test shots and then I need to flick back and forth between these images.
For flat subjects, diffraction limits performance at f/16, it's stronger at f/22, and downright soft at f/32, but that's physics. The softening from diffraction at f/32 is less than the improvement you get to depth-of-field for 3-D subjects, and for most macro work, I shoot at f/32.
TC-20E, Use with back to Performance back to top
To my surprise, the optics of the 105 2.8 VR are so good that they look OK with the TC-20E.
There's just the slightest hint of color fringing on a D3 and it's just a teeny-weeny bit softer wide-open (f/5.6), but it's quite useable.
Even though Nikon says AF won't work, AF and VR work fine with the TC-20E, and therefore I suspect, the TC-14E and TC-17E.
The funniest thing is how the combo looks. The 105 VR is a fat 3.3" (83mm) diameter chub, and the TC-20E is a skinny 2.6" (65mm) tube. It looks like a chub on a stick!
VR Measurements back to performance back to top
Nikon says turn off VR on a tripod, but leave it ON on a monopod or with a wiggly tripod head.
Nikon says that your cameras's AF-ON button will AF, but not not fire up VR, so you'll need to be sure to half-tap the shutter long enough before your shot for VR to stabilize.
% Perfectly Sharp Shots at 20 feet (6m)
By "sharp shots" I mean perfect tripod-equivalent sharpness when viewed at 100%, as shot on a D3 by me. For most uses, one can use much slower speeds. See Why VR Matters for more.
| | | | | | | | | | |
| --- | --- | --- | --- | --- | --- | --- | --- | --- | --- |
| | 1 | 1/2 | 1/4 | 1/8 | 1/15 | 1/30 | 1/60 | 1/125 | 1/250 |
| VR OFF | 0 | 0 | 0 | 0 | 10 | 33 | 50 | 90 | 100 |
| VR ON | 0 | 5 | 0 | 67 | 80 | 100 | 80 | 100 | 100 |
Lowest speeds for perfectly sharp shots 50% of the time
| | | | |
| --- | --- | --- | --- |
| VR OFF | VR ON | Real Stops Improvement | Marketing Stops Improvement |
| 1/60 | 1/6 | 3.3 | 4.1 |
"Real Stops" are how many extra stops I get over shooting without VR. "Marketing stops" is improvement over the old-wives' tale of 1/focal length as a lower speed limit.
The VR II system of the 105 VR gives me a solid three-stop improvement, and if you believe the old-wives' tales, I can see how Nikon claims four stops.
In all cases, the VR system works great for shooting distant subjects hand-held. It's not claimed, and I didn't test it, for macro range. I did shoot in my studio at macro, and it didn't change anything shooting under Novatron strobes hand-held.
Hint: VR improves your hit ratio. It doesn't guarantee that every shot will be sharp. I always shoot at least three-shot bursts at slow speeds so I can pick the sharp shot out of several when shooting handheld at really slow speeds.
Compared top
Intro Specifications Performance Compared Recommendations
See also Best Macro Lenses Compared.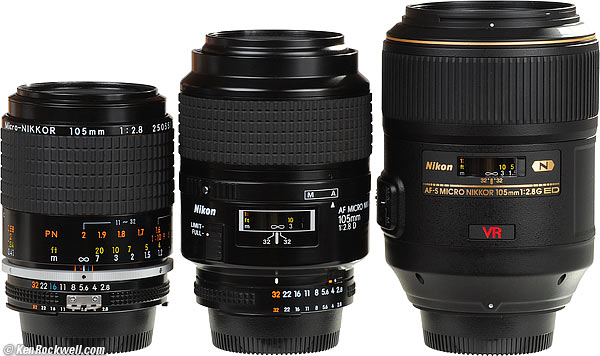 NIKKOR AI 105mm f/2.8s, AF 105mm f/2.8D and 105mm f/2.8G VR. enlarge.
Nikon's 105mm f/2.8 Micro-NIKKORs keep getting bigger.
All the 105 Micros are very sharp. I'm not going there here. See my 105mm shootout for that, which predates me getting my hands on this VR 105mm.
This VR lens is bigger, fatter, heavier and tougher than any previous 105 Micro, and even bigger and heavier than the 105mm f/1.8 AI-s. This newest 105 Micro as fat around as Nikon's first pro AF-S lenses, which needed all the internal space for the big pro AF-S motors.
The 200mm f/4 AF-D is a tiny bit sharper wide open if you work in a lab, but no different with live 3D subjects.
For shooting normal subjects, this is my favorite 105mm lens. The AF-S and instant manual-focus override make it the ergonomic winner.
I'd rather use the 70-180mm for serious macro work, since it doesn't breathe, and it zooms, too.
Recommendations top
Intro Specifications Performance Compared Recommendations
For general telephoto use, this, along with the 85mm f/1.8 AF, the 105 DC and 135 DC lenses, are Nikon's best fixed medium tele AF lenses.
I love VR, but for macro I always use flash to stop action and have enough light for small apertures to get depth-of-field.
For when I'm shooting macro for long periods of time and continuously reframing many different objects, I prefer the discontinued 70-180mm Micro.
Deployment
I'd leave either a 62mm Nikon Clear (NC - UV) filter, or a 62mm Hoya Super HMC UV on the lens at all times. I'd leave the hood at home.
If I was going to use this as part of a larger pro system, I'd attach a 62->77mm step-up-ring to convert this to today's pro standard of 77mm, and use a 77mm Nikon UV or Hoya UV filter for protection. This is what I really do; I just put on a step-up ring when I get a lens like this and treat it as if it's a 77mm filter thread len as long as I have it.
If you step it up to 77mm, don't forget a new "pinch" type Nikon cap in 77mm.
If I was working in nasty, dirty areas, I'd forget the cap, and use an uncoated 62mm Tiffen UV filter instead (or in 77mm). Uncoated filters are much easier to clean, but more prone to ghosting.
Help me help you top
I support my growing family through this website, as crazy as it might seem.
The biggest help is when you use any of these links when you get anything, regardless of the country in which you live. It costs you nothing, and is this site's, and thus my family's, biggest source of support. These places have the best prices and service, which is why I've used them since before this website existed. I recommend them all personally.
If you find this page as helpful as a book you might have had to buy or a workshop you may have had to take, feel free to help me continue helping everyone.
If you've gotten your gear through one of my links or helped otherwise, you're family. It's great people like you who allow me to keep adding to this site full-time. Thanks!
If you haven't helped yet, please do, and consider helping me with a gift of $5.00.
As this page is copyrighted and formally registered, it is unlawful to make copies, especially in the form of printouts for personal use. If you wish to make a printout for personal use, you are granted one-time permission only if you PayPal me $5.00 per printout or part thereof. Thank you!
Thanks for reading!
Mr. & Mrs. Ken Rockwell, Ryan and Katie.
Home Donate New Search Gallery Reviews How-To Books Links Workshops About Contact