Home Donate New Search Gallery Reviews How-To Books Links Workshops About Contact
Nikon 70-180mm
Micro-NIKKOR (1997-2004)
© 2008-2013 KenRockwell.com. All rights reserved.
How to Shoot Macro Best Macro Lenses Compared
Intro Specifications Performance Recommendations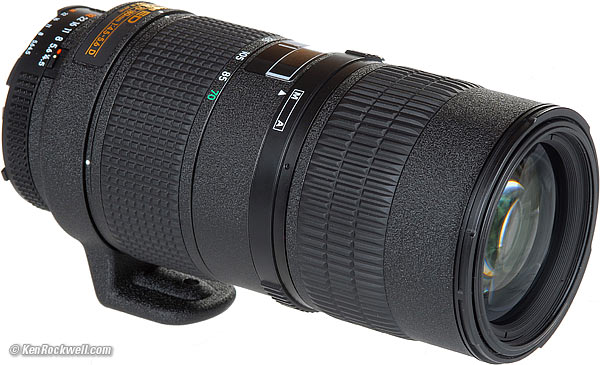 Nikon 70-180mm f/4.5-5.6 AF-D Micro-NIKKOR (FX, DX and 35mm coverage, 62mm filters, 35 oz./990 g, 1.2'/0.37m close focus, about $1,400 used).enlarge. I'd get it at this link directly to them at eBay (see How to Win at eBay).
My biggest source of support for this free website is when you use those or any of these links when you get anything, regardless of the country in which you live — but I receive nothing for my efforts if you buy elsewhere. I'm not NPR; I get no government hand-outs and run no pledge drives to support my research, so please always use any of these links for the best prices and service whenever you get anything. Thanks for helping me help you! Ken.
June 2013 Nikon Reviews Nikon Lenses All Reviews
Introduction top
Intro Specifications Performance Recommendations
This lens is a sleeper. No one ever bought it when it was available new, and like the AF 28mm f/1.4, people pay more for it used than they could have when it was new.
It's much smaller than the 80-200 f/2.8, even though it's made with the same quality.
You may want to consider this to use both as a macro lens and medium tele zoom, saving room in your bag.
I use this now for all my product shots. It is handier than the 105mm Micro AF because I can zoom to frame, instead of having to move back and forth and then refocus to frame.
Specifications top
Intro Specifications Performance Recommendations
Name
Nikon calls this the Nikon AF Zoom-Micro Nikkor 70-180mm f/4.5-5.6D ED.
Optics
18 elements in 14 groups, which is an awful lot. One ED element.
Diaphragm
Nine circular blades stopping down to f/32-40.
Close Focus
14 inches (0.37m) from the image plane; which is the back of the camera.
Maximum Reproduction Ratio
1:1.32 at 180mm (Use a 6T close-up lens for 1:1)
1:3.20 at 70mm.
Filter Thread
62mm.
Size
6.9" (175mm) long by 3.0" (75mm) diameter.
Weight
35 oz (990g).
It's small, compared to the f/2.8 zooms.
Tripod Collar
Fixed.
Rotates 300 degrees.
Hood
HB-14 plastic bayonet, included.
AF System
Old-style mechanical AF linkage, requiring you to unlock and rotate a ring on the lens to switch from AF to MF action, just like the AF 28/1.4 and AF 20-35/2.8.
Nikon Product Number
1983.
Announcd
27 August 1997.
Production
Made through about 2004.
Nikon made less than 20,000 of these.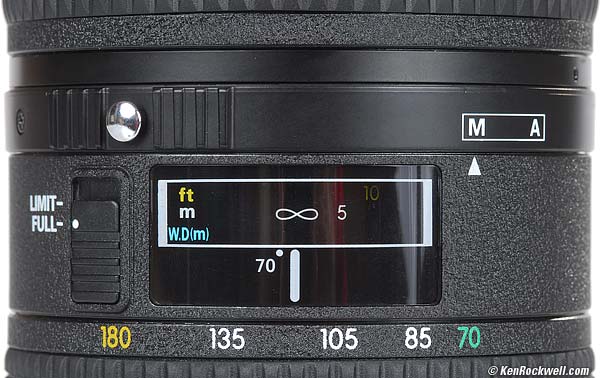 Nikon 70-180mm Focus and Zoom Rings
Performance top
Intro Specifications Performance Recommendations
Overall
Great!
There is no lateral color fringing on my D300 or D3, so product lettering never grows rainbows as it does with the 200mm f/4 Micro manual focus lens.
Autofocus
AF speed is slow, but remember that it focuses a lot closer than any other 80-200 zoom. I use this for macro, and I usually focus manually in macro.
It focuses almost to life-size at 180mm, but only a third life size at 70mm.
Diaphragm
The nine-bladed diaphragm gives round out-of-focus highlights, unlike the septagonal 7-bladed diaphragm of the 105mm AF.
Distortion performance top
The Nikon 70-180mm Micro-NIKKOR has some pincushion distortion, and it goes away at 70mm.
This can be corrected for critical use by plugging these figures into Photoshop's lens distortion filter. These aren't facts or specifications, they are the results of my research that requires hours of photography and calculations on the resulting data.
| | |
| --- | --- |
| | |
| 70mm | 0.0 |
| 85mm | -1.0 |
| 105mm | -1.8 |
| 135mm | -2.0 |
| 180mm | -2.0 |
© 2010 KenRockwell.com. All rights reserved.
Ergonomics performance top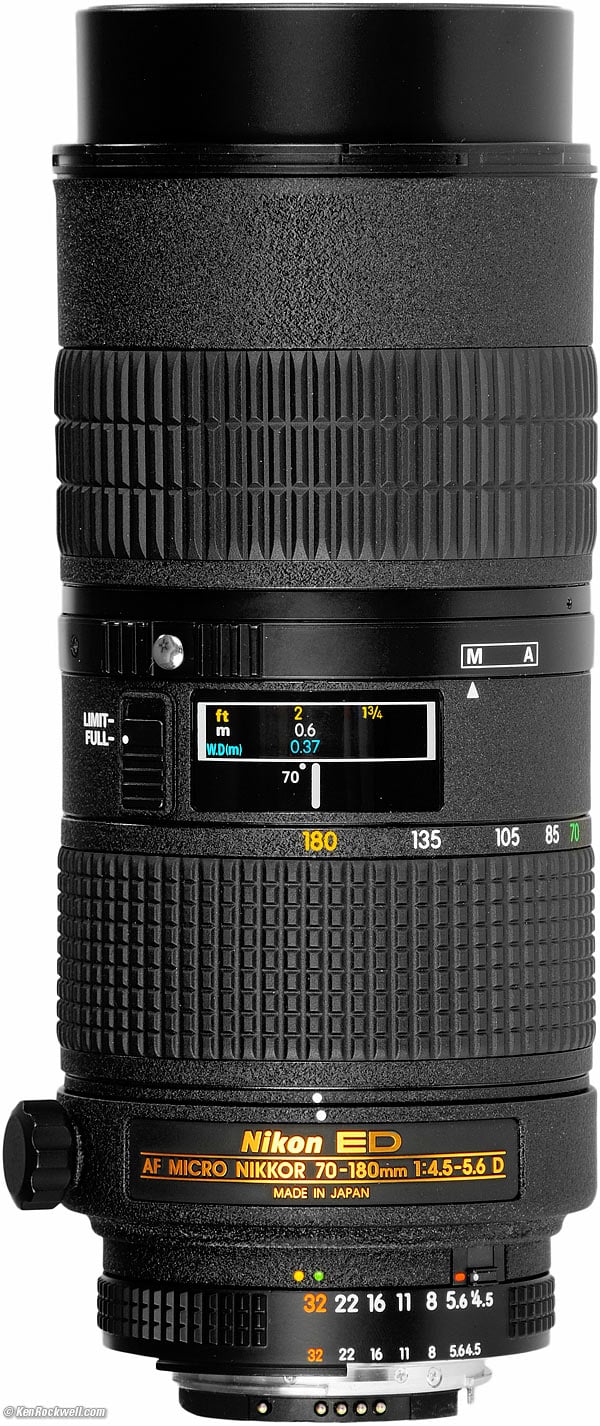 Nikon 70-180mm macro.
It's a screw-focus lens.
The front moves in and out as focused
Teleconverters
I doubt this f/5.6 lens would work very well with a TC, since it would get too dark to view. I use my TC-200 teleconverter with my AF 105mm F/2.8D all the time for easy 2x magnification. I focus manually and get great results, but that lens is two stops faster.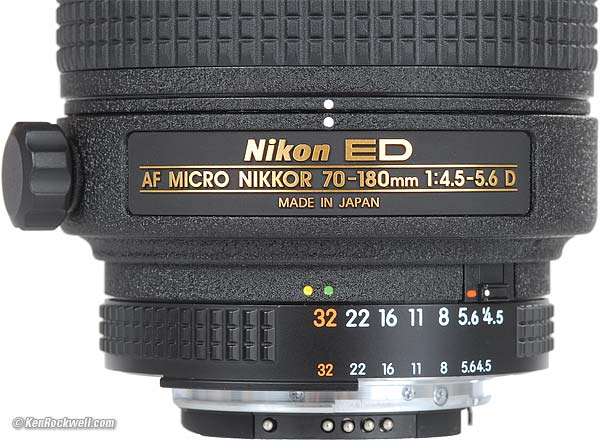 Nikon 70-180mm Identity Plate, on tripod collar.
Recommendations top
Intro Specifications Performance Recommendations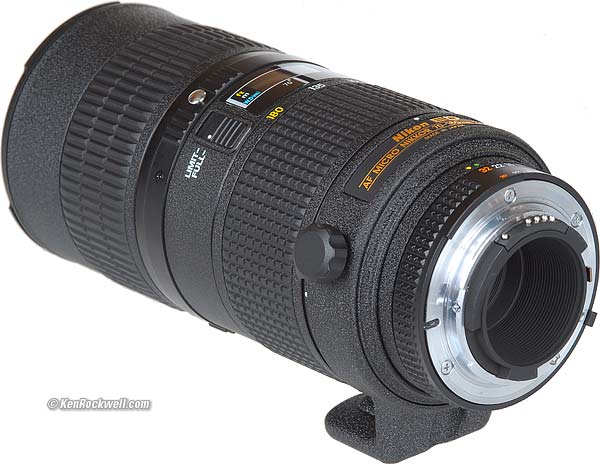 Nikon AF 70-180mm Micro
This lens exists to allow you to change macro image size without moving your camera. This is very, very handy, especially for anyone chasing little animals around or any kind of macro work.
Consider this little lens if you need both a 105 macro and an 80-200 zoom. It's much smaller than you think from looking at the catalog.
This one lens can replace both these lenses in your bag. It's not fast in AF or aperture, but it is as small as either one of the others. This way you'd effectively have the function of both lenses while only carrying one.
Help me help you top
I support my growing family through this website, as crazy as it might seem.
The biggest help is when you use any of these links when you get anything, regardless of the country in which you live. It costs you nothing, and is this site's, and thus my family's, biggest source of support. These places have the best prices and service, which is why I've used them since before this website existed. I recommend them all personally.
If you find this page as helpful as a book you might have had to buy or a workshop you may have had to take, feel free to help me continue helping everyone.
If you've gotten your gear through one of my links or helped otherwise, you're family. It's great people like you who allow me to keep adding to this site full-time. Thanks!
If you haven't helped yet, please do, and consider helping me with a gift of $5.00.
As this page is copyrighted and formally registered, it is unlawful to make copies, especially in the form of printouts for personal use. If you wish to make a printout for personal use, you are granted one-time permission only if you PayPal me $5.00 per printout or part thereof. Thank you!
Thanks for reading!
Mr. & Mrs. Ken Rockwell, Ryan and Katie.
Home Donate New Search Gallery Reviews How-To Books Links Workshops About Contact