Home Donate New Search Gallery Reviews How-To Books Links Workshops About Contact
Nikon 200mm f/4 AF-D Macro
AF-MICRO NIKKOR (1993-today)
World's Best Macro Lens.
© KenRockwell.com. All rights reserved.
How to Shoot Macro Best Macro Lenses Compared
Intro Specifications Performance Recommendations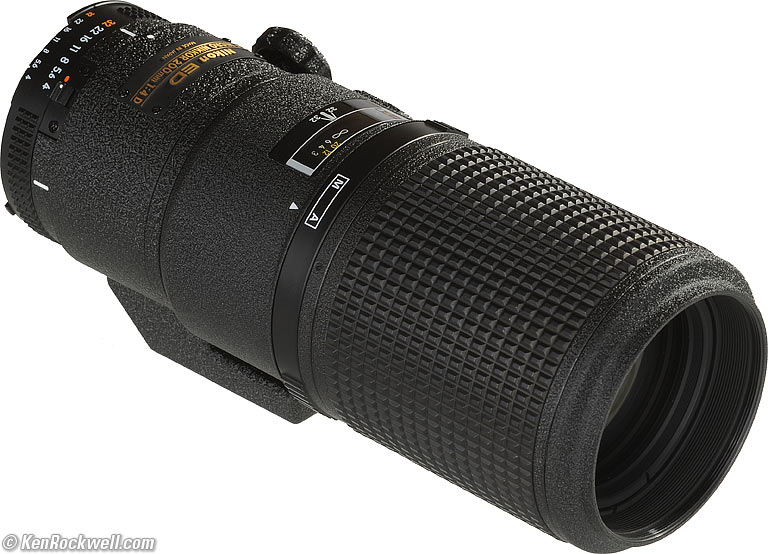 Nikon 200mm f/4 ED-IF AF Micro-NIKKOR. (FX, DX and 35mm coverage, 1:1 macro, 62mm filters, 41.6 oz./1,180g, about $1,650). enlarge. I'd get mine at Adorama or B&H Photo-Video.
My biggest source of support for this free website is when you use those or any of these links when you get anything, regardless of the country in which you live — but I receive nothing for my efforts if you buy elsewhere. I'm not NPR; I get no government hand-outs and run no pledge drives to support my research, so please always use any of these links for the best prices and service whenever you get anything. Thanks for helping me help you! Ken.
June 2013 More Nikon Reviews Nikon Lens Reviews
Nikon 200mm Lens Center Sharpness Compared
Nikon 200mm Corner Sharpness Compared
Why fixed lenses take better pictures.
Other Nikon 200mm f/4 lenses (all manual focus):
200mm f/4 AI-s Micro-NIKKOR (1978-2005) (1978-2005)
200mm f/4 AI-s (1981-1996)
200mm f/4 AI (1977-1981)
200mm f/4 Q (1961-1976)
| | |
| --- | --- |
| Optics: | Optical perfection. |
| Ergonomics: | Must move a switch for AF or MF. |
| Usefulness: | World's best macro and tele. |
| Availability: | Exotic and usually back-ordered. |
| Overall: | |
Ideal Uses
The 200mm Micro is Nikon's sharpest 200mm lens for use as a general purpose telephoto, as well as the dream lens of bug photographers. Only the $4,000 f/2 monsters might be as sharp.
This 200mm is exceptional for use with the D3X for landscape photography.
It's perfect for use on FX digital, DX digital and film.
Oddly, one other application to which it could be ideally suited, with its long focal length, zero distortion and insanely sharp optics, is the study of atmospheric heat shimmer.
Not for
Other faster lenses are better for environmental portraits, since f/4 can't lose the background that well and bokeh is only so-so.
This traditional AF lens will not autofocus with the cheapest D40, D40x and D60; get the 105mm VR Micro instead for those cameras. Barring that, it's a bit heavy and expensive, but its optics are extraordinary even for day-to-day use.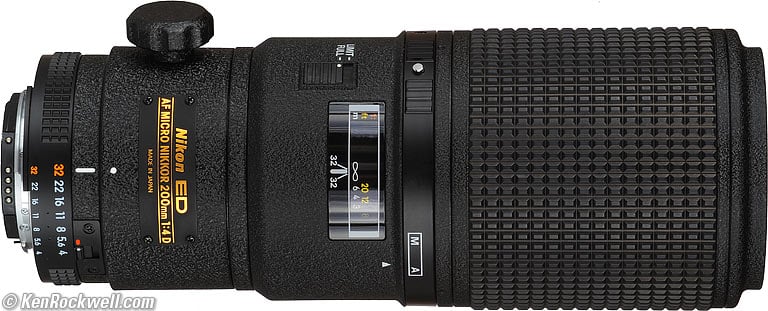 Nikon 200mm f/4 ED-IF AF Micro-NIKKOR. enlarge.
Introduction top
Intro Specifications Performance Recommendations
Compatibility History Production Pricing
The Nikon 200mm f/4 AF-D ED is simply nuts. I've never used a sharper 200mm lens. If shooting flat tests at any distance, I can't tell if it was shot at f/4 or stopped down. As far as sharpness goes, it seems to be optically perfect, even in the corners of the FX frame.
If you want the sharpest possible 200mm lens, this is it, even if you don't need the macro ability. I haven't tried the $4,000 200mm f/2 VR, which is probably as good for three times the price, and adds VR. The f/2 "super-Chub" should be better for portraits, sports and people.
Definitions
Micro: Nikon uses the word Micro to sound cool. It means the same as macro. I'll use the two words interchangeably.
Normal Distances: Normal distances are from about 6 feet (2m) to infinity, the range over which ordinary 200mm lenses focus. Closer distances are the macro range.
Compatibility back to intro back to top
The 200mm f4 AF works great with almost every film and digital Nikon camera made since 1977. If you have a coupling prong added to the diaphragm ring, it's perfect with every Nikon back to the original Nikon F of 1959.
The only incompatibility is that it will not autofocus with the cheapest D40, D40x and D60, but if you focus manually, everything else works great. The D40, D40x and D60 even have in-finder focus confirmation dots to help you.
See Nikon Lens Compatibility for details on your camera. Read down the "AF, AF-D (screw)" column for this lens.
History back to intro back to top
1978-2005: Nikon made a completely different manual focus 200mm f/4 Micro. It had 9 elements in 6 groups, great one-finger internal focus, took 52mm filters and got down to 1:2 (0.71m or 28"). Its optics were inferior because it had strong lateral color fringes in the macro range. The AI version was made from 1978-1982, and the AI-s from 1982-2005.
22 December 1993-today: This AF-D micro was Nikon's first AF 200mm lens. It was introduced among the first AF-D lenses. even after 15 years, it is still sold unchanged in 2009.
Production back to intro back to top
Nikon has only made about 12,000 of these 200mm AF Micro lenses over the past 15 years, and still makes them today. This makes them relatively rare, even to find new. For comparison, Nikon has made millions and millions of 50mm lenses.
Nikon made only about 40,000 of the inferior manual focus lens.
Pricing back to intro back to top
The 200mm Micro has always cost a grand or two, corrected for inflation. This is why Nikon sells so few of them. The dollar price hasn't changed much in 15 years, so it's actually the cheapest it's ever been today.
Price,
new*

Corrected for
inflation, 2008

1994

$1,300

$1,920

1995

$1,400

$2,010

1996

$1,220

$1,700

1997

$1,455

$1,980

1998

$1,250

$1,680

1999

$1,250

$1,640

2000

$1,325

$1,680

2005

$1,340

$1,500

2008

$1,340

$1,340

2009

$1,656

2010

$1,630
* At full NYC discount. Local retail will be higher.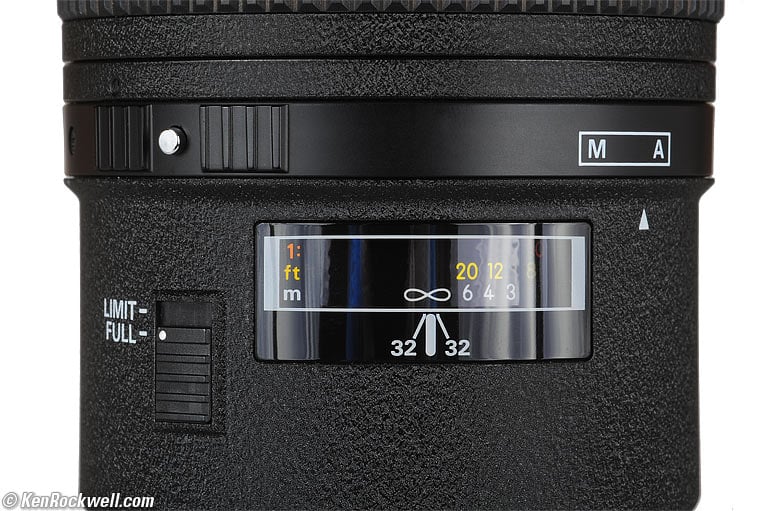 Focus Controls, Nikon 200 Micro.
Specifications with commentary top
Intro Specifications Performance Recommendations
Name: Nikon calls this the AF Micro-Nikkor 200mm f/4D IF-ED.
AF: Auto Focus.
Micro-Nikkor: Macro lens.
D: The lens tells the camera the distance to the subject, which helps the exposure meter, especially with on-camera flash.
IF: Internal focusing. Nothing moves outside the lens as you focus.
ED: Extra-low Dispersion glass, for reduced secondary lateral color fringes.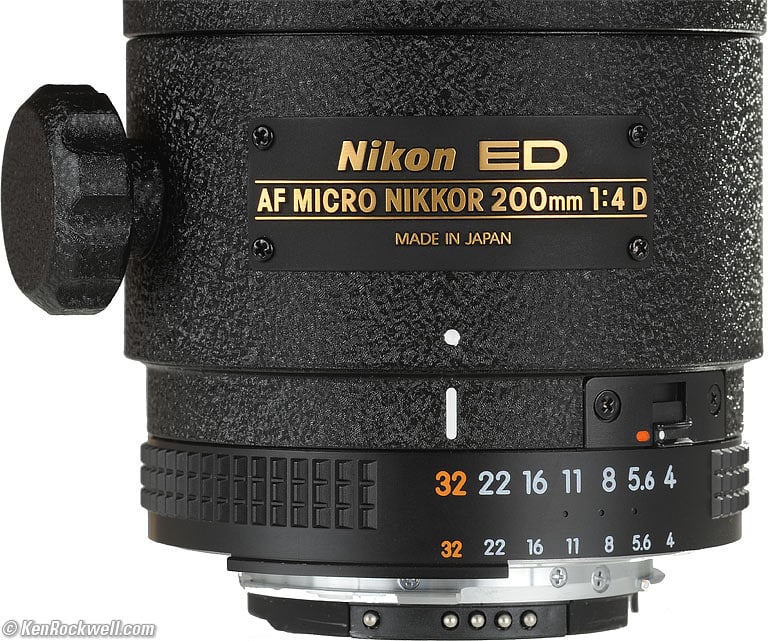 Identity plate, tripod collar and aperture controls, Nikon 200mm Micro.
Optics: 13 elements in 8 groups, which is a huge amount of elements for any fixed-focal length lens. Two elements are of ED glass. This explains the incredible performance.
Nikon also calls the floating element IF system "CRC," for close-range correction. This means this lens optimizes its design for perfect performance as you focus at any distance, and it works!
It's multicoated, which Nikon calls SIC, Super Integrated Coating.
Close Focus: 1-5/8 feet (0.5m).
Working Distance: 10.2" (260mm), the distance between the subject and the front of the lens at 1:1.
Maximum Reproduction Ratio: 1:1, life size on-film or on-sensor.
Hard Infinity Focus Stop? No.
Focus Scale: Yes.
Reproduction Ratio Scale: Yes, in orange from 1:10 to 1:1.
Depth-of-Field Scale: Yes, but only a tiny one for f/32.
Infra-Red Focus Index: No.
Diaphragm: 9 traditional straight blades. Stops down to f/32 at infinity, f/45 at 1:1.
Aperture Ring: Yes, full-stop clicks.
Filter Thread: 62mm, metal. Does not rotate.
Tripod Collar: Yes, two holes. Rotates and locks, but does not come off. more info.
Size: Nikon specifies 7.60" (193mm) extension from flange (7.95" [202mm) overall) by 3.00" (76mm) diameter.
Weight: 41.610 oz. (1,179.6g), measured on a lens made in 2007. Nikon specifies 42.0 oz. (1,190g).
Hood: HN-30 metal screw-in, not included.
Case: CL-45 hard black fake leather tubular case, included.
Teleconverters: Nikon suggests no teleconverters for use with the 200mm AF Micro.
Made in: Japan.
Introduced: 22 December 1993.
Nikon Product Number: 1989 NAS, in catalog as of Spring 2008. Only better pro NAS (Nikon Advanced Systems) dealers like Adorama and B&H Photo-Video can sell this; your local camera store, even if authorized to sell Nikon consumer products (NCP) like the D300, may not be able to order these professional products for you.
Price:
2009 December: $1,650, USA.
2008 August: $1,340, USA.
Packaging: Exquisite gold-foil box as sold in Japan. Uglier "History of Nikon" picture box in USA.
The lens is put in a plastic bag, and popped in the case. The case goes in the box with no additional packing material . The literature and strap sit outside the case. Odd for a lens this expensive, you're on your own for buying the hood.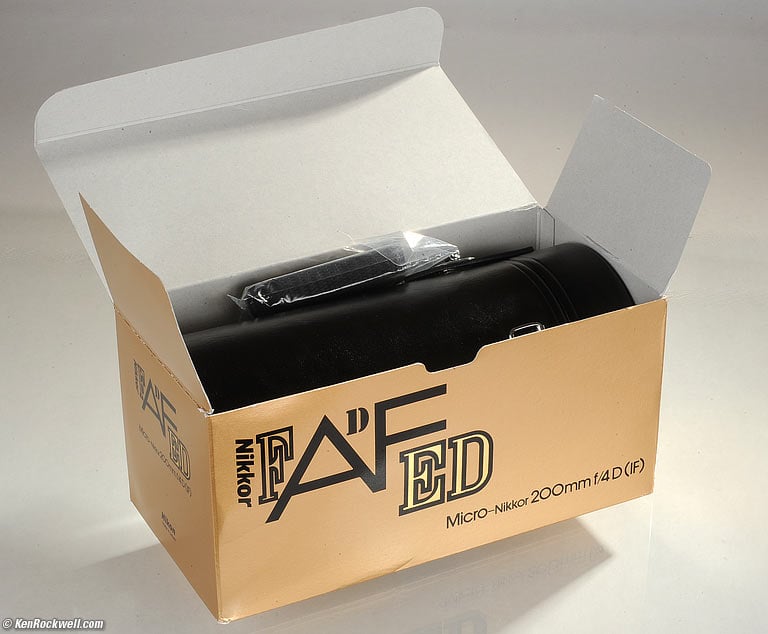 Nikon 200mm f/4 AF Micro, as sold today in Japan.
Performance top
Intro Specifications Performance Recommendations
Overall Focus Bokeh Color Distortion Falloff Filters Color Fringes
Maximum and Minimum Apertures Mechanics Sharpness Sunstars Tripod Collar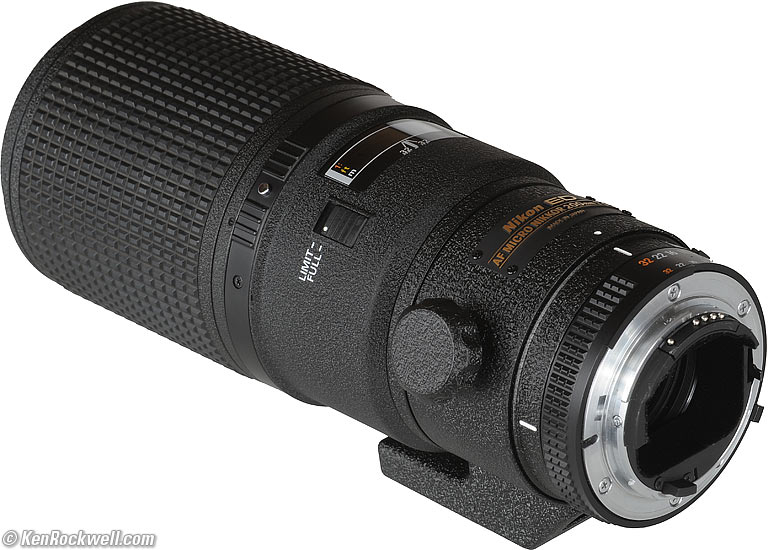 Nikon AF 200mm f/4 D ED-IF Micro-NIKKOR. enlarge.
Overall back to Performance back to top
The 200mm f/4 D AF Micro is among Nikon's sharpest and most distortion-free lenses ever. It's also built like a tank. If you want one, just get it. It's unbeaten for use as a regular telephoto as well as for macro.
Focus back to Performance back to top
Most macro shooters use manual focus. I do. The huge manual focus ring feels great for manual use.
Like most AF macro lenses, there is such a huge range covered that it's common for the AF system to hang up if you're at the wrong end of the focus range. It works fine at normal distances, but it will drive you nuts if you expect the AF system to bang the lens from macro to normal ranges using the AF system. Canon Macro lenses are much better at AF.
AF Speed
If you expect the AF system to pull the lens between macro and normal distances, AF is slow. It's geared for precision instead of speed, and has a huge range to cover.
One full turn (two half-turns) of the AF screw pulls focus from infinity down to 25 feet.
Used for normal distances, AF is just fine.
AF Accuracy
AF is right on.
Manual Focus
Manual focus is easy. The focus ring feels great, although not as slippery as dedicated manual focus lenses.
Manual focus is geared just right for macro use. It's easy to bring the lens to and from the macro range with one turn of the wrist.
Focus Ring
The focus ring locks for steady hand-holding while in AF. It only rotates when set to MF.
Use on the N2020
Nikon cautions that you might screw up an N2020 (aka N-501) if you set the lens to MF but leave the N2020 in AF. Move both switches.
On other cameras, it's AOK to leave the camera in AF all the time and use the easy AF-MF thumb set ring to switch.
Bokeh back to Performance back to top
Bokeh is poor, both at f/4 and f/8. This 200mm micro lens is designed for crazy sharpness and no distortion at any distance; bokeh didn't make the designers to-do list.
Color Rendition back to Performance back to top
The color rendition of this 200mm AF Micro seems the same as my other modern Nikkor AF lenses.
Distortion back to performance back to top
The 200mm f/4 AF Micro has no visible distortion at any distance.
It's as if the designers of this micro lens paid a visit to the guys at Nikon Precision who make steppers and scanners for manufacturing computer chips and LCDs, for which any distortion is absolutely not tolerated.
What invisible levels of distortion are present at just some distances can be corrected for extra-critical use by plugging these figures into Photoshop CS2's lens distortion filter. These aren't facts or specifications, they are the results of my research that requires hours of photography and calculations on the resulting data.
| | | |
| --- | --- | --- |
| | Visible Effects | |
| ∞ | | tbd |
| 100' (30m) | none. | 0.0 |
| 20' (6m) | none. | 0.0 |
| 10' (3m) | none. | 0.0 |
| 1:10 (8ft, 2.5m) | none. | -0.2 |
| 1:8 (6ft, 2m) | none. | -0.1 |
| 1:4 | none. | -0.2 |
| 1:2 | none. | 0.0 |
| 1:1 | none. | 0.0 |
© 2008 KenRockwell.com. All rights reserved.
Falloff (darkened corners) back to performance back to top
Falloff on FX is minor wide open, and invisible by f/5.6. It won't be an issue at all on DX (see crop factor).
I've exaggerated this by shooting a gray field and placing these on a gray background. Even with this, falloff is the lowest I've seen on any lens by f/8 at any distance. What look like blank rectangles at f/8 and f/11 are the actual images created by this 200 f/4 Micro.
Nikon 200mm f/4D AF falloff on FX and film.
At infinity.
At 1:10.
At 1:4.
At 1:2.
At 1:1.4.
At 1:1.
© 2008 KenRockwell.com. All rights reserved.
Filters, Use with back to Performance back to top
There is no problem with vignetting, even with combinations of thick filters. The 62mm filter thread is generous.
The filter ring does not rotate.
Lateral Color Fringes back to Performance back to top
Are you kidding? ZERO!
There are no visible lateral color fringes on the D3. I didn't check, but doubt there will be any on older or lesser cameras which can't correct these as does the D3.
Maximum and Minimum Apertures back to Performance back to top
Repro Ratio

Maximum
Aperture

Minimum
Aperture

Infinity - 1:10

f/4

f/32

1:10 - 1:4

f/4.2

f/36

1:4 - 1:2.5

f/4.5

f/36

1:2.5 - 1:1.8

f/4.8

f/40

1:1.8 - 1:1.2

f/5.0

f/40

1:1.17 - 1:1

f/5.3

f/45
Mechanics back to Performance back to top
Like Nikon's other pro AF lenses of the early 1990s, the 200mm Micro-NIKKOR is built like a tank.
It's a black crinkle-coated ingot of precision.
Barrel Exterior: black crinkle-coated metal.
Filter Threads: Anodized aluminum.
Focus Ring: Metal; rubber covered.
Depth-of-Field Scale: Yes, but only for f/32.
Internals: Metal.
Aperture Ring: Plastic, painted numbers.
Mount: Dull-chromed brass.
Markings: Paint.
Identity Plate: Embossed and planed metal.
Serial Number: Laser engraved onto bottom rear of aperture ring.
Ass-Gasket (dust seal at mount): No.
Noises When Shaken: Clangy klunking from the internal focus mechanism.
Proudly made in: Japan. The Japanese-market box even says "Made in Japan" right under the Nikon logo.
Sharpness back to Performance back to top
Warning 1: Image sharpness depends more on you than your lens.
Warning 2: Lens sharpness doesn't mean much to good photographers.
With those caveats, the 200mm f/4 AF Micro is among Nikon's sharpest lenses ever. It is the sharpest lens Nikon has made short of the $5,000 super-teles. Unlike ordinary lenses, the 200mm micro simply refuses to get softer in the corners of the FX frame or wide open.
It is so sharp, even wide-open, that I thought it was stopped down. I had to check my data to make sure that it really was wide open. Likewise, I had to keep checking that my D3 really was set at 12 MP, since pixel-by-pixel it is so sharp that I thought for sure I had my D3 turned down to a lower resolution, where it's much easier to create sharp pixels when there are fewer of them.
The only limitations are the usual of atmospheric conditions (for distant shots), motion, limited depth-of-field, subject parallelism and alignment, and of course diffraction at the smallest apertures.
Sunstars back to Performance back to top
Oddly, I can't see any but the very slightest sunstars, even shooting the sun reflecting off windshields and chrome.
I haven't yet tried shooting distant terrestrial points of light at night.
Tripod Collar back to Performance back to top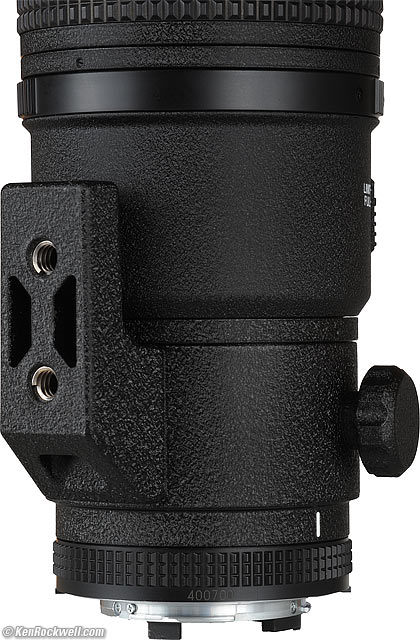 Nikon 200mm Micro Tripod Foot. enlarge.
The triopod collar doen't come off. It rotates and has a knob to lock it. It doens't get in the way for hand-held shooting.
There are two holes. You'll want to use the rear hole for the best balance with pro (D3, F4, etc) and mid-line (D300, D700, F100 etc.) cameras. The only catch is that many tripod heads will be too big to clear the big bottom battery holders of pro cameras, so you'll need a no-longer-available Nikon AH-5 tripod spacer to lift the whole thing away to clear your tripod head.
If you lack clearance with a pro camera, you can use the front hole. Smaller cameras like the D700 have no clearance issues since the tripod foot descends below the base of the smaller cameras.
Really light cameras, like an FG, will balance better with the front hole.
back to Performance back to top
There is no equal.
The 200mm f/4 Micro-NIKKOR manual focus lens was inferior, with strong lateral color fringes in the macro range which render it poor for photographing products with lettering, as I usually do.
Canon makes a 180mm f/3.5 Macro which is legendary among Canon shooters. It has very similar specifications and costs about the same. I expect that is is also a stellar performer. I haven't tried it, but it appears to have the same insanely great optics, but probably much faster autofocusing.
Recommendations top
Intro Specifications Performance Recommendations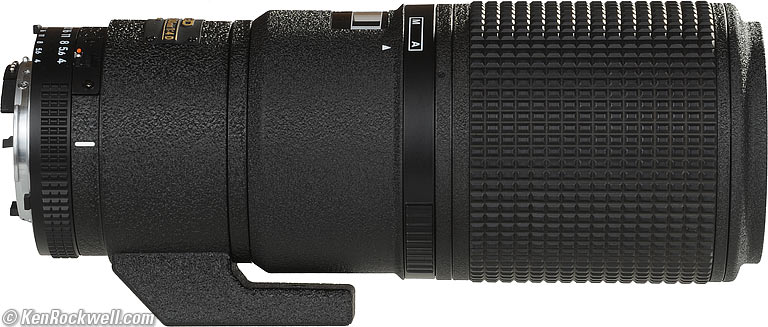 Nikon 200mm Macro. enlarge.
You want one? Get one. The 200mm Micro is an incredible lens, but rarely seen because of its relatively high price.
The reason to get a 200mm Micro is either for an incredibly sharp general telephoto lens, or for serious macro work where you don't want to be right on top of your subject.
Deployment
Studio
Used in the studio, where I have numerous lights always moving around and often shining back at me, I shoot this with no filter and just the HN-30 hood.
Field use as a general telephoto
I attach a 62->77mm step-up-ring to convert this to today's pro standard of 77mm, and use a 77mm Nikon UV or Hoya UV filter for protection.
I use a step-up ring when I get a lens like this and treat it as if it's a 77mm filter thread as long as I own it. This way I only need to carry one set of filters to fit all my lenses.
I bought a new 77mm Nikon lens cap, and save the original 62mm cap in the box along with the case I don't use.
The lens barrel is wider than the 62mm filter threads, so the step-up ring fits right in.
Field use for angry snakes or violent human subjects
I'd do the same, except I'd use an ordinary uncoated 77mm Tiffen UV filter (or 62mm) instead. Uncoated filters are much easier to clean, but more prone to ghosting.
The Tiffens are made of laminated glass, so they remain mostly as one piece when shattered because of their plastic inner core, just like a car windshield. The Hoya and Nikon filters are solid glass, which splinter into dangerous shards when broken.
The Future
Seeing how Nikon has introduced AF-S versions of the 105mm and 60mm AF Micro lenses, I would expect an AF-S version of the 200mm Micro.
Seeing the extraordinary optics and mechanics of this AF-D 200mm Micro, I wouldn't wait around for an AF-S version. I prefer the earlier versions of the 60mm and 105mm lens anyway, so I have a sneaking suspicion that any replacement for this 200mm will be plasticy and less exciting than today's 200mm D AF Micro.
Any new version is certainly going to be gelded ("G," having its aperture ring chopped off), so a newer version won't work with older or manual focus film cameras. This lens today works great with everything.
A new lens might have VR, which might be useful in the studio. I haven't had any problems, but studio strobes tend to have long-duration flashes (about 1/250 second), during which there could be some sharpness improvement for a small percentage of hand-held shots with VR.
More Information: Nikon, Japan.
Help me help you top
I support my growing family through this website, as crazy as it might seem.
The biggest help is when you use any of these links when you get anything, regardless of the country in which you live. It costs you nothing, and is this site's, and thus my family's, biggest source of support. These places have the best prices and service, which is why I've used them since before this website existed. I recommend them all personally.
If you find this page as helpful as a book you might have had to buy or a workshop you may have had to take, feel free to help me continue helping everyone.
If you've gotten your gear through one of my links or helped otherwise, you're family. It's great people like you who allow me to keep adding to this site full-time. Thanks!
If you haven't helped yet, please do, and consider helping me with a gift of $5.00.
As this page is copyrighted and formally registered, it is unlawful to make copies, especially in the form of printouts for personal use. If you wish to make a printout for personal use, you are granted one-time permission only if you PayPal me $5.00 per printout or part thereof. Thank you!
Thanks for reading!
Mr. & Mrs. Ken Rockwell, Ryan and Katie.
Home Donate New Search Gallery Reviews How-To Books Links Workshops About Contact