The finder crops a bit, but seems happy even with my 10.5mm DX fisheye. At worst, the left and right sides in APS-H might be cropped-in just a little bit. For all I know, it might see a little more than 180º on APS-H!
See Nikon Lens Compatibility for more.
APS Lenses
All DX and FX lenses work on the Pronea S.
Nikon also made a series of very cheap lenses specifically for the APS cameras, called IX Nikkor.
The Pronea S came with a 30-60mm f/4-5.6 IX-Nikkor. The 30-60mm, with a field of view very roughly similar to the field of view of a 35-70mm lens used on a 35mm camera, has a traditional mechanical (screw) AF coupling, and no aperture ring. It focuses to 1.2 feet (0.35m). It wasn't called G, even though it was among Nikon's first gelded lenses.
The 30-60mm IX, at 3.3 oz (93g) is Nikon's lightest interchangeable lens ever made, and is very sharp even wide-open.
See Nikon IX (APS) Lenses for more.
History
"Pronea" comes from a loosely translated Japanese acronym which meant something like PROfits at Nikon Exponentially Ascending. This refers to the great APS conspiracy of the 1990s which was plotted to make great profits for Nikon, Kodak and Fuji.
Nikon's first APS SLR was the Pronea 6i of 1997. It had a metal lens mount, a bigger rear LCD and more features than the Pronea S.
The cheaper and crappier Pronea S replaced the Pronea 6i in stores in 1999.
By 2001, APS cameras had already been forgotten.
Pricing
MSRP New, 1998: $520.
Actual Selling Price, 1999: $370, with 30-60mm lens.
Actual Selling Price, 2000: $250, with 30-60mm lens.
Closed-out by 2001.
Price, Used, 2008: $25, typical, if working, with 30-60mm lens.
Specifications with commentary back to top
Intro Specs Performance Usage Recommendations
AF Sensors: One.
AF Range: LV 1-21.
Finder: Little thing with digits on the right side. Penta-mirror. 87% coverage of negative, 95% coverage of actual printed area. 0.75x magnification with 50mm lens. -1.5 to +0.5 Diopter adjustment.
Finder Displays (top to bottom, along right side of image): +/- mark, Shutter, Aperture, three-segment (> o <) focus indicator and flash bolt.
Depth-of-Field Preview: None.
Meter: 6-segment 3-D Matrix.
Meter Range: LV 1 to LV 20 (f/1.4 lens).
Exposure Modes: P, S, A and a few dummy modes. M mode, but only if you screw with it with a manual lens or in Bulb.
Exposure Compensation: ± 2 stops, in half stops.
ISO Range: 25 ~ 10,000. (Yes, ISO 10,000, not that any APS film ever got there.)
Shutter: 1/2,000 to 30 seconds, Bulb. Half stops. With IR remote: bulb setting becomes Time.
Flash Sync: 1/125.
Shutter speed, normal sync, Program mode: 1/60 ~ 1/125.
Remote Control: ML-L3 IR Remote.
Built-in flash: Yes, rated 52/16 (ISO 200, feet/m), 37/11 (ISO 100, Feet/m). Rated to cover 24mm lens.
Flash Exposure: Matrix balanced TTL fill flash. (Standard TTL with old manual focus lenses.)
Clock: Works through the end of 2029.
Clock Backup: Rated 5 seconds when changing batteries.
Power: Two CR2 Lithium. Rated 41 rolls of 25 exposures without flash, 19 rolls of 25 exposures with flash half the time. With MB-11 you can use four AA batteries.
Size: Rated 4.6 x 3.4 x 2.2" (116 x 87 x 57mm).
Weight: Rated 11.5 oz (325g) by Nikon, without batteries.
Made in: Thailand.
Accessories:
CS-27 Case for use with IX 30-60mm, actual selling price $32.50 (1999)
CS-28 Case for use with IX 60-180mm actual selling price $34.95 (1999)
NS-9 Strap for Pronea-S (blimey, Nikon shorted you the strap?) actual selling price $12.95 (1999)
See the tiny Pronea S compared to the small 50mm lens: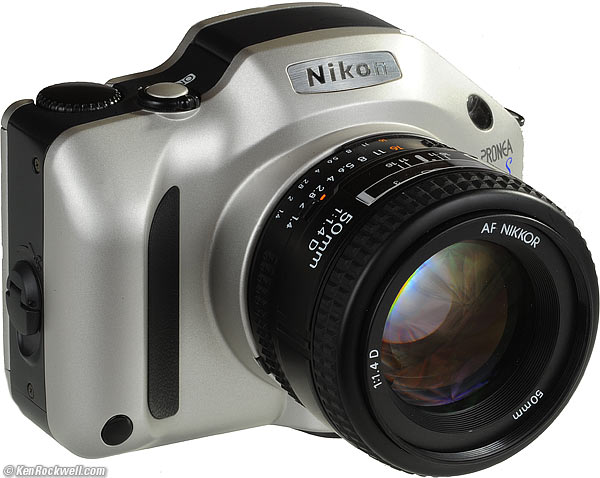 Nikon Pronea S and 50mm f/1.4 AF-D.
Performance back to top
Intro Specs Performance Usage Recommendations
Focus
AF works great. It's super fast with the included 30-60mm lens. It's less fast with other traditional AF lenses, but fast with AF-S lenses.
AF is always in the AF-A mode, meaning the Pronea S guesses if your subject is still or moving. If the Pronea S guesses it's stopped, it locks focus so you can recompose. If it guesses the subject is in motion, the Pronea S tracks focus and you can shoot at any time.
Manual focus also works well, with a precise 3-segment manual focus indicator. This is better than most cheaper digital Nikons.
Exposure
Since APS only offers print film, its hard to make any precise observations.
Exposure was fine for everything I could throw at it. Since it appears to be the same system as the spectacular N90s, I would suspect it would work great with slide film, or as a hack as part of any bizarre camera system into which you might Frankenstein it.
Flash exposure was also fine, and backlit and fill-flash shots were perfect. Program mode shifts itself in steps as focal length changes, and of course you can shift it yourself.
There is no manual exposure mode, except with manual focus lenses, which only work in Manual exposure. USe the S mode to set your shutter speed, and set the aperture on the lens.
Better than any Nikon digital, when used with the ML-L3 IR Remote, and set to Bulb, you get time exposures as long as you want, limited only by your own patience and the batteries. Nikon rates the batteries as good for two hours of time exposure.
Flash
There is no hot shoe or PC terminal.
You've got your built-in flash, and that's it.
In normal sync and program mode, you'll be shooting at between 1/60 and 1/125.
Slow Sync and red-eye are easy to set: hold the flash button and look at the LCD.
The flash lacks Rear sync.
There are no preflashes, and it works fine with traditional slaves like the SU-4.
Usage back to top
Intro Specs Performance Usage Recommendations
Frame Counter and Film Wind
Film advances as you shoot, and rewinds at the end of the roll. Rewind takes 10 seconds for a 25-exposure roll.
The frame counter counts backwards, telling you how many frames you have left.
Processed film reads correctly: the first frame reads frame 1.
Cropping
You set this with a button to the left of the finder.
Unlike the D3, it's not easy to hit this while you're shooting on the Pronea S. You have to take the Pronea S away from your eye to change it.
Every lab will print these sizes differently. Good luck!
Manual Exposures
To get manual exposure, use a manual focus lens. Weird, but true.
Set the Pronea S to S mode to select the shutter speed, and select the aperture on the lens' aperture ring.
Rear LCD
THe rear LCD has no backlight, but is very easy to read in anything but total darkness.
Date and Time Imprints
Imprints are coded magnetically on the film when it's rewound. Some photo labs read these codes and will imprint your prints, most won't.
To select the date and/or time imprints, with the camera OFF, tap the self timer button behind the back door.
---- --- means you'll get no imprint.
Selecting either the date or time display should print that on each image, depending on your lab. At Costco, nothing imprinted on the front or in the scans, although Costco did imprint the date on the back of each print.
Stupid Saying Imprints
To set these, turn on the power and use the Pencil and Flag buttons behind the rear door.
To set the language, hold the bottom right Flag button and spin the top dial.
To set the message, hold the Pencil (only) button and spin the knob.
For no stupid saying, select "- -" with the Pencil button.
For posterity's sake, here is a brief quotation from the manual listing the settings.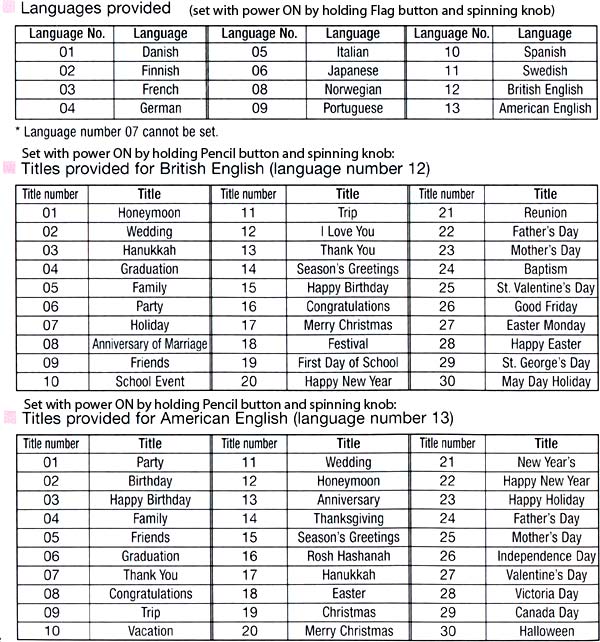 Recommendations back to top
Intro Specs Performance Usage Recommendations
For a lightweight, low cost film SLR for actual photography, I'd get a Nikon N75 or N55 instead.
If you share my sense of humor, like the people who pay high prices for collectible AMC Concords, go ahead and pick up a Pronea S before the collectors get all sentimental over them and their prices skyrocket.
Even if the film doesn't advance or the shutter won't fire, all three I bought can be used as a hand-held 6-segment 3-D matrix meter for use with any meterless film camera, like Nikon's 1950s SP rangefinder or a view camera. Set the Pronea to Shutter-priority mode and to the same speed as the other camera's shutter, and read the f/stop right off the back of the Pronea. You can't find a better deal on a light meter, and this one is among Nikon's best.
I find that a Pronea S also makes a great desk clock. When turned off, tap the self-timer button to display your choice of the calendar, or the 24-hour clock. The big, bold LCD is always visible.
PLUG
I support my growing family through this website.
If you find this as helpful as a book you might have had to buy or a workshop you may have had to take, feel free to help me continue helping everyone.
If you've gotten your gear through one of my links or helped otherwise, you're family. It's great people like you who allow me to keep adding to this site full-time. Thanks!
If you haven't helped yet, please do, and consider helping me with a gift of $5.00.
The biggest help is to use these links to Adorama, Amazon, B&H, Ritz, and J&R when you get your goodies. It costs you nothing and is a huge help to me. These places have the best prices and service, which is why I've used them since before this website existed. I recommend them all personally.
Thanks for reading!
Ken