Home Donate New Search Gallery Reviews How-To Books Links Workshops About Contact
Nikon 200-400mm VR
(2003-2010)
© 2010 KenRockwell.com. All rights reserved.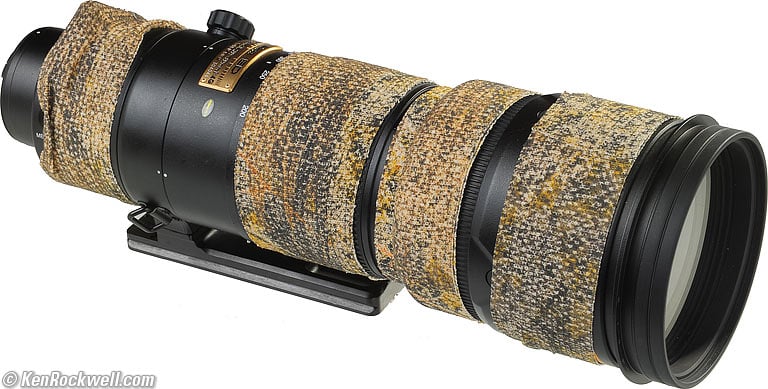 Nikon 200-400mm f/4 VR, as adapted by an American sportsmen (FX, DX and 35mm coverage, 52mm drop-in filters, 7.2 pounds (115 oz. or 3,275g), 6.5'/2m close focus). enlarge. My biggest source of support is when you use any of these links, especially this link directly to them at eBay (see How to Win at eBay), when you get anything, regardless of the country in which you live. Thanks! Ken.
March 2013 Nikon Reviews Nikon Lenses All Reviews
NEW: Nikon 200-400mm VR II replaces this lens as of May, 2010.
Optics:
for working pros.
for armchair photographers.
Ergonomics:
Usefulness:
A long lens for special needs.
Availability:
Often out of stock.
Overall:
Ideal Uses: Perfect for sports, nature and wildlife on FX digital, DX digital and film.
Not for: Backpacking. It weighs over seven pounds (3.2kg).
Introduction top
Intro Specifications Performance Recommendations
Compatibility History & Production Pricing
The Nikon 200-400mm f/4 VR is the largest of Nikon's pro AF-S zooms in 2008, which includes the 14-24mm f/2.8, 17-35mm f/2.8, 24-70mm f/2.8 and 70-200mm f/2.8 VR.
Like the rest of this group, it's a lens designed for professionals for grueling daily use in all conditions while delivering superb optical quality.
Often these lenses are camouflaged for use in the bush. This one, as loaned to me by an American sportsman, was wrapped in camo bandage tape for grip.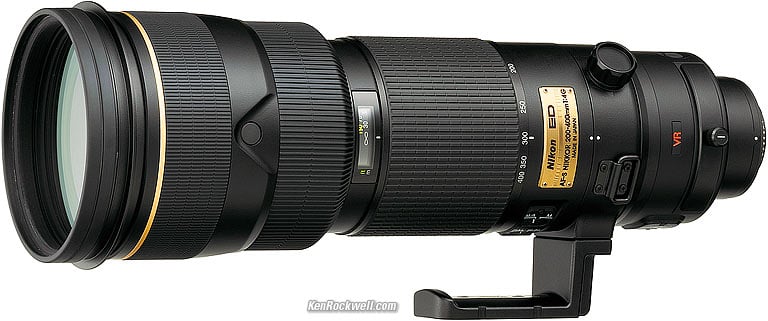 Nikon 200-400mm f/4 AF-S (press PR photo, no camo). enlarge.
Compatibility back to intro back to top
Everything works perfectly on every digital Nikon, both FX and DX.
It's also perfect on decent or recent AF film cameras like the F6, F100, F5, N80 and N75.
The incompatibilities for older or cheaper film cameras are that:
1.) It won't autofocus with the cheapest new AF film cameras like the N55, but if you focus manually, everything else works great. Even if you lose autofocus, these cameras have in-finder focus confirmation dots to help you.
2.) Late 1980s ~ early 1990s AF cameras like the N90s, N70 and F4 will focus just fine, but you'll lose VR. You'll have Program and Shutter-priority modes, but lose Manual and Aperture-priority since you have no way to set the aperture on the camera or on the lens.
3.) You're really pushing it with the oldest AF cameras like the N2020, N6006 and N8008. No AF, confused exposure modes, and no VR. Manual focus is fine, along with electronic focus indications.
4.) Since it has no aperture ring, it's just about useless with manual focus film cameras.
See Nikon Lens Compatibility for details on your camera. Read down the "AF-S, AF-I" and "G" and "VR" columns for this lens. You'll get the least of all the features displayed in all columns, since "G" (gelding) is a handicap which removes features.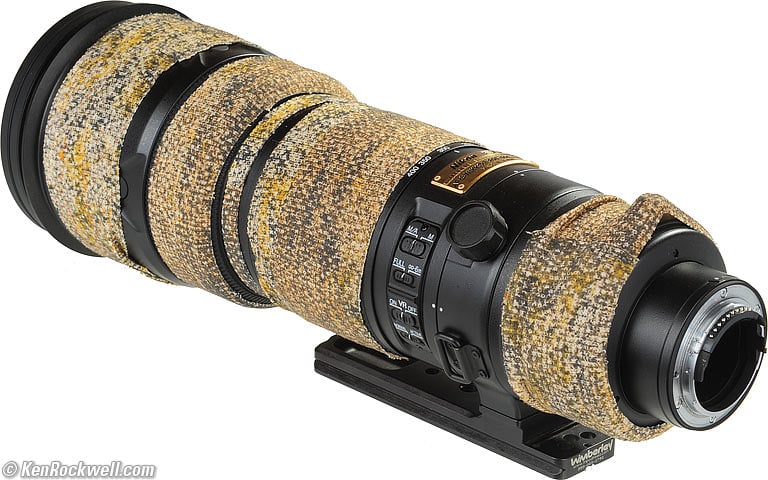 Rear, Nikon 200~400mm. enlarge.

History and Production back to intro back to top

1983-1988

Nikon's first 200-400mm f/4 ED was a manual focus AI-s lens. No one bought it because it was such a silly focal length range, and it was big and very expensive. Let's face it: it's a 200mm f/4 that crops in a little. Who cares?

No one did, so these sat on dealers' shelves unsold. Nikon sold less than 500 of them. By comparison, Nikon has sold millions and millions of 50mm lenses.

Nikon gave some rebates to the dealers to dump these at big discounts when they were discontinued. Art Wolfe just happened to see one. He figured "I don't need it either, but what the heck, the price is right" and got one. Art Wolfe, being one of the world's greatest nature photographers of all time, of course made some decent shots with it. These were published, and people asked him what lens it was.

When people herd it was that lens, they suddenly thought it was the lens, and not Art Wolfe, who made the pictures great, and people started looking for these again.

2003-2010

Nikon introduces this new VR AF-S lens, and it's also big, heavy and expensive and doesn't do much either compared to a fixed lens. With the popularity of digital photography and the world's economy continuing to create more rich people who can afford these, Nikon has already sold about 10,000 in the past 5 years.

2010 -

Nikon replaces this lens with the 200-400mm VR II.

It adds a couple of minor features, like supposedly a better VR system, and is otherwise the same.

Pricing back to intro back to top

$6,100, USA, April 2010.

$5,100, 2008.

$5,500 at introduction in 2003.

Specifications with commentary top

Intro Specifications Performance Recommendations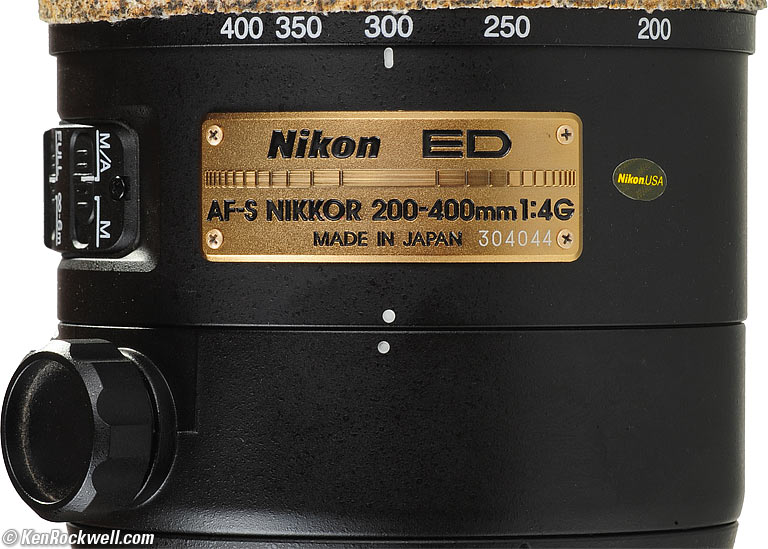 Identity plate, Nikon 200-400mm.
Name
Nikon calls this the AF-S VR Zoom-Nikkor 200-400mm f/4G IF-ED.
AF-S: Silent Wave (focus) Motor.
VR: Vibration Reduction.
G: Gelded for cost-reduction and removing compatibility with older cameras.
IF: Internal Focusing.
ED: ED Glass.
Optics
24 (!) elements in 17 groups. Four are ED, and this isn't counting the additional front protective element.
Close Focus
6.5 feet (2m).
Maximum Reproduction Ratio
1:3.7
Hard Infinity Focus Stop?
No.
Focus Scale
Yes.
Depth-of-Field Scale
No.
Infra-Red Focus Index
No.
Diaphragm
9 circular blades. Stops down to f/32.
Aperture Ring
No.
Filter Thread
None.
52mm filters drop in a rear drawer.
Size
4.9" (124 mm) around by 14.1" (358 mm) long.
7mm shorter if you remove the front protective glass.
Weight
7.2 pounds (115 oz. or 3,275g).
0.3 pounds (75g) less if you remove the front protective glass.
Hood
HK-30, included.
Case
CL-L2 soft case, included.
Included
Slip-on front cap
Rear cap
HK-30 hood
CL-L2 case
Slip-in 52mm filter holder
52mm NC filter
Front protective filter (attached to lens)
Case for front protective filter
LN-1 strap.
Teleconverters
TC-14E. TC 17E and TC-20E with less optimal AF action.
Introduced
22 July 2003.
Rendered Obsolete
27 April 2010, by the 200-400mm VR II.
Nikon Product Number
2146.
Performance top
Intro Specifications Performance Recommendations
Overall Focus Bokeh Color Distortion Ergonomics Falloff Filters
Lateral Color Fringes Macro Mechanics Sharpness TC-14E VR Zooming
Overall back to Performance back to top
The 200-400mm f/4 VR AF-S is as good as a lens gets. When you pay over $5,000 for a lens from Nikon, you get one heck of a lens in more ways than just optical quality.
Focus back to Performance back to top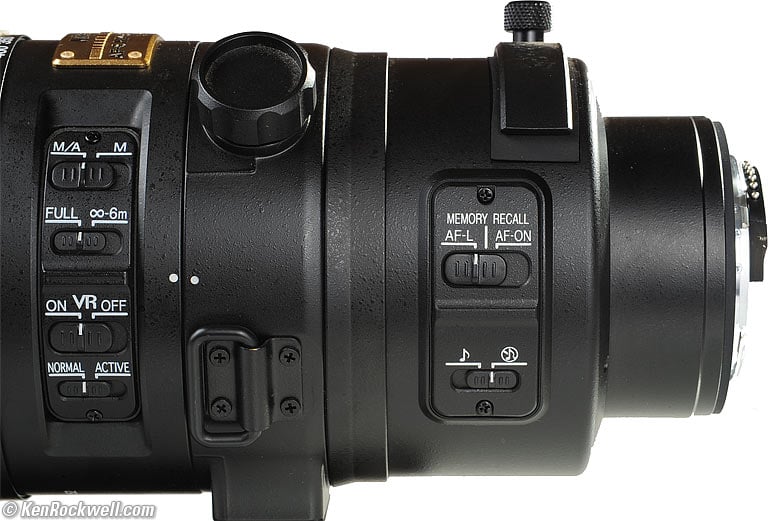 Controls, Nikon 200-400mm. enlarge.
AF is fast and sure.
Focus Buttons
There are four focus buttons around the front. They do the same thing. There are four so you'll always have one handy no mater how you hold the 200-400mm.
There is a selector switch near the lens mount to control what these do.
The AF-L position duplicates what these buttons did on older lenses, which is to lock focus while they're held. This is used when the subject runs behind something and you don't want the camera to change its focus while the subject is hidden.
The Memory Recall position slams the lens to the focus distance memorized when you pressed the Memory Set button. This is reminiscent of the little adjustable detents on the manual focus super telephotos. This is very handy when you want to focus on a set point, like a nest, shoreline, infinity, or home plate, just by tapping a button.
The Memory Recall feature works even when the lens is set to manual focus, which is as I'd want it to work.
The AF-ON position focuses the lens while held.
AF Speed
AF is fast; faster than you'd expect if you haven't used any serious professional Nikon lenses before.
AF Accuracy
AF is right on, as expected.
Manual Focus
Manual focus is great. Just move the focus ring at any time.
Unlike the manual focus super-teles, the 200-400m manual focus ring is geared for precise adjustments. It turns the full 360 degrees to get from infinity to 6.5 feet (2m)!
If you need to crank form one end of the range to the other, it will be faster to let the AF system do it for you.
M/A - M Switch
Nikon goofed. This switch is supposed to be labeled "A - M."
The "M/A" position means autofocus. It's called "M/A" because back in the old days, when Nikon had almost caught up to Canon who had been doing this for ten years already, Nikon was trying to show off that you could focus manually while in the AF position.
Paint over the extra M if you're easily confused.
Bokeh back to Performance back to top
Bokeh is usually neutral to nice.
If you're shooting across long distances, atmospheric heat shimmer will make the bokeh look funny, especially from point light sources. This happens with all long lenses.
Color Rendition back to Performance back to top
The color rendition looks the same as my other recent Nikkor lenses.
Distortion back to performance back to top
The 200-400mm f/4 VR AF-S has no visible distortion, which is extraordinary for a zoom.
For critical use, you can correct the invisible levels of distortion even more by plugging these figures into Photoshop CS2's lens distortion filter. These aren't facts or specifications, they are the results of my research that requires hours of photography and calculations on the resulting data.
| | | |
| --- | --- | --- |
| On FX and Film at 30' (10m) | Visible Effects | |
| 200mm | None | +0.15 |
| 280mm | None | 0.0 |
| 400mm | None | -0.2 |
© 2008 KenRockwell.com. All rights reserved.
Ergonomics (handling and ease-of-use) back to performance back to top
Most men can hand-hold this. That's why it has VR.
The zoom and focus controls are right where you want them.
The 200-400mm is an easy lens to use, and just gets better the more you use it. The tripod collar doesn't come off, but you can use tools to remove the foot.
Most people will use a monopod if shooting sports, but for birds, just pick it up and shoot.
Shooting handheld with a D3 or D300 and grip, the center of gravity conveniently is the zoom ring, where I want to grasp the lens anyway.
Falloff (darkened corners) back to performance back to top
Falloff on FX and DX will be noticeable if you're shooting birds with a blank sky in the background wide-open. You'll usually be shooting this wide-open.
I've exaggerated this by shooting a gray field and placing these on a gray background.
Nikon 200-400mm f/4 VR AF-S falloff on FX and film at infinity.
| | | | |
| --- | --- | --- | --- |
| | f/4 | f/5.6 | f/8 |
| 200mm | | | |
| 280mm | | | |
| 400mm | | | |
© 2008 KenRockwell.com. All rights reserved.
Filters, Use with back to Performance back to top
There is no front filter ring, unless you count the very specialized front protective meniscus glass.
You use 52mm Nikon brand filters in a drop-in rear holder. If you use non-Nikon brand, they may not fit if their rings are too thick, but even if they do, differences in glass thickness will make focus not track as you zoom.
Nikon makes a rotating drop-in polarizer, and its difference in thickness also means focus won't track with zoom.
Lateral Color Fringes back to Performance back to top
There are no lateral color fringes on the D300 or D3, which would correct them if the lens had any.
Macro back to Performance back to top
Oddly, this crazy lens does macro, too.
At 400mm you can focus directly down to 6.5 feet (2 meters), which is larger than 1/4 life size at the sensor, or much bigger than life when printed.
This means you can fill the frame with something only 2.3 x 3.4" (58 x 87mm) on DX, or 3.5 x 5.2" (89 x 133mm) on FX and film.
Mechanics back to Performance back to top
The 200-400mm VR is a seven-pound (3.2kg) hulk of finesse and precision. You have to feel it to believe it.
Hood
Carbon-fibre, black-anodized billet aluminum and rubber thing with a thumb-screw.
Barrel Exterior
Sputtered epoxy painted alloy.
Filter Threads
None, except metal ones for the dedicated front optical protection.
Front Filter ("Lens Protective Glass")
Yes, can be removed for shooting directly into the light by turning the front rubber bumper. If you do, store this meniscus glass in the case with which it came.
Focus Lock Buttons
Rubber-covered.
Focus Ring
Metal; rubber covered.
Zoom Ring
Metal; rubber covered.
Depth-of-Field Scale
None.
Internals
Metal.
Aperture Ring
None.
Mount
Dull-chromed brass.
Markings
Paint.
Identity Plate
Engraved bronze, filled with paint. Screwed into barrel.
Serial Number
Engraved into identity plate (not filled with paint).
Ass-Gasket (dust seal at mount)
Yes.
Noises When Shaken
Owner shouting "Hey — don't do that to my lens!"
After owner calms down, mild clicking.
Nikon Product Number
2146.
Made in
Japan.
Sharpness back to Performance back to top
Warning 1: Image sharpness depends more on you than your lens.
Warning 2: Lens sharpness doesn't mean much to good photographers.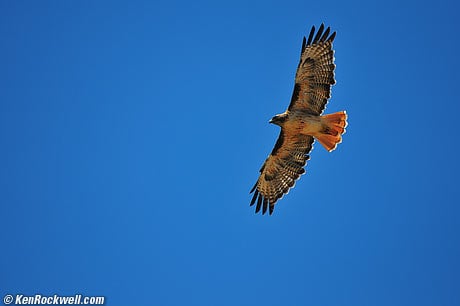 Full DX image from D300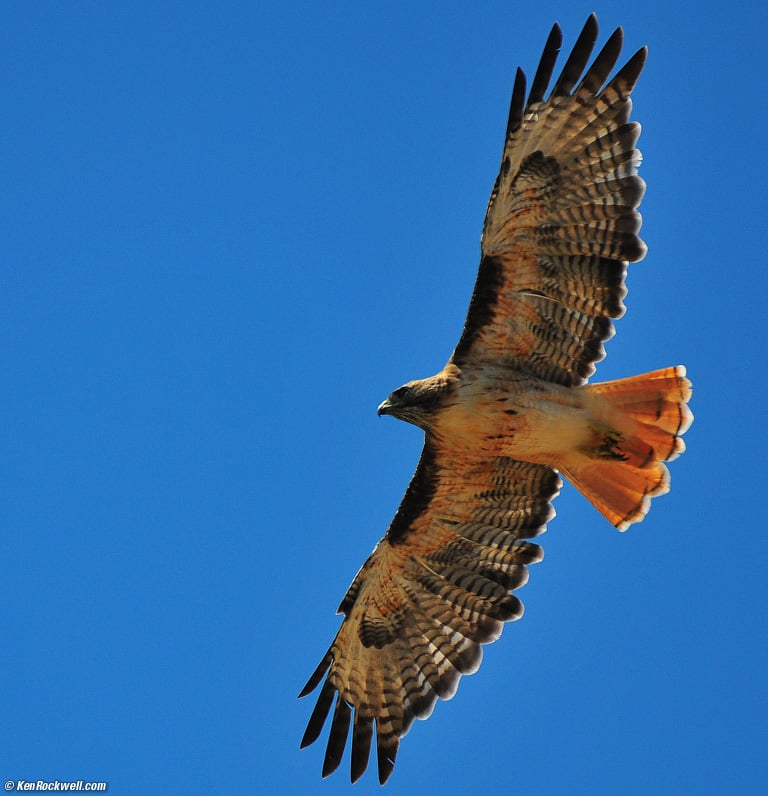 Cropped to fit page. D300, 200-400mm AF-S at 380mm, f/4 at 1/2,000, AF set to AF-C and crosshairs.
With those caveats, the 200-400mm f/4 VR AF-S is so sharp it's almost three-dimensional. Trying to track a flying wild ferruginous red-tailed hawk (buteo jamaicensis) is the hard part. I shot this in my backyard, no big deal if you've got birds flying around as we do. These hawks have been conspiring for a year to get my wife's little dog Megan.
If you don't set up your AF system properly (how I did this), you'll not get decent results. I'll bet that many people buy this lens and don't get the results they want because at default, Nikon's AF system isn't set the way you want it.
The biggest detriment to sharpness is the reality that temperature variations in the atmosphere create constant shimmers. In extreme cases these shimmers appear as mirages, but when using any high-powered optics one sees these shimmers even in normal conditions. Looking through the atmosphere with heat shimmers is exactly like looking down into a swimming pool from above: you get waves which obscure details.
At long distances, the atmospheric seeing conditions are your limitation. Just ask any astronomer, sniper or anyone with a high-powered scope.
If you're shooting landscapes, the sample I borrowed for review was softer on the right side, on both a DX D300 and FX D3. This got better as stopped down, and the left side was perfect. I've seen this before on many lenses if you look as closely as I can; so I'll suspect that this is typical. If this bugs you, shoot Nikon's manual focus superteles instead.
It's sharp at f/4, and seems to improve just a tiny bit at f/5.6, from which point it's just crazy sharp.
See Nikon's MTF curves at their product page. These agree with what I see, which is crazy sharpness typical of their super-teles at 400mm, and very slightly softer far corners on FX wide-open at 200mm.
TC-14E, use with back to performance back to top
With the TC-14E teleconverter, the 200-400mm VR becomes a 280-550mm f/5.6 VR, as indicated in EXIF data.
The right side got softer, and AF seems to be unaffected.
Considering how difficult it is to get sharp images in our ever changing atmosphere, I wouldn't bother with the TC since all it tends to do is lose a stop of speed and magnify atmospheric disturbances even more.
You need really clear air to make any reasonable use of the 400~550mm range you gain, but you lose a stop and some sharpness everywhere (and the 200~280mm range) when you use the TC-14E.
Nikons aren't rated to autofocus with lenses slower than f/5.6, so Nikon says it won't autofocus with the TC-17E or TC-20E. I'm sure it does, but it's not likely to be the stellar AF performance for which you buy this lens in the first place.
VR Measurements back to performance back to top
Nikon claims 3 stops improvement. (The new 200-400mm VR II claims 4 stops.)
By "sharp shots" I mean perfect tripod-equivalent sharpness when viewed at 100%, as shot on a D300 by me. For most uses, one can use much slower speeds. See Why VR Matters for more.
Nikon says leave VR ON on a tripod, since it's smart enough to figure out what to do.
Here's what this lens does for me, shot freehand standing on my feet with no other supports.
VR OFF
| | | | | | | | | |
| --- | --- | --- | --- | --- | --- | --- | --- | --- |
| % Sharp Shots | 1/4 | 1/8 | 1/15 | 1/30 | 1/60 | 1/125 | 1/250 | 1/500 |
| 200mm | 0 | 0 | 17 | 20 | 50 | 75 | 100 | 100 |
| 280mm | 0 | 0 | 0 | 5 | 30 | 66 | 100 | 100 |
| 400mm | 0 | 0 | 2 | 0 | 16 | 20 | 80 | 100 |
VR ON
| | | | | | | | | |
| --- | --- | --- | --- | --- | --- | --- | --- | --- |
| % Sharp Shots | 1/4 | 1/8 | 1/15 | 1/30 | 1/60 | 1/125 | 1/250 | 1/500 |
| 200mm | 0 | 30 | 66 | 100 | 100 | 100 | 100 | 100 |
| 280mm | 0 | 0 | 0 | 50 | 80 | 100 | 100 | 100 |
| 400mm | 0 | 0 | 5 | 50 | 75 | 80 | 100 | 100 |
Lowest speeds for perfectly sharp shots 50% of the time
| | | | | |
| --- | --- | --- | --- | --- |
| % Sharp Shots | VR OFF | VR ON | Real Stops Improvement | Marketing Stops Improvement |
| 200mm | 1/60 | 1/13 | 2.3 | 4 |
| 280mm | 1/100 | 1/30 | 1.7 | 3.2 |
| 400mm | 1/180 | 1/30 | 2.6 | 3.7 |
"Real Stops" are how many extra stops I get over shooting without VR. "Marketing stops" is improvement over the old-wives' tale of 1/focal length as a lower speed limit.
Zooming back to Performance back to top
Zooming is precise and slow. There's a huge zoom ring and a lot of glass to move for only a 2:1 zoom range.
You need a hand to turn the ring; you can't flick it with a finger like some smaller zooms. Even with your hand, you're moving a lot of glass, so it take a small effort to bang it from one end to the other.
The good news is that it's easy to set exact compositions for landscapes.
Recommendations top
Intro Specifications Performance Recommendations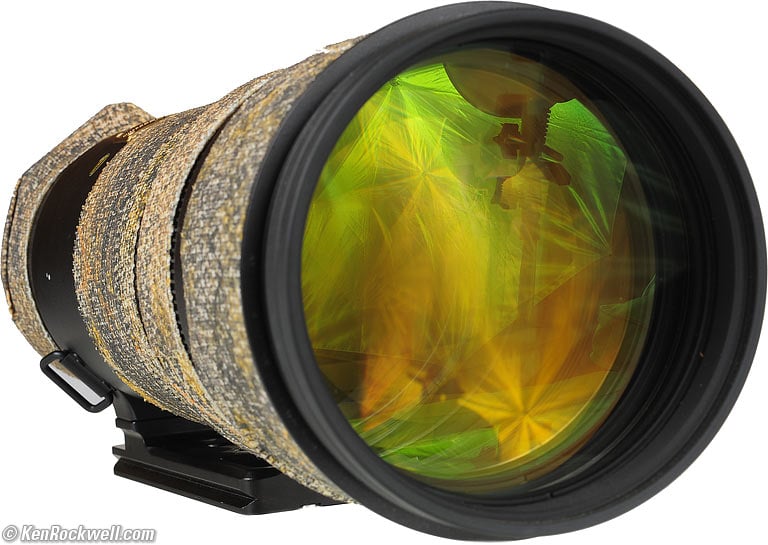 Front, Nikon 200-400mm VR.
The 200-400mm f/4 VR AF-S is a huge, expensive lens for people with special needs. I would much rather get closer to my subjects than have to stand back and shoot with this beast.
You people know who you are, and I doubt you'll be disappointed if you buy this zoom. The only gotcha is if you're shooting lines of trees from a distance, in which case, wide-open, my borrowed sample was softer on one side. For normal uses, there never is anything in focus on the side so I didn't see any problems with real photos. If you're shooing landscapes you may be happier with Nikon's fixed super-teles, like the manual focus ones you can buy used a lot cheaper than these modern AF-S VR lenses. If you're shooting action, you want this 200-400.
The 200-400 VR is far sharper than using a teleconverter on a shorter lens like the 70-200mm VR.
Personally I find my far smaller, lighter and less expensive 80-400mm VR far more convenient for carrying around, as well as having a wider zoom range. This 200-400mm focuses closer and much, much faster, but for my landscape shots where personally I don't often use a tele, but have to carry it anyway, I'll stick with my 80-400 VR. Of course my 80-400 focuses very slowly, so I wouldn't use it for sports or action.
Deployment
Most people will probably want to get a monopod if they don't have to look up at birds.
Any cheap Bogen, Manfrotto or Gitzo monopod ought to be fine. I use a dinky Gitzo with my 14-pound 400mm f/2.8 and it works fine. This 200-400mm weighs only half that.
More Information:
Nikon, Japan's Press Release from 2003.
Help me help you top
I support my growing family through this website, as crazy as it might seem.
If you find this as helpful as a book you might have had to buy or a workshop you may have had to take, feel free to help me continue helping everyone.
If you've gotten your gear through one of my links or helped otherwise, you're family. It's great people like you who allow me to keep adding to this site full-time. Thanks!
If you haven't helped yet, please do, and consider helping me with a gift of $5.00.
The biggest help is to use these links to Adorama, Amazon, B&H, Calumet, Ritz, J&R and when you get your goodies. It costs you nothing and is a huge help to me. eBay is always a gamble, but all the other places have the best prices and service, which is why I've used them since before this website existed. I recommend them all personally.
Thanks for reading!
Ken
Home Donate New Search Gallery How-To Books Links Workshops About Contact