Home Donate New Search Gallery How-To Books Links Workshops About Contact
Nikon 200-400mm VR II
$6,900 (2010-)
© 2010 KenRockwell.com. All rights reserved.
Intro Specifications Performance Compared Recommendations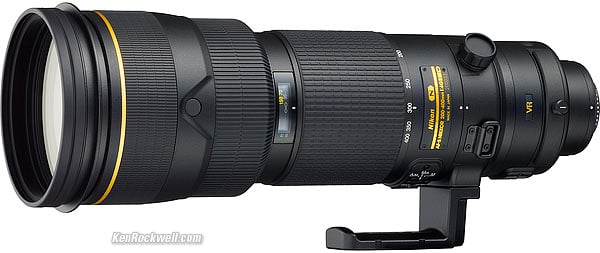 Nikon 200-400mm f/4 G VR II ED N AF-S (52mm drop-in filters, 118.5 oz. / 3,360g / 7.4 pounds). enlarge. I'd get it at Adorama or Amazon. It helps me keep adding to this site when you get anything from these links, regardless of the country in which you live. Thanks! Ken.
Adorama pays top dollar for your used gear, especially your earlier 200-400mm VR and other Nikon cameras and lenses.
October 2010 More Nikon Reviews Nikon Lens Reviews
Ideal Uses: Perfect for use on FX digital, DX digital and film.
Not for: It's too heavy for me. I'd consider the 300mm f/2.8 VR II instead, which costs less and is a stop faster, in exchange for one fixed focal length instead of the small zoom range of this 200-400mm. For bird photography and for shooting surfing from the shore, you never can be too close, so you'll want the 600mm f/4 instead.
Introduction top
Intro Specifications Performance Compared Recommendations
New Compatibility History Pricing
This Nikon 200-400mm VR II is a very minor marketing update to the original Nikon 200-400mm VR, which was introduced in 2003.
The original 200-400mm VR was extremely popular, and this new VR II version is the same thing, with The optics, size, weight and more are the same. with a slightly improved VR system.
This 200-400mm is now the rightful top of Nikon's basic professional zoom line, which includes the 14-24mm, 24-70mm, 70-200mm VR II, and this 200-400mm VR II. If you listen to Nikon, you're not a pro unless you own at least this basic set of four zooms.
Slightly improved VR system, claiming four stops improvement instead of merely three of the original 200-400mm VR.
This VR II version adds a little bit of Nikon's newest Nano-Crystal Coating, which is a more efficient replacement for multicoating. Flare and ghosts were never a problem in the original 200-400mm VR, so this is marketing fluff.
A new "M/A" focus mode ignores slight motion of the focus ring before reverting to manual focus. No big deal, unless you tend to knock focus rings by accident (I don't).
That's it, plus an additional $1,000 higher price than last week's 200-400mm VR.
Everything works perfectly on every digital Nikon, both FX and DX, and even on Nikon's cheapest digitals like the D40, D40x, D60, D3000 and D5000.
It's also perfect on decent or recent AF film cameras like the F6, F100, F5, N80 and N75.
The incompatibilities for older or cheaper film cameras are that:
1.) It won't autofocus with the cheapest new AF film cameras like the N55, but if you focus manually, everything else works great. Even if you lose autofocus, these cameras have in-finder focus confirmation dots to help you.
2.) Late 1980s ~ early 1990s AF cameras like the N90s, N70 and F4 will focus just fine, but you'll lose VR. You'll have Program and Shutter-priority modes, but lose Manual and Aperture-priority since you have no way to set the aperture on the camera or on the lens.
3.) You're really pushing it with the oldest AF cameras like the N2020, N6006 and N8008. You'll have no AF, confused exposure modes, and no VR. Manual focus is fine, along with electronic focus indications.
4.) Since it has no aperture ring, it's just about useless with manual focus film cameras.
See Nikon Lens Compatibility for details with your camera. Read down the "AF-S, AF-I," "G" and "VR" columns for this lens. You'll get the least of all the features displayed in all columns, since "G" (gelding) is a handicap which removes features.
1983-1988
Nikon's first 200-400mm f/4 ED was a manual focus AI-s lens. No one bought it because it was such a silly focal length range, and it was big and very expensive. Let's face it: it's a 200mm f/4 that crops in a little. Who cares?
No one did, so these sat on dealers' shelves unsold. Nikon sold less than 500 of them. By comparison, Nikon has sold millions and millions of 50mm lenses.
Nikon gave some rebates to the dealers to dump these at big discounts when they were discontinued. Art Wolfe just happened to see one. He figured "I don't need it either, but what the heck, the price is right" and got one. Art Wolfe, being one of the world's greatest nature photographers of all time, of course made some decent shots with it. These were published, and people asked him what lens it was.
When people herd it was that lens, they suddenly thought it was the lens, and not Art Wolfe, who made the pictures great, and people started looking for these again.
2003-2010
Nikon introduces the original 200-400mm VR. It's also big, heavy and expensive and doesn't do much compared to a fixed lens.
2010 -
After seven years of solid sales of the first 200-400mm VR, Nikon adds a few bits of marketing fluff to beget this new 200-400mm VR II to keep it fresh.
$6,900, USA, October 2010.
$7,000, USA, at introduction in April 2010.
Specifications top
Intro Specifications Performance Compared Recommendations
Name top
Nikon calls this the Nikon AF-S NIKKOR 200-400mm f/4G ED VR II N.
Nano Crystal Coat (N): Magic anti-reflection coating that has a variable index of refraction that's far more effective than multicoating.
AF-S and SWM: Silent Wave Autofocus Motor.
G: Gelded for cost-reduction and removing compatibility with older cameras.
ED: Magic Extra-low Dispersion Glass.
VR: Vibration Reduction.
II: a little better than last year's model.
N: Nano-crystal coating, meaning a coating which varies its index of refraction continuously to achieve even greater reflection reduction. It's probably only on one surface, and is used mostly for marketing purposes.
Optics top
24 elements in 17 groups. 4 are of magic ED glass, all the same as the previous 200-400mm VR.
It's multicoated, which Nikon calls Nikon Integrated Coating, and some unspecified number of surfaces have Nikon's new magic Nano-Crystal Coating, which is not needed on this lens and used for marking purposes. Nano-crystal coating is an even more effective replacement for multicoating.
Coverage top
Film, FX and DX.
Focal Length top
200-400mm.
On a DX camera, it gives angles of view similar to what a 300-600mm lens gives when used on an FX or 35mm camera.
Angle of View top
12.3° - 6.2° on FX and RealRaw.
(8° - 4° on small-format DX.)
Diaphragm top
9 rounded blades.
Stops down to f/32.
Close Focus top
6.5 feet (2m).
Maximum Reproduction Ratio top
1:3.7.
Hard Infinity Focus Stop? top
No.
You have to let the AF system focus at infinity.
Focus Scale top
Yes.
Depth-of-Field Scale top
No.
Infra-Red Focus Index top
No.
Aperture Ring top
No.
Tripod Collar top
Yes.
Filter Thread top
52mm, drop-in.
Vibration Reduction (VR) top
Claims 4 stops improvement.
Trade named "VR II."
Size top
Nikon specifies 14.4 " (365.5mm) extension from flange by 4.9" (124mm) diameter.
Weight top
Nikon specifies 118.5 oz. (7.4 pounds or 3,360g).
Hood top
HK-30, carbon-fibre, included.
Case top
Soft CL-L2, included.
Included top
Slip-on front lens cap
LF-1 rear lens cap
HK-30 hood
CL-L2 soft case, with "dedicated interior cushioning material"
52mm slip-in filter holder
52mm NC filter
Dedicated lens protective glass (attached to the lens),
Case for protective glass filter
LN-1 strap
Made in top
Probably Japan.
Teleconverters top
TC-14E, TC-17E, TC-20E and TC-20E II and TC-20E III teleconverters.
Introduced top
27 April 2010, Tuesday.
Available since top
The end of May, 2010.
Nikon Product Number top
2187.
Price top
$7,000, USA, at introduction in April, 2010.
Performance top
Intro Specifications Performance Compared Recommendations
Performance should be identical to the performance of the original 200-400mm VR.
See my review of the original 200-400mm VR for explicit details.
The only thing that should be different is its VR performance.
Compared performance top
Intro Specifications Performance Compared Recommendations
There isn't much difference between the II and the original.
| | | |
| --- | --- | --- |
| | | 200-400mm VR II |
| Anno | 2003-2010 | 2010- |
| Optics | 24/17 (4 ED) | Identical |
| Close focus | 2m | Identical |
| Diaphragm | 9 rounded blades | Identical |
| Hood | HK-30 | Identical |
| Diameter | 124mm (4.9") | Identical |
| Filters | 52mm drop-in | Identical |
| Length | 358 mm (14.1") | 365.5mm (14.4") |
| Weight | 3,275g (115 oz.) | 3,360g (118.5 oz.) |
| VR System | VR | VR II |
| Claimed improvement | 3 stops | 4 stops |
| Marketing fluff | | |
| Nikon Product Number | 2146 | 2187 |
| Price, 4/2010 | | $7,000 |
Recommendations top
Intro Specifications Performance Compared Recommendations
If you can get the original version on close-out, you just got yourself a bargain, because this new lens is the same thing.
I'd only spend for this new version if a slight improvement VR performance is critical to you.
All said, the people who buy 200-400mm pro zooms are serious shooters, and this new VR II should be at least as excellent as the original.
Once the original version is sold-out, by all means get this new -II version. A lot of people buy the 200-400mm and love it.
By dollar volume, Nikon's original 200-400mm VR has always been one of Nikon's most popular lenses, and this new -II version is even better.
Deployment
I'd use a monopod.
Any cheap Bogen, Manfrotto or Gitzo monopod ought to be fine.
I use a dinky Gitzo with my 14-pound 400mm f/2.8 and it works fine. This 200-400mm weighs only half that.
More Information
Nikon, Japan's product information.
Help me help you top
I support my growing family through this website, as crazy as it might seem.
If you find this as helpful as a book you might have had to buy or a workshop you may have had to take, feel free to help me continue helping everyone.
If you've gotten your gear through one of my links or helped otherwise, you're family. It's great people like you who allow me to keep adding to this site full-time. Thanks!
If you haven't helped yet, please do, and consider helping me with a gift of $5.00.
The biggest help is to use these links to Adorama, Amazon, B&H, Calumet, Ritz, J&R and when you get your goodies. It costs you nothing and is a huge help to me. eBay is always a gamble, but all the other places have the best prices and service, which is why I've used them since before this website existed. I recommend them all personally.
Thanks for reading!
Ken
Home Donate New Search Gallery How-To Books Links Workshops About Contact