Home Donate New Search Gallery Reviews How-To Books Links Workshops About Contact
Canon 5D Mark III
Full-Frame 22MP, 6 FPS, HD & HDR:
The World's Best DSLR
© 2012-2014 KenRockwell.com. All rights reserved.
Intro Specs Accessories Performance
Usage Compared Recommendations More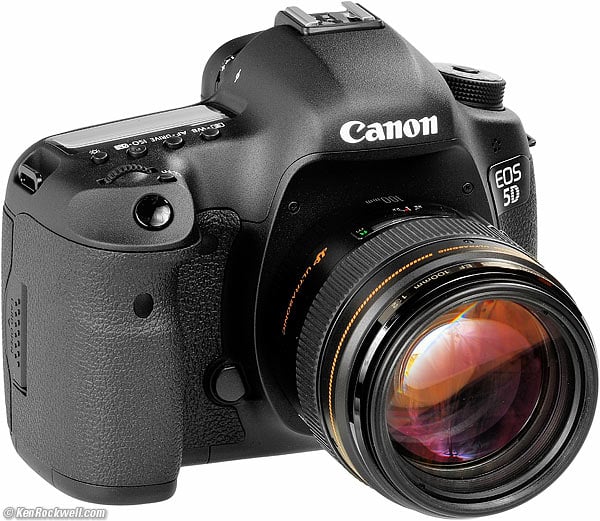 Canon 5D Mark III (33.7 oz./956g with battery and card about $3,399 body-only (add-to-cart and it's only $3,299) or about $3,999 with 24-105mm lens (add to cart and its only $3,449).
I bought mine from Adorama. Adorama also offers a kit with the 24-105 IS. Amazon also sells it, who also sells the kit. My biggest source of support for this free website is when you use those or any of these links when you get anything, regardless of the country in which you live. It helps me keep adding to this free website when you get your things through these links — but I receive nothing for my efforts if you buy elsewhere. Thanks for your support! Ken.
Adorama pays top dollar for your used gear, especially the original 5D and 5D Mark II.
September 2014 More Canon reviews all reviews
DEAL: Canon 5D Mk III with printer and more: $2,849 after rebate.
This includes the 5D Mk III, a PIXMA PRO-100 printer (Usually $398), 50 sheets of 13 x 19" Canon SG-201 Photo Paper Plus (Reg. $38.41), an Adorama Slinger Backpack/Shoulder Bag (Reg. $59.95), an extra Green Extreme LP-E6 Battery (Reg. $34.95) and an Adorama Flashpoint Battery Grip (Reg. $69.95).
To get the deal, you pay $3,399 at checkout, and get s $200 mail-in rebate on the camera and another $350 mail-in rebate on the whole shebang a total of $550 in savings. $3,399 - $550 = $2849!
All this, and it comes with free US shipping! This expires Saturday, Sept. 27th, 2014.
Fuji X100S vs. Canon 5D Mark III 12 June 2014
Canon 10-18mm IS vs. 16-35mm f/2.8 L II 12 June 2014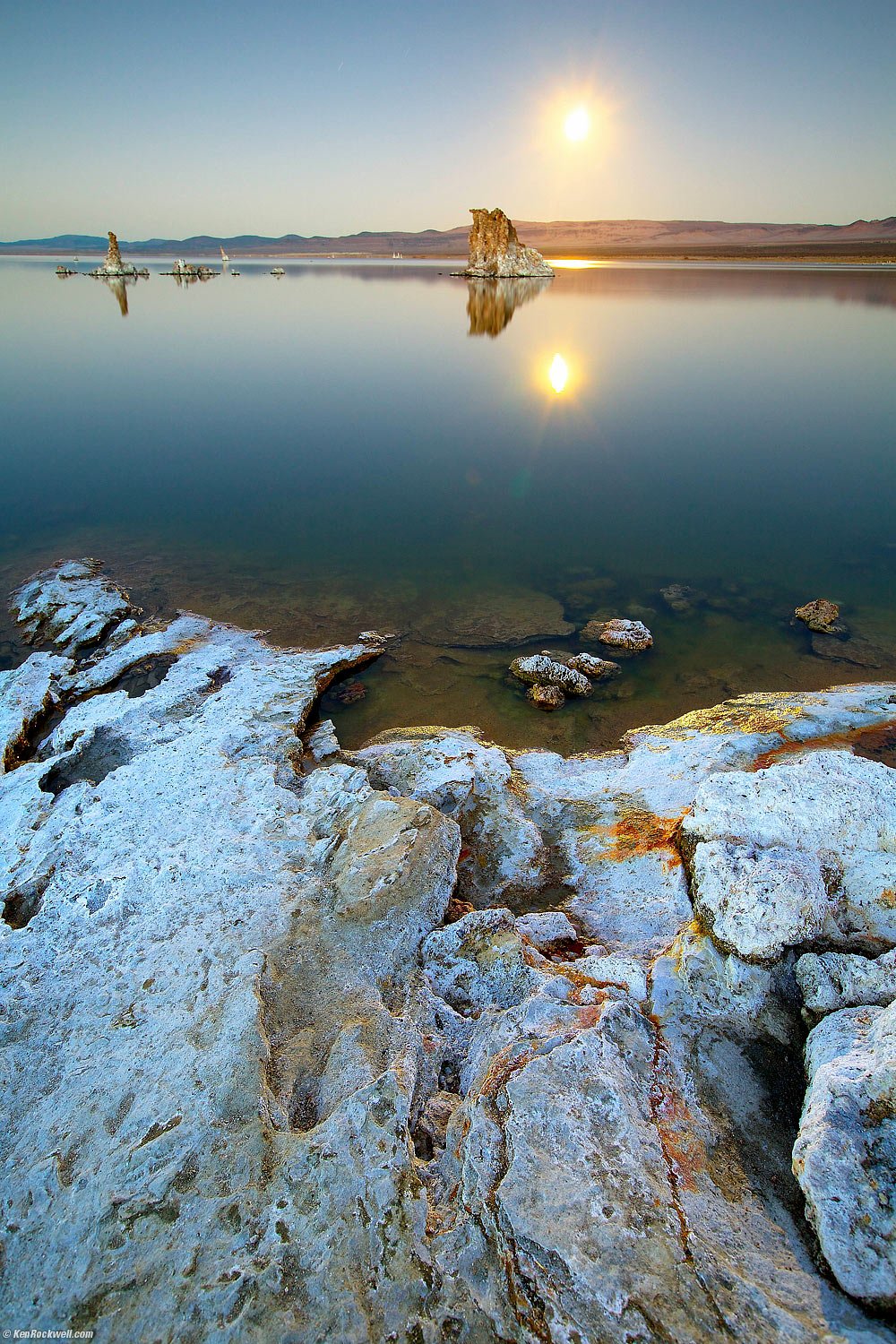 Moonrise Over Mono Lake, 18 October 2013. Canon 5D Mark III, Canon EF 16-35mm f/2.8 L II at 21mm, f/8 for two minutes, Canon RS-80M3 remote cord with lock used to hold-open the shutter in Bulb. bigger. more.
Sample Photographs from California's Eastern Sierra 17 January 2014
Canon 5D Mark III vs. Fuji X100S image quality 09 January 2014
Canon 5D Mk III vs. LEICA M 240 vs. Sony A7 Image Quality Comparison 19 December 2013
Canon 6D. Similar image quality smaller, lighter package with a few less controls, but with added Wi-Fi and GPS.
Canon 5D Mark III versus Canon 6D.
Canon 1D X compared to 5D Mark III with sample images 28 July 2012
Canon 5D Mark III vs. Nikon D800 27 June 2012
5D Mk III Sample Images 20 April 2012
2012 DSLR Comparison 18 April 2012
High-ISO Comparisons of the Nikon D1, D3 (D700), D4, D800, D7000 and Canon 5D, 5D Mark II, 5D Mark III and Fuji X-Pro1 and X100 06 April 2012
Older Models: Canon 5D Mark II Original Canon 5D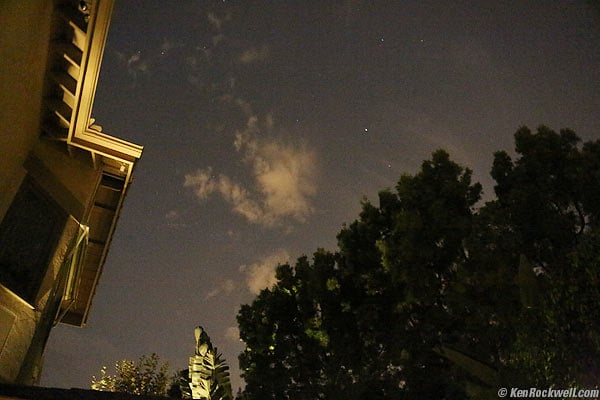 Shoot the stars at night, hand-held, with a slow, cheap zoom. (5D Mark III, 28-105mm f/3.5-4.5 USM II, ISO 25,600 (pushed a little more in Photoshop), f/3.5 at 1/4 second.
Introduction top
Intro Specs Accessories Performance
Usage Compared Recommendations More
The Canon EOS 5D Mark III is the world's best digital SLR. It easily lets us create smooth, clean, beautiful and colorful images in any sort of light. It handles much better my cheaper Nikon D800 and D800E; my 5D Mark III handles and sounds smoother, quieter, feels better and makes better-looking images than my Nikon D800E.
The 5D Mark III also has the best LCD ever put in a DSLR, while the LCD on my Nikon D800E is smaller in actual use, and most importantly, the Nikon's LCD isn't color-accurate. My 5D Mark III LCD is big, bold, bright, sharp, clear, colorful and accurate, and automatically varies its brightness brilliantly for use in any light. (My D800E also has auto LCD brightness control, but doesn't work well enough to want to use it.)
My 5D Mark III's superb performance at stupid-high ISOs like ISO 25,600 let me shoot easily in any light, hand-held, with my cheap-old slow f/4 zooms, like my favorite Canon EF 28-105mm USM II from the 1990s.
To existing Canon shooters, the 5D Mark III offers many small improvements over the 5D Mark II, all of which add up to a greatly improved camera for those of us who shoot daily.
To shooters upgrading from the Nikon D800 and D800E, the Mark III is greatly improved over the Mark II, while the Nikon D800 and D800E are a step backwards in ergonomics and LCD quality from the D700. Therefore the status quo has reversed; I used to prefer Nikon, while today with the 5D Mark III, I greatly prefer it to my D800E. Pixels impress amateurs, while guys like me who shoot every day for a living are more impressed at how my 5D Mark III lets me get more of the right pixels faster, not just more of the wrong ones.
The 5D Mark III is Canon's first full-frame camera to correct lens color fringes. That's the biggest reason I replaced my old 5D Mark II with the new 5D Mark III; because my new Mark III automatically can correct many lens flaws, especially lateral color fringes, so my old lightweight plastic lenses on my new Mark III now often outperform my best L lenses on my old Mark II! If those big old L lenses, like the 16-35mm f/2.8 L II, had any lateral color fringes, the older cameras were powerless to correct it. Unlike most of the fluff reviewers spew out, lateral color fringes are very visible in real prints. My Mark III makes them go away, so long as I have an appropriate lens profile loaded.
Cleaning my heavy L lenses from my bag and replacing them with lightweight plastic wonders is making my 5D Mark III quickly pay for itself, and saves me from having to carry too much weight.
Other huge improvements are that the 5D Mark III is the first full-frame digital Canon with a power switch that doesn't turn itself off by accident, and the first with a depth-of-field and a (programmable option to put a) play button where you can hit them with your shooting hand. Call me crazy, but I've never liked how my Canon 5D Mark II and original Canon 5D were always turning themselves off by accident, and how I needed two hands to press PLAY or to tap the depth-of-field preview. Bravo, Canon!
The 5D Mark III takes the same battery and charger as my old 5D Mark II, and that's a great thing. I get 1,200 shots per charge with my my 2-year old spare battery from my 5D Mark II, which reads only 2 out of three green health boxes in Battery Info.
The 5D Mark III has many improvements over the 5D Mark II, any one of which makes the upgrade worthwhile for the serious user.
What's New
Canon has finally fixed these huge problems from the older 5D Mark II:
1.) Automatic correction of lateral color fringes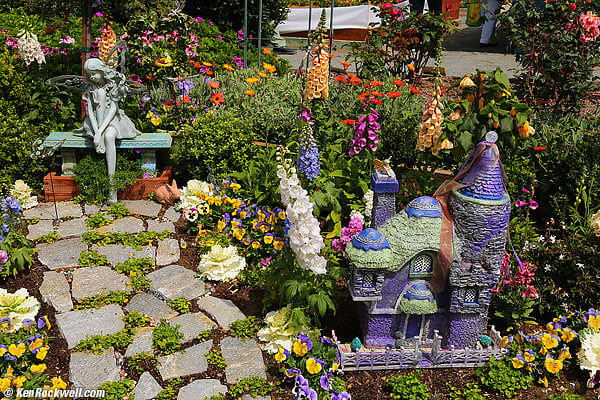 Fairie Garden, 21 March 2013. Canon 5D Mark III, Canon 28-105mm USM at 45mm (made in the 1990s, about $150 used), f/10 at 1/250. Original © file.
This is huge: Canon's 5D Mark II couldn't do this, while all current Nikons can.
This lets you use older, less expensive lenses and potentially get better results than you could with the best L lenses on both older 5D models!
The 5D Mark III's auto color-fringe correction is letting me get better results from my cheap lenses, like the crummy and weightless 20-35mm f/3.5-4.5, as compared to what I got from my expensive 16-35mm f/2.8 L II on my old 5D Mark II. The Mark II had no ability to correct the 16-35's flaws, while the Mark III can.
An old Canon EF 28-105 USM II (I got mine from eBay for well under $150, delivered) performs great on the new Mark III. You don't need the heavy old 24-70/2.8 L or 24-105/4 L IS lenses we used to, unless you feel like paying for them and carrying them around. The 28-105 USM II weighs nothing, focuses instantly, and I can zoom it with a finger from my shooting hand so I can shoot one-handed!
The 5D Mark III can help turn sow's-ear lenses into silk purse lenses, meaning you no longer have to hump the newest heavy zooms around when older, lighter lenses can be made to perform better, at least in terms of color fringes, than the best L lenses did on the 5D Mark II last month.
Because of Canon's previous inability to do this, most shots made with anything but insanely good fixed lenses had visible color fringes on the sides. It always drives me nuts when I see this in magazine photos; it's obvious. Canon's worst current lenses are their popular 16-35mm f/2.8 L II and 17-40mm L, which are relatively loaded with corner (lateral) color fringes. These are all too obvious at high resolutions and in magazine reproduction.
The one gotcha is that you need lens-specific profiles loaded into your 5D Mark III to do this, while Nikon has done it automatically with any lens of any brand you put on it. The 5D Mark III has profiles for only few lenses in it, so you'll have to load them manually, and hope that Canon has profiles for each of your lenses, or this feature doesn't work.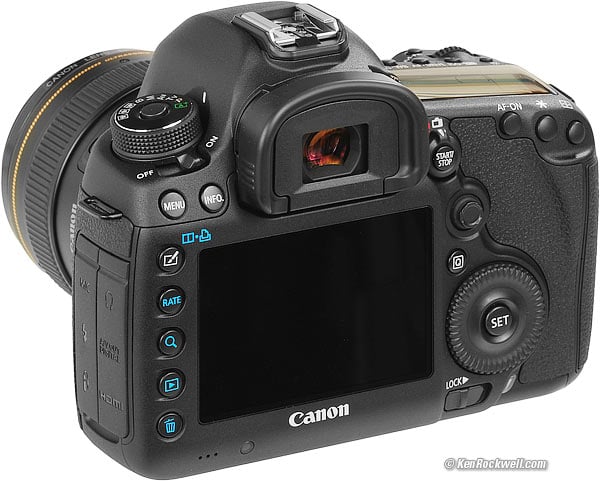 Rear, Canon 5D Mark III. bigger.
2.) Depth-of-Field Button Fixed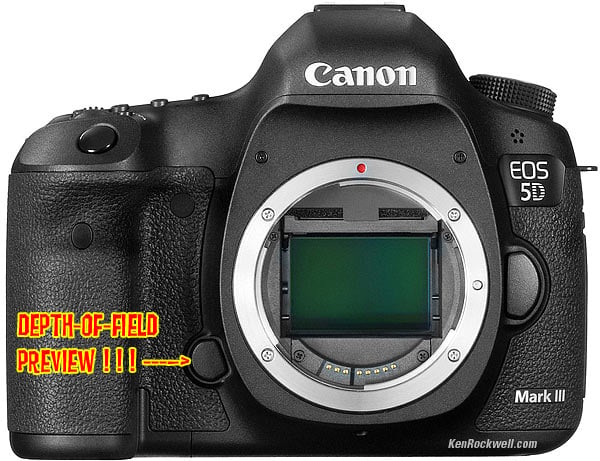 Depth-of-field button moves to the correct side!!! enlarge.
The depth-of-field button has been put in the right place, under the right hand, for the first time in 25 years.
Now I can tap it with one hand as I shoot. For the past 25 years, I've had to use a second hand to hit it. It's about time Canon fixed it, yippee!
3.) Power Switch Fixed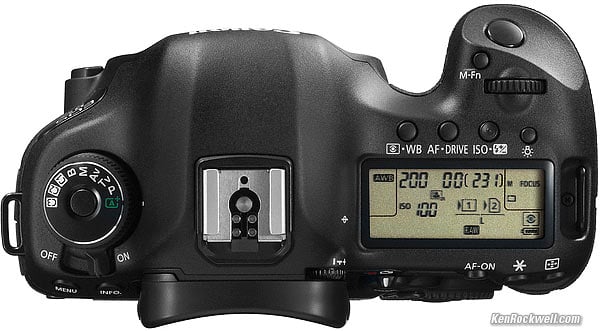 Power switch on TOP of camera, yay! (but not by shutter, boo.) enlarge.
The defective rear power switch lever that used to knock itself to OFF all the time has been put where it belongs, on the top of the camera.
1987's Canon EOS 650 had this correct with the switch on top; I'm unsure why Canon ever botched this by putting it on the back where it gets knocked on most of their now-obsolete DSLRs.
4.) Greatly Improved Playback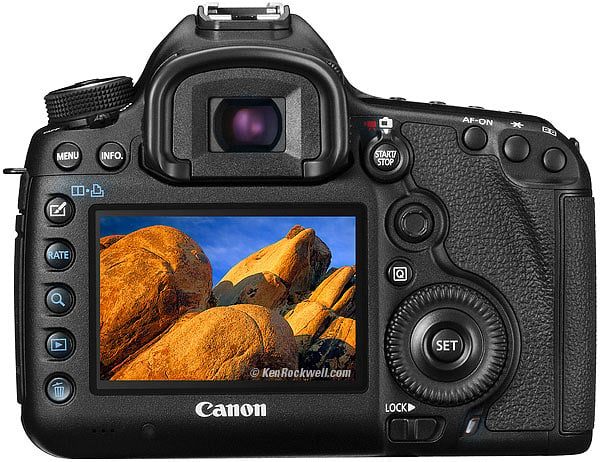 Canon 5D Mark III. enlarge.
While still not perfect, for the first time ever, a zoomed image actually fills the LCD. Older models left a black band across the top, even when zoomed.
The Auto Brightness control works much better than it ever did in the 5D Mark II.
Another huge improvement over the older 5D Mark II is that if you hit PLAY while the image has just popped up from shooting, at least you get where you want to be and can now flip back and forth among the other images. In the older Canon DSLRs, they were so retarded (delayed in development) that when you pressed PLAY after an image popped up, it interpreted that as meaning that you wanted to turn-off the screen! The Mark III is a big improvement, but still not enough: I want to spin the dials and get to the other shots without having to press PLAY to decripple my playback ability after I make a shot.
5.) Dual Memory Card Slots
One each of a CF and an SD card slot. It works perfectly with either, but now, you can use two cards at a time as backup, overflow, or for recording different file sizes or types to each card.
This is what separates a professional camera from amateur cameras like the old 5D Mark II: the ability for live back-up so you won't lose images in case of technical or human glitches.
6.) New M-Fn Button
A new programmable "Mother Function" M-Fn button is right by the shutter release. We all can use that!
7.) Silent Mode
The Silent shutter mode really does make the 5D Mark III much quieter than earlier 5Ds, and it doesn't become much slower at all.
I use it all the time for people photos. It's quiet and fast.
It's much better than the Nikon D800, whose quiet mode is much louder, and much slower.
8.) Auto AUTO ISO
New is the ability to let the 5D3 automatically select the slowest shutter speed used before it starts increasing ISO in AUTO ISO mode. it does this based on your focal length.
This is an improvement, but it still doesn't allow shifting the automatically-selected slowest shutter speed, as does Nikon.
9.) Custom File Names
We now we can custom-name file prefixes (as we've done in Nikon for about ten years), so my shots can have file names like KEN_1234.JPG instead of IMG_1234.JPG like everyone else.
This is important to me. I have my 5D Mark III set to preface its files with "5D3_" so I know with what camera I shot it.
If you shoot as part of a photo club or newspaper, prefacing your files with your name or ID makes it obvious whose photos they are as they are being sorted.
10.) Copyright and Shooter Info Embedding
You used to be able to set this using a computer with earlier cameras, but no one bothered.
Now we can set this right on the camera. It's easy to set the 5D Mk III to record any few lines of text into the EXIF of every file as it's shot.
I program mine with my name, website, address and phone number.
If your camera is stolen, unless reset, it will still mark every image with your data, and if it's recovered by authorities, it's easy to show them how to recall that setting in-camera to prove that it's yours for fast return.
More New
Just like the Canon A2E of the 1990s, the exposure mode dial now locks. Unlike the A2E's dial, I hope it doesn't break off!
You should never have to set the AF Fine Tuning, but if you do, the Mark III now offers settings for both ends of the zoom range and calculates the correct values as you zoom. (Nikon and older Canons only offer one setting, which means good luck for zoom lenses!)
Better thumb grip.
The fake leather covering is still relatively hard plastic, but it's grippier without being soft or sticky, It's as if its some sort of secret nanotube material, like on a fly's feet, that gets traction under any conditions, but doesn't actually feel sticky.
Embedded timecode for video (super mandatory in Hollywood, both DF and NDF).
The rear dial is now also touch sensitive, so you don't have to make clicking noises while shooting video.
We now can rank images from one to five stars, in-camera.
What the 5D Mark III Still Can't Do
Still not here, in order to give us a reason to buy the 5D Mark IV in 2015, are:
No Full-Frame AF
There are a lot of autofocus sensors, but they still only all sit in a small region in the center.
We need AF sensors throughout the entire frame for subjects on the top, bottom, sides and corners, or at least throughout most of the image, not just the central region.
No Mind-Controlled Focus
Canon had this perfected in the Canon EOS 3.
The EOS 3 has an AF system which magically knows where you're thinking, and automatically selects the correct AF sensor based on your thoughts alone.
Subject on the left? Bingo, the EOS 3 already has the AF area selected for you.
How does the EOS 3 do this? Easy: it has what is called eye-controlled focus, which means it actually has sensors that determine where your eye is pointed, and selects the AF sensor accordingly.
You didn't have to move your eye to select focus points; your eye moves by itself as you concentrate on one part of the image or the other, so you don't even have to think with eye-controlled focus.
Canon pulled this feature from its digital cameras, and we all look forward to its return.
Having an EOS 3 which works by magic, it drives me nuts having to move old-fashioned manual controls to select AF points.
Needs an LED-based focus screen
Canon downgraded the 5D Mark III's focus screen to one which uses subtractive (black) LCD boxes to show the AF area.
Better cameras like the 1D Mark IV and Nikon D4 use individual additive LEDs to show the AF areas. These LEDs magically light red boxes that dim according to the ambient light, so they never obstruct the view of your subject. These LEDs never cover anything, they simply add light over the subject, not block it out in black as does the 5D Mark III.
No Wi-Fi
Still no built-in Wi-Fi file downloading or uploading directly to the internet and email, as my iPod Touch has done for years. Now that would be cool.
No GPS
Thank goodness.
No Built-in Flash
Boo!
No Highlight AND Shadow optimization
While all Nikons and the 5D Mark II can optimize both highlights and shadows at the same time, the 5D Mark III no longer can do this.
You can select Highlight Tone Priority (highlights) or Automatic Lighting Optimizer (shadows), but they cannot be selected at the same time any more. Whoops!
No custom focus screens for fast lenses
The screen is fixed, so if you're a user of fast (faster than f/2.5) lenses and want the best manual-focus and depth-of-field preview, stick with the 5D or 5D Mark II, for which special interchangeable screens are available.
No Zoomed-in Histogram
When you zoom, the histogram goes away.
LEICA and Nikon can do this to let you see the histogram of just a small region.
Difficult-to-set custom manual white balances
It still takes about ten steps to set a custom manual white balance.
Oddly, Canon's PowerShots do this much faster, and Canon's professional video cameras often have a dedicated WB pushbutton to set this in one-click.
Can't shift auto-selected slowest shutter speeds in Auto ISO
New and good is that the 5D3 can be set to pick these speeds depending on focal length, but unlike in Nikon, we can't tell it automatically to shift these up or down a stop or two from the usual 1/focal length speed.
No Custom White Balance Memories
If you can figure out how to set a manual white balance, there is no way to store and recall different settings for different conditions.
My Nikons have five manual WB memories. I use one for my studio strobes, one for the 75W Halogen floods that light my house and the others for other locations at which I often shoot.
While Auto White Balance usually works well, if I'm in a fixed, artificially-lit location, manual WB gives much better results.
Having ISOs that go stupid-high make little sense if you have no easy way to set, store and recall custom manual white balance settings for all the crazy, dim lighting under which you'll be working.
Wasted RATE Button
The rear RATE button is a waste of a button, unless you really like to edit in-camera.
The only other function to which it can be set is "protect," which I also never use — and do not want to hit because it makes deleting the images very diffuicult in my computer, even 5 years later.
Therefore, the RATE button just gets in the way, especially when shooting by feel in the dark. We'd be better off Super-Glueing it down so that we can feel which button is which in the dark among the buttons we really do use.
The PLAY button is lost in a sea of look-alike buttons along the left side.
Canon should have let us program the RATE button to other functions, otherwise, there are too many identical buttons along the left side of the 5D Mark III.
Still No Automatic Folder Creation
Every Canon PowerShot point-and-shoot can be set to start a new, dated folder for each day of shooting, but no Canon DSLR is this smart yet.
Canon 5D Mk 3. click either to enlarge.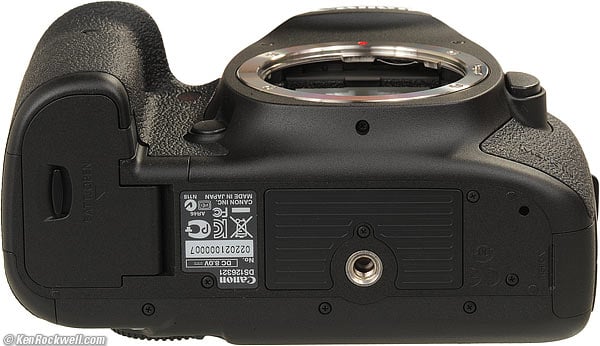 Bottom, Canon 5D Mark III. enlarge.
Intro Specs Accessories Performance
Usage Compared Recommendations More
See Canon 5D Mark III Specifications.
Performance top
Intro Specs Accessories Performance
Usage Compared Recommendations More
Sharpness performance top
It's sharp!
Here's a 22MP NORMAL JPG direct from my 5D Mark III, made with Canon's cheapest 50mm f/1.8 lens: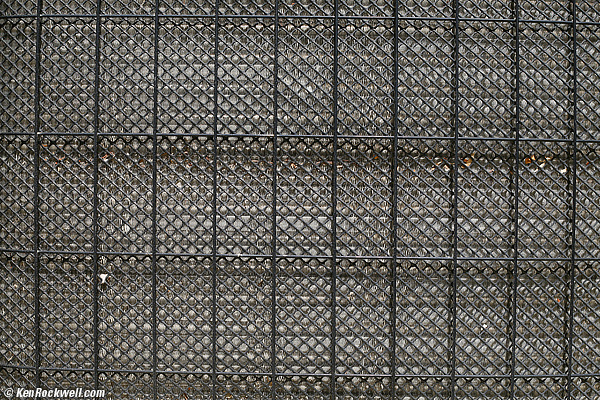 Air Conditioner Condenser. 5D Mark III, 50/1.8, f/8 at 1/200, ISO 200, default "3" sharpening. © camera-original 22MP/10MB JPG.
SMALL JPG NORMAL Sharpness performance top
Even at the 5D Mark III's most efficient SMALL 1 image size setting, images are super-sharp and good enough for any size enlargement.
The SMALL 2 setting makes no sense; it's lower-resolution but fixed at FINE JPG, so it takes up more card space than SMALL 1 NORMAL JPG.
The SMALL 3 setting isn't very useful; it's only web-resolution at 720 x 480, but fixed at FINE JPG, so likewise not very useful for saving space and time.
The SMALL 1 NORMAL JPG setting is great; I use it for all my family photos. It makes great JPG files at about 1MB each (typically 600kB ~ 1.8 MB), and is much sharper pixel-to-pixel than any native 6MP camera. Here's a sample: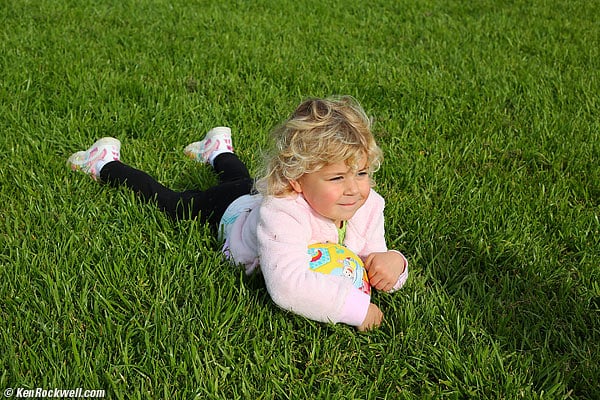 Katie, 25 March 2012. 5D Mark III, 50/1.8, f/8 at 1/320, ISO 100, default "3" sharpening, "Standard" picture control, +2 Saturation, AUTO White Balance, A3 WB Shift. © camera-original JPG.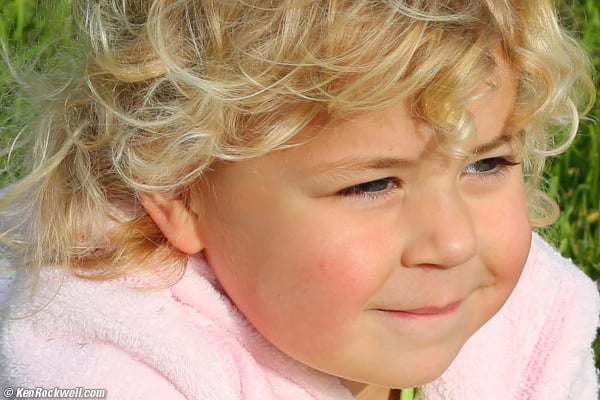 Crop from above image at 100%, no extra sharpening. © camera-original JPG.
When I can count each eyelash, even when I was twice as far away as I should have been, then SMALL 1 is more than big enough for anything. The higher resolutions are only for making museum-sized murals 20 feet tall.
At 2,880 x 1,920 pure RGB (non-Bayer-interpolated) pixels at the S1 setting, it's plenty for super-sharp 20 x 30" prints, even at this small setting. (at this small setting, four interpolated pixels are de-interpolated back to pure RGB resolution for each S1-sized pixel.) Don't waste all the bits on your card if you don't need to; your processing, backup and storage will be so much easier at S1.
Color performance top
Colors look awesome, the same as they have on Canon DSLRs for some years now.
Using the same color settings as my other Canon DSLRs, the images match.
That's great, because I know how to get great images from my Canon DSLRs, and don't want to have to relearn it all over again.
High ISOs performance top
NEW: High-ISO Comparisons of the Nikon D1, D3 (D700), D4, D800, D7000 and Canon 5D, 5D Mark II, 5D Mark III and Fuji X-Pro1 and X100 06 April 2012

ISO 25,600
I never thought it would happen, but ISO 25,600 works great for when I need it, which is available shooting of kids and action with a lightweight slow zoom.
ISO 25,600 is clean, probably cleaner than scanned ISO 50 Velvia!
The way the 5D Mark III gets such cleanliness at such crazy-high speeds is the same as other cameras: it electronically smudges-over all the fine details to hide the noise and grain. Therefore the images have very little noise, but they also become softer and devoid of subject textures. Big deal; this allows me to get perfectly usable images in no light of moving subjects with slow lenses that I couldn't get any other way. Any lack of sharpness at ISO 25,600 isn't obvious until compared with the same shot of something that holds still made at a much slower ISO.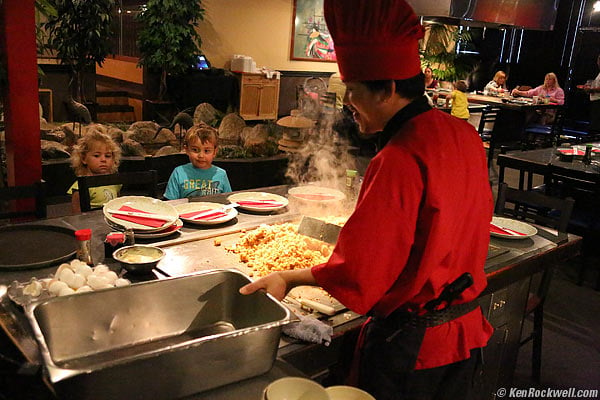 ISO 25,600: Ryan and Katie in Tokyo, 09 April 2012. 5D Mark III, AUTO White Balance, Canon EF 28-105 USM II at 35mm, f/4 at 1/125. Larger.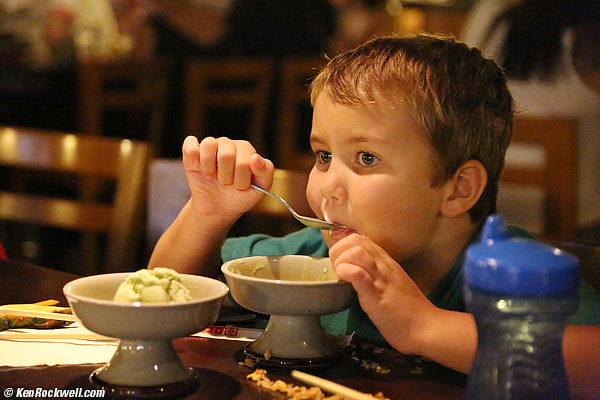 Ryan enjoys two bowls of ice cream, 27 August 2012. (Canon 28-105mm USM II at 96mm, f/4.5 at 1/100, AUTO ISO 25,600, 6 sharpening, 0 saturation, AUTO WB A4.) bigger.
ISO 25,600 to ISO 104,800
Here are samples at ISO 25,600 and above. Click any of them for the camera-original NORMAL LARGE JPG files, or just keep scrolling to see crops from the full size image on-page.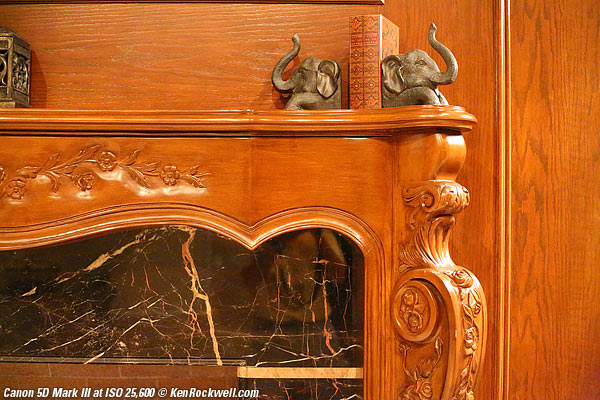 Canon 5D Mark III at ISO 25,600. full-size © JPG.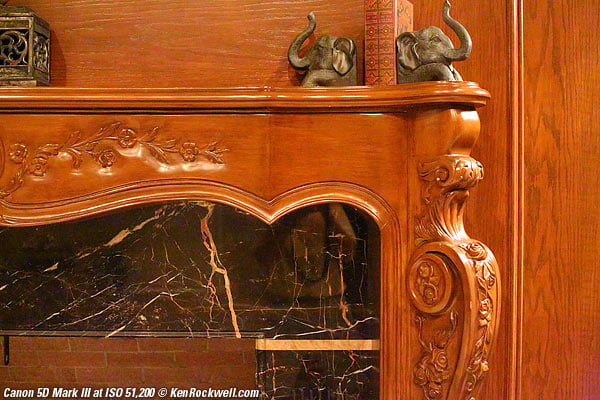 Canon 5D Mark III at ISO 51,200 (H+1). full-size © JPG.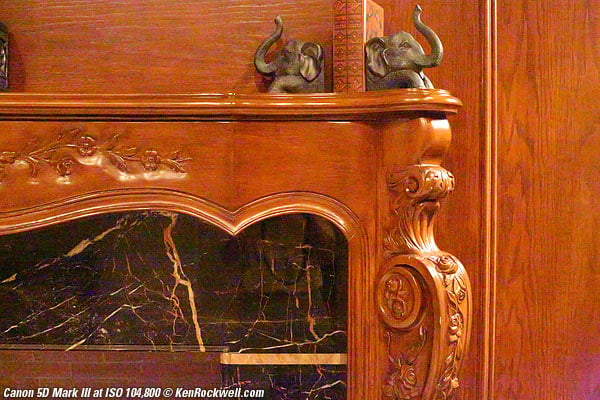 Canon 5D Mark III at ISO 104,800 (H+2). full-size © JPG.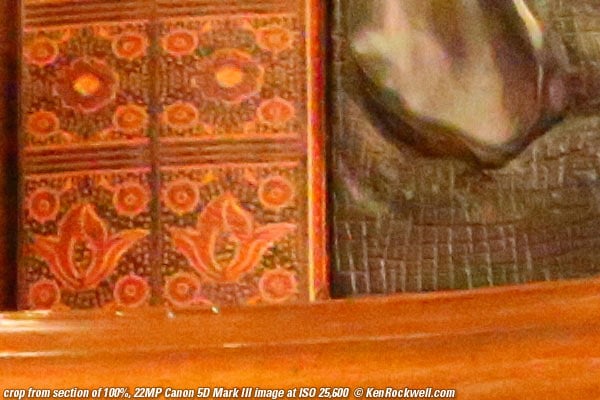 Crop from 100% 22MP image at ISO 25,600. full-size © JPG.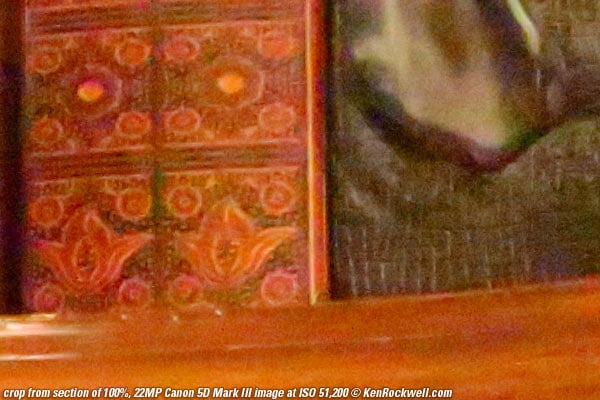 Crop from 100% 22MP image at ISO 51,200 (H+1). full-size © JPG.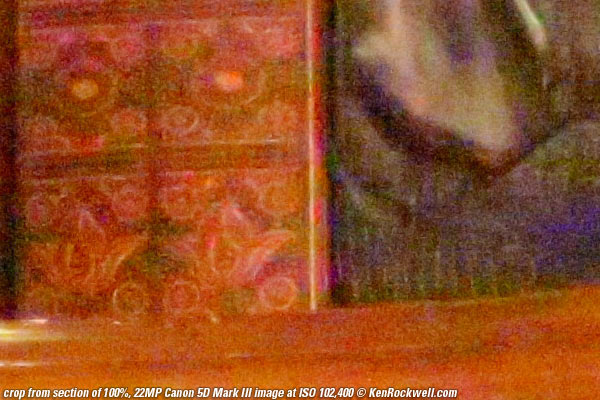 Crop from 100% 22MP image at ISO 104,800 (H+2). full-size © JPG.
I'm impressed; at normal image sizes, these crazy-high ISOs work great, with image color and contrast about the same as at normal ISOs.
If you need these ISOs, use them, but you're much better off turning up the light, or using a faster lens like the 24/1.4, 28/1.8, 50/1.8, 50/1.4, 50/1.2, 85/1.8 or 85/1.2.
As expected, at speeds faster than ISO 12,800, the image quietly fades away under all the noise reduction, which smudges-out the details and texture from the subject as it vainly attempts to reduce noise.
Notice also that at ISO 104,800 that there is some blue-purple haze at the lower-left corner, which will be much more obvious when shot in dark surroundings where much of the image is supposed to be black. This purple haze reminds me of a gas flame, which is appropriate, as it's thermally induced. It will get much worse at high temperatures, especially if you try to use Live View, which heats the sensor from use.
Most shots at ISO 104,800 don't look this good, since bands of color become much more apparent when you have large black or dark areas.
I didn't set long-exposure noise-reduction; if I did, it should subtract-out this purple haze, but Canon warns in the instructions that this dark-frame subtraction noise reduction is likely to add more noise at ISO 1,600 and above.
The most foolish thing about ISOs this crazy-high is that when you need them, it's too dark to see what you're doing, and the AF system of any camera, including this 5D Mark III, has a hard time seeing anything, too.
Automatic Lens Correction performance top
There are three qualities for which the 5D Mk III can correct in-camera: darkened corners (vignetting or peripheral illumination), corner color fringes (lateral chromatic aberration) and distortion.
My Canon 5D Mark III is letting me dump my heavy old L lenses and replace them with lightweight plastic. My 5D Mark III is paying for itself in the money and weight I save on lenses!
Lens Profiles
Lens correction only works if you have a lens profile for your lens loaded in the camera.
My 5D Mk 3 has data for only about one out of the five lenses I tried.
By default, the 5D3 has a profile for the 16-35/2.8 L II, which needs it, but not for the 50/1.8 or 100/2, which are so good that they don't need it (yes, the $120 50/1.8 is much sharper than the $1,500 16-35/2.8 L II).
It doesn't have data for my 14mm f/2.8 L, 20-35mm f/2.8 L, which do need correction.
See my Canon 5D Mark III Users Guide for how to get the data for all your lenses, and which lenses are already included, and which lenses aren't available at all.
Sadly, there's no profile available for download for the professional 20-35mm f/2.8 L, which is a huge disappointment; it would benefit greatly from one. The plasticy 20-35mm USM does have a profile that can be downloaded, and it works great.
Darkened Corners (Peripheral Illumination Correction)
A holdover from the 5D Mark II, this stops the corners from getting too dark with fast lenses shot wide-open, and ultrawides.
It works fine.
Distortion
Distortion correction only works if shot as a RAW file, and then processed afterwards in-camera to a JPG. You can't set the 5D Mark III to do this when shot; you have to stop and jack around in the camera later.
I have no idea why the 5D Mk III can't be set to correct this when shot, and oddly, I can't get Canon's Digital Photo Professional to do it later because I can't get profiles for the lenses I shoot inside Digital Photo Professional because data is available for only a much smaller selection lenses in the software.
Color Fringes (Lateral Chromatic Aberrations)
A first in Canon full-frame, this 5D Mk III can correct color fringes, and it works great — but only if Canon has a profile for your lens available, and then only if you have it loaded in your camera.
This new correction in the 5D Mark III makes a world of difference in real photos with the lenses that need it and have in-camera profiles. You will see the improvement in real photos: the color fringes go away.
This is with in-camera JPGs: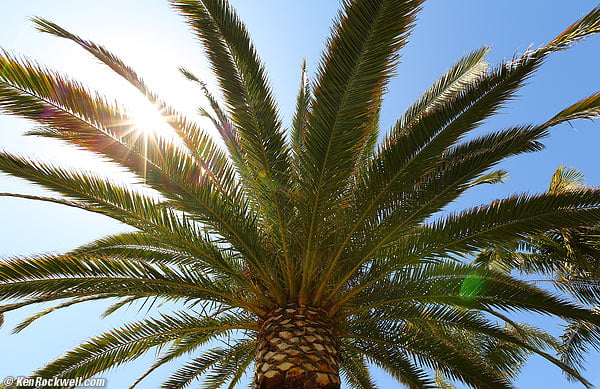 Full image, 16-35mm L II at 16mm and f/11.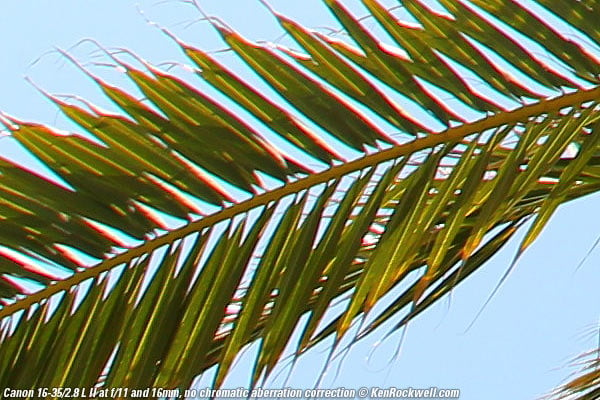 Crop from lower left of above 22MP JPG image at 100%, no correction. (roll mouse over to see in-camera automatic correction, tree moved in wind.)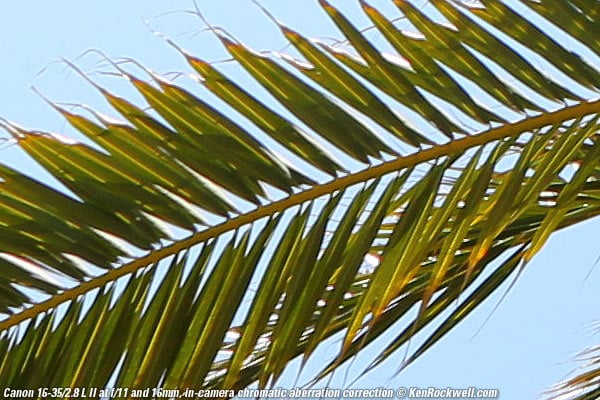 Same thing, except this time shot with in-camera correction turned ON.
This is a huge improvement for use with the 16-35mm f/2.8 L II.
This works wonders with lenses with more lateral chromatic aberration, like the 14mm f/2.8 L and 20-35mm f/3.5-4.5 USM, and isn't needed with really excellent lenses like the 50/1.8 and 100/2 USM.
All current Nikons offer this feature, but they do it with every lens from every maker with no profiles needed. Canon's solution only works for the few lenses for which the camera is preloaded, which I suppose I could load manually if I didn't have pictures to make instead with my limited time and tolerance for BS.)
You also can do this later in software like DxO, even with the original 5D.
Here's how good my 5D Mark III can make my old 20-35mm USM look: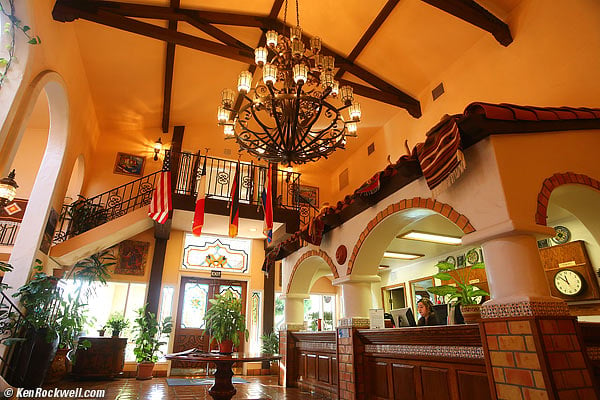 Motel Lobby, 14 April 2012. Original © file. 20-35mm USM at 20mm, f/5.6 at 1/40 hand-held, 5D Mark III at ISO 1,600.
Here's how pixel-perfect the old 24-85mm USM can look: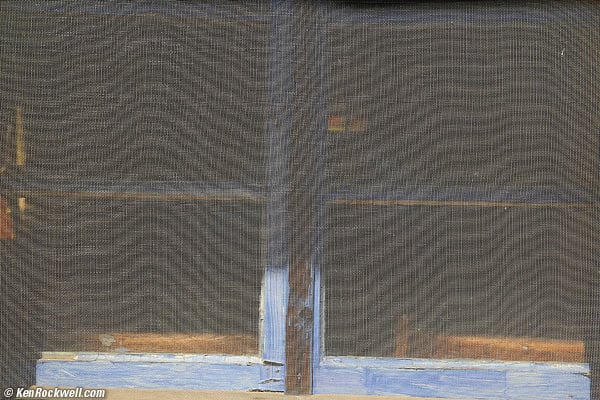 Window Screen, Harmony, 14 April 2012. original file. 24-85mm USM set to 48mm, f/9 at 1/160, 5D Mark III at ISO 100.
There is so much resolution that when reduced here, the pixels are clashing and causing all sorts of moiré not in the original image.
And here's how sharp my crappy 55-200mm USM II can look: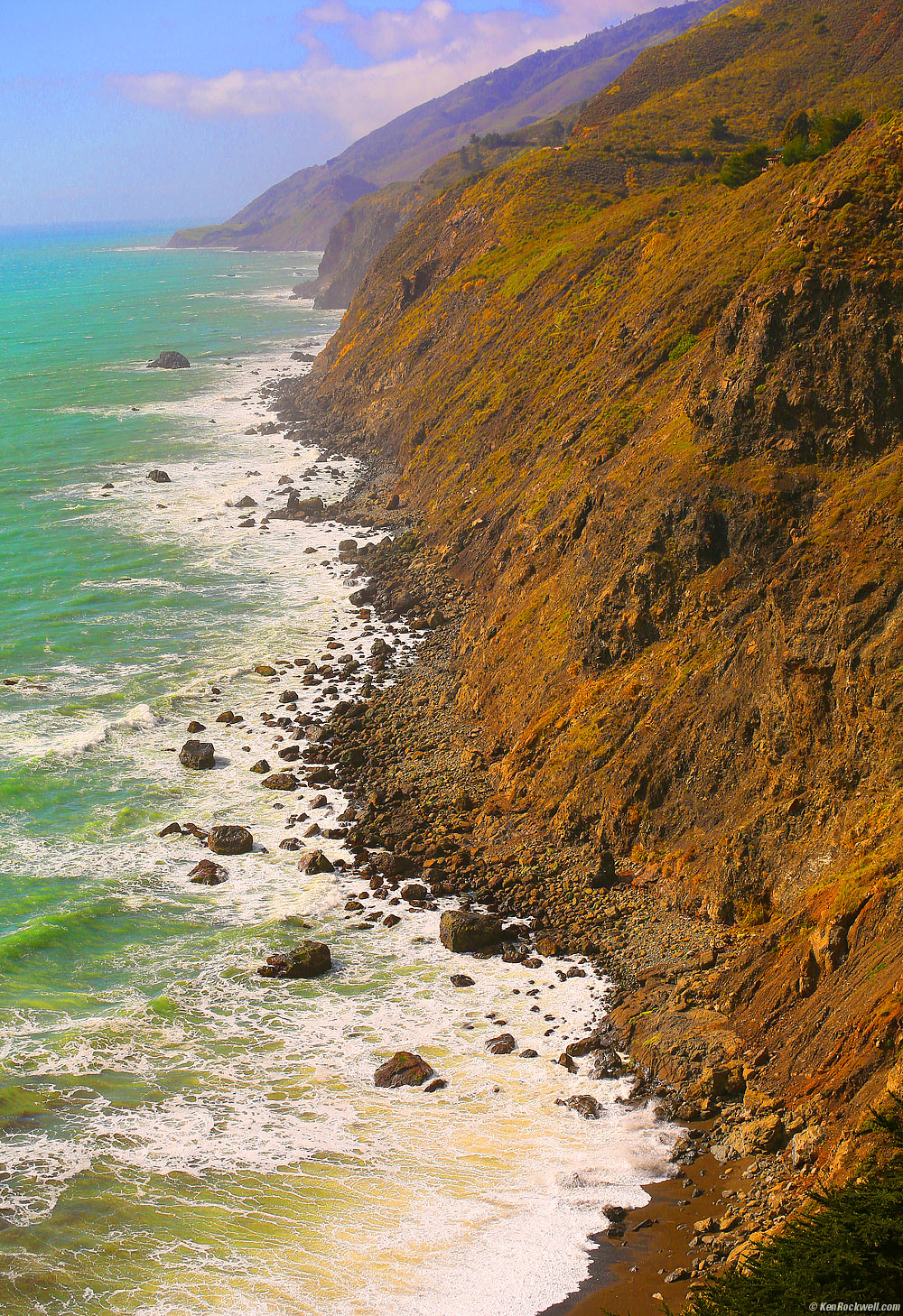 Ragged Point, 4:33 PM, 14 April 2012 (with slight color optimization). Original © file. 55-200mm USM II at 55mm, f/11 at 1/320, 5D Mark III at ISO 100.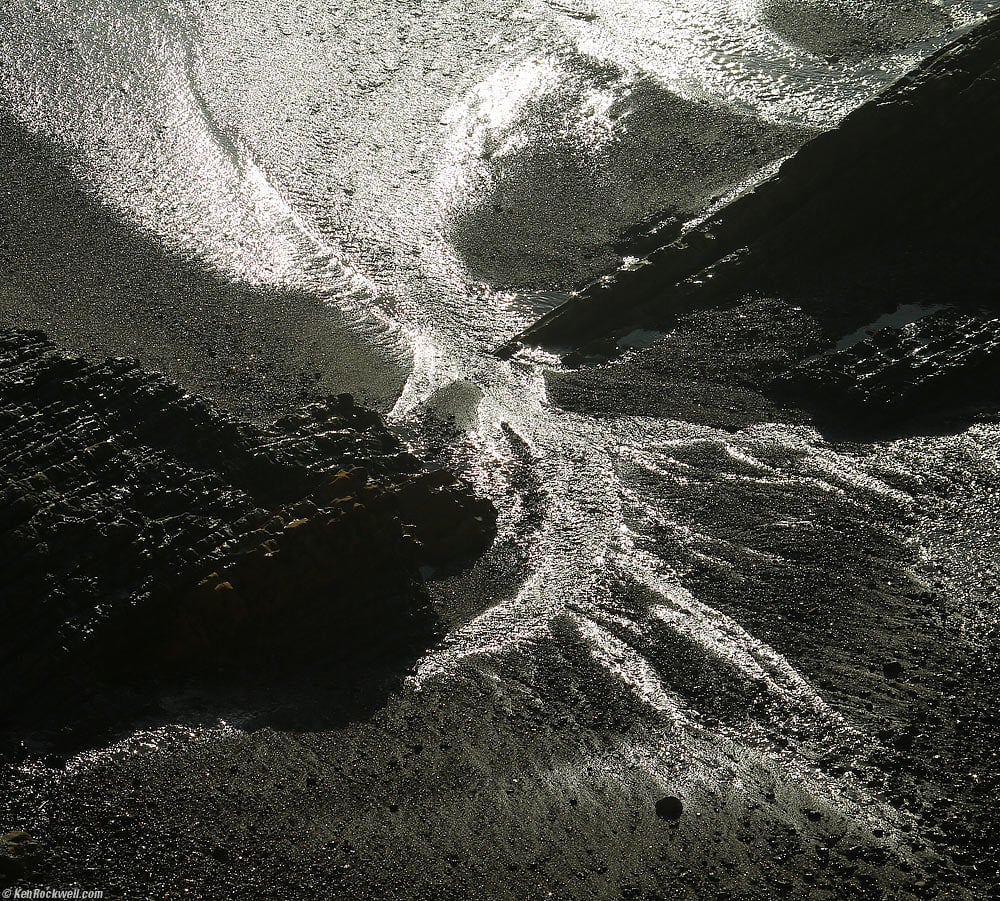 Corallina Cove, 6:09 PM, 13 April 2012. Original © file. 55-200mm USM II at 120mm, f/14 at 1/640, 5D Mark III at ISO 100.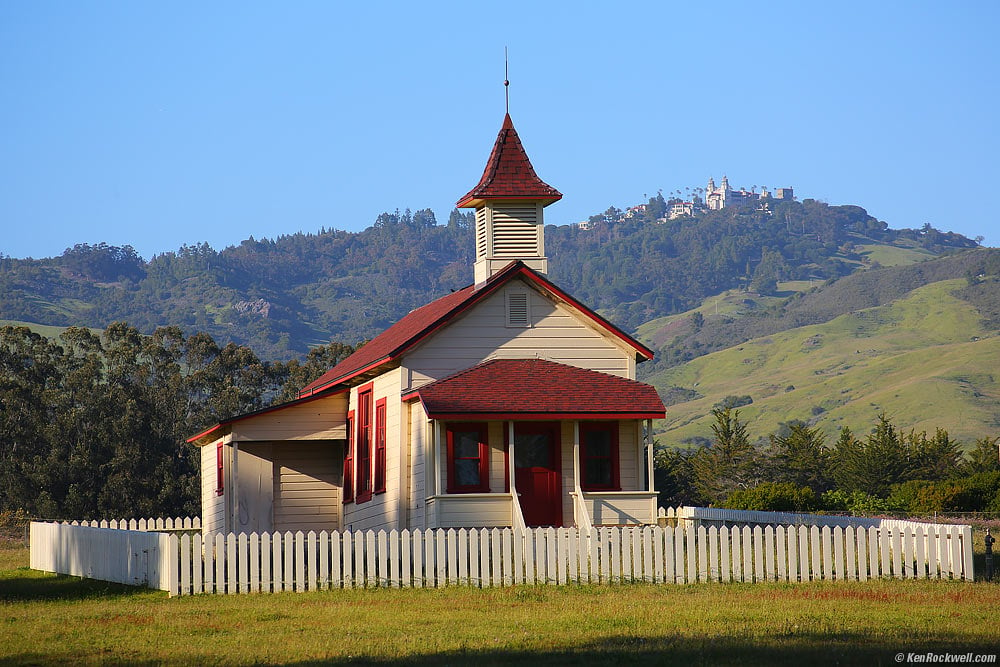 San Simeon, 5:50 PM, 14 April 2012. Original © file. 55-200mm USM II at 200mm, f/8 at 1/320 hand-held, 5D Mark III at ISO 100.
Speed performance top
Yes, it really rips along at about 6 FPS. Autofocus, once it's settled on which AF area to use, is fast, too, but the auto-select AF area mode is slow: it takes too long to guess which areas you want.
Everything seems about 50% faster than the 5D Mark II.
The one important thing which is now slower is that the far more complex AF system now takes far more time to auto-select AF areas in the auto-select mode. This eliminates half the point of the auto-select AF area mode, which is first-shot shooting speed.
Autofocus performance top
AF is much more complicated, not necessary better than the original 5D and 5D Mark II. It's similar to the Canon 7D AF system, but even more complicated.
The 5D Mark III's AF areas now fill a larger part of the frame, but they no longer are well-lit by individual LEDs as they were in the 5D and 5D Mark II.
The AF areas are big, ugly square black LCD boxes which cover the subject when they are active. At night, they are invisible except when poorly side-lit by one all-screen LED. Poo; now these numerous dark rectangles get in the way of trying to see when the subject smiles!
There are quite a few menu options for making them go away, but when they do, you're lost without any AF area indicators. There is no good option on the 5D Mark III. Better cameras (like better Nikons) use variable-brightness LEDs that don't hide our subjects.
A new feature is the option of smaller "pinpoint" AF areas. They are indicated by little ticks inside the larger boxes. I don't use them.
In spite of my whining about the downgraded AF system, the new power switch that never turns itself off by accident makes up for it, and I'm sure most people will like the new AF system.
AF-Area Distribution
Sure, there are a lot of AF points, but they're all in a very narrow band spread from left to right. They don't go very far above or below the centerline, so for most compositions, there is no sensor where I need it.
When shooting vertically, this means that the sea of AF areas is a narrow vertical band, not reaching very far left or right.
Low-Light
The 5D Mark III's AF system still can't see in the dark, where you might want to use ISO 25,600 and more. If it's too dark for you to see clearly, the 5D Mark III will have a hard time autofocusing, too. It's not any different from other AF cameras as far as low-light is concerned.
If it's very dark, the AF system has more trouble focusing. It's not magic, and the Mark III has no AF assist light.
Accuracy
Shooting fast lenses wide-open demands skill from the photographer: careful selection of lenses that give consistent AF performance (my reviews note which aren't always accurate), and in rare cases, you may have to set the AF Fine Tuning.
The 5D Mark III is plenty accurate. If you're not getting great results, try a different lens or be more careful. The results can't be any better than your own photographic abilities.
If you do have to set the AF Fine Tuning, the Mark III now offers settings at both ends of the zoom range, which Nikon can't do.
Auto AF-Area Selection Mode
The auto AF-area selection mode isn't very smart.
Unlike Nikon's, which recognizes faces and does an amazing job of nailing focus on the closest eye, the Canon 5D Mark III just looks for the closest distraction, and focuses on that instead of the subject most of the time.
To use this feature, set AI focus and "all area" AF.
Sadly, this mode isn't very useful. The Nikon D800 does a far better job, while the 5D Mark III usually just looks for the closest distraction.
Complexity
Canon threw in a slew of AF points so that the 5D Mark III could sell better to the great majority of less-informed customers, but sadly didn't refine the AF system's controls and uses a much poorer LCD finder display compared to earlier cameras.
It's easy to throw in more features, but takes skill and maturity to design a system to make these features easy to use. Canon hasn't done this yet on the Mark III.
The 5D Mark III's AF system is that is about ten times more complicated than earlier cameras. Now it will take you forever to learn how to use it, and if you do, you'll discover that the Auto AF Area Select mode takes much longer to select which of the 61 points it feels like using, while the original 5D and the 5D Mark II instantly selected among their 9 points.
No longer can all the shot-to-shot settings be made while looking in one place. You have to set the AF Area modes while looking through the finder, and the AF mode (AI SERVO etc.) while looking at an external LCD.
As if anyone could honestly figure out the AF system of the 5D Mark II, the Mark III now demands you figure out five pages of menus, just for the AF system. My LEICA M9 needs only one menu for the entire camera, and its AF system never misses.
Speed
All Canon EOS, even the first EOS 650 of 1987, have fast autofocus once the camera and you have selected which AF area is going to do the focussing.
Once you select an AF area and mode, the 5D Mark III works great, however the added complexity makes it a lot harder to get that AF area and mode selected.
The Mark III's AF system gets in the way of my photography more than the simple and effective AF systems of previous 5Ds. I now have to stop my shoot and diddle with settings, while I never missed a shot with my 5D and 5D Mark II.
A huge defect in the 5D Mark III's AF system is that no longer can I switch among the AF modes I use with one click, without stopping or taking my eye from my subject.
With the Mark III, there are so many junk AF features added that to do what I need to do, the best I've been able to program the 5D Mark III still takes me a few clicks of fiddling, by which time, the shot is lost forever. Whoops!
If you hold the AF-select thumb nubbin (set it in a menu to work), you have to click it repeatedly to move around; it only moves the sensor one click each time. (Nikons keep moving if you hold their thumb selectors.)
On my 5D Mark III, I set it to forget all the junk modes, and just run one-point or auto-select. Even with this and more programming, it now takes holding the [-|-] button and spinning a dial to get from one mode to another, after which I still have to jockey the thumb button. Since there are so many AF points, I now have to take a while with repeated presses of the thumb button to get there (with Nikon, I can hold the selector button and it keeps moving, but not with Canon).
This is a huge step backwards, but in traditional Japanese marketing, by the time the general public sees through the smoke screen of "NEW!!" and realizes how bad this is, the 5D Mark IV will be beckoning to us.
Auto AF-Area Selection
I like to use auto-area select, but now with the 5D Mark III, it isn't fast enough for me.
More processing power or more efficient firmware may help this, but as of March 2012, this feature is a big drawback in the Mark III.
With the original 5D and 5D Mark II, I usually run in the Auto AF Area Select Mode. If it's not selecting what I need automatically, I have the camera set so one tap on the multidirectional thumb button instantly forces the one fixed sensor I need, and I get my shot. One touch, and it's done, and one-touch of the [-|-] button, and I'm back in auto-area mode. Beautiful! My Nikons do the same thing with a lever on the back, and I have them set so the one fixed point I select tracks all around the frame, not letting go of my subject. When I'm done on my Nikons, one lever flick gets me back to Auto-Area select. Easy.
Manual Focus performance top
Another casualty with the new and highly complex AF system is that no longer does the AF system help with manual focusing.
The only help you get from the 5D Mark III's electronics is one green OK dot on the bottom of the finder. No longer do you get brilliant red flashes as each area sees good focus, as do the original 5D and 5D Mark II.
Worse, one green dot isn't enough for precise manual focus, as the three-way > 0 < vector null indicators of better Nikons do.
Finder performance top
Set the right way, and you can get a very clear screen for undistracted composition. Set the wrong way, and you'll have big, ugly black rectangles all over your image, making it difficult to concentrate on composition or seeing when a subject smiles. Hint: You can get a clean screen in the Auto Select AF area mode.
The AF points are now poorly lit. An LED lights up the entire screen and sort of helps you see the dark LCD AF point boxes in the dark. The older cameras were much better.
You can program the M-Fn button to show the level display, but it uses the AF Points and not a separate level display as does the Nikon D800. As soon as you tap the 5D Mark III's shutter, those points revert back to AF points, so the level is useless for hand-held shooting.
The matte surface of the screen is cut for optimum brightness with f/2.5 lenses. Faster lenses will be no brighter, and you'll only see the degree of out-of-focus, depth of field and bokeh for what that lens does at f/2.5. No longer can you get custom screens optimized for fast lenses as you can for the earlier 5D and Mark II.
You can enable a meaningless "!" to show when you've done any of some custom settings, like shooting in B&W or setting a custom white balance trim.
Thankfully you can trim the list of things for which the "!" shows, but once done, you'll still have to guess why it's lit. Unlike the Nikon N75, it has no icons to explain what exactly is the problem.
Multi-Task Shooting: Three Cameras in One! top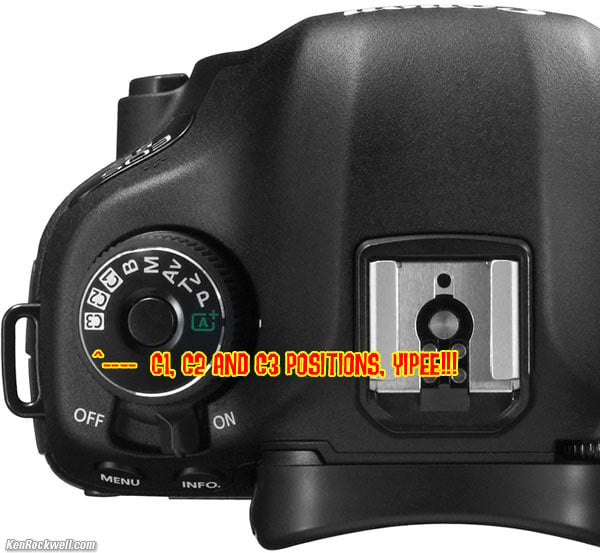 Canon 5D Mk 3 shooting mode dial: C1, C2 and C3.
How to set and use the C1, C2 and C3 settings
My preferred C1, C2 and C3 settings
A huge advantage of Canon over Nikon, especially over the ergonomically primitive Nikon D800 and D800E, is having three complete and total camera-state preset positions on the mode dial. Once programmed, everything about the camera's settings are instantly recalled as soon as you turn on the camera, or move the dial to that position.
These are of incalculable value for recalling different setups for different situations. I use one for landscapes, and one for family. Maybe you'll use one for indoor night shots, and another for soccer. Unlike Nikon's bogus "settings banks," Canon's C1, C2 and C3 recall everything, recall with the flick of a knob, and are usually locked so they don't get reset by accident.
Think of these C1, C2 and C3 settings as Camera 1, Camera 2, and Camera 3. It's like having three cameras around your neck, while only having to carry one.
For instance, since everything is recalled instantly, complex setups are easy to use immediately. I disable my external flash from firing in the menus so I can leave it turned on to use its red AF assist light in the dark without using flash in one C mode, while I let it fire in the other setting. This way it's easy to focus my nightcapes in total darkness without having the flash fire in C1, and in C2 for family, the flash works as usual.
The 5D Mark III is the world's best camera for when you're shooting more than one kind of thing. If I'm shooting in Yosemite Valley, and suddenly my kids do something cute, I can keep my eye on the finder as I turn the camera, and in one click of the mode dial by feel, I've reset everything about the 5D Mark III to my own personal preset for kid's action pictures, as opposed to the settings I was using a second before for grand landscapes.
Sure, if all I shot were sports, news or action, the Nikon D4 is a much faster, tougher professional camera for twice the price, and if all I did was shoot in a studio all day the Nikons are better because they allow easy in-camera 4:5 cropping, and if just want family pictures, the Fuji X100 weighs far less and works better in weird light, but when I want take one camera to do the work of all these at the same time, the Canon 5D Mark III is unbeaten.
The Nikon D800 is nice if you only shoot one thing, but a pain because you need to reset everything for every different shot.
Each of the 5D Mark III's C settings recalls everything about how you have your camera set: sharpening, color, saturation (and every setting for every one of the ten presets in the Picture Controls menu), self timers, LCD brightness, time-out settings, autofocus settings, P Tv Av M exposure modes, resolution, file format(s), advance, metering, exposure compensation(s), white balance, WB tweaks, how many files the playback jumps when you move the top dial, everything in every menu, everything. The 5D Mark III instantly changes all of its settings as you click from one C setting to the other.
If you reset a few things to something screwy and want to return to your preset preset, simply turn the knob away and back to the C setting you desire, and it's all as you preset it. You can select these by feel without taking your eye from the finder. If you set something screwy for one shot, don't worry: after the camera times-out in about a minute (also selectable in a menu), when you wake it for the next shot, it's back where you preset it. Never again will you make the first shot of the day at ISO 51,200 and 2,500K WB from the night before.
Each of these settings remains unchanged until you save a different set of settings to that dial position.
New on the 5D Mark III is that you can choose to have these settings automatically update as you change the settings, as Nikons do in their settings banks. Set this way, when you leave one setting, it will be as you left it when you return. This is handy for when you first get the camera as your preferences finalize, but I'd set it back to its default of fixed after you get comfortable.
If you save the same thing to two locations and set "auto update," they both update until you change something in just one of them.
Metering performance top
Metering is better than most photographers. You need to learn how to use it; even the LEICA M9's meter requires an intelligent photographer.
In most AF modes, the exposure is heavily spot-weighted to the selected AF sensor: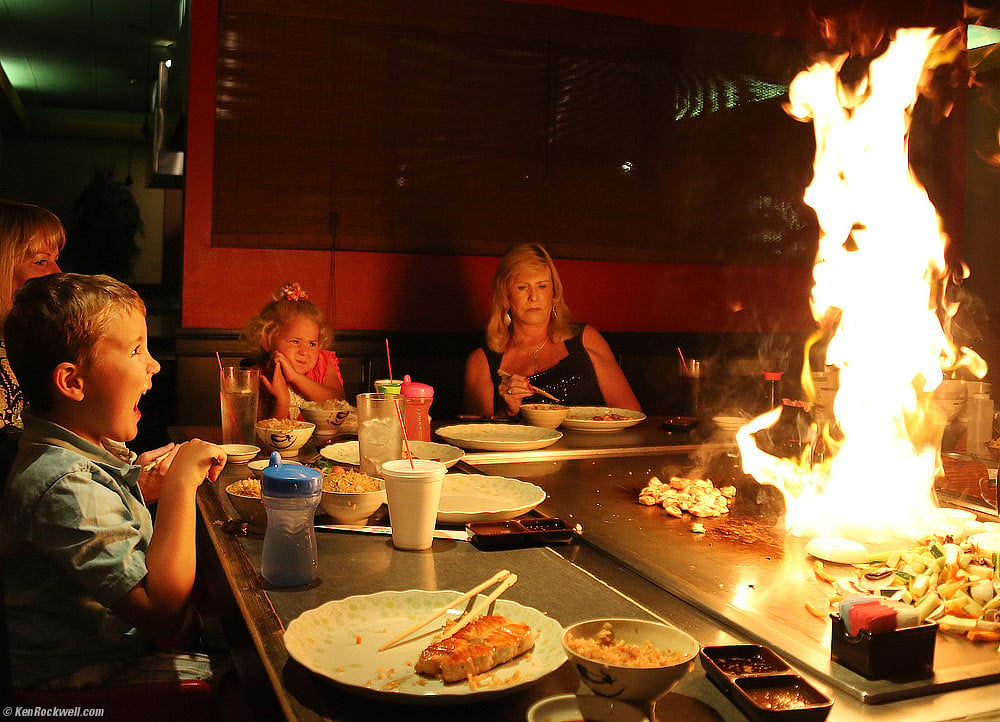 Ryan LOVES fire! The ladies, less so: Tokyo, 01 August 2012. (Canon 5D Mark III, Canon EF 28-105mm USM II at 28mm, Program Auto and AUTO ISO chose f/4 at 1/125 at ISO 3,200, STANDARD Picture Style with 6 sharpening, 0 saturation, AUTO WB A4.) bigger. more.
All I did was place the sensor, everything else was on my usual AUTO settings, and my 5D Mark III did the rest while I concentrated on my picture, not on my camera.
This was an easy shot, I just put my 5D Mark III's AF sensor on Ryan's face, and the camera took care of the rest at my usual C2 instant-recall setting. It puts most of the exposure emphasis on the sensor, so the flames don't distract it. My cheap used 28-105mm USM II works great; no way I'd carry the big 24-105 IS everyplace we go, and with the super-ISO capacity of the 5D3, no longer do I need anything faster than f/4 or f/5.6. Image Stabilization serves no purpose with people or action like this; IS is for still-lifes only.
Flash performance top
Flash metering works with all EX flashes.
It's pretty darn good, giving perfect fill-flash exposure most of the time in most lighting from daylight to backlight to indoors.
EZ, E and older flashes don't work in any of the TTL modes.
Sync is a slow 1/200.
Auto ISO performance top
Auto ISO lets you set top and bottom speeds.
By default, it runs from ISO 100 to ISO 12,800.
I set mine to let it run up to ISO 25,600, to which it never needs to go. You can't see in light that low!
New in the 5D Mark III is that you can set a fixed slowest shutter speed. Normally, it's smart enough to set the slowest shutter speed automatically by the focal length of your lens.
Silent Mode performance top
The Silent Mode really is. Silent mode is much quieter, and not much slower, than regular mode. I use Silent for all of my non-action shots.
It's not silent, but it is only a fraction as loud as the usual sound, and it's almost as fast to respond as the normal noisy modes.
I use the usual modes for family snaps of moving kids, but the Silent Continuous Mode for everything else. I like to work unnoticed and undisturbed.
Highlight and Shadow Optimization performance top
We can't set the 5D Mark III to optimize both highlights and shadows at the same time, as we can do on Nikon and as we can on the older 5D Mark II.
Highlight control, called Highlight Tone Priority in the third camera menu, and marked as D+ later, doesn't do much. The improvement to highlights is rarely visible.
Shadow optimization, called Auto Lighting Optimizer in the second camera menu, works well to lighten dark shadows. To my surprise, the shadow optimizer, which increases the effective ISO only in the shadow regions to lighten them, seems to work even set to the highest ISOs, and looks fine.
HDR Mode performance top
The HDR mode really works, even hand-held because it can auto-align the images.
I find the results much softer and dreamier than original images, when shot at "natural."
I'm not an HDR fan; I prefer to light my sets properly.
How to use the 5D Mark III's HDR mode.
Ergonomics performance top
The feel is better than any previous 5D. It's comfortable held horizontally of vertically.
The playback controls are still far from perfect, but much, much better than previous cameras.
There are a lot more menus than earlier cameras. For instance, there are five just for the autofocus settings!
It's not obvious until you work with it, but the darn 5D Mark III has completely rounded corners! There's not a hard edge on it. Only Canon seems to know how to make solid magnesium feel soft, thank you!
There are so many features that Canon now has the dubious distinction of being the first to require double-sequential button pushes to make some functions happen! For instance, at default settings, you now have to tap the [-|-] button, and then press the M-Fn button repeatedly to select among AF Area modes. This is bad, but piddle in the menus, and you can improve some of this.
There are too many identical buttons next to each other on the back, without tits to identify them by feel.
No longer can we set the SET button to access the Quick Control ("Q") screen. Now there is a dedicated [Q] button. Unlike using the SET button to do the same thing, now have to do a thumb dance from [Q] back to SET as we use the rear LCD to set the camera.
The Q screen should repeat the specifics of user-set picture controls, but it doesn't. You must go deeper into menus to see that. (It does show the settings from the other named Picture Controls.)
The ISO is not shown in the finder while adjusting it manually; you have to pull your attention away from shooting and look at the rear or top LCD.
The Q screen no longer can be used to set the AF area modes; now they only can be set while looking through the finder. This sounds good, until you realize that the Focus Modes (AI SERVO, SINGLE-SHOT, AI FOCUS) can only be set in other places. In other words, you can't set the AF system until after you've looked and set these in two different places!
Canon's usual idiotic manual WB setting still requires about 10 steps. The 5D Mark III still has only one memory; I think some PowerShots have two, and Nikons have five. These are important for people who shoot in varied lighting, which means anyone who shoots at ultrahigh ISOs.
The Mark III still uses a cheesy rubber eyepiece cover. It's more rounded than the one on the Mark II, but I suspect they are all interchangeable.
I always had a huge problem with the the power switch turning itself off or deactivating the rear dial on my original 5D and Mark II. The Mark III's new switch fixes this. It's a HUGE improvement, and another reason I love the Mark III.
The locking mode dial of the Mark III may also be placing another obstacle between me and my photos. One finger used to be enough to spin the dial from C1 to C2 as I snapped a scenic or a kid photo, but now the lock release button requires finger gymnastics — and I've never had problems with top dials moving by themselves.
The 5D Mark III takes the same batteries as my 5D Mark II, so I already had two fully charged batteries ready to go the instant it arrived, with no need to buy another spare, yay!
Long Exposures performance top
With the RS-80N3, TC-80N3 or other remote cord with the 5D Mark III set to Bulb, the top LCD counts seconds, and the EXIF records the actual exposure time to tenths of seconds.
Movies performance top
There is no continuous autofocus while shooting video. The 5D Mark III does not replace a camcorder! (see page 226 in the USA manual.)
I prefer my real camcorder or iPod Touch for home movies. The 5D Mark III is shot professionally, but that means with professionals who specialize in "focus pulling" for careful manual focus.
You can set manual monitoring and recording audio levels (USA manual pages 234 and 235).
You can set drop-frame or NDF time code, or none.
To set the play volume, turn the front dial.
Data performance top
22MP LARGE JPG NORMAL files are about 4.5 MB median size. Depending on image complexity, sharpness and contrast, they will vary anywhere from 1.8 to 10 MB.
5.5MP SMALL 1 JPG NORMAL files are only about 750 kB median size, and look great! Depending on image complexity, sharpness and contrast, they will vary anywhere from 450 kB to 2.5 MB.
Playback performance top
Playback is wildly improved from the 5D Mark II. Much less is held hostage from us before we stop and press the PLAY button, the LCD's automatic brightness control is worlds better, and as I've been asking for years from Canon, for the first time, when you zoom, the entire LCD fills with image. Duh, but for a decade, every other Canon DSLR has left a black band across the top, while with the 5D Mark III, the entire big LCD fills with picture. Whoo hoo!
The LCD is great: big, bright, clean, sharp and clear. It's as good as the 5D Mark II, a little wider, and a lot smarter.
The PLAY button is hidden in and among all the other identical buttons along the left side; good luck finding it each time you need it.
A core incompetancy of Canon has always been images that are slow to fill-in with detail as you swap to new images, or scroll around different sections of a zoomed image. The 5D Mark III fails to fix this, while Nikons have never had a problem.
You still can't swap to other images right after you've made a shot. You still have to hit PLAY first, a core incompetancy of Canon. If the camera is idle, pressing the magnifying glass button works as a play button.
No longer do we have + and - buttons for zooming. Instead, we now have a magnifying glass button. We can select the default level of magnification in a menu, and we now zoom in and out by spinning the top dial.
Playback can be set to zoom from the active AF point.
Spin the rear dial and it will swap among images at the same zoom and location, but if the AF point moved, it won't move to the AF points used for the other images unless you go back to the full image (press zoom again) and zoom-in again on the next image.
We can scroll diagonally across the frame while zoomed, and scrolling is very fast.
I prefer to set the SET button to be a magnify button, so I can get into play with one hand: tap the shutter to get back to shooting mode, and tap SET twice, and now you're playing with full access after three taps, what you get in Nikon without any clicks.
There is no histogram of a zoomed-in area. Tap ZOOM, and the histogram vanishes.
Power performance top
The 5D Mark III takes the same battery and charger as my old 5D Mark II. It draws 11.25 watts while bulk charging, tapering off as it approaches 100%.
I get 1,200 shots per charge with my my 2-year old spare battery from my 5D Mark II, which reads only 2 out of three green health boxes in Battery Info.
Compared top
Intro Specs Accessories Performance
Usage Compared Recommendations More
NEW: High-ISO Comparisons of the Nikon D1, D3 (D700), D4, D800, D7000 and Canon 5D, 5D Mark II, 5D Mark III and Fuji X-Pro1 and X100 06 April 2012
NEW: 2012 DSLR Comparison 18 April 2012
That's all fun and games. The important differences have nothing to do with little-used things like high ISO and megapixels. The important differences are in the things we use for every shot: focussing and setting the camera to make each photo.
The usual Nikon versus Canon applies. The 5D Mark III offers three instant-recall presets C1, C2 and C3, which makes it far better for multi-purpose use than any Nikon other than the D7000 (with Nikon, it takes a half-hour to reset everything for one kind of photo or another), but Canon is still showing some of its core incompetency in locking-out some play functions unless you stop what you're doing and and hit PLAY after each shot, and has very poor ability to set manual white balances — big differences you really will see in real photos.
I'm deeply saddened that the new 5D Mark III has a much clumsier AF system that's harder to set while shooting, and a poorer finder screen whose LCD AF-area marks obscure the subject.
Also not good is that the Mark III's only real image-quality improvement claim is correction of color fringes, but there are no profiles for some of my favorite lenses, so who cares?
This 5D Mark III has gotten fatter than the previous 5D Mark II (950 vs. 907g), while the Nikon D800 and D800E have gotten slimmer from the previous D700 (1,000 g vs. 1,085 g). The 5D Mark III now weighs only 1.8 ounces (50g) less than the D800, mostly eliminating the light-weight advantage of the Canon 5D series over Nikon's full-frame cameras.
Recommendations top
Intro Specs Accessories Performance
Usage Compared Recommendations More
The 5D Mark III has no built-in flash. I prefer my compact old 220EX for family photos; it is superior to the new 270EX II sold today.
The 5D Mark III is the world's best DSLR.
It's a huge improvement over the 5D Mark II due to the improvements from automatic color fringe correction, and the greatly improved power, depth-of-field and playback controls.
If you shoot Canon, you deserve one of these. If you've read this far, you know you want one, and if you wait two years, you'll still want one. Get one today, and you'll have all these years to enjoy it. The 5D series has been on a three-year product cycle, so I don't expect the Canon 5D Mark IV until 2016.
The Mark III is the same as the 5D Mark II, with a lot of firmware tweaks and a far more complicated AF system, for an extra $1,300 over the 5D Mark II. The old Is It Worth It applies: if you're rich or use it every day, it's well worth the upgrade, if not, don't bother. You can still buy brand-new 5D Mark IIs for about 40% less than this new Mark III, and the older Mark II is just as good for 95% of what we do with it. Even the original 5D takes fantastic pictures, but is a pain to use.
The Mark III is better than the Mark II, which is much, much better than the original 5D, but if the extra $1,300 means something to you, get the Mark II while you still can and put the money into some fast lenses. The Mark III's color-fringe correction is a big deal for me; you will see the difference in normal prints, unlike this high ISO or high megapixel baloney, which you can't.
As always, only you can answer Is It Worth It — to you. If you earn your living with it, it is. If not, it's a toy, so it's a question of how much your pictures are worth to you.
If you've found all the time and effort I've spent researching and sharing this information and experience for free, my biggest source of support is when you use these links to get yours, especially these:
Kit with 24-105 IS at Adorama.
Using those and these links to get yours, regardless of the country in which you live, is this free website's biggest source of support.
THANK YOU!
Ken, Mrs. Rockwell, Ryan and Katie.
More Information top
Intro Specs Accessories Performance
Usage Compared Recommendations More
Ken Rockwell's Canon 5D Mark III User's Guide.
Canon's 5D Mark III User's Guide.
Canon's 5D Mark III index page.
Help me help you top
I support my growing family through this website, as crazy as it might seem.
The biggest help is when you use any of these links when you get anything. It costs you nothing, and is this site's, and thus my family's, biggest source of support. eBay is always a gamble, but all the other places always have the best prices and service, which is why I've used them since before this website existed. I recommend them all personally.
If you find this page as helpful as a book you might have had to buy or a workshop you may have had to take, feel free to help me continue helping everyone.
If you've gotten your gear through one of my links or helped otherwise, you're family. It's great people like you who allow me to keep adding to this site full-time. Thanks!
If you haven't helped yet, please do, and consider helping me with a gift of $5.00.
As this page is copyrighted and formally registered, it is unlawful to make copies, especially in the form of printouts for personal use. If you wish to make a printout for personal use, you are granted one-time permission only if you PayPal me $5.00 per printout or part thereof. Thank you!
Thanks for reading!
Mr. & Mrs. Ken Rockwell, Ryan and Katie.
Home Donate New Search Gallery Reviews How-To Books Links Workshops About Contact