Home Donate New Search Gallery How-To Books Links Workshops About Contact
Canon 5D
13 MP Full-Frame, 3 FPS, 2.5" LCD
(2005-2008, replaced by the 5D Mark II, 5D Mark III and 5DS)
Introduction Specifications Performance Compared Recommendations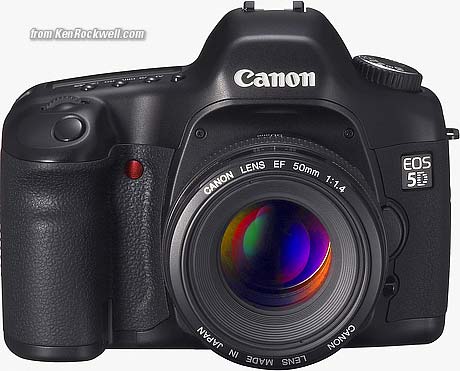 Canon 5D (31.9 oz. /904g with battery and card, I paid $3,300 new and now sells for about $400 used). enlarge. This free website's biggest source of support is when you use this link to them at eBay, or any of these links, when you get anything, regardless of where you live. Thanks!
Sample Image File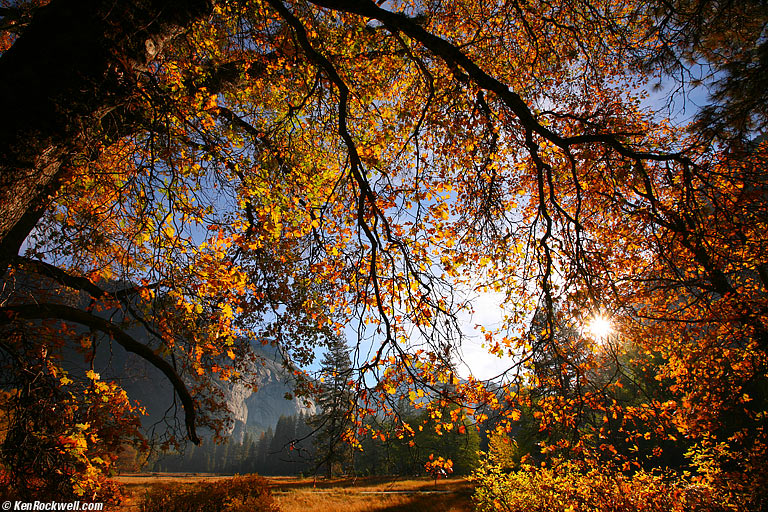 Yosemite Valley. Canon 5D, 16-35mm f/2.8 L II with Tiffen 812 warming filter at 16mm, f/11 @ 1/80 (Av mode), -0.3 exposure compensation, ISO 100, hand-held (tech details). Exactly as shot in JPG. Camera-original file © (6MB).
More Canon 5D example photos: Eastern Sierra Death Valley Rt 66
NEW: 2012 DSLR Comparison 18 April 2012
NEW: High-ISO Comparisons of the Nikon D1, D3 (D700), D4, D800, D7000 and Canon 5D, 5D Mark II, 5D Mark III and Fuji X-Pro1 and X100 06 April 2012
Nikon D3X, D3, D40, and Canon 5D Mark II, 5D and SD700 Sharpness Comparison 13 January 2009
Nikon D3X, D3, and Canon 5D and 5D Mark II ISO 3,200 Comparison 09 January 2009
Canon 1Ds Mk III vs. Canon 5D vs. Nikon D3 28 July 2008
20x30" print comparison. The 5D wins!
Nikon D3 vs. D700 vs. Canon 5D 10 July 2008
16mm Lens Shootout 2008
December 2015, May 2012, August 2010, June 2008 Canon Reviews Canon Lenses All Reviews
Introduction back to top
Introduction Specifications Performance Compared Recommendations
The Canon 5D is sharper than the $5,000 Nikon D3 or D700, and the 5D sells for about $800 used.
The Canon 5D was the world's best portrait and landscape camera for under $8,000 in its day, and today, still a steal. The images look fantastic, and it runs forever on a single charge. Unlike pro cameras, it's light enough to want to take in your backpack everywhere to bring back extraordinary images.
How good is it? The 5D doesn't handle as fast as a Nikon and isn't built anywhere near as tough as a pro Nikon, but if your subject holds still and you aren't shooting in the rain, the 5D easily can exceed the technical quality of anything from Nikon. Here's a snapshot made on the lowest JPG setting. Click the image for the original 12MP file from my 5D.
On 17 September 2008, the 5D was been replaced by the EOS 5D Mark II, which takes the same pictures, but has far superior ergonomics and a fantastic LCD. The MSRP of the Mark II was only $2,699, about the same as the 5D. Today, this 5D is a steal used.
I love my Canon 5D. I love it so much that I've been so busy shooting with it these past 18 months instead of writing about it. (The same applies to my excellent 15mm fisheye and original model 14mm f/2.8, both of which also are great.) Today is overcast, so I guess it's time to write it up once and for all.
I'm a sucker for a bargain, so I bought my 5D on November 15th, 2006 from Adorama back when Canon was offering a $600 rebate, so long as you also got an appropriate lens. I thought the rebate signaled a new model, but I was wrong and lucked out.
I've made about 15,000 shots on my 5D (or maybe it's 25,000). I love its vivid color (when set to my standard of +3 saturation) and its pure image quality. When printed big (much bigger than 12 x 18") its image quality is better than even my Nikon D3, a news and sports camera. This all comes from the Full Frame Advantage. Bigger sensors or film easily make for higher technical quality images.
Look at the example files to see what I saw that had me running out to go shoot with the 5D instead of writing about it.
When my Nikon D3 hits my hands it probably will have the same image quality and better ergonomics, but costs double and weighs a lot more. If you want a 5D, I wouldn't wait around. Fall 2007 colors are here, and my 5D is the best I've got before the leaves blow off the trees.
Advantages of the 5D
My 5D has immaculate image quality beyond anything in smaller formats. (see examples)
This means for big prints, there's nothing but embarrassing comparisons to my Nikon D200. Of course none of this matters unless you get the far more important basics of lighting and composition out of the way first, and then it only matters if you print large and look too closely, but for those of you who care, just get a 5D.
Not only is resolution and sharpness far beyond any smaller format camera due to the practical limitations I discuss in the Full Frame Advantage, but if you want no noise, the 5D goes down to ISO 50! I like this because it matches Fuji Velvia when I'm shooting both at the same time.
My 5D seems to have limitless battery life: I get over 1,000 shots per charge.
Disadvantages of the 5D
I prefer the ergonomics and usability of my Nikons.
The 5D is klunkier and slower to give results. It has no Auto ISO, so I have to jack the ISO around manually for each shot, although I can do it without removing my eye from the finder.
Its body may look nice, but doesn't fit my hand. My D200 fits like a glove, while my fingers hurt after holding the 5D for any length of time.
The 5D has controls in places not intuitive or easy to touch. For instance, I have to use a second hand to hit the depth-of-field preview since its on the wrong side. It's easy to shoot my Nikons with one hand, but difficult and painful to try to do the same with my 5D.
Dim and color-innacurate LCD (same as Canon 30D.) The $400 (body) Nikon D40 is far better.
Slow data transfer via the 5D's USB port.
The worst part of my 5D is its vomity-greenish-cyan LCD. Colors look like crap on my 5D's LCD, so I have to guess while shooting. Colors desaturate as they get brighter on the LCD, even though the actual recorded image is fine. It's as if the video circuitry is clipping the highlights of each channel before they get to the LCD; I'll have to experiment - but whatever the reason, it's much worse than the Canon point and shoots! The LCD is also of lower contrast than the new Nikons. I use my LCD to set color and exposure as I shoot which gives me printer-perfect JPGs directly out of my 5D without needing to jerk around in RAW, so I wish the LCD was up to it. I fly blind, as I did with film, with my 5D.
I'd love it to be a joy to hold and use, like the Nikons whose industrial design is done by Giorgetto Giugiaro.
I'd love to have an easier way to set manual custom white balances, something Canon does extremely well on their compacts and the XL video cameras, but requires way too many button presses on their SLRs.
I'd love to have smart programmable Auto ISO.
I'd love to have faster data transfer via the USB port, and preferably, a Firewire 800 port.
I'd love for the 5D to pop up as a drive instead of only being able to download from it through software.
I'd love to be able set my camera to add my © notice to metadata directly in-camera without needing to talk to the camera with a computer.
I'd love more visible finder readouts. The finder digits of my 5D are too skinny and too dim to read in bright light. (my Nikon D40's numerical readouts are far better.)
I'd love to have a modern camera with all the information readouts and controls on the back where I can see them, not on a top LCD like old film cameras. I can't see the top of a camera when it's on a tall tripod.
I'd love a new flash exposure control system that nails every flash exposure perfectly as my Nikons do.
I'd love it if Canon gave us more C1, C2, C3, etc. settings on the selector dial, each of which I could program myself. The one C setting on my 5D is pure genius. Having more of them would let me shoot much faster.
Canon 5D vs Nikon D3 at High ISOs 07 December 2007
Canon 5D vs Nikon D3 Sharpness Comparison 05 December 2007.
Canon 5D vs other DSLR High ISO Comparison 04 December 2007
DSLR High ISO Shoot-Out 03 October 2007
Cleaning and Canon Factory Service 28 September 2007
Compared to the Rebel XTi, Nikon D200, D80, D70, D50 and D40
Users Guide
I may write one of my complete, plain English User's Guides for the 5D, but since the 5D is the 99% same camera as the 30D, see my Canon 30D User's Guide. Almost everything, including the menus and most of the custom functions, is identical.
Improved Canon 5D LCD
My Canon 5D, bought around November 2006 when Canon was giving a $600 rebate and with a serial number beginning with 1, has the worst, dimmest and most off-color LCD I've ever used, just like the 30D. I hear that the latest 5Ds, as of at least December 2007, have an improved LCD, with serial numbers beginning with 2. I sure hope so! Yay!
Specifications with commentary back to top
Introduction Specifications Performance Compared Recommendations
Lenses
EF only. The smaller EF-S lenses like the 10-22mm, 18-55mm and 17-85mm can't cover the 5D's extra-large sensor. The large sensor means the 16-35mm, 20-35mm, 17-40mm, 14mm and 15mm fisheye cover huge angles, the whole point of buying a 5D. Forget manual focus lenses with an adapter; there is no exposure metering and it just gets silly.
AF
9 segments. The 5D uses the same AF sensors and positions as the 20D and 30D, which means that the sensors are much closer together in the center compared to the smaller cameras. I like the layout, since I'm more likely to find a sensor where I want it. There are also six secret, hidden AF sensors to help with moving subjects. Canon AF has always worked great; it's why pro sports shooters switched to Canon in the 1990s and have never returned to Nikon. I find the accuracy and consistency of AF is better than it is on my Rebel XTi, important if you use fast lenses.
AF Assist Light
None, unless you use an external flash.
Viewfinder
-3 to +1 diopters, adjusts with knob. Canon makes 10 different slip-on lenses to cover the range from -4 to +3 diopters if your eyesight demands it.
Focus Screens
Two optional screens are available. The Ee-A is standard. The Ee-D adds a grid (most Nikons allow you to turn the grid on and off for free without having to pay for an extra screen and risk the dirt and damage inherent in changing them), and the Ee-S screen, which is designed with a different focus surface optimized for manual focus of fast lenses. No, I have no idea why the funny E-I-E-I-O nomenclature for the screens. See also my page on Canon 5D Focus Screens.
Flash
Lacks built-in flash. E-TTL II autoflash control with EX-series Speedlite.
1/200.
Non-polarized PC Flash terminal as well as hot shoe, less than 250V. OK to use both at once. More here about flash sync.
Shutter
30s - 1/8,000 without flash. 1/200 maximum with flash in the usual modes. Bulb counts up seconds on the top LCD during exposure, up to 999 seconds (15 minutes). Canon claims "durability tested" and "shutter life" of 100,000 frames, which is not a guarantee. Pro cameras tend to claim about 150,000 cycles and cheaper cameras don't say. No big deal, at least Canon has the guts to list a number.
Sensor
oversize 24 x 36 mm CMOS. Reminiscent of 35 mm double-frame film. Sensor really is 35.8 x 23.9mm.
Pixel Pitch
8.2 microns.
ISO
100 - 1,600 in third stops.
Set Custom Function 08 (MENU > Custom Functions (C.Fn) > 08: ISO Expansion: ON) and you also will get ISO 50, called "L," and ISO 3,200, called "H." I almost always shoot at ISO 50 just because it feels right. Sadly there is no choice of third stops where you most need them, which is between ISO 1,600 and ISO 3,200. There is also no ISO 64 or ISO 80, which is good since they'd just get in the way along with all the other third stops. I only use third stops at the very highest ISOs, which is the one place the 5D lacks them. Oh well.
Image Size
12.8 MP: 4,368 x 2,912 pixels. Also 3,168 x 2,112 and 2,496 x 1,664 settings.
Color-Contrast etc. Presets
Three user-defined custom settings (presets). These presets are called "Picture Style" and store sharpening, contrast, saturation and hue. I use Menu > Custom Functions (C.Fn) > 02 (SET button function) 2: Change Picture Style, and now all I do is tap the SET button while shooting and I can select among any of my own three, or any of a dozen other ones, to change to known presets of color and contrast etc, even black-and-white, almost instantly.
Complete Camera State Preset
One setting, the C on the dial. Set everything about the camera's state by MENU > Register Camera Settings, and recall them at the C on the top left dial. I love this! I set that for use in my studio under strobes, so it recalls my manual white balance for my strobes, the ISO and contrast and exposure and everything, every time.
Trick Modes
Crafty black-and-white modes allow preselection of color filters, without needing the filter!
Frame Rate
3 FPS, which is slow as DSLRs go.
Buffer
60 JPG, 17 RAW or 12 RAW + JPG. This is huge, which means I doubt anyone will ever be able to fill it at 3 FPS.
LCD Screen
Crappy 2.5," 230,000 pixels.
Claimed 170 degree horizontal and vertical angle of view, quite an advance if true. Other LCDs require you look at them from just the right angle to see them properly. Dim and inaccurate color compared to any of my Nikons.
YES, but smaller and less informative than the ones on my Nikons.
Data Interface
USB 2.0, and it's slow.
Body
Magnesium. Similar to the 20D, it lacks the seals of the 1D series.
Power
BP-511A included (also works with BP-514, BP-511 and BP-512). Rated 800 shots (CIPA). Battery weighs 2.9 ounces (82g). A CR2016 lithium coin cell keeps the clock running, even with no main battery. This backup battery is held in with a screw below the digital connectors on the side.
CG-580 charger, which is a compact folding-plug (no cord) version. The blinking light tells you 0%, 50%, 75% and 100% charge.
Size
6.0 x 4.4 x 3.0 inches (152 x 113 x 75 mm).
Weight
31.890 oz. (904.05g), measured with batery and card.
Canon specifies (28.6 ounces (810 g), stripped without battery or card. The Nikon D200 is about the same; 830g empty.
Made in
Japan.
Optional
Wireless File Transmitter WFT-E1.
BG-E4 battery grip in matching magnesium. It holds two BP-511A/514/512/511 battery packs or six AA batteries. It has a shutter release, AE/FE lock button, AF point selector and main dial for vertical shots.
Ee-D (Precision Matte with Grid) and (Ee-S) Super Precision Matte focus screens. The standard screen is the Ee-A Standard Precision Matte screen.
Data Verification Kit DVK-E2 v2.2 to verify the authenticity of images. It verifies image files are as they left the cameras and have not been altered. This is for police departments and private investigators, not artists.
Announced
22 August 2005.
Available Since
October, 2005
Rendered Obsolete
By the 5D Mark II, announced 17 September 2008.
Price
About $400 used in December 2015.
About $1,500 used in April 2010.
About $1,900 after instant rebate in June 2008.
In Fall 2007 there were no rebates, so it ran $2,500.
In Fall 2006 it was about $2,100 after mail-in rebates.
At introduction in October 2005 it sold for $3,299.
Performance back to top
Introduction Specifications Performance Compared Recommendations
Be sure to read the Specifications and Introduction sections above where I address many other performance details.
Image Quality
As I've covered above, Image quality is the very best I've ever owned in a DLSR. I've never been able to afford a 1Ds.
The only invisible oddity is low chroma bandwidth in the JPGs. This means if you have a single-pixel red pip of a flower on a green background, that the redness (but not sharpness) is smeared a bit. Weird, but true. This has never affected a real picture, but you'll see it if you look for it at 100% with other deliberate test images (Try a wide shot of a magenta bougainvillea).
I was astounded when I discovered that a cheap $175 Russian fisheye on my 5D gave better image quality than my brand-new 10.5mm Nikkor on my D200. See the comparison in my Zenitar 16mm Fisheye review.
This is part of The Full Frame Advantage, part of which which is that even bad lenses can look better on full frame than great lenses on a smaller format. Of course if I use a good lens, my 15mm Canon fisheye on the 5D is the best fisheye system I've ever used, and works spectacularly well for stretching back out in DxO software.
Here are 6MB JPGs direct from my 5D: Yosemite Valley © Green Wall © Trees © Gazebo ©.
Look at them in Photoshop and go print them for yourself. The first is with thee 16-35 L II, the middle two are with my inexpensive 17-40mm L, the last and sharpest one is with the extraordinarily sharp 100mm Macro.
This is crazy, I've never seen anything as good as this out of my Nikon D200 in terms of definition. These files are the most compressed (normal, or stairstep icon) Large JPG direct from my 5D, no raw, no Photoshop, no nothing.
These were some of the first images I mage with my 5D in 2006. Since each of these 6MB JPGs take as much room as 100 of my other web pages, I'd like to, but won't post any better, newer ones since they are such data hogs as the internet goes. I posted in the course of other reviews, and these shots give you the idea.
Here are example galleries: Eastern Sierra Death Valley Rt 66.
Color
Colors are great.
Saturation, at +2, is about the same as my D200 and earlier era Nikons at their maximums. The 5D goes to +4. +3 or +4 is all I want for the images you've seen at examples. The D300 and D3 let me crank colors father, but +3 or +4 on the 5D is all I want.
The Rebel XT, 20D and my older Nikons all go to +2 saturation when pushed, while the 30D, Rebel XTi and this 5D go to +4.
Battery Life
Battery Life is excellent.
I got 1,200 shots on my first charge before I got the 30% left indication (partial icon). I got another 200 shots, to 1,400, when I got the 7% indication (blinking icon). At 1,500 shots it died.
On my second, third and fourth charges I got 800 shots at the 30% icon (the steady, partial cell).
It's got a great charger, too: it has a folding plug with a clever blinking light that tells the charge percentage.
An indicated full charge from a battery discharged to the steady partial battery icon (30% charge) recharges in only about an hour. A subsequent charge got me 900 shots at the 30% mark.
The manual says that the 100% indication (a steady light) is really only a 90% charge, and to let it sit for a few more hours if you want 100%. I don't worry, it's hard to run down a 5D battery in a day.
Exposure
I usually need to set -2/3 compensation outdoors, and 0 in flat light indoors. It's not as good as my D200.
High ISO
The Canon 5D excels at high ISOs. Not only is it clean, but more importantly, its sharper since the 5D doesn't need to apply as much sharpness and texture-robbing noise reduction.
See comparisons and examples to other cameras at High ISO Comparisons.
Ergonomics
Unlike my Nikons, the 5D isn't comfortable to hold. The buttons, especially the depth-of-field preview, is on the wrong side, so I need a second hand to use it.
I have to hit the play button and wait a moment to be able to zoom an image I just shot, or to select other images. Nikons don't need this; they allow instant zoom or browsing after a shot. I'm not kidding; this really bugs me.
After the 5D goes to sleep after you last looked at an image, playback wakes up at the most recent shot, which is not necessarily where you wanted to see. I prefer other cameras that return to the last viewed image, unless of course you make a new shot or turn off the camera, for which every camera shows the most recent shot.
Like many electronic products, the 5D doesn't respond as quickly to my inputs as I'd like. I have little tolerance for delay. On playback, spinning the knob to select among images can start working like a rubber band: spin the knob and it take a while for the 5D to catch up. I prefer my Nikons, even my D40, for this.
Shutter release is great, there's no delay. The delays are in navigating playback and menus.
There's no ability to set the 5D in full stops.
My 5D has a relatively slippery plastic covering, not the much better rubbery covering of the Nikon D200.
The strap attaches to slots, not to posts via split rings. I prefer this over my D200.
Viewfinder
The finder is huge, just like film cameras.
The eye relief (eyepoint) isn't as good as pro cameras. The viewfinder window is more of a peephole than a porthole.
The numeric display at the bottom is often hard to read because the numbers are very thin and dim. Like almost all modern cameras, the numbers adjust their brightness automatically to conditions.
The screen is very good. The AF zones are marked, but don't clutter the viewfinder as they do in my Nikons.
Sound
I kid you not; when I first got my 5D I laughed when I finally recognized the sound of the 5D firing. Unlike smaller format DSLRs, the 5D is slower and has a bigger mirror. It reminds me of an old Graflex!
Program Shift
Program Shift means you can spin a dial to select alternate sets of apertures and shutter speeds in Program.
As I recall, Program Shift doesn't work with flash, which is stupid. Nikons do this.
The 5D is really a 30D with a bigger sensor, and the 30D is designed more for snapshooters than for pros. Therefore, the Program Shift cancels every time the meter turns itself off. When I use program shift I usually use it when I'm using ultrawide lenses and want smaller apertures, so I prefer Program Shift to work like my Nikons and stay shifted until I change modes or turn off the camera's power switch.
Auto ISO
No AUTO ISO, except in the green dummy mode, which then only goes from 100 - 400. This is a huge flaw - I live by AUTO ISO in my Nikons.
This is my biggest complaint about my 5D, along with the crummy LCD.
Bracketing
Bracketing should be done in Continuous shutter mode, in which case you just hold down the shutter until it stops shooting the sequence automatically. If you're in Single shot drive mode you have to press three times. Set the self timer and the 5D always makes the three bracket shots.
Long Bulb Exposures
The top LCD counts up in seconds, from 1 to 999, while the shutter is open. Every camera should do this! I wish it were smart enough to light the display automatically.
Use an RS-80N3 (a button on a 2.6' (80cm) cord for $50), or the TC-80N3, which is the same thing, but with a timer and LCD clock display for $135.
Sorry, there's no normal cable release for a $2 conventional cable release, and no integral infrared remote like the Nikon D40.
Mirror Lock Up
There is no hard mirror lockup, nor does any other digital camera of which I know have one.
To get a mirror pre-release for reducing camera shake, set MENU > Custom Functions (C.Fn) >12 Mirror lockup > 1: enable. Then set the self timer by pressing the DRIVE - ISO button and spinning the top front command dial. (It's difficult to do this with one hand.)
Now the self timer resets to 2 seconds. Tap the shutter, the mirror flips up, the timer counts down on the top LCD, and the 5D makes the exposure.
When done, you need to remember to reset both the custom function and the self timer. If you forget, weird things happen.
If you use one of those $100 electronic releases, set the custom function but not the self timer. Now the first press of the release flips the mirror, and the second releases the shutter. You can do the same thing with the camera's shutter release button if you don't have a $100 remote cord, but since the second press also would be on the camera, that would defeat the purpose.
Smarter photographers who often use this mode save it as a camera preset, the C position on the mode dial, explained next.
"C" Settings on Mode Dial
This is great: you can set the 5D as you like it, and save those settings to the "C" position on the mode dial, right past "M."
Of course it would be much better if Canon was bright enough to provide several of these (C1, C2, C3, etc.) for the other positions on the dial, but oh well, Nikon provides none of these.
To save the camera's settings to the "C" position, use the "Register Camera Settings" option in the menus.
Cold Weather
At 35 F (0C), it works the same as it does at 70F (20C) for at least a few hours.
At 10 F (-10C), it works fine, but I've not had it out for more than 30 minutes at that temperature.
Data
JPG Efficiency
JPGs are much more efficient than the JPGs from Nikons. The 5D, like most Canons, optimizes file size automatically depending on the subject. For instance, a shot of a blank sky might be a 500kB JPG, while a shot of a forest showing with every single leaf might be 6MB.
I shoot not in the default FINE JPG (the quarter circle and L), but prefer the great looking, smaller file size NORMAL JPG (The Stair-step and L).
Data Transfer Speed
Downloading from the 5D's USB port is slow and requires software. I prefer to pull out my SanDisk Extreme IV card and suck it out instantly with SanDisk's special reader.
53 seconds to transfer 117 MB (54 files) with Lexar 40x.
2 minutes to transfer 267MB (114 files) with 2GB SanDisk Extreme III
2-1/4 minutes to transfer 222 MB (245 files)
7-1/4 minutes to transfer 800 MB (400 shots) from a 2GB SanDisk Extreme III
That's too darn long. Shot on and read with the Extreme IV cards and reader, 800 MB should transfer in 34 seconds, not seven minutes. The 53 seconds required to download 117MB should only taker 5 seconds.
These speed limits are caused by the camera, not the cards.
EXIF Data
White balance from different cameras doesn't always read correctly in iView.
My 5D reads as follows:
| | |
| --- | --- |
| Camera set to | EXIF reads (in iView) |
| AUTO | AUTO |
| Daylight | Daylight |
| Shade | AUTO |
| Cloudy | D65 |
| Tungsten | Tungsten |
| Fluorescent | Fluorescent |
| Custom (Gray card) | Preset |
| Kelvin | AUTO |
Long bulb exposures read correctly. A 139 second exposure reads 139 seconds.
Construction
It feels as I'd expect from good amateur or part-time pro camera.
Top Cover: Magnesium Alloy
Back: Plastic
Control Knobs: Plastic. The top left knob feels dinky, the other two are swell.
CF Card Door: Plastic (metal hinge).
Made in: Japan.
Compared top
Introduction Specifications Performance Compared Recommendations
NEW: High-ISO Comparisons of the Nikon D1, D3 (D700), D4, D800, D7000 and Canon 5D, 5D Mark II, 5D Mark III and Fuji X-Pro1 and X100 06 April 2012
INEW: 2012 DSLR Comparison 18 April 2012
Recommendations top
Introduction Specifications Performance Compared Recommendations
Want the best landscape and fine art digital camera on the planet for under $8,000? Get this 5D for $1,900 while you can. Sure, I'll bet a Canon 5D Mk II is annonced around the end of August 2008, but you can't shoot with that today, and I'l bet you a Mk II will cost $2,700.
You people know who you are. If you want the very best possible image quality in any digital camera costing less than $8,000, go get a 5D today.
If you shoot from a tripod, get a 5D. If you shoot landscapes digitally while backpacking, get the 5D regardless of your budget, since the 5D is the lightest full-frame digital camera.
© Ken Rockwell. All rights reserved. Tous droits réservés. Alle Rechte vorbehalten.
Help me help you top
I support my growing family through this website, as crazy as it might seem.
If you find this as helpful as a book you might have had to buy or a workshop you may have had to take, feel free to help me continue helping everyone.
If you've gotten your gear through one of my links or helped otherwise, you're family. It's great people like you who allow me to keep adding to this site full-time. Thanks!
If you haven't helped yet, please do, and consider helping me with a gift of $5.00.
The biggest help is to use these links to Adorama, Amazon, Calumet, Ritz, J&R and when you get your goodies. It costs you nothing and is a huge help to me. eBay is always a gamble, but all the other places have the best prices and service, which is why I've used them since before this website existed. I recommend them all personally.
Thanks for reading!
Ken
Home Donate New Search Gallery How-To Books Links Workshops About Contact