Home Donate New Search Gallery Reviews How-To Books Links Workshops About Contact
Canon 10-22mm
© 2011 KenRockwell.com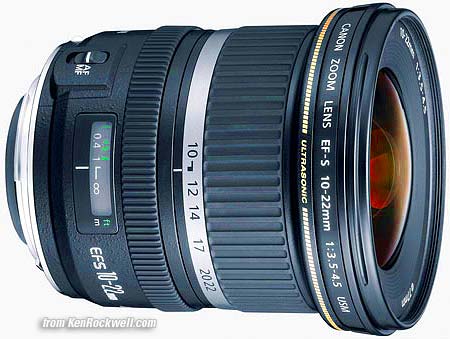 I got mine here. I'd also get it here or here.
NEW: How to Use Ultrawide Lenses 11 August 2008
November 2011 More Canon Reviews Canon Lenses All Reviews
INTRODUCTION
This is a great lens. It's so great it makes me want to swap over to Canon from Nikon, because it's better than my favorite Nikon 12 - 24 mm lens. It's better because it has less distortion and costs less. I paid over $1,000 for my Nikon; this superior 10 - 22 sells for $840 here, here or here.
This was announced in August 2004. If I shot a Canon 1.6x camera I'd have one of these in an instant!
SPECIFICATIONS top
Specifications Performance Recommendations
Name
Canon calls this the Canon Zoom Lens EF-S 10-22mm f/3.5 - 4.5 USM
EF: Electronic Focus
-S: Designed only for the smaller 1.6x sensor of the 20D, 30D and Rebel.
USM: Ultra-Sonic Motor. Focuses silently.
Optics
Thirteen elements, ten groups.
One aspheric and one super UD
Diaphragm
stops down to f/22-29.
Minimum Focus
9.5 inches (24cm)
Size
3.5" long
Weight
13.6 oz. (385 g.)
Filter
77mm, the professional standard
Case
LP1319, optional.
Hood
EW-83E. The bayonet hood is optional and unnecessary, except for physical protection. I wouldn't buy it; my Nikon hoods that come standard stay home in their boxes.
Price (USA)
$840, November 2011
$700, 2006.
PERFORMANCE back to top
Specifications Performance Recommendations
Great! I'd buy one in an instant if I shot Canon.
Distortion
The Canon 10-22mm has much less distortion than any wide zoom I've tested, which means it's much better than my Nikon 12-24mm., much better than the Tamron 11-18mm, much better than the Tokina 12-24mm and much better than the Sigma 10-20mm, period. No contest: compare the numbers in my wide digital zoom comparison. It's also much better than the Canon 17-40mm L and 16-35mm L used on full frame digital and film cameras. Bravo!
The good news is that the 10 - 22's distortion is also trivial to correct completely in PhotoShop CS2. Use the figures below and plug them into the right place explained on my page on fixing lens distortion. If you do that the distortion cancels completely.
at 50 feet (15m):
10 mm: Barrel. Use +2.0 to correct as I explain in fixing lens distortion. It has just a little bit of residual waviness, much less than the 16-35mm L or 17-40mm L lenses do on a film or full-frame sensor camera. By comparison my Nikon 12 - 24 mm at 12 mm needs about +3.0 and is still a bit wavy after correction. Darn; I want one of these.
12mm: +2.0, no waviness, works perfectly.
14mm: +0.5.
17mm: Neutral, no distortion.
20mm: Almost perfect, maybe correct with -0.1.
22 mm: Almost perfect, maybe correct with -0.1.
These figures come from hours and of research. Use them all you want for your own photography, but because this research is copyrighted and registered any other use (like putting them in your own book or website) requires permission.
LATERAL CHROMATIC ABERRATION
(LCA or Corner Color Fringes)
10mm: Very little.
12mm: Very little.
14mm: Almost none.
17mm: none.
20mm: none.
22mm: none.
Flash
The 10 - 22 is so wide that it will cast a shadow from the flash at the bottom of the image at 10 mm with built in flash. It's OK at 22mm. Be careful. Tip: usually turning the camera upside down will throw this shadow into the sky where you usually won't see it!
RECOMMENDATIONS back to top
Specifications Performance Recommendations
If I shot with Canon 1.6x cameras this would be the lens I'd use most often. I'd get one pronto!