Canon 1Ds Mk III
(2007-, Full-Frame, 21MP, 5 FPS, 3" LCD, $7,850)
© 2008 KenRockwell.com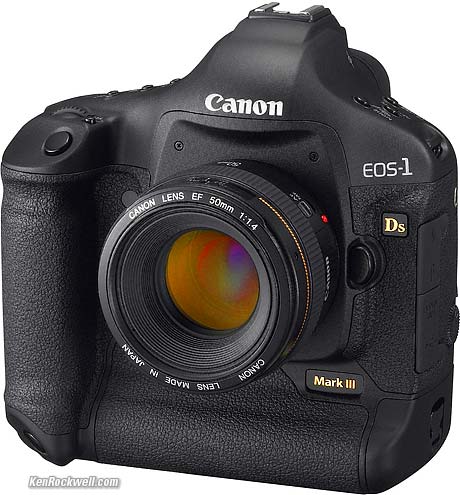 Canon 1Ds Mk III. It's in stock at Adorama ($7,845), J&R ($7,849), B&H ($7,850), Ritz and Amazon (prices as of July 2008). Adorama pays top dollar for your used gear, especially the older model Mark II. Using these links to get yours is what helps me keep adding to this site. Thanks! Ken.
Sometimes available refurbished at Adorama for $6,500.
July 2008
NEW: Canon 1Ds Mk III vs. Canon 5D vs. Nikon D3 28 July 2008
NEW: How to Afford The 1Ds Mk III 04 January 2008
Top Intro Specs Performance Recommendations
The Canon 1Ds Mk III is the world's best consumer digital-capture landscape and still image camera. If you want better technical quality, you'll have to look at klunky commercial medium-format systems which start at five figures and go up from there. Better, the 1Ds Mk III is far easier to carry and use every day in bad outdoors conditions than any of the medium format systems. The 1Ds takes rain and dirt in stride.
The Canon 1Ds Mk III is a full-frame, 21 megapixel, 5 frames per second, 3" LCD, 1/250 sync, $8,000 DSLR. 5 FPS was a world leader for full-frame speed for three days (until Nikon announced the 9 FPS D3), and the 1Ds Mk III has a huge 57 frame buffer (only 12 raw). Heck, that's as fast as my piddly Nikon D200 or the 30D!
The 1Ds Mk III is the update to the 1Ds Mk II introduced way back in April 2004. I've always admired how Canon introduced the 1Ds Mk II at $8,000, and as of the day the 1Ds Mk III was introduced, the Mark II still sells at $7,000. That's staying power even film cameras never had.
What's new since the 2004-era Mk II
Six ounces less fat. Still tough, solid and weather sealed.
Highlight Rendition
I'm most excited about the new highlight processing ability.
Canon uses the clear-as-mud phrase "highlight tone priority custom function," which means better highlights if you set them in a custom function.
Digital cameras look digital because they rarely can handle highlights well. Highlights blow out and look like crap, especially with skin and stone tones. This is the biggest area which gets better with each generation of camera, but it's subtle and not obvious in camera lab tests or easy to measure, as flat-field noise and resolution are. Highlight handling is obvious even in 4x6" prints, while all the things that hobbyists worry about aren't.
2,500K White Balance
Flying under most people's RADAR, Canon increased the range of manual Kelvin setting for WB to allow better images in dim interiors. Previous cameras only went to 2,800K, which gave me images that were still too orange in dim household lighting. Thanks Canon! (My Nikons with Kelvin settings all go to 2,500K.)
Better AF system from the 1D Mk III. Focus offset can be calibrated by savvy users to each lens, something I'll do but most people probably will want not to touch.
5FPS vs 4 FPS. Reasonably important for shooting action, but sports shooters rarely use 1Ds series cameras anyway.
Built-in ultrasonic sensor cleaner.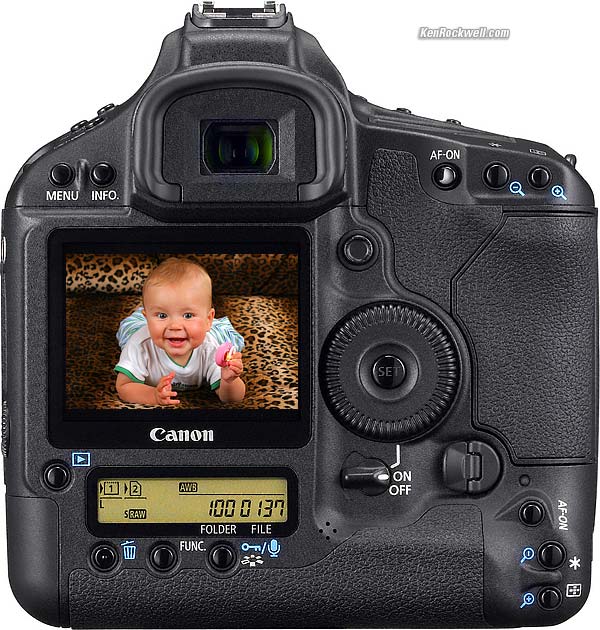 Canon 1Ds Mk III.
Live View
The Canon 1Ds Mk III has the ability to flip up the mirror to see what's on the image sensor, live. Canon calls this "Live View" and it's only useful for manual tripod shooting, since autofocus doesn't work in Live View. (A custom function is probably available to let the AF-ON button flip down the mirror and autofocus while held.)
You can magnify the live image by five or ten times to check focus.
There's a grid, which I would use.
Live view is also a mirror lock-up and slightly shortens the already minimal shutter delay. I'm unsure if you can use Nikon's ancient wide and fisheye lenses which poked into the camera with a Nikon-> Canon adapter. Good luck!
Live view also adds a quieter shooting mode, taking advantage of the mirror being up already. This is advantageous for remote surveillance, since you can duct tape your $8,000 1Ds Mk III someplace it doesn't belong, and with the WFT-E2A wireless transmitter you can see what's going on and fire it from your laptop as you sit in your car . The images are transmitted to your laptop and you can see through and adjust the 1Ds Mk III. You may lose your $8,000 camera if detected by a hostile target, but you'll have your images and you're rolling before they see you. You also can do this with a USB cable, but it's not as stealthy.
Slightly more resolution
21 MP is less than a 13% linear resolution improvement over 16 MP. The Mk III's images are 5,616 pixels wide while the Mk II's are 4,992 pixels wide, or only an extra 624 pixels, less than a crappy VGA image. Vertically, the Mk III only has 416 more pixels, also less than VGA's 480.
Lens performance matters at these resolutions. Only if you are very careful will the higher resolution be doing anything other than giving you a more precise picture of the fuzziness or sloppiness of your own lenses and technique. For instance, if you shoot at f/22, diffraction lowers resolution to less than the resolution of my 5D. That's simple physics.
14-bit ADCs instead of 12-bit ADCs. Insignificant unless you're doing crazy curve mutilation. These ADCs operate linearly, so they are not comparable to 8-bit JPGs, which are logarithmic.
Tougher shutter tested to 300,000 cycles, an SLR record. Not that it wont last longer; I've heard anecdotes of Nikon technicians seeing F5s that clocked over 1,000,000 shots and were still humming along. Even if you can wear out a shutter, they are almost always a modular replacement at a reasonable cost; you don't throw away the camera.
Top Intro Specs Performance Recommendations
Body
Magnesium alloy for the entire body. The 40D uses magnesium alloy only for its exterior, not its guts.
Lots of weather seals.
Finder
Finder: Canon claims this is the finest finder they make, with 0.75x magnification (50mm lens) and zero distortion. -3 to +1 diopter. 20mm eye relief (eyepoint).
Focus Screens: 15 available.
Eyepiece Shutter: Yes, built-in.
Autofocus
AF: 45 points, of which 19 are cross points and 26 are assist points. The cross points all offer extra precision with f/2.8 and faster lenses.
AF-Assist Beam: None.
Shutter and Advance
Shutter: 30s - 1/8,000, 1/250 sync.
Shutter Death: Tested, but not guaranteed, to 300,000 cycles. I suspect if you can kill it under warranty, you're covered regardless of how many frames you shoot.
Frame Rate: 5FPS
Buffer Depth: 57 JPG, 12 raw (per Canon USA press information). Canon USA's consumer website lists 45 JPG and 15 raw. I wouldn't worry about the difference, since all these take into account the fact that one is writing to the memory card about as fast as the camera can shoot. Change the card speed or a camera setting slightly, and this number will change. Personally I've never filled more than 9 frames in a buffer at once.
Advance Settings: Single, silent, high-speed continuous (5 FPS), low-speed continuous (3 FPS), self-timer (10 or 2 second delay).
Cable Release: Canon N3 terminal for things like the RS-80N3.
Sensor, Image and Exposure
Image Sensor: Canon-made 24x36mm CMOS.
Image Sizes: 5,616 x 3,744 native (L), 4,992 x 3,328 (M1), 4,080 x 2,720 (M2), 2,782 x 1,856 (S). I see no mention of in-camera cropping like the Nikon D3.
Color Spaces: sRGB (the world standard for photography) and Adobe RGB (for printing on printing presses; your colors will be dull if used for normal photography). See also sRGB vs. Adobe RGB.
ISO: 100 ~ 1,600. 50 ~ 3,200 when activated in a custom function.
White Balance: Auto, Direct sunlight, Shade, Cloudy, Tungsten, Fluorescent, Studio Strobes, Five Custom WB settings (1-5), Kelvin (2,500 - 10,000K) and five Personal White Balance settings (PC-1 to PC-5). I'll need to see a manual to figure out if there are ten total personal settings.
White Balance Trim: The usual +/- 9 steps in warm/cool (blue/amber) and green/magenta, also WB bracketing.
Metering: 63 zone evaluative, center weighted average, "partial" (wide spot) and spot.
Flash
Maximum Shutter Speed with Flash: 1/250, normal sync.
Flash Metering: E-TTL II, identical to the 20D, 30D and 40D. New wireless remote control of the settings of the 580EX II.
Built-in Flash: NO, buy your own.
PC Sync Terminal: Yes; won't blow up unless you hit it with more than 250V.
Data and Files
Storage: Two slots: One CF slot (type I and II) and one SD slot. UDMA and SDHC are AOK.
File Formats: JPG (10 levels of compression), raw and new s-raw (reduced resolution). You can party with two cards in the camera at the same time and write them to an external hard drive with the WFT-E2A and write different files different places.
S-raw is a reduced resolution raw with only 5 megapixels. I pity the fool who uses s-raw to save file size: it has one-quarter the area resolution of JPG. S-raw throws away 75% of your pixels, while JPG throws away none.
You need a math PhD and an understanding of discrete cosine transforms, Huffman coding and quantization matrices to understand how JPG eliminates most of the file size but retains all the color depth and resolution of the original. JPG is the best way to compress file size.
Avoid s-raw unless you have a very good reason. S-raw lets you do all the color and exposure fiddling of raw, but with a fraction of the resolution. Use s-raw to experiment and learn, but I'd leave it alone otherwise.
S-raw is a very poor way to reduce file size and loses far more visible image quality than JPG, unless you're unskilled at initial photography. The reason you would want to use s-raw is if you are indecisive and want to adjust color and exposures after a shoot, but never intend to need the full resolution image again.
S-raw has its uses, but I caution the great majority of my readers for whom this s-raw feature is a bad idea. Then again, Bayer interpolation isn't involved in s-raw, so it's not as bad as you would think. S-raw (as well as small JPG) gives very similar results to what a similar Foveon sensor would give, and at 5 MP the image quality is still wonderful, just more bloated than a better-looking JPG would be.
Data Transfer: USB (standard) or wireless with optional WFT-E2A. Also an NTSC/PAL video output; no HDMI like the Nikon D3.
Languages: 18: English, Japanese, German, French, Dutch, Danish, Portuguese, Finnish, Italian, Norwegian, Swedish, Spanish, Greek, Russian, Polish, Simplified/Traditional Chinese and Korean.
LCD Monitor
3," 230,000 pixels, same as the Canon 40D and pretty grainy.
Accessories
Included Accessories
Eg Eyecup
L6 Wide Strap
VC-100 Video Cable
IFC-200U USB Cable
IFC-500U Interface Cable (to what I don't know!)
LP-E4 Battery
LC-E4 Battery Charger
ACK-E4 AC Adapter Kit
Software disk and manual, CR2025 clock battery.
Included Software
From the press information: Among the most valuable features of the EOS-1Ds Mark III Digital SLR is its compatibility with Canon's new Picture Style Editor 1.0 software. With PSE, photographers can personalize the look of their photographs by inputting their own preferred image processing parameters, including custom tone curves. The EOS-1Ds Mark III Digital SLR also ships with the latest versions of Canon's powerful software applications, including Digital Photo Professional 3.2 and EOS Utility 2.2, which support the camera's Remote Live View and Dust Delete Data functions, as well as incorporating a broad range of additional improvements designed to improve image quality and speed up workflow. Particularly noteworthy in DPP 3.2 is a new Lens Aberration Correction Function that corrects various image defects such as chromatic aberration, color blur, vignetting and distortion. Initially, the Lens Aberration Correction Function will support images captured by the EOS-1Ds Mark III and 11 other EOS Digital SLRs using any of 29 individual EF and EF-S lenses. Also included are ZoomBrowser EX 6.0 and ImageBrowser 6.0 for easy browsing, viewing, printing and archiving with compatible computer operating systems, including Microsoft Windows Vista and Windows XP, as well as Mac OS X.
Optional Accessories
WFT-E2A Wireless File Transmitter ($1,000!). Works over Wi-Fi, ethernet or USB and lets you see the Live View, control the 1Ds MK III and capture the files as they are shot. You can plug a USB hard drive into it and record your files direct to the hard drive for almost unlimited shooting capacity.
Power, Size and Weight
Power: LP-E4 lithium-ion rechargeable battery. ACK-E4 AC adapter included. Six level meter and percent readout with shots made per charge. CR2025 clock backup.
Size: 6.1 x 6.3 x 3.1" (156 x 159.6 x 79.9mm) W x H x D, specified.
Weight: 42.5 oz. (1,205g), specified, presumably stripped (without battery, cards, lens, strap, etc.)
Price and Delivery
Announced: August 20th, 2007
First Shipments: November, 2007.
Price: $7,850 in July 2008, $7,999 at introduction.
Top Intro Specs Performance Recommendations
Overall
The Canon 1Ds Mk III is a solid brick of a camera, has extraordinarily high technical image quality, but is hindered by sucky ergonomics and a mediocre LCD.
Like the Canon 5D, it is a relative pain to use, but if you can get over that, the technical quality of the images exceeds anything from Nikon.
Technical Image Quality
As expected, image quality is the highest of any consumer DSLR. If you want better, you'll have to drop five figures on a commercial medium format system.
See Canon 1Ds Mk III vs. Canon 5D vs. Nikon D3 for an instant example of the level of detail you can get in four-foot prints.
If you're not ready to pony up by spending about as much as the 1Ds Mk III on a suitable set of lenses, don't come complaining to me that it's not sharp. I'd get the new 14mm f/2.8 L II, the new 16-35mm II and the 70-200mm f/2.8 L IS. Even if you pass on the $2,200 14mm, you're still into it for $1,400 for the wide zoom, $1,700 more for the tele, and you still have no mid-range zoom. The 17-40mm f/4 and 70-200mm f/4 IS are also excellent, and cost and weigh less.
Ergonomics
The ergonomics are as sucky as the 5D. For instance, you need a second hand to change between exposure modes or zoom the image. I can do all that shooting with one hand on the Nikon D200, D300 and D3, and I shoot this way a lot.
The command dials are crummy little things. They aren't comfortable for all-day pro use like the Nikon dials, and they aren't subtly angled to mold to our fingers, so hands hurt after using these all day.
The body looks nice, but doesn't feel like the Nikons. The Nikons feel like a sculptor shaped the body exactly as a balloon filled with sand would mold to our hand. The Canon 1Ds Mk III looks more handsome with straight, rectangular lines, but these result in pressure points which hurt after a long day shooting.
LCD
The LCD is inferior. It has too few pixels, so the image is grainy due to pixels so big that you can see each one. It's the same LCD as the Canon 40D.
Zoom doesn't fill the screen; a black info band always covers the top!
It's interesting to note that that is the same resolution as the 2.5" LCDs of the Rebel XTi, Canon 30D, Canon SD850 and Nikon D40, D40x, D80 and D200. A 3" LCD is 20% bigger in linear dimension than a 2.5" LCD, thus with the same resolution, a 3" LCD has 20% less linear resolution. In simple English, this 3" LCD shows the same detail and information as today's 2.5" LCDs, just bigger. The pixels are so big you can see each one, like grain dots.
The Nikon D300 and D3 LCDs are worlds better. If LCDs are important to you, you want a Nikon.
Abuse
The 1Ds Mk III is tougher than I am.
My pal Steve Cirone uses one of these. He spends all day, every day crawling around in mud shooting birds. When he showed me his camera, I was afraid to mount my clean lenses on it because of all the sand on it.
Steve says he cleans his cameras not with a brush, but with a spray bottle of fresh water to wash off the sand and salt spray.
There's no need to worry about babying this camera for dainty amateurs and landscape shooter.
Top Intro Specs Performance Recommendations
The Canon 1Ds Mk III is a pain compared to my Nikons, but for landscape and still work, the images are superior. Its a camera for pros and rich amateurs for use in the studio and in the field.
Unless you're loaded, the extra $5,460 spent on a 1Ds Mk III compared to a 5D would buys a lot of first-class lenses, without which the image quality of the 1Ds Mk III will be unrealized. A 5D and excellent lenses will easily outperform a 1Ds Mk III and sloppy, off-brand lenses.
For instance, my 5D out-resolves the old 16-35mm f/2.8 L and my 14mm f/2.8 L. If you want to make progress, you're into this for buying the new II versions of each, or using the 17-40mm f/4 L, which also has its limitations compared to a $5 Olympus Trip 35 film camera.
The Mamiya ZD
The difference in sensor size between the Mamiya ZD and the 1Ds Mk III is as vast as full-frame is from dinky 1.6x cameras like the Digital Rebel.
One of my pro friends already looked at both, since the price is similar. She tried the ZD, and its quality was pretty boring. She bought a 1Ds Mk III because the practicality and flexibility of the Canon system far outweighed the abilities of the ZD.
I haven't tried the ZD yet.
PLUG
I support my growing family through this website.
If you find this as helpful as a book you might have had to buy or a workshop you may have had to take, feel free to help me continue helping everyone.
If you've gotten your gear through one of my links or helped otherwise, you're family. It's great people like you who allow me to keep adding to this site full-time. Thanks!
If you haven't helped yet, please do, and consider helping me with a gift of $5.00.
It also helps me keep adding to this site when you get your goodies through these links to Adorama, Amazon, B&H, Ritz, and J&R. I use them and recommend them all personally.
Thanks for reading!
Ken