Canon 1D Mk III
© 2007 KenRockwell.com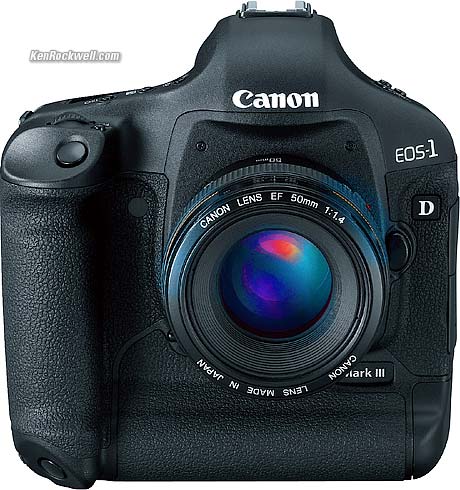 Canon EOS 1D Mk III
I'd get mine here, here or here. It helps me publish this site when you get yours from those links, too.
January 2008: AF-System Update and Upgrade: My pal Steve Cirone is a pro bird photographer. He's the guy out wiggling around in the wetsuit chasing after birds every dawn and sunset.
Steve has one or two Canon 1D Mk IIIs, and their AF system has been worse than his EOS-IV film cameras. THe 1D Mk III can track a bird in flight when it's easy, like against a blank sky, but that's about it.
Steve just bought the new improved 1D Mk III, and it now is a zillion times better. He says it works fabulously and can track anything, so long as you can drop one of the AF sensors on top of the subject once. THe new D Mk III (?N)can track flying birds against backgrounds which have little contrast from the bird. He avoids the 45-pont free-for-all mode, since it tends to grab obvious wing tips versus the bird's eyes, so that's why he uses the tracking mode where you drop one box on the target.
Steve tells me the way to identify the new version, which has a new mirror box assembly in addition to new firmware, is by a small blue stick-on dot next to the bar code on the box. Steve says these have been out since November 1st.
Steve says his 1D Mk III is good to ISO 2400, and at ISO 3200 starts to get noise in the shadows. One day soon we're going to get together and shoot off the D3 vs the 1D Mk III (n).
Steve's going to send in his original 1D Mk III which he says Canon will update the mirror box for free.
I have no idea about any official word from Canon; this is from my pal Steve.
July 2007
As far as I'm concerned, the Canon 1D Mk III is world's best camera for sports and action. Why? Easy: It runs at 10 frames per second, critical for anything that's moving faster than you can see, and it works great at ISO 6,400. ISO 6,400 is two stops faster than ISO 1,600, so an f/2.8 lens becomes twice is as fast as an f/1.4 lens at ISO 1,600.
ISO 6,400 is insanely useful. For those of you who remember film, ISO 1,600 was about tops for color and it was very grainy and dull. Konica 3,200 sucked. There was no retail ISO 6,400 film, period. The fact that the 1D Mk III makes any images at all at ISO 6,400 is laudable; the fact that they look great is insane.
The Canon 1D Mk III is a big, heavy and complicated pro camera. The price is right: about $4,500. You people know who you are. If I was a news photographer with a budget, I would have had ordered two of these the day they were announced in March 2007.
I had my hands on a prototype in March. I haven't worked with a production model yet.
Even though it retains the same ancient 1D model name, the Canon 1D Mk III is a complete ground-up redesign and replacement for the 1D Mk II N. These are all 1.3x cameras.
Do any of you remember the old days (1995) when to get 10 FPS you had to get an exotic film SLR with no moving mirror? The Canon EOS-1N RS had a fixed, half-silvered pellicle mirror as I recall, which lost light both for exposure and viewing, but allowed 10 FPS and no mirror blackout. Today, just hold down the shutter and hang on. The EOS 1D Mk III has a 110 shot JPG buffer (30 RAW).
It has a 3" LCD. For astronomers and still-life shooters (not action) you can flip up the mirror and view a live image from the sensor. You can zoom 5x or 10x for precise manual (only) focus. There's also a live exposure preview mode.
There's a PC Live View mode, which lets you view the live image and fire the 1D Mk III remotely, via USB or wirelessly with the appropriate transmitter.
It takes both CF and SD cards. It can record the same or different file types to each. It can be set to start writing to the second card when the first fills up. Of course you can copy files and folders back and forth.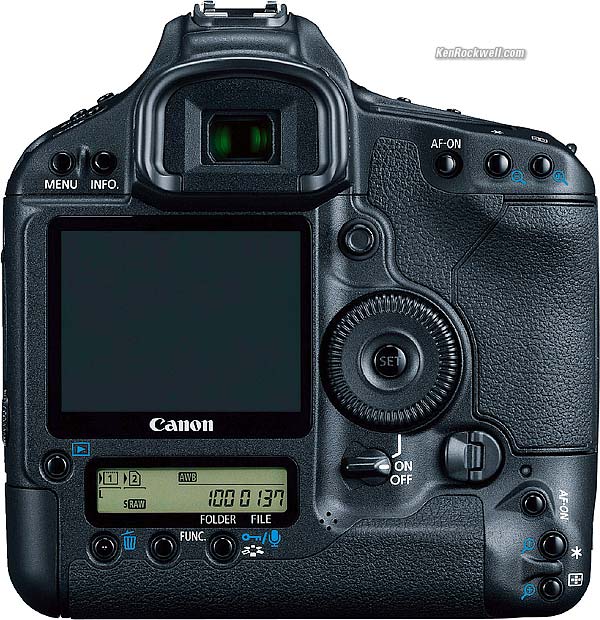 Canon EOS 1D Mk III
SPECIFICATIONS with comments back to top
Mount: Canon EOS EF. (EF-s 1.6x lenses won't mount.)
AF: New: 45 AF points, and now 19 of them are high-precision cross-type sensors and 26 are helper AF points. AF is one stop more sensitive than the 1D Mk II.
AF-Assist Light: NONE.
Sensor: Made by Canon, 1.3x, 18.7 x 28.1mm. Ultrasonic self-cleaning, as well as additional post-production dust removal software. Unlike my Nikons which need pay-for Nikon Capture, Canon includes this software for free with the 1D Mk III. I'm unsure if the live view remote PC software is free; it usually is from Canon.
Quantization: 14 bit linear ADCs. The 1D Mk II used 12 bit ADCs. This doesn't mean anything by itself, since image quality depends on far more subtle and abstract issues than the number of bits on an ADC's pinout. One day I'll explain how an 8-bit JPG (gamma 2.2) has more precision than a 16-bit linear ADC output.
Resolution: 10 MP, 3,888 x 2,592 pixels. Also settings of 3,456 x 2,304, 2,816 x 1,880 and 1,936 x 1,288 pixels.
ISO Range: 100 - 3,200 (50 - 6,400 if you enable it in a menu), settable in third or full stops.
Advance Modes: Single, 3 FPS, 10 FPS, and silent.
Burst Depth: about 110 JPG (only about 30 raw, or 22 raw + JPG).
Shutter: 30 to 1/8000 + bulb.
Maximum Shutter Speed with 100% Flash Efficiency (Flash Sync): 1/300.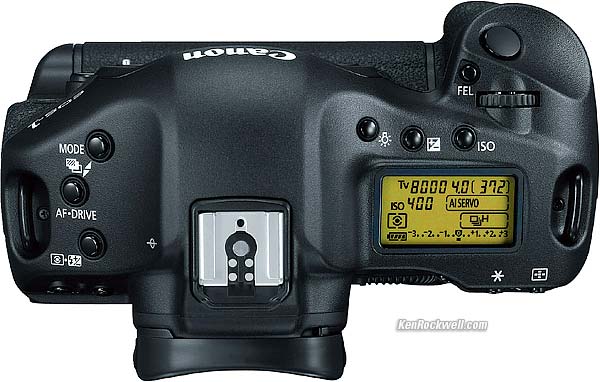 Canon EOS 1D Mk III
Flash Exposure System: E-TTL II, EX-series flashes.
Formats: JPG, .CR2 raw.
Sound: 30 seconds maximum per shot, .WAV format.
CPU: Two DIGIC III processors running in parallel, which adds only about a 50% processing speed increase over one processor. Ignore this; the only thing that matters is how well a camera flies in your own two hands.
Interface: USB 2.0.
LCD Screen: 3," 230,000 pixels.
Storage: CF and SD cards (two slots).
Data Transfer: USB 2.0 high-speed.
Power: LP-E4 Lithium rechargeable, CR2025 for backup.
Size: 6.2 x 6.1 x 3.1" (156.6 x 156 x 79.9 mm) H x W x D, rated.
Weight: 40.7 oz. (1,155g) buck naked: no battery or anything, rated.
Announced: March, 2007
Available: June, 2007
PERFORMANCE back to top
Action? Canon AF? ISO 6,400? 10 FPS? I'm sold!
Dweebs might spend weeks shooting test charts and others might tinker away months analyzing them, but this is an action, not a test chart camera. As racing teaches us, the BS stops when the green flag drops, so let's drop the flag and see what happens.
How about ISO 6,400? I had one look at this shot by Los Angeles artist Bruce Bisenz and I'm a convert: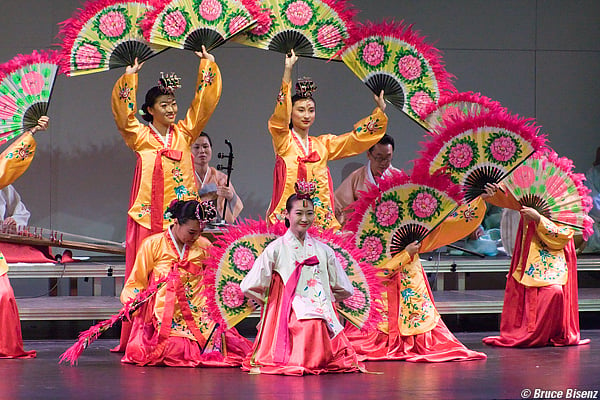 Full image at ISO 6,400 by Bruce Bisenz. Canon 1D Mk III, 135mm f/2 + 1.4 TC, f/7.1 @ 1/250.
Bruce sent me a 9 MB JPG saved-out from his raw file (after getting my permission since my email can't handle attachments unless I'm expecting them). Bruce used his usual settings in Adobe Camera Raw. He could have made it even better in Photoshop, but that would be cheating for our purpose here.
It looks cleaner to me than other cameras do at ISO 1,600! I'll spare you the 9 MB download; here's a crop from the center of the image at 100%: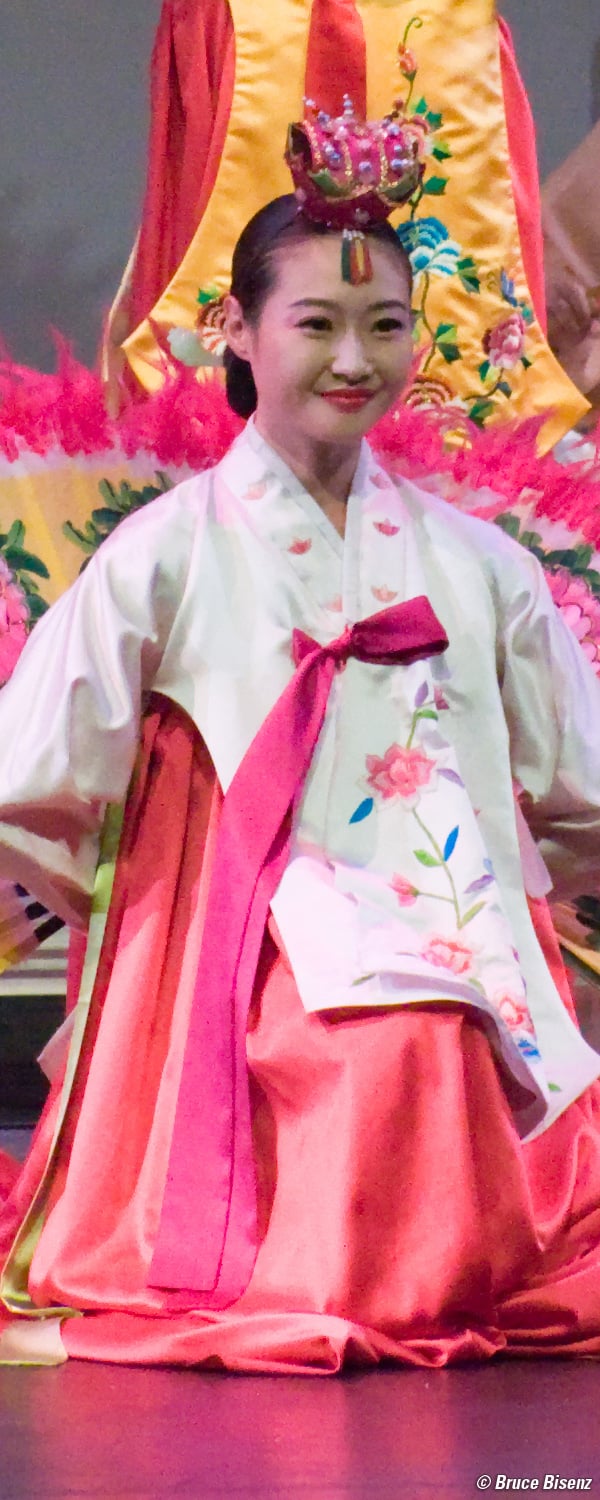 Crop from above at 100%, ISO 6,400.
A print of the complete image at this magnification would be 29 x 36" (70 x 100 cm)!
It looks clean and sharp to me; for ISO 6,400, this is crazy!
The reason for the slight mosaic effect (see the face) is that the Mk III, like all modern digital cameras, gets low noise at high ISOs through noise-smearing (noise reduction or NR) tricks.
The sensor images aren't this clean, but are smoothed over cleverly before we see it, even from raw files. This firmware or software is clever enough not to smooth edges and fine details, thus the smooth areas with sharp edges start looking like mosaics if we look too closely. See also Noise Performance, which explains how stupid it is to measure camera noise on flat areas without detail.
RECOMMENDATIONS back to top
You people know who you are. If you want it, go get two. See also Is It Worth It.
I'll know more when I get some stick time with a production model.
For my sort of work I prefer the lighter-weight, larger-format, wider-angle, higher-resolution Canon 5D, but as I said, if I was a sports, news or action photographer I'd have gotten my order in here, here or here for two 1D Mk IIIs back in March 2007. I usually shoot at ISO 50, and almost never shoot action or above ISO 800.
More Info: Rob Galbraith has some explicitly good stuff here and here.
PLUG
If you find this as helpful as a book you might have had to buy or a workshop you may have had to take, feel free to help me continue helping everyone.
It also helps me keep adding to this site when you get your goodies through these links here, here or here. I use them and recommend them personally .
Thanks!
Ken
Caveat: The ads below come from a third party and I don't see or approve them. They are sent to your screen directly from a third party. They don't come from me or my site. See more at my Buying Advice page. Personally I get my goodies at Ritz, Amazon and Adorama.