Home Donate New Search Gallery Reviews How-To Books Links Workshops About Contact
Canon 17-85mm
© KenRockwell.com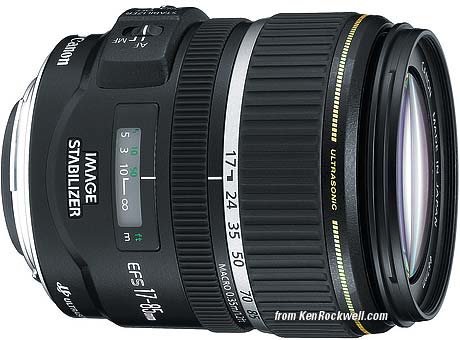 Canon EFs 17-85mm IS (APS-C coverage only, 67mm filters, 16.5 oz./469 g, 1.1'/0.35 m close focus, about $299). enlarge. I got mine at Adorama; I'd also get it at Amazon or at B&H.
This ad-free website's biggest source of support is when you use those or any of these links to approved sources when you get anything, regardless of the country in which you live. Canon does not seal its boxes, so never buy at retail or any other source not on my personally approved list since you'll have no way of knowing if you're missing accessories, getting a defective, dropped, damaged, returned, store demo or used lens. (My approved sources ship from remote automated warehouses where no salespeople or lookie-loos can ever get their greasy fingers on your new lens.) Buy only from the approved sources I use myself for the best prices, service, return policies and selection. Thanks for helping me help you! Ken.
June 2015 More Canon Reviews Canon Lenses All Reviews
SALE: Canon 17-85mm IS: $299.
INTRODUCTION back to top.
Skip to Specs Performance Recommendations
This is Canon's best basic midrange digital zoom.
It's got great IS for sharp shots without a tripod.
It's super sharp, has great Image Stabilization, focuses almost instantly and is easy to use and carry. It's a great lens!
As an EF-S series lens it only works on the recent small sensor (1.6x or APS-C) cameras, like the Rebels (Rebel, XT and XTi [300D, 350D and 400D]), 20D and 30D. It won't even fit on the older D30, D60 and 10D.
SPECIFICATIONS back to intro and index.
Name
Canon calls this the Canon Zoom Lens EF-S 17-85mm f/4-5.6 IS USM.
EF: Electronic Focus. All modern Canon lenses do this.
-S: Only works on newer, small (1.6x factor) DSLRs, which are the 40D, 30D, 20D, 20Da (astronomical), Digital Rebel XTi, Digital Rebel XT and the original Canon Digital Rebel.
IS: Image Stabilization. See Why IS Matters.
USM: Ultra-Sonic Motor: It focuses silently.
Focal Length
17-85mm. It gives a field-of-view similar to the view a 28 - 135mm lens gives on a 35mm camera.
Optics
17 elements in 12 groups.
Diaphragm
Six blades, reasonably rounded for the first two widest stops. Stops down to f/22 - 32.
Close Focus
1.1' (0.35m).
Filter Size
67mm, plastic thread.
Hood
EW-73B, not included (not needed, either).
Case
LP1116, not included.
Weight
16.545 oz (469.0 g), as measured by me, without filters or caps.
Size
3.078 diameter x 3.606" extension from mount (78.11 x 91.68mm) at 17mm.
4.656" (118.33mm) extension from mount at 85mm, all as measured by me.
Made of
Plastic exterior and switches.
Metal mount. Internals unknown, looks mostly plastic.
Made in
Japan.
Introduced
September 2004.
Price
June 2015: $299 on sale.
2006 ~ 2011: $500 - 600.
PERFORMANCE back to intro and index.
Overall Apertures Distortion Focus IS LCA Sharpness Sound Zoom
OVERALL back to intro and index.
It's precisely made of good, solid plastic. It's made to tight tolerances and there is very little mechanical play.
It's a handy lens for walking around.
It has instantaneous focus, great image stabilization, and gives sharp images.
It feels like the precise, quality product it is.
Except for the wide angles being crammed together on the zoom ring, making them hard to select, this is pretty much a perfect lens.
This 17-85mm never gets in your way. It focuses fast and close at every focal length, is easy to zoom, has great IS, and just works as it ought to. Bravo!
MAXIMUM APERTURE back to intro and index.
17mm: f/4
24mm: f/4
35mm: f/5
50mm: f/5.6
85mm: f/5.6
DISTORTION back to intro and index.
It has a lot of barrel distortion (bulging out) at the wide end, which goes away in the mid and tele range.
Here are the values I use with Photoshop CS2's lens distortion filter to correct the distortion, shot on a 1.6x sensor camera (30D, 20D, 10D, D60, D30).
These figures are for you to enjoy in your photography. This is all © and registered, so you'll need permission to use these figures for anything else. Thanks! Ken.
17 mm: Strong barrel distortion. Corrects best with +4.5, but remains wavy.
24 mm: Pincushion distortion. Corrects best with -2.0, but remains a little bit wavy.
35 mm: Pincushion distortion. Corrects well with -3.0.
50 mm: Pincushion distortion. Corrects with -2.2.
70 mm: Pincushion distortion. Corrects with -2.0.
85 mm: Pincushion distortion. Corrects with -1.5.
FOCUS back to intro and index.
AF is silent and almost instantaneous. This is spectacular: it's faster than my own eyes!
It has instant manual focus override: just grab the focus ring. Manual focus works great at every focal length. It's very well cammed.
Autofocus Speed
Almost instantaneous on a 30D and 20D! It snaps into focus faster than I can measure. It focuses faster than my own eyes.
Autofocus Accuracy
On a 30D, the focus was always dead-on, wide-open at every focal length.
Perfect!
Manual Focus
Easy: just move the ring with the tip of one finger. You don't need to bother with any switches. Want AF again? Just tap the shutter halfway again.
Focus moves in the opposite direction from Nikon. Don't try to do this if you use both systems.
Macro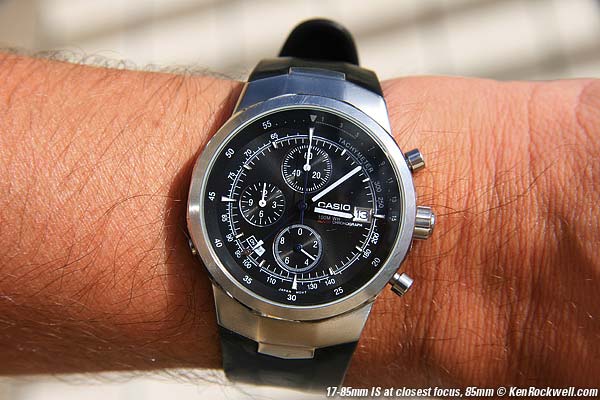 17-85mm IS at closest focus at 85mm, full image.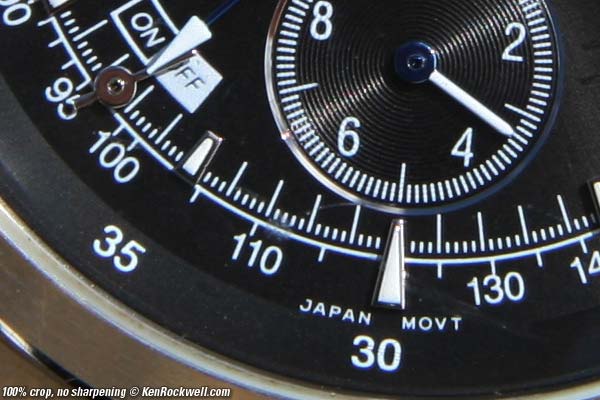 100% crop from above, no extra sharpening. Looks great!
It looks great at close distances. The close focus distance doesn't vary with focal length.
The less expensive 18-55mm EF-S II gets closer.
IS, IMAGE STABILIZATION back to intro and index.
Read Why IS is Important to understand what these ratings mean.
I fired 65 shots, casually (not match-grade) hand held, at each focal length, or about 3 - 5 rounds at each shutter speed and focal length. I used a 30D and looked at the results at 100%, which is a very high magnification.
Holding more carefully I could have gotten better results.
Viewed at lower resolution, like what you'd see in a 4x6" print, you'd get much, much better results.
As you read at Why IS is Important, some of my shots at 1/2 second were perfectly sharp, too. These are averages.
TIP: In dim light, fire several shots and pick the sharpest. It's a random event, so if you fire enough shots, you'll eventually get a sharp one even ar speeds of 1 second!
17 mm: Always sharp at 1/8, not sharp at 1/4
35 mm: sharp 50% of the time at 1/8 and 1/4. not sharp at 1/2.
80 mm: Always sharp at 1/8, not sharp at 1/4.
LCA (Edge Color Fringes) back to intro and index.
17mm: Moderate. You'll see it if you look for it. The 18-55mm EF-S II is much better.
24mm: Minor. You have to look hard to see it.
35mm: None.
50mm: None.
70mm: None.
85mm: Almost none. You really have to look for it, and then it's just on the verge of your imagination.
SHARPNESS back to intro and index.
So long as you stop down a stop or two, your technique will be your biggest barrier to sharp photos. I have a page on How to Get Sharp Photos.
Here are my observations on an 8 MP 20D. Letters correspond to center - edge. Possible ratings are E - VG - G - F - P. These are subjective. Don't fret over differences between adjacent grades.
Diffraction is usually the sharpness-limiting factor for all lenses, especially digital SLRs, at about f/11 and above. See also How Sharpness Varies with Aperture.
| | | | | |
| --- | --- | --- | --- | --- |
| | | f/5.6 | f/8 | f/11 |
| 17 mm | VG - G | E- VG | E - VG | E - VG |
| 24 mm | E - VG | E - VG | E - VG | E - VG |
| 35 mm | E - VG | E - VG | E - E | E - E |
| 50 mm | (f/5.6 -->) | E - E | E - E | E - E |
| 70 mm | (f/5.6 -->) | E - G | E - VG | E - VG |
| 85 mm | (f/5.6 -->) | E - VG | E - VG | E - VG |
SOUND and NOISE back to intro and index.
It's reasonably quiet.
Auto and manual focusing sounds like plastic sliding on plastic.
Zooming sounds like plastic sliding on plastic.
When IS is active, you'll hear a slight hissing if you put your ear to the lens or are in a quiet location.
ZOOMING back to intro and index.

17-85mm IS Zoom Ring. 17mm, 24mm and 35mm are crunched together.
The zooming is a pain. It's my only complaint with this lens.
The wide angles are crammed together, and the telephoto settings are spread far apart. The 17mm position isn't where it says 17mm. It's at the end of the mark. It's so crammed that Canon couldn't fit the lettering!
This makes it annoying and difficult to set an exact wide angle. It also requires a lot of rotation to select among similar focal lengths in the telephoto range.
Note how I have the zoom set in the middle of its travel, 50mm. 85mm is only 70% more than 50mm, but 50mm is 294% of 17mm! The middle of this zoom range should be 38mm, not 50mm.
When I compliment other lenses, like the Nikon 18-200mm or 80-400mm for "linear" zooming, I mean that equal rotation causes an equal percentage change in focal length. (Actually I mean to say log, but that would confuse people.) This 17-85mm unfortunately changes equal number of millimeters per degree of zoom ring rotation, which means big percentage changes at the wide and end small ones at the tele end for the same amount of zoom ring rotation.
It zooms well, and doesn't creep, at any orientation including straight up or down.
With the lens horizontal, you can zoom with one finger.
Canon and Nikon rotate in different directions, so stick to one system.
Focus Drift while Zooming
Focus drifts a little at infinity as you change focal lengths. Be sure to focus after zooming.
Focus stays put when zooming at macro and moderate distances.
RECOMMENDATIONS back to intro and index.
This is a great mid-range zoom for Canon. If you're on a budget, the 18-55mm works as well, but without IS or easy manual focus.
You can get this lens as part of a kit with most Canon bodies.
If you want to get it by itself, I got this one here, and I'd also suggest getting it from here or here. It helps me if you do.
Help me help you top
I support my growing family through this website, as crazy as it might seem.
The biggest help is when you use any of these links to approved sources when you get anything, regardless of the country in which you live. It costs you nothing, and is this site's, and thus my family's, biggest source of support. These places have the best prices and service, which is why I've used them since before this website existed. I recommend them all personally.
If you find this page as helpful as a book you might have had to buy or a workshop you may have had to take, feel free to help me continue helping everyone.
If you've gotten your gear through one of my links or helped otherwise, you're family. It's great people like you who allow me to keep adding to this site full-time. Thanks!
If you haven't helped yet, please do, and consider helping me with a gift of $5.00.
As this page is copyrighted and formally registered, it is unlawful to make copies, especially in the form of printouts for personal use. If you wish to make a printout for personal use, you are granted one-time permission only if you PayPal me $5.00 per printout or part thereof. Thank you!
Thanks for reading!
Mr. & Mrs. Ken Rockwell, Ryan and Katie.
Home Donate New Search Gallery Reviews How-To Books Links Workshops About Contact