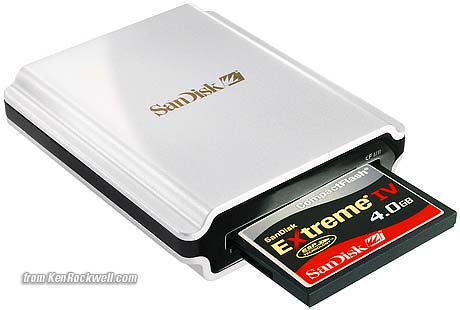 SanDisk Extreme IV CF Card and Reader
Pro Tip: Always format every card in your camera (not your computer) every time you use it. This prevents the possibility of data errors and corruption.
New: See also CF Card Speed tests for speed tests and see my Lexar 300x UDMA Review. The Lexar cards are almost identical in performance.
Introduction
My friend, Humanitarian Photojournalist Karl Grobl, just got this and loaned it to me to try. I loved it so much I dropped $500 in January 2007 to buy two 4GB cards and the reader for myself.
I decided to compare it to my other cards, and report the results in my Real World Memory Card Tests.
This is the fastest card and reader I've ever tested, but only if I use the special card reader. Used with the special reader, it downloads over twice as fast as any other card I own. 1.6GB of photos fly into my Firewire 400 laptop in just 60 seconds, or 3.8GB flies into my firewire 800 desktop in 100 seconds. It's no faster for shooting or downloading directly from the camera; the reason I bought this after borrowing it is how fast it downloads.
For comparison, while I could download 3.8GB from the card in just 100 seconds, transferring the same images via Firewire 400 from my laptop in Target Disc mode took 5 minutes!
In February 2007 I spent a weekend in Death Valley. I made 856 photos on my 12.7MP Canon 5D. That was 3.03 GB of images, which easily fit on on my 4GB card. The card downloaded in only 106.53 seconds!
It comes with excellent and free RescuePRO 3.0 software for recovering deleted and formatted-over files. See my RescuePRO 3.0 software review for more about it.
Where to Get It
I'd get it here or here (2GB card w/reader), or here or here (4GB card w/reader).
I'd get the reader alone here or here.
I'd get the 2GB card here or here, the 4 GB card here or here and the 8GB card here or here.
I get my goodies at Ritz, Amazon and Adorama. It helps me publish this site when you get yours from those links, too. Oddly Ritz doesn't carry this yet.
The Extreme IV System
This is SanDisk's newest super-speed series of CF cards called "Extreme IV." They announced them in July, 2006. It's so fast they had to invent a new Firewire 800 card reader to take advantage of its read speeds.
I tested a 2GB card. The Extreme IV also comes in 4GB and 8 GB cards. You can get a combo of reader and card as I used, or get the cards and readers separately. The combos come with either a 2GB or a 4 GB card.
The Extreme IV series only comes in CF (Compact Flash), not SD.
SanDisk is based in California's Silicon Valley. The card and reader are all made in China. They are very nicely packaged, especially if you buy the combination of the two.
SanDisk's other lines, in decreasing order of speed, are Extreme III, Ultra II, and plain old SanDisk (no fancy words, just blue graphics.)
Rated Speed
SanDisk rates it at 266x, which is the same as 40 MB/s or 320 Mb/s. (One Byte is 8 bits.) In real use I got it to download at 22.5 MB/s (180 Mb/s), which is fast!
The Card Reader
The reader is a a block of plastic covered in thin aluminum with a rubber pad on the bottom.
It has only a Firewire 800 connector and only reads CF cards (type I and II).
It has a dim blue activity light.
It comes with both a Firewire 800 cable, and a cable to let it plug into Firewire 400 ports. As you'll see here, it works as well on either.
FireWire 800
The Extreme IV reader connects via Firewire 800. Most Macs have had Firewire 800 ports for years. I use Firewire 800 daily for backing up my hard drives.
If you're on Windows you'll probably need a Firewire 800 card (like this one) to get the most out of this system, or downgrade to the USB 2.0 version of the reader. I haven't tried it. I suspect the USB 2.0 version is almost as fast, since I didn't lose much running this through a slower Firewire 400 port.
Software
None required. Just plug-and-play on Mac. I can't vouch for Windows.
The card comes with RescuePRO v3.0 for Mac and Windows to recover lost card data.
I didn't bother to use any of the provided software.
PERFORMANCE
It's the fastest card and reader I've ever used. Do I care? See my CF and SD card test for explicit details.
RECOMMENDATIONS
To get the fastest speeds from this card you need to use its special Firewire reader. I have not tested the USB reader.
By the time you've yanked a card out of your camera and jammed it in the reader, you've probably fallen behind just reading it from your camera.
If you're part of a pro shooting operation with runners grabbing your cards and downloading them for you, this will save your assistants a lot of time.
If you're like me and download from the camera, there is no benefit.
Get this if you want the best. It's so inexpensive today there's no reason not to. I paid more for a no-name 256MB card in 2002 than the 2GB Extreme IV card costs today.
If you want to save money, read my real-world comparisons and you'll probably never miss anything with a slower card.
PLUG
If you find this as helpful as a book you might have had to buy or a workshop you may have had to take, feel free to help me write more with a donation.
Thanks for reading!
Ken