Home Donate New Search Gallery Reviews How-To Books Links Workshops About Contact
Canon 14mm f/2.8 L
EF USM Ultrawide (1991-2007)
© 2013 KenRockwell.com. All rights reserved.
Intro Specs Performance Recommendations More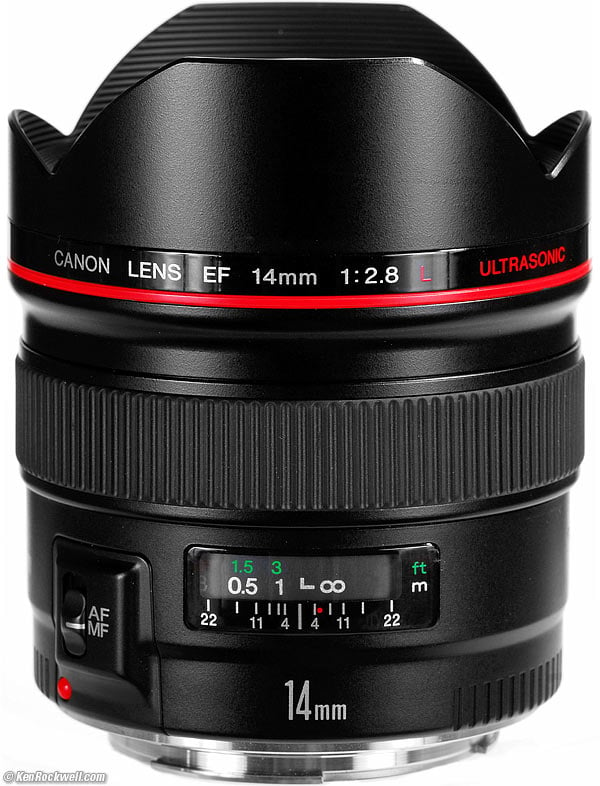 Canon EF 14mm f/2.8 L USM (rear gel filters, 19.0 oz./538g, 10"/0.25m close-focus, about $1,200 used). enlarge. This free website's biggest source of support is when you use these links, especially this link directly to them at eBay (see How to Win at eBay) and at Amazon, when you get anything, regardless of the country in which you live. Thanks! Ken.
November 2013 Canon Reviews Canon Lenses All Reviews
NEW: Ultra-Ultrawides compared 26 March 2015
Replaced by: Canon 14mm f/2.8 L II.
How to Use Ultrawide Lenses 11 August 2008
Introduction top
Intro Specs Performance Recommendations More
This original 14mm f/2.8 L USM was introduced in December, 1991. I bought one for myself for use with my Canon 5D in January 2007. Of course Canon introduced a newer, supposedly better, but also bigger and more expensive 14mm f/2.8 L II in August 2007.
I love the very low linear distortion of my 14mm: straight lines stay almost ruler-straight, and if I need them deadly perfect, DxO corrects them completely.
This original Canon 14mm is smaller, lighter and less expensive than the new version.
This is not a fisheye. This 14mm keeps straight lines straight.
This is a crazy lens. Ultra-ultra wide lenses are the most difficult lenses to use properly. A 14mm lens is NOT for "getting it all in." Try it, and all you get is an awful photo with a little teeny subject lost in the middle, with a great look at your feet or a parking lot.
14mm lenses are supposed to be used to get your viewer into the middle of the action and rub their noses into it. 14mm lenses are not for the timid: they require you to get up very close and personal to anything you are shooting. Even a fraction of an inch (or cm) will make a huge difference in your composition, so you must be very deliberate with your movement. 14mm lenses are for getting close, which makes the resulting images quite dynamic.
Forget the techie stuff below and see a quick gallery of images I've made with my 14mm lens. If you like crazy images, this is the reason to get a 14mm.
14mm lenses are supposed to exaggerate near-far distances and stretch out objects towards the edges of the frame. That's why we use them.
This is an ultra-ultra wide lens optimized for use on 35mm film and full-frame cameras. It's silly to use this big 14mm lens on a 1.6x camera like the 40D, because the 10-22mm EF-s is better suited to the smaller cameras for a fraction of the price.
This 14mm also works fine on the 1.3x cameras like the 1D Mk III, on which you're pretty much screwed out of any more reasonable ultra wide alternative.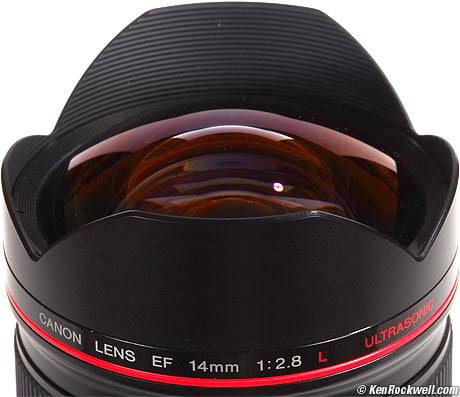 Canon 14mm f/2.8 L.
Specifications top
Intro Specs Performance Recommendations More
Name
Canon calls this the Canon EF 14mm f/2.8 L Ultrasonic.
EF: Electronic Focus. All modern Canon lenses focus with a motor in the lens.
L: Expensive as L. No exact meaning other than this being Canon's lingo for lenses with extra durability and weather sealing. L lenses work on all cameras including film and full-frame digital. Canon puts a red band around the front of these. See also Canon L Lenses.
Ultrasonic: USM Ultra-Sonic Motor: The focus motor operates silently, and you can grab the manual focus ring at any time for instant manual override.
Focal Length
14mm.
Used on a 1.3x camera it gives angles of view similar to what an 18mm lens would give on a 35mm film camera.
On a 1.6x camera it gives an angle of view similar to what a 23mm lens would give on a 35mm film camera. See also Crop Factor.
Optics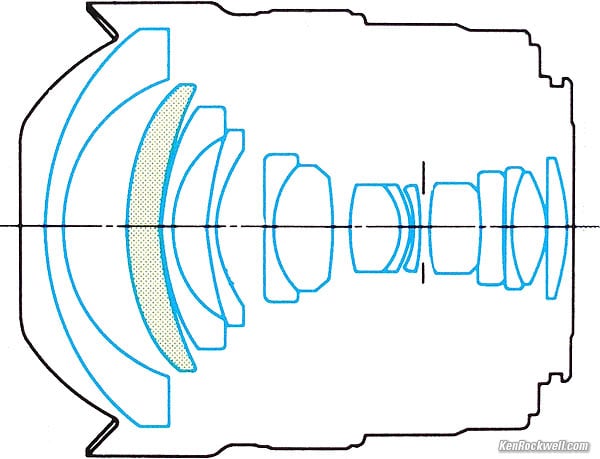 Canon 14mm f/2.8 L internal diagram.
14 elements, 10 groups.
One aspherical element.
Diaphragm
Mine has 6 blades stopping down to f/22.
Canon's catalogs say 5 blades, possibly representing an older version.
My date code says mine was made in 2006.
Filter Size
Only gel filters fit in a slot in the rear.
Canon cleverly marks the cut guide on the back of the lens, which is a 31mm square with two corners cut off.
Front filters have nowhere to attach, the huge fishbowl front element prevents that.
Close Focus
10" (0.25m) from the image plane (the back of the camera), marked.
Maximum Reproduction Ratio
1:10.
Infrared Focus Index?
Yes.

Canon 14mm f/2.8 L focus and depth of field scale and infrared index.
Size
3.024" diameter x 3.515" extension from flange (76.80 x 89.29mm), measured.
Weight
8.965oz. (537.6g), measured, naked.
Custom spun-aluminum front cap weighs 1.765 oz (50.0g).
Hood
NONE.
The front has petals, but these are to protect the glass.
I use my hand to block the sun as needed.
Case
LP-1016 pouch, included.
Introduced
December 1991.
Replaced
Replaced by the 14mm f2.8L II which was announced in August 2007 and which became available in November 2007.
Rated MTF
Here is Canon's claimed MTF curve: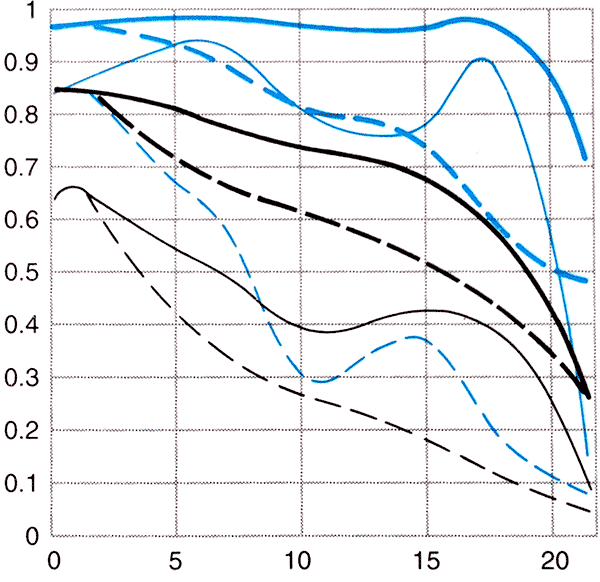 Canon 14mm f/2.8 L MTF Curve.

Canon rates it as poor in Canon's MTF curves as printed in Canon EF Lens Work III. The curves plummet in the corners.

These MTF curves confirm that it get soft in the corners wide open. That is state of the art for 1991. If you worry, get the bigger, heavier and newer 14mm f2.8L II, or simply stop down.

Performance top

Intro Specs Performance Recommendations More

Autofocus Color Color Fringes Construction Distortion

Falloff Film Filters Flare Macro Sharpness Sunstars

Distortion is minimal, less than any zoom, and it's very resistant to flare and ghosts.

It's sharp, but you have to stop it down optimally to f/11 if you want to look in the corners with a microscope. Otherwise, at large apertures, this is among Canon's softest lenses, but that's to be expected for a 14mm lens that has to see sideways.

Focusing performance top

The focus is fast and easy. It's 100% modern and up-to-date electronic focus with instant manual override., much more advanced than Nikon's newer 14mm f/2.8. The Nikon requires moving a switch to get to and from manual focus, while all I do on the Canon 14mm is grab the ring.

What Moves

Nothing, only the focus ring and the rear elements.

AF Speed

AF speed is as fast as I'd ever need. Ultrawides are always fast.

Ease of Manual Focusing

Excellent. Just grab the ring. Everything is pretty much always in focus with a 14mm lens, and Canon's brilliant method of blipping the on-screen AF sensors the instant focus pops at any of them make it the easiest manual focusing I've ever done.

Autofocus Accuracy

I get great results all the time with no duds.

Color Rendition performance top

I see no differences from my other Canon lenses.

Construction Quality performance top

Barrel

Plastic from mount to focus ring; metal beyond focus ring including metal front protective hood.

Filter Threads

None.

Protective front hood is metal.

Focus Ring

Rubber covered plastic.

Markings

Paint.

Switches

Plastic.

Mount

Metal.

Internals

I see metal.
Solid anodized billet aluminum front cap.
Noises when shaken
Very mild clunking.
This is normal.
Serial Number
Engraved and filled with white paint on the bottom of the barrel near the mount.
Date Code
Stamped with white ink on the back of the lens.
See Canon Date Codes to decode yours.
Quality
Made in Japan.
Distortion performance top
Distortion is negligible at far distances (50 feet or 15 meters) and becomes barrel at the very closest distances.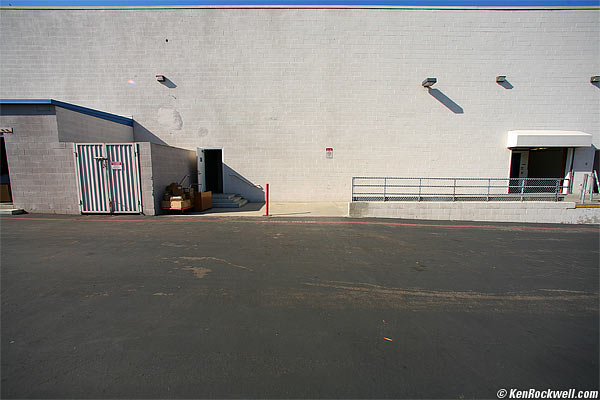 Wall of Shame, uncorrected, full-frame, f/7.1.
If you worry about this, get DxO which completely corrects the distortion at every distance. DxO actually asks you to input the distance, for which it makes a perfect correction.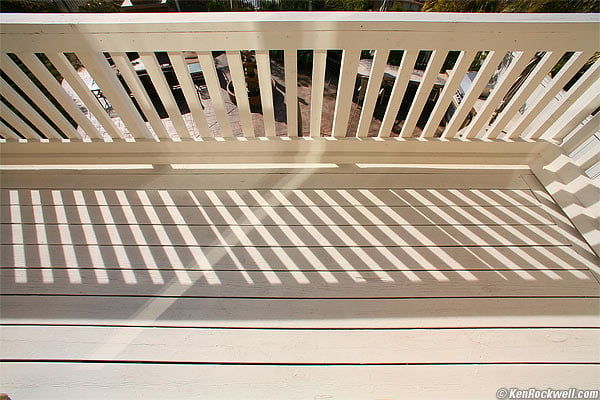 Canon 14mm f/2.8L on Full-Frame 5D. Roll mouse over to see after DxO.
Perfect! This is scary - I've never used software complex enough to correct this sort of distortion.
You also can see the vignetting correction lightening the corners. When I first saw this on my 30" monitor I was amazed! It just snapped in without any of the aberrations, and sharper, too!
Falloff (Darkened Corners) performance top
As I expected, there is strong falloff at f/2.8.
Falloff becomes reasonable at f/4 and never completely goes away if you're a brick-wall specialist.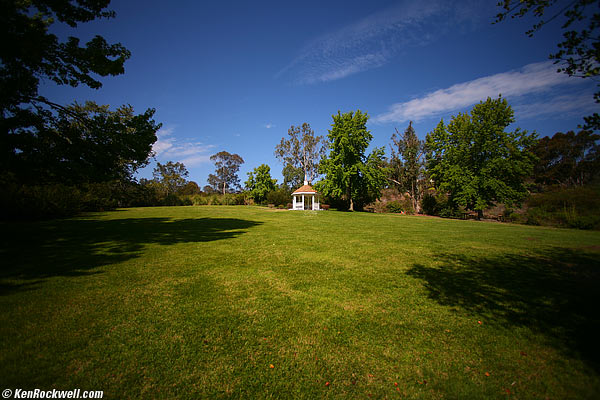 Canon 14mm f/2.8 L, full-frame, f/2.8. Note darker corners.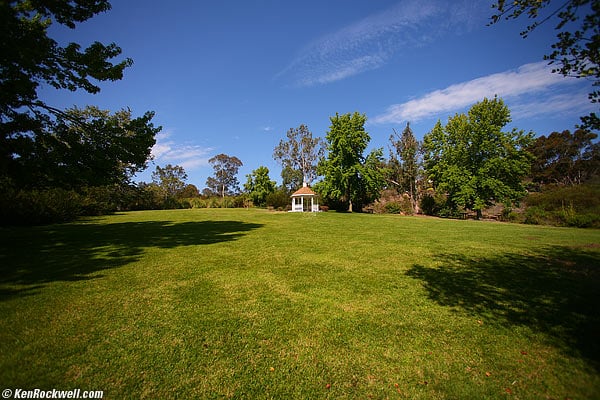 Canon 14mm f/2.8 L, full-frame, f/4. Note reasonably even illumination.
If you worry about this, just get DxO which also completely corrects falloff.
These two images are the very worst possible use of a 14mm lens. You've got a tiny speck of a subject in the middle, and a whole lot of nothing everywhere else. See my 14mm Gallery to see a little of how a 14m lens is supposed to be used, which is to get close and force perspective.
Use on 35mm EOS Cameras performance top
Flawless.
The 14mm f/2.8 L was designed back in the days of the EOS film cameras.
Use with Filters performance top
Forget it.
You're limited to gels on the rear.
Flare and Ghosts performance top
If I let the sun shine into the lens just outside the field of view, I get an orange blob opposite the sun. I rarely will see the smaller ghosts nearer the sun.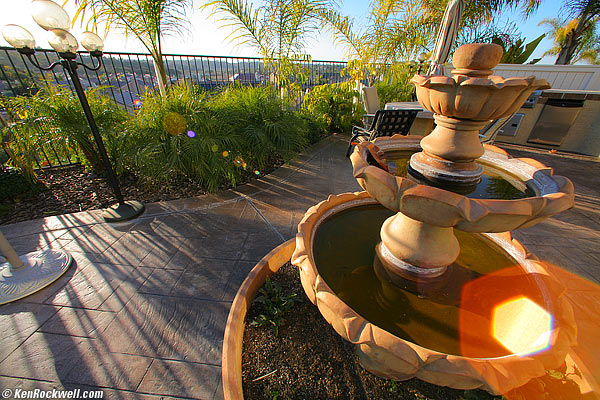 Canon 14mm f/2.8 Ghosts at f/9.
Here's a live example of how the photographer is responsible for ghosting, not the lens. Don't want ghosts? Then move your hand to shade the lens from the sun. Move your mouse over the sun to fix them in the example above.
I haven't found that yellow ghost to be a problem with the sun in the image, only if it's just outside the image before it gets caught by the mechanically protective vestigial hood. The little built-in hood can't do much on its own.
I made these images right after one another without moving my feet. The small fraction of an inch (cm) I naturally moved from one shot to the other is responsible for the change in perspective. I was only inches (cm) away from the fountain.
Sharpness performance top
Sharpness is fine for a crazy-wide lens. No, it's nowhere near as sharp as the 100mm Macro, but the macro doesn't have to look sideways in the corners as this 14mm does.
DxO does a very intelligent job of tuning it up region by region, and if it's still not good enough for you, spend $2,200 on the newest 14mm f/2.8 L II, which is better in the corners, as well as bigger and heavier.
The corners are softer at larger apertures, so I find f/11 gives me optimum results. I usually shoot in aperture priority mode if the light lets me.
Center Sharpness performance top
It's sharp in the center at every aperture. So what, we don't buy ultra-ultra wides to look in the center.
These are crops from the images above at Falloff at 100%. If you printed the full image at this magnification, the prints would be 44" (1.1m) wide.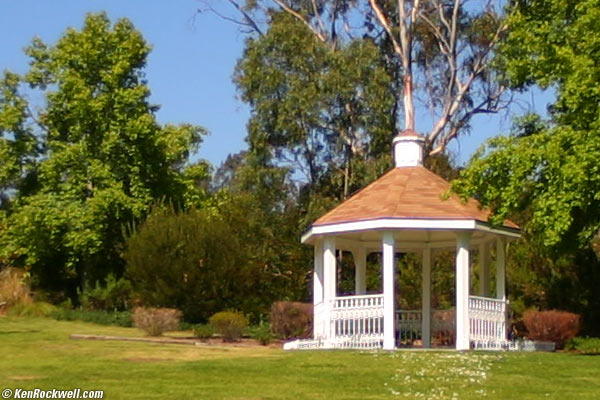 Canon 14mm f/2.8 at f/2.8, crop from center of 100% image.
Canon 14mm f/2.8 at f/4, crop from center of 100% image.
And so on and so on. Sharpness is fine in the center, even wide open. It remains unchanged until diffraction sets in at f/16 and f/22.
Corner Sharpness performance top
Here's where we get nasty. In the corners on full frame, the 14mm is looking 57 degrees off center, or only 33 degrees from completely left or right! It's looking more to the side than it is to the front. We should be glad we can see anything at all.
If you're doing something stupid like shooting it wide open in broad daylight and then looking at huge prints with a microscope, you get what you deserve.
I find f/11 the optimum aperture. Larger apertures are softer in the corners, and smaller apertures suffer from the effects of diffraction.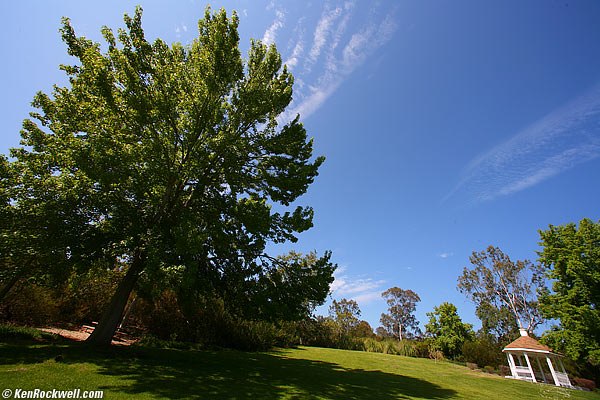 Full Frame image, Canon 14mm f/2.8 L (f/11).
If you printed the full image at the same magnification as these crops, the prints would be 44" (1.1m) wide.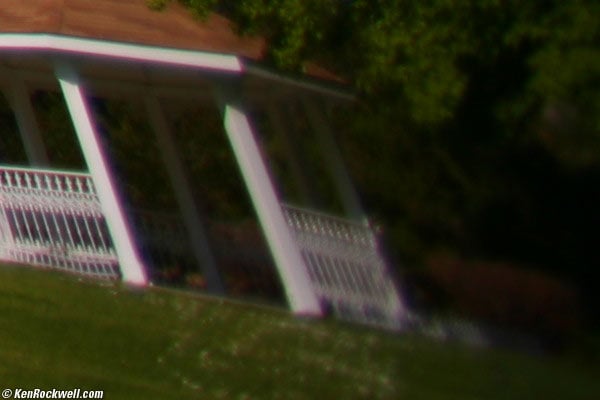 Canon 14mm f/2.8 at f/2.8, crop at 100% from the farthest full-frame corner.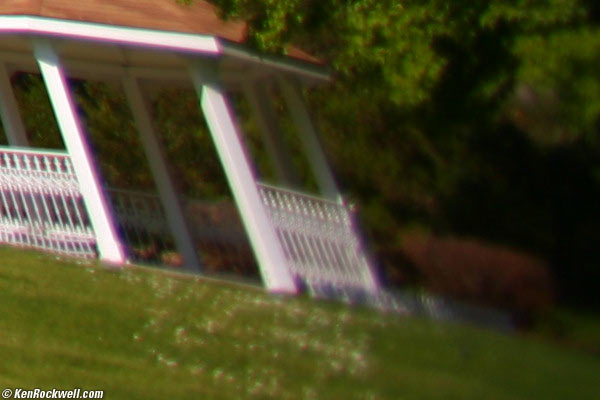 Canon 14mm f/2.8 at f/4, crop at 100% from the farthest full-frame corner.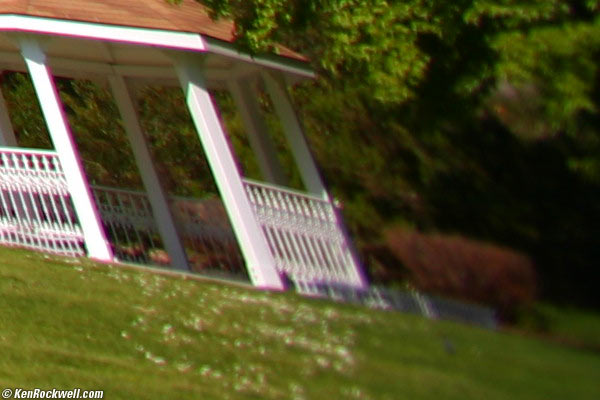 Canon 14mm f/2.8 at f/5.6, crop at 100% from the farthest full-frame corner.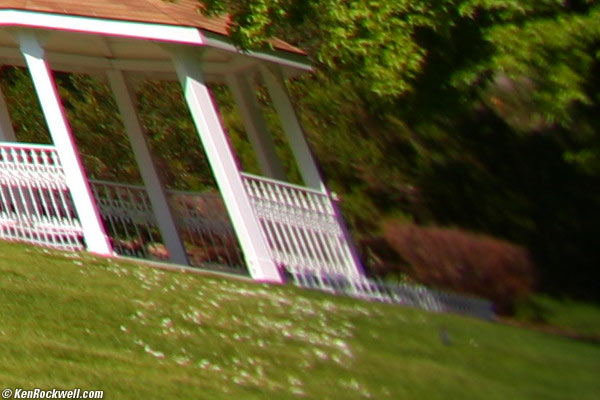 Canon 14mm f/2.8 at f/8, crop at 100% from the farthest full-frame corner.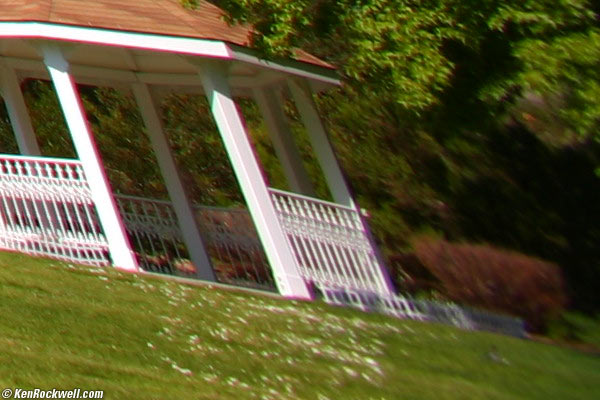 Canon 14mm f/2.8 at f/11, crop at 100% from the farthest full-frame corner.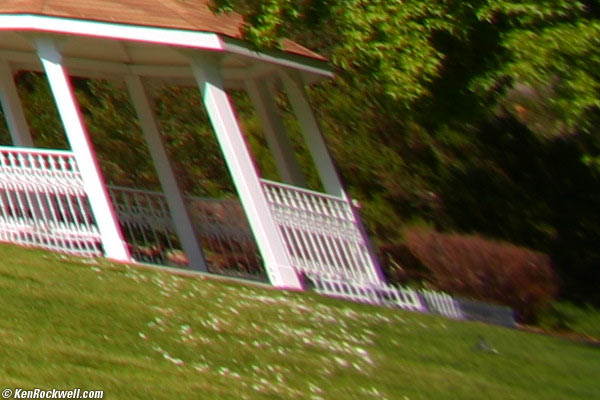 Canon 14mm f/2.8 at f/16, crop at 100% from the farthest full-frame corner.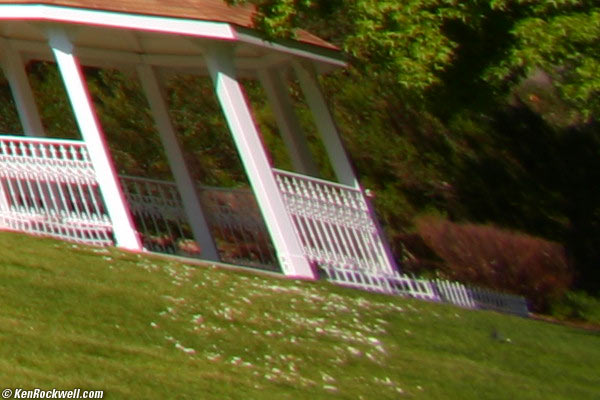 Canon 14mm f/2.8 at f/22, crop at 100% from the farthest full-frame corner.
Lateral Color Fringes performance top
As you can see in the super-close crops above, the Canon 14mm f/2.8 L is decent considering its angle of view. The Canon 14mm f/2.8 L is approved by the PPLFPA, Professional Patio and Lawn Furniture Photographers' Association, with a grade of "B."
If you worry about this, get DxO which completely eradicates lateral color.
This is a crop from 100% magnification of the top left center of the balcony image shown above at Distortion. At this magnification, the complete image would print at 44" (1.1m) wide.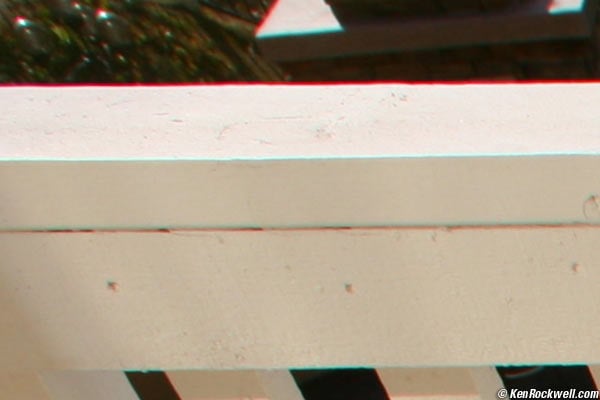 Crop from Canon 14mm f/2.8L on Full-Frame 5D. Roll mouse over to see after DxO.
The two images move a bit because of the distortion correction. If I wanted, I could have unchecked the distortion correction just to show the chromatic correction, but tough! I made these shots the first day I got the software, and in full auto mode to boot.
Macro performance top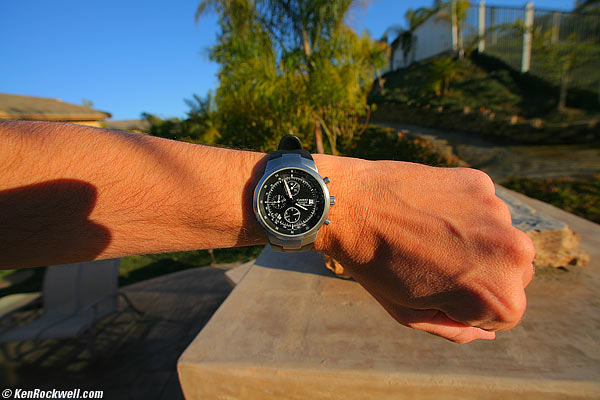 at closest focus, full-frame image.
100% crop from above, no extra sharpening.
It doesn't get much magnification, but is sure is sharp. These are at f/8 and 10" (0.25m).
Sunstars performance top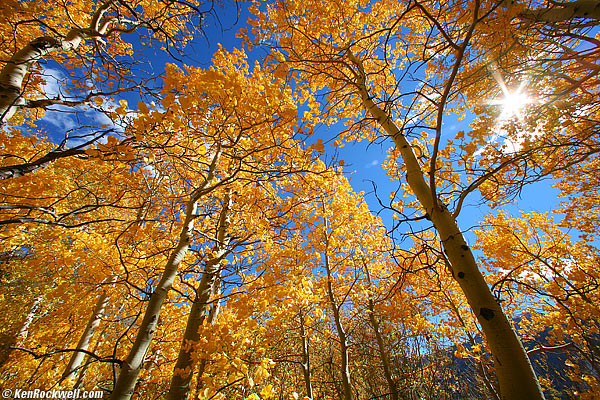 Sunstar, June Lake Loop, California, 18 October 2007.
The primitive 6-bladed diaphragm of the Canon 14mm f/2.8 L gives primitive 6-pointed sunstars.
I much prefer my Nikon 14mm's 7-bladed diaphragm which gives 14-pointed sunstars.
Recommendations top
Intro Specs Performance Recommendations More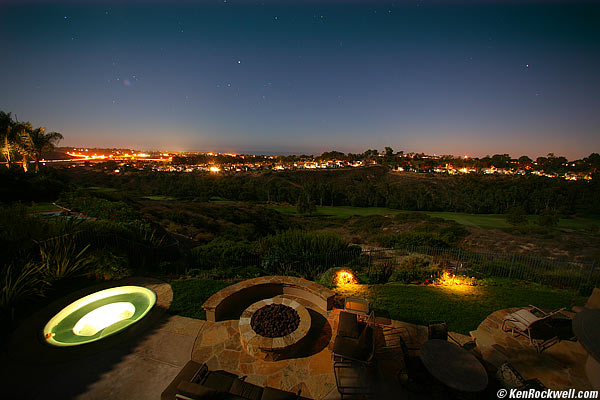 Moonlight over Chaco Canyon, 27 August 2007.
I just paid $1,800, full price, for mine in January 2007, and I love it. You can see some highlights of what I've shot with it in my 14mm Gallery, and more in my Death Valley 2007 and 2007 Route 66 galleries.
The newer 14mm II is sharper in the corners, but not that much, and costs twice as much new as a used original 14mm f/2.8.
Do you really shoot at f/2.8 and then take a microscope to the corners? I'm quite happy with my original 14mm f/2.8 L.
The 16-35mm f/2.8 L II isn't any sharper, but it can take filters and has a 7-bladed diaphragm for better sunstars. This 14mm has far less distortion than any ultrawide zoom.
See also Is It Worth It.
More Information top
Intro Specs Performance Recommendations More
Help me help you top
I support my growing family through this website, as crazy as it might seem.
The biggest help is when you use any of these links to Adorama, Amazon, eBay, Ritz, Calumet, J&R and ScanCafe when you get anything, regardless of the country in which you live. It costs you nothing, and is this site's, and thus my family's, biggest source of support. These places have the best prices and service, which is why I've used them since before this website existed. I recommend them all personally.
If you find this page as helpful as a book you might have had to buy or a workshop you may have had to take, feel free to help me continue helping everyone.
If you've gotten your gear through one of my links or helped otherwise, you're family. It's great people like you who allow me to keep adding to this site full-time. Thanks!
If you haven't helped yet, please do, and consider helping me with a gift of $5.00.
As this page is copyrighted and formally registered, it is unlawful to make copies, especially in the form of printouts for personal use. If you wish to make a printout for personal use, you are granted one-time permission only if you PayPal me $5.00 per printout or part thereof. Thank you!
Thanks for reading!
Mr. & Mrs. Ken Rockwell, Ryan and Katie.
Home Donate New Search Gallery Reviews How-To Books Links Workshops About Contact