Home New Search Gallery How-To Books Links Workshops About Contact
Nikon 14mm f/2.8
© 2008 KenRockwell.com. All rights reserved.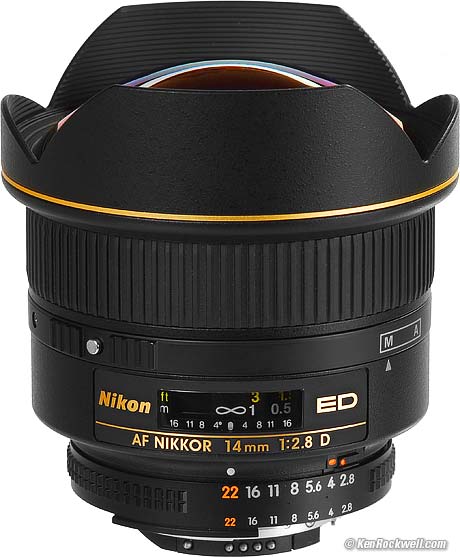 Nikon 14mm f/2.8 AF-D ED. enlarge.
I got mine from Adorama. You also can get it from Amazon or even eBay. It helps me keep adding to this site when you get yours from those links, too.
NEW: Nikon Ultra-Ultrawide Lens Comparison 23 December 2008
NEW: How to Use Ultrawide Lenses 11 August 2008
April 2008 More Nikon Reviews
Top Specs Performance Recommendations
The Nikon 14mm f/2.8 AF-D is an ultra-ultrawide lens designed for film and FX digital cameras. It was introduced in 1999 at the same time as the historic D1. This fixed 14mm f/2.8 has great optics, is very solidly built and retails for about $1,450.
The Nikon 14mm f/2.8 AF-D is a huge improvement over the manual focus 15mm f/3.5 AI-s and other older ultra-ultrawide lenses.
This fixed 14mm is smaller and weighs exactly 2/3 what the huge new 14-24mm f/2.8 zoom (introduced in 2007) does. This means this fixed 14mm weighs 12 oz. (333g) less than the huge zoom!
As of 2008, I'll admit that the larger 14-24mm f/2.8 zoom is what's on my D3 80% of the time. This 14mm is unsurpassed for shooting Fuji Velvia 50, but the hulking zoom is a little sharper, has better peripheral color and is more versatile for use on FX digital.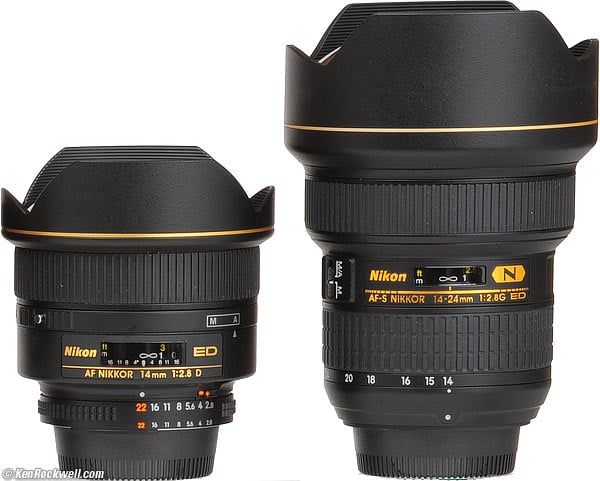 This Nikon 14mm f/2.8 and Nikon 14-24mm f/2.8 AF-S.
For those of us who've been following Nikon's ultra-ultrawide lenses as each was introduced since the 1970s, this is Nikon's best and newest fixed ultra-ultrawide.
Unlike the old-fashioned spherical 13mm and 15mm, this much newer aspherical 14mm has none of the crippling ghosting problems of the earlier lenses, and it's much, much sharper at every aperture.
This 14mm lens covers the full FX format and 35mm film for an ultra-ultra wide view. It makes a 20mm lens seem long by comparison.
Nikon introduced this along with the first DSLR, and it was mostly popular with news photographers who had no other way to get a really wide angle on a DX digital SLR with DX' 1.5x crop factor. On a DX digital camera this is similar to a 21mm lens.
Since most of these 14mm lenses were bought to use with the Nikon D1 and D1x before the 2003 introduction of the 12-24mm, you used to be able to find them cheap on the used market since people replaced them with the far more flexible (for DX cameras) 12-24mm DX.
When the Nikon D3 was announced in August 2007, this 14mm is again very useful, and far smaller and lighter than the new 14-24mm zoom. The used bargain days are gone as these 14mm lenses are now extremely relevant to the D3. I got lucky: since the new ones were backordered, I ordered this one used from Adorama the week before the D3 was announced!
For DX digital cameras the 12-24 mm DX or Tokina 11-16mm is far better choice. These DX lenses can use front filters, and weigh and cost much less. This 14mm can't use anything except gels behind the lens. The reason today to get this 14mm is for use on film and FX cameras, not to piddle with it on DX cameras.
Compatibility
The Nikon 14mm f/2.8 lives to be used on your D3 and D700. It also feel perfect on manual focus cameras like the FA.
The Nikon 14mm f/2.8 also works perfectly on every film Nikon made since 1977. It has all the coupling lugs and AIS lens mount cutouts for matrix metering and P, S, A and M exposure modes even on the 1983 Nikon FA.
This 14mm works great on 1959-1977 cameras, but you'll have to use stop down metering, or have a meter coupling prong installed. The Nikon 14mm even has pilot dimples on its aperture ring to install this prong! Don't come complaining to me if you can't get the Nikon 14mm to work on any Nikon camera of any vintage.
As a traditional AF lens, it also works perfectly on almost every AF, digital, film and manual focus camera made since dirt. This kind of lens is the most universal Nikon lens there is. It's flawless on an F3, FA, FE, F4, F5, FG, F6, N55, D100, or whatever.
The only thing it won't do is autofocus on the D40, D40x or D60. No big deal, it won't AF on an F3 either. With the cheap digital SLRs, focus manually and look for the focus confirmation dot in their finders, which works perfectly. Ultrawide lenses have almost unlimited depth of field, so if I was silly enough to use it on my D40 I'd probably tape the focus ring at 6' (2m) so it didn't get knocked accidentally.
All the metering and exposure modes work perfectly on every digital camera, including the D40, D40x and D60. Someone with a D40 is about as likely to use this 14mm lens as someone is to use a 300mm f/2.0, a lens which had a $28,999 list price in 1985 and still sells for that much used today for motion picture use, on a Nikon N2020, which was Nikon's first and cheapest practical AF camera in 1985. Nikon actually showed this combo in the N2020's sales flyer! Likely story.
See Nikon Lens Compatibility for more details with your camera. Use the AF (screw) column.
Top Introduction Performance Recommendations
Bottom of Nikon 14mm f/2.8 AF-D.
Name: Nikon calls this the Nikon AF Nikkor 14mm f/2.8 D ED RF Aspherical.
AF: Autofocus.
D: Sends focus distance information to the metering system.
ED: Magic glass for sharper images and less lateral secondary chromatic aberration (color fringing). See the gold metal band around the front? That how Nikon sets off their serious ED lenses, and Nikon is so serious that they really use solid gold. People argue whether it's solid 14kt or just 18 kit gold-filled, but it is gold.
RF: Rear focusing. Nothing moves except the rear internal elements.
Aspherical: Specially shaped glass elements greatly improve sharpness at large apertures and in the corners.
Optics: 14 elements in 12 groups. One of these elements is made of ED glass. Two of these are hybrid (compound) aspherical lens elements. Hybrid means gluing plastic corrective pieces to the glass elements. Rear Focusing (RF).
Diaphragm: 7 conventional blades. Stops down to f/22.
AF System: Old-style mechanical AF linkage, not AF-S. The good news is that this 14mm therefore autofocuses perfectly on every AF and digital camera except the D40 and D40x. The bad news is that you have to unlock and rotate a ring on the lens to switch between autofocus and manual focus, just like the AF 28/1.4D and AF 20-35/2.8D.
Close focus: 8" or 0.2m from the film plane, which is only inches away from the front of the lens and way too close for safety if you shoot airplane propellers.
Filters: None on front. Gelatin filter slot on rear. More at Filters.
Introduced: May 2000, right after the original D1 digital SLR.
Size: 3.427" diameter x 3.425" extension from flange (87.05 x 87.00mm), measured. 3.425 x 3.406" (87 x 86.5mm), rated.
Weight: 23.518 oz. (666.7g), measured, naked. 23.6 oz., (670g), rated.
Nikon Product Number: 1925, in catalog as of spring 2008.
Top Introduction Specs Recommendations
Angle-of-View AF Bokeh Color Distortion Front Cap
Falloff Film Filters Flare Mechanics Mounting
Sharpness Sunstars Use on Canon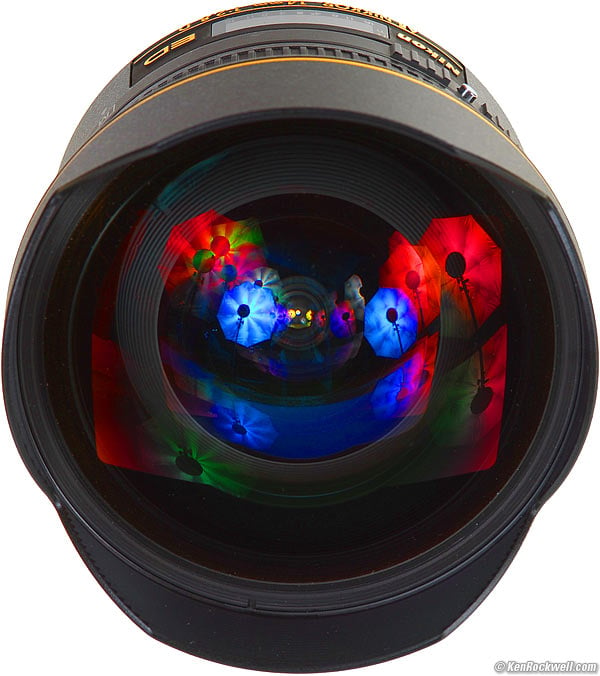 Nikon 14mm f/2.8 AF-D. The bulbous front element is 3" (75mm) across.
Overall back to performance back to top
My Nikon 14mm f/2.8 AF-D works great. On film, it's uniformly sharp at all apertures and focuses instantly and exactly. It just works!
It is a huge improvement over the 15mm f/3.5 because the 15mm had horrific ghosting and flare problems.
Angle-of-View, maximum
There isn't really much difference between the 13mm f/5.6, 15mm f/3.5, 15mm f/5.6, 14-24mm f/2.8 and this 14mm f/2.8.
I did stick them all on a tripod to see.
The 13mm f/5.6 was easily the widest.
This 14mm f/2.8 is the next closest thing. The 14-24mm zoom at its 14mm setting doesn't really get as wide as this fixed 14mm.
The 15mm lenses are less wide.
Autofocus back to performance back to top
Speed
AF is very fast, as it usually is for ultrawide lenses. One full turn of the AF screw pulls the focus from infinity down to 1.5' (0.5m).
Manual Focus
Manual focus requires pressing a button the rotating a ring. Once done, manual focus is perfect, and perfect for use on manual focus cameras, too.
Bokeh back to performance back to top
Not that you'll ever see anything out of focus with the huge depth of field of a 14mm lens, but if you use it on a digital camera so you can see tiny things like that, and if you shoot something at 2' (0.6m), the bokeh of distant backgrounds is poor. All the points of light turn into donuts. This is what happens when an advanced aspherical lens is optimized for things important to an ultrawide and not Bokeh.
Bokeh is important for teles, not ultra wides.
Color Rendition back to performance back to top
Like all fixed ultra-ultra wide lenses I've used, the color balance becomes cooler (less red) in the corners. Few people ever notice this, but I do. I call this peripheral color shift: the colors get slightly bluer in the far corners. All fixed ultrawides do this.
A way to exaggerate this greatly is to shoot a gray field and show it against a gray background.
The first shot is using the newest 14-24mm f/2.8 as a reference through which to set manual WB, and then the second shot is shot with this14mm f/2.8. The 14-24mm is the first ultra-ultra wide to be free from peripheral color shift, most likely due to the new Nano-crystal coating.
Reference color balance: WB set with 14-24mm f/2.8: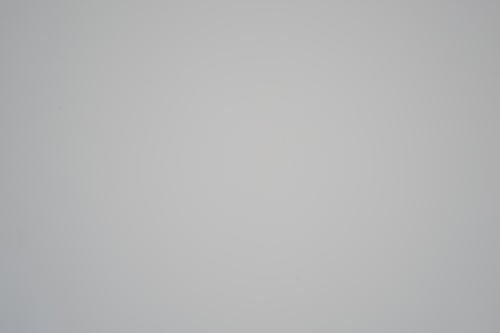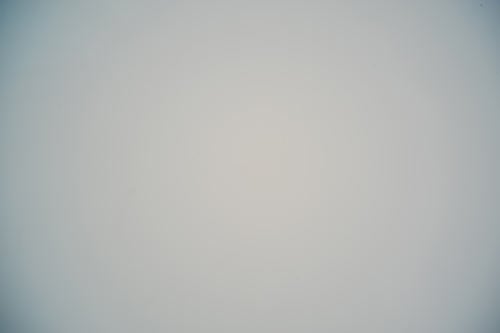 Relative color balance of 14mm f/2.8.
The 14mm is a little warmer in the middle, and much bluer in the corners. The 14mm has the same color midway out from the center.
If you want numbers, analyzing these with the "info" box in Photoshop, the 14-24mm reference measures 1% saturation in the center, and only 2% saturation, 220 degrees hue (blue), in the corners. This 14mm measures 4% saturation at 35 degrees hue (slightly orange) in the center and 19% saturation at 200 degrees hue (blue-cyan) in the corners.
Few people ever notice this in actual photos. These shots are made at f/11.
Distortion back to performance back to top
I prefer the look I get from the this fixed 14mm over the look I get from the 14-24mm zoom. This is because the zoom's simple distortion squishes things in the corners closer together, while the complex distortion of this fixed 14mm lens stretches out the corners. Half the reason to shoot a 14mm lens is to stretch out the corners, and this fixed 14mm does this better than the zoom. The simpler distortion of the zoom is much easier to correct if you want perfectly straight lines. If you make the same shot with both lenses, you'll see very different renditions and angles in the corners. In the shot below shot with this fixed lens, you'll see the corners pull up, while with the zoom, they sag down.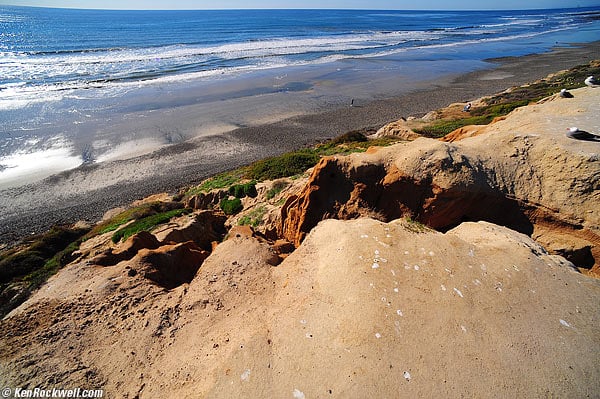 The horizon on FX or film. Note bulge in middle and pulled-out corners.
Distortion is complex. This 14mm has barrel distortion in the middle, but pincushion at the far corners of film or an FX digital camera.
On an FX camera it's potentially an interesting effect, because most of the image is flat, but the far corners pull out a little bit further than they ought to. Ultrawides are all about creative use of having the corners pulled out, so this small distortion may help in some cases. This is completely opposite from the 14-24mm, whose distortion is simple barrel, which means at 14mm that the 14-24mm is sucking in the corners. I much prefer the distortion of this fixed 14mm, however, if you need complete freedom from distortion, the 14-24mm is much easier to correct (or use the 13mm f/5.6 or either 15mm, each of which have no distortion)
If you have a strong vertical line at the side of a horizontal image, keep the line away from the far edge and put it about 1/4 of the way in. It will be very straight.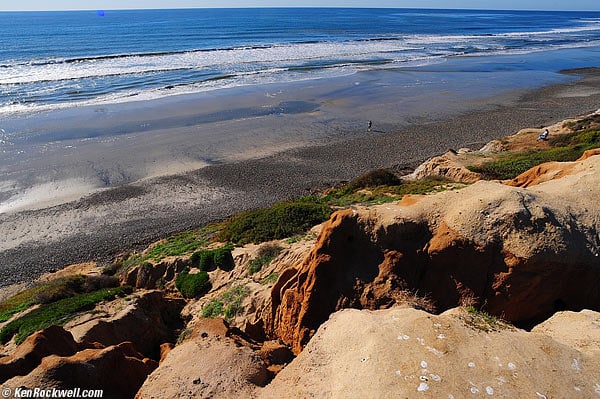 The horizon on DX. Note reasonably simple barrel distortion.
On a DX digital camera, it's relatively low-order distortion, relatively easy to correct in Photoshop CS2's lens distortion filter. On a DX camera, use +2.5 for shots made at at moderate distances (about 50 feet or 15m), and about +3.5 for shots closer (about 3' or 1m) or at infinity.
Front Cap back to performance back to top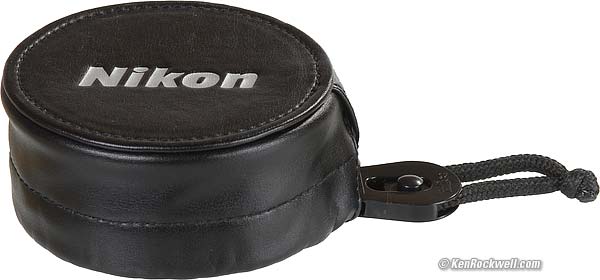 Nikon 14mm front cap. It's a fake leather sock with a hard padded front.
The front cap is a fake leather sock; a miniature version of the ones used on the super-teles.
Unlike a conventional cap, this cap isn't going to slip or blow off if you snug down the cord.
Unlike a conventional cap, it requires more fiddling to attach or remove it.
Falloff (corner darkening) back to performance back to top
On a film or FX camera, falloff is strong at f/2.8. It's less bad at f/4 and gone by f/5.6, as seen in actual photos.
It's not an issue on DX cameras due to the crop factor.
I can exaggerate this by shooting a gray field and then presenting them against a gray background, in which case you can see some falloff at all apertures. No, it never looks this bad in actual photos.
These shots below are all in black-and-white. The 14mm, like all ultra-ultra wides, also has peripheral (corner) color shifts as shown above.
Falloff on FX (full-frame)
Film, use with back to performance back to top
For use with Fuji Velvia 50 film, I use a Kodak Wratten 81A gel filter. (see also Filters, next.)
This 14mm handles great on manual-focus cameras. Unlike most AF lenses, the manual feel is excellent. Of course the nicest way to shoot it on film is on an F6, but it works great on all Nikons.
Filters, use with back to performance back to top
There's no way to attach a filter to the front, but it's easy to cut a gel filter and slip it in the rear holder.
Not only are gels far lighter and less expensive than glass filters, each 3 x 3" (75 x 75mm) gel has enough material to be used several times ever.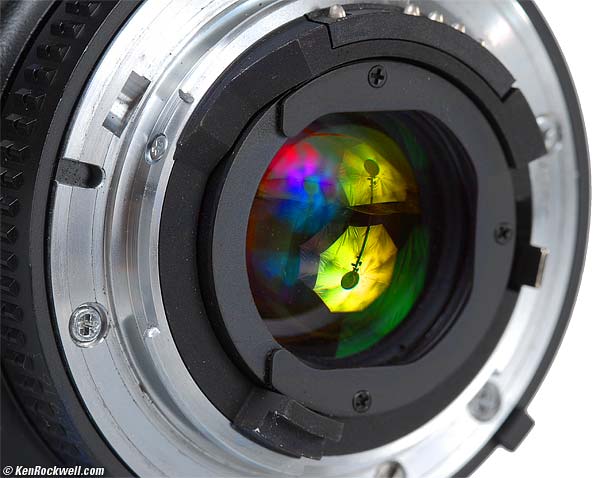 Nikon 14mm f/2.8 AF-D rear gel filter slot.
The cutting guide for gel filters is: 1.) start with a 27mm square. 2.) measure in from each corner by 5mm, and crop off each corner at a 45 degree angle.
Flare and Ghosts back to performance back to top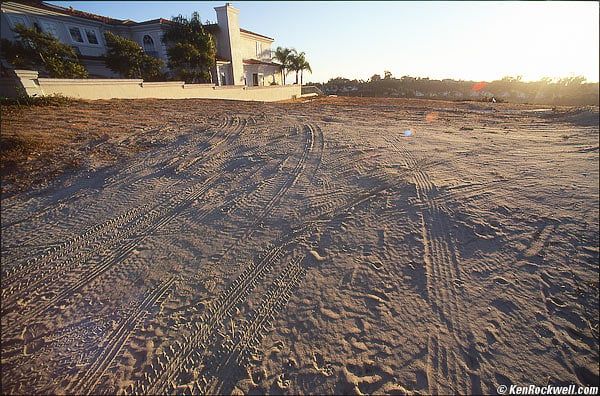 Worst-Case example: blinding sun in image. 14mm f/2.8 at f/8, F6, Fuji Velvia 50.
The most visible improvement over the 15mm f/3.5 AI-s is the elimination of the crippling ghosts and flare that plague the 15mm. This is a very significant improvement and the reason to get this lens over the old 15mm. I consider the 15mm useless due to all its ghosts.
I have no problem pointing this 14mm f/2.8 into the sun. It looks great.
My F6 has a ghost in it's own finder system, which of course doesn't appear on film.
When pushed, there can be a very small blue ghost that may appear opposite a point of light in the image. You also may see some small red and blue ghosts near the light source as I've shown above.
This example is pushing it by deliberately trying to invoke ghosts.
Mechanics back to performance back to top
It's mostly metal, a real jewel. It feels like an iron softball.
Front Hood: Metal.
Gold Band: 14 karat.
Focus Ring: Metal covered with rubber.
A - M Switch Ring: Plastic, with metal unlock button.
Barrel: Metal.
Aperture Control Ring: Plastic.
Markings: Paint.
Identity Plate: Looks like embossed and planed metal.
Internals: Metal.
Lens Mount: Chromed brass .
Serial Number: Lasered into bottom of aperture ring.
Made In: Japan.
Ass Gasket (rear dust barrier): no.
USA Version shown by: "Nikon USA" sticker on bottom of barrel.
Mounting, ease of back to performance back to top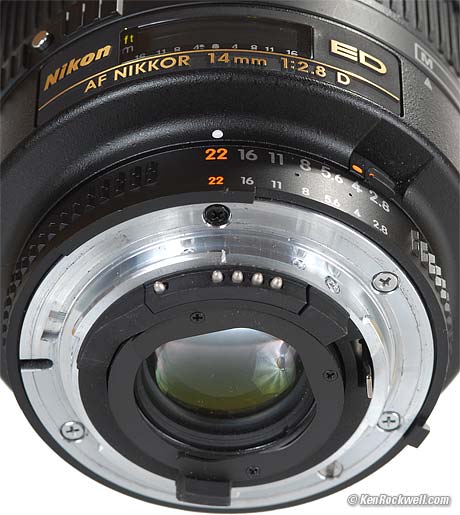 Black-headed screw on lens mount serves as a mounting index.
The 14mm f/2.8 has a black screw on the lens mount to highlight the mounting index. This is much easier to see than groping for a little white dot on the lens.
Sharpness back to performance back to top
On the D3 (12MP FX)
The 14mm is sharp in the center at all apertures.
It's soft in the far corners at f/2.8, but so what: if it's that dark; the subject is probably dark there, too. The 14mm has enough falloff that you're not likely yo notice.
The corners get much better at f/4 and again at f/5.6, and are perfect by f/8.
If this concerns you; the only lens better is the remarkable 14-24mm f/2.8 AF-S zoom, which is much sharper in the corners at f/2.8 at 14mm. The 14-24mm is as sharp in the corners at 14mm and f/2.8 as this 14mm lens is at f/5.6.
On Film (Fuji Velvia 50)
Sharpness looks wonderful on film. It's sharp all over the full film frame.
Unlike most other lenses, it's just about as sharp wide open as it is at any other aperture.
It doesn't get softer wide open, since the aspherical design successfully eliminates spherical aberration.
To my pleasant surprise, it doesn't suffer much from diffraction, even in the corners. My older 15mm f/3.5 AI-s got horribly soft, especially in the corners, at small apertures.
Coma (points of light looking like little extended blobs in the sides of the image)
On film, I can't see any, even wide open, until you get out to at least a radius of 16mm. Even then they are hard to see on film.
Curvature of Field
I can't see anything definitive.
If I really try to imagine seeing something, I may have seen a slight tendency for the corners to be optimized for subjects somewhat further away than in the center.
Coma (points of light turning into weird blobs in the corners)
There is little to no coma wide open, an improvement over the 15mm. This is the reason for the aspherical elements.
Sunstars back to performance back to top
The traditional 7-bladed diaphragm gives Nikon's classic 14-pointed stars on brilliant points of light.
For night shots, I can see these even at f/4 if I look closely. I love this.
Use on Canon Cameras back to performance back to top
Why? Canon makes a great 14mm f/2.8 L and 14mm f/2.8L II of their own.
I did try it on my full-frame Canon 5D, and it looked bad. It looked worse than my 20 year old used Tokina 17mm f/3.5.
This had me scratching my head as to why it looked so bad on my 5D but so great on film.
Then I realized that the lens adapter I was using to fit my Nikon 14mm onto my 5D was cut incorrectly, so the back focus was off by 1/3 of a millimeter. As you can read at my converter review, the Nikon 14mm is a very complex and precisely optimized design, so having to set the focus to 2' (0.6m) to get infinity focus contorted the internal optics. The rear focusing system constantly optimizes this 14mm lens for every focus distance.
Thus my iffy converter was making 14mm perform poorly, while my old Tokina, which is a traditional design without any floating elements, wasn't messed up by the focus error of the converter.
Top Introduction Specs Performance
You crazy people know who you are. For film and FX digital like the D3; just get one of these 14mm f/2.8s if you don't want to spring for (and haul around) the 14-24mm f/2.8 AF-S. The 14-24mm is a little sharper, but this fixed 14mm is much easier to carry around my neck. Honestly though, I always grab the hulking 14-24mm anyway on my D3.
If you're going to drop four figures on this fixed 14mm, I'd suggest going all the way to the 14-24mm AF-S unless you're shooting a manual-focus film camera.
These ultra-ultrawides are the toughest lenses to use well. Most people try them and get awful images with a teeny subject lost in the middle of nothing. Ultra-ultrawides are not for getting it all in; they are for getting very close to a subject to jam your viewer's nose into it. They are to bring the viewer into a scene, which requires you to get much closer than you ever have. These lenses are not for the squeamish.
Don't waste your money on this for DX digital. For DX, get the 12-24mm f/4 DX or Tokina 11-16mm. For DX cameras, the DX lenses are smaller, wider, less expensive and take normal filters.
I tried a Sigma 14mm f/3.5 once on a Canon 5D. It wasn't anywhere near as good as the Canon 14mm, but I didn't give it much of a try. If I ever get my hands on another, or the Tamron, I'll let you know.
When I say "try" of course I mean go photograph with it. Even a poor lens still looks plenty sharp through the viewfinder in a camera store. I shoot film and only pay attention to what I see on that film.
PLUG
I support my growing family through this website.
If you find this as helpful as a book you might have had to buy or a workshop you may have had to take, feel free to help me continue helping everyone.
If you've gotten your gear through one of my links or helped otherwise, you're family. It's great people like you who allow me to keep adding to this site full-time. Thanks!
If you haven't helped yet, please do, and consider helping me with a gift of $5.00.
The biggest help is to use these links to Adorama, Amazon, B&H, Ritz, J&R and when you get your goodies. It costs you nothing and is a huge help to me. eBay is always a gamble, but all the other places have the best prices and service, which is why I've used them since before this website existed. I recommend them all personally.
Thanks for reading!
Ken
Home New Search Gallery How-To Books Links Workshops About Contact