Home Donate New Search Gallery Reviews How-To Books Links Workshops About Contact
Tokina 17mm f/3.5 SL
(c. 1979-2008)
© 2006-2012 KenRockwell.com
Intro Specs Performance Compared Recommendations More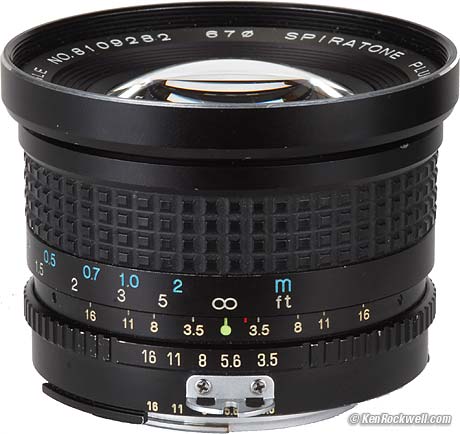 Tokina 17mm f/3.5 SL, Nikon mount (67mm filters, 11 oz./305g, 0.8'/0.25m close-focus). Enlarge. This free website's biggest source of support is when you use these links, especially this link directly to them at eBay (see How to Win at eBay), when you get anything, regardless of the country in which you live. Thanks! Ken.
March 2012, 2006 Tokina Reviews Nikon Canon LEICA All Reviews
Sharpness Comparison to all other 17mm and 18mm Nikon and Tokina lenses
Auto-Focus Tokina 17mm f/3.5 ATX Review
How to Use Ultrawide Lenses 11 August 2008
Introduction top
Intro Specs Performance Compared Recommendations More
THis is Tokina's classic manual-focus ultrawide lens. It came in mounts for Nikon, Canon FD, Olympus OM, and probbaly everything else.
I bought this lens used in 1983 for $150 and used it extensively. Even today in 2012, Its sharpness is better than many newer and more expensive lenses.
You could buy them brand new for $230 up until about the early 2000s. Mine was originally sold by Spiratone and is marked that way. (I bought mine from Mark at MV Camera in Plainview, NY, the same guy who sold me my very first Minolta ten years earlier when I was 11 years old.)
Specifications top
Intro Specs Performance Compared Recommendations More
It has 11 elements in 9 groups.
My sample, bought used in 1983, is single-coated, while most newer samples are multicoated.
Close focus is 0.8 feet or 0.25m. It focusses backwards, which means the focus ring turns in the opposite direction from Nikkor lenses.
The 1980 Tokina catalog said it's 2.8" (70mm) around by 2" (50mm) long, weighs 10 oz. (280g) and has a 67mm filter thread.
Tokina's USA website says 2.7" (70mm) by 1.9" (49mm) and 11 oz. (305g).
It has a bogus six-bladed diaphragm stopping down to f/16.
Performance top
Intro Specs Performance Compared Recommendations More
Its sharpness is better than many newer and more expensive lenses. It's as sharp as my Nikkors, with much less lateral color fringing. That's the embarassing part!
This lens has performance similar to the manual focus Nikon 15mm f/3.5 AI-s, 18mm f/3.5 and 20mm f/3.5 AI lenses. I prefer this lens to the $2,000 Nikkor 15mm f/3.5 AI-s since this Tokina has better ghost resistance and takes real filters.
It has typical barrel distortion.
It has low contrast at f/3.5, improving greatly at f/5.6.
There is strong falloff of illumination at f/3.5 and some at f/5.6. Most of the falloff is gone at smaller apertures.
Mine is fairly susceptible to ghosting with the sun in the image, and has a slightly green color balance. Mine is single-coated. Today's versions are multicoated and ought to be much better.
The color balance of my single-coated version is warmer than my Nikkors. I suspect that the newer multicoated versions are much more neutral.
Watch it with the filters, one can get vignetting if not careful.
Recommendations top
Intro Specs Performance Compared Recommendations More
Want a lens that can give you great, eye-popping ultra-wide images for cheap? Get one of these! It works great on the Nikon D3 full-frame.
If you have an extra grand lying around, need to shoot at large apertures, are too lazy to swap lenses, need auto focus and don't mind the dead weight, the Nikkor 17-35mm f/2.8 AF-S is far superior on those fronts. The Nikkor 20mm f/2.8 AF is also better at large apertures, as well as twice as expensive.
If you usually shoot at apertures smaller than f/5.6 the photos will look the same! You even get matrix metering with this manual focus lens on a Nikon F4 and FA.
Manual focus and lack of zoom allows you to save lots of money and still get great results. You are sacrificing convenience, not image quality if you can stop down this lens.
I have not owned the autofocus 17mm f/3.5 lens from Tokina. For about the same price you can get the Nikkor 20mm f/2.8 AF-D.
I did try the AF Tokina 17mm once looking for a 17mm lens without the barrel distortion, and it was the same.
I also think I tried the twice-as-expensive Tamron 17mm f/3.5 which gave about similar performance. I hated the adaptall mount. It is a kludge. Again, you can buy the real Nikkor 20mm f/2.8 AF for not much more money.
For $100 you can get a brand new Vivitar 19mm f/3.8 manual focus lens. I got one for my brother as a gift but have never tried it.
Get a 67 -> 77mm step-up ring and make believe this lens has a 77mm filter size for compatibility with the other current pro Nikkor lenses.
If filters and freedom from vignetting are important to you then go for the 17-35 Nikkor zoom which excels at this if you are stuck with only 67mm filters.
To sum up, this lens is a bargain.
More Information top
Intro Specs Performance Compared Recommendations More
Help me help you top
I support my growing family through this website, as crazy as it might seem.
The biggest help is when you use any of these links to Adorama, Amazon, eBay, Ritz, Calumet, J&R and ScanCafe when you get anything, regardless of the country in which you live. It costs you nothing, and is this site's, and thus my family's, biggest source of support. These places have the best prices and service, which is why I've used them since before this website existed. I recommend them all personally.
If you find this page as helpful as a book you might have had to buy or a workshop you may have had to take, feel free to help me continue helping everyone.
If you've gotten your gear through one of my links or helped otherwise, you're family. It's great people like you who allow me to keep adding to this site full-time. Thanks!
If you haven't helped yet, please do, and consider helping me with a gift of $5.00.
As this page is copyrighted and formally registered, it is unlawful to make copies, especially in the form of printouts for personal use. If you wish to make a printout for personal use, you are granted one-time permission only if you PayPal me $5.00 per printout or part thereof. Thank you!
Thanks for reading!
Mr. & Mrs. Ken Rockwell, Ryan and Katie.
Home Donate New Search Gallery Reviews How-To Books Links Workshops About Contact