Home Donate New Search Gallery Reviews How-To Books Links Workshops About Contact
Nikon D5100
16 MP DX, 4 FPS, 3" Flip LCD, 1080p
© KenRockwell.com. All rights reserved.
Intro Specs Performance Compared User's Guide Recommendations

Nikon D5100 (19.5 oz./554g with battery and card, but no lens, cap or strap, about $428 with 18-55 lens, or $359 body-only, or about $325 used.), and 35mm f/1.8 DX. enlarge. You also can get it at Amazon (also with lens from Amazon), or used at this link directly to them at eBay (see How to Win at eBay).
My biggest source of support for this free website is when you use those or any of these links when you get anything, regardless of the country in which you live. It helps me keep adding to this free website when you get your things through these links — but I receive nothing for my efforts if you buy elsewhere. Thanks for your support! Ken.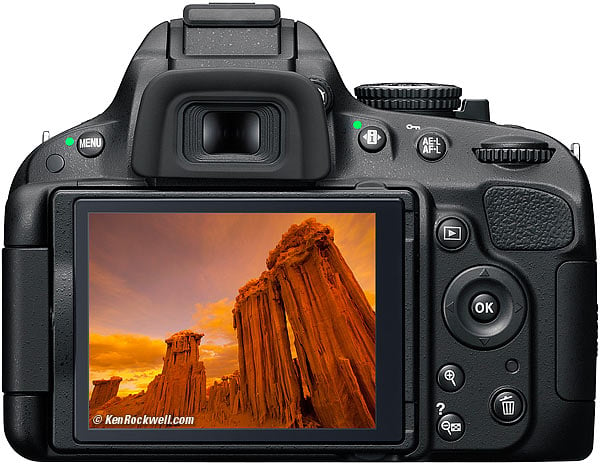 Rear, Nikon D5100. enlarge.
March 2014 More Nikon Reviews Nikon Lenses All Reviews
DEAL: Adorama's got refurbished Nikon D5100s as a kit with 18-55mm VR for just $429 and body-only for a mere $359.
NEWEST: Nikon D5300: adds GPS and Wi-Fi to the D5200.
NEWER: Nikon D5200: Adds more pixels and a fancier AF system to the D5100.
Nikon D5100 User's Guide App 12 October 2011
Plain-English Nikon D5100 User's Guide 16 July 2011
Nikon D5100 Autofocus Settings 14 July 2011
Sample Images 20 May 2011
Introduction top
Intro Specs Performance Compared User's Guide Recommendations
The Nikon D5100 is a huge bargain as of February 2013, because Nikon is trying to clear out D5100 stock before introducing the D5200 already introduced elsewhere. The D5100 the exact same technical image quality of the unbeaten Nikon D7000 in a smaller, lighter and much less expensive package.
When introduced a year ago people cheerfully paid $900 for the D5100 with lens, while today it's being cleared-out at the ridiculously low price of $550 brand-new, and if you're a real bargain hound, personally I suggest the same thing factory refurbished for just $489. Pay $7.95 for Adorama's VIP club, and they'll throw in a full year's warranty as well.
If you just want fantastic pictures, get a D5100. If you're a seasoned photographer who also wants more knobs and blinking lights, go for the D7000.
Forget the ancient D90, which is a leftover from the previous decade; the D90 trails these new cameras in every respect, but costs more!
The D5100 adds some buttons to make it easier to get in and out of movie mode, but I still prefer the convenience and superior autofocus of my iPod Touch. I'm not a fan of DSLR video for general home use: it's too klunky, and autofocus is awful for tracking anything that moves, which is the whole point of moving pictures.
Lens Compatibility
Unlike the D90 and D7000, the less expensive D5100 has no internal autofocus motor, so it will not autofocus with old-style screw-drive AF lenses. With older-style AF lenses it exposes and does everything perfectly, except that you'll have to turn the focus ring manually and look either for a sharp viewfinder image or the electronic focus confirmation dot at the bottom of the finder.
Like the other inexpensive Nikons, like the D5000, D3100, D3000, D60, D40 and D40x, it works flawlessly with all modern AF-I and AF-S lenses.
It offers no metering with manual-focus lenses, but there are work-arounds like looking at the LCD or using a Gossen Digisix.
In other words, it works great with all the lenses someone who is going to buy this will buy, and Nikon is not expecting everyone who buys this to have to pay for the additional parts needed by maybe 0.1% of the people like me who want to use this with 20-year old AF lenses just for fun. Honestly, I shoot my D5100 with the 35mm f/1.8 DX about 95% of the time, and as a modern lens, the D5100 works perfectly.
See more details at Nikon Lens Compatibility.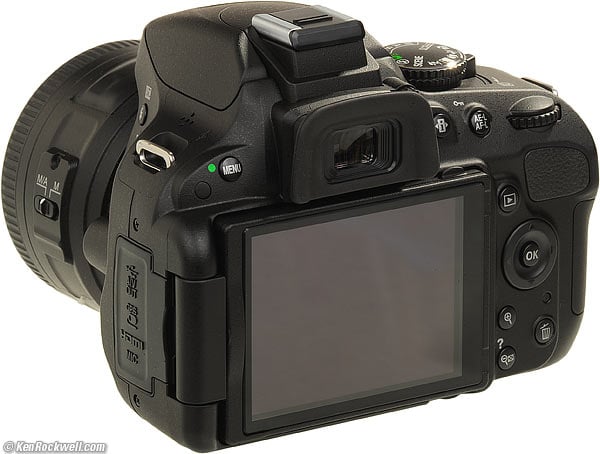 Rear, Nikon D5100. enlarge.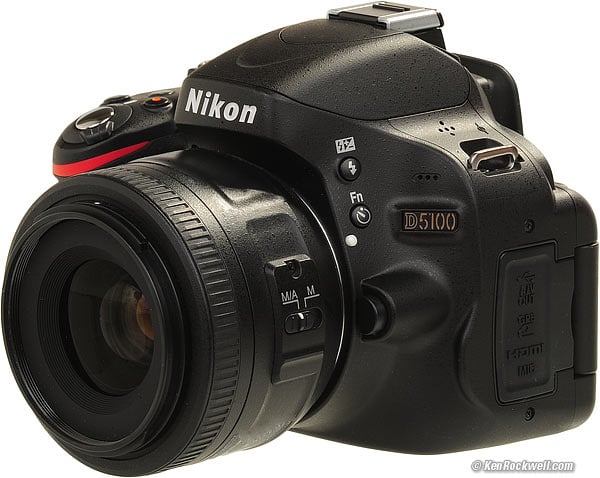 Nikon D5100. enlarge.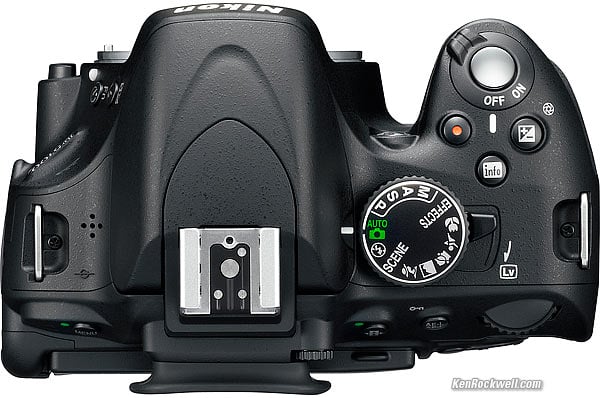 Top, Nikon D5100. enlarge.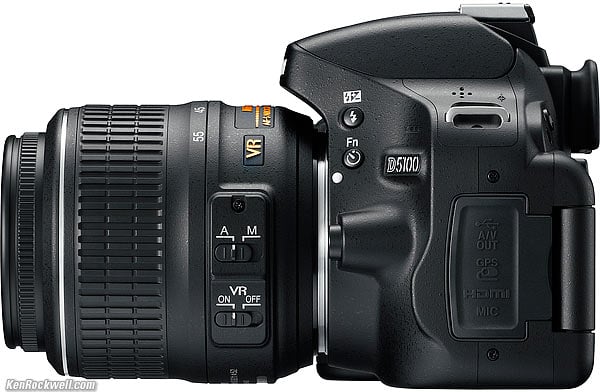 Nikon D5100 and 18-55mm VR. enlarge.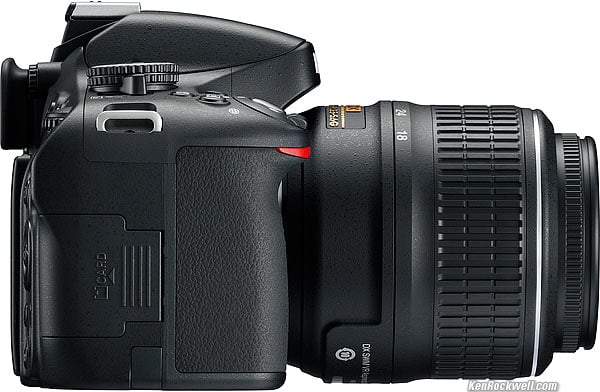 Nikon D5100 and 18-55mm VR. enlarge.
Also New:
Engineered specifically for a D-SLR, and powered directly through the camera
Attaches to the hot shoe and has noise dampening components designed to minimize noise resulting from AF operation
Incorporates a low-cut filter to reduce wind and other noise not already blocked by the wind screen
Utilizing a standard 3.5mm stereo jack, the ME-1 is ideal for the D5100 and other Nikon HD movie capable D-SLR's such as the D3s, D300s, D7000, as well as the COOLPIX P7000
Available in April for $159.95 ($179.95 list price).
Specifications top
Intro Specs Performance Compared User's Guide Recommendations
Finder
17.9mm eyepoint.
AF
11 points.
Single-point AF, Dynamic AF, Auto Area AF.
Shutter
1/4,000 to 30 seconds in 1/3 or 1/2 stops, bulb.
Maximum with flash (sync) 1/200.
If you buy the excellent $14 ML-L3 wireless remote, you also get Time (shutter stays open until you hit it again).
Up to 4 FPS.
QUEIT mode selectable in a menu.
Sensor
DX (23.6 x 15.6 mm) CMOS.
16 MP: 4,928 x 3,262 pixels.
Also 3,696 x 2,448 and 2,464 x 1,632 pixel image sizes.
NEF (raw), JPG, or both.
ISO: Auto, 100 - 6,400, 12,800, 25,600.
ISO 102,400 in a trick BS mode at greatly reduced resolution.
Flash
Built-in TTL flash.
Optional manual control in a menu.
Does not work as an i-TTL commander.
Video
1080 24/25/30p.
720 24/25/30p.
Non-standard (cropped) 640x424 25/30p mode.
Up to 20 minutes per take.
H.264/MPEG-4 stored as .MOV files.
Nikon claims Full-Time AF, but I seriously doubt AF works well. it's horrible on the D7000 in video mode.
Mono mic only.
Stereo mic input if you want to buy and carry a separate mic like the ME-1, but if you're going to carry that, why not just bring a real camcorder (or an iPod Touch) instead?
LCD
3" swivel.
921,000-dot.
170º viewing.
1000:1 contrast ratio.
Storage
SD memory card, one slot.
SDHC- and SDXC-compliant.
Power
EN-EL14 rechargeable Li-ion battery (same as D3100 and P7000).
Battery weight: 1.680 oz. (47.5 g.), measured.
Optional EH-5a AC adapter. (requires EP-5B power connector.)
Fluff
· Built-in HDR mode really works!
· BS Mode allows these BS effects for with both pictures and video:
· Night vision (ISO 102,400)
· Color sketch
· Miniature effect
· Selective color
Size
5.0 × 3.8 × 3.1 in.
Weight
19.530 oz. (553.75g) with battery and card, but no lens, cap or strap.
Battery weight: 1.680 oz. (47.5 g), measured.
Nikon rates the D5100 at 18 oz., stripped naked without battery, strap, lens or card.
Included
EN-EL14 Battery
MH-24 charger
Strap
USB cable
Audio video cable
ViewNX 2 CD-ROM (don't waste your time).
Announced
05 April 2011.
Available since
May 2011.
Price, USA
2012 December : $450 ($550 w/lens). Refurbished: $490 with lens.
2012 January : $597 ($697 w/lens).
2011 October: $675 ($764 w/lens).
2011 August: $675 ($764 w/lens).
2011 May: $800 ($900 w/lens)
Performance top
Intro Specs Performance Compared User's Guide Recommendations
Overall
The D5100 is marvelous. It handles very well, and the images look great. If you want a do-it all camera for everything and are considering the D5100, I recommend it.
If you're an accomplished photographer, the D7000 is a far more capable, more solid and somewhat heavier camera than the D5100. The D7000 outperforms the D5100 in just about every way, but only in ways that experienced photographers will notice. Technical image quality is the same: superb in both the D7000 and D5100.
Ergonomics
The D5100 handles very, very well. Nikon has been making camera since the 1940s, and getting better every year.
The PLAY button is finally on the right side, where it can be hit with the same hand you hold the D5100.
Better than the D7000, the mode dial is right where you can move it with your trigger finger without taking your eye from the finder.
Playback
When zoomed, the histogram shows only the area shown in the zoom.
This is a great feature copied from the LEICA M9 for reading smaller areas accurately.
The dials are ignored until you press the big four-way control on the back, after which the dial will move you forward or back through the photos you've shot.
You can scroll diagonally while zoomed, something neither the LEICA M9 nor the Fuji X100 can do!
If you're not a good photographer, your pictures will look crummy regardless of what kind of camera you use. Just as discussing of the quality of various pianos means nothing if you can't play a piano well, a camera's technical image quality means nothing if you're not a skilled photographer.
These are BASIC JPGs straight out of the camera. If you want to shoot NEF, I'm sure you can do even better.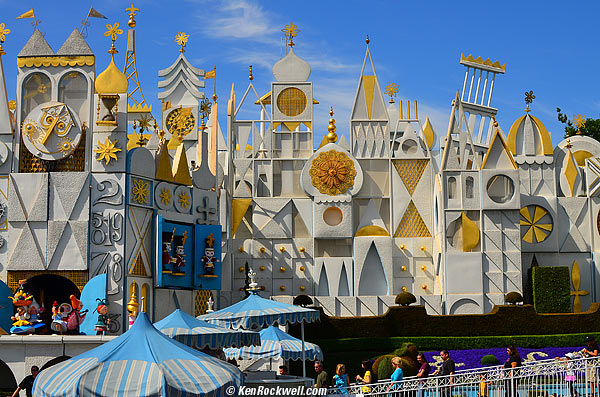 High resolution with no color fringes, May 2011. Full-resolution © JPG.
With 16 megapixels, I've got more than I need for any sized billboard, much less 40 x 60" (1-meter) gallery enlargements.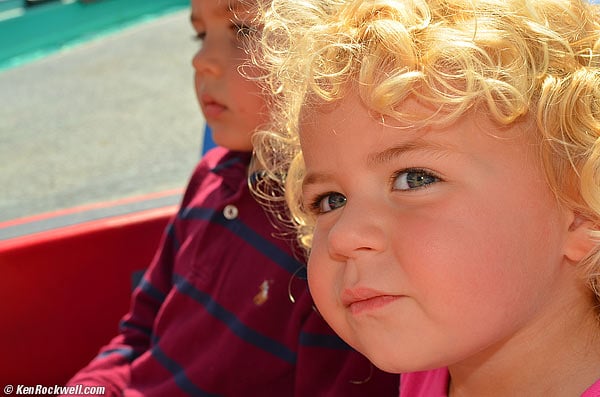 Perfect Exposure and Skin Tone with Fill-Flash. Full-resolution © JPG.
A Nikon hallmark, fill-flash and exposure are great, and skin tones are exactly as I want them.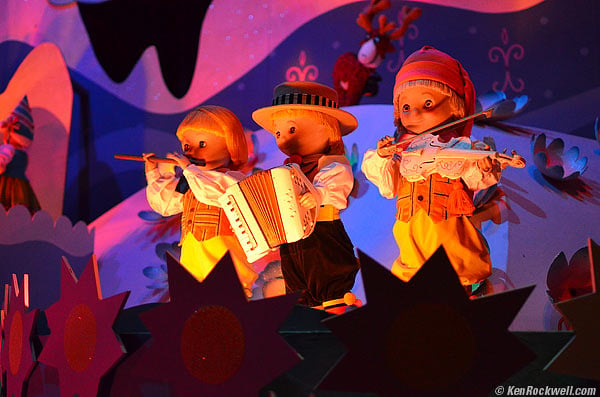 Looks great at ISO 2,800. Full-resolution © JPG.
High ISOs come up all by themselves with AUTO ISO ON. This snap was made without changing any setting at all from my defaults, and shot from a moving boat in the dark!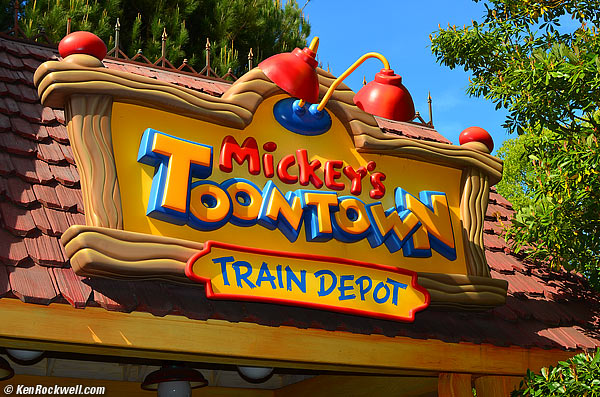 Did I say great color? Full-resolution © JPG.
Daylight colors are just what I expect. The various Picture Controls match other Nikons.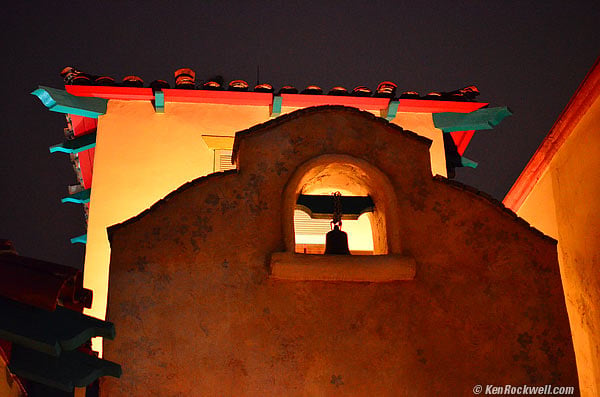 Looks great at ISO 6,400. Full-resolution © JPG.
Even shot hand-held in Old México at ISO 6,400, the images hold together. Again, this is a snap made as I ran into dinner with the family, without changing any settings. All I have to do is see the picture, and Auto ISO and Auto WB and auto everything else does the rest.
The technical quality of the D5100 is superb. Digital cameras get better in every revision, and this was Nikon's newest when it was introduced.
The D5100 appears to have the same quality as the Nikon D7000, which is Nikon's best camera as of May 2011.
The D5100 gives great auto exposure, and it handles difficult lighting with ease. Its Adaptive Dynamic Range (ADR) defaults to AUTO, and it works great.
HDR Mode
The built-in HDR mode really works! It even works hand-held, and it's free.
Data
BASIC JPGs, my personal preference, vary from about 600 kB to 2.3 MB depending on contrast, texture and sharpness. The median size is about 2 MB, and the average size is about 1.5 MB.
Vertical JPGs are flagged, but not actually rotated.
Compared top
Intro Specs Performance Compared User's Guide Recommendations
See my Nikon D5000 Series Comparison Table.
Usage top
Intro Specs Performance Compared User's Guide Recommendations
See my Plain-English Nikon D5100 User's Guide.
Recommendations top
Intro Specs Performance Compared User's Guide Recommendations
I love the D5100. It's lighter and costs less than the D7000, with the same superb picture quality. I'm keeping my D7000 because I know how to use all the knobs (I especially appreciate the U1 and U2 modes), but if price matters, get the D5100 and you'll love it.
More Information
Free printed brochure. (note the shots done right here in La Jolla, Point Loma and and Balboa Park.)
Product Information from Nikon, Japan.
Press Release from Nikon, Japan.
Help me help you top
I support my growing family through this website, as crazy as it might seem.
The biggest help is when you use any of these links when you get anything, regardless of the country in which you live. It costs you nothing, and is this site's, and thus my family's, biggest source of support. These places have the best prices and service, which is why I've used them since before this website existed. I recommend them all personally.
If you find this page as helpful as a book you might have had to buy or a workshop you may have had to take, feel free to help me continue helping everyone.
If you've gotten your gear through one of my links or helped otherwise, you're family. It's great people like you who allow me to keep adding to this site full-time. Thanks!
If you haven't helped yet, please do, and consider helping me with a gift of $5.00.
As this page is copyrighted and formally registered, it is unlawful to make copies, especially in the form of printouts for personal use. If you wish to make a printout for personal use, you are granted one-time permission only if you PayPal me $5.00 per printout or part thereof. Thank you!
Thanks for reading!
Mr. & Mrs. Ken Rockwell, Ryan and Katie.
Home Donate New Search Gallery Reviews How-To Books Links Workshops About Contact